Hey ladies! It's time for everyone's favorite post! If it's your first time reading this I want to say Welcome! I write this Flat Lay to Life-Styled post at least once a month and sometimes twice.  This post is for you to be able to see my flat lay photo compared to the real life- styled photo. This is just for a bit of fun and gives you a cool perspective on how the clothing looks from both views.  I also pick a theme for each one and this one I'm calling Flat Lay to Life-Styled: It's a Party.  I had lots of events in May and early June and I wanted to share my outfits with you. I like sharing to help try and make your choices on what to wear stress free! One of the biggest questions I get from my clients is "What do I wear to ______? "   We never know what to wear and I do the same thing when I have to go to an event. I want to help take the guess work out of it for you.  I hope you enjoy and would love your feedback in the comments at the end of the post!
Elegant & Easy Jumpsuit
I was invited to a dinner with the company Brahmin. They opened a store here at The Shops of Saddle Creek in May.  The dinner was at Second Line and was a three course meal.  I will say that some of the bloggers showed up in jeans.  I am a big denim person and I did not feel like jeans would have been appropriate for something like this. I'm not trying to knock them but my job is to make women look their best and look appropriate where they are going.
I chose to wear this jumpsuit which I felt gave me a smart casual look. I probably have you snickering with just reading those words "smart casual".  Most people have no idea what it means and freak out when they get an invitation to something that says "Smart Casual Attire" on it for the dress code!  This is a very misunderstood term and should not cause such panic. The fashion industry is good at causing those feelings isn't it!?
To ease your pain it is just a put-together style of dress that has a more casual feel.  Pair elegant pieces like a shiny blazer with some wide leg fun pants or dress down a cocktail dress with a cute jacket.  The smart casual look here is just a jumpsuit that comes off the shoulder and has wide flowy legs.  I wore a pair of espadrilles to keep with the smart casual look.  I could potentially make this piece super casual with a flatter shoe and a denim jacket.  But this way it was that perfect fashion forward smart casual look!

Modern Peplum Dress
One of my favorite experiences last month was Afternoon Tea at The Peabody Hotel.  You can read all about it here! That post will explain to you what to wear to afternoon tea if you ever go. I would highly recommend a dress or a skirt.  All the ladies I went with were in exactly that.  We were dressed up.
I chose a simple floral peplum dress I purchased two years ago as my Easter dress (do you still buy an Easter dress? LOL).  It was so perfect!  I would wear this to several things.  Of course, to church on Easter, any kind of evening dinner that was not cocktail, afternoon tea or a fancy brunch or a wedding.  Floral is extremely popular this year and is a great print on a dress to make you feel and look fantastic!
I have to mention the shoes because it will make a difference in how your whole outfit is presented.  I chose a slim kitten heel that was black and white to keep with the somewhat modern floral print of the dress.  Think about your style of dress and decide the shoe from there.  A chunky heel verses a slim heel will give a very different feel.  If your dress is more elegant and streamlined make sure you wear a slimmer heel.  I would not recommend an espadrille or wedge with this unless you are going to make it more casual for a afternoon wedding or baby shower or to wear to regular church on Sunday. If you decided on something like a long maxi dress then espadrilles or chunky heels would be perfect!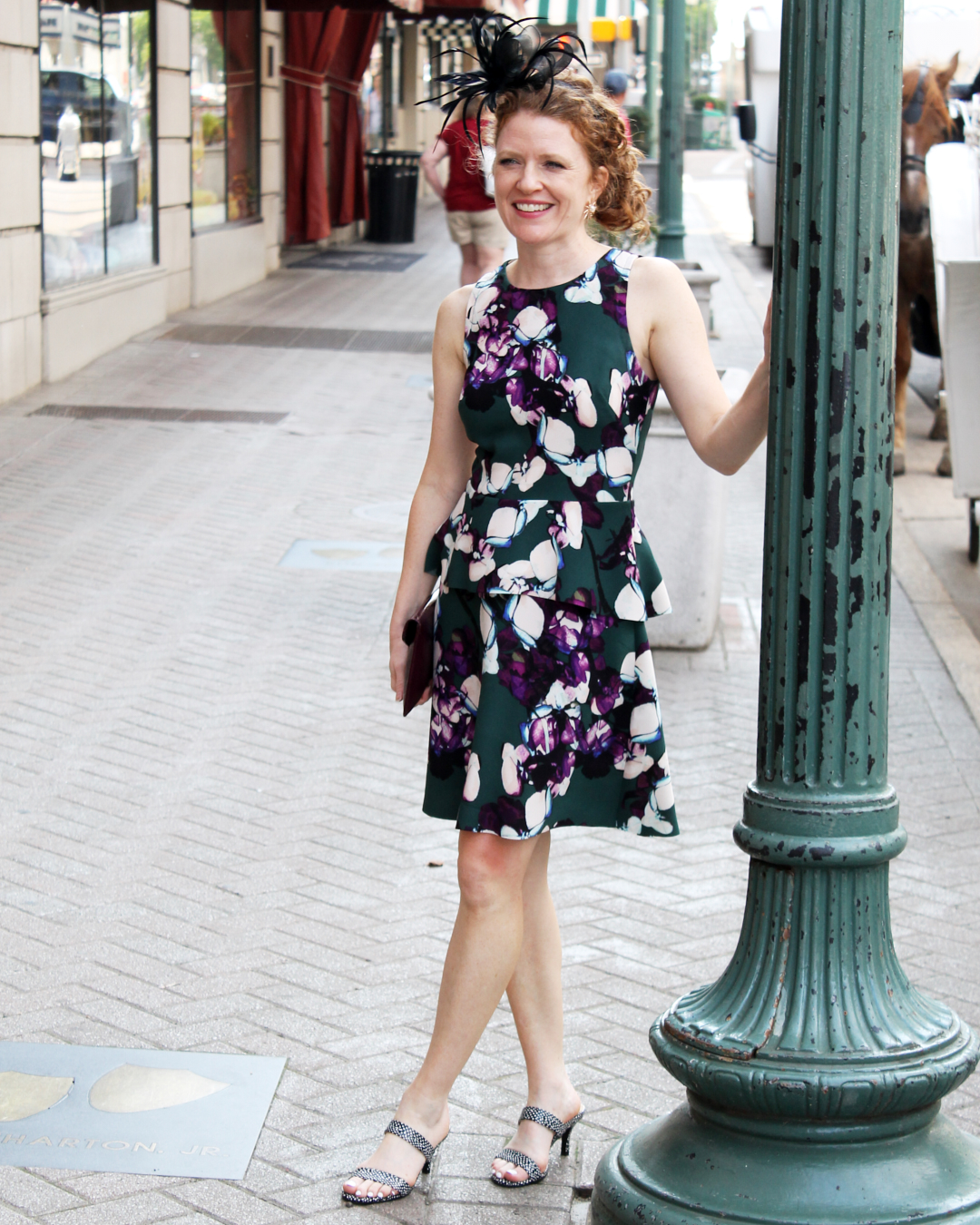 Perfect Denim Skirt
So, I have used this skirt in a few other posts which makes me really happy.  It is probably the most versatile piece I own.  I had no idea it would be that versatile when I purchased it either.  I LOVE it when that happens! The reason I think this happened is because I love this skirt so much I make up reasons to wear it!
I wore this outfit to Pour and Explore at The Shops of Saddle Creek.  I got invited with some other local bloggers to help promote the event.  When I am invited to something I always want to show up looking my best.  The event was to raise money for The Street Dog Foundation. Participating stores from the shopping center had a different wine for you to try and a puppy for you to adopt! Although I do not drink I enjoyed the puppies and everything else.  There was also food, live music and artists there.
I chose this because it would be easy to shop in and looks really fashion forward. This outfit is totally casual with a little bit of flare.  So if you have any concerts coming up, music on the lawn, family picnics, bbq's, pool parties (where you don't swim), or a casual date night with your significant other this would be perfect. Putting on a denim skirt and a fun top can make you cute to go just about anywhere with a casual environment.  This way you look stand out cute instead of just normal!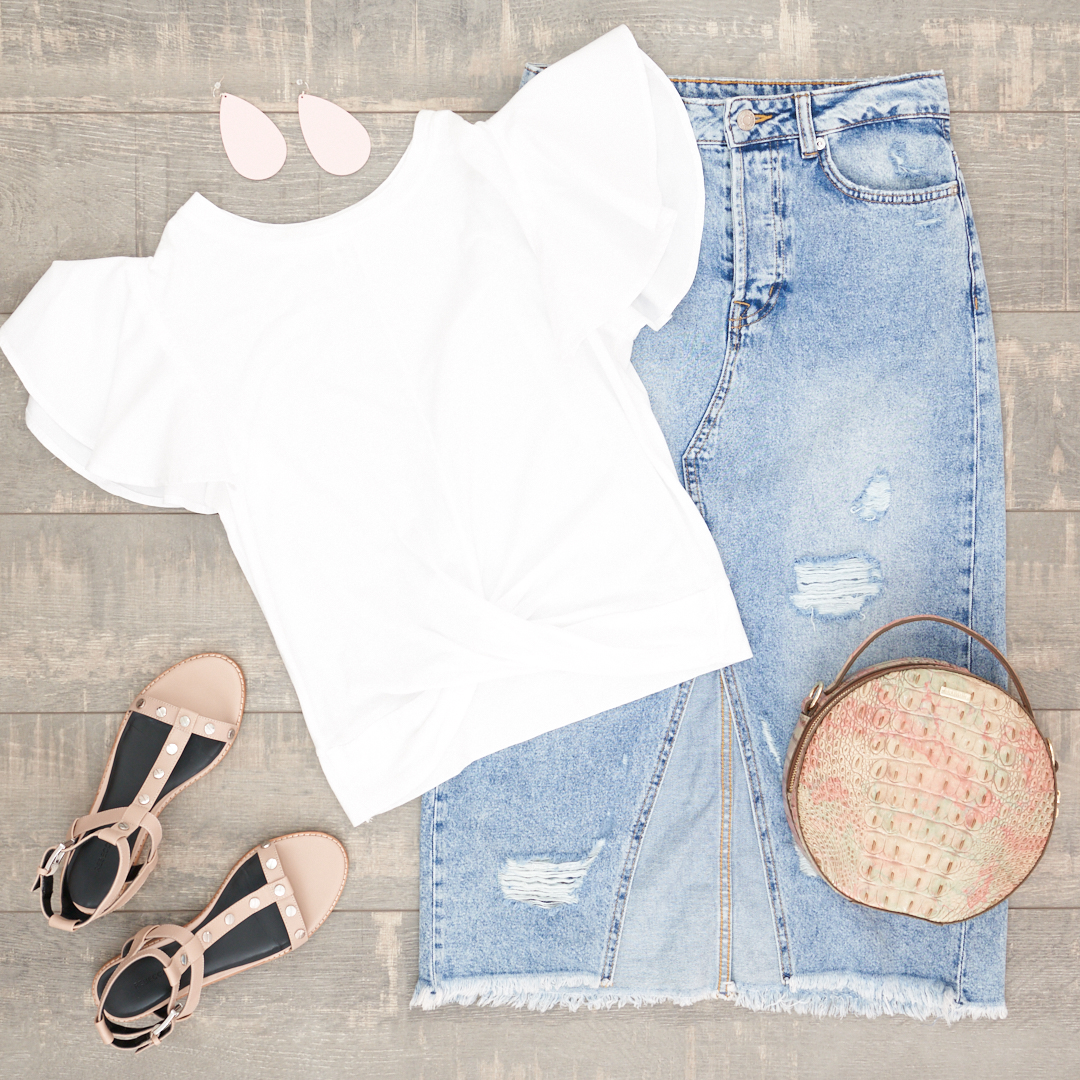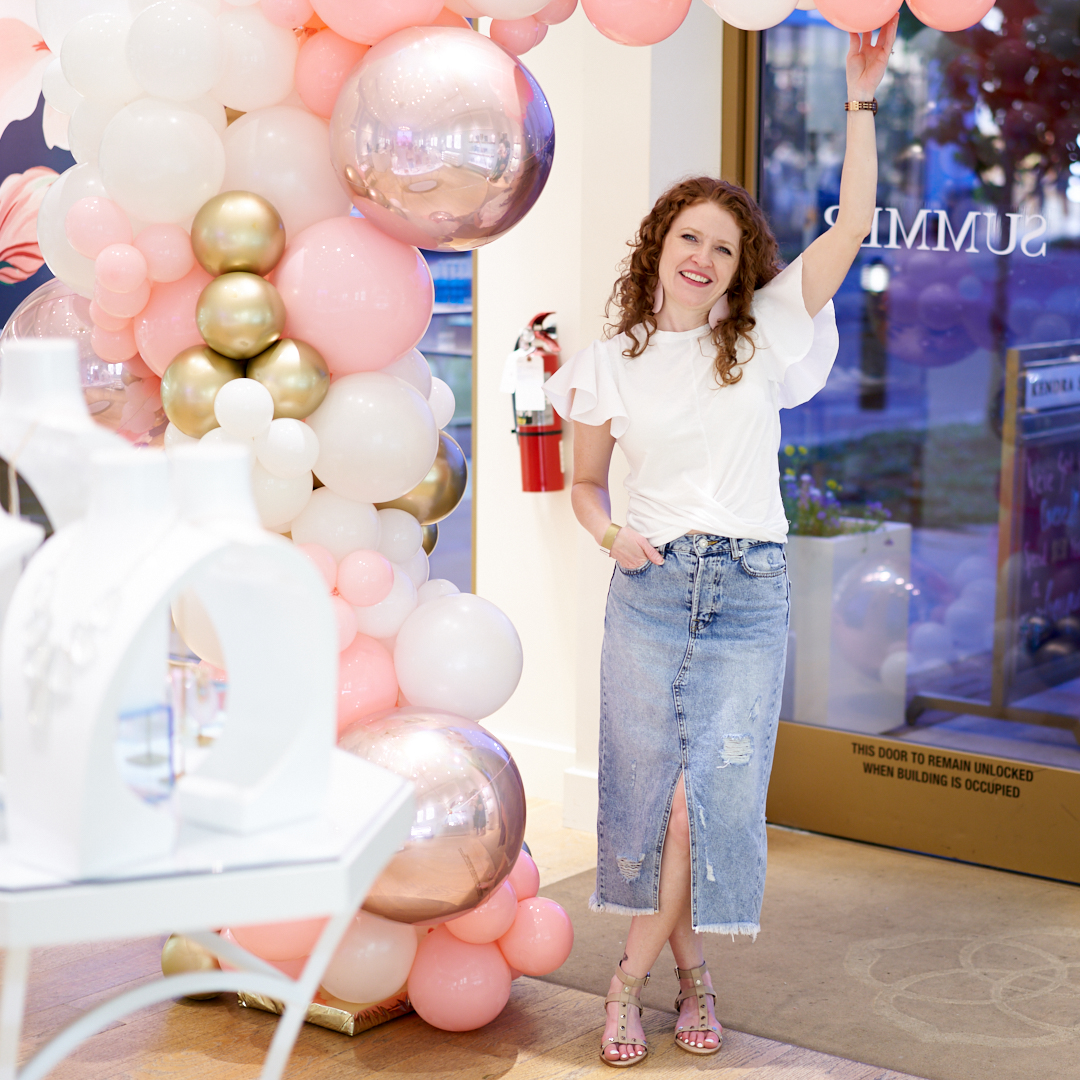 The Edgy Look
This has to be the coolest dress I have found this season.  Most dresses I have an issue with because they do not flatter the figure. They are purely a comfort choice so nothing will hug the body.  I get there are times for those kind of dresses so I won't dwell on that too much.
This is another example of a smart casual outfit.  Super "smart" looking but a casual vibe.  I wore this to an event with Blogger Xchange which was a meet up to mingle with other bloggers from Memphis. We did a tour of Old Dominick Distillery and had some eats and some good conversation.  I wanted to look good but be comfortable at the same time which is sometimes hard to achieve.
This can be worn to anything casual that you would not be hesitant to wear white to.  I probably wouldn't wear it to a bar-b-q or pool party but date night for sure and any kind of casual "mingling" event like the Blogger Xchange one I went to.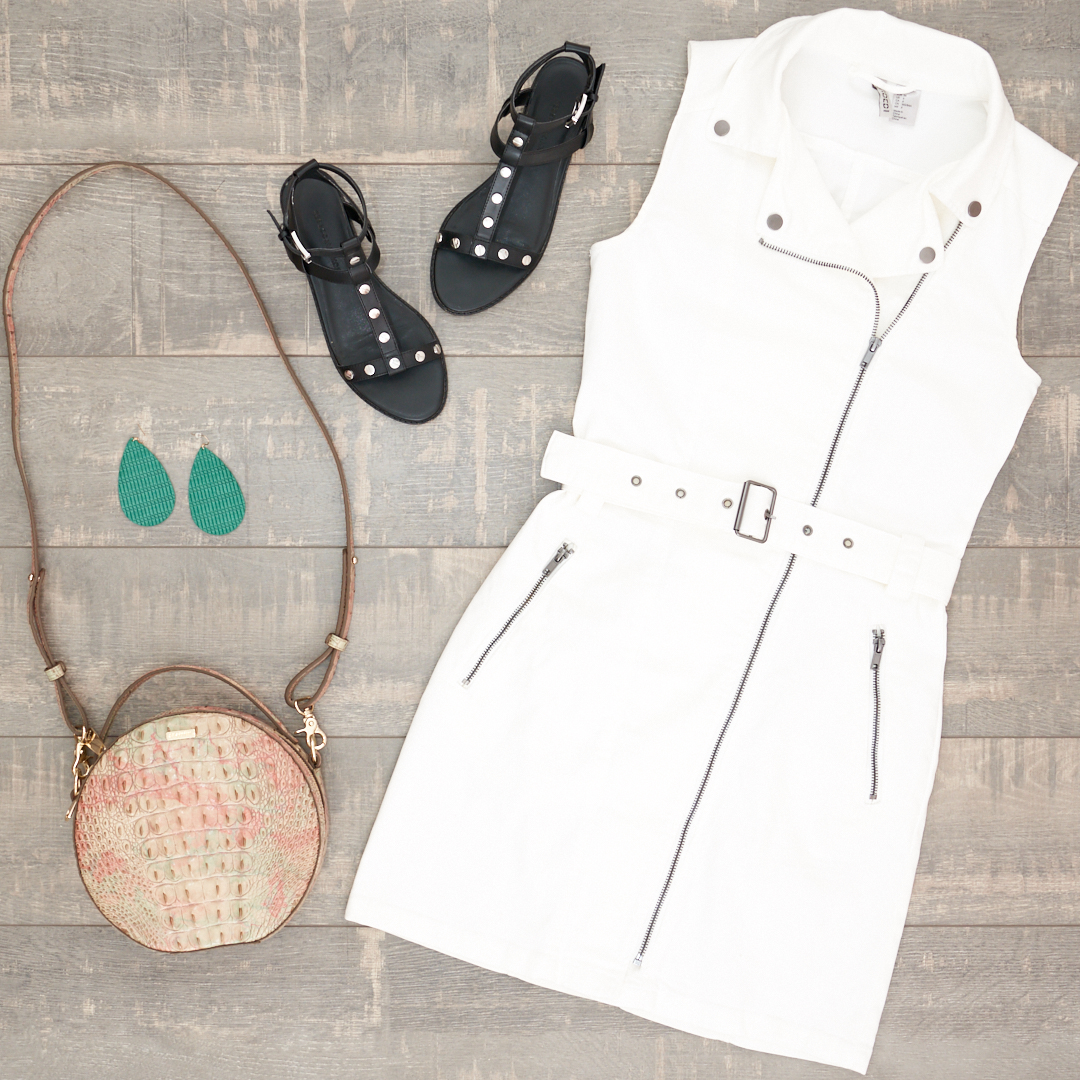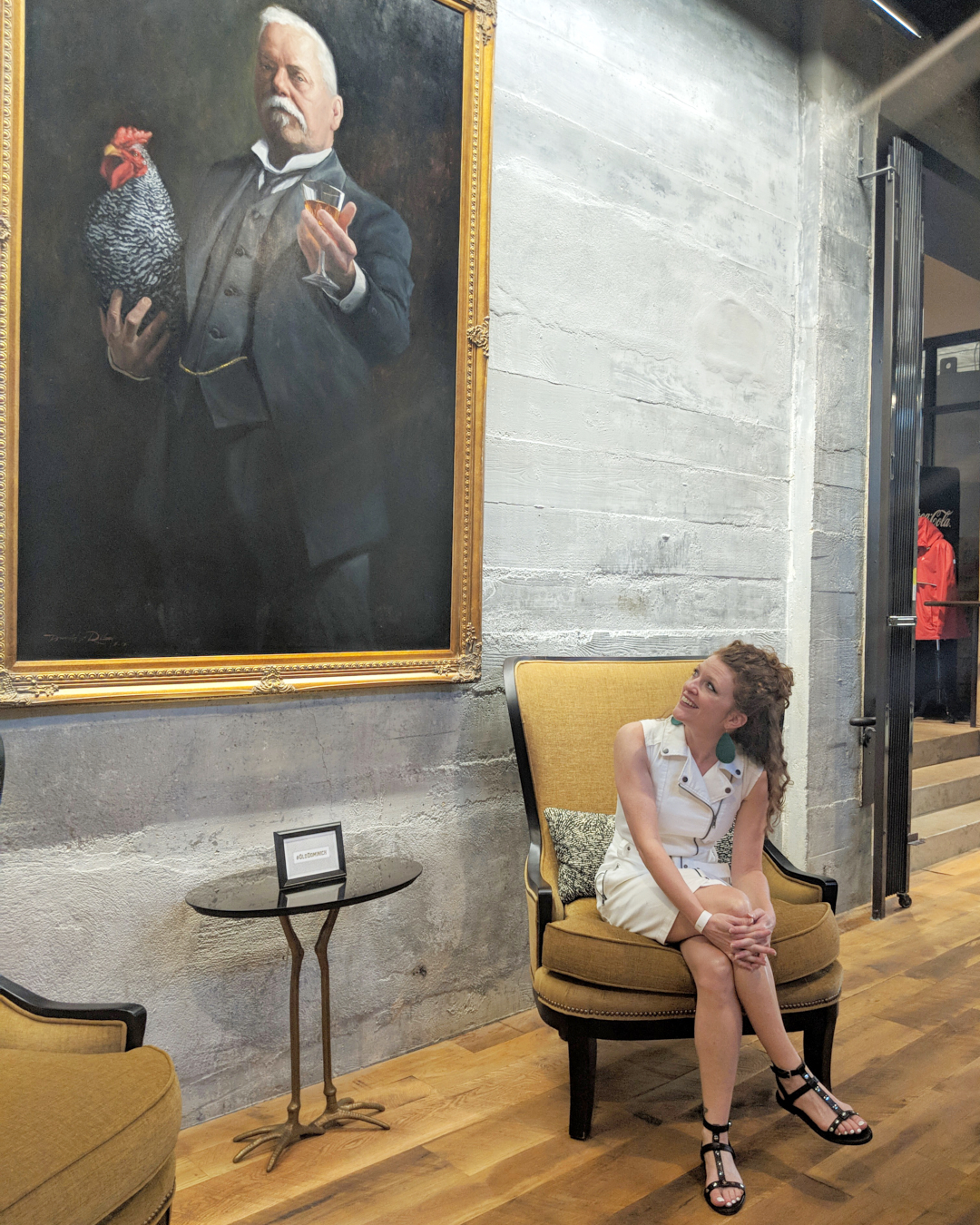 The Versatile Jumpsuit
Y'all know I will always try to convince you to stay with things that are versatile.  This is why I try to give you multiple ways to style something or multiple things to wear it to.  I was invited to the Brahmin Grand Opening at The Shops of Saddle Creek.  Even though it was a shopping event I was not going to show up in jeans. Grand Openings are a big deal and I know the employees would be looking nice as well. When you are going to promote a brand you better go looking your best.
I chose the jumpsuit I wore to the Memphis Fashion Week Emerging Designer Runway Show.  The jumpsuit has two options.  You can either wear it strapless or add straps to it.  For the Memphis Fashion Week event I wore a slender wedge heel and went strapless with a white blazer for when I got cold.  To the Brahmin event I chose to wear it with the straps on and paired a distressed denim jacket and my white espadrilles with it.  I really wanted to represent my own style at this event and show that my style mixes very well with the Brahmin handbags.
You could choose to wear something like this to dinner with girlfriends or a date night.  I would also love to see this with a pump and a pretty blazer for a chic work outfit!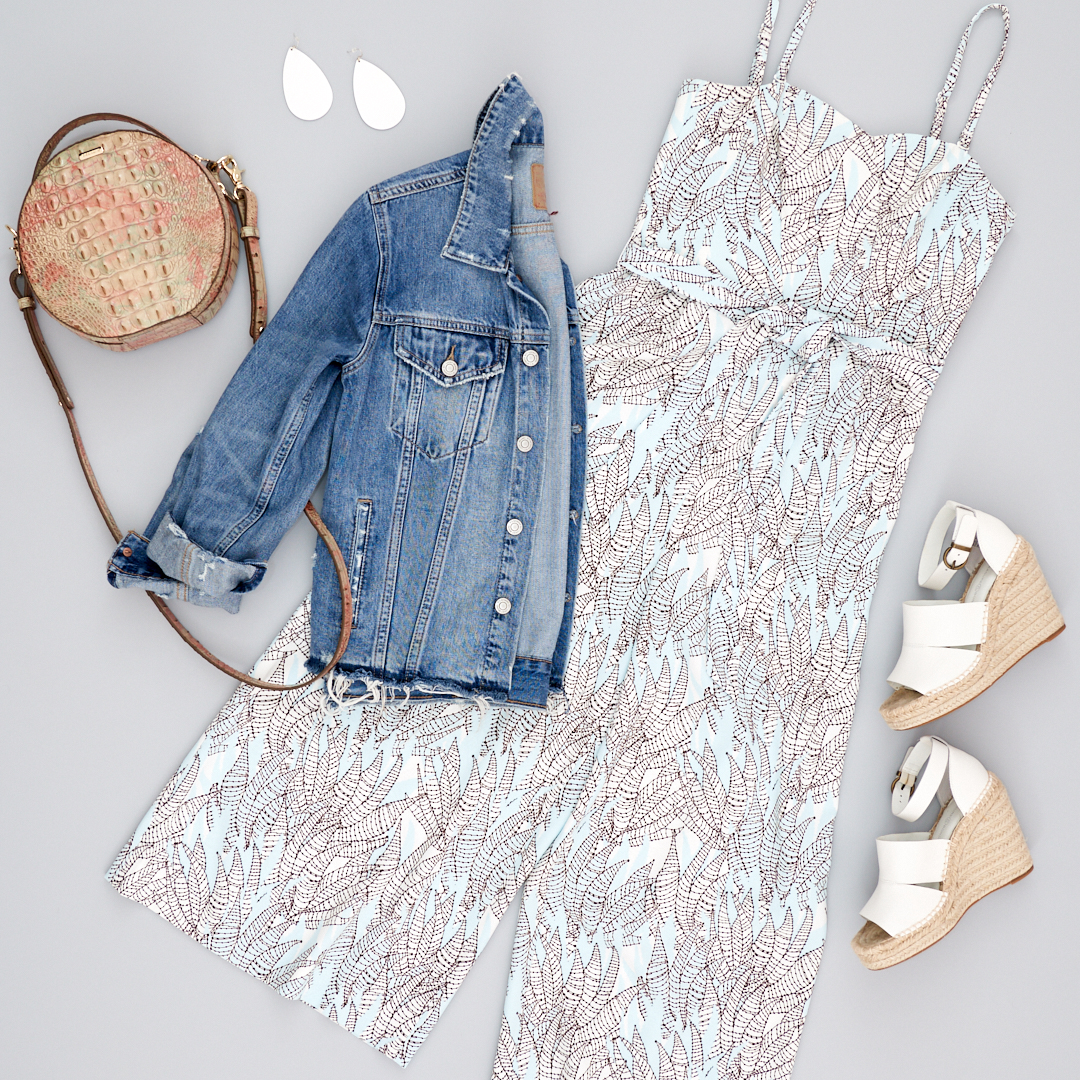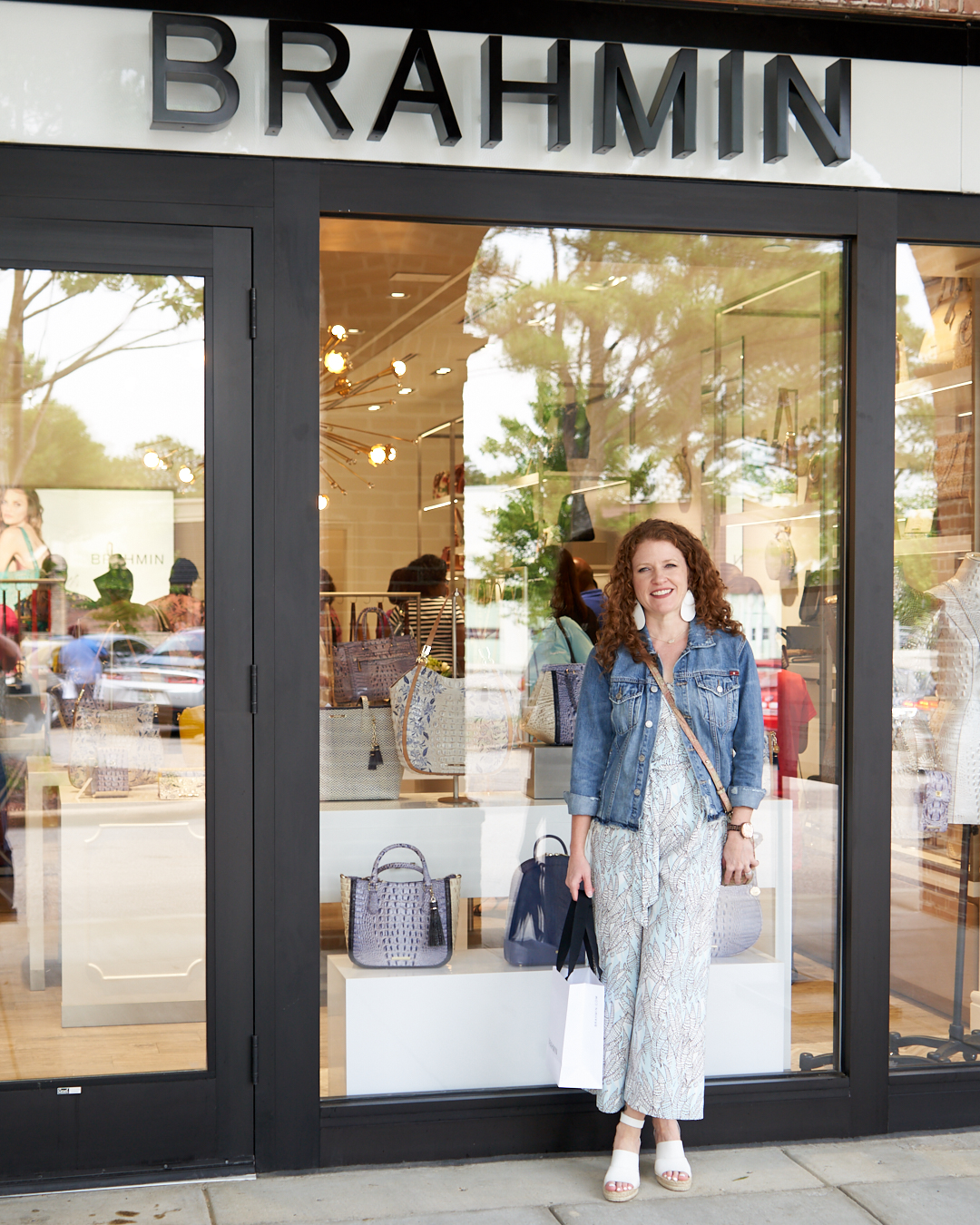 I realize I make these posts kinda long but I really want to give you as much information to help you as I can.  My focus is to help educate you on how to pick great pieces and make the best outfits possible.  I hope that you will learn even one or two things from what I tell you and get better at feeling stress free with your fashion choices.  I hope with this Flat Lay to Life-Styled: It's a Party post I have you covered for any events you might have coming up this Summer!
Talk to you soon!