Hello ladies and Hello Summer! I can't believe it is already here! I hope it is off to a great start for you!  Summer is the most fun time of year but also the trickiest when it comes to deciding what to wear. Don't you agree? I would love it if you would leave me any questions you have about your summer wardrobe in the comments below.  I would love to help by answering them for you!
One thing I would like to talk about for Summer, especially this year, are three denim staples for your wardrobe.  Since denim is so comfortable and easy for a casual lifestyle, we should be able to continue to wear it through the Summer.  I would like to share with you what I have chosen as my denim staples for this Summer season.
The Three Staples
The three denim staples for your Summer wardrobe are a good pair of cropped or ankle jeans in a lighter blue, denim shorts in blue and/or white, and a good denim skirt.  These staples will give you lots of styling options that would be considered casual and smart casual.  It is amazing the amount of outfits you can make with one denim piece!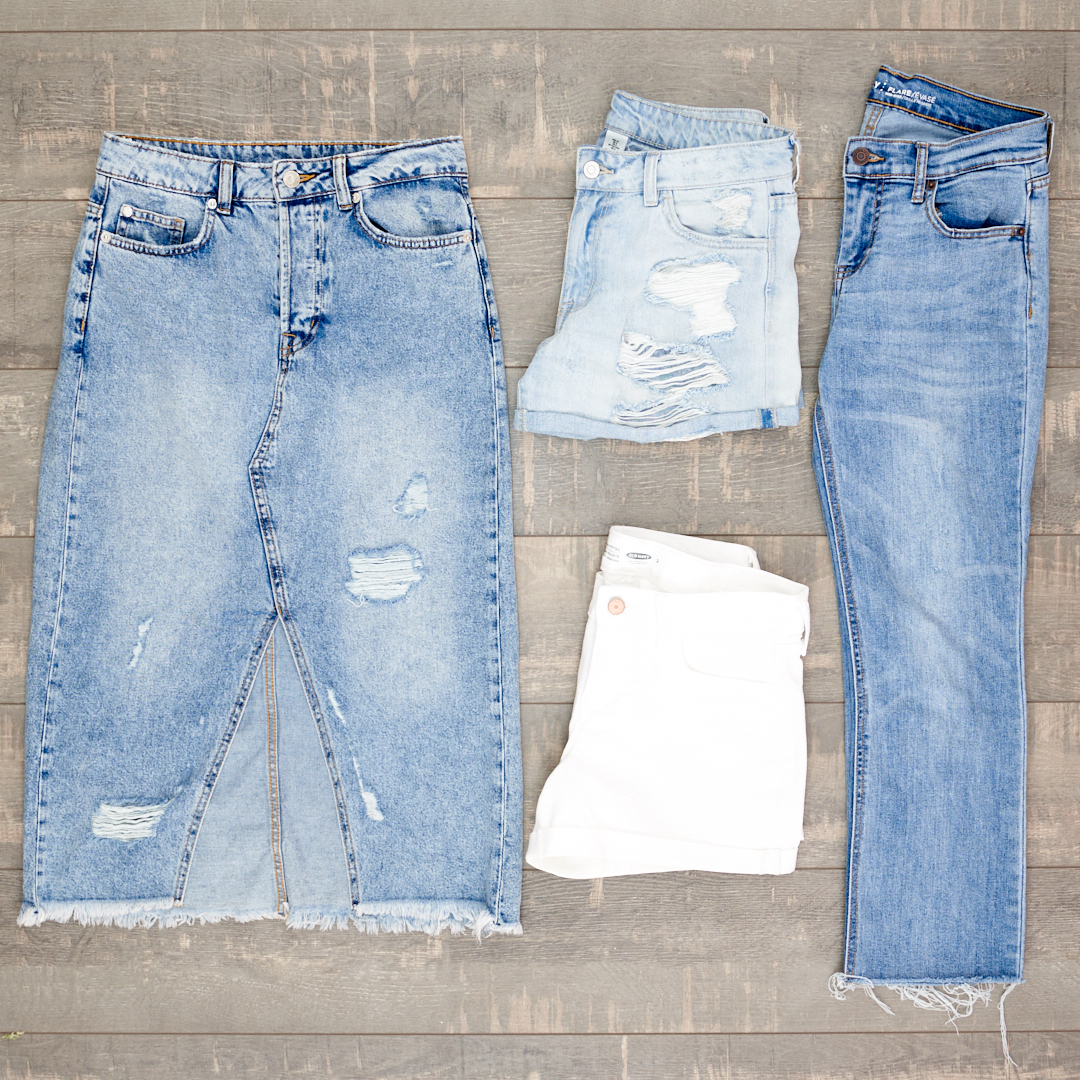 The Denim Skirt
The midi denim skirt was the perfect choice for me but may not be for you and that is OK.  It is a little on the trendier side but you should definitely consider a regular denim skirt.  They come in all different lengths, so you will have lots of options.  I think a knee length or a little bit above the knee is perfect for most people.
I love a denim skirt because it looks nice without being too casual or too dressy. Most women will wear a skirt more than shorts or a dress, so I wanted to add this to your staples list. This is also something that is very popular right now so you will look really stylish wearing it.  It also does not take much thought to pair things with it.  Just about any type of top or t-shirt other than a tunic will look fabulous! You can see the various things I paired with  mine below. Also, you can check out my post on this amazing skirt here.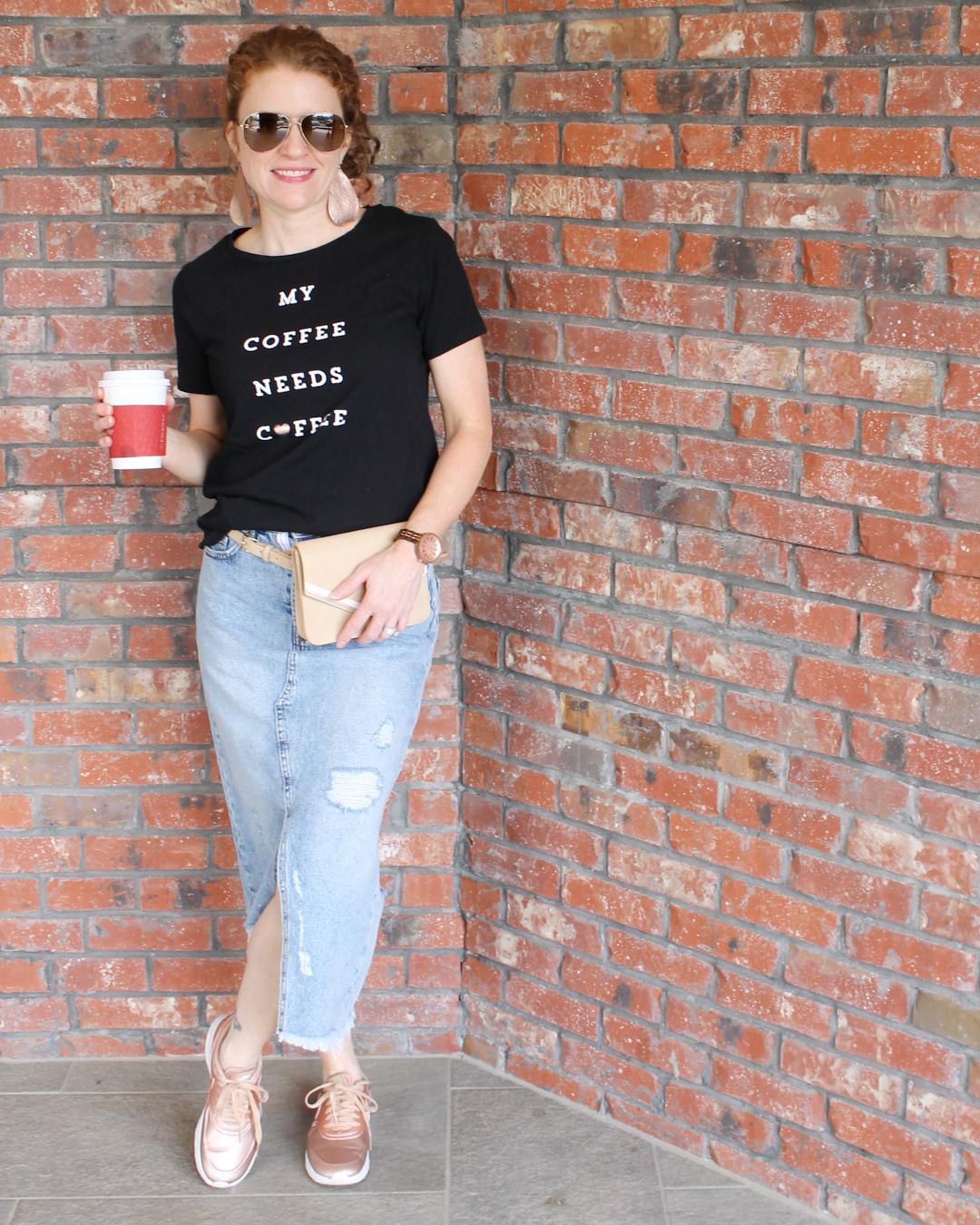 Denim Ankle or Crop Jeans
I actually went out on a limb this year and purchased a crop flare jean.  I fell in love with them and thought they were the perfect pairing for the oh-so-popular espadrilles this season.  Boy was I right! I have loved them so much.  Normally I would just purchase an ankle skinny because that is what I felt best in.  So, if you are not all about the cropped flare, a ankle skinny will do just fine!  I have lots of ankle skinny jeans I keep around as well.
The crop flare is nice to have in a blue denim or a white denim.  You will have a ton of options with these pieces and they could turn out to be your absolute staples for the entire Spring and Summer.  I even put these on with a blouse to go to my casual service at church.  I want you to think that this is a much better choice to put on with your daily t-shirts instead of those dreaded black leggings!  Are you guilty?  Check out my last post all about that here.
Keep your eye out for these babies in the fall because I think this cropped flare trend will continue and be even bigger! Also, the cropped wide legs are something you will see in the fall. This will help ease you into that trend if you decide to go for it!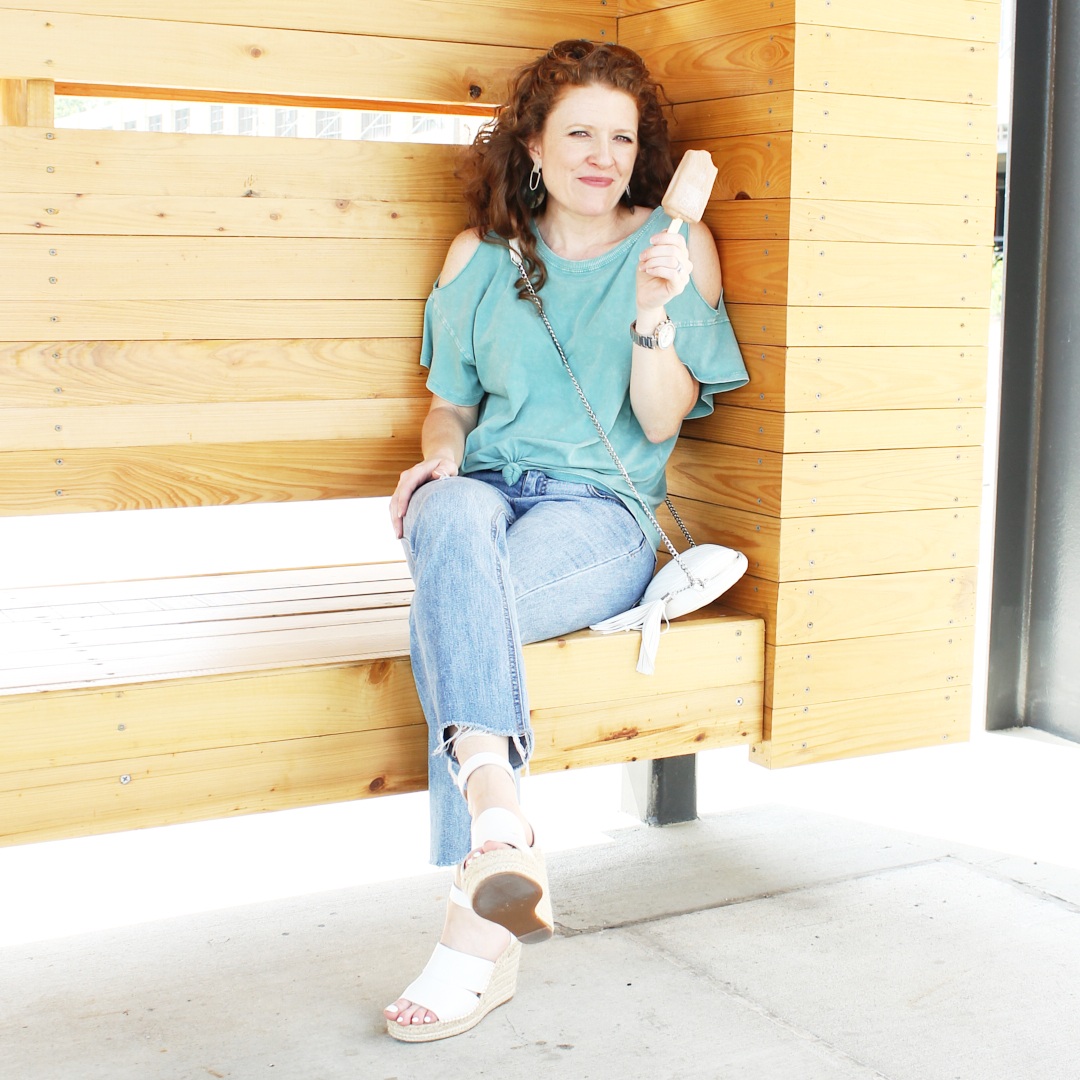 Denim Shorts
When I started posting pictures of shorts on Instagram I was very surprised to find that a lot of women do not wear shorts.  In discovering that I tried to find out why.  There are multiple reasons.  Some people said they just don't fit them well because of their shape or they just preferred a dress or skirt. The biggest reason was women just don't like their legs in shorts! I thought this was weird because almost all women wear skirts and dresses! A few years ago I was that person that did not wear anything that showed my legs!  Self tanner has changed my life ladies! Try it if you haven't yet and put on some shorts!
If you can find the perfect pair of denim shorts  for yourself they will go with just about anything! I wear mine with t-shirts and sneakers to blazers and sandals.  The list is pretty much endless.  I recommend you at least try a pair and see if you think you could wear them.  I am willing to bet that you will become like me and wont want to be without them.   Especially when it gets to be over 100 degrees outside in August and September.
I actually own three pairs of denim shorts.  A distressed pair, regular blue denim pair and a white denim pair. I wear one of the three on a daily basis.  You can see in the pictures below how differently I have styled them and it all works!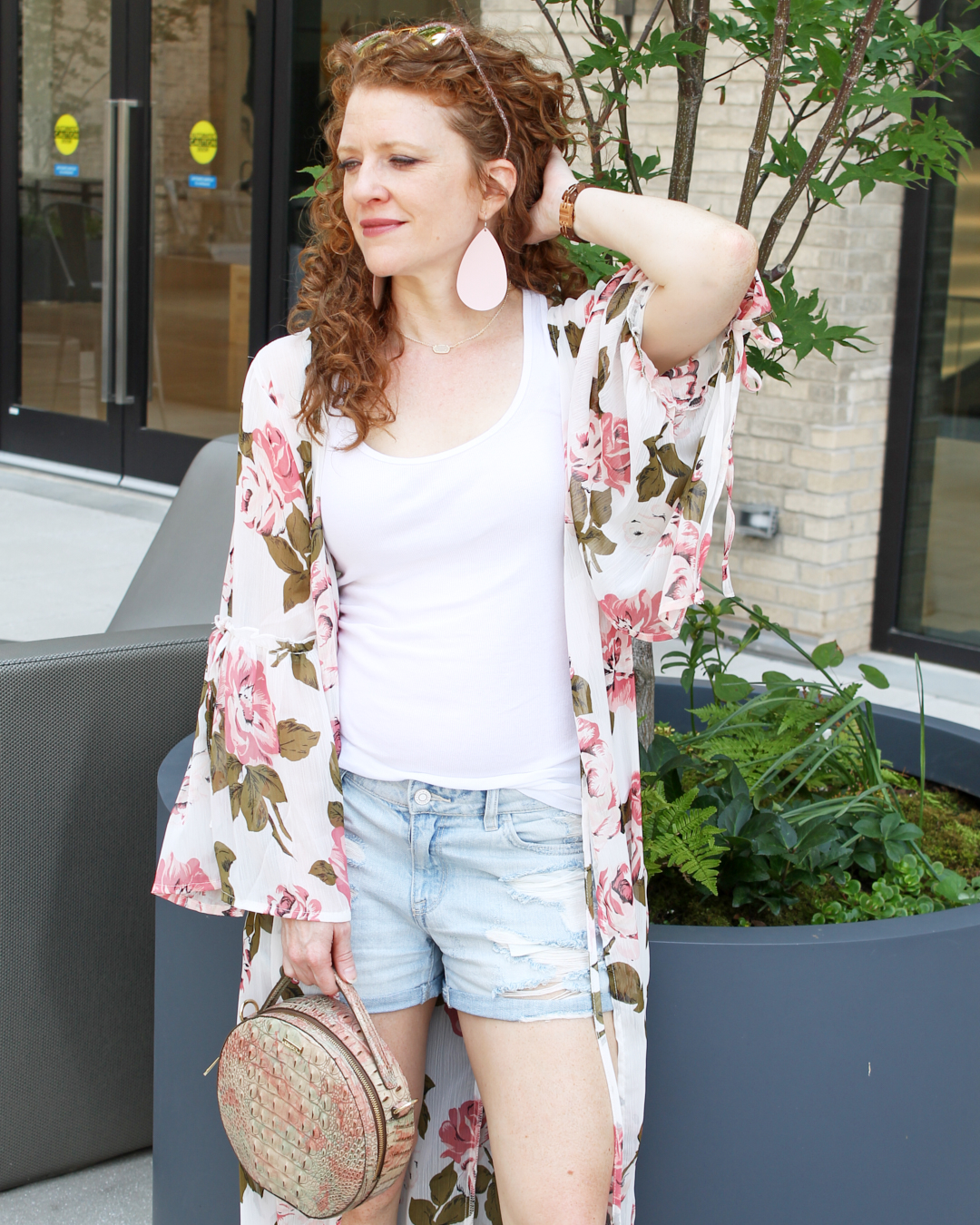 A denim skirt, shorts and crops are great staples to have in your Summer wardrobe!  It is important to find great quality denim that fits well and looks good. I know this is a challenge.  Just keep trying!  When I worked retail and sold jeans to women they would tell me it's worse to shop for a pair of jeans than it is a bathing suit!  I really wish I could help everyone accomplish this but I know I can't.  But I can tell you to just try different brands and see what works. Go to a store that has an expert sales person that can help you.  Or if you live in the Memphis area you can hire me and I will gladly help you with this and the rest of your wardrobe.  You can contact me here.
Have a great start to your Summer and I will talk to you next week!
Toodles!