Hey there!  I hope you had a great weekend!  Summer has officially started for most people with kids being out of school and vacations planned.  Even though we are all glad for summer, I know we are dreading the Memphis heat waves in July and August! In spite of the heat, I am going to try to inspire you to still try to dress cute through it all! I know it's hard but we can do it!  Ladies, throw aside the black leggings and put on some cute clothes!
In saying that about the black leggings I have to tell you a story.  I recently went to Chick-fil-a for breakfast with my husband. While I was sitting there eating I counted 5 women in the line at the register that had on black workout leggings! It was already 80 degrees outside so what in the world! I  wanted to hand my business card to all of them so I could help them out.  Of course I didn't because that would come off kinda rude. It made me feel really sad though. I think women get into a rut and just throw on anything because they think it doesn't matter.  I think with just a little more effort they could look really good and probably feel better about themselves.
A really fun piece that you could add to your wardrobe and use as a great summer topper is a kimono. I have styled this three ways for you and the outfits underneath the kimono consist of things you probably already have in your wardrobe. Styling this piece is really that simple and will not require a whole lot of thought or effort and you will look stunning! It can also take you from day to night just by a change in your bottoms or top or both!
Kimono & Shorts
I found this beautiful floral kimono at the Nordstrom Half Yearly Sale.  Unfortunately it has sold out so I have linked some others for you. It has to be my favorite piece for summer right now. I am starting with my favorite way to style this kimono; with shorts!!!! Yes, with shorts! Look how cute it is with ripped shorts and a wife beater tank top!  If you want to turn heads then wear it like this!  I felt so incredibly confident in this outfit and didn't want to take it off!
This is definitely going to take you out of your comfort zone but that is why I am here!  If you don't wear shorts like this than you can do some longer denim shorts and a cute wedge. Instead of the tank you can wear a simple plain t-shirt.  I think the key here is the shoe.  Flats would not make the same impact as the espadrilles do.  They give me more height and elongate my body to make the kimono look like it was meant to be. The ones that I have on are fully stocked here!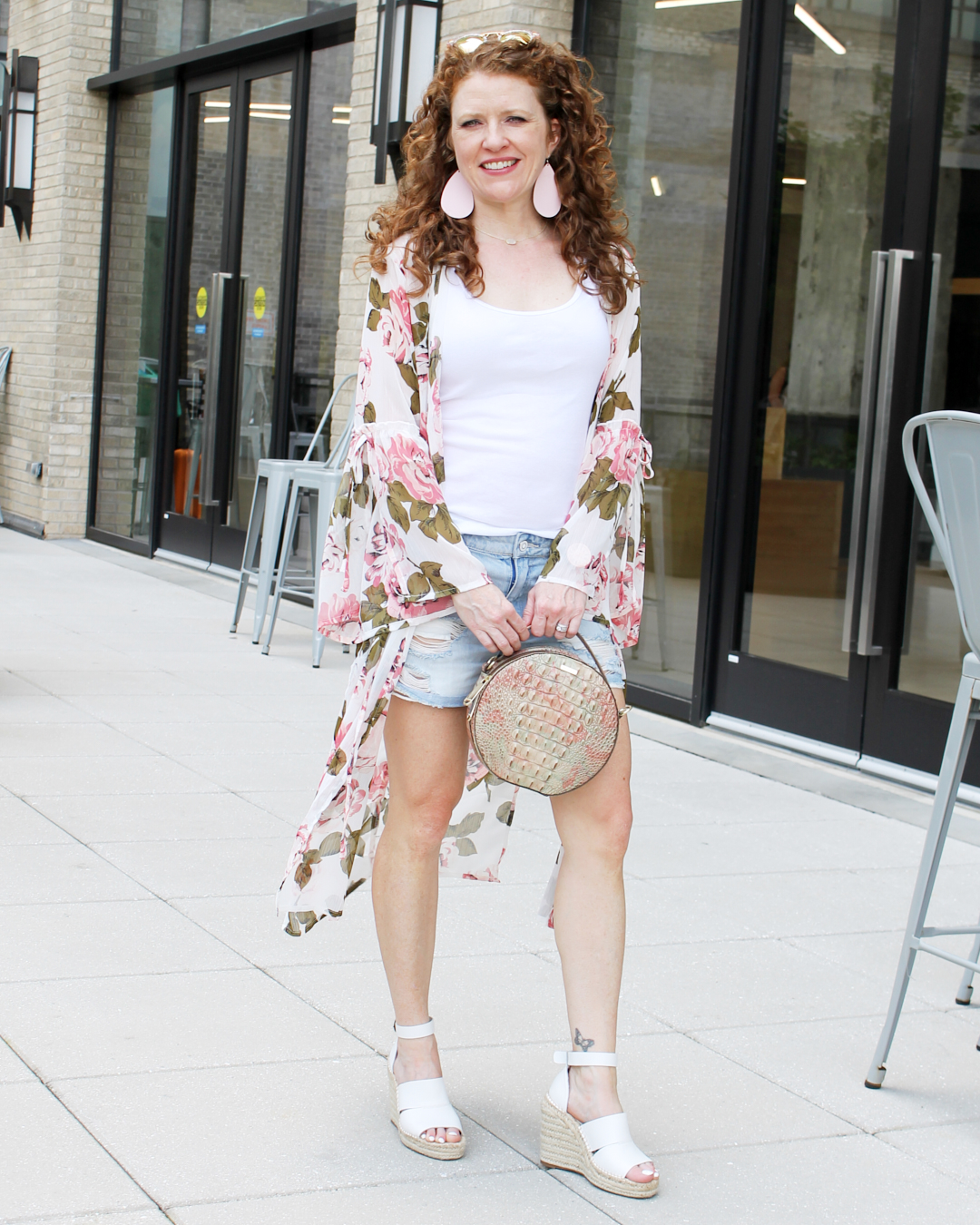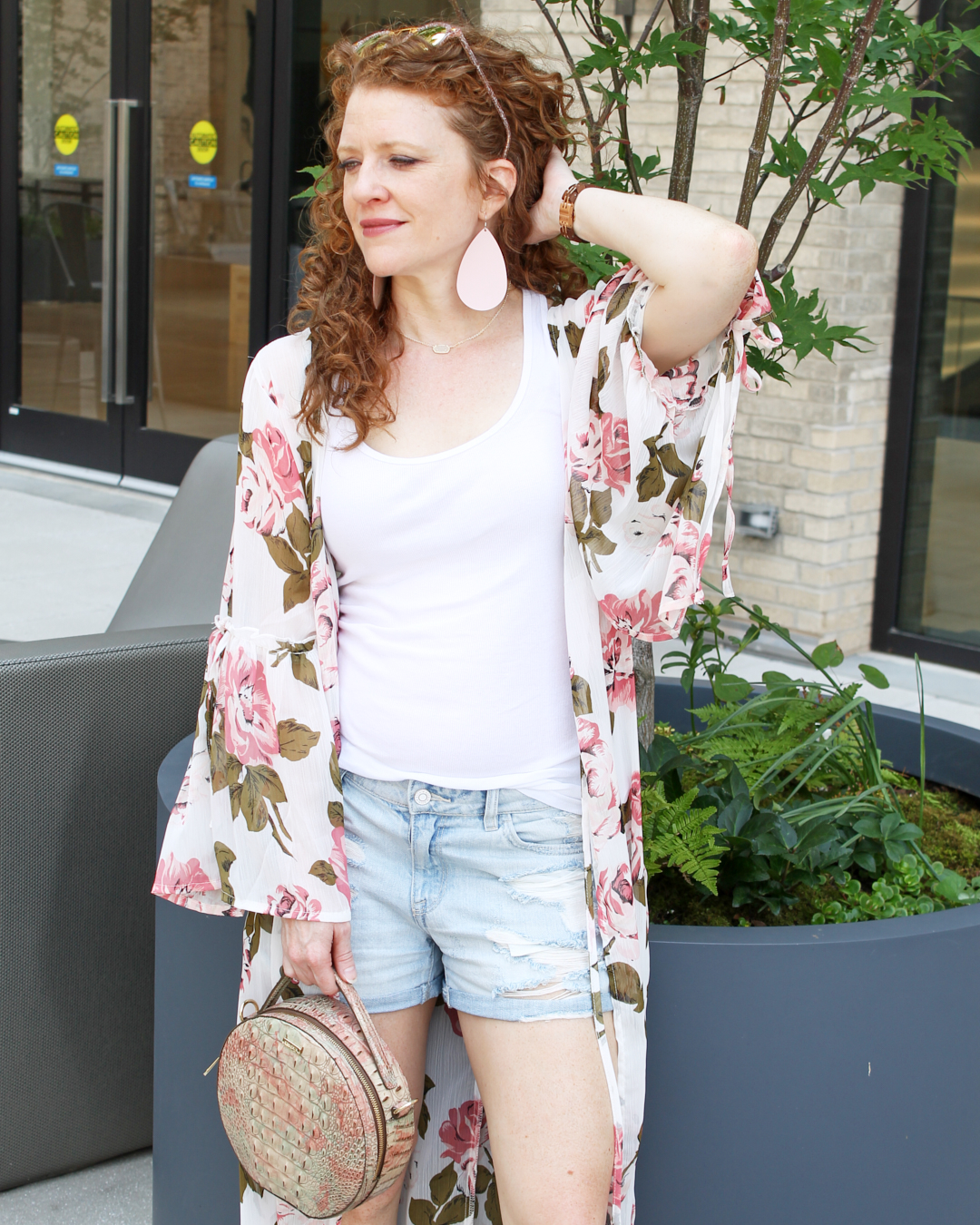 Conservative Kimono
If you have a more conservative lifestyle than this one will be your favorite!  I actually wore this entire outfit to church on Sunday and it was perfect.  I layered a pink blouse and my white jeans underneath it and threw on my nude wedge sandals.  This outfit can take you lots of places like work, dinner, lunch with the girlfriends, shopping, and church.  If you want to make it more casual and are not a fan of white jeans you can wear a regular jean in it's place.
I also chose to give it a little bit of a 90's vibe by adding the gold hoop earrings.  I remember when hoops were the thing back then and I think it was because of Madonna who was a favorite of mine.  I am so glad they are back! These are Kendra Scott and come in this size and a larger size!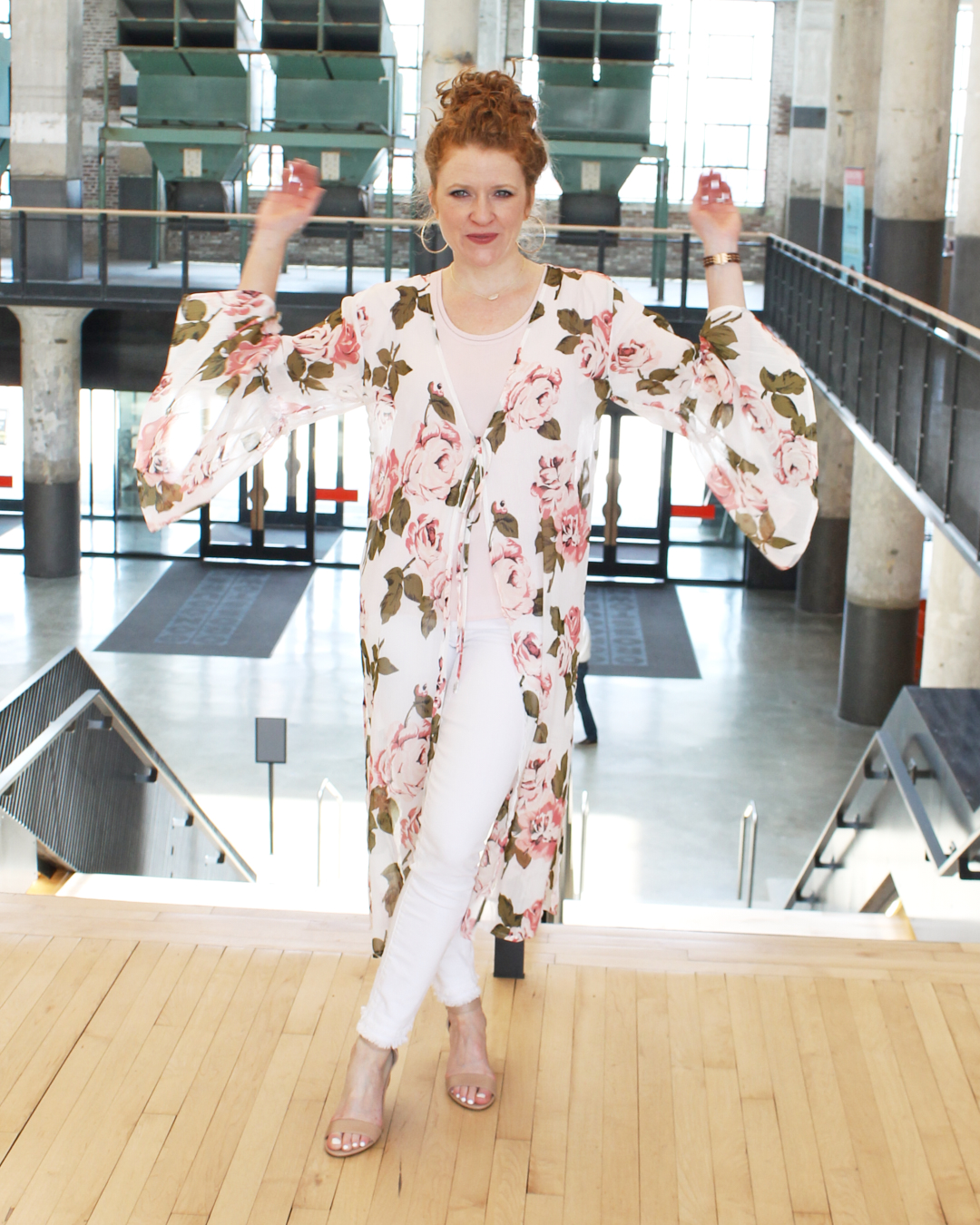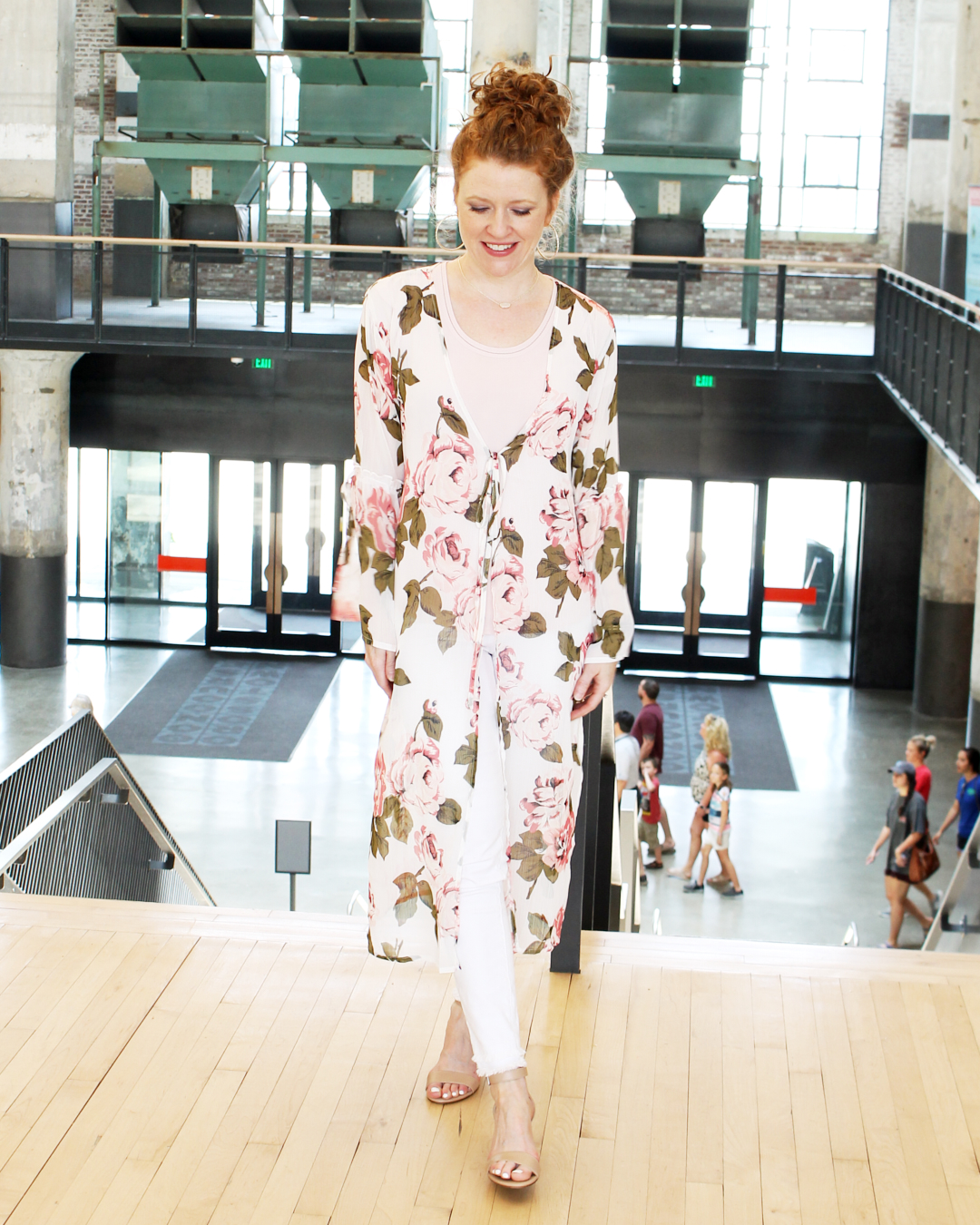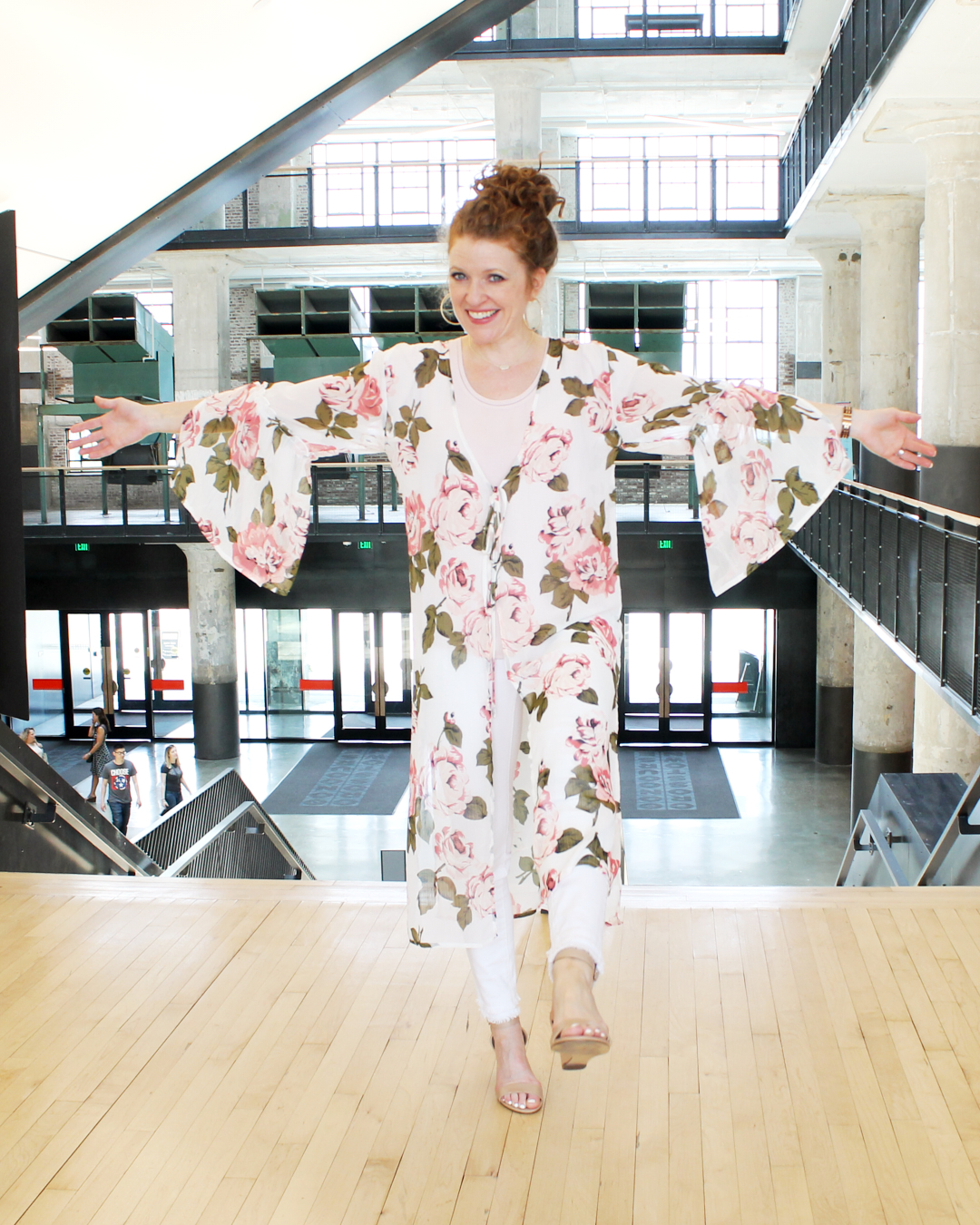 The Icing on the Cake
The last outfit with this perfect summer topper could take you from work to evening with just a change of your shoes!  To work I would put on a nude or black pump and change into a cute heel like this Chinese Laundry one for a night out.  The all black underneath the kimono makes it pop and gives it a fancier look. Which is why I call it the icing on the cake!  Add a statement earring and a clutch to complete your dressed up look!
I think this version is perfect for transitioning into the fall season. We all struggle during this time on what to wear and this would be the perfect example. (Yes, I am thinking that far ahead, lol!)  I would put this on with black or tan booties for an edgier and fun look that could take me just about anywhere! Depending on how dressy the booties are you could even consider wearing them to work.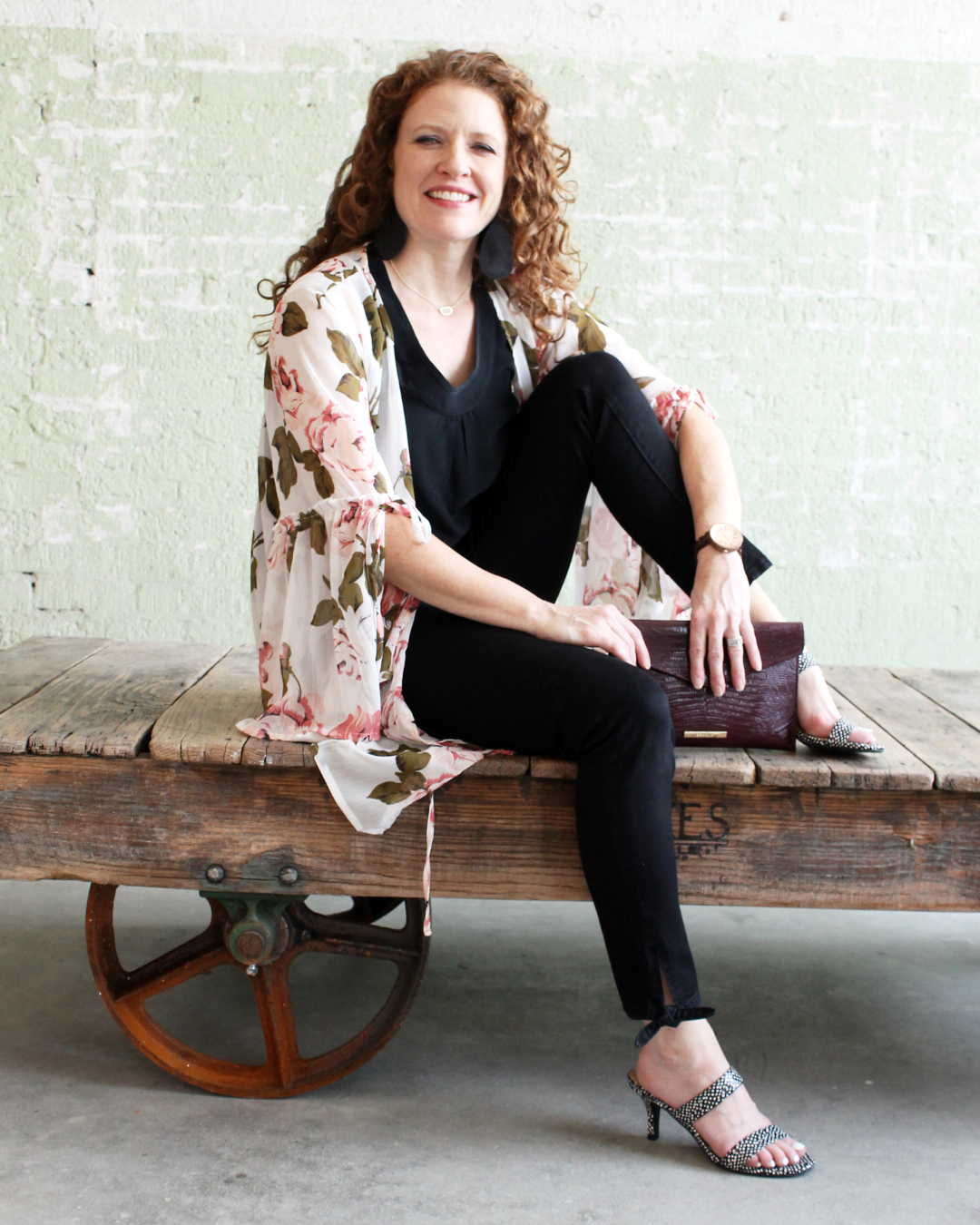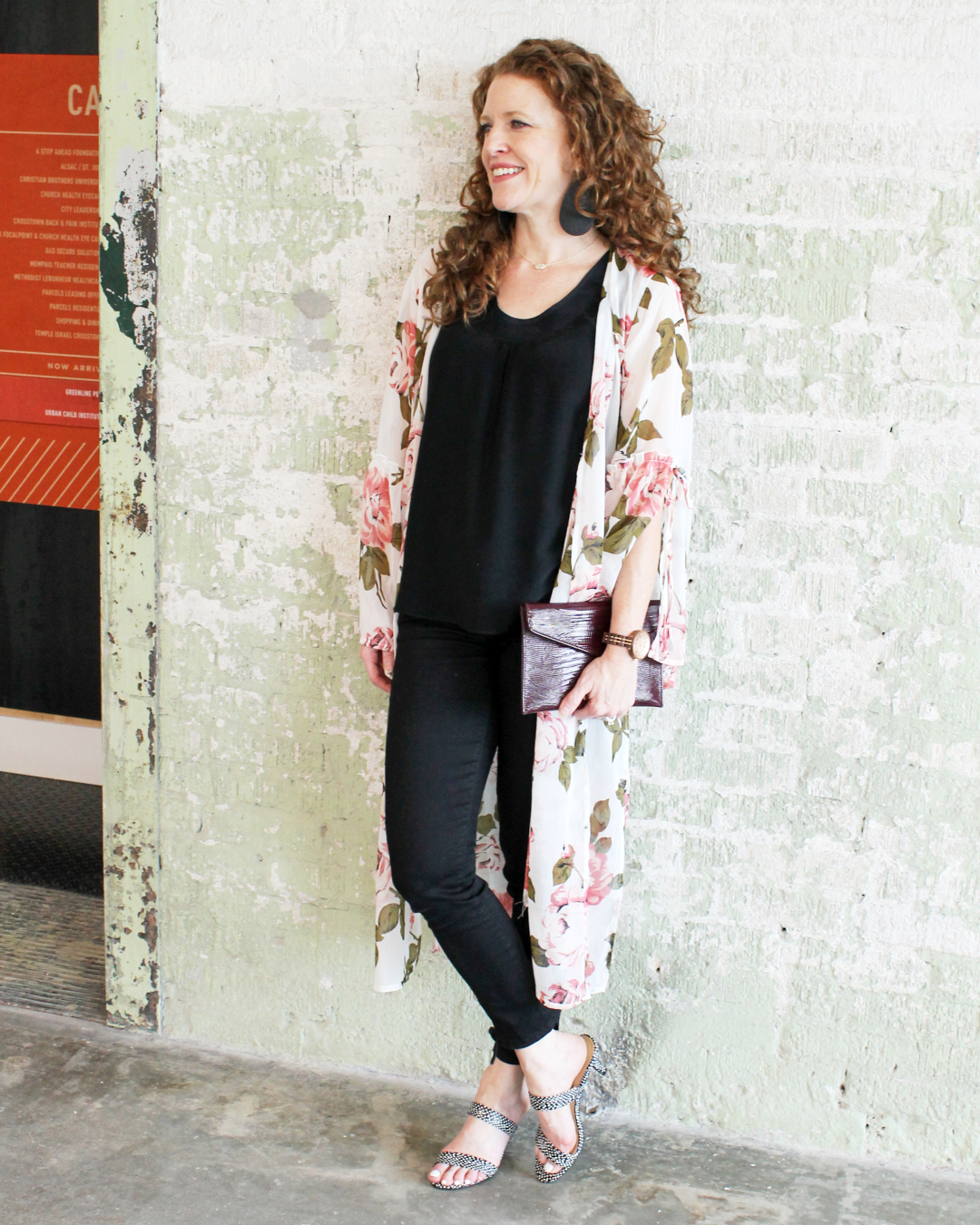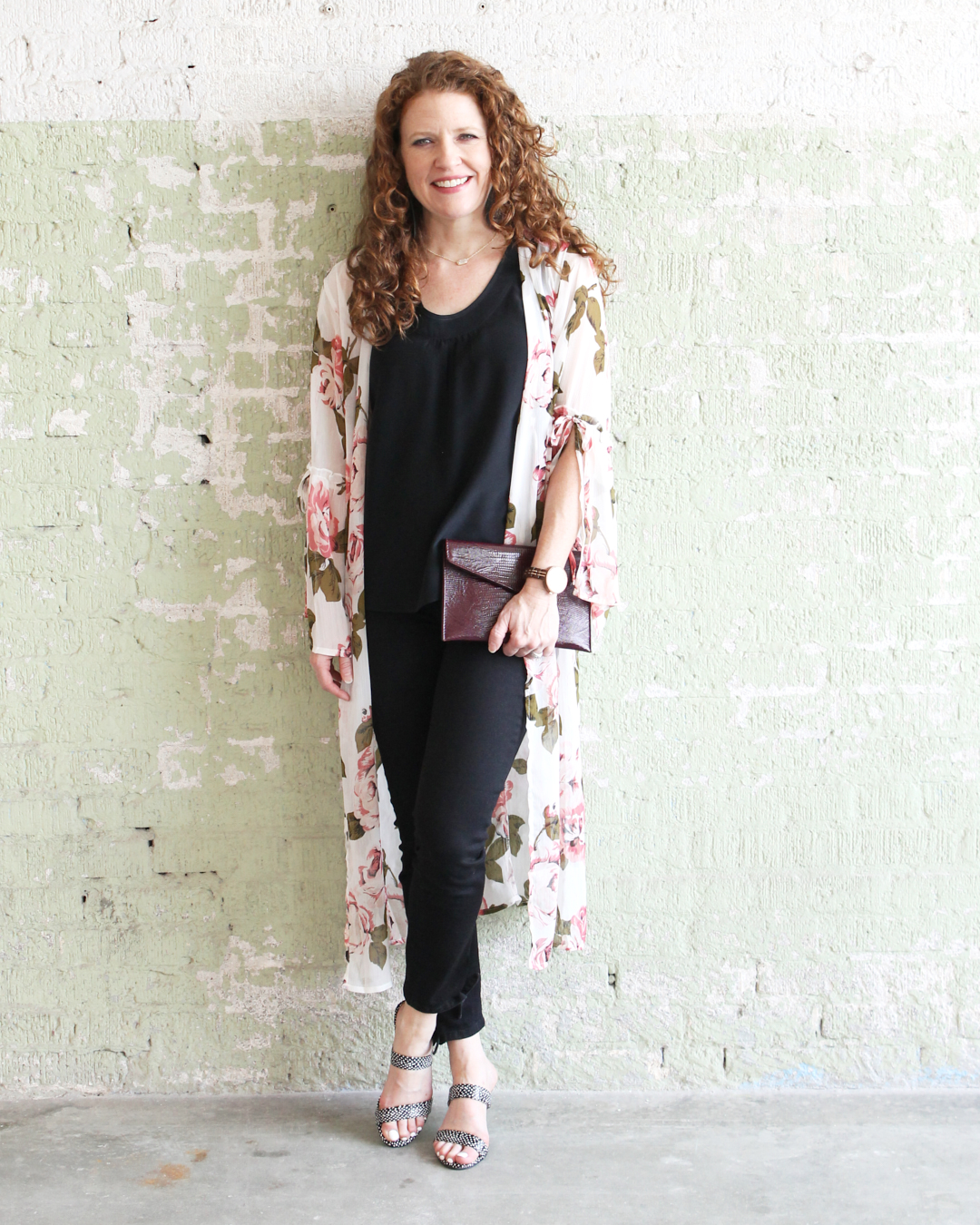 This kimono is the perfect summer topper because it is so versatile and just flat out pretty!  I love the feminine vibes it adds to any outfit without being too over whelming! The simplicity of creating an outfit with it should have you running to your computer or a store to find one!  There is no excuse for those black workout leggings to be on your body every! single! day! I just gave you lots of options with just one simple piece!  I hope you enjoyed the looks and if you are not subscribed I hope that you will.  The future is looking bright for Style by Jamie Lea and there are awesome things coming!
Thanks for Reading,