Happy Summer everyone! It is definitely here to stay for a long while. We definitely have to make the most of it!  I thought this was just the perfect time to talk about summer styles.  This Flat Lay to Life-Styled post is called Simply Summer.  I thought these outfits were all perfect for looking good and staying cool in this summer heat.  If the shorts are too short for you than imagine the outfits with a skirt or longer shorts.  They will work with either. I am giving you my personal versions of these outfits but you can make whatever alterations that are necessary for you to be comfortable.
The Sassy Kimono
What a better way to dress up some denim shorts than with a beautiful chiffon kimono!  This lovely kimono is sold out but there are tons of others available to buy that I have included below. A kimono is perfect for replacing that  jacket or cardigan that you might wear in the fall.  I love to be able to layer because it just makes the outfit more interesting.  Layering becomes very hard to do in this heat unless you have something like this.  I have worn this kimono with lots of other things and even dressed it up! If you want to see the other outfits check out my The Perfect Summer Topper blog post.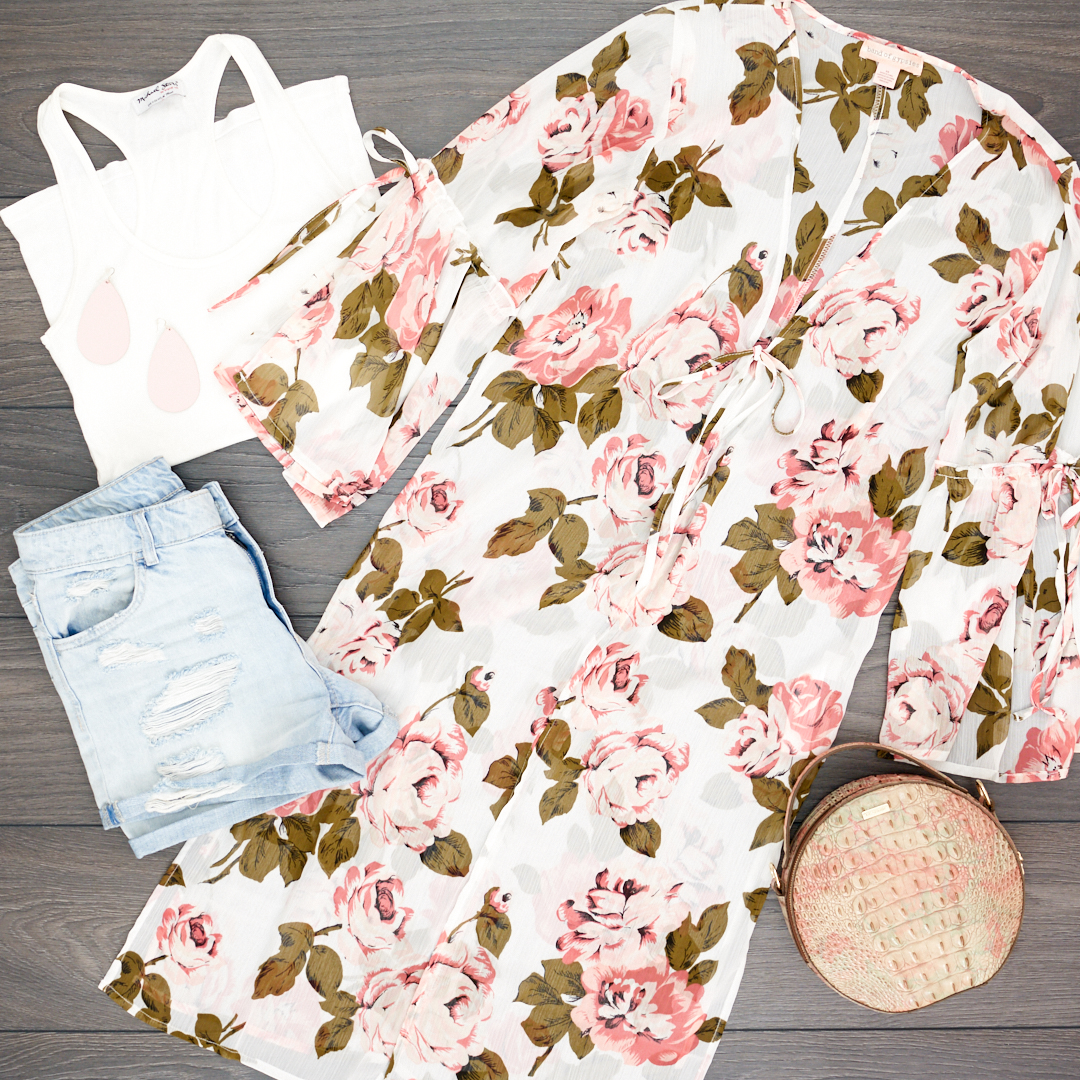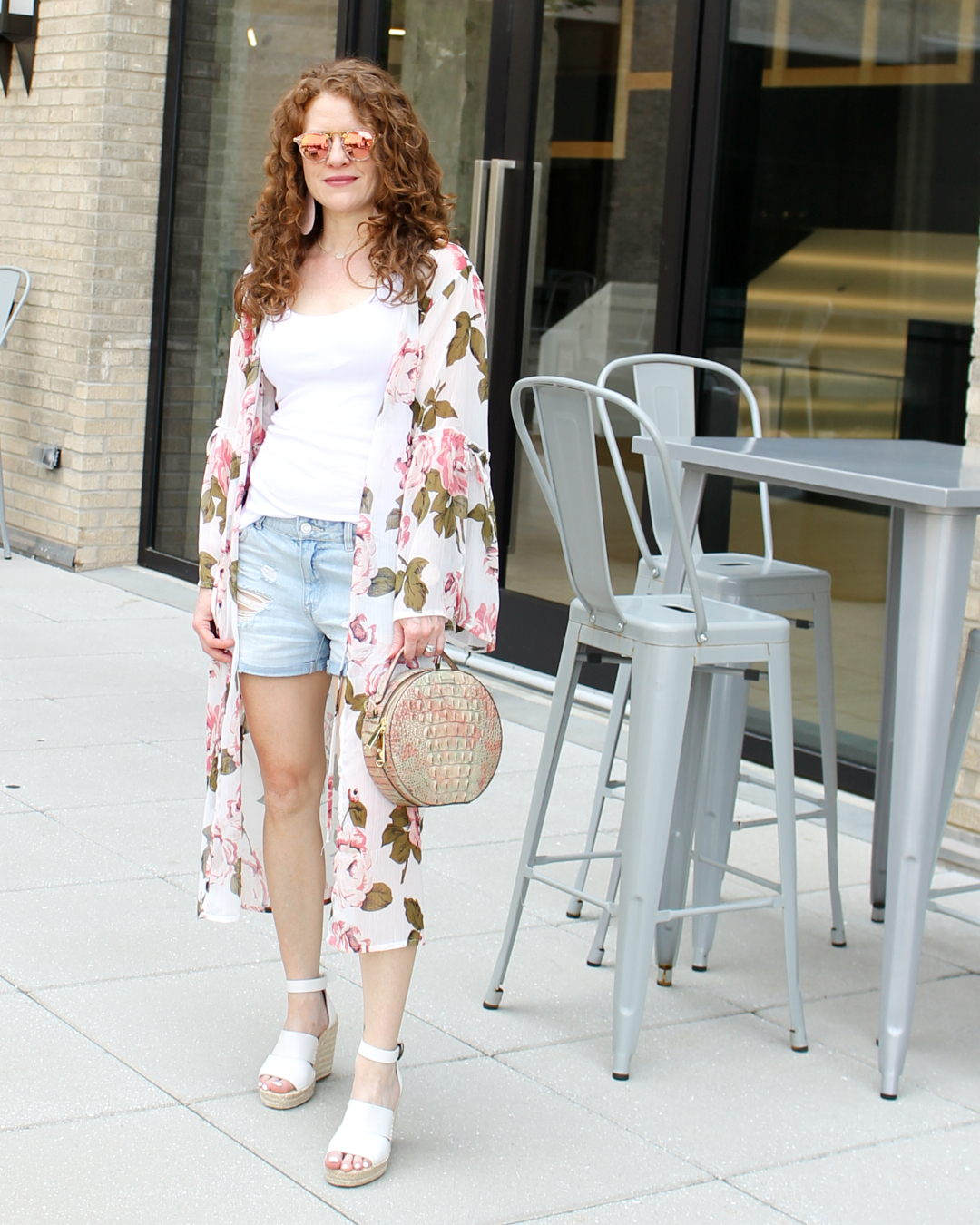 The Perfect Summer Scarf
I received this scarf for my birthday from Erika, my best buddy and creator of Beaut Optician. Who knew it would be one of the most liked items that I have posted on social media this season. I think the colors are just so attractive for summer time.  I paired it with light colors to make it pop even more.  It is a very light weight material and if you wear it loosely around your neck it will not make you hot.  This is another perfect way to layer in the summer to bring the outfit more interest in this heat!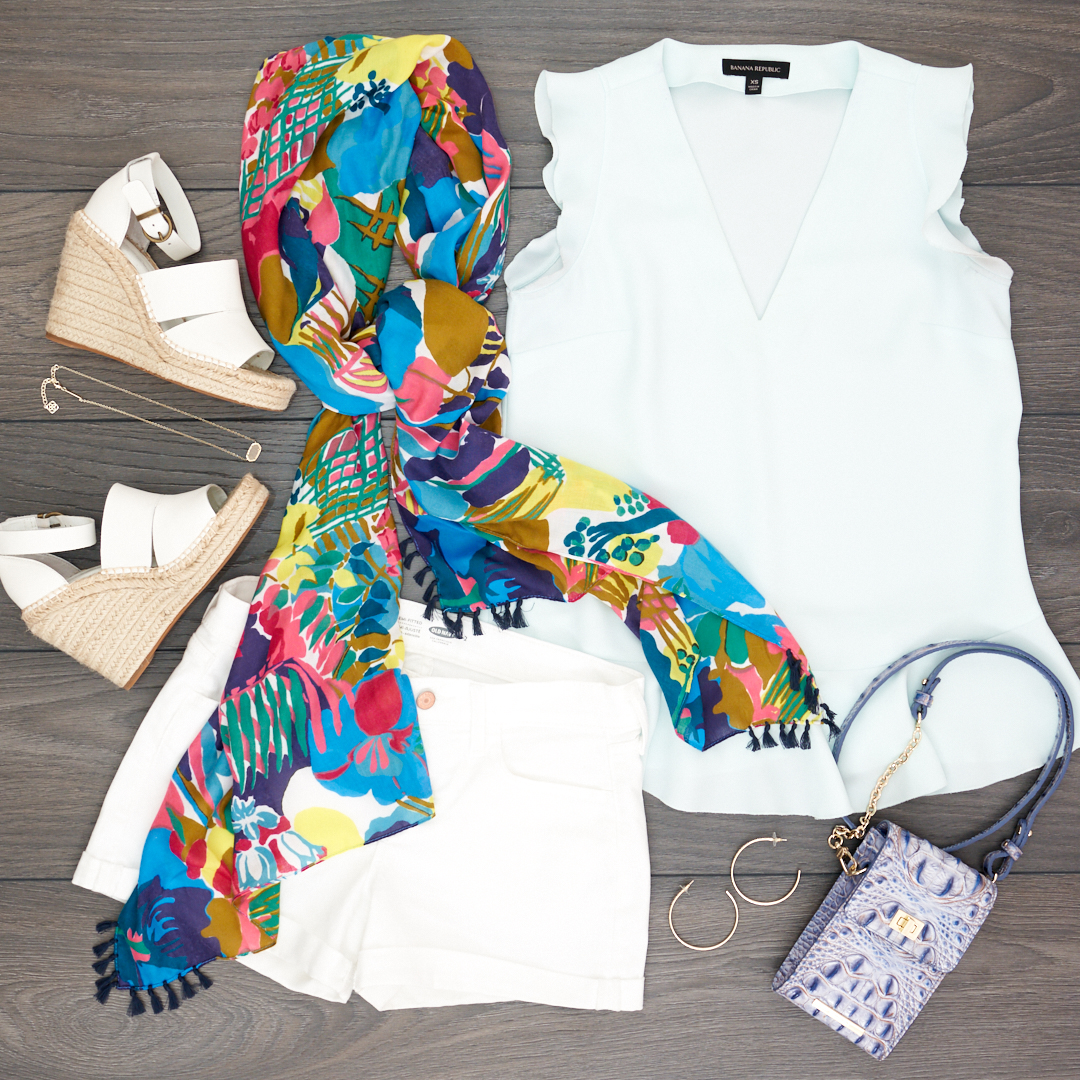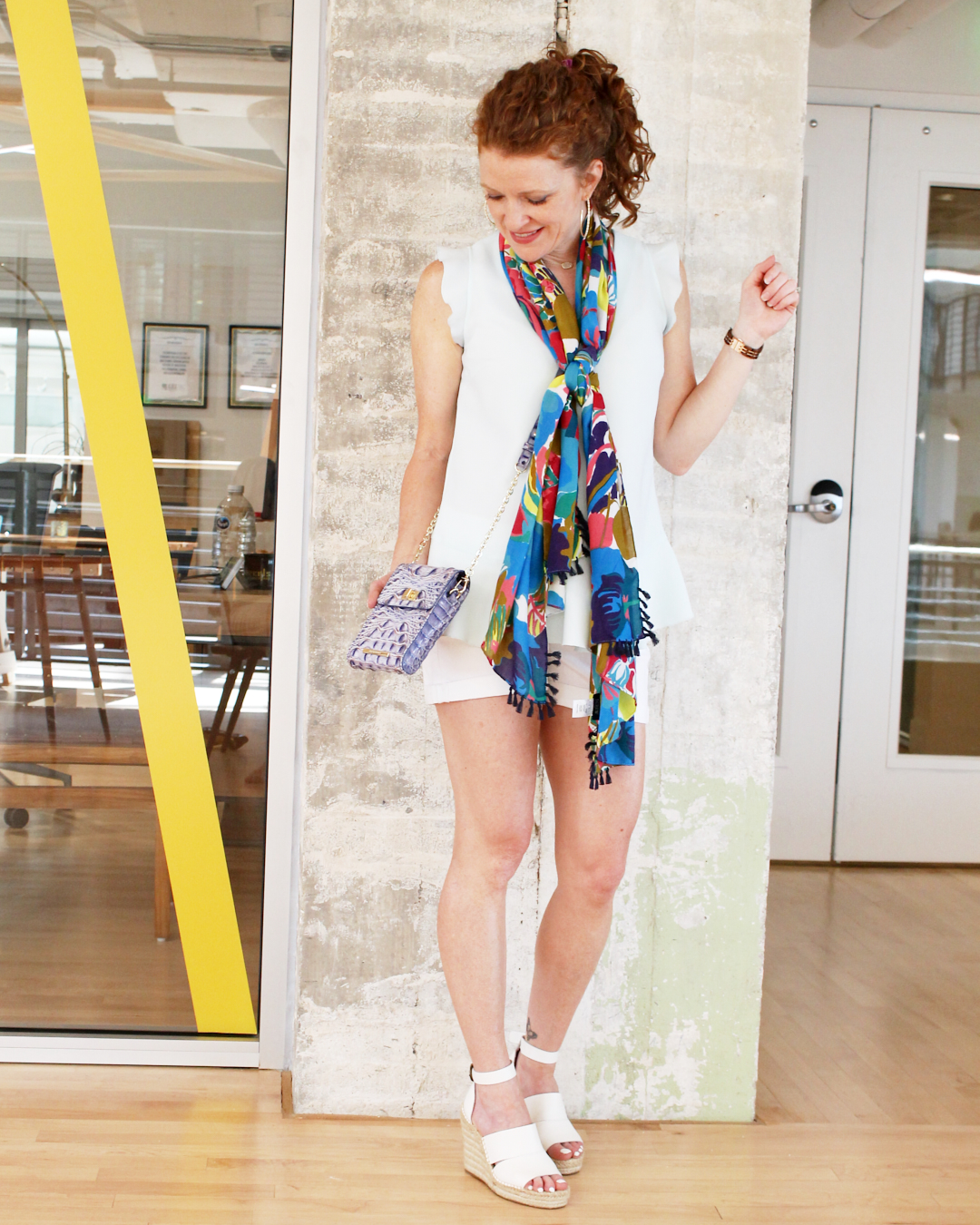 Fun Floral Blouse
I know you might be sick of seeing my midi denim skirt but it truly is the best piece I have purchased.  I love it paired with this bright colored blouse for summer.  You could do a regular denim skirt with this instead of the midi.  This might actually be a lot cooler option for summer.  I wore this to church so I put on my nude wedges with it.  You could wear a flat sandal to give it a more casual look.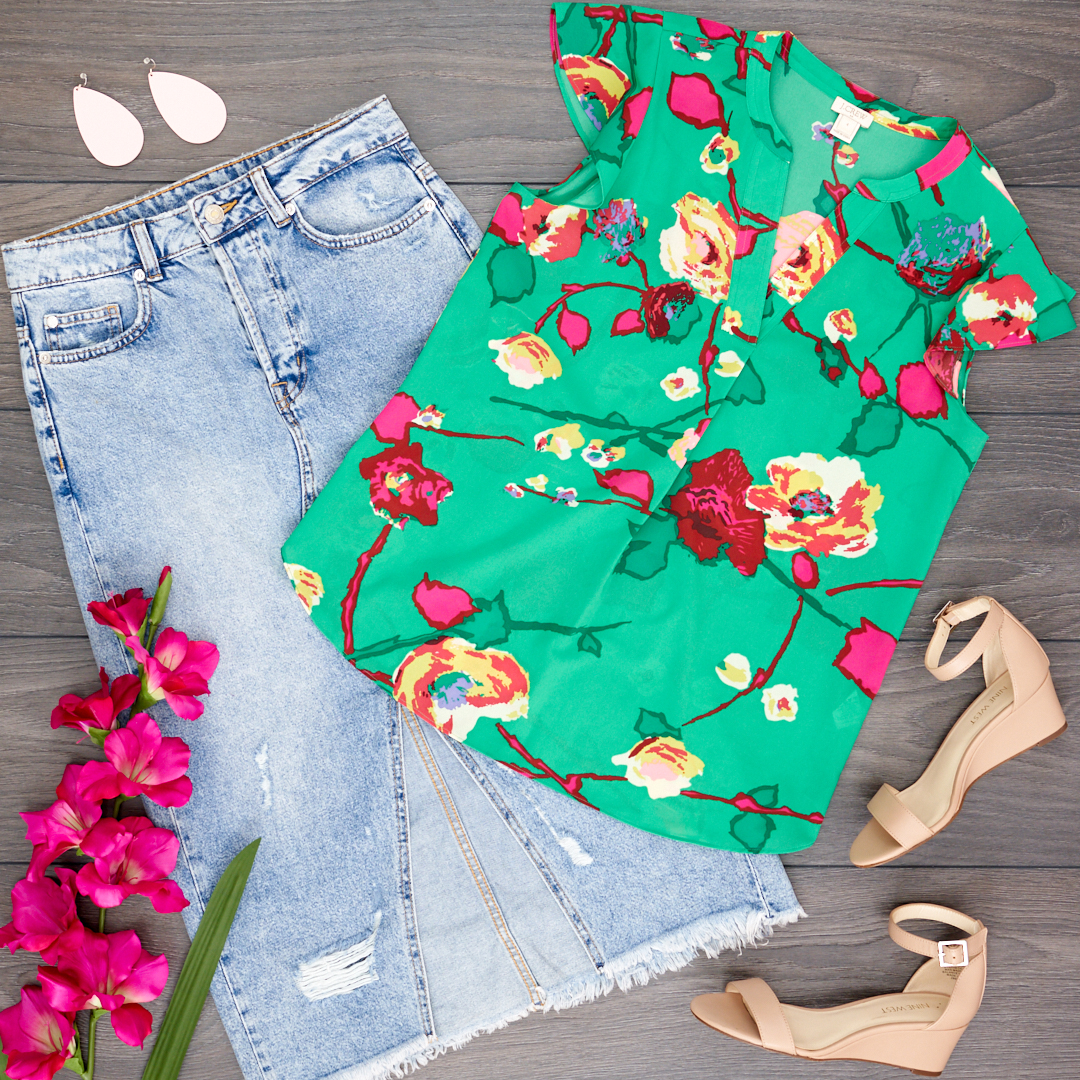 The Pink Denim Skirt
This skirt should have a show of it's own.  I can not tell you how many people liked and commented on Instagram about this skirt! When I posted this photo to my LIKETOKNOWIT app 6 people had an email sent to them! That means they wanted to look at it and buy it. The only problem is it sold out really fast!  I have not been able to find another one like it.  Anytime you can find a fun denim colored skirt you should consider adding it to your summer wardrobe.
This black tank is  so perfect as well and is still in stock at Loft.  It comes in black and ivory.  I love this by itself for spring and under jackets for the fall. Don't miss the cute button detail down the front!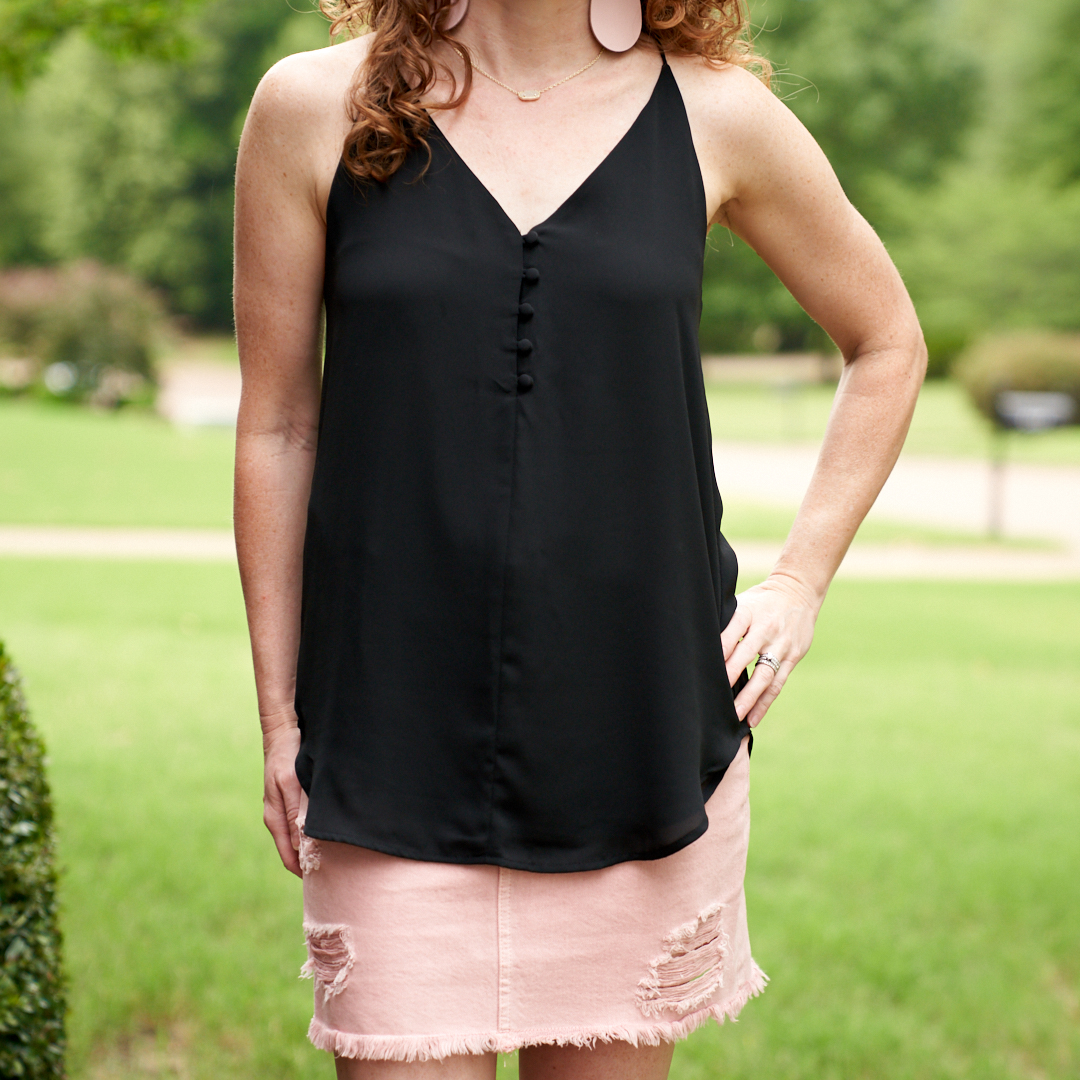 The Cold Shoulder
The trend for showing the shoulders has been around for the past couple of years and is here to stay for awhile. If you have not jumped on this bandwagon it may just be time. You can find all kinds of options out there that are totally off the shoulder or just show a peek of the shoulder.  This one is just a peek and allows you to wear a bra with it. When it comes to a t-shirt I feel like wearing a regular bra is pretty important. No one wants to be in a casual t-shirt with a strapless bra, right?!
I paired this tee with my cropped flare jeans which is another trend that is not going away.  Cropped flares will be around pretty heavy in the Fall this year so watch out! I actually love this style of jean and will be wearing them in the fall as well.  Right now I wear my wedges but in the fall I will be putting  on my booties for a really cute look!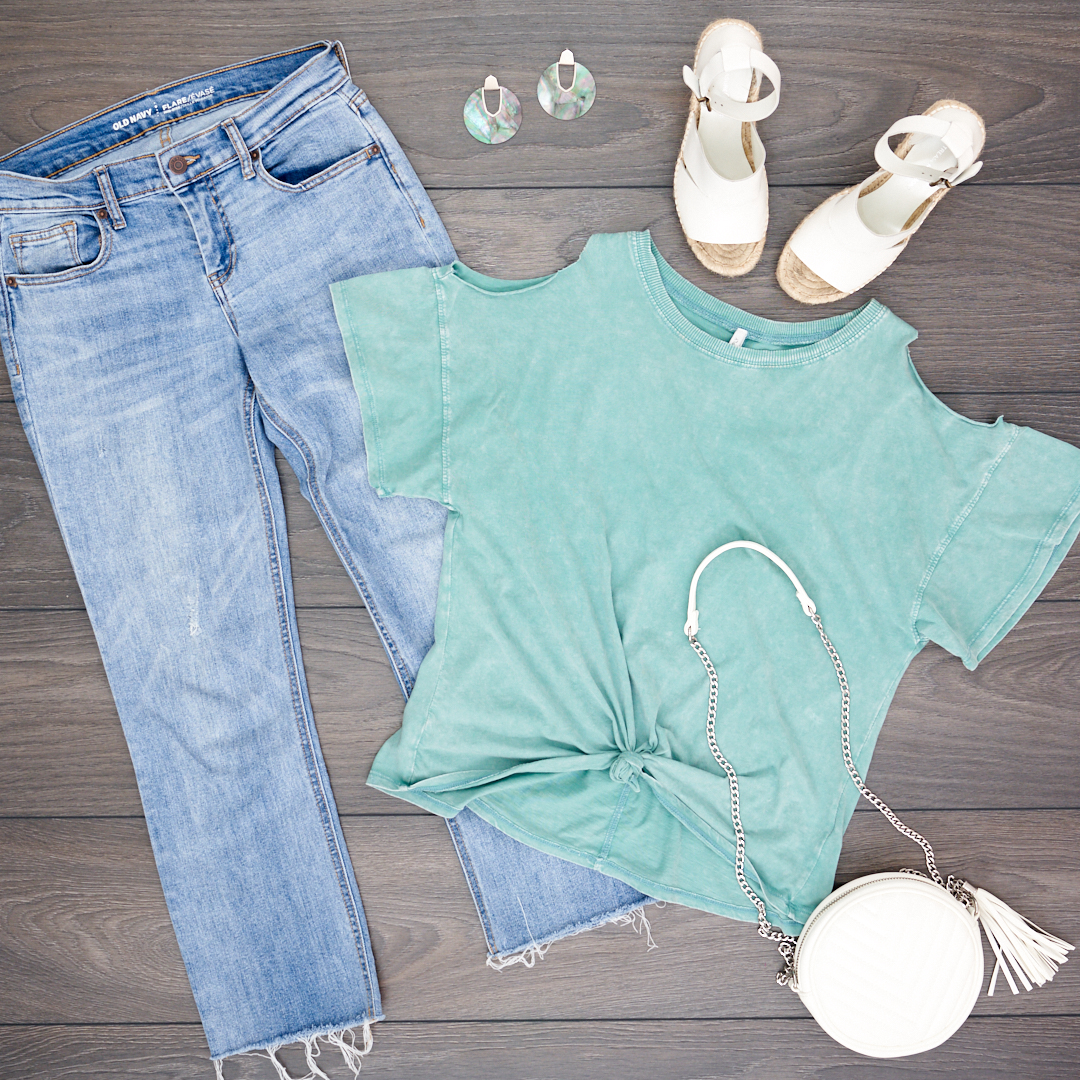 When it comes to summer I recommend finding some things that you love to wear that will keep you cool and stylish. Sometimes that is hard to do, so I hope these outfits inspire you to think outside the box a little bit and even try a new trend.  I have mentioned several trendy things in this post but they are all things that will be around for a hot minute.  I also feel that these outfits are not so trendy that the average woman could not wear them.
Thank you so much for reading and I hope you will stick around with me this week because I will be coming to you will all kinds of goodies and recommendations for the Nordstrom Anniversary Sale. This is by far the BEST Fall sale, yes I said FALL, of the year. I hope that you will consider taking the time to invest in a piece or two for yourself!  Please also follow me on the LIKETOKNOWIT app that you can download on your phone from the app store. That way you can see all of my looks and recommendation in one place.  There are some things I post in this app that I do not share to Instagram.
Have a good week!