Summer is in full swing and the heat has definitely turned up wouldn't you say?!  I don't know about you but I have to make sure my makeup products will hold up in this heat wave!  Sometimes I even need them to last all day if I have an event planned for the evening.  Not only are long lasting makeup products important but oh my gosh anti frizz products are a must! My hair gets so frizzy in the humidity and the more I can minimize it the better.  Throwing it up in a bun is sometimes all that I can do for it to look good.
This month Sephora sent products in the Play! by Sephora June box that try to help combat all these issues.  Also, there is another issue they address that I did not think of and it's taking your makeup off. When we wear longer lasting makeup it is harder to get off!  Especially the lip stains and matte lipsticks that are so popular right now.
I think this was the perfect box for the month of June.  This will allow me to try these during the hot month of July to see how they do!  If you want to know what I got and need some inspiration please keep reading!  The samples that are listed below are great for all the things I mentioned above.  I will list them and tell you a little bit about each.  If I have used the product previously I will also let you know my thoughts. So here ya go!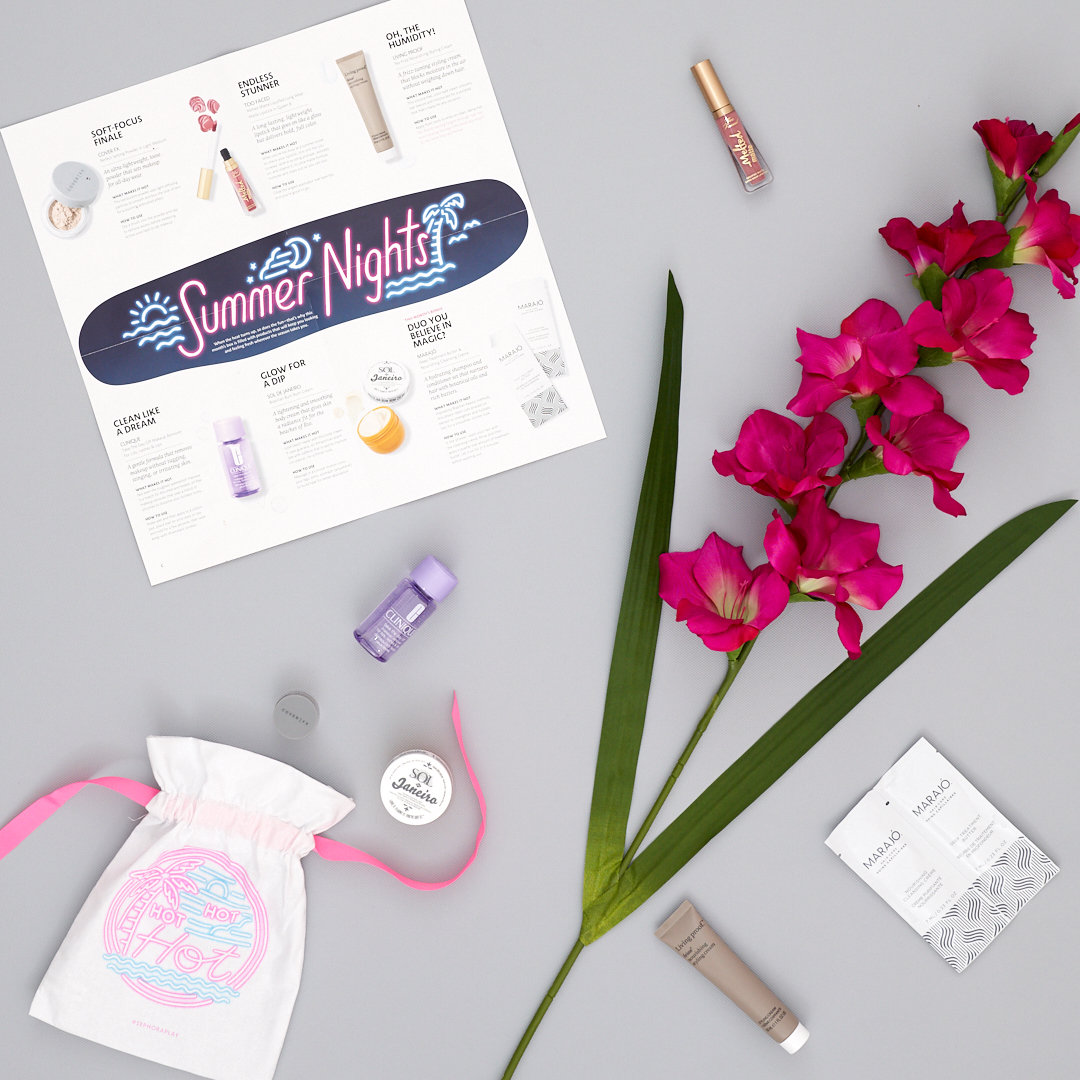 Cover FX Perfect Setting Powder in Light Medium: I have to say I love a good setting powder year round. I have used Laura Mercier Translucent Setting Powder for years. It works so well on my oily skin I don't really want to use anything else.  I do look forward to trying this one though to see if it works.  I like Cover FX products so this will be fun to try.
Too Faced Melted Matte Liquified Long Wear Matte Lipstick in Queen B: I was sad when I first saw this was in my box because I got one in a recent box already.  When I compared them they were different colors so that made me happy.  I really like this product.  It lasts a really long time and gives such great color to the lips.  I wear this when I go out to events or dinner so I don't have to reapply my lipstick anytime throughout the evening.  It is one of the only liquid matte lipsticks that I have worn that I actually feel like moisturizes my lips.
There is a tip that I would like to teach you if you do not alreay know this.  I usually will line my lips with concealer right at the edge so I do not get any bleed through from my lipsticks.  This one started to do that to me like most lipsticks do and this worked to stop the bleed! No worries for the rest of the night. I know they make pencils that do this but my concealer works just as well and I don't have to buy an extra product.
Living Proof No Frizz Nourishing Styling Cream:  I have really thick curly hair so Deva Curl has been my go-to for 3 years now.  I am always up for trying something additionally for some extra frizz control.  I have decided that no matter what I use I will just naturally have some frizz. Some days are worse than others.  I can't wait to give this a try to see if it helps.
Clinique Take The Day Off Makeup Remover for Lids, Lashes & Lips: I love that this makeup remover will also take off lipstick! What a great multipurpose makeup remover.  I like Clinique's products because they are super gentle on the skin.  This remover is oil-free and uses a blend of silicones to remove even the toughest waterproof mascara.
Sol De Janeiro Brazilian Bum Bum Cream: I'm sorry but this just makes me giggle so much!  Bum Bum Cream! HAHAHA!  This is a body cream that tightens and smooths the skin.  It has caffeine in it that improves circulation in the skin for a firmer look!  I have yet to try it because it has a really strong perfume smell and I don't want to put it on and have to go somewhere! I have no idea if the smell will stay or dissipate, so I have not wanted to chance it. Plus my bubby is sensitive to smells so I will also have to be away from him.  Boy, life is tough sometimes right!  Hopefully I can try this soon because it has decent reviews and smells so much like tropical coconuts! Yum!
Bonus: Marajo Deep Treatment Butter & Nourishing Cleansing Creme: The bonus this time was not a perfume! YAY! That made me really happy! It is a hydrating shampoo and conditioner!  This duo is supposed to nourish the hair and give it a smoother, shinier look!  I can't wait to use this. I actually love the styling products from Deva Curl but have not been as impressed with the shampoos or conditioners. I have tried most all of them that would be for my hair type so, I am still on the search for some good ones!
I always invite your feedback if you have had any experience with these products.  If there are some that you love that are by the same brand I would love to know that too! I would also love to know if you enjoy seeing what is in this box every month so I know whether to continue to write this article or not!
Thanks so much for reading and I will talk to you soon!