Hey ladies! I am so excited to share my Nordstrom Anniversary Sale purchases with you!  This was actually my first time shopping the sale and I was so very excited!  I made sure I got the Nordstrom credit card early so I could participate in the card holder week.  I had just found out about the sale last year and did not have a card to participate at that time.  Boy did I miss out and I thought to myself " I will not miss it again that's for sure!"  I really thought when the next week started for the public I would be fine but I was wrong. Everything I loved sold out! Yes, SOLD OUT!
I want to explain to you why I love this sale so much.  First, no other retailer does this for the Fall Season!  The fact that you can get every basic you need for fall at a discount from 25% to 40% off is crazy to me! Not to mention all the other non-basics that they have for sale as well! I worked retail for 20 years and know this is unheard of.  Also, July is the SLOWEST time of year for all retail and Nordstrom just made it their busiest time of year.
Second, I can not say enough about how much I love how they do business.  We would have done anything to bring sales in during this month but did not have the ability as a small business to do this.  Nordstrom has several in house brands and deals with other vendors that allows them to get better prices to offer us better prices.  They also have the ability to order large quantities of everything from the vendors because of the size of the company.
This was also the first time I have ever been in a store!  Can you believe it! Since I worked retail for so long I did not really shop other places like this because I could get all my stuff where I worked. I had a clothing allowance as part of my pay, so I rarely spent other money on clothing. I would buy my shoes and a few other things at TJ Maxx or on sale at Nordstrom online.  I was determined to shop in store so I drove to Nashville to shop the sale! I am so glad I did but I was exhausted! With all that said I would not have done it any other way and this will have to become a yearly tradition for me.  Of course unless hell freezes over and we actually get a Nordstom in Memphis.
I decided to style the pieces I purchased for you in a flat lay and a life-styled version.  I did mostly fall looks but did a few transitional looks for you as well. With wanting to get this up quickly I just did mirror shots as the life-styled version but thought they came out pretty good!
Drum roll please………..  Enjoy seeing what I got!
The Cutest Sweatshirt by Rebecca Minkoff
This sweatshirt just stole my heart as soon as I put it on.  I own nothing with this much red in it and thought it was perfect.  I love it dressed up or dressed casual.  The two options below are styled casual and you will see a dressier version later in this post.  I styled it with my denim midi skirt and nude wedges for a transitional look.  The fall look is with gray ripped AG jeans and black booties! So easy to throw on and just look cute! I will have this on repeat all season!

BLANKNYC Hooded Moto Jacket
Okay, so this was my #1 pick from the sale.  This jacket is faux leather and has a hood!!!! It is also under $65!!! What a steal! I took one look at it and knew it was coming home with me. My mother went shopping with me and agreed it had my name written all over it.  Not only does it look good but it is amazingly comfortable.  This is the perfect weight for the Memphis fall and winter temperatures that can be very mild. I don't think I will transition this one but will wear the thing to death in the fall and winter. I have styled it two different ways for you to see the versatility of it.

The Prettiest Blazer by Mural
You guys know by now that I will always buy a blazer when I see a good one.  I actually have another good one coming that I ordered online from the sale.  This one by Mural is just so refreshing and different!  I love the rust color and the color of the stripes. There is a green stripe in it that you can really see in the flat lay so I put my olive shoes with it and it was perfect.
The first outfit is styled with my white jeans and is going to be great to transition into fall.  I layered a black tank under it to give it a little more pop and so it wasn't too summery with the white jeans.  The second outfit is with the same gray AG's and the green shoes or white booties. I wanted you to see both so I did one shoe in the flat lay and one in the life-styled version.

Perfect Transitional & Fall Sweater by Trouve
If I am going to buy a cardigan I really need to love it.  I am not a cardigan girl. I am not a fan of the non-structured look of them on me.  I think you are either a blazer person or a cardigan person and you know what I am. But, I stepped out and purchased a cute cardigan.  I am second guessing it but we shall see.  I do love the color and the style of it.  It has a very unique back and that is what I liked about it. I have included a picture of the back below.
The first outfit is very casual  and is meant to transition into fall!  I loved the sneakers with it and you can choose whatever color of those that you want.  I was happier with this cardigan when I put this together! The second outfit is again with the gray ripped AG jeans and an ivory tank from Loft. I paired the Sam Edelman booties from the sale in the pretty gray/blue color and my chambray Nickel & Suede earrings! This outfit is one of my favs because of those booties! Check them out, they are fabulous and come in three colors.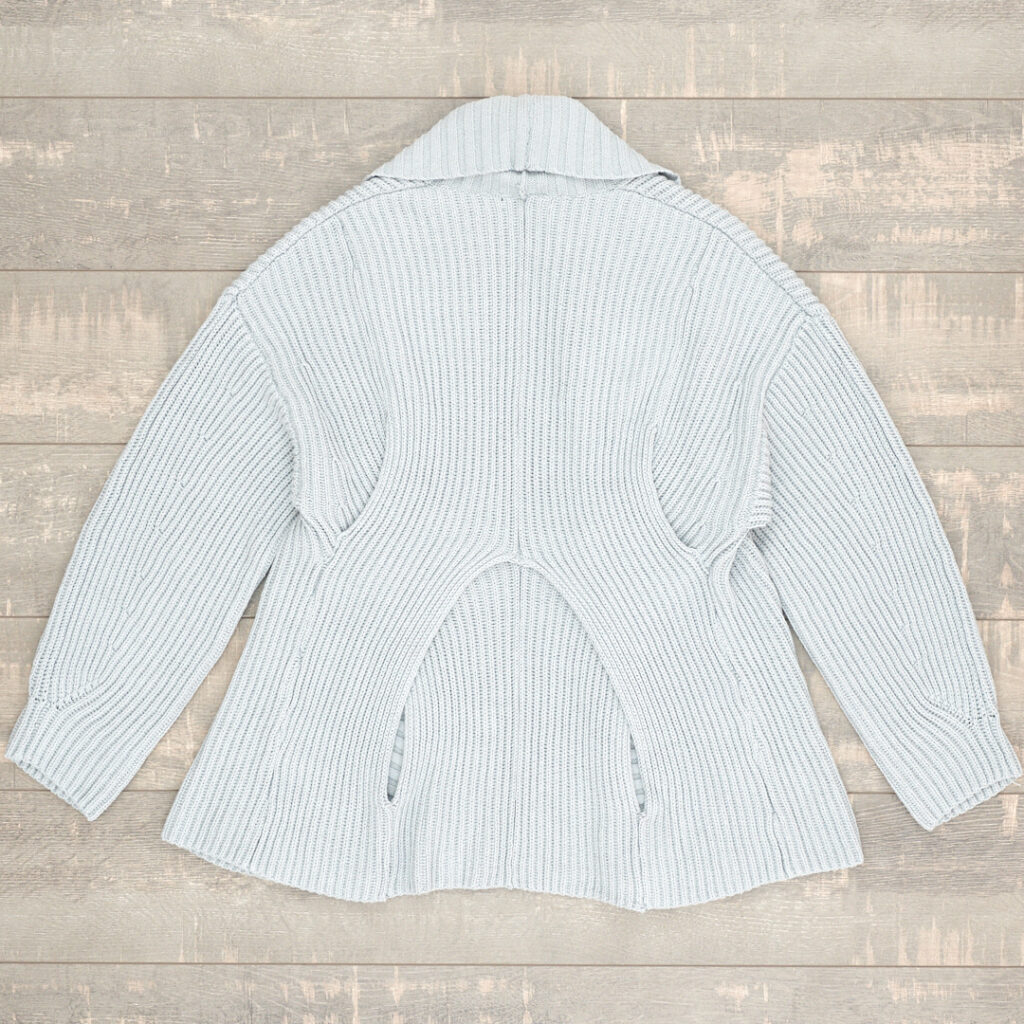 Trendy & Fun Track Pants by Trouve
The last piece I came home with was a pair of fun track pants! I am such a sporty girl so these were so perfect to add to my wardrobe. I wanted some fun pants and these were perfect. The greatest thing about them is they look fabulous dressed up or casual with sneakers! They run really long so I have to hem them but when I do I will be able to wear a heel or a sneaker.
I styled them below with my awesome Rebecca Minkoff sweatshirt and some black booties.  I would have put on a cute sneaker but the pants were way to long and did not photograph well! So sorry! The second outfit is styled with the Loft ivory button tank and some Sam Edelman heels and a clutch.  I absolutely love this version and think you would make such a statement in the outfit!

I hope you enjoyed round 1 of my purchases. I have a big box coming this week so I will do another one of these for you. I love showing you what they look like in a flat lay and an outfit.  Let me know if the mirror shot bothered you! I do not normally do them in my blog posts but I do get lots of likes on them when posted to Instagram. Let me know if you have any questions about these and other items of the sale!
The Nordstrom Anniversary Sale opens to the public on the 20th if you do not have a Nordstrom credit card.  The sale will go on until August 5th and then everything will go back to full price.  I do highly recommend shopping early because things will sell out fast.  They will restock what they can but it is never a guarantee!
Happy Shopping!