Hey there friends! I hope you have had a great week so far.  I have been feeling like my days just aren't long enough and I can't seem to get anything done. You ever feel like that?  I am not a fan of feeling behind all the time.  I am finally getting caught up on all my blog content for May and had a great time photographing the outfits for this post. I am so excited to style a denim midi skirt for you! I saw this skirt on a friend of mine, @lovelybeforecoffee, and had to give it a try.  To my surprise, they actually had it at the H&M in Collierville. We never seem to get the good stuff in the store, so I have to shop a lot online with them.  This time it was the opposite! They had it in store and not online. Too funny.
The background in these photographs is from the Graduate Hotel in Oxford, MS.  It was the most stunning hotel I have ever seen!!! Seriously guys!!!  The pink wood floors throughout the front lobby and hall were just amazing! I still can't get over them.  I actually want to try to mimic this pink floor and make it one of my flat lay backgrounds. Might as well, since my husband would never go for them being in our house!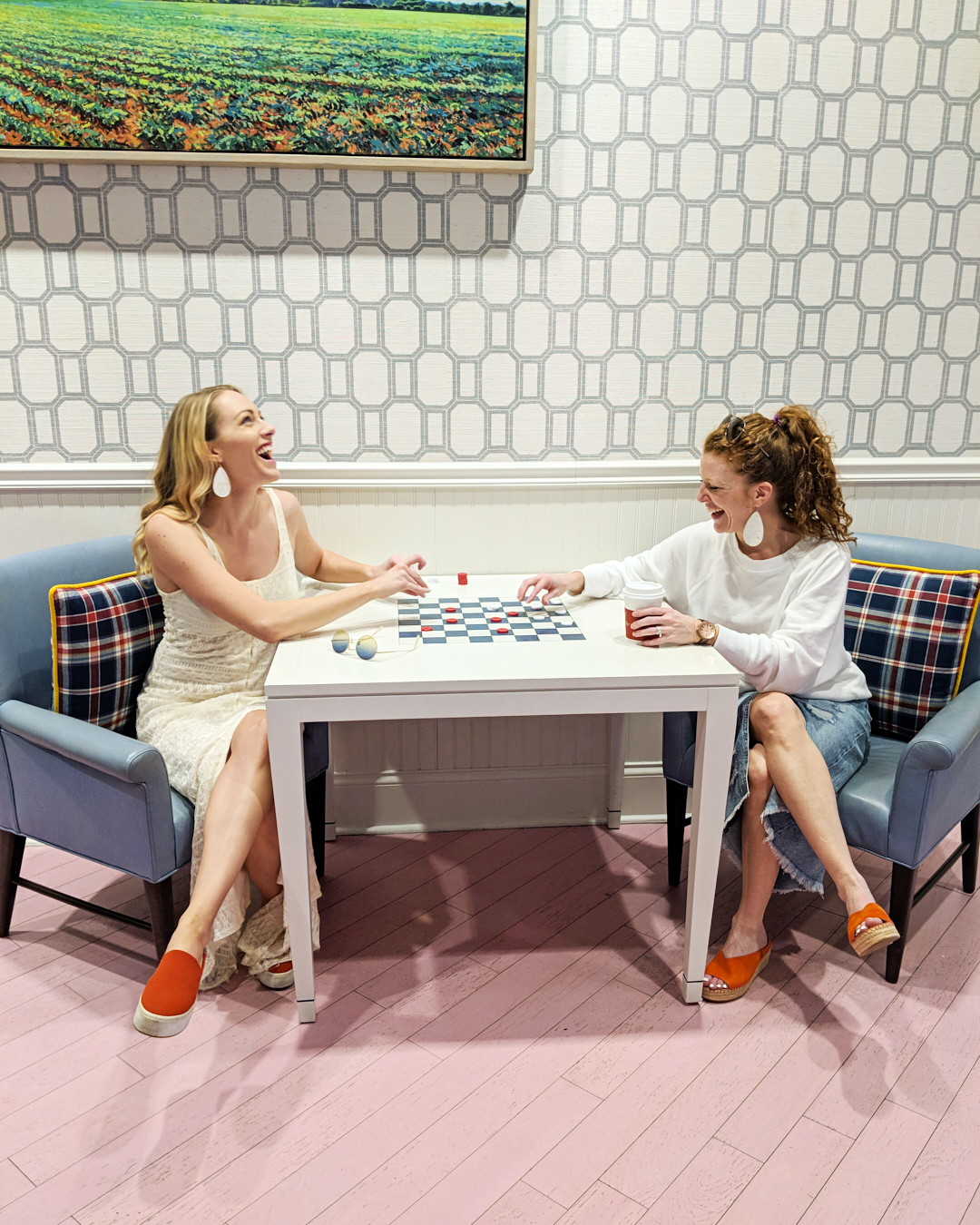 Denim Midi Styled Three Ways
You may be thinking that you could never pull off styling a denim midi skirt for Spring.  I am here to tell you that you can!  I was skeptical myself but when I styled it in three different outfits I was sold!  I am so in love with this skirt and want to wear it EVERY SINGLE DAY!!!  Once you see the outfits I hope you will be convinced to try this or something like it. The midi length is so poplar right now not only in denim but in other materials and dresses.
The midi skirt length should be half way between the knee and the calf to look appropriate.  It came about first in the 1920's from designers like Coco Chanel and dropped back to the ankle later in the twenties. It then returned with much popularity in the 1940's.  So you should feel somewhat vintage inspired and quite elegant when you are wearing one. Whether you choose to wear a skirt or a dress it is up to you but give it a try! Even if you are short like me it can still work by achieving the proper length.
Midi & Floral Blouse
The first outfit is going to be my dressed up version.  I think this is the way most people would style this skirt because many would think that it needs to have a heel.  I will have to say I love this version and am very glad I can style this as a dressier piece.  I am actually going to wear this Saturday night to a Saddle Creek event I am going to called Pour and Explore. I paired a flowy lightweight blouse to lighten up the heavy appearance of the skirt and added a fun clutch and white tassel earrings!  The shoes are a black and white polka dot heel that I just thought complimented the floral blouse well!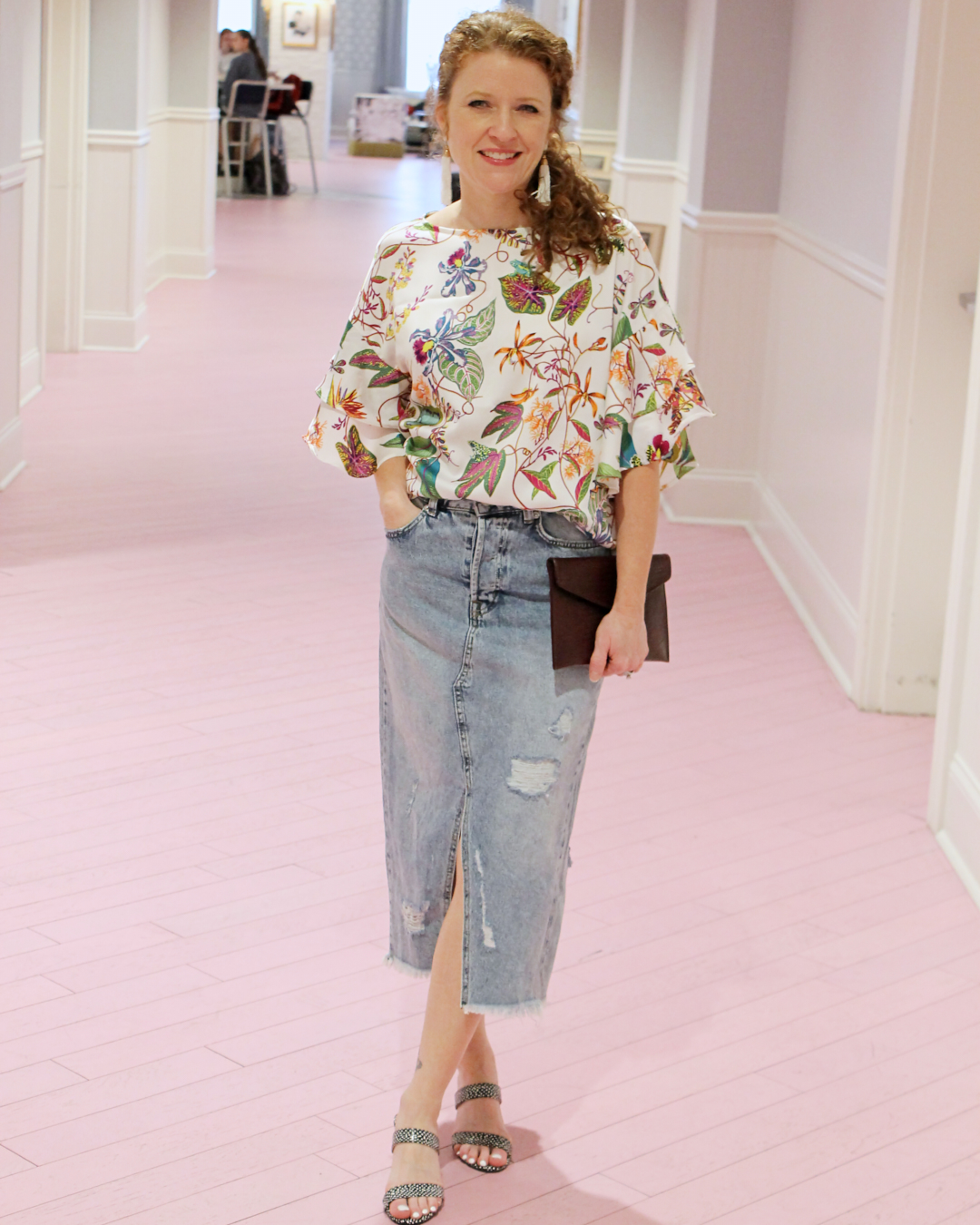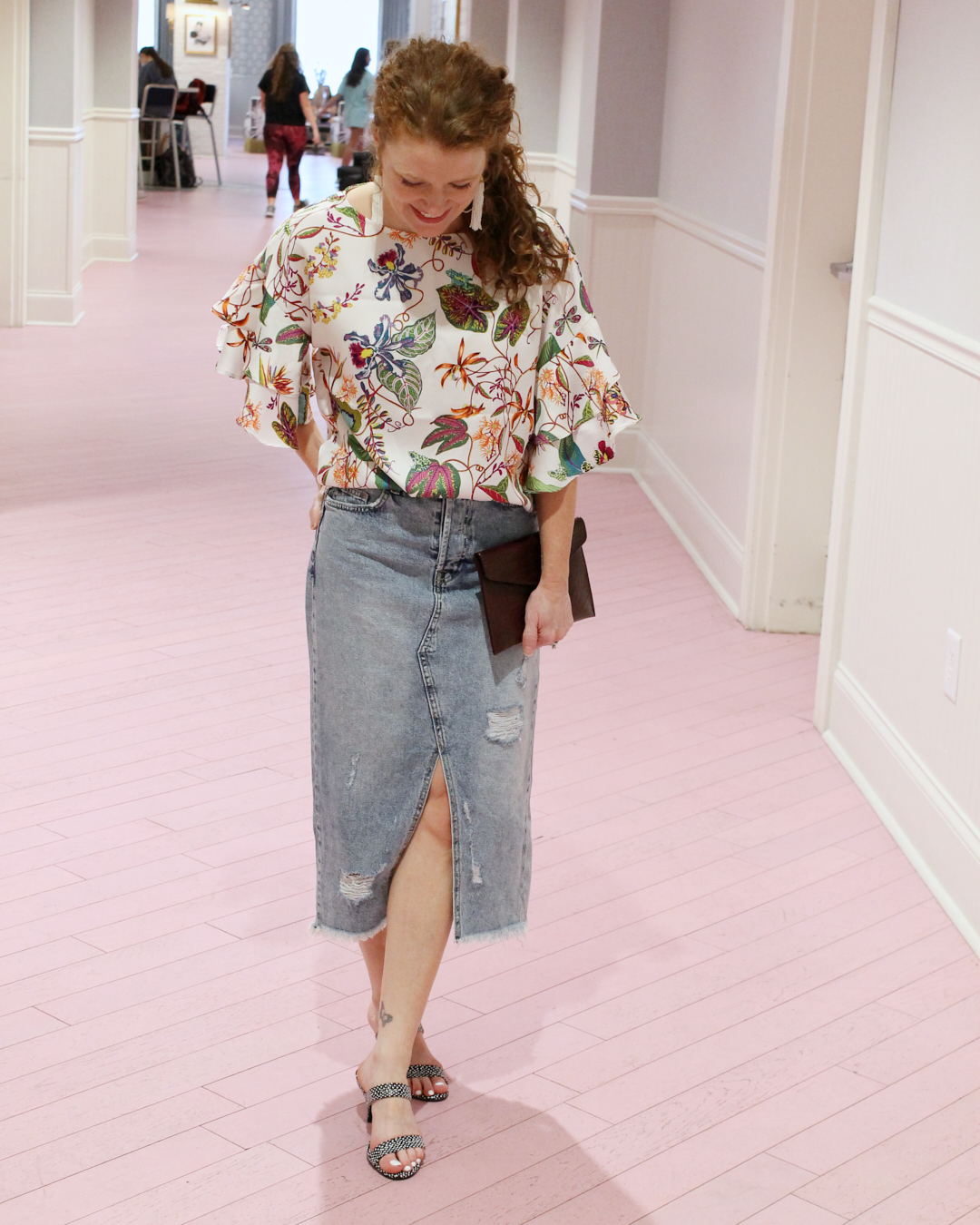 Midi & Graphic Tee
You are about to see the exact opposite of the first outfit.  This one is totally everyday casual and I thought it turned out so cute!!!  All you have to do is pair a cute semi-fitted graphic tee with the denim midi skirt and some fun streamlined tennis shoes to style this casually! I also chose to wear statement earrings and a fun belt bag for added cuteness.  My tee had a rose gold heart on it so I wore my Nickel and Suede rose gold leather earrings with it, so fun!  Of course, since my shirt says "My coffee needs coffee" it was only necessary to have a REAL coffee as a prop.  The coffee came from Cabin 82 which is a cafe inside the Graduate Hotel!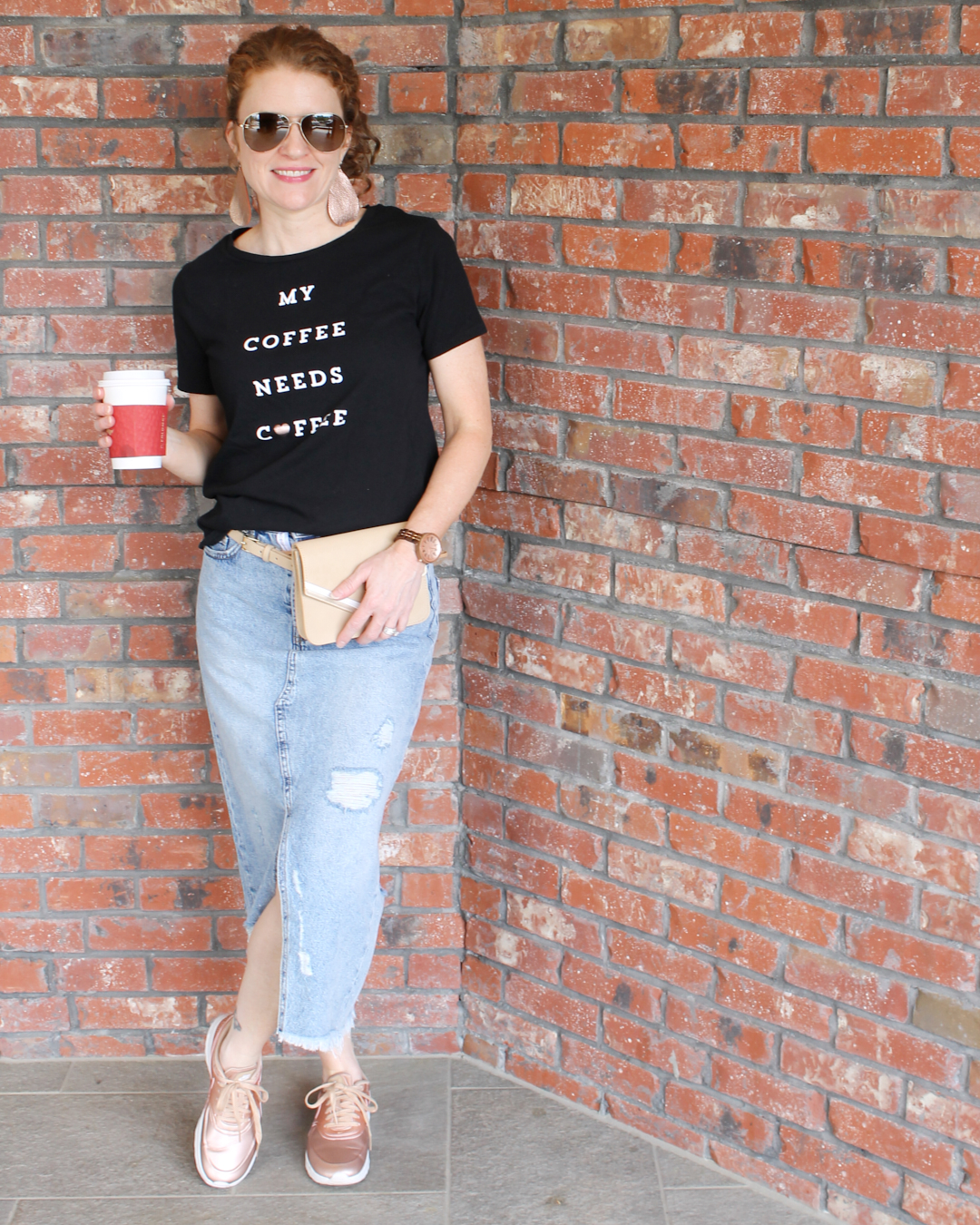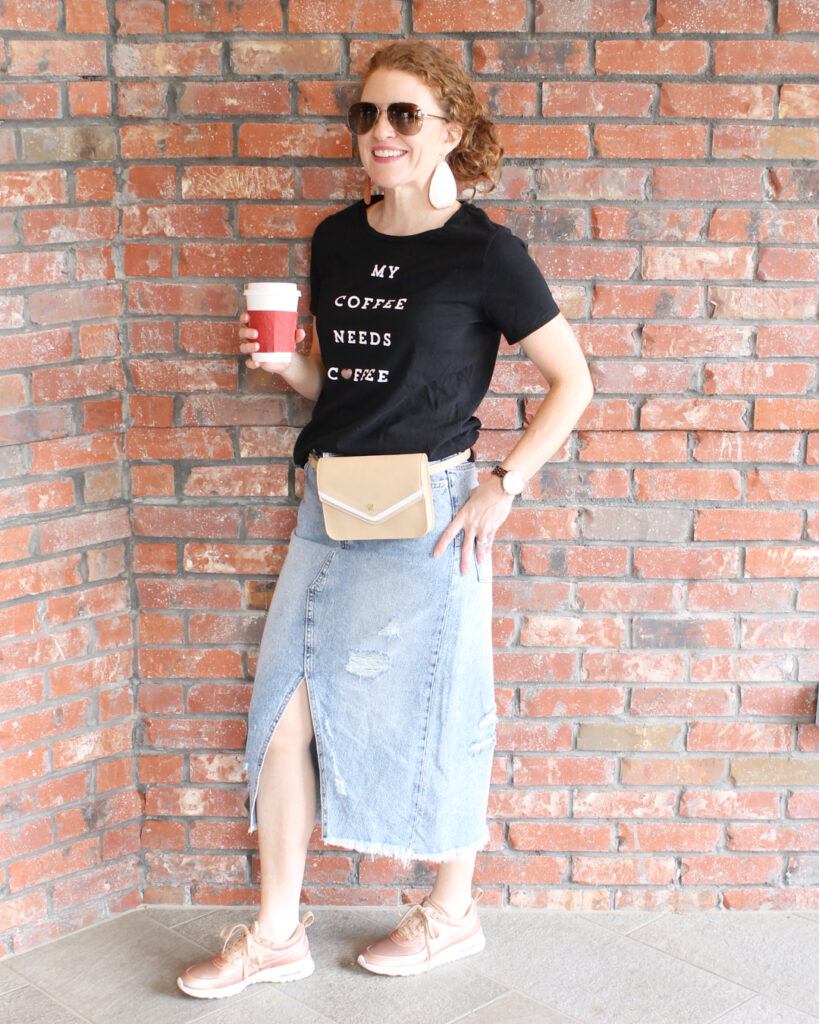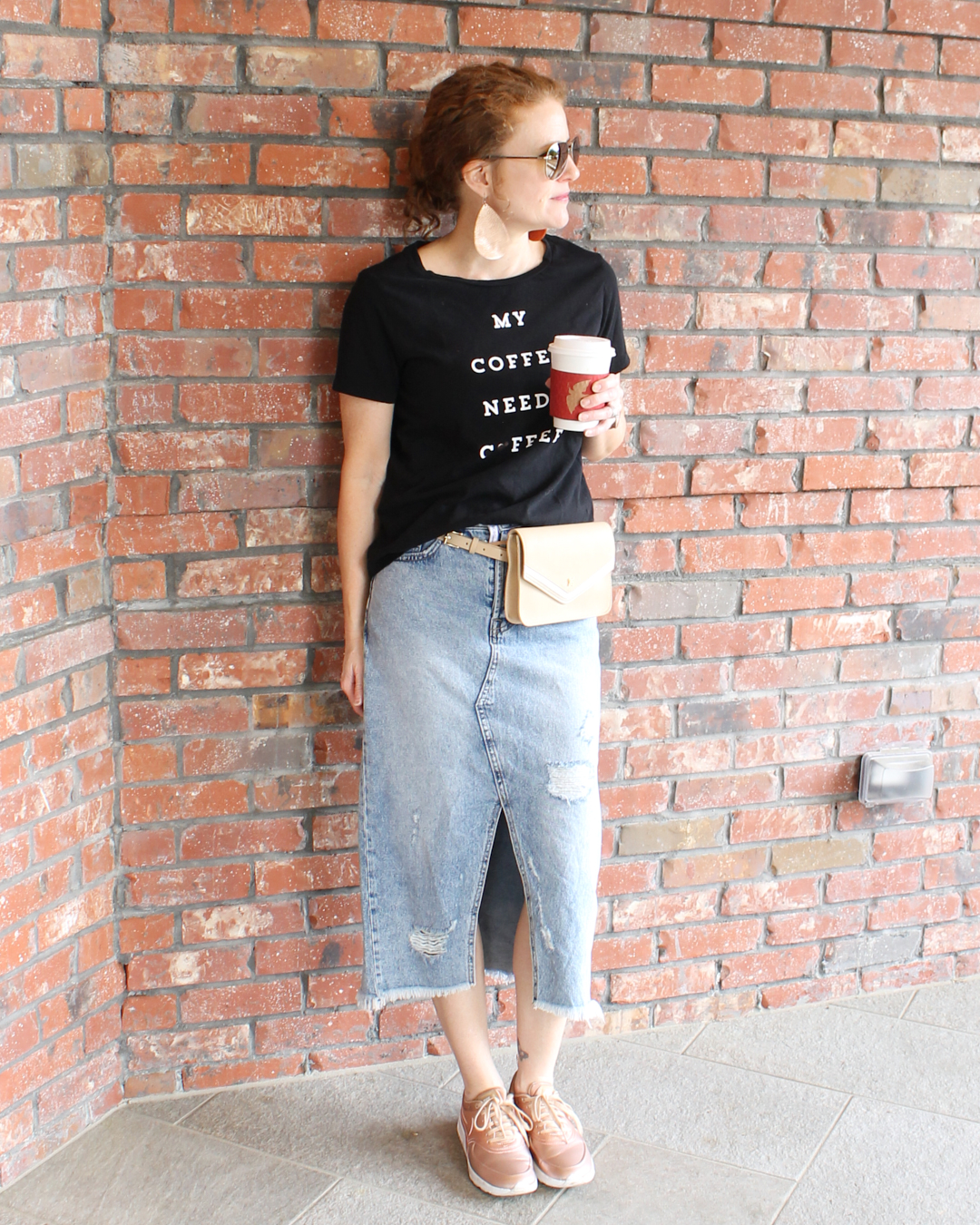 Simple & Easy Midi Style
This last outfit I wanted to make simple and easy for you.  I took a plain white sweatshirt and front tucked it for a super casual look.  I wore a cute floral clutch and some slip on orange espadrilles to keep with ease of this outfit.  The white cork earrings are also a must have with this outfit!  I love the things I just can throw on and not have to think too much about them.
To be honest putting my hair in a ponytail also represents this easy style because this is what I do on the days I don't have time to put the effort in.  It helps give a clean and put together look without having to try too hard.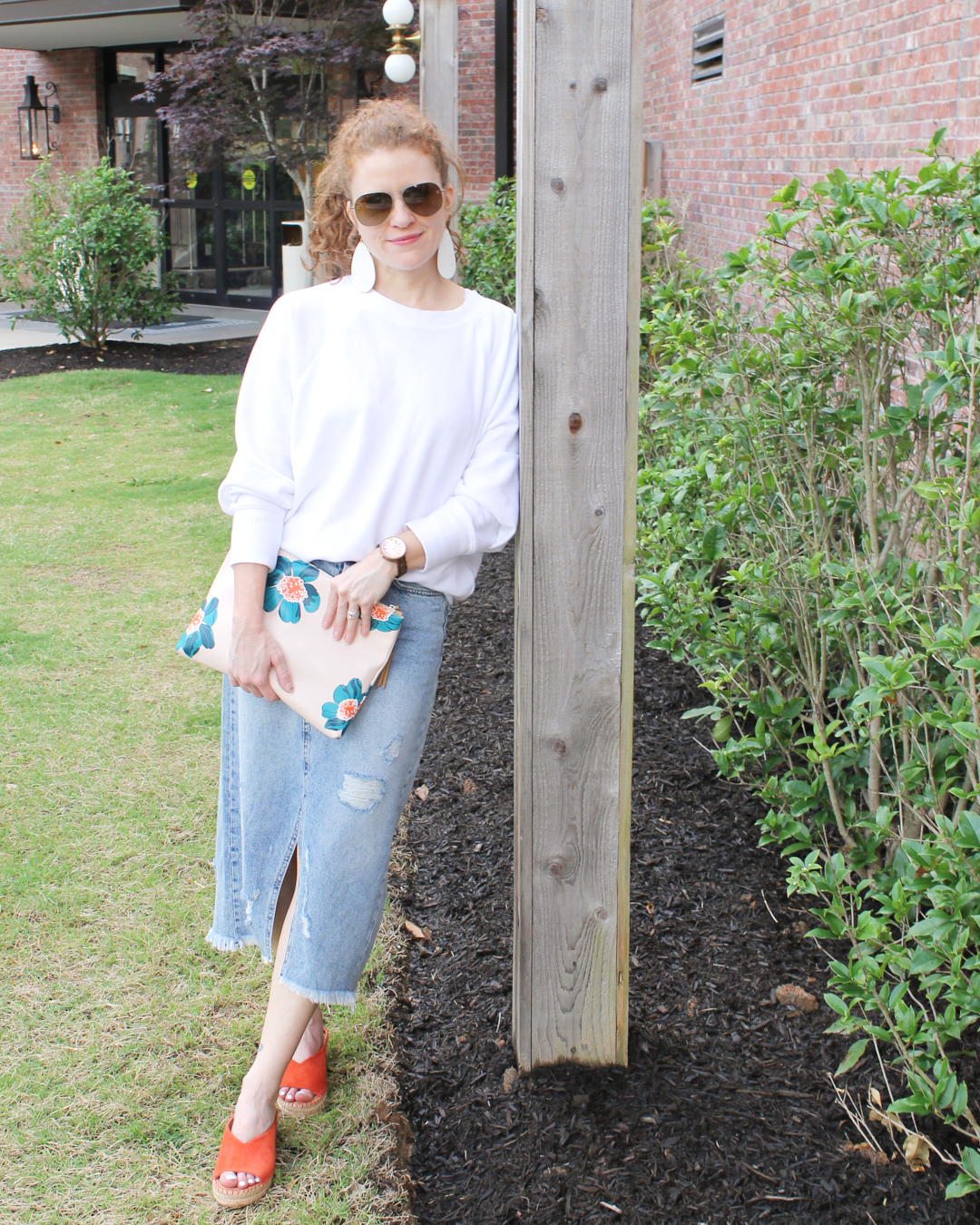 This midi skirt has actually been my favorite piece to style this season.  I thought styling the denim midi skirt for Spring was going to be a challenge and I found it super easy to do.  I love the cool and fashion-forward look of it and wearing it gave me unexpected confidence. Sometimes we just have to step out of our comfort zone and try something we didn't think we could pull off.  I would love to see you try one of these looks and even send me a pic of your look.   I know that is probably wishful thinking but maybe one day!  Thanks for reading and I'll talk to ya next week! Happy Weekend!
L.O.L.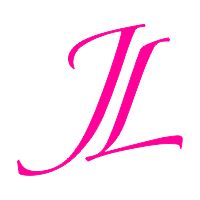 Shop The Post