Hey babes! I have been posting a ton of shorts on social media lately and have gotten lots of comments about them.  When this happens I tend to think I should create a blog post and explain how and why I chose to style them the way I did.  I am also realizing the amount of people that don't seem to wear shorts!  I know dresses and skirts are popular so why aren't shorts?  After some thought I realized that shorts are a bit trickier to find the right fit than a skirt or a dress for most people. I also feel like they are categorized as too casual or not stylish  enough compared to a dress or skirt. I am here to tell you that shorts that fit and flatter are great for dressing up and wearing as an easy everyday item.
I am a fan of the ease of shorts.  Maybe this is because I am not a big dress girl and they are feeding my tomboy side. I find a certain comfort in wearing them and have them on almost daily in the summer time.  The heat in Memphis is just unbearable in the Summer and minimal clothing is the best option.
I will tell you that I have not always worn shorts or shown my legs at all for that matter. I had been self conscious about my legs because they had spider veins from my many years of retail and being on my feet 8 to 10 hours a day.  I rectified this by getting rid of them with injections.  One of the best decisions I ever made!  If this is you then I encourage you to look into getting them removed and getting your beautiful legs back!  I have found new freedom in wearing things that show my legs by just doing this and adding on a little self tanner! The injections feel like a needle prick and that is it.  You will have to wear support hose for a day or two and let them heel for a few weeks. Due to the 3 to 4 week process I usually do this in the winter before the summer season starts.
Now that I have told you my legs life story I will show you how to style shorts for the summer.  Depending on what you are comfortable in, there are many different lengths to choose from.  I like wearing the ones that hit a little above the middle of my thigh because I am a shorter person and this looks the best on me.  Some of them are a little shorter than others just because I really liked the shorts. I think as long as your bum is not hanging out you are pretty much okay in my book.
Denim Shorts
My go-to shorts are always my denim ones.  I am such a denim fanatic and have been since I can remember.  This is my total comfort zone and what I feel the best in.  I chose a pair of white denim shorts and some distressed ripped shorts for this season.  I actually dressed the white ones up a bit in this picture with a blazer and frilly tank top.  I will also wear them with t-shirts for a more casual summer look.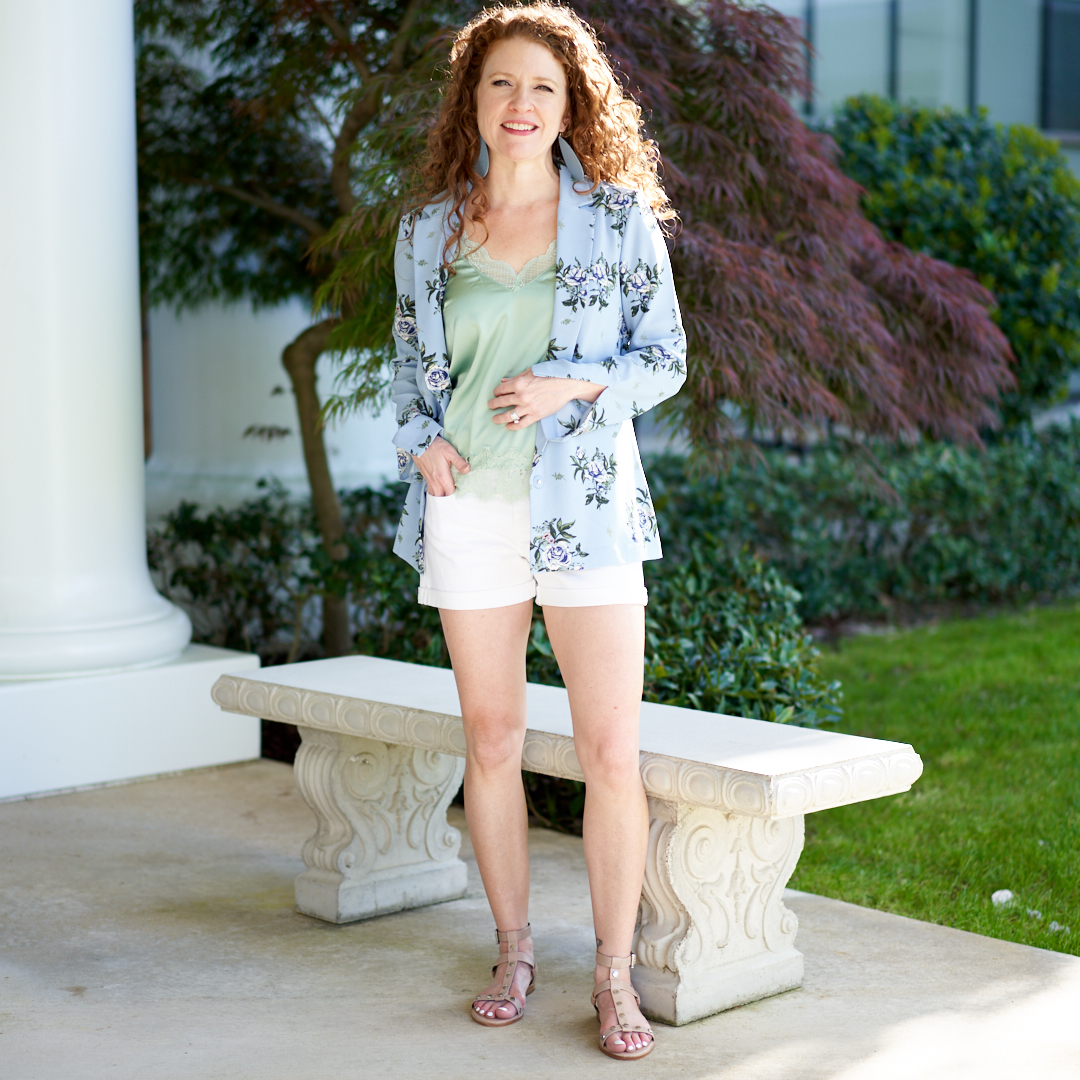 These H&M ripped shorts were under $25 and one of my favorite purchases for this summer.  I have already worn them to death! They are so comfortable and surprisingly versatile!  I paired them here with this cute gray sweatshirt tee with a tie at the hem and some orange espadrilles.  I added a leopard statement earring and floral clutch to spice it up a bit.  The clutch and earrings are a great way to pattern mix on a small scale and make the outfit more interesting.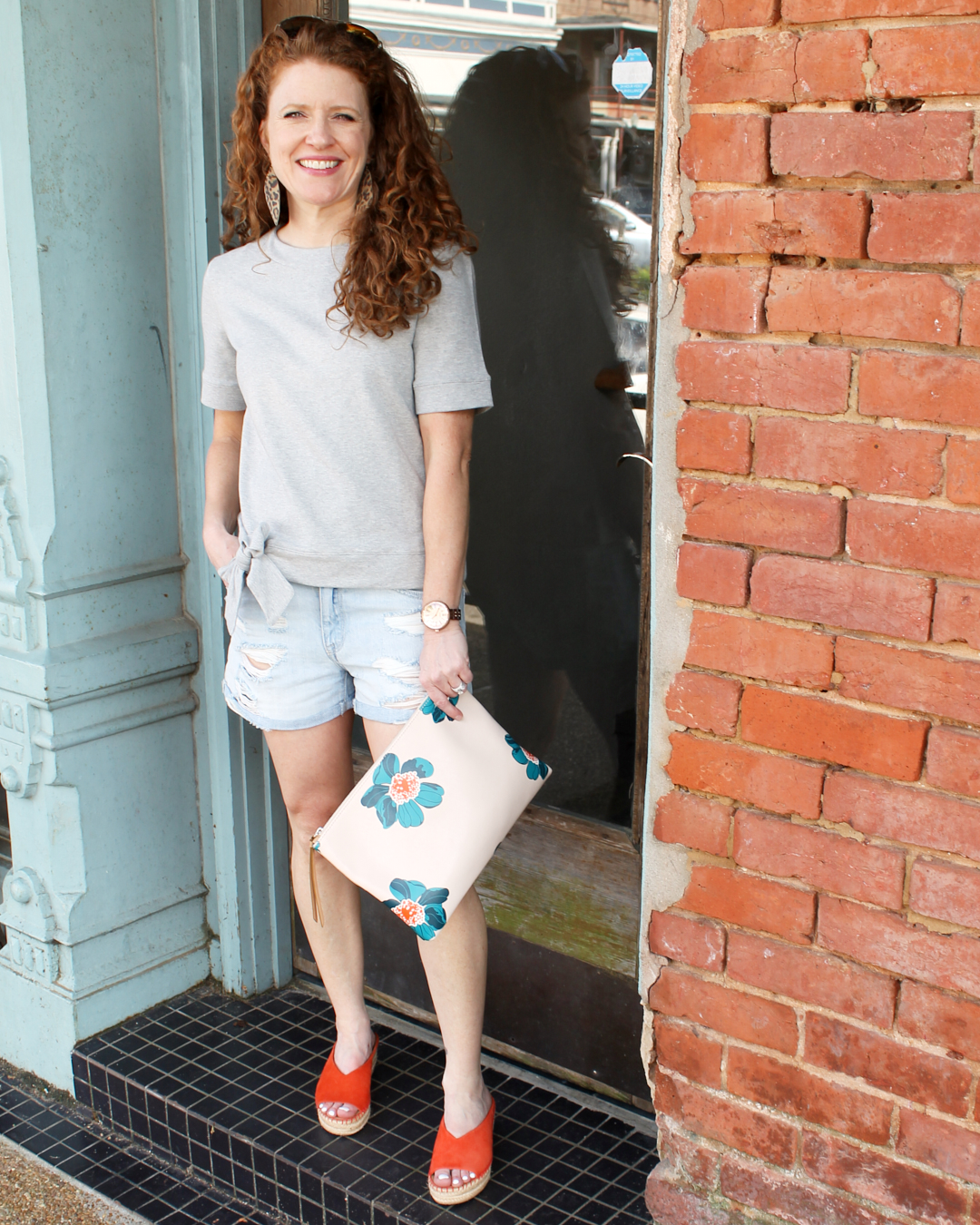 Tie Waist Shorts
My first pair for the season were these floral tie waist shorts from the Loft.  I found them on sale and could not pass them up. Talk about shorts that fit and flatter! The tie waist shorts are the best for that.  The tie creates a focal point on the waist and makes the shorts more flattering.  It also makes them feel a bit more dressy.  Just remember that the tie may not be removable and if it isn't you will always have to tuck the shirt into the shorts. I prefer this anyway because I like showing the tie.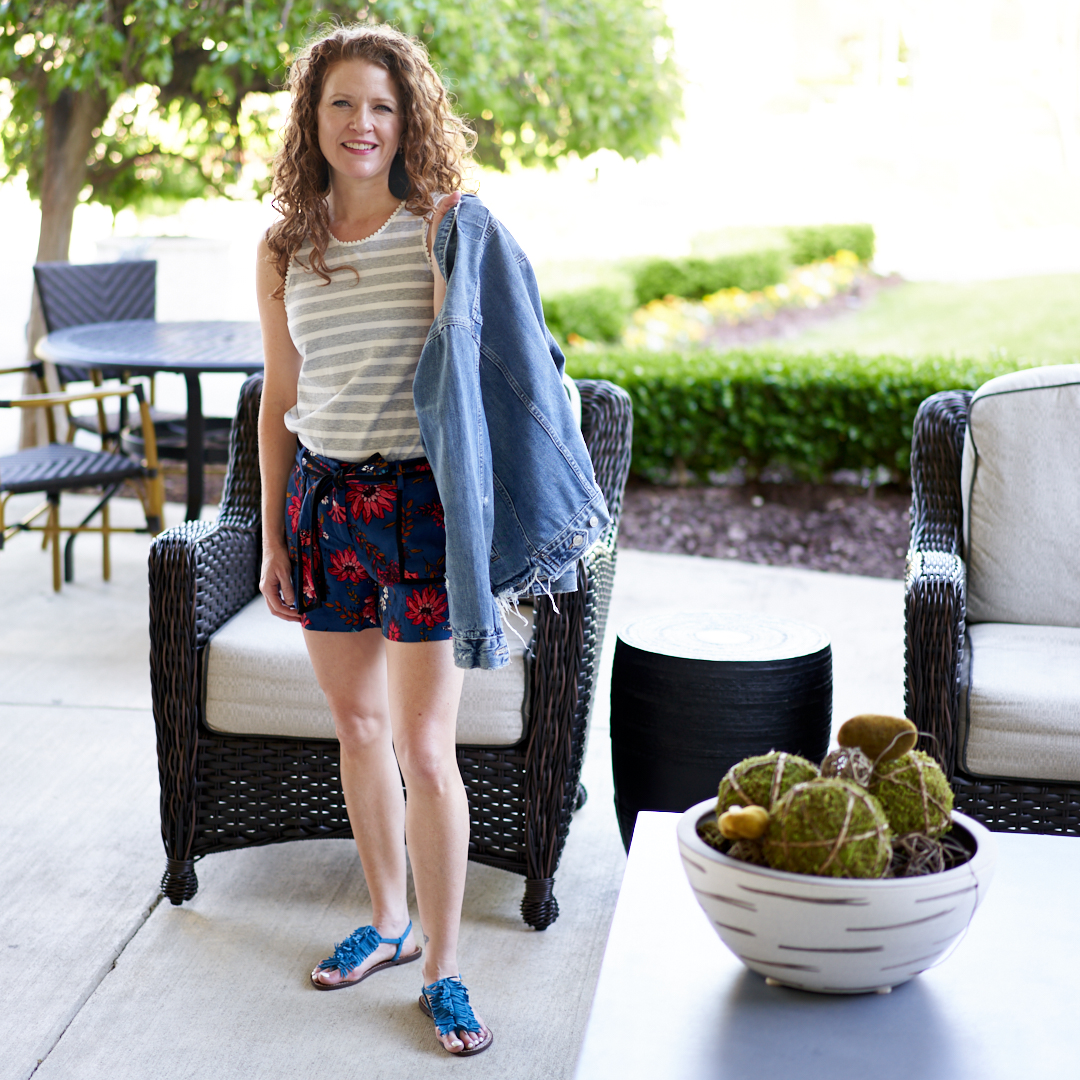 The next pair of shorts are definitely more towards dressier styling.  These soft gold shorts are from Loft and were very inexpensive although they do not look it. I will pair them with a silky tank like the one below or a blouse for a going-out look. I thought the floral shoes added a fun element to this outfit since it was more neutral and solid.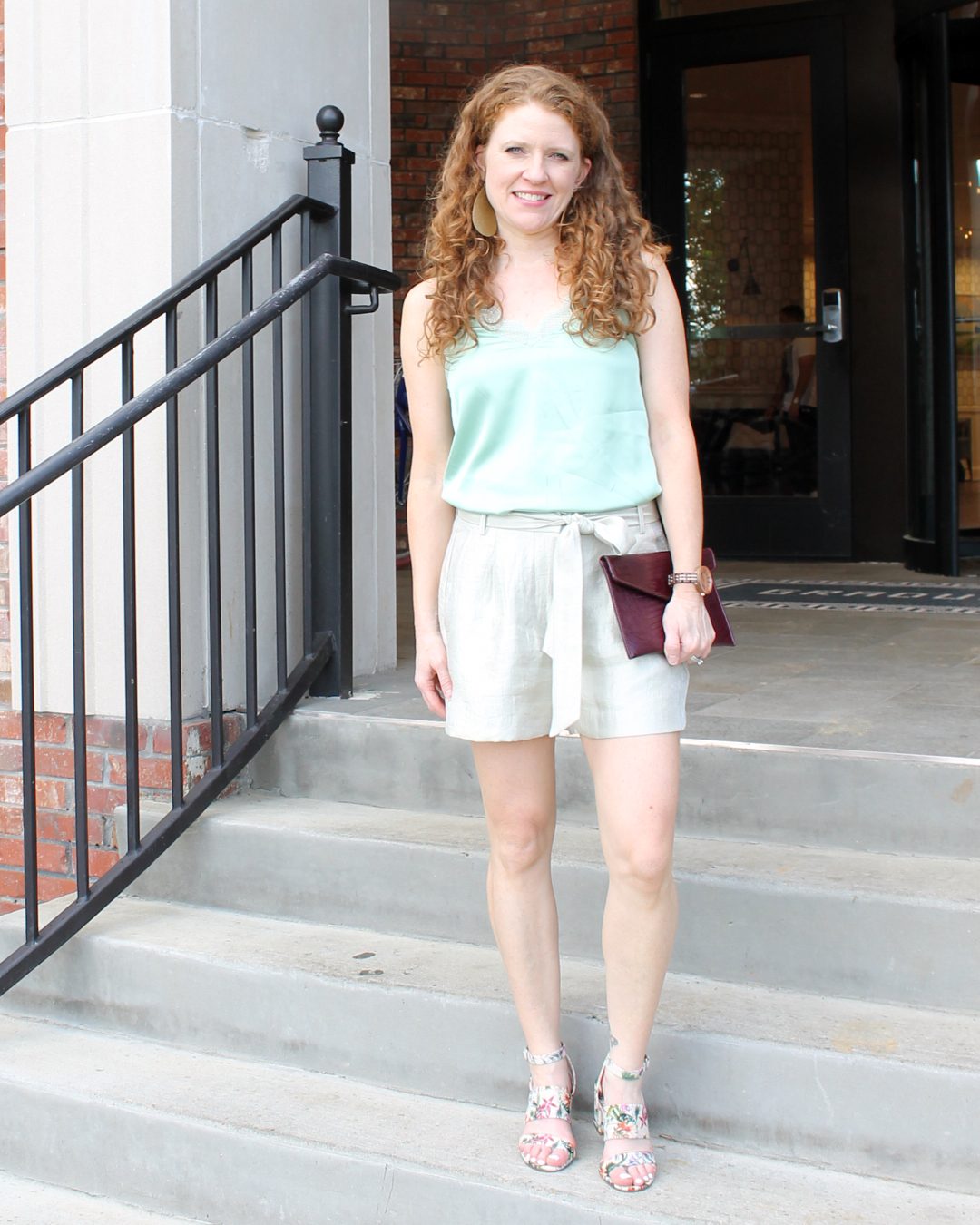 I love to wear these soft gold shorts with a fashionable tee and flat sandals for a fun day out look. The t-shirt also has a metallic shimmer to it but I thought it paired really well with the shorts. While I was wearing this outfit pictured below I had a woman stop me to ask me about the shorts!  I love it when that happens.  They are definitely unique and a fun piece to add to your wardrobe.

This is my newest pair I purchased when Shop Bop had their sale a couple weeks ago.  I think these are so fun with the trim around the edge and the tie in the front. This tie is sewn on the shorts so it does not come off.   The back is just an elastic band which makes them comfortable and easy to just pull on and go.  You never have to untie them which is a plus in my mind!  They will also go with lots of different colors and patterns.  My favorite way to wear them is with this cute ruffle sleeve tee from Nordstrom. It is a tiny bit cropped so I did not have to tuck it in.  Easy peasy for everyday wear!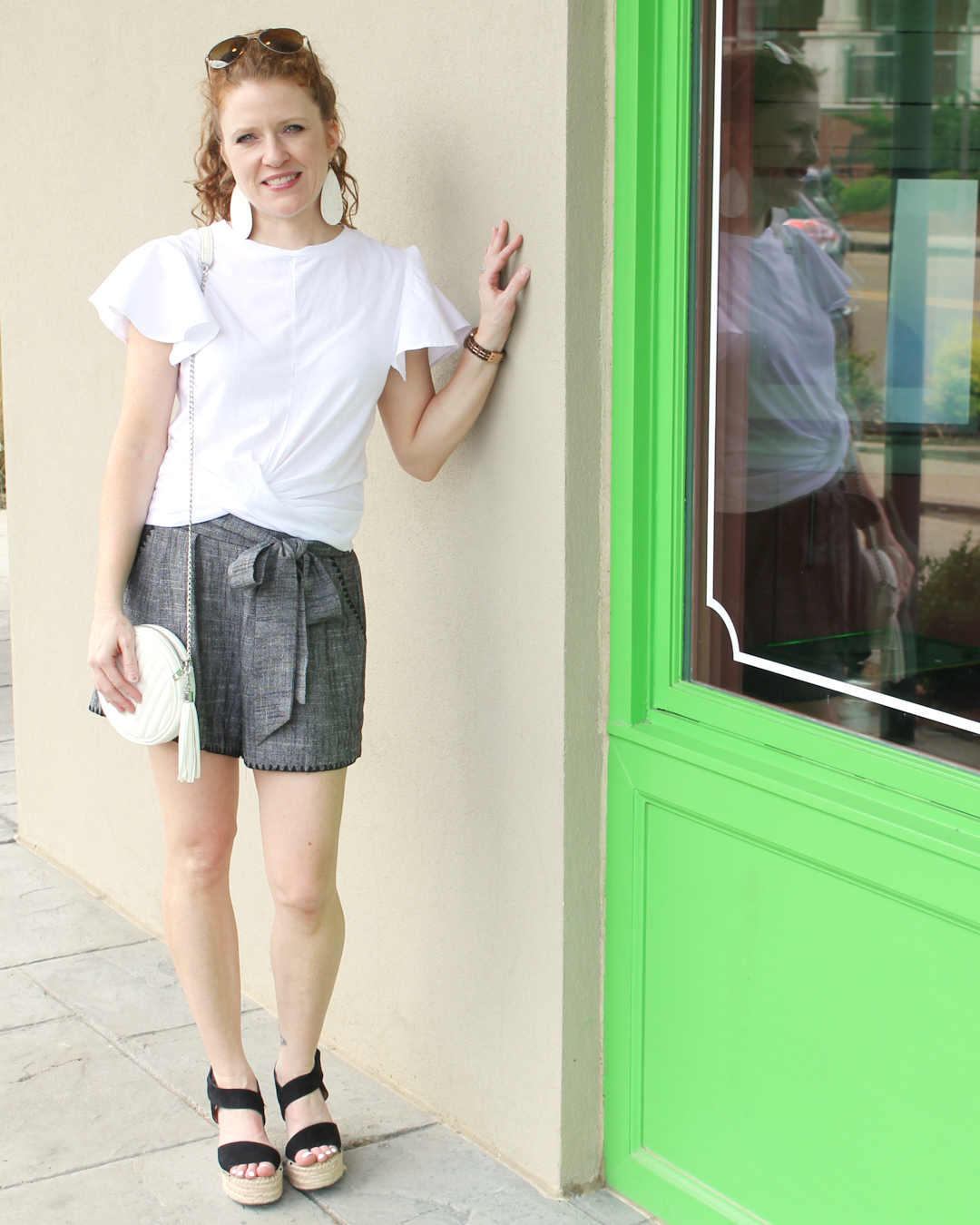 If you are not a fan of shorts that are this short than I will have some longer suggestions for you below.  I think longer shorts are good if you were like me and don't like your legs or are a bit older and feel like this is not appropriate for you.  There are some great option for longer shorts out there as well.
Shop Longer Shorts

Thanks so much for reading! Please leave me a comment below and let me know if you like wearing shorts at all during the summer.   If not, what do you live in during the hot temps in July and August?
Until next time! L.O.L.