Hey friends! I am so excited to share an awesome experience with you and tell you about a fun new store that opened right here in Memphis.  Just in case you don't know I should probably tell you that my career up until a year ago was in retail.  I managed a couple of different stores for 15 years and now I am a full time stylist/blogger.  My heart has always been in fashion and I have to say that Memphis is a pretty tough market for shopping that fashion.  But times do change and retail is on the rise in this city!  Finally! We are getting some amazing stores especially at The Shops of Saddle Creek in Germantown, TN.  A very recent addition to the shopping center is Brahmin. I hope this article will encourage to go and give them your full support!
A Fun Evening
The evening before the opening day Brahmin had a huge celebration at Second Line in Midtown.  They invited 30 local bloggers and other important Memphis media people.  The company entertained us for a few hours with drinks, horderves and a three course meal from Chef Kelly English himself.  It was an amazing time.  The meal consisted of a salad with grapefruit vinaigrette, your choice of hanger steak and sweet potato gratin, asparagus and mushrooms or red snapper with herb risotto and the best chocolate cake and buttered popcorn ice cream! I chose the steak for dinner and it was amazing but the desert was absolutely to die for!
At the end of the event we all received a beautiful bag from Brahmin! It was the Lane Crossbody Bag that is available for you to purchase.  It comes in several different embossed leathers and is a great circle bag! The circle bag is a huge trend for this Spring and Summer season and I think we will keep seeing them in the fall. It would be a great addition to your bag collection and is so fun to carry!
Below is a close up flat lay of the bag and the amazing "hat" box it came in!  I was so impressed with the elegant and substantial packaging that came with it.  What an amazing way to present the product.  I felt like Julia Roberts from Pretty Woman walking out of that place when she goes shopping on Rodeo Drive! You just wanted to show it off! My husband even reacted when I got home by asking me "What is in the hat box!".  Great job Brahmin!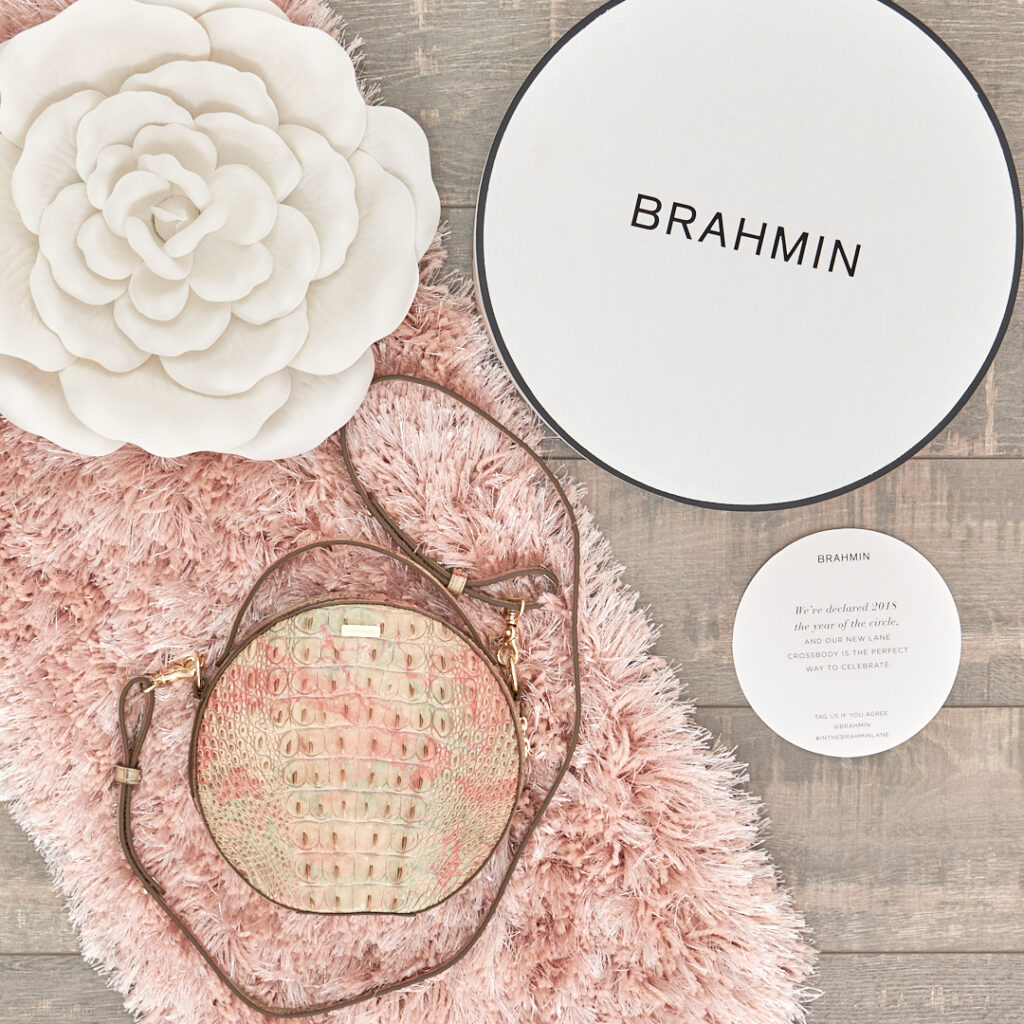 About Brahmin
Brahmin was born in 1982 and specializes in quality craftsmanship to bring you stylish and long lasting handbags and accessories.  They create all the luxurious designs in house in Massachusetts. Brahmin uses only fine quality leathers from Italy and around the world.  And they say it only takes two dozen artisans 100 steps to make each handbag, yikes! You will recognize the beautiful embossed leathers that are a signature of the brand. They have also added some smooth leather styles to the collections recently.
The Saddle Creek Brahmin Store
These pictures below say it all! The store is very open and bright! The simple, clean and elegant decor is the perfect backdrop for the intricate and colorful bags!  I loved the unique displays and thought they created a functional and easy shopping environment!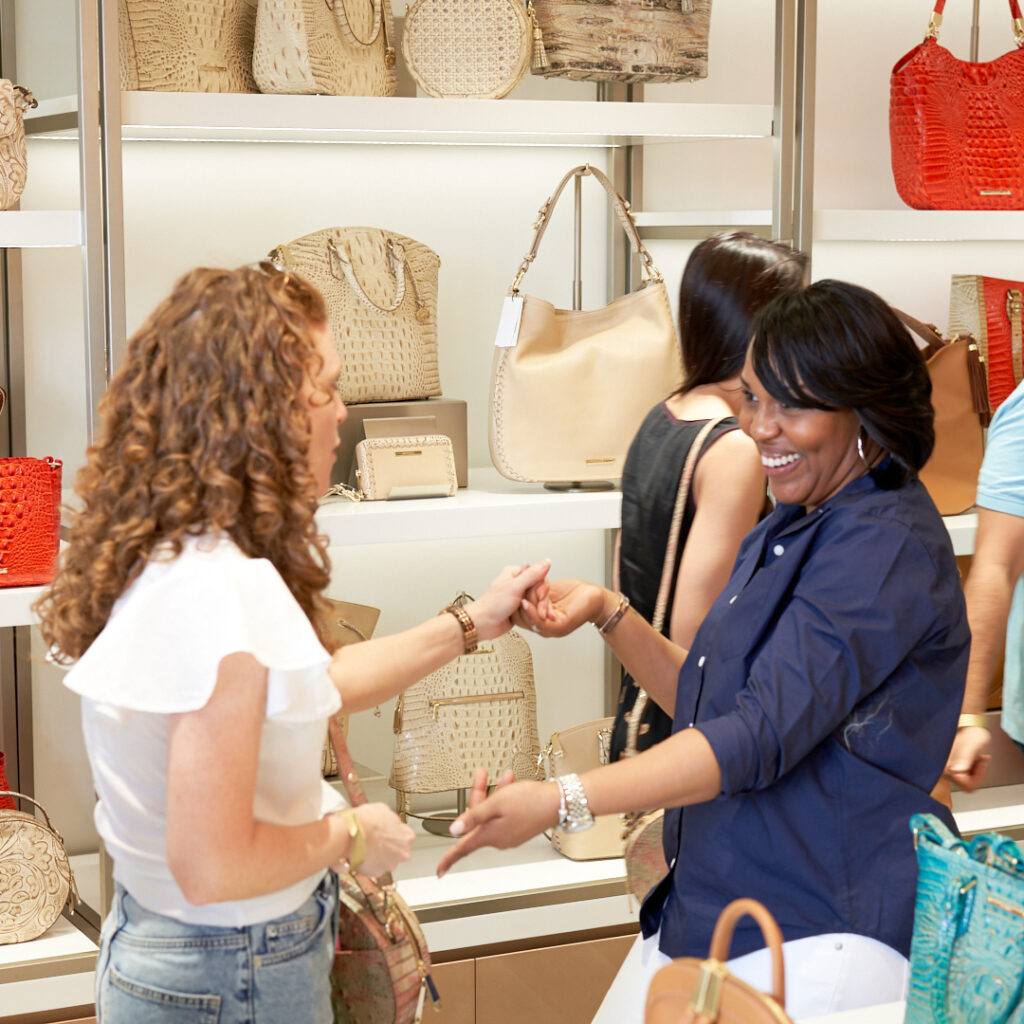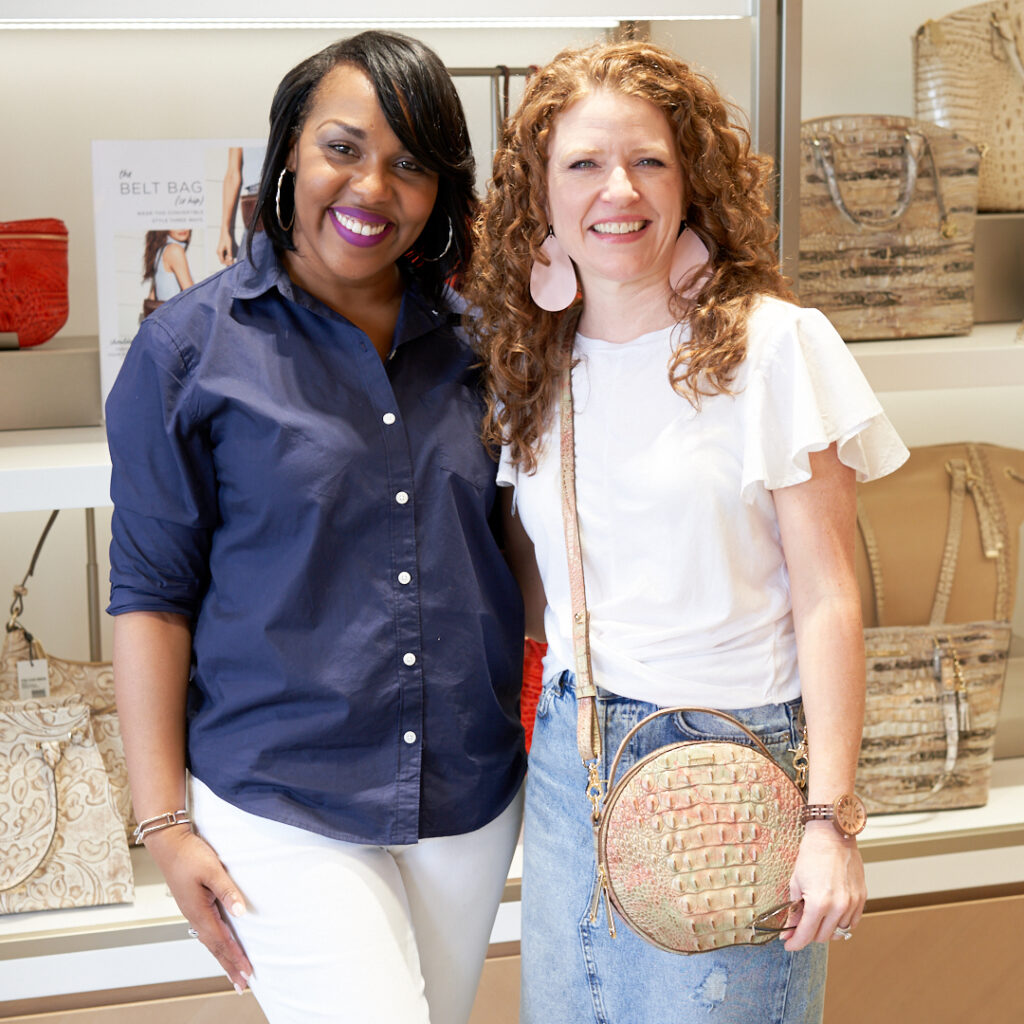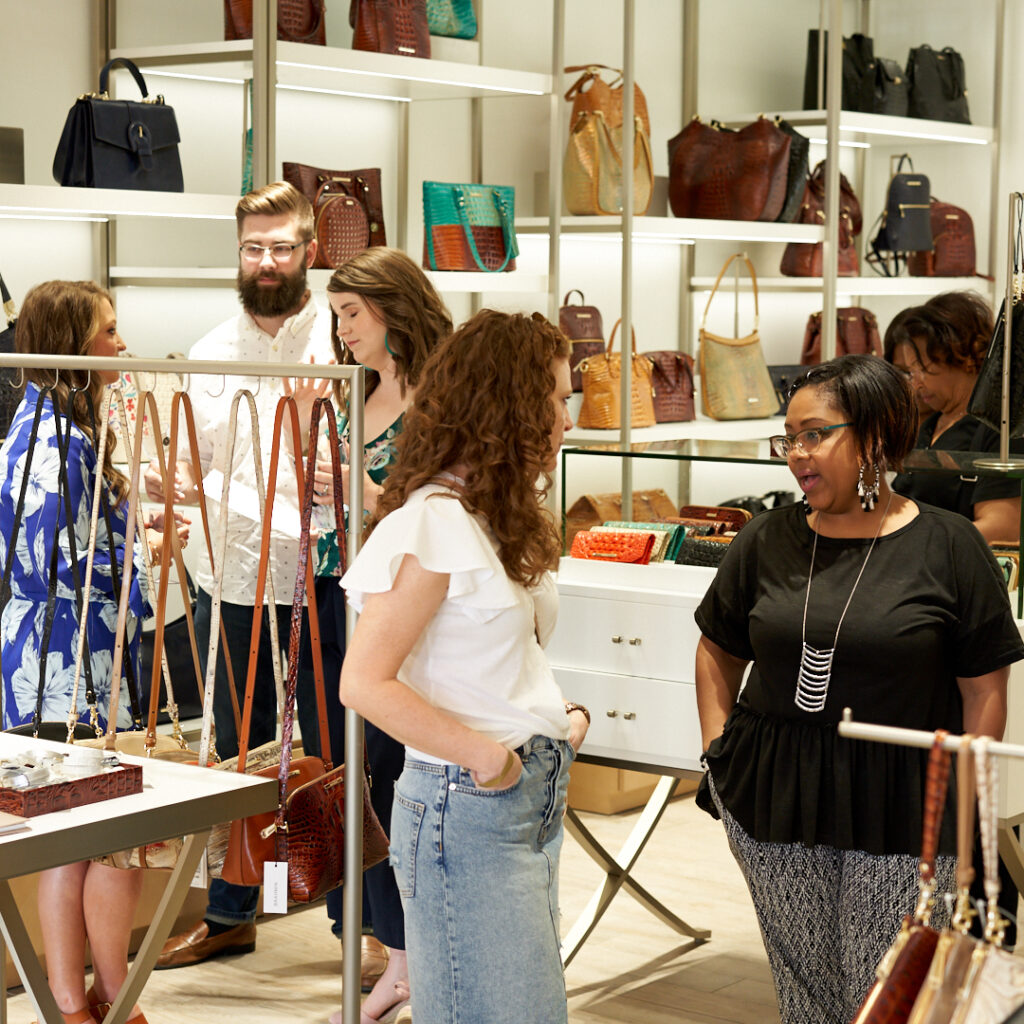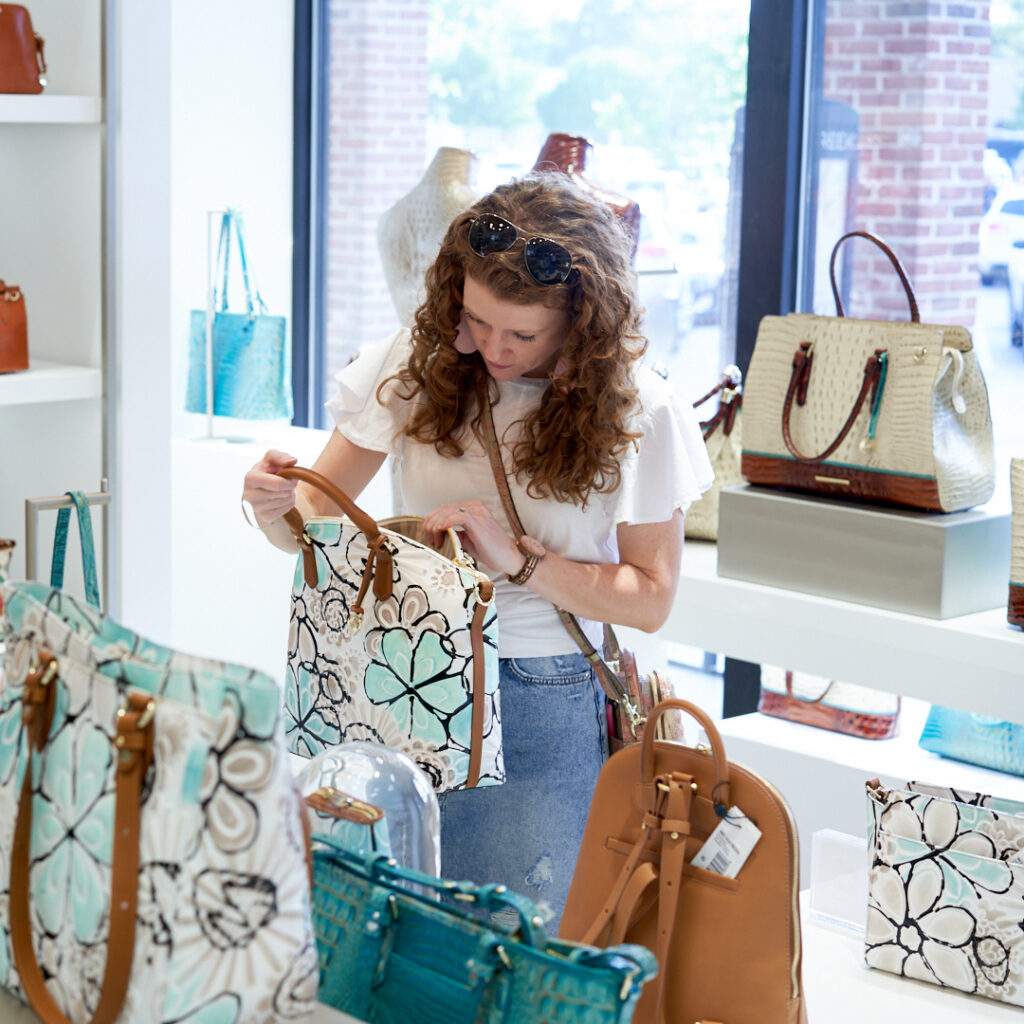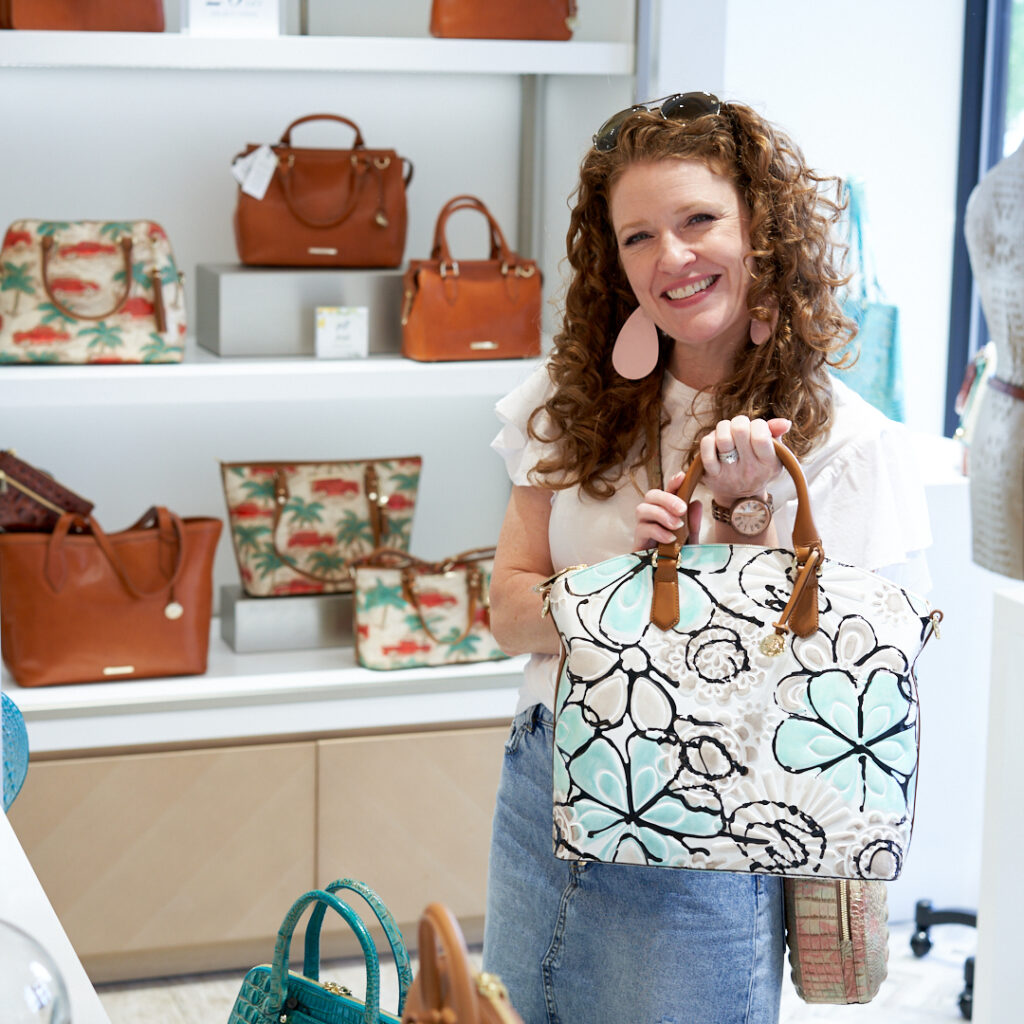 I am so glad that Brahmin chose Memphis as a destination for a store front.  Saddle Creek was the perfect home and I hope that it will stay for years to come!  Memphis ladies, I hope you will take the time to show them some love and welcome them to the Memphis area!
Lots of Love,