Hello my fellow fashionistas! This month was such a fun one and I actually had lots of good luck with finding great things this month.  I usually do a post on your favorites for each month but thought I would change it up a bit and show you my favorites.  I am not a Spring and Summer girl by nature so finding great clothing for this season is more difficult for me.  I really have to spend lots of time shopping to find things that don't just bore me to death.  I love layering and I think it makes outfits more interesting.  In hot weather you can't really do that so most of the things are onesie pieces like rompers or tee's and shorts.  My goal this year was to find cute things that I can mix and match and make more interesting.  I think I achieved that and I hope you do too!
The Midi Denim Skirt & Tee
These two items are by far my favorite pieces for this season.  I love wearing unique clothing items that also fit well into your wardrobe and this skirt is just that!  It is denim so it's super comfy and the midi length is very stylish and stands out in the crowd!  I have paired several things with this skirt in my How to Style a Denim Midi Skirt for Spring post from last week.
The white t-shirt I found at Nordstrom and thought the criss-cross shorter styling with the ruffle sleeves was so cute! It was also under $30! The styling is very unique for just a t-shirt and makes me feel so girly and confident when I wear it.  It is also super comfortable and goes with absolutely anything!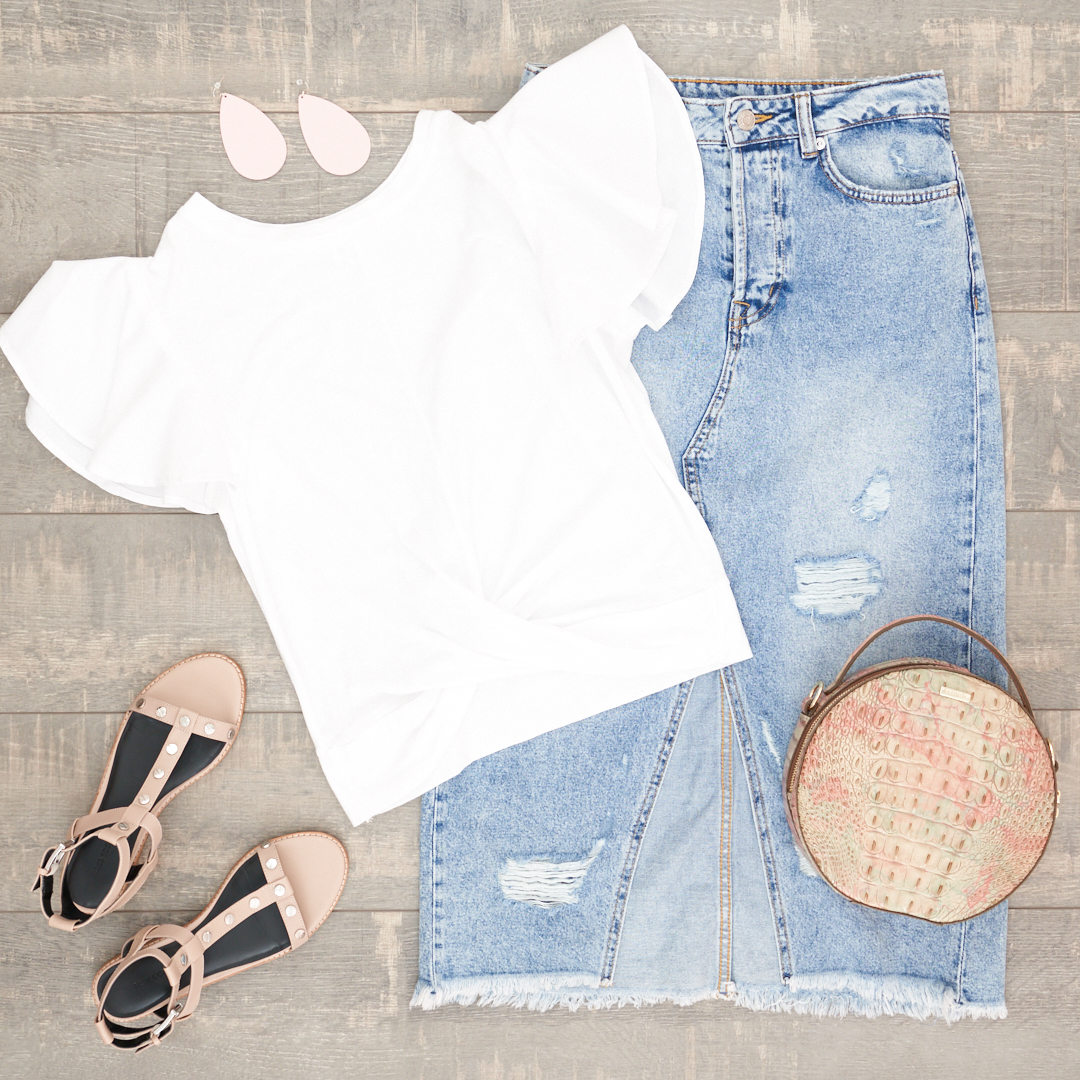 The Gold Shorts & Denim Jacket
I have had the best time styling this perfect pair of soft gold shorts! I found these shorts 40% off at Loft making them under $30! They are great dressed up or just casual.  I have paired them here with a dressy frilly tank top, a clutch and some awesome floral heels.  To make it more casual you can throw a denim jacket over this outfit or change the top and shoes.
The denim jackets this season are so good! I would grab one while you can because this type of item is great year round! I love the new longer length, pictured in the flat lay below and the shorter length pictured in the life-styled version!  You can not go wrong with a denim jacket!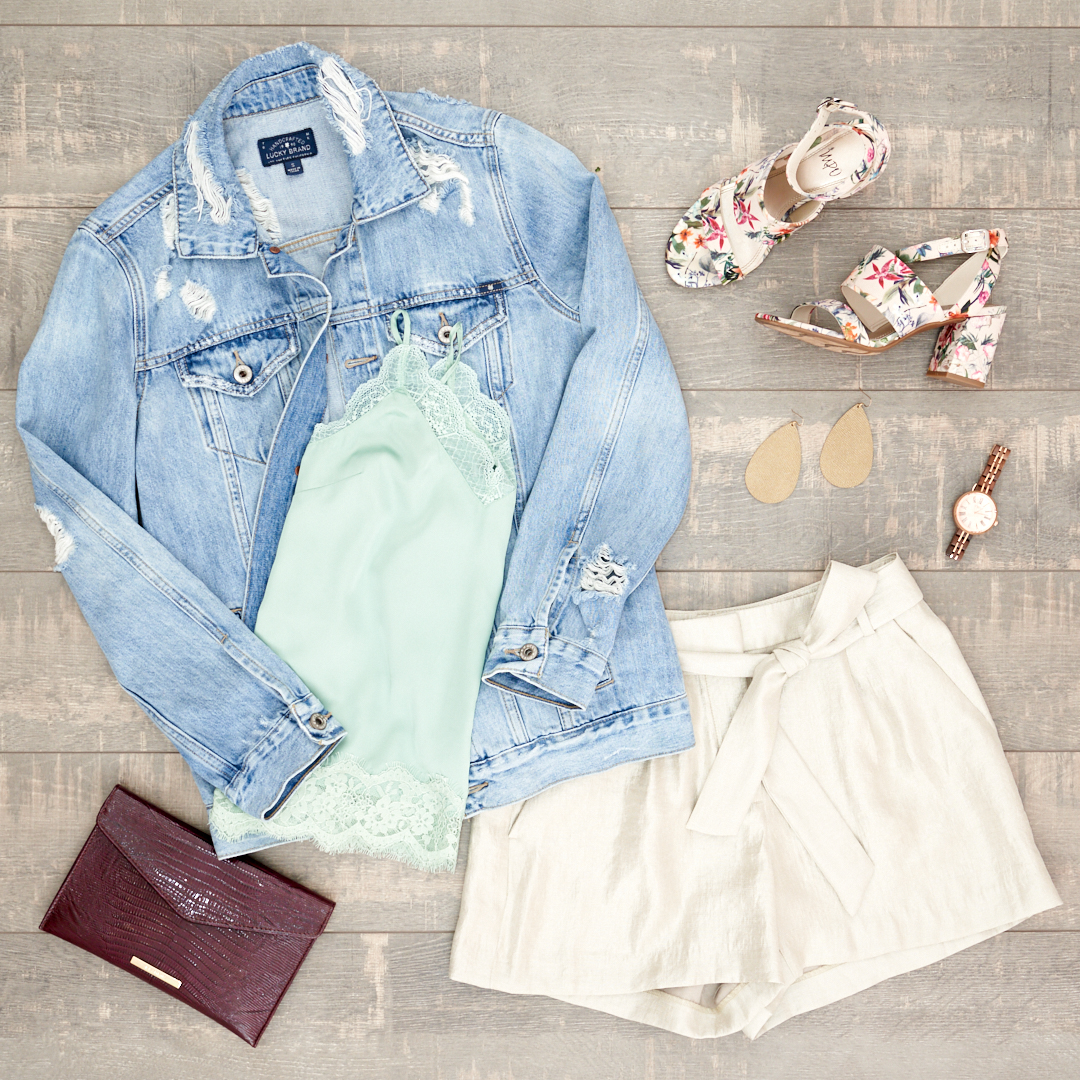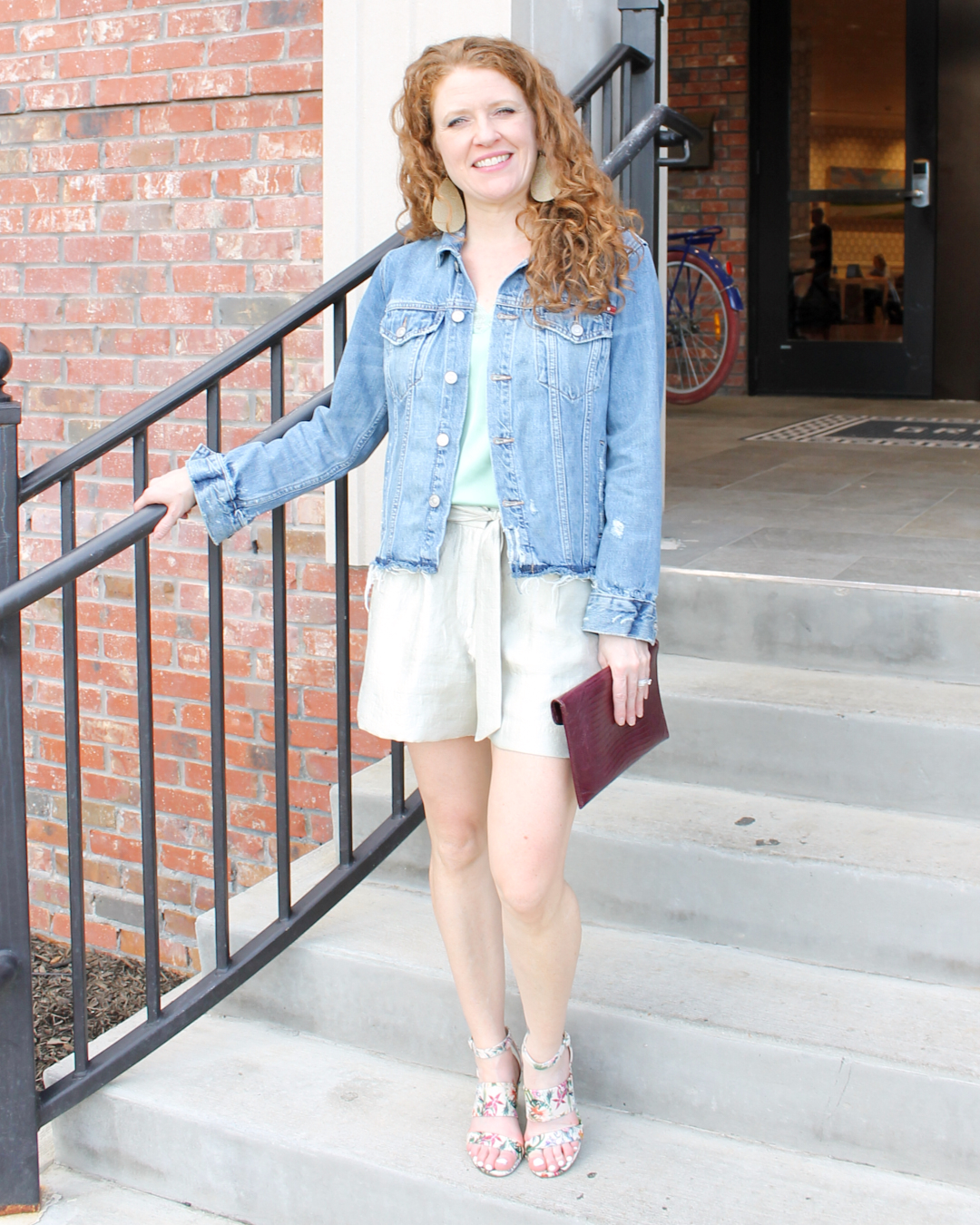 The Perfect Romper
I was having a discussion with a friend the other day about rompers. Most people think of them as too short and only for the young girls.  We both agreed that the majority of rompers available are just that but with some good shopping skills you can find one that is appropriate for someone in their 30's and up.  I'm in my forties and I found this one at the Loft.  It is longer in length, cinches in the waist and has sleeves that cover the top part of the arm.  This is actually the longest length I have been able to find in a romper.  If you still think this is too short for you than your best option is going to be a fun cropped jumpsuit.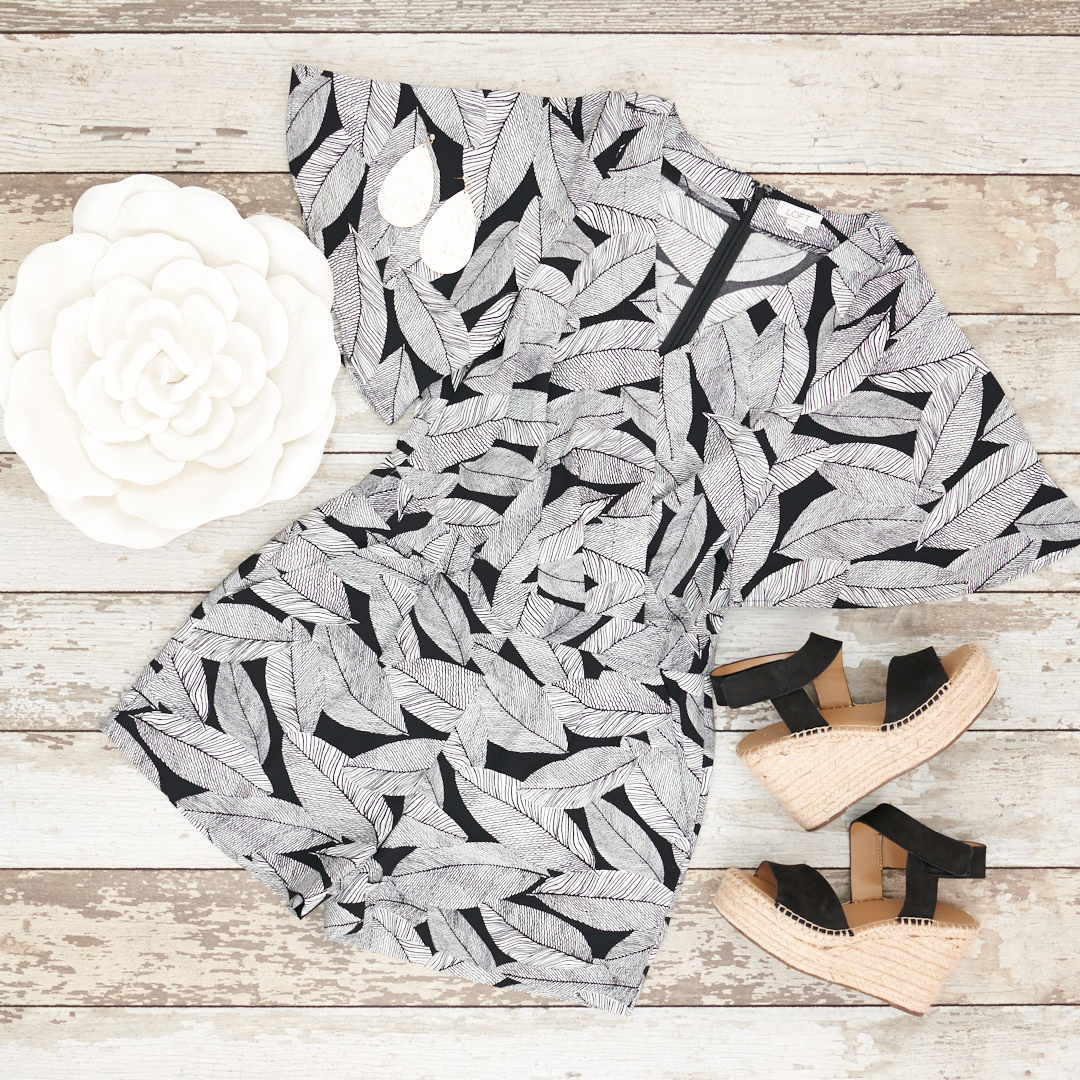 White Jeans
I feel like white jeans are a must have in the Spring/Summer.  There are so many different styles and sizes available now that I think these are great for any size and shape.  I know lots of people are anti-white jeans but I think finding the right pair for your body is key.  They are so refreshing and are a great substitute for your regular denim. White jeans are always a staple in my Spring/Summer wardrobe!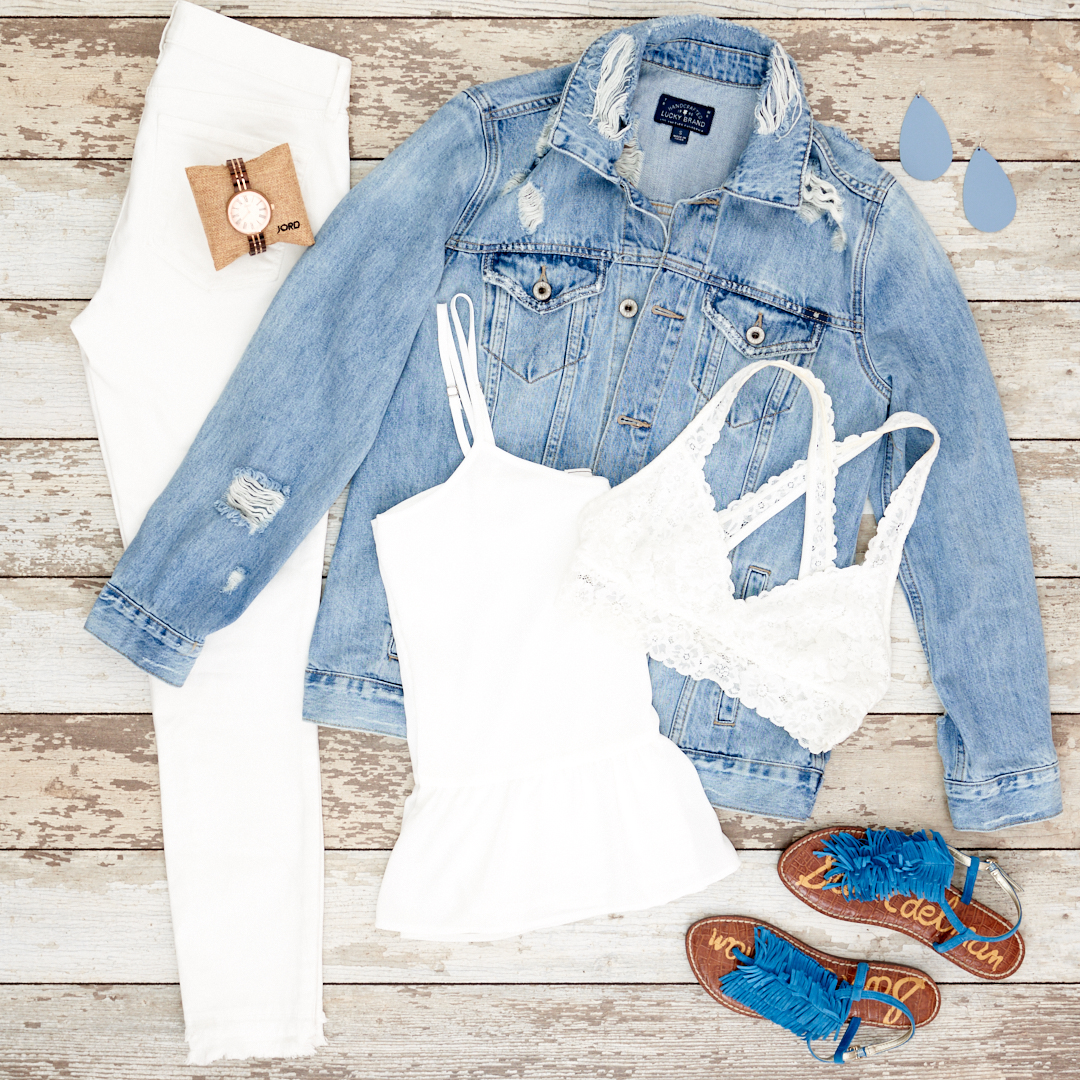 All About the Accessories
I am becoming a huge fan of using accessories as the focal point of an outfit.  Accessories like earrings and handbags can make the difference between boring and exciting!  We want our outfits to be exciting and attractive to other people. When your wardrobe has a solid plain canvas you can have endless fun with your accessories to match. In this outfit I wore a gray bow sweatshirt tee and some ripped plain shorts and spiced it up with leopard statement earrings and a floral clutch.  I even added some color with my orange shoes.
Mixing prints is a very popular thing to do. The easiest way to do this if you are a beginner is with your accessories.  I like the leopard earrings with the floral clutch because they are far enough away from each other that they are not too overwhelming.  Just touches of something can make a huge impact like this.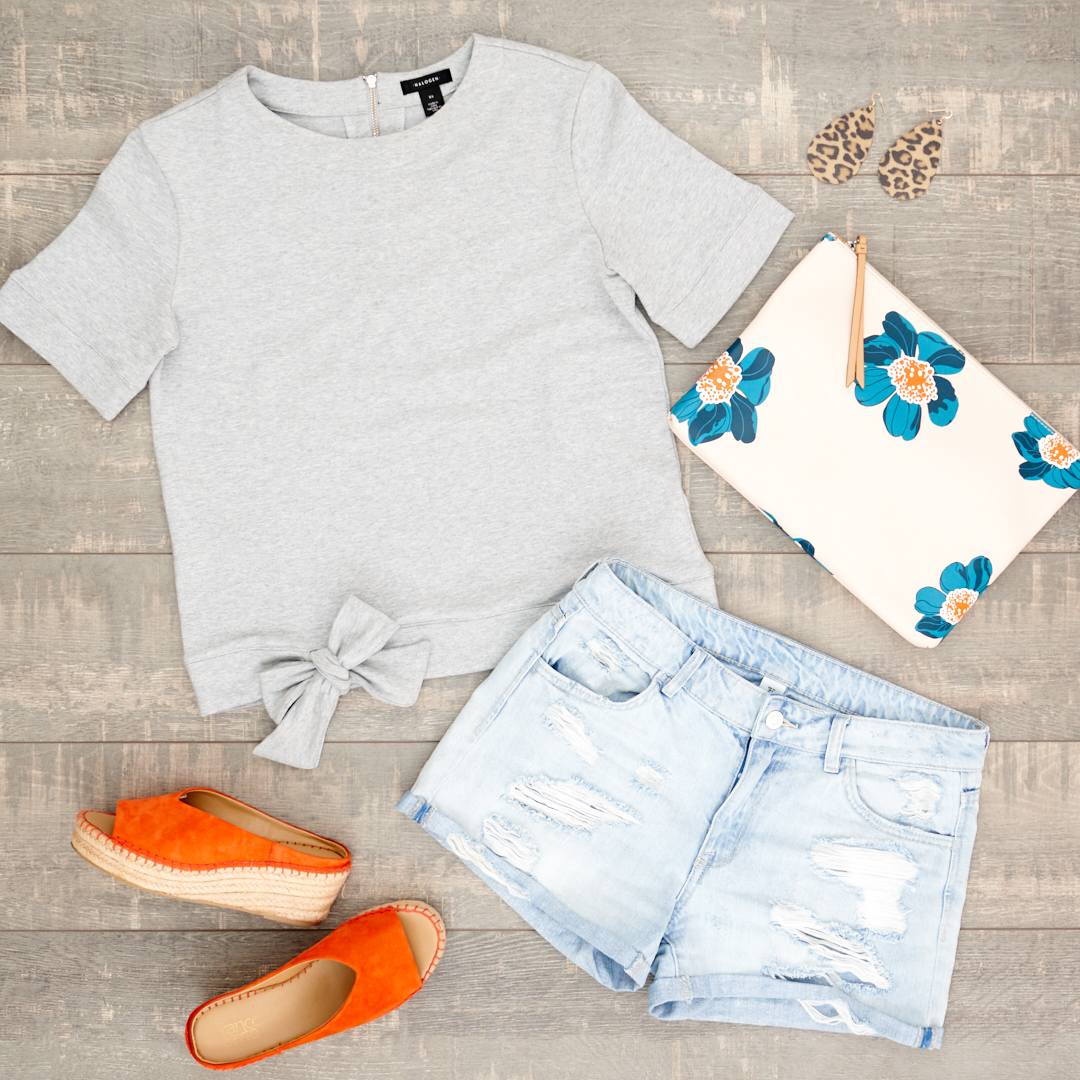 Having all these solid colored stylish pieces allows me to create lots of different outfits and pair some fun shoes and accessories with them. Honestly, we can only have so much floral and stripes in our wardrobe which seems to be the only prints I am finding this season. Don't get me wrong, I do have these prints in my wardrobe. They are just additions and not my main pieces. It is good to have prints to spice things up a bit whether it is in the clothing items or your accessories.  My favorites just so happen to be some of my solid colored stylish items instead of my prints.
Thanks for reading and I would love to hear from you what your favorites are in your own wardrobe for Spring/Summer!
Lots of Love,