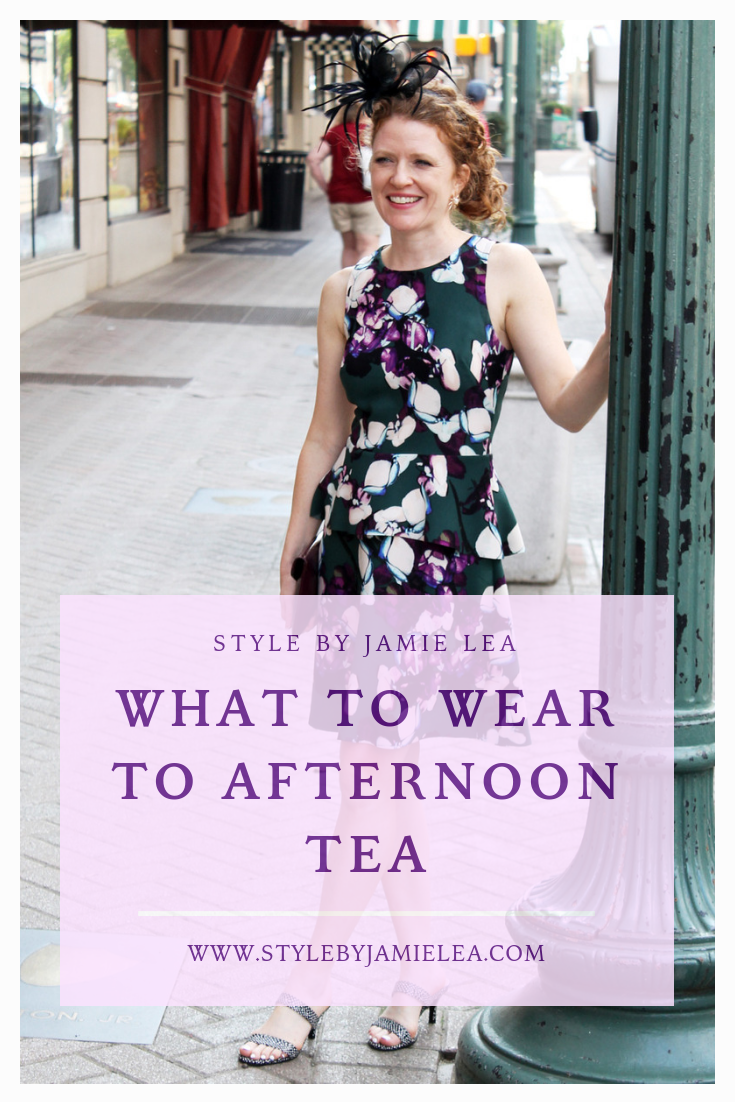 Y'all! I just had such an amazing experience with some of my blogger boss babes that I just had to tell you about it! We went and had afternoon tea at Chez Philippe in The Peabody Hotel.  I was so nervous about what exactly to wear to something like this for I have never experienced it before! I did not know what to expect and even looked up etiquette for tea on the internet!  It seemed like such a serious thing I just didn't know what I needed to do.  I read lots of different things but the gist is that is gives a girl a reason to put on a pretty dress and a fun ornament in her hair!  Did I mention you get to drink some of the best tea you have ever had in your life and eat as much as your heart delights!  If you have not done this in your life put it on your bucket list.  This is something I probably never would have done if it weren't for these girls!
So the big question is; What to Wear to Afternoon Tea!  That was my big question anyway. Some of the places that offer afternoon tea might have a dress code,  so you should always be aware of this before you decide.  You will certainly be fine in a dress or skirt.  Maybe even pants if the place allows. You will see that we all chose either a dress or a skirt and some of us wore a fascinator or a hat to be a little more festive! The British still do it so why can't we, right!
I asked my lovely blogger babes to allow me to share what they wore to the tea.  I thought they all looked so amazing and they had their own twist on "tea" style.  I want to say thank you to them for letting me use their picture and quotes in this post.  We are all so different and I hope you enjoy seeing all of our different styles!  I am going to link their blogs for you so you can go and check them out!
Jamie's Peplum Dress & Fascinator
The dress I chose to wear was this peplum floral dress in the picture below.  It is two years old and from Banana Republic.  I am not a dress girl so this was the first time any of these girls even saw me in a dress! They were very happy to say the least.  I just don't have the best shape for dresses so a skirt usually works better on me.  Every now and then I will find one that fits me perfect and this was one of them.  I love the peplum detail at the waist and that it hits just above my knee. It was the perfect dress for the occasion.
I found a black fascinator the day of the tea and just had to wear it.  To bring the whole outfit together I chose my wine colored Brahmin clutch and black and white heels.  I really felt wonderful in this outfit and comfortable at the same time.  The comfortable part is the most important to me because when I am comfortable I am more confident.  With the afternoon tea being a little intimidating to me all of this became even more important than normal.  When choosing what to wear to tea just make sure it is what you feel good in and you will look fabulous.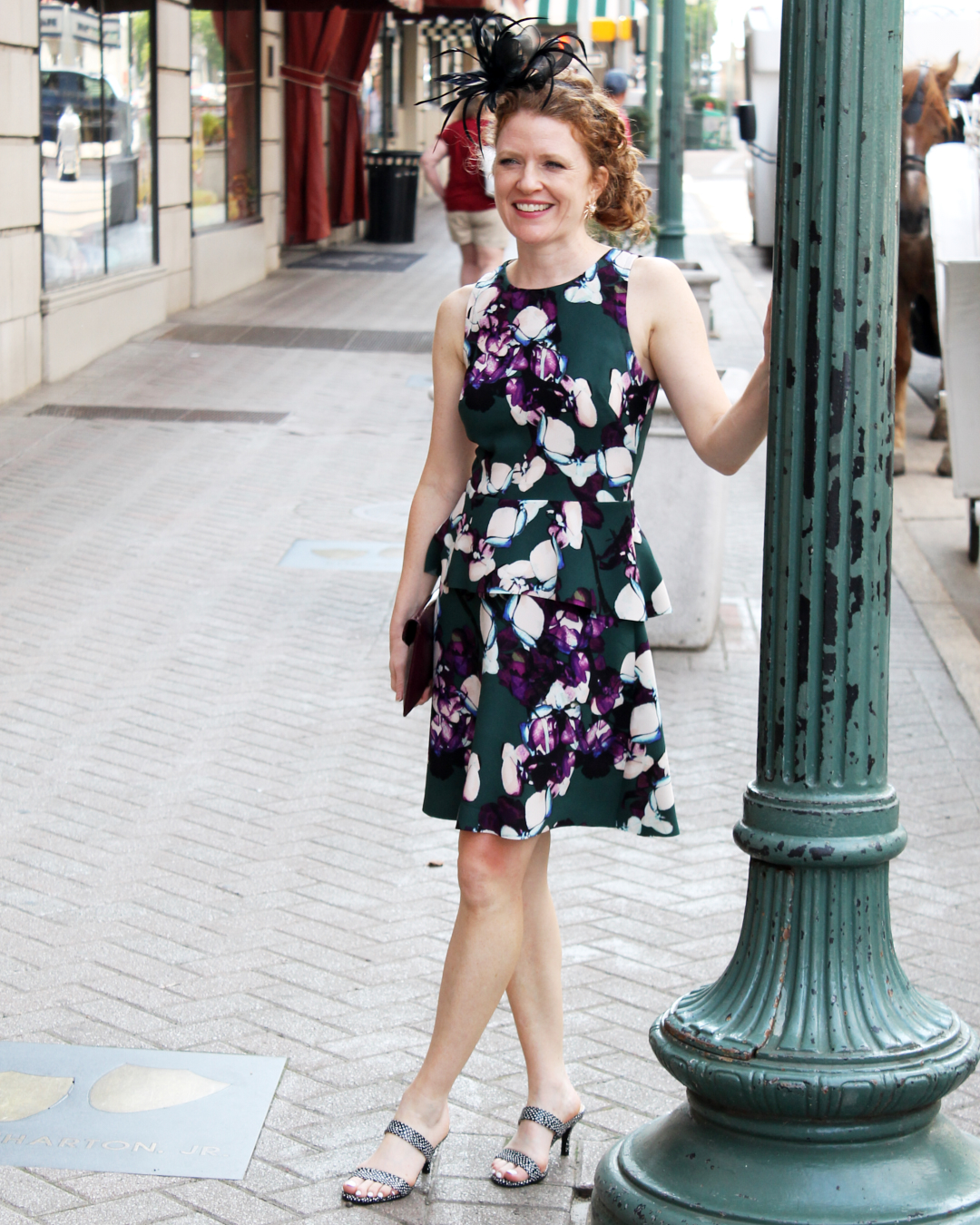 Tabitha's Gingham Skirt & Eyelet Top with Straw Hat
If you are not wanting to wear a dress to tea than take inspiration from Tabitha, creator of Tabitha Faith,  who chose an amazing gingham skirt, cute white eyelet blouse and straw hat! These pieces are actually easy to find and you can break them up to wear with other things!  You may already have these things in your closet and didn't think about wearing them to tea.  I love the ease and classiness of this outfit!
Tabitha said " I chose the large print gingham skirt for a summery, picnic feel while the ruffles kept it fun, feminine and a little over the top!"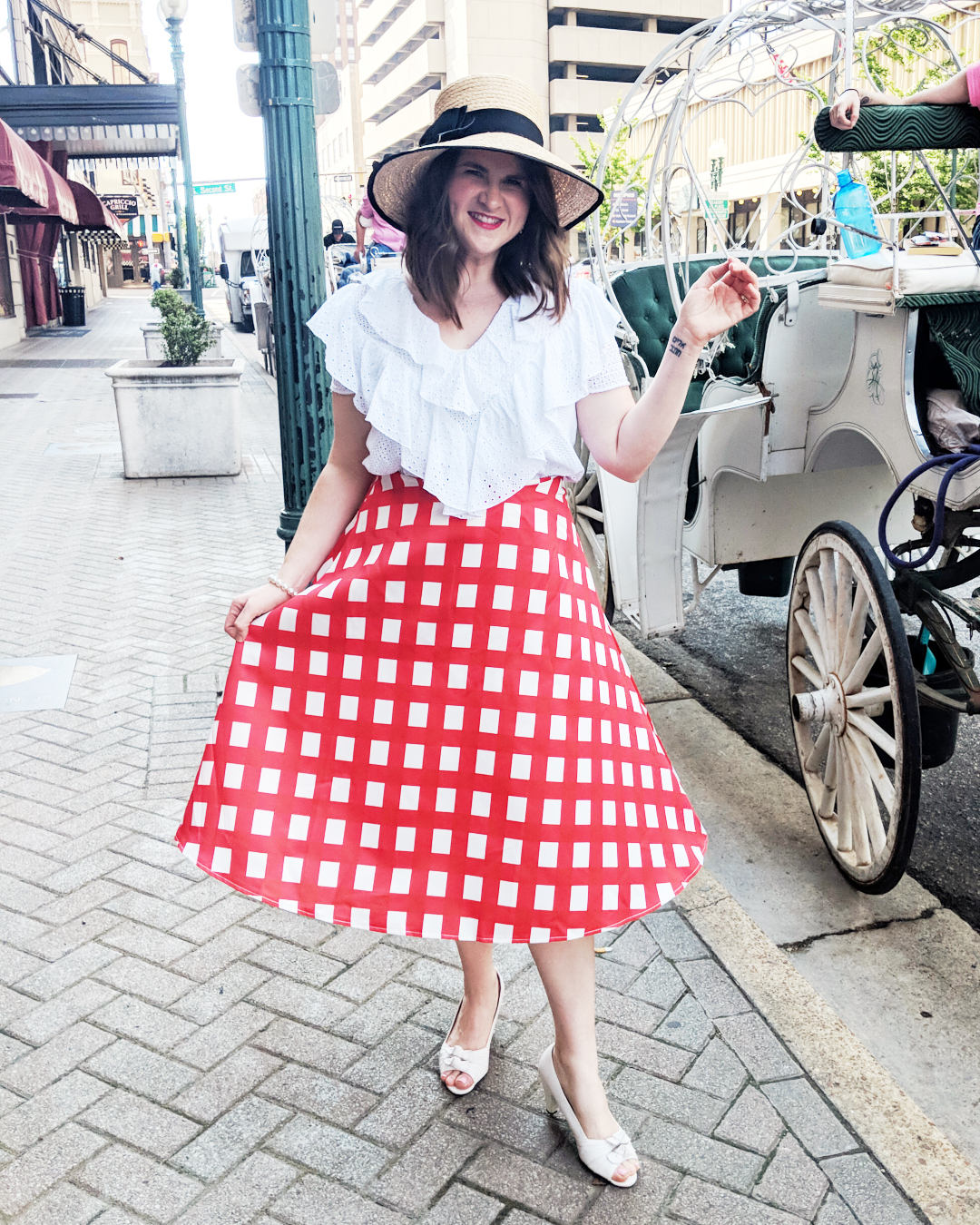 Magen's Navy Floral Midi Dress & Fascinator
Magen, creator of  Simplymagen, was the expert on what to wear to afternoon tea and rightly so due to the experience she has had attending tea time!  The women in her husband's family have been doing High Tea for 12 years, in which she has participated in four of these!
Megan explains, " I remember the first time I was to attend tea with my then boyfriend's family. I was so nervous, it was important to me to make a good first impression. Being the fashionista I am, I knew I had to have the perfect outfit. Now that I've chosen several outfits, here's a few tips for you…  First thing to remember is High Tea is proper so your outfit should be semi-formal and tasteful. This doesn't mean it can't reflect some of your personal style though. For me that meant feminine, so ruffles, bows and something floral. After you've picked a great dress, it's time for the accessories! You can choose to wear a big hat or fascinator, maybe some pearls or statement earrings. Add a clutch to match and you're now all set for tea time! "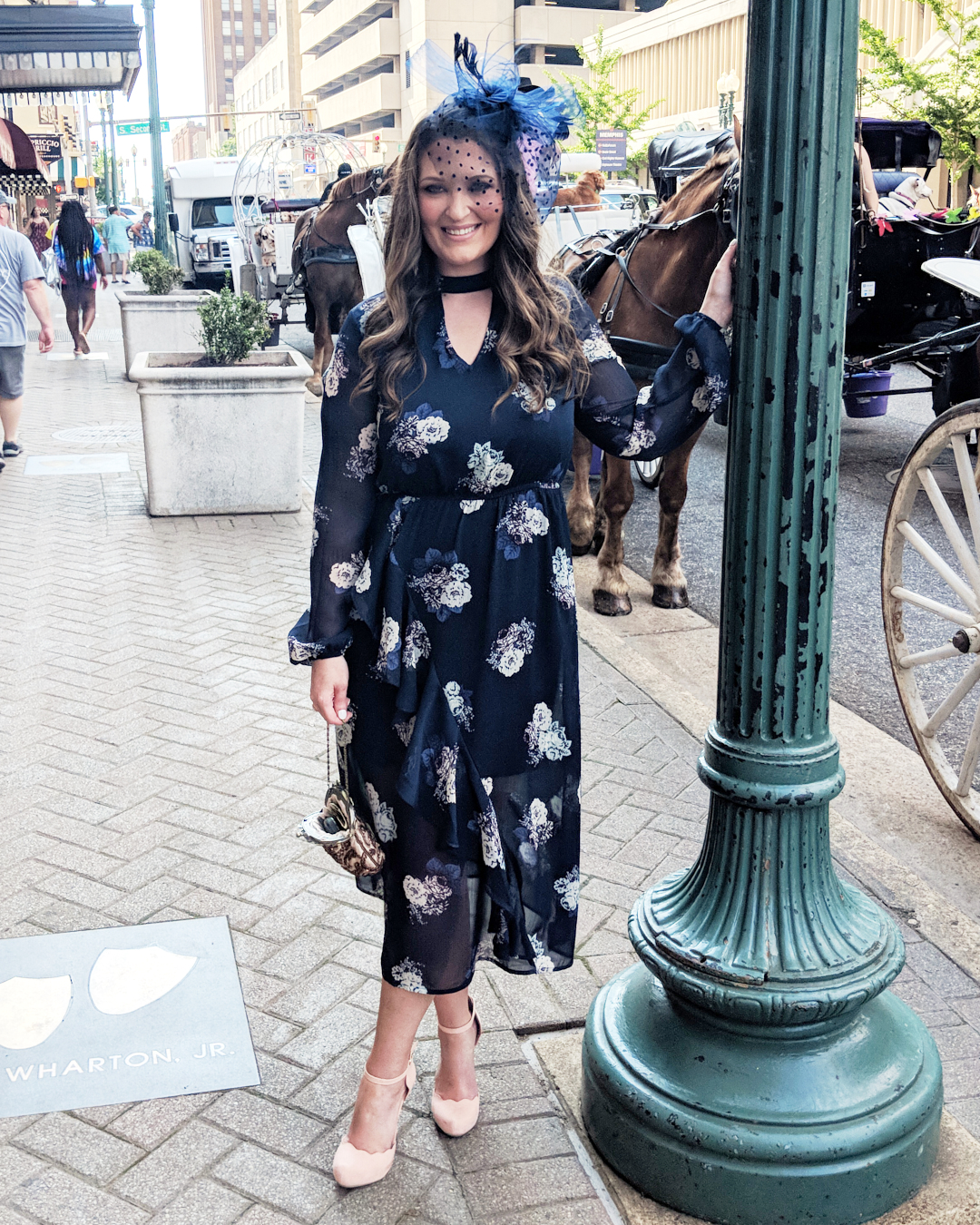 Erika's Classy Floral Dress & Fascinator
Erika, creator of Beaut Optician, wanted to go full on "British Wedding Guest" in honor of the Royal Wedding.  She chose her dress and then added all her accessories.  The dress was the most important to her to represent British fashion.
Erika said, "I call my dress the "Ted Baker London" knock off. I've always loved British fashion and this dress reminds me so much of the Ted Baker midi length dresses that have such beautiful floral patterns.  I had to pair my favorite Zara acrylic heels because they had a red and pink accent in the heel which went with the florals. The fascinator pulled together the outfit. I love the structure of it and the shape, especially how it comes down a little on the front. It is so sassy and sweet to me. 🙂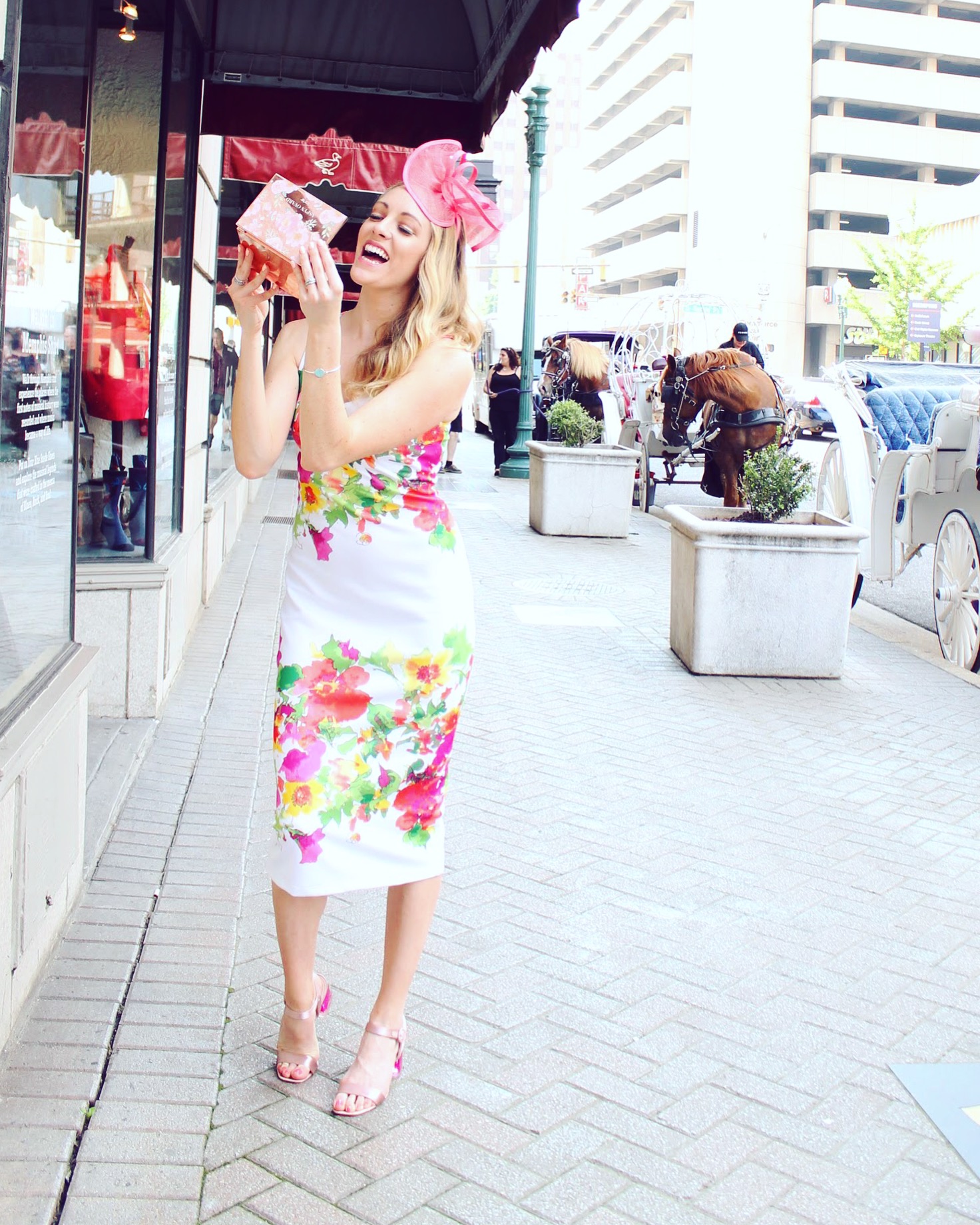 Ashlee's Floral Vintage Dress & Fascinator
Ashlee, creator of Big World Huge Style, specializes in wonderful vintage looks and she nailed it here! The polka dot dress, fascinator, handbag and peep toe shoes were vintage perfection!  I love that she took her own style and made it work for the afternoon tea.  The polka dot dress was a refreshing change from all the florals!  Don't feel like floral has to be your go-to for tea.  I think any cute print like this is a fantastic choice!
Ashlee said, "I chose my outfit because I've always been different. I like to evole and re-invent. I crave constant change and never like to wear the same thing for too long. I believe that may have something to do with being an army brat. I moved a lot so that's the reason I named my blog Big World Huge Style. I have had many influences in my life. The biggest one was growing up watching Turner Classic Movies (TCM) with my mother. Because of that, I'm fascinated with what was. My style choices come from the past, which will always be the furture for me."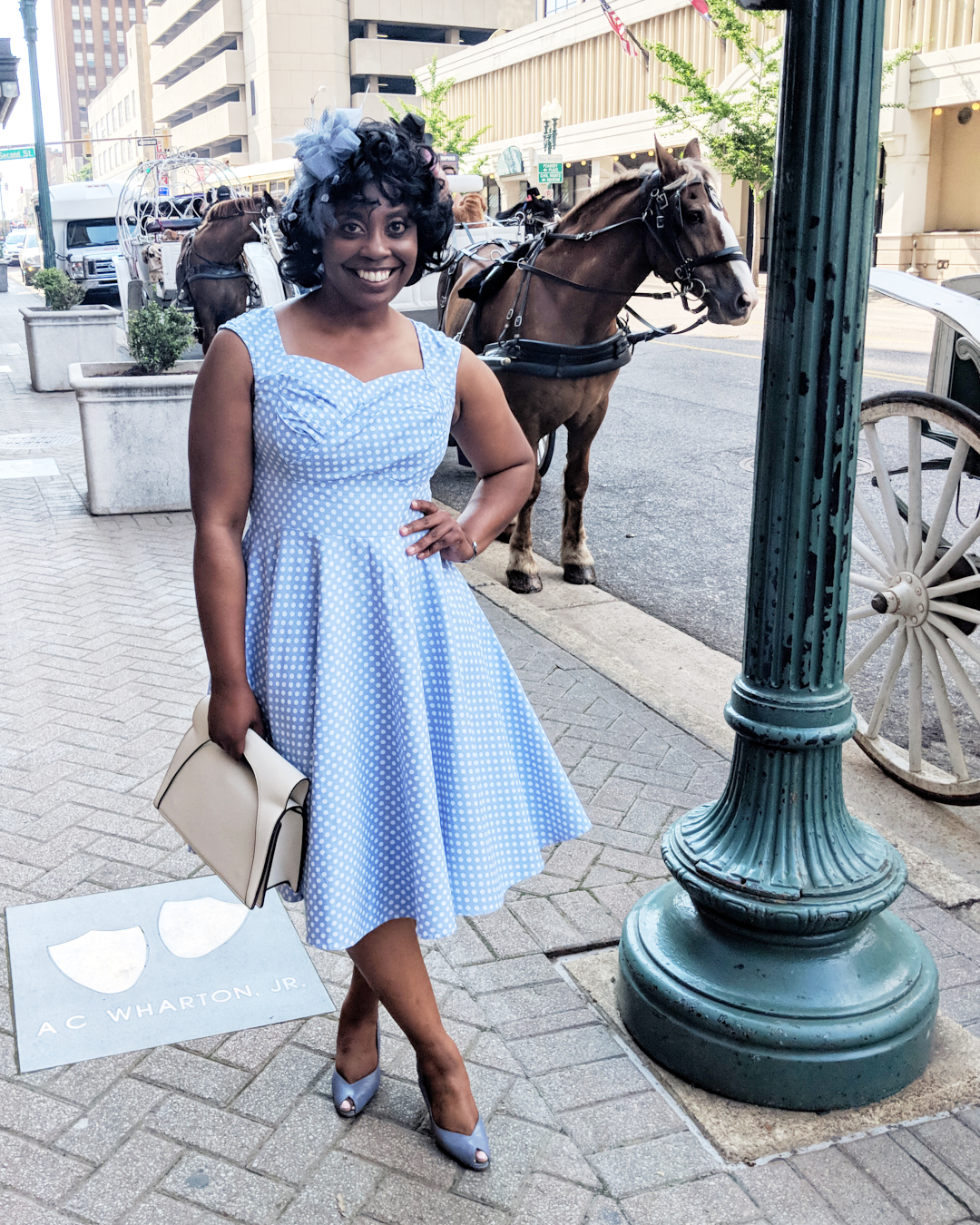 Denise in a Beautiful ASOS Dress
I absolutely loved this dress that Denise, creator of The Elle Aesthetic, wore.  It was so different and just stunning!  She also chose something different from the normal floral and it really worked well! The minimal accessories would have been my choice so you can just focus on the beautiful dress!
Denise explained, "I chose my dress because I saw it and knew I had to have it! I was specifically shopping for a tea dress, but I wanted this dress for tea and just to stare at it after a rough day — ha! I paired it with some surprisingly comfortable nude block heels from Nordstrom Rack and my trusty acrylic clutch. If I could do all over again, I would definitely add a fascinator to elevate the drama and complete the look. No regrets, I will definitely be in this dress again soon!"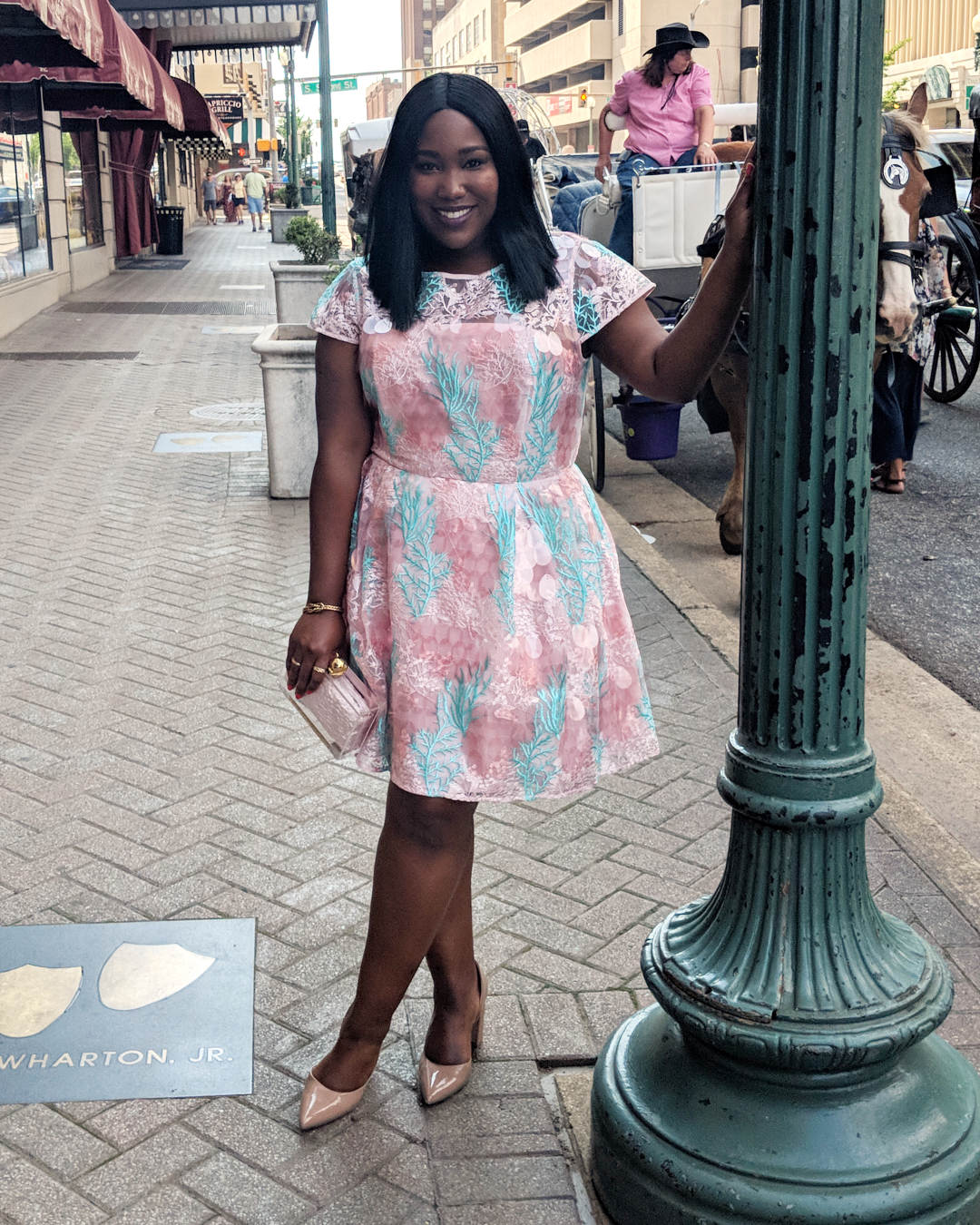 Fascinator's
I wanted you all to see a close up of  the fascinators we wore! They look like a lot but they are super light weight and so easy to wear.  I prefer these to a hat because I did not want to mess up my hair ! I literally forgot I had one on and that never happens with a hat.
When I was deciding whether to get a fascinator or a hat I discovered that they are just headbands or something you can pin in your hair.  Erika and I both purchased ours from Dillard's.  You can also find them on Amazon for quite a bit cheaper! I think they were extremely easy to find this time of year because it was the time for Derby and the Royal Wedding.
I hope you enjoyed seeing all my blogger babes choices and learned a little bit about what to wear to afternoon tea.  I thought it would be so fun to show their style choices off to you.  If you ever get a chance to go to have afternoon tea these looks should give you lots of inspiration and hopefully ease the anxiety of it all!  Just get all dolled up and have a good time with the girls!
Lots of Love,