Hey y'all!  When I started to write this post I realized that I had a theme with all of my recent pictures! That theme has been black and white. Actually, if I think about it, a theme seems to appear every time I start to put together this post! So funny! It totally looks planned and I'm really glad that it does, but it is so not! It just happens to turn out that way. I really think it is because the merchandise that is available each month is similar as well. Even when you go to different stores the colors and patterns in the styles emulate each other.  When I worked in retail we would receive collections from designers each month and there was always a color and style theme to it all.
This Flat Lay to Life-Styled: Black & White post will show you all my black and white outfits from my flat lay to my styled photos.  You will also see some elements of pink or gray mixed in because I love those colors as compliments to black and white. All of these flat lays are also styled with a pair of Nickel and Suede earrings.  If you have followed me for even a small amount of time you will know that these are my absolute favorite earrings in the world! They are the perfect large statement earrings that are light weight and the hooks are nickel free. They are made out of real leather and the quality is unmatched!  You can now shop these on my site in my Style Shop under Accessories Shop!!!!!  I am so excited about his I can hardly sit still!!!
Pink With Black & White
This first outfit I wore to The Dixon Gallery and Gardens to see The Real Beauty Exhibit.  We went from the gardens to the gallery so I chose to dress up my pants and top with a great jacket.  It's amazing what a jacket can do to change an outfit.  I totally wear my jackets year round because I feel more put together when I have one on.  I also get cold in the air conditioning in the Summer.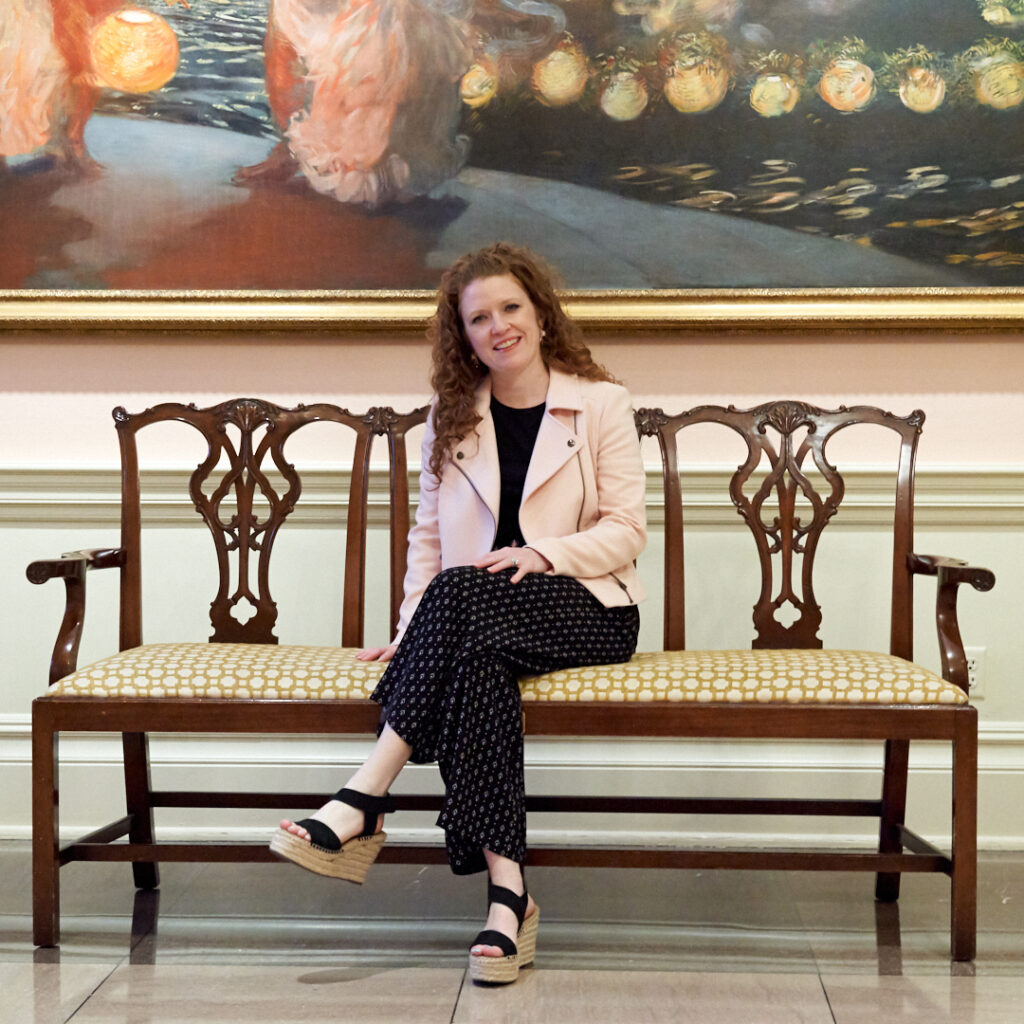 Easy Black & White
I am so crazy about this black with white and nude stripes blouse! It is so versatile and I have worn it to so many things already.  I wore it to Eye Society when I was gathering information for my post on them. I wore it to do my presentation on The Invisible Influence of Gabrielle "Coco" Chanel.  I have paired it with black pants, dark jeans, ripped jeans, colored jeans and white jeans.   I will also make very good use of this in the fall under a blazer or cardigan.  I think this was the most versatile piece I purchased all Spring.  You just can't go wrong with this kind of blouse.  I really want to find the right floral bottoms to pair with it as well.  Pattern mixing with stripes and floral's is my favorite way to do it.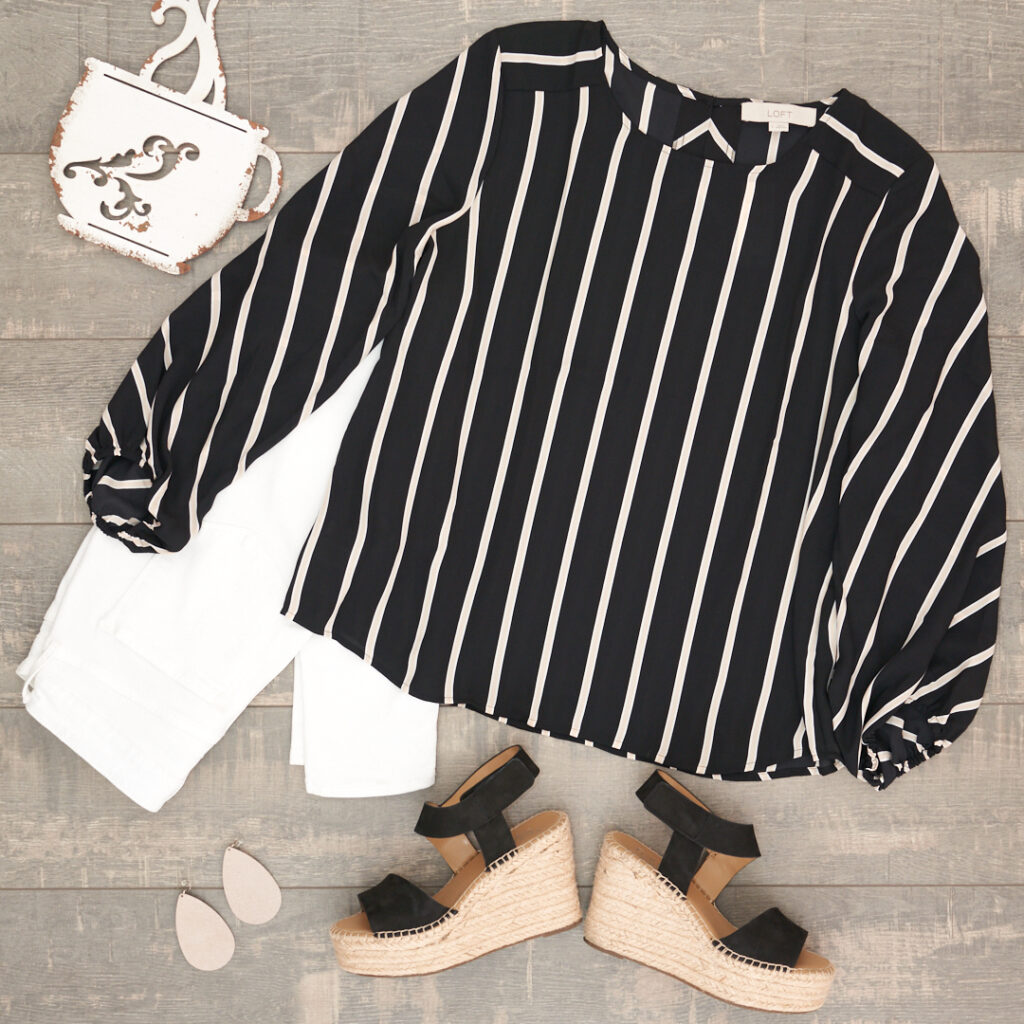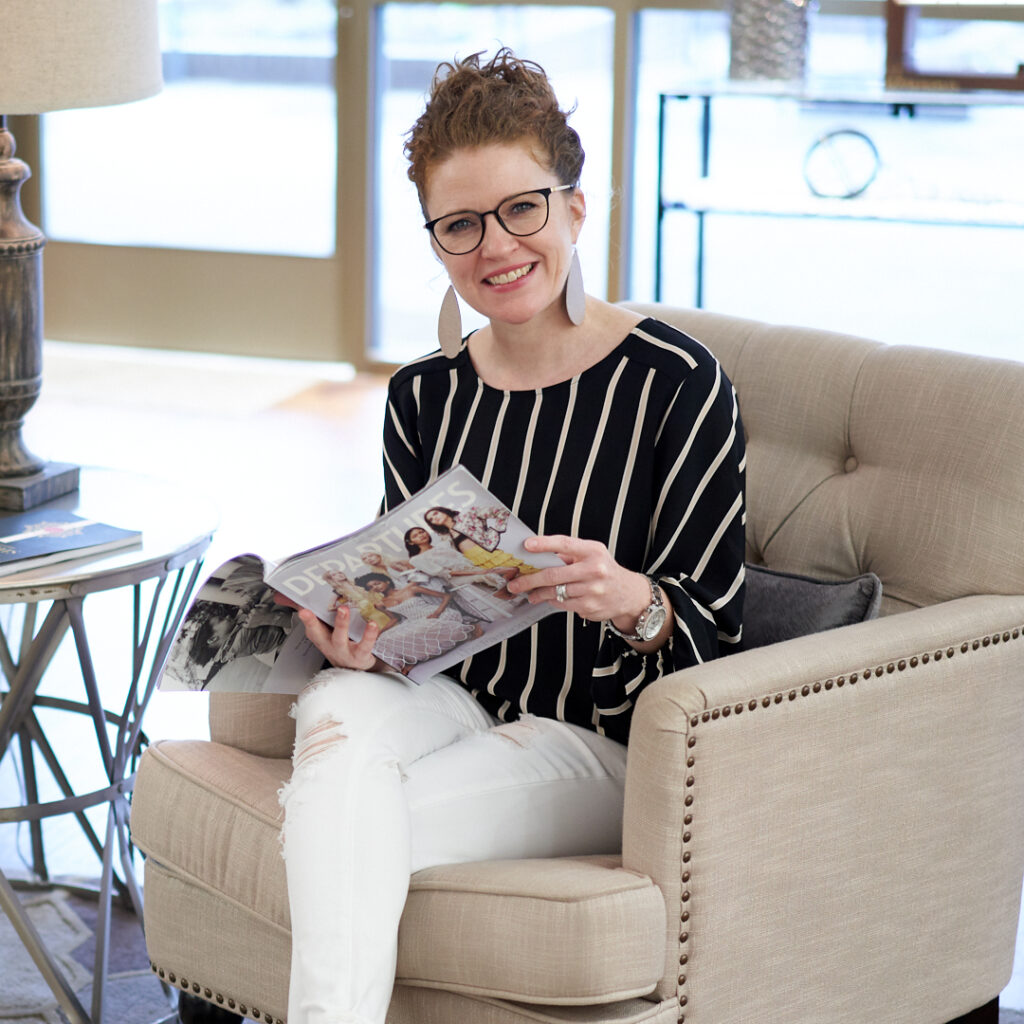 Spiced Up Black & White
I love pairing black and white with other colors for Spring. You can do almost any color you want which is why something like this is so versatile.  I think this blouse is out of stock but hopefully will come back.  I have linked some others for you to choose from that I thought were just as good.  If you already have a black and white blouse and haven't paired it this way you should definitely give it a try!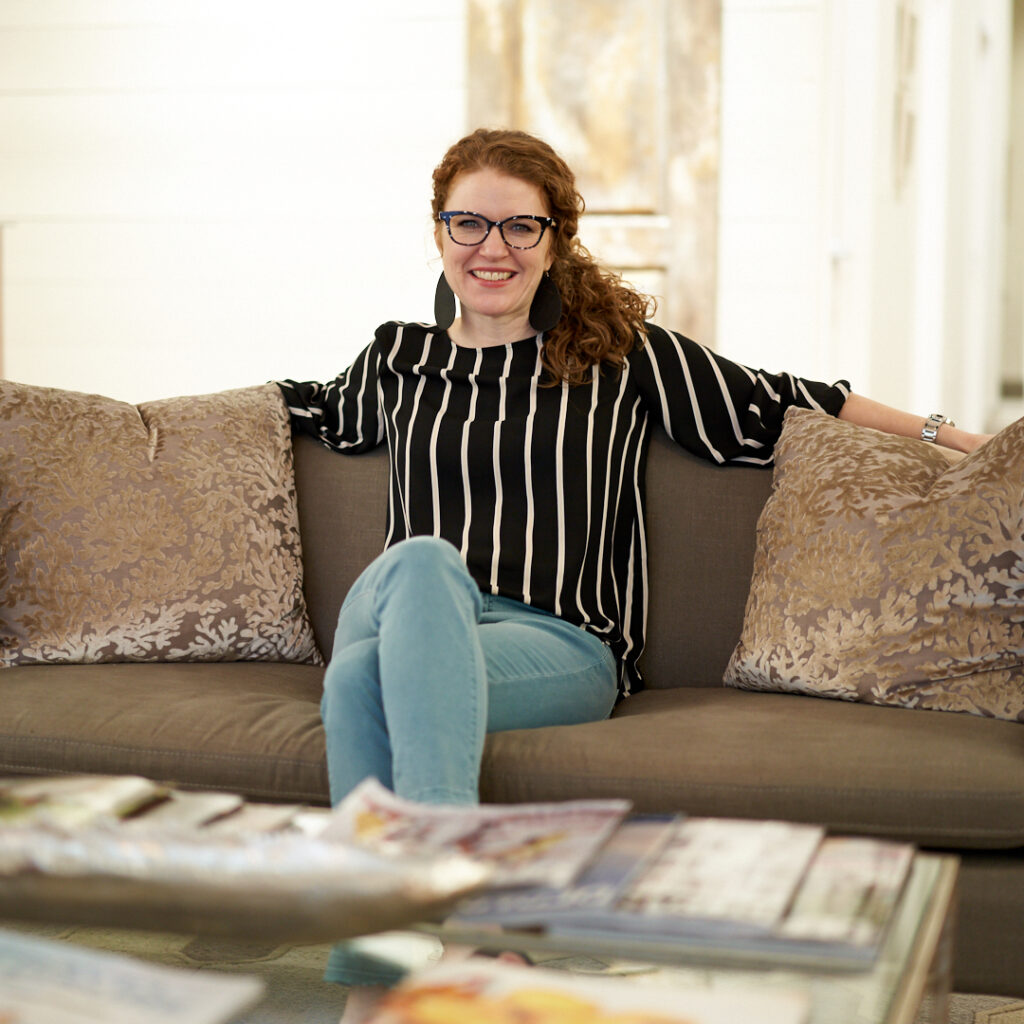 Black & White Tee
I have been on a search for the perfect fitting off the shoulder top and this one is it! I do not like clothing that is not practical and most off shoulder tops are just that.  They are a pain to wear because they do not stay down and you have to keep fidgeting with them.  This one you do not.  You may have to adjust it every now and then depending on how far you raise your arms but not as much as others. I have also layered this under my denim jacket.  It comes in solid black and white as well.  It fits true to size and is made out of cotton and lycra.  This is the perfect combination of materials to make this top comfortable and keep the sleeves in place.  I will have this on repeat this summer with all my shorts and skirts!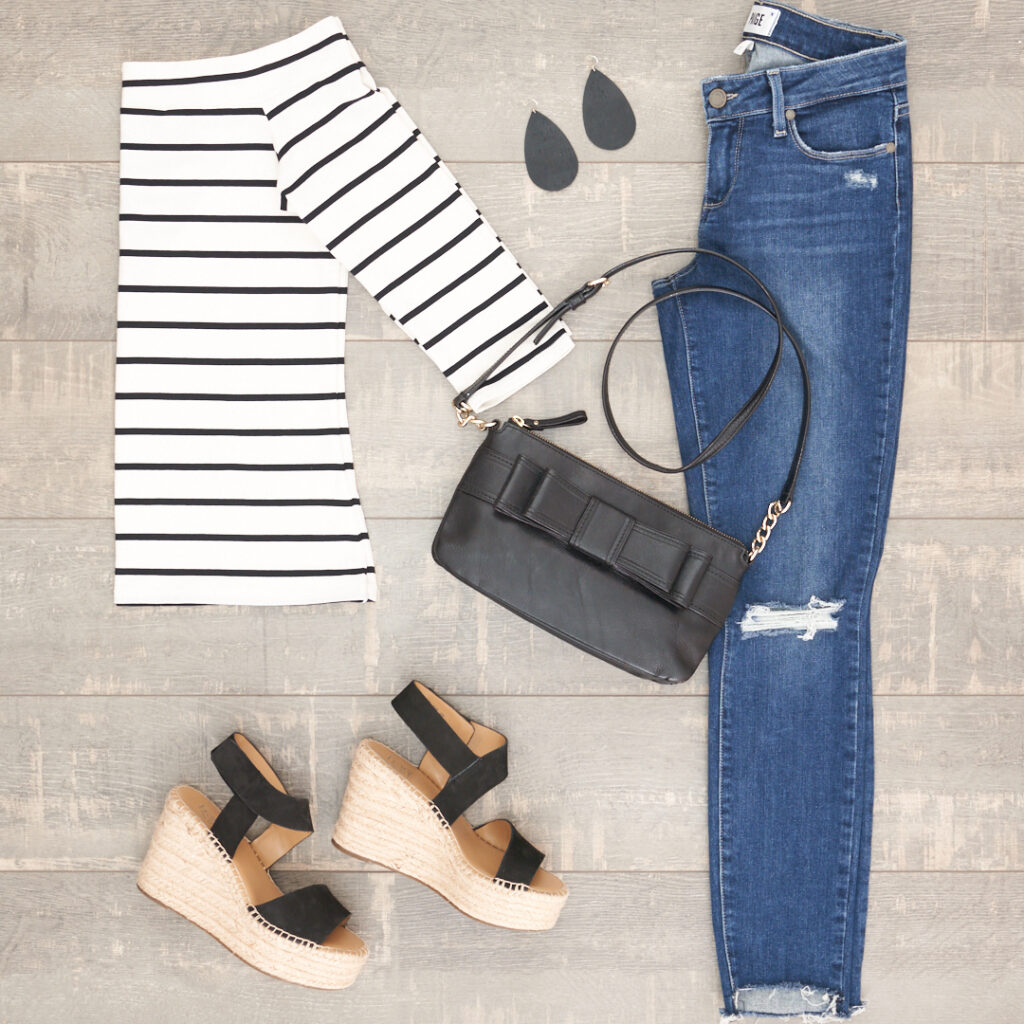 Black & White & Gray
I put together some new and old pieces in this outfit.  I love the mix of black, white and gray.  It is the perfect outfit for running errands that is stylish and comfortable.  I have to talk about the t-shirt because I am a huge fan of ruffles if they are put in the right place.  Ruffles can become overwhelming and bulky very quickly on a garment! This t-shirt has a ruffle just around the bottom hem of the shirt that goes all the way around and wraps up one side.  It is fitted through the shoulders and swings out just a tad bit to flatter the figure.  I have attached a third photo of this one so you can see the back. It fits true to size (tts).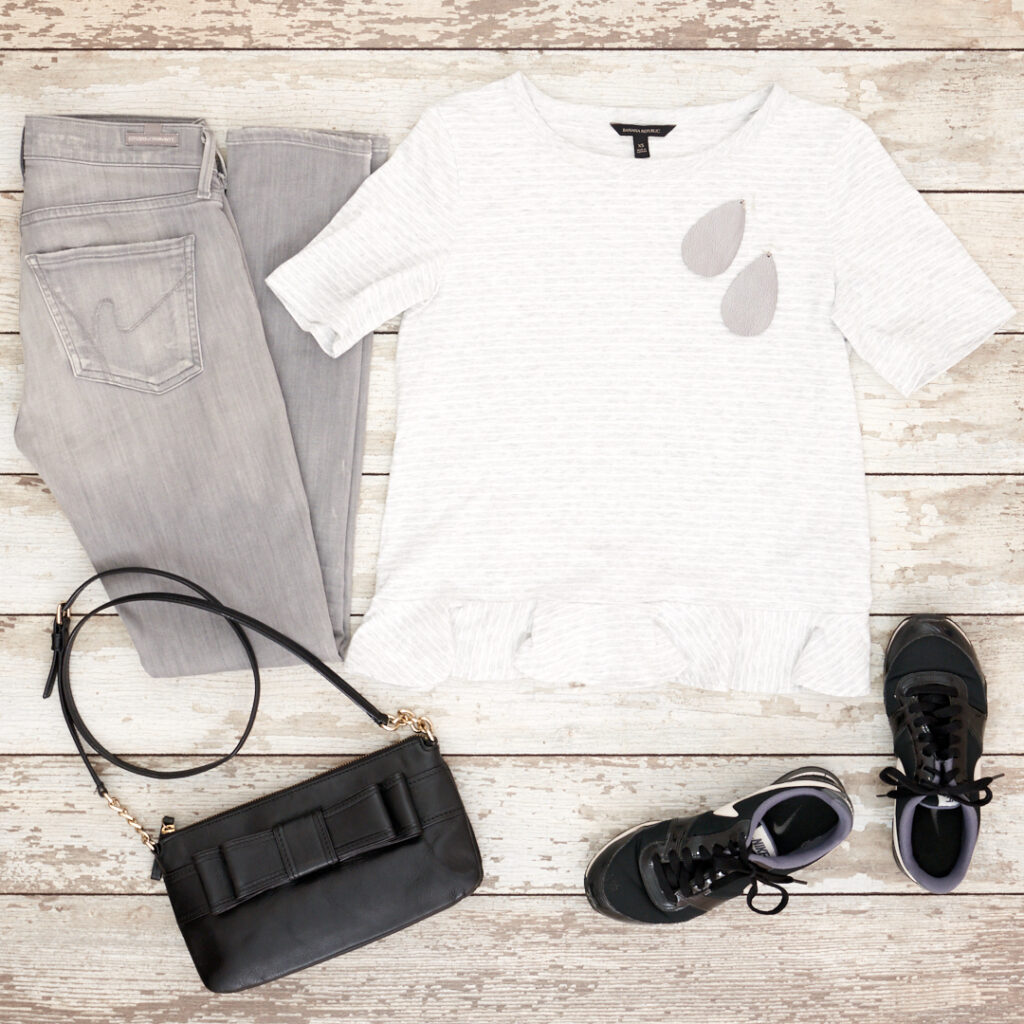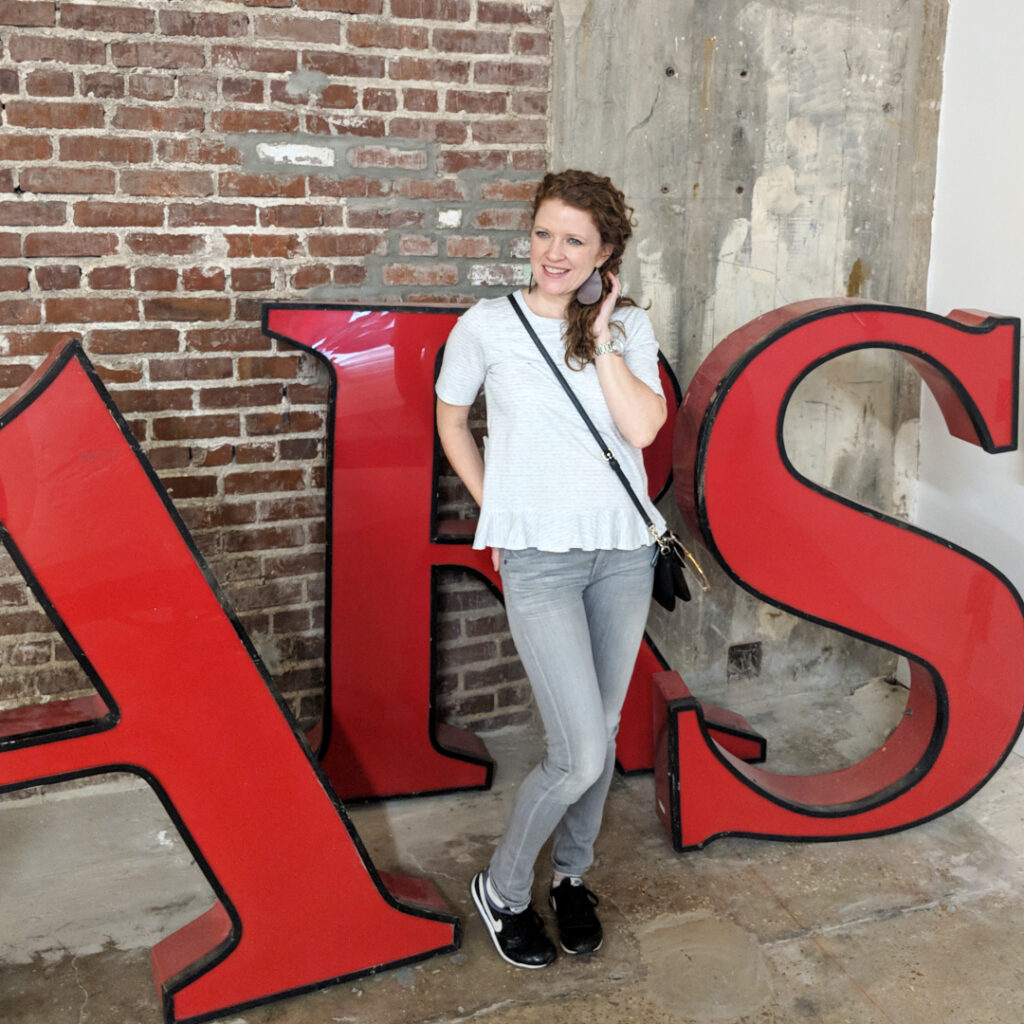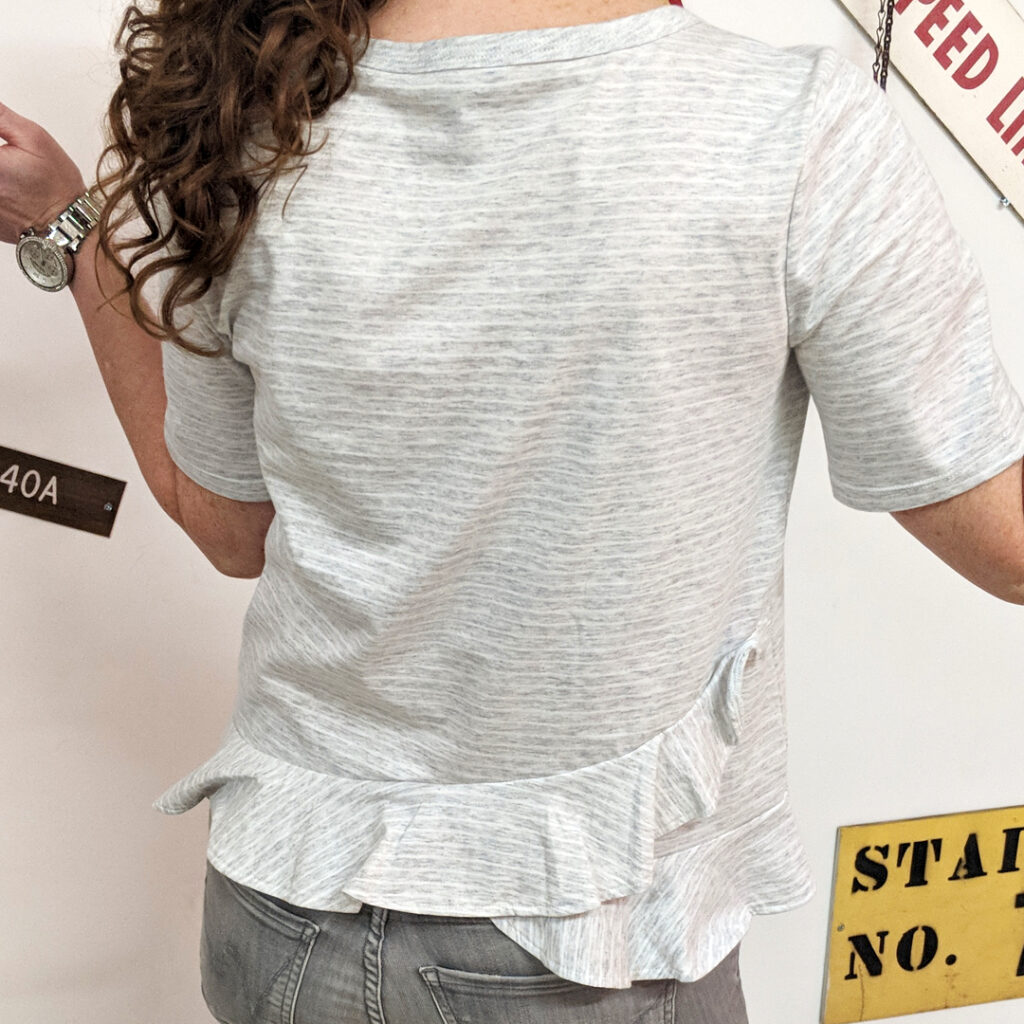 If you are just now shopping for Spring I encourage you to get on it!  Stores have better options in February, March and April.  When we start getting into May, June and July it is Summertime and the clothing choices are minimal. If you like any of the options above I have provide the links to all of them and most items are currently available. I hope you enjoyed this Flat Lay to Life-Styled: Black & White post! As always I would love a comment below to know what outfit was your favorite.  Also, if you have any questions don't hesitate to ask!  Until next time!
Lots of Love,