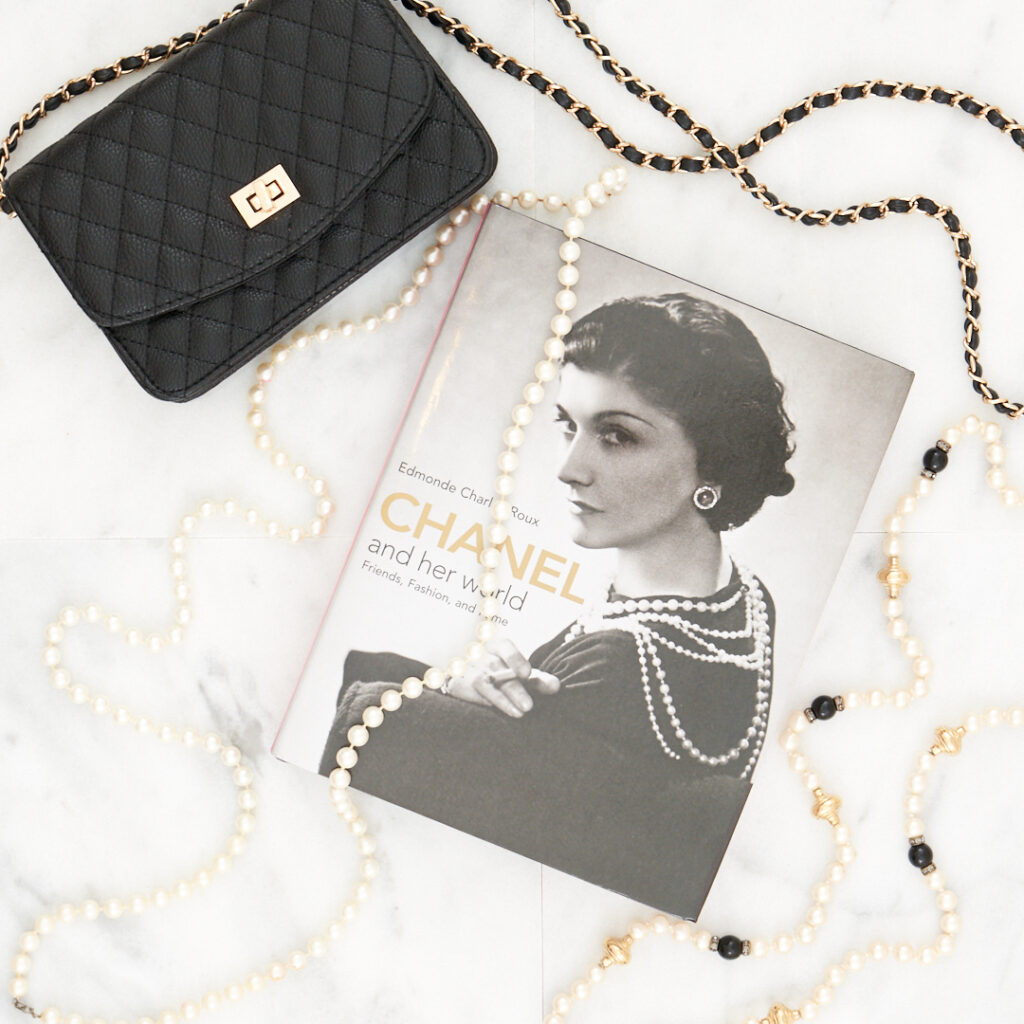 I did the following presentation at The Dixon Gallery & Gardens Munch and Learn on Wednesday, March 28.  The only thing I did not included in this are the lovely pictures because I did not want to infringe on any copyright laws. The image above is one of my own. It does contain a book I purchased that is more of a coffee table book; not one that I enjoyed reading. It has great pictures if you are interested and is called Chanel and her world. The one that I enjoyed reading was Mademoiselle "Coco" Chanel and The Pulse of History.  I skipped through most of the political stuff in it. If you enjoy politics than this is definitely the book to get! This presentation was 50 minutes long so just be prepared for a lot of information here! I hope you enjoy, she was a marvelous woman!
Gabrielle "Coco" Chanel was a very complicated woman. When I started studying her for a presentation for the Munch and Learn at the Dixon Gallery & Gardens I realized this was not going to be easy! There are so many elements to her life and all very interesting. All I wanted to know was how she influenced the fashion industry in her time and today.  After learning about her I knew I could not separate her history and especially her relationships from this.  Gabrielle lived in a time that women did not have many, if any, rights.  They could hold a job but it wasn't a well paying one.  Women mostly stayed home and had children.  She was also from a poor family and if you were from a poor family you stayed poor. A rags to riches scenario was unheard of. This woman defied all odds in her life but she did not do it alone.  With the influence of those around her she became one of the richest and most successful women and designers of her time.  Her legacy still lives on today.
Fashion does not only exist in dresses; fashion exists in the air, it is brought in by the wind, one feels it coming, breathes it in, it is in the sky and on the pavement, it depends on ideas, customs and happiness.  Coco Chanel
Early Years
Gabrielle Bonheur "Coco" Chanel was born in August 19, 1883, in Saumur, France.  Her parents, Albert Chanel and Jeanne Devolle, were not married at the time of her birth.  Albert was a peddler (traveling salesman) and her mother a peasant girl.  The hospital to which she was born had an illiterate staff so her name on her birth certificate was spelled wrong. She was Gabrielle Chasnel instead of Gabrielle Chanel. She was the second of 5 children.  She had two sisters named Antoinette and Julia and two brothers named Alphonse and Lucien.  There was a sixth baby but he died at 6 months.
Her mother died when she was 11 or 12, depending on what you read, and her father abandoned them. He took the girls to a convent called Aubazine in France. The boys were basically sold as farm laborers. At the convent she learned her sewing skills.  At 18 the girls were forced to leave or join the convent and Gabrielle did not desire the life of a nun.  Along with her sister they were sent to a the Notre Dame boarding school in Moulins, France.  This is where she grew close to her Aunt Adrienne who was already there. Adrienne played a significant part in her life and is the only family member she truly cared about.  While at the boarding school she also spent time with her Aunt Louise who was an amateur fashion designer. Gabrielle had the opportunity to advance her creative skills by helping her Aunt come up with new designs for hats.
Gabrielle and Adrienne left the boarding school a year or two later, moved into a furnished room in Moulins and picked up random sewing jobs and worked at a tailor shop.  Gabrielle had this dream of being on stage so she eventually got a job being a cafe (or cabaret) performer. This is where she acquired the name "Coco". After many attempts to be successful at this she realized she did not have the talent for this type of work. She knew that in order to be successful she was going to have to find rich companions to do so.  This leads to her first affair.
Etienne Balsan: French Upper Class
In her early twenty's Coco Chanel met her first male influence in her life,  Etienne Balsan.  He had family wealth, was married and had a daughter. Coco moved in with him and learned a life of leisure and  how to ride a horse like a male equestrian.  She was allowed by Balsan to see a tailor to  make her a boy's riding costume.  Coco was seen wearing men's shirts with little school girl ties, over sized tweed coats and straw boater hats.  She picked up a hobby of making hats for herself and her friends.  This is what she sold in her first shop that she opened in Paris in 1910.  The shop was opened in the bachelor apartment owned by Balsan.
The "Boy" Years
The " Boy" years were the years her career started booming and they were from 1910 to 1918. They met through Balsan and just so happened that Arthur "Boy" Capel lived right down the street of her first hat shop. He became her one true love and "the chance of her life"!  Coco moved in with Boy in 1910 and opened a shop in a real commercial space at 21 rue Cambon. She opened up two more shops, in Deauville and Biarritz.  It is during these years that she added menswear-inspired items, cardigans, popularized straight and sleek styles from jersey fabric, created the first bathing suit (culottes and a tank top out of jersey) and cut her hair into a bob. He also introduced her to glasses, she was extremely myopic, and she turned them into a cool accessory.
During WWI, 1914-1918, she continued to create her masterpieces. Since the men were off at war, the woman had to step up and enter the workplace.  This demanded a change in their clothing styles.  They needed more comfortable, easy pieces and Chanel gave it to them! She even created the nurses uniforms!
Chanel was very successful with Boy's help on her endeavors. She ended up paying him back for every penny he gave her for her businesses. Unfortunately Boy Capel died in a car accident in 1919 and she was devastated. The rest of her life she would avoid attachment to other men.
Coco Chanel had more elaborate but still elegant taste in interior design. She was introduced to Coromandel Screens by Boy and continued to decorate with them until the day she died.  Even though her furniture was more elaborate with the screens and lacquered furniture she died her rugs her signature beige color.
In 1918 she purchased the entire building of 31 rue Cambon where her store remains today.
Russian Influence
She had a few other relationships in the 1920's. One with a Dmitri Pavlovich Romanov, a Russian, Igor Starvinsky, also a Russian and Pierre Reverdy, a poet. Through her influence from Dmitri and his sister Princess Marie she added brocade, velvet, deep jewel tones and fur to her collections. She was introduced to Russian Imperial jewels which she used to recreate with cheap face stones and started her costume jewelry. This is also where her signature pearls came from when she recreated a gift of pearls from Dmitri.  They were a token of old world inherited wealth and became a significant trademark of hers.
She met Earnest Beaux through Dmitri who in 1920 or 1921 helped her create her famous No. 5 perfume.   She wanted to invent the most expensive perfume in the world so she loaded it with jasmine because jasmine petals were extremely expensive. It was also in a sleek geometric container that was not the typical style of the decorated perfume bottle of that day. In her brilliance she would spray the perfume in her store and entice women with the smell and then give bottles away. They were so intrigued and she created such demand that when they started selling them they couldn't keep them in stock! This was also the first of her products to display the double-c logo. This became the best selling perfume in the world and secured her fortune for the rest of her life.
In order to get the product moving on a grander scale she sold the perfume business to The Wertheimers who got a whopping 90% of all the profits.  Chanel with her measly 10% still made a fortune to support her the rest of her life!  This deal would change even later to only include 2% profits for Chanel.
If a woman walks into a room and you go up to her and say "That dress is amazing" then the dress failed.But if a woman walks into a room and you say to her " You look amazing" then the dress succeeded.  Coco Chanel
The Duke of Westminster: English Influence
Gabrielle's relationship with Hugh Richard Arthur Grovesner  was from 1924 to 1931. He was the wealthiest man in Great Britain.  She lived with him for several years at Eaton Hall in Cheshire England and learned the concept of "hidden luxury". The Duke gave her 3 enamaled jewelry boxes that had solid gold on the inside which was undetectable. Coco created coats with fur lining and printed silk fabric lined wool jackets.
She would often raid the closets of her boyfriends and with the Duke of Westminster it was no different.  She loved his casual well worn clothes.  Through his influence she added sportswear-inspired tweed jackets, tartans, golf sweaters in heathered wool, houndstooth polo coats and peacoats. He even opened her a textile mill where she could make a special softer, lightweight, flexible wool. Coco Chanel was also inspired by the workers on the Dukes Yacht and created slacks for women which became a universal staple and still is today.
In 1926 she created the black dress that is so famous today. She made them out of wool, silk and floaty chiffon. Vogue called it "The Chanel "Ford" – the frock that all the world would wear. 
In 1929, inspired by the soldiers bags, she added a shoulder strap to the  women's handbag.
During this time she built a villa (or castle) called La Pausa which was meant to be a getaway retreat for them.  She shared this with multiple others as well.  The Duke of Westminster would not marry Chanel because she was not from a wealthy family so they eventually stopped seeing each other.  This was the case for most of her lovers.
Paul Iribe the Illustrator
They met in 1931 when she was 48. Paul was an illustrator and designer. He designed furniture, fabrics, jewelry, clothing and theatrical sets. Her business was grossing 120 million francs annually and she employed 2400 workers. Her personal fortune at this time was said to be 15 million francs. He did not have money, his career was in decline but he gave her artistic renown and a royal title.
Coco Chanel preferred costume jewelry to the real thing. Due to declining profits, a South African gemstone company called De Beers inquired with Chanel and Paul about creating a diamond jewelry line.  The pieces were meant to draw interest to the company and were not ever sold. 
He had a love/hate relationship with Coco and expressed it in his journal Le Temoin. She financed and published his journal in 1933. He created a character in the journal that mocked Chanel's modernism and her desire for others to copy her designs. He also thought she was too extravagant so she moved out of where she was living and into The Ritz hotel where she lived until she died.  She actually preferred hotel living because of the freedom it gave and she was never alone.
They were engaged to be married but he died on September 25, 1935 at La Pausa before that could happen. After his death she picked up an addiction to morphine.
Hollywood
Coco Chanel was invited by Samuel Goldwyn to Hollywood in 1931 to design costumes for three Goldwyn productions: Palmy Days (1931), Tonight or Never (1931) and The Greeks Had a Word for Them (1932) for $1 million.  Before the last two even made it past production Coco left to go back home. She did not like America.  It was this trip to America where she discovered copies of her designs in S. Klein department store! She was thrilled!  She wanted every woman to emulate her style and this was just the ticket.  Most designers do not want copies made but not Chanel. She literally invited it!  When she returned to France she planned a fashion show and invited 500 society woman and their seamstresses!!
Mid 1930's Prewar Time
The 1930's  was the time of the Great Depression. Most women were desiring a practical way of dressing now more than ever. This brought about military inspired suits, skirt suits, slim fitting blouses, boyish trousers, tweeds and jersey, newsboy caps and broaches. 
She used the color of the French flag; red, blue and white in her evening wear designs. She even designed a military inspired full sequin evening pant suit. From 1935-1939 she went through a frilly, girly stage and designed sweet dresses with lace, sequins and full skirts usually in pastel colors. She even decided to tie a satin bow in her hair. In 1938 she created a white tulle dress trimmed in "baby lace bows" and in 1935 floral dresses and small hats smothered in flowers.  All these designs were uncharacteristic of her but very fitting for the time.
Even though it was the period of the great depression, 1935 was the PEAK of her career where she had 4000 workers and 5 boutiques!
During WWII
Coco Chanel fired all of her staff and closed all of her shops. The only thing that remained was the little perfume shop. She was accused of being a spy for the German's during the war and was the lover of Baron Hans Gunther Von Dincklage, a senior officer in German Intelligence.  Her nephew, Andre Palasse, was a prisoner of war. People believed she was a spy in order to negotiate his release. Eventually he was released and dealt with tuberculosis the rest of his life.  She moved to Switzerland in 1944 to the escape the political unrest and avoid interrogations.
They said that I was old-fashioned, that I was no longer of age. Inwardly, I was smiling and I thought "I will show them".  Coco Chanel
Post WWII- Her Come Back
Christian Dior was very popular at this time and Chanel thought his designs were absurd and not what women wanted. She said in reference to Dior that "He does not dress women, he upholsters them!" She made a comeback on February 5, 1954 with all her original designs. 
Wertheimer's paid for 50% of all her expenses to start her designs again and would later purchase all of the company including the couture house, the textile mills, the Cambon property and Chanel publishing company. All of her living expenses were also covered and she got 2% of the profits.
The new collection was the  typical Chanel modern simplistic designs: simple skirt suits in tweed, wool and jersey, white pique blouses, printed silk blouses, coats of neutral tones and slender fitting, black dresses, sheath dresses and some slightly flared skirts. All the skirts stopped just below the knee. Parisians were not impressed with her designs but the US and Great Britain loved them! She may have tainted her reputation with the Parisians because of her association with the Natzi's. In 1956 she put elastic waist bands on blouses. In 1957 she flattened the waist of the "A" line skirt and came up with the black cap toe shoe that creates the illusion of a smaller foot.  Chanel's most iconic pieces were created during this period which were the wool boucle suit and the recreated 2.55 (stands for February 1955 when it was updated) shoulder bag. On September 9,1957 she received the Neiman Marcus Award for distinguished service in the Field of Fashion also known as "the fashion Oscar".
She died on January 10, 1971.  She was 87 years old. She was buried at the Cemetary Bois-De-Vaux in Lausanne, Switzerland.
I don't care what you think about me. I don't think about you at all.  Coco Chanel
Chanel was a very determined woman in her life to make something of herself.  She wanted wealth and most of all fame.  She did everything she needed to do in her life to orchestrate what she wanted. She began her success at a time that women had almost no rights. She was a rags to riches story but did not get there on her own or by means of living a respectable life. The people she interacted with even had a major impact on what she designed. Women eventually wanted to emulate her and that is exactly what Chanel was after. She leaves a lasting legacy today. Not only does her brand live on in the luxury market but her influence in our everyday clothing speaks of her designs. If you own a black dress, a cardigan, a tweed blazer, a no collar fitted jacket, trousers, a bathing suit, a handbag, cap toe shoes, faux pearl necklace, or a women's suit you are wearing an invisibly influenced Chanel piece.
I got all of this information from the following book below.  Please let me know if you have any questions about this post or just leave a comment about what you feel about Coco Chanel.  To me she was fascinating!
Source: Garelick, Rhonda K. Mademoiselle: Coco Chanel and the Pulse of History. New York: Random House 2014.
Thanks for reading!  Jamie