Hey girls! I hope your week is going well and it is starting to feel like Spring where you are.  It has been back and forth here the past few weeks.  I can't complain though because we usually skip Spring in Memphis and go straight to boiling hot Summer.  It's the worst! But I am optimistic this year since it has been chilly for longer than normal.
I hope you like styling posts! I rarely do them and would like to do more!  I found the cutest stripped skirt at J Crew Factory that I loved and thought it was very versatile. I wanted to show you how to style one skirt four ways.  Most people do not think they can take one piece and use it for multiple purposes or take it from day to night.  A skirt like this one is the perfect piece to practice with.  If you don't prefer a skirt, try a printed pant in it's place.  A simple change of your shoes and top can make a completely different look.
1. Casual, Festive & Fun
Of course this is my favorite way to wear this skirt; casually.  I am such a casual girl and don't dress up unless it is necessary. This is why I like to have pieces that I can use to create a dressy outfit.  I don't like to buy things that just sit in my closet because I purchased them with one thing in mind.  I also don't want to freak out when I have a dressy event pop up and I don't have any options.  Something like this skirt is perfect because I will wear it mostly casual and then when I need to I can dress it up.  I have a baby shower coming up at the end of the month and will dress this up a bit for that.
For my casual look I chose to add a floral clutch,  Nickel and Suede black cork earrings and some black espadrilles to keep that casual vibe and make it fun.  I love mixing stripes and floral for Spring. Especially like this. The trick is to stay in the same color combinations for both prints; even when it is something as small as a handbag.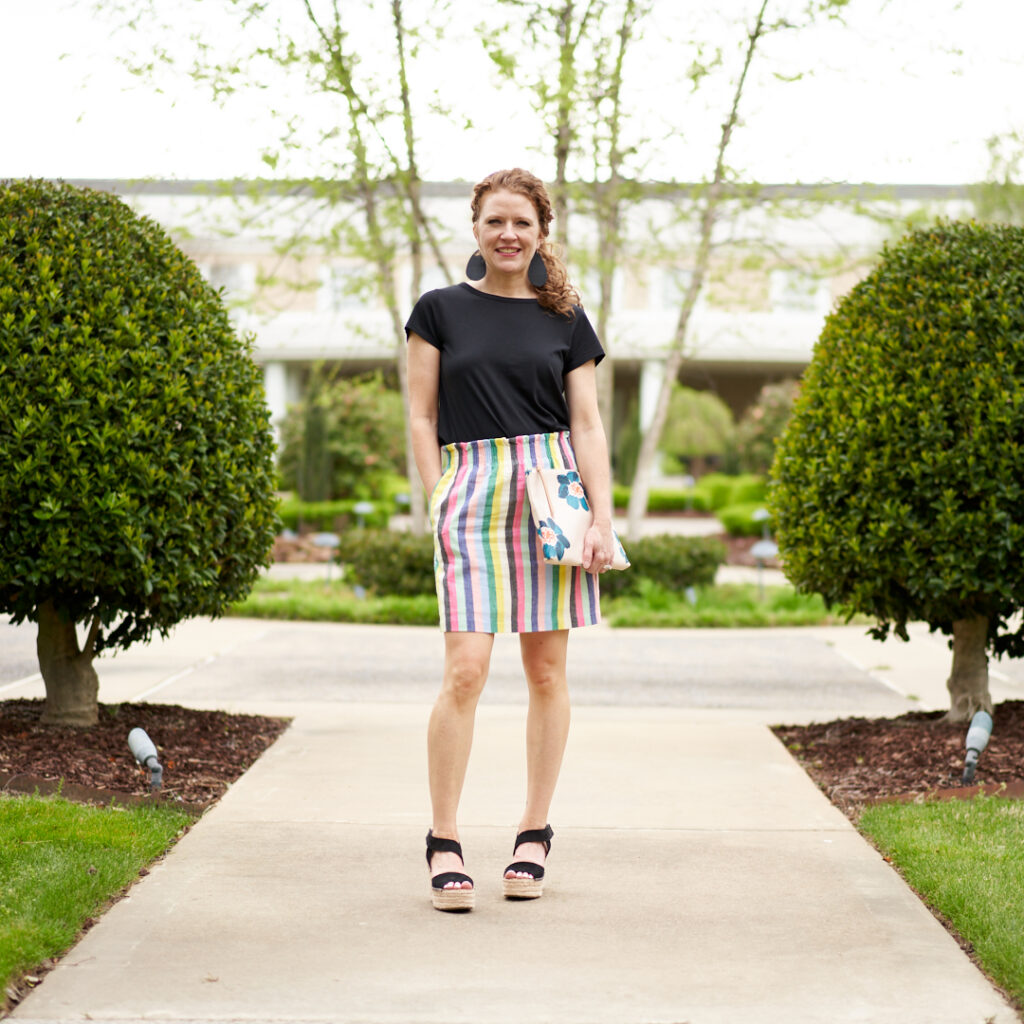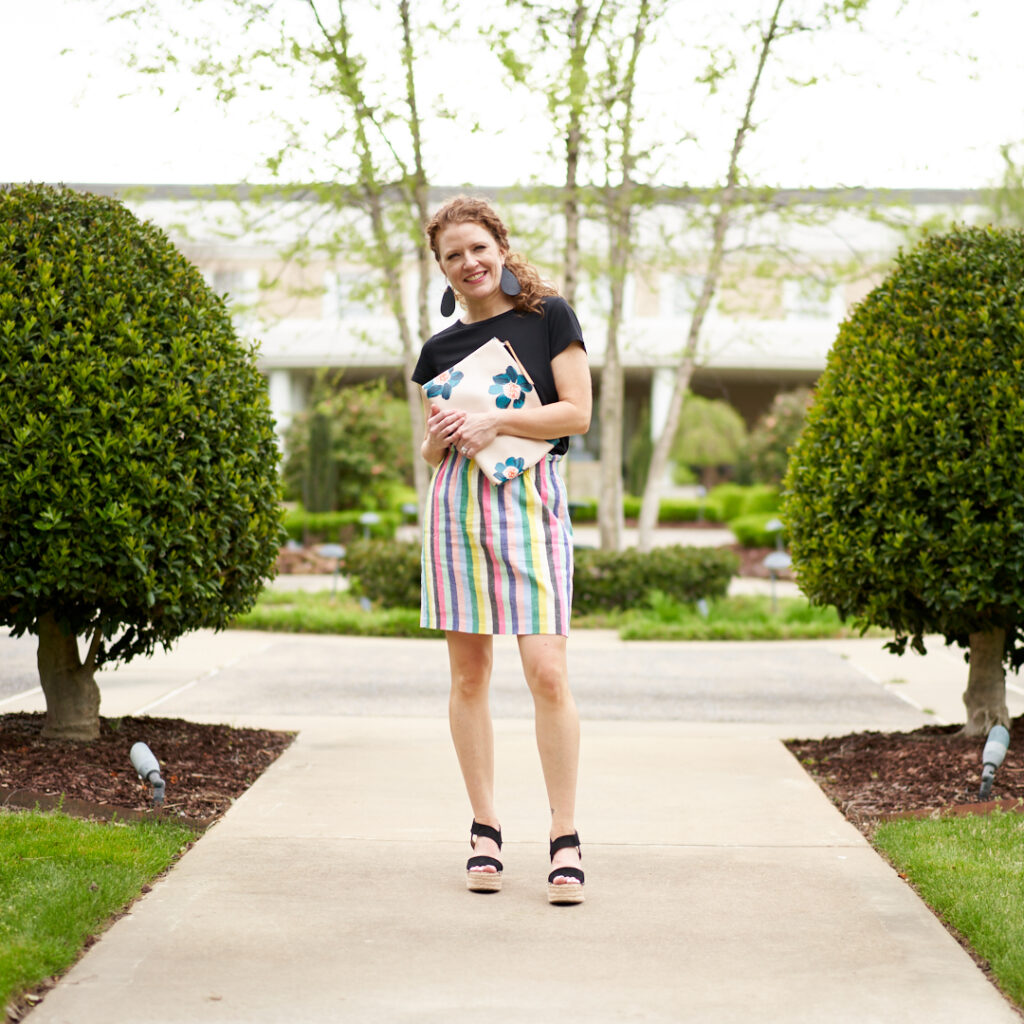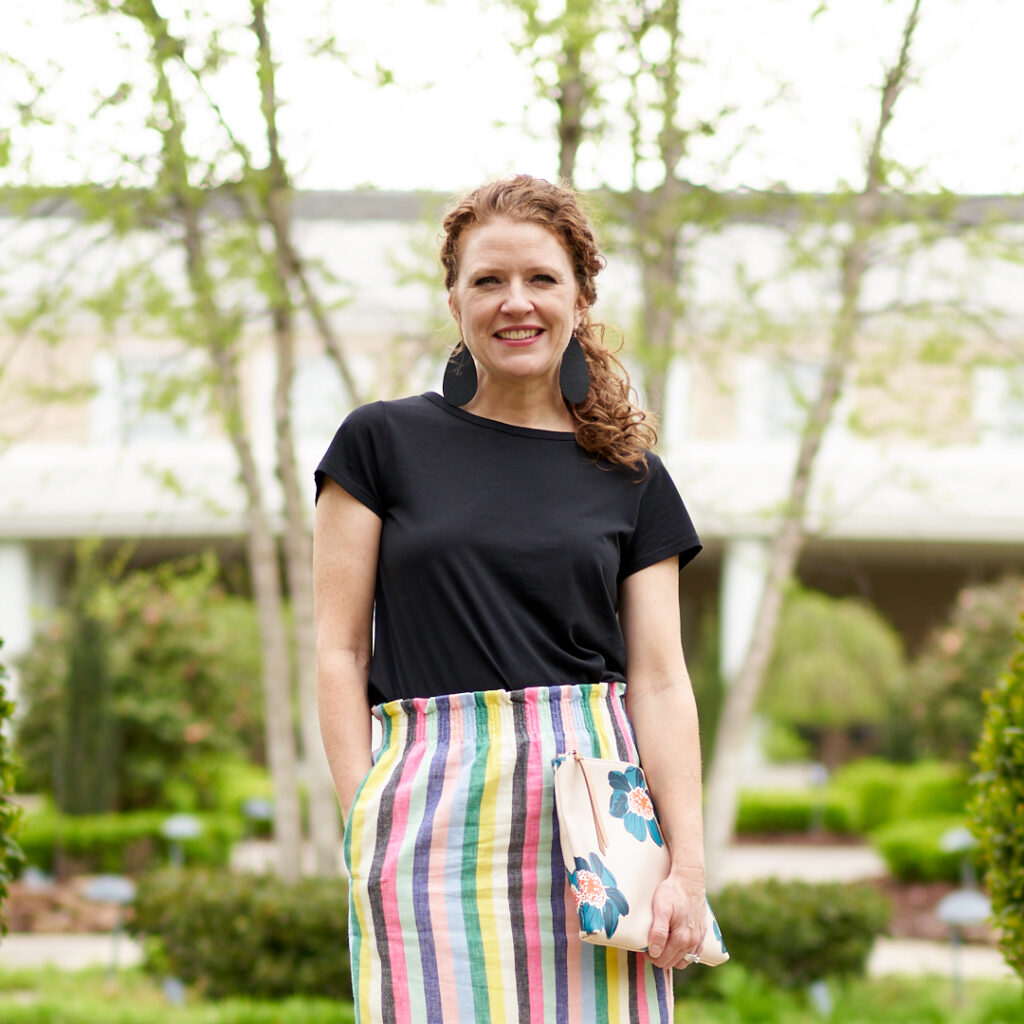 2. Casual, Festive & Fun II
A simple way to create another outfit is to throw a cute jacket on like this denim jacket. I love the simplicity of a denim jacket and it makes a big impact on the look of an outfit.  I feel like it gives you a total different look!  I chose a pink denim jacket here but would also wear my ripped up blue one as well!  I could also put on a flat sandal to make it even more casual.  Really your options are endless!!!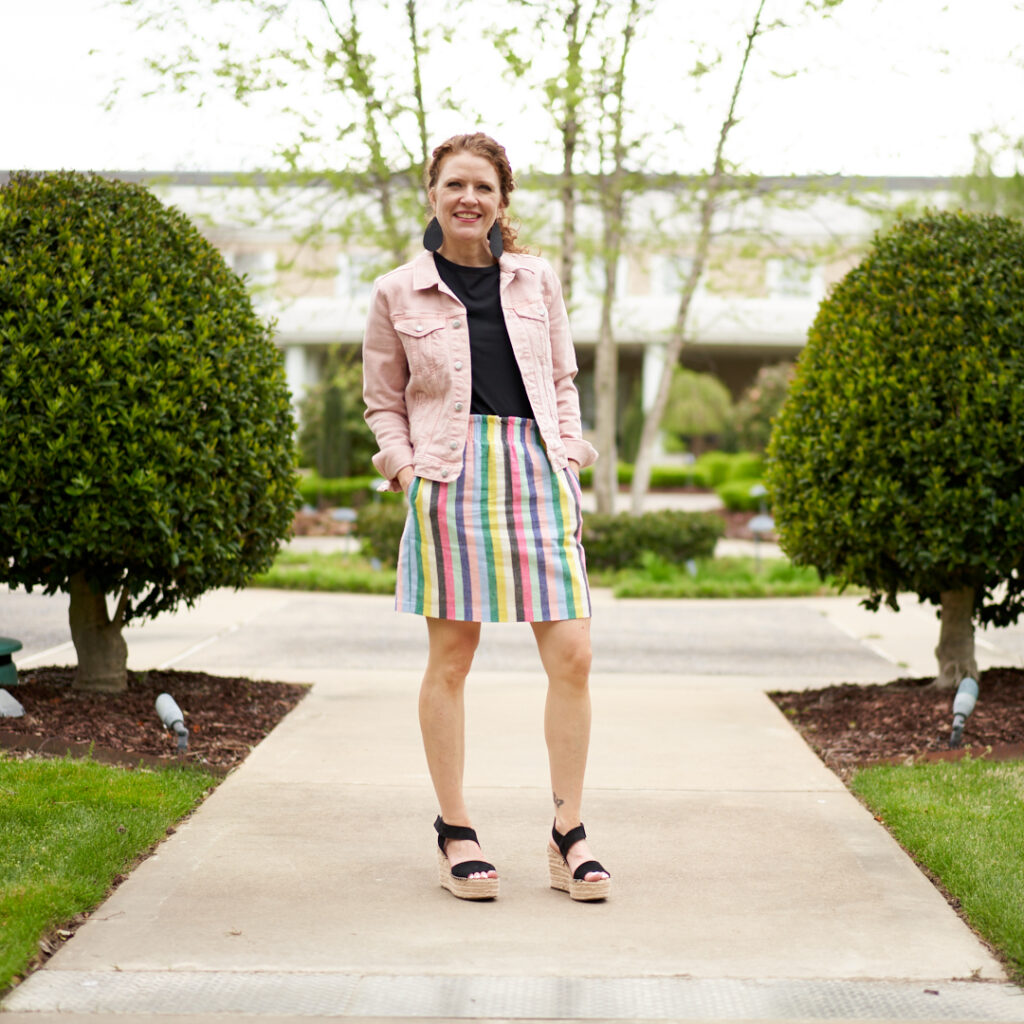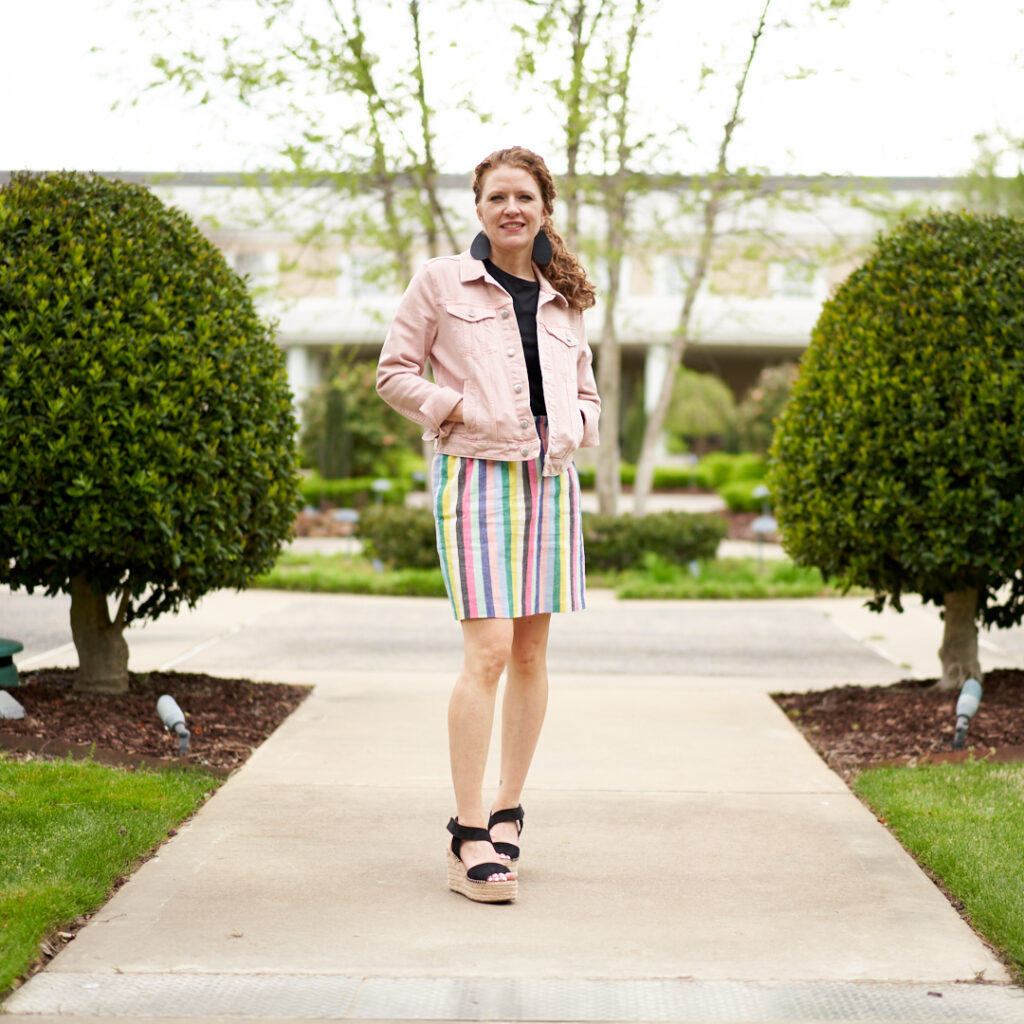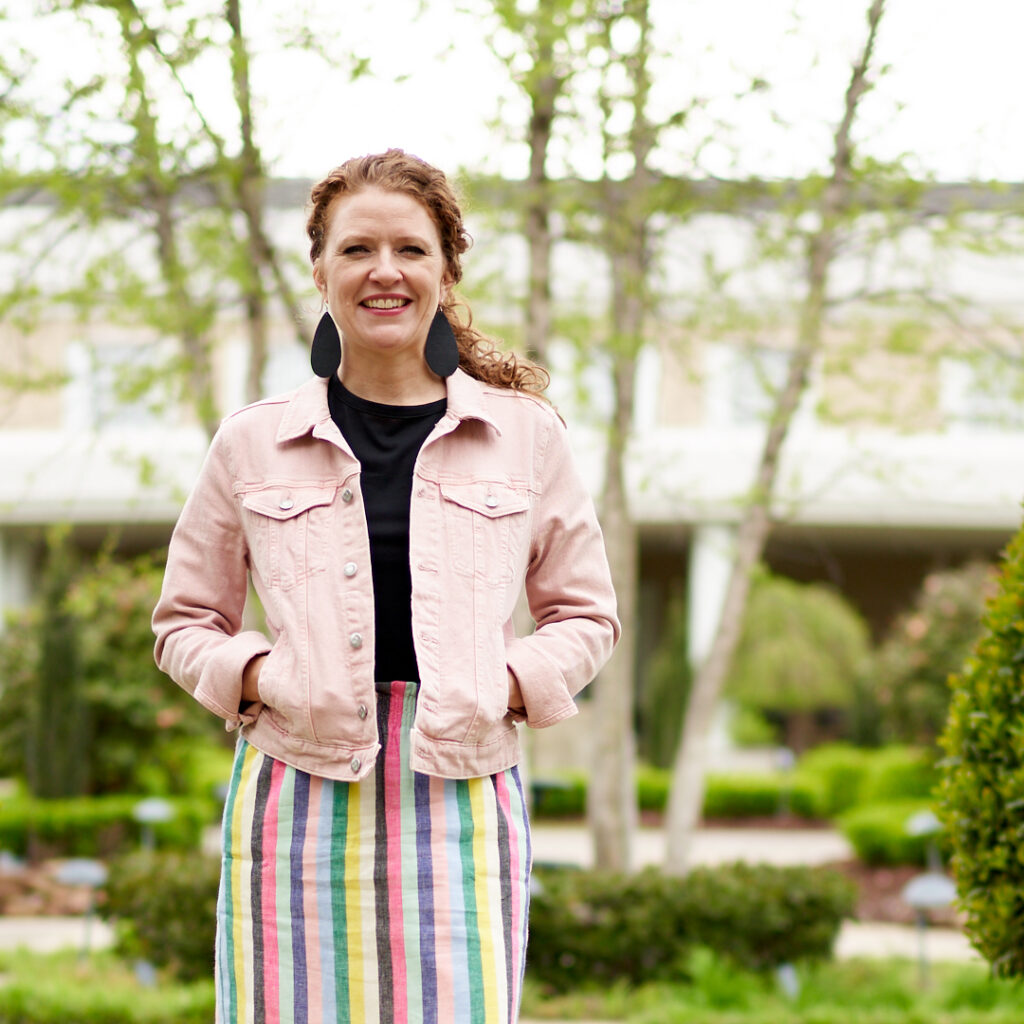 3. From Day to Night
I wanted you to see this skirt dressed up.  I chose to put on a pretty white camisole and some nude wedge sandals to wear into the evening.  If you had a denim jacket over this and took it off in the evening it would take you from day to night in an instant!  You could also make this skirt work appropriate by putting a blazer over this outfit, which is shown in the next outfit below.  So easy!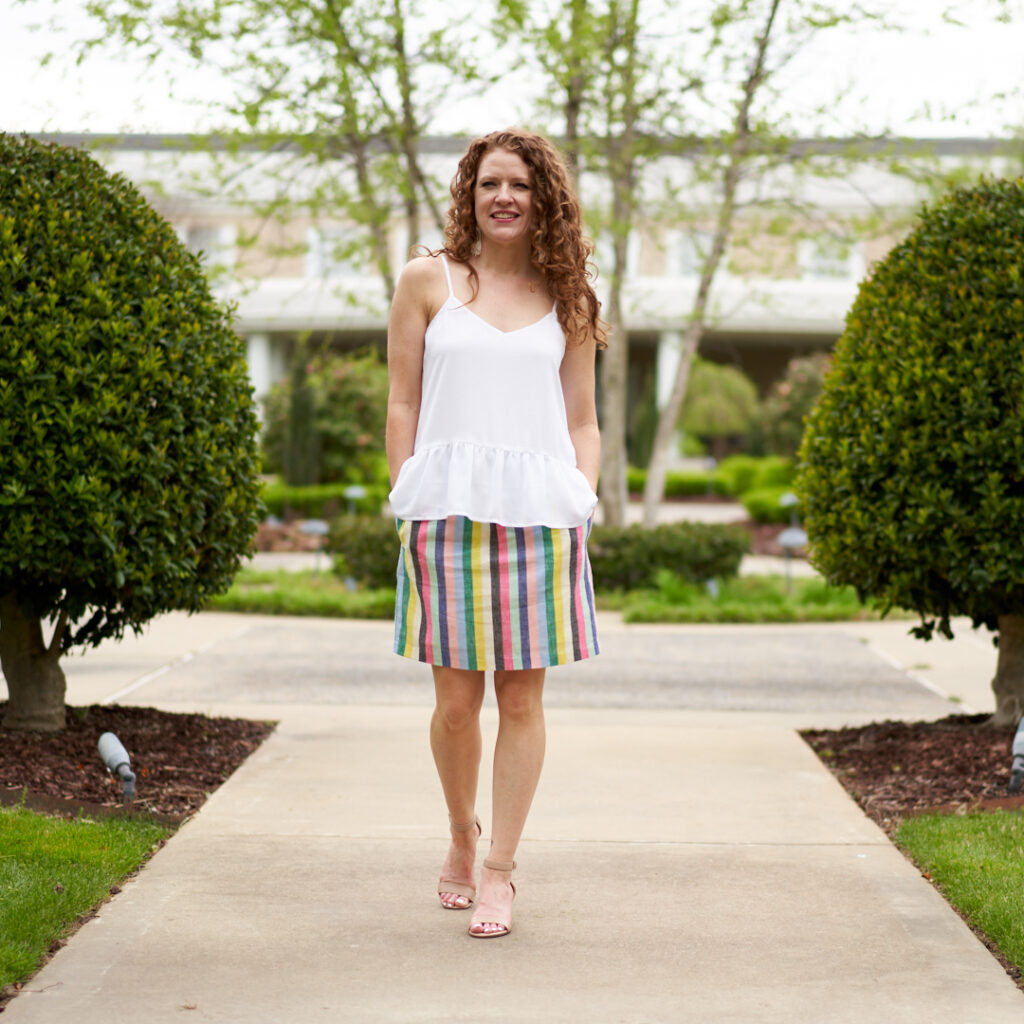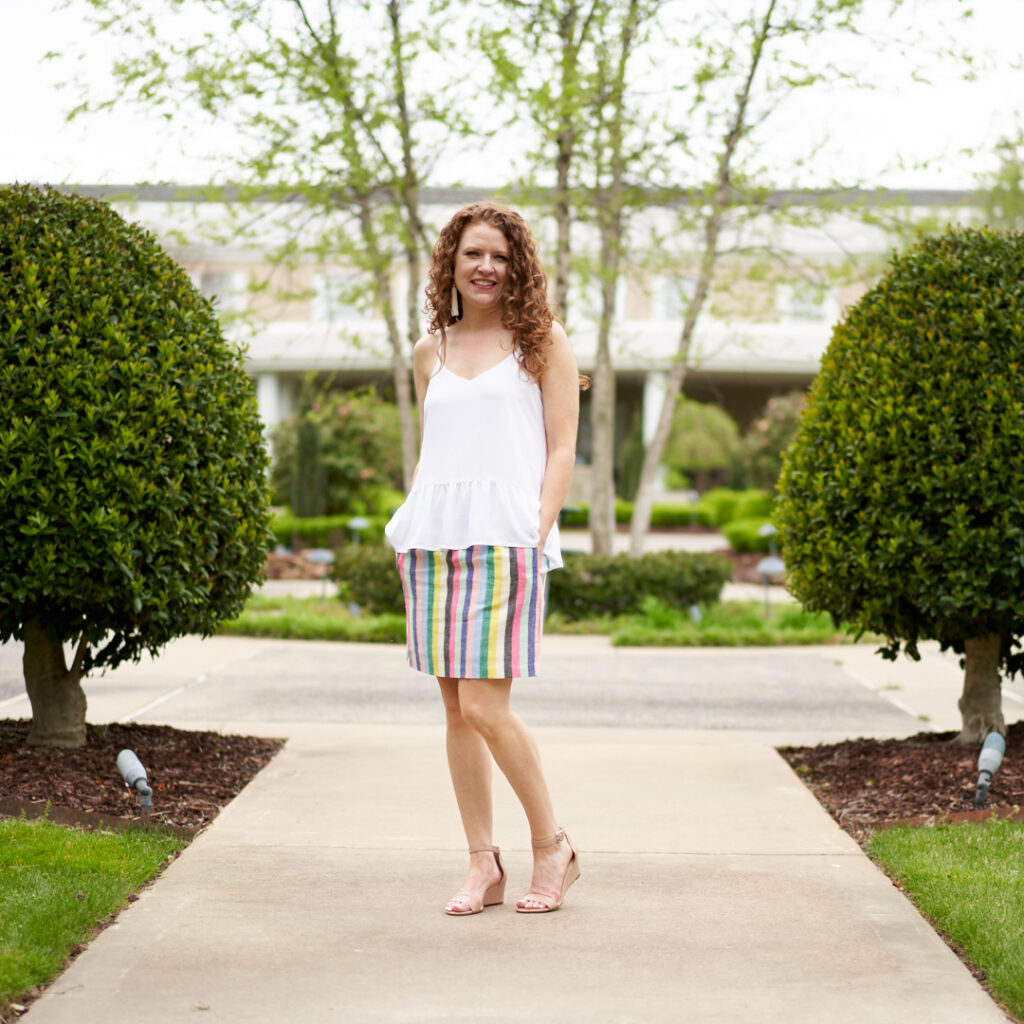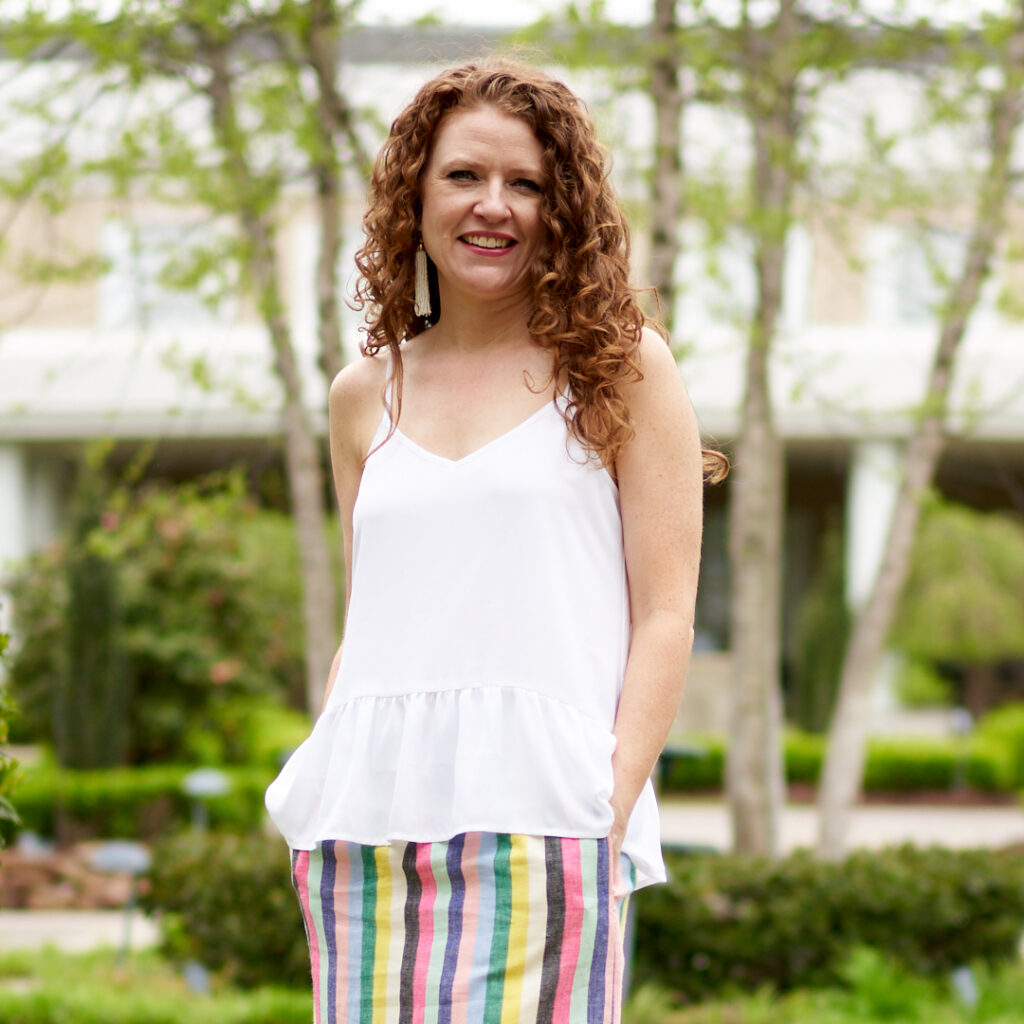 4. Work Wear Appropriate
For the work appropriate look I decided to put a white linen blazer on over the white camisole.  Since it is Spring and Summer time I love the idea of a white blazer.  It freshens up every piece in your outfit.  I chose a linen blend because it is the perfect summer material and breathes well in hot weather.  I don't love that it wrinkles but that is just part of it and in the white you don't notice the wrinkles as much.  I kept the same shoes and earrings as the above outfit.  You could also choose to wear a close toe nude pump with this if open toes are not appropriate for your work.
I also would like to add that this blazer could be paired with some denim and another top for a more casual look with the blazer.  You know I will always come up with ways to use pieces in multiple outfits. Maybe I should do a post on blazers from work to casual wear! I hear from my clients "I never thought of that" all the time about stuff like this so I hope this is helpful to you as well!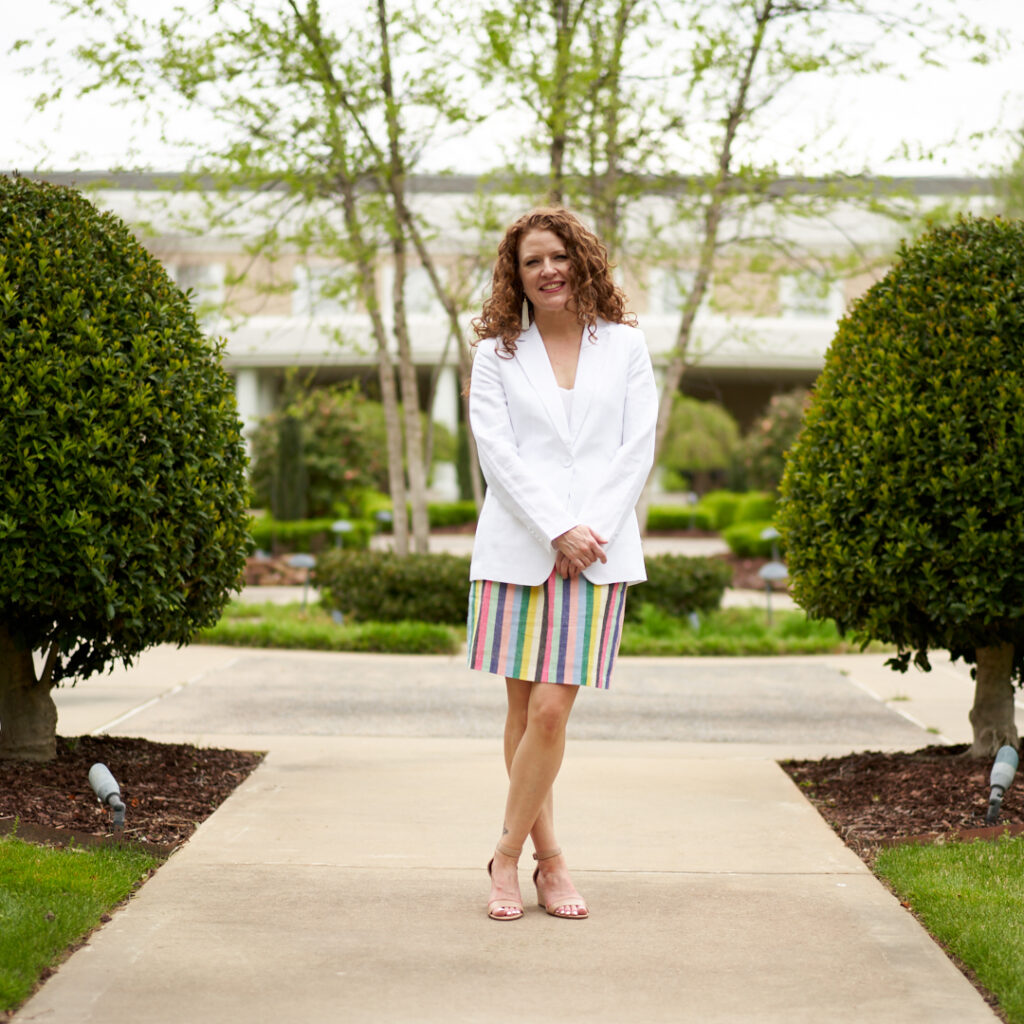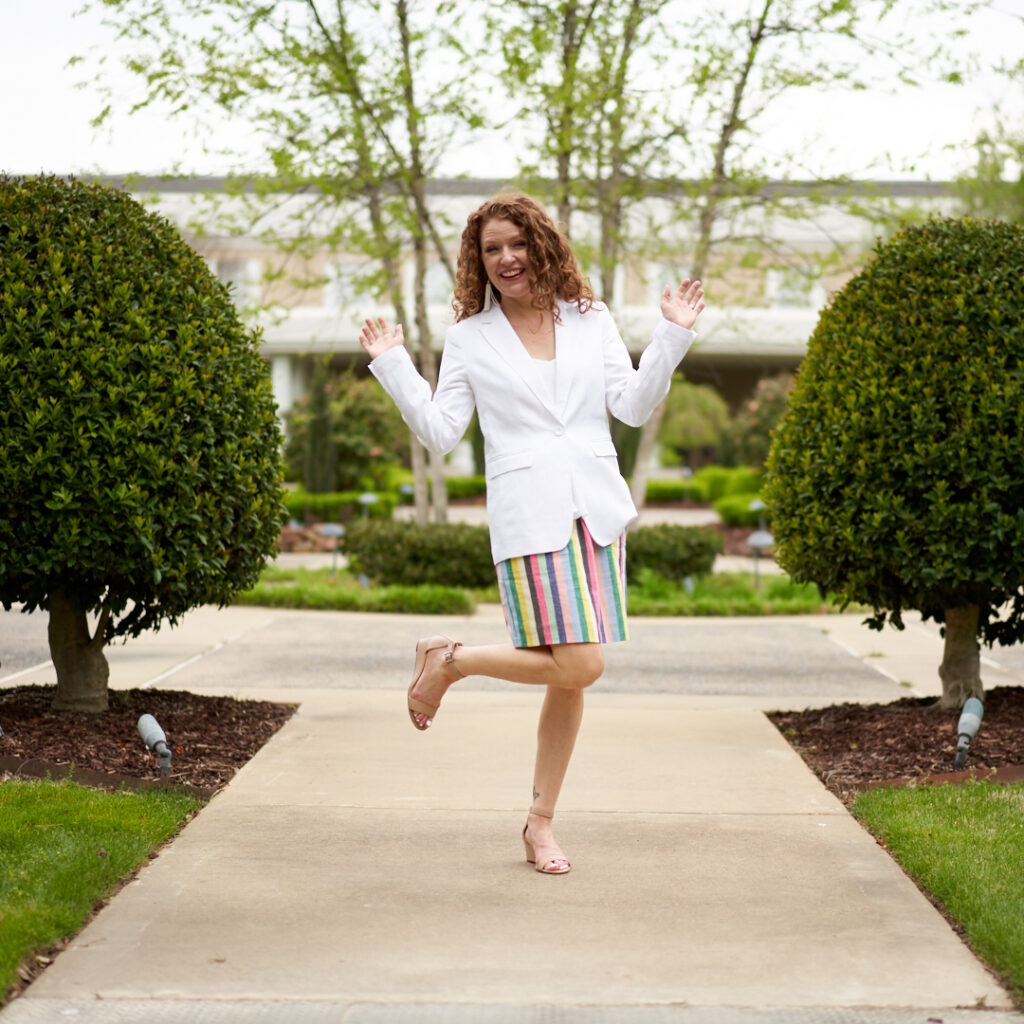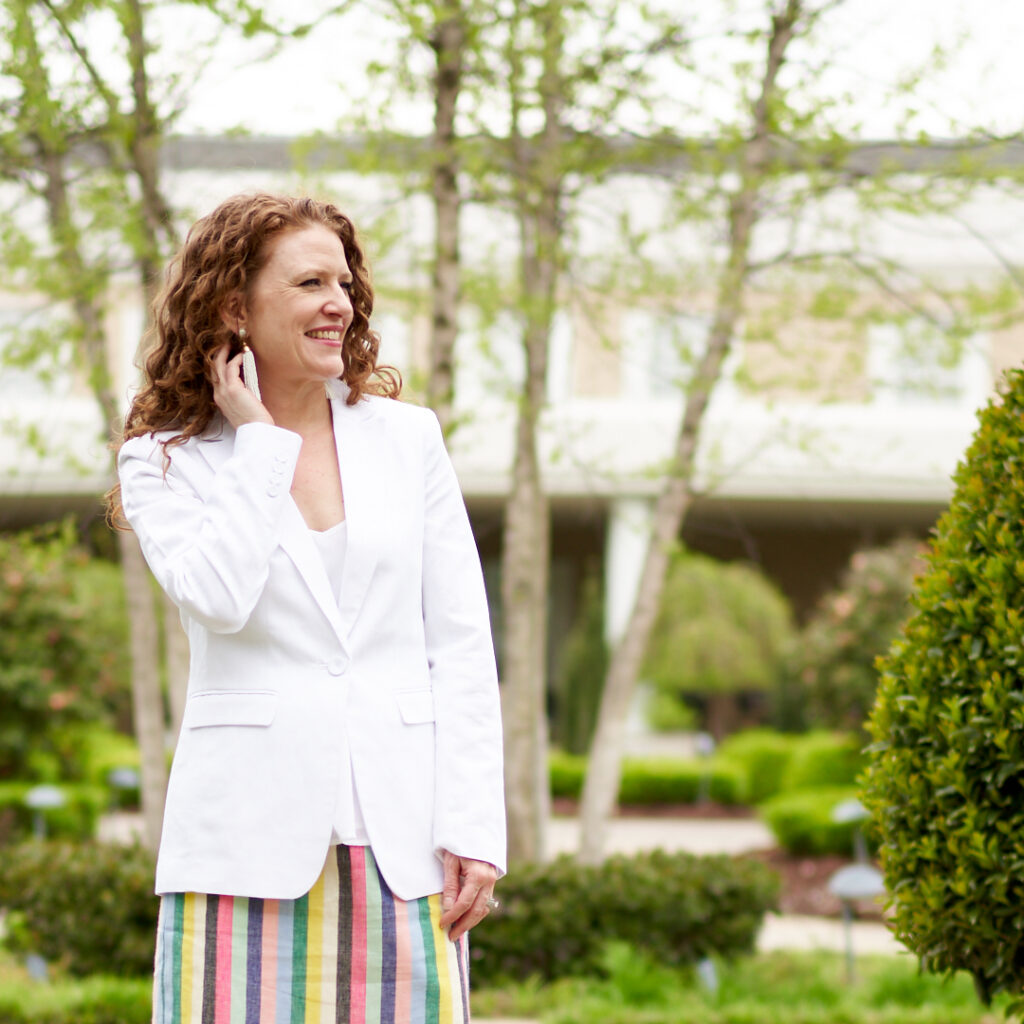 I hope showing you how to style one skirt four ways has encouraged you to try making a few outfits with an item of your own.  This skirt was a great price if you want to check it out. You can even shop my links and purchase any of the items from these photos. The last time I checked (right before I posted this) all of the clothing items were available in lots of sizes.  If you have any questions, like always, please leave me a comment and I will be glad to answer it.  You can also subscribe to my blog from the sidebar or footer and get articles like this sent right to your inbox twice a week! Thanks so much for reading!  Next week I am sharing my Memphis Fashion Week experience so you don't want to miss that!
L.O.L.