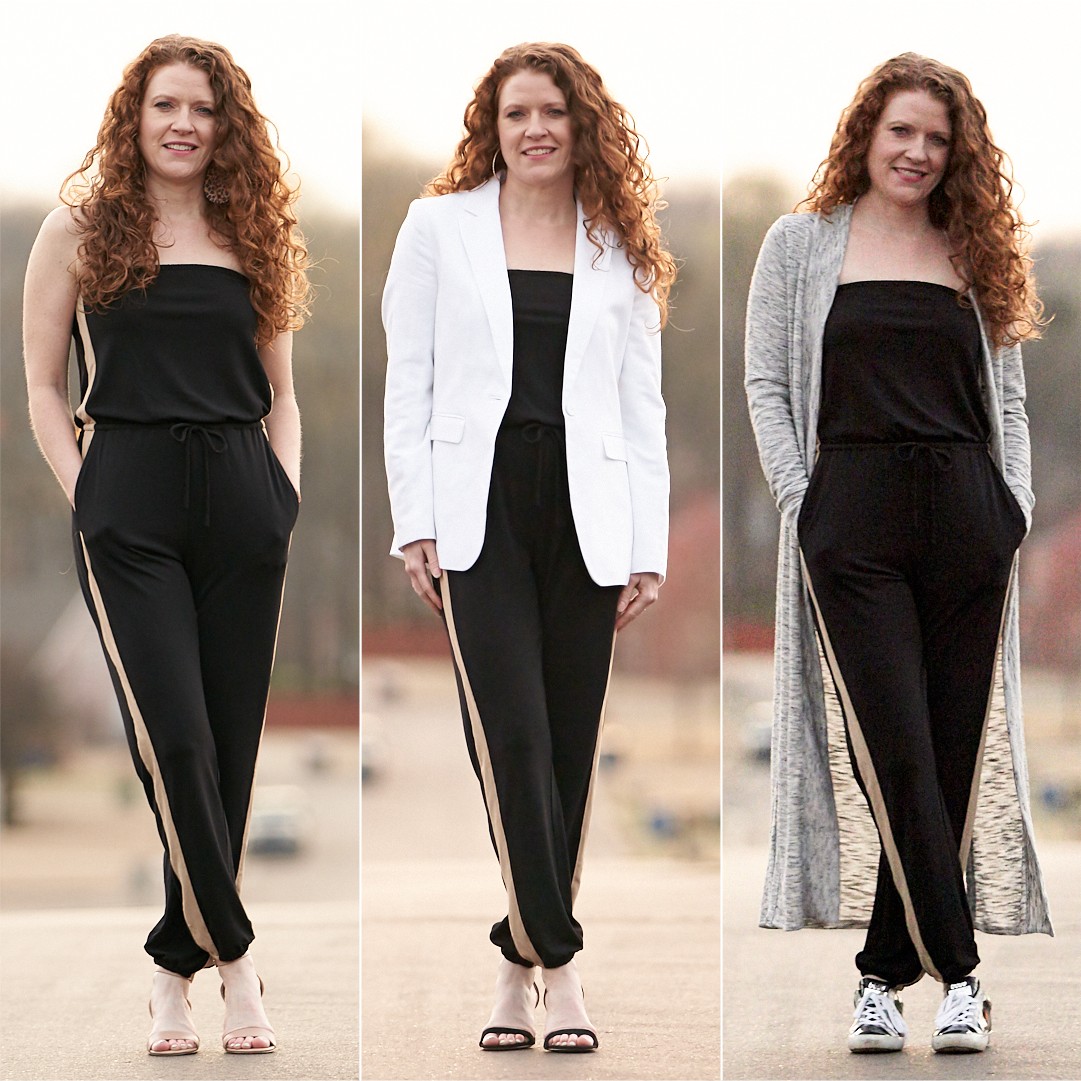 Hey! Have you bought a fun jumpsuit for the spring season yet!?  I found one that was perfect for my style and want to show you how I styled it!  Hopefully this will give you inspiration to style one for yourself!  The jumpsuit I chose is a sporty style because I have been there and done the wide leg dressy one.  This one I can actually wear during the day and its is super casual BUT I can also wear it a little dressy if I wanted to! You know versatility is key for me!  I also want to add that this jumpsuit was shown in my first post about jumpsuits called 6 Reasons You Should Give Jumpsuits a Chance.  I hope you will check that out if you are reluctant to purchase one.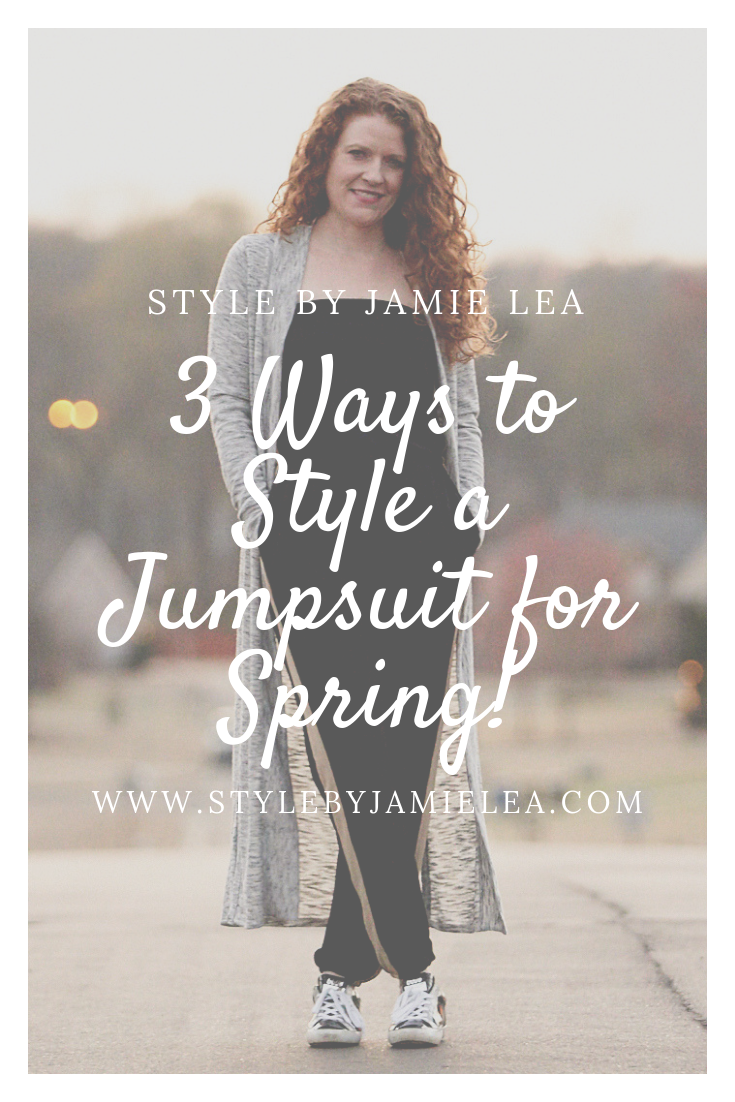 Easy Throw-On Jumpsuit
This first look is called easy throw-on because that is exactly what you do with it.  Throw it on with shoes and accessories and go!  The jumpsuit is the star and the only star of the show.  This is a perfect go to if you want to look put together with very little effort.  I love these one and done pieces for specific occasions and when I am in a hurry.
This jumpsuit is strapless but so very comfortable.  I don't mind wearing a strapless bra, but if you do than look for a jumpsuit with straps so you can wear a regular bra.  I think the strapless style of this sporty jumpsuit is what gives it a more feminine feel.
The cool thing about this jumpsuit is you have lots of shoe options that will determine how dressy or how casual you want to make it.  For this first outfit, I have chosen a very neutral shoe that is semi casual.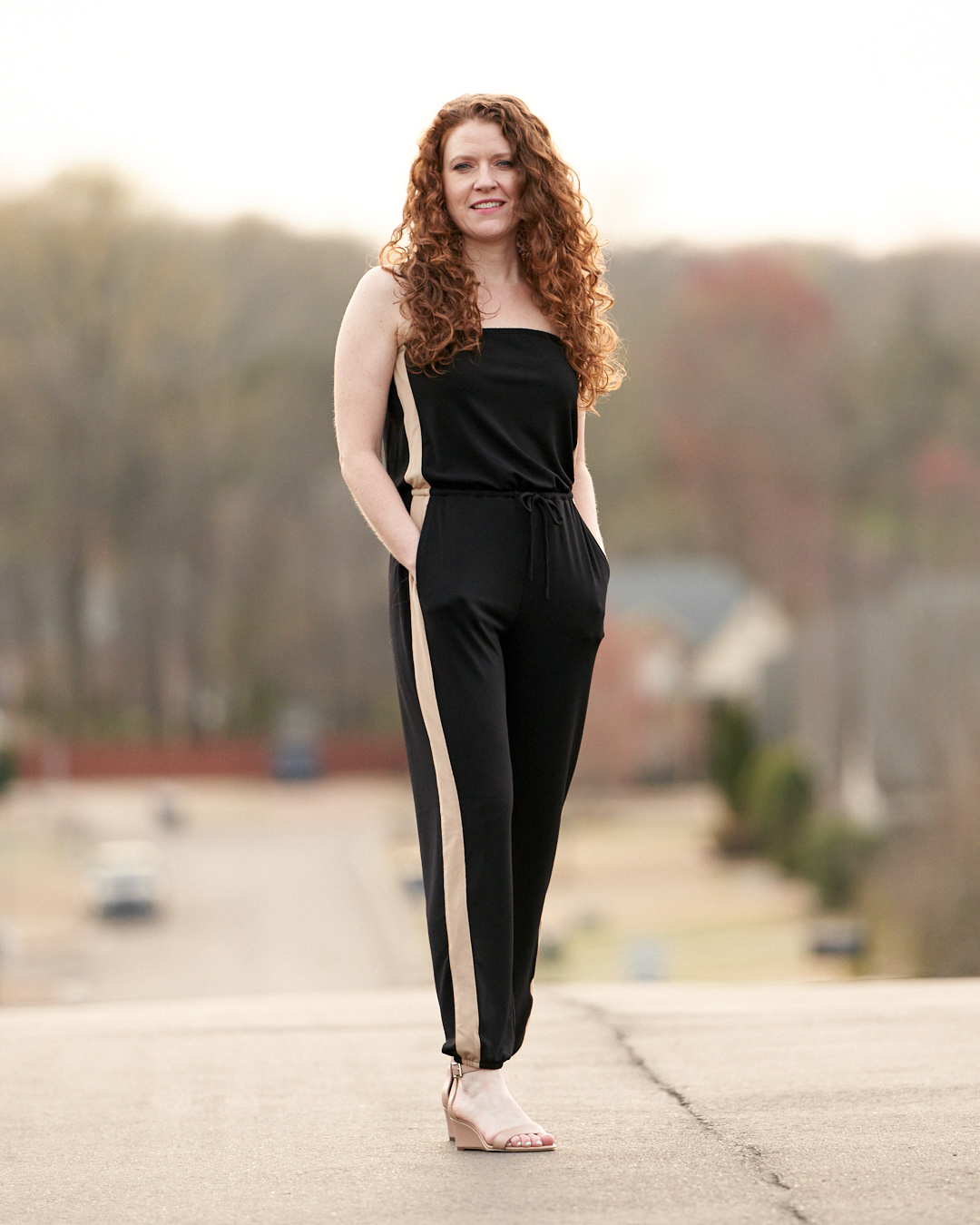 Casual Sporty Jumpsuit
I am leaving for Arizona in another week and I think this is going to be my travel outfit.  It is so very comfortable and I want to wear my sneakers.  I chose the long sweater just because I thought it was cool and I thought it was perfect with the jumpsuit.  I like to layer when I fly because I never know if I am going to freeze to death on the plane.
The idea behind this outfit is to make it easy to wear casually to just about anywhere.  If you don't like the longer sweater cardigan choose a shorter one or a light weight jacket.  With the skinny elastic bottom leg I found that a minimal sneaker looks best.  See my 3 Shoe Style You Can't Live Without for Spring post for some ideas!  I do not recommend wearing an athletic pair of sneakers with this.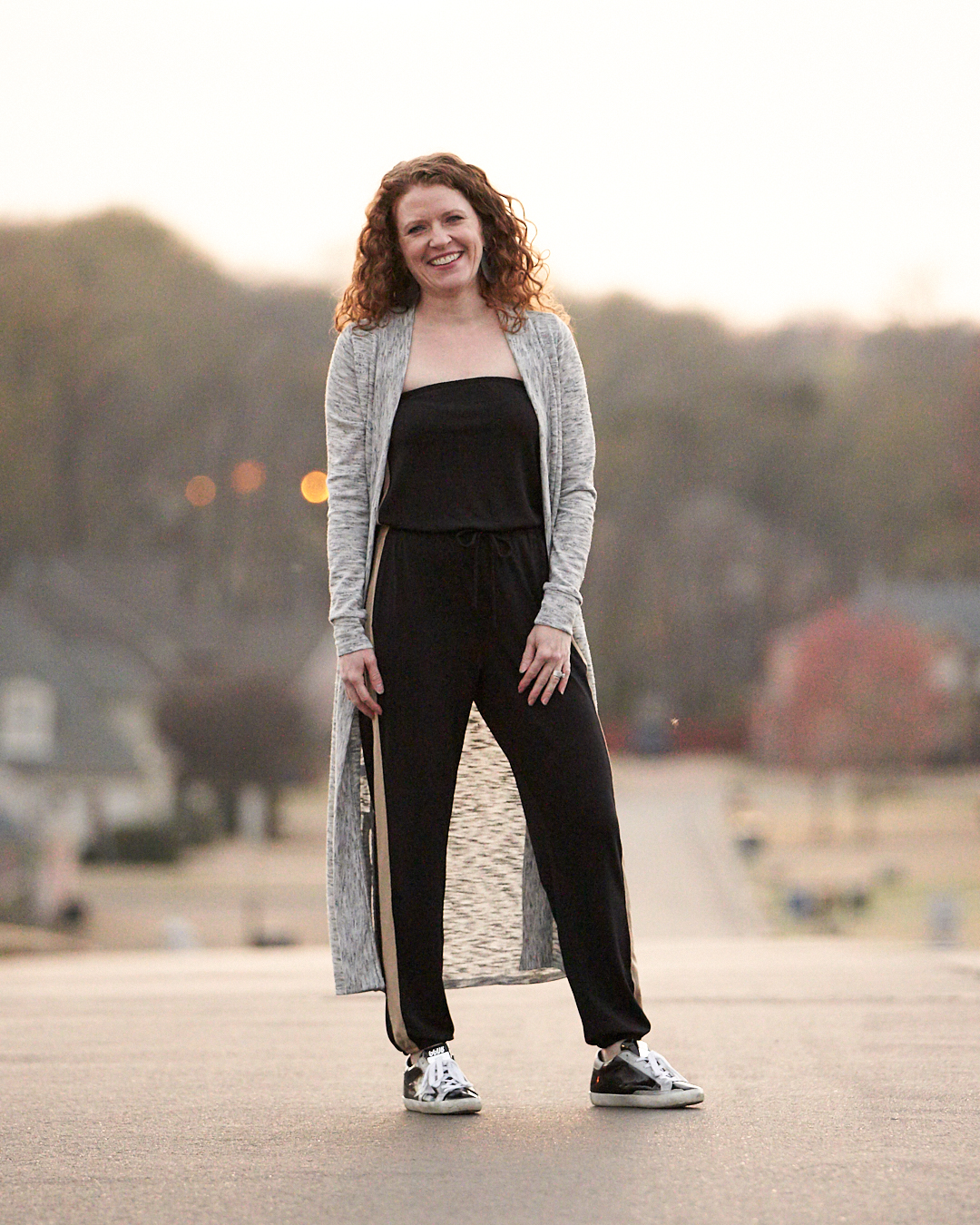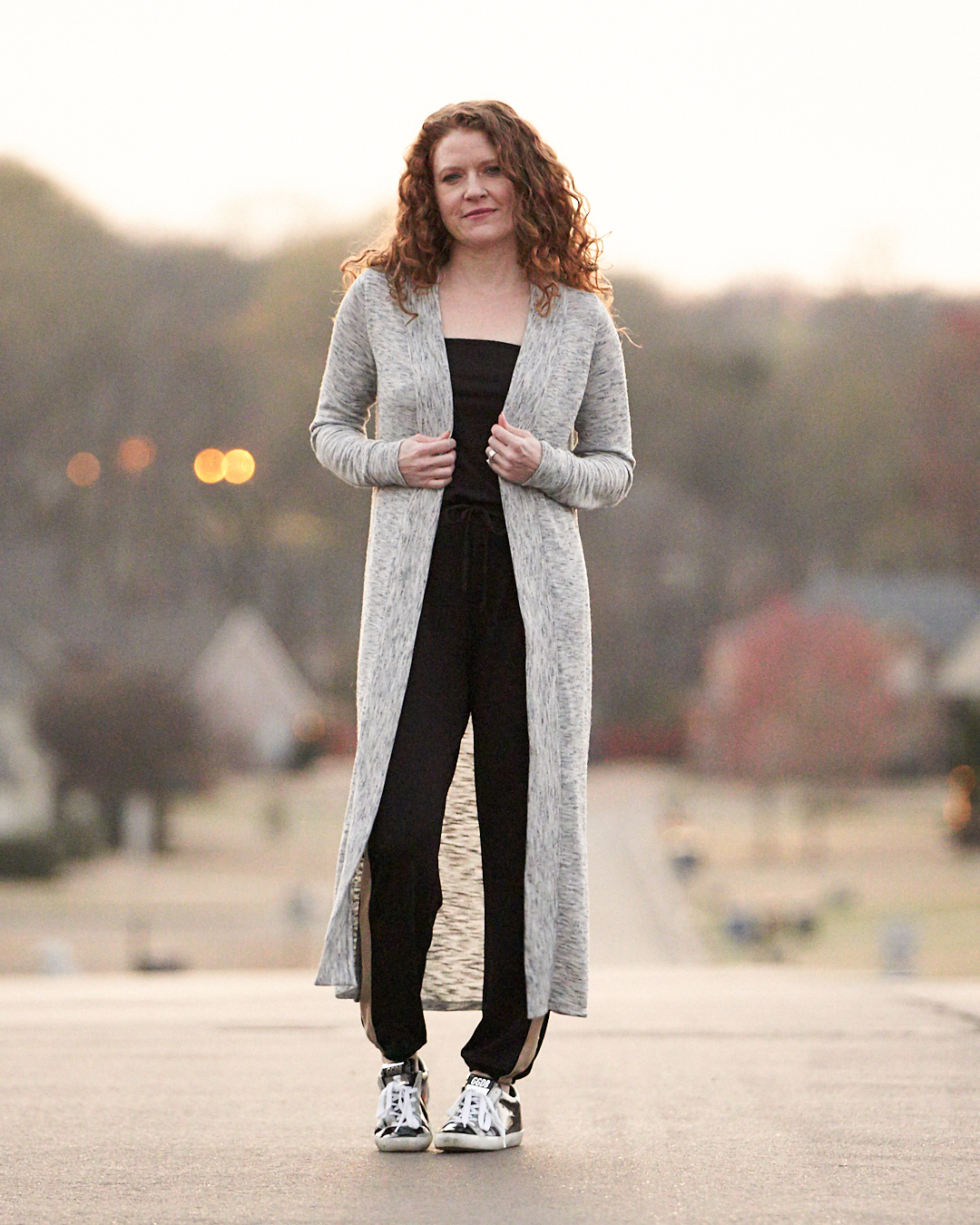 Dressy Sporty Jumpsuit
I love a sporty look dressed up. There is just something fun and different about it.  The side stripe on the jumpsuit gives it that sporty feel but also that tuxedo stripe feel.  Don't ya think?  I love this version the most and feel like it is so very fashion forward.  The black heel is simple yet sexy and gives the jumpsuit that "WOW " factor.
I added the white blazer to give it a classic and dressed up look.  You can also wear this outfit without the blazer; you choose.  I prefer a white blazer over a black one because I think it gives it more of a spring and summer vibe.  If you were going somewhere really dressy you could add a plain black or sequin blazer to give the jumpsuit a chic and fabulous look.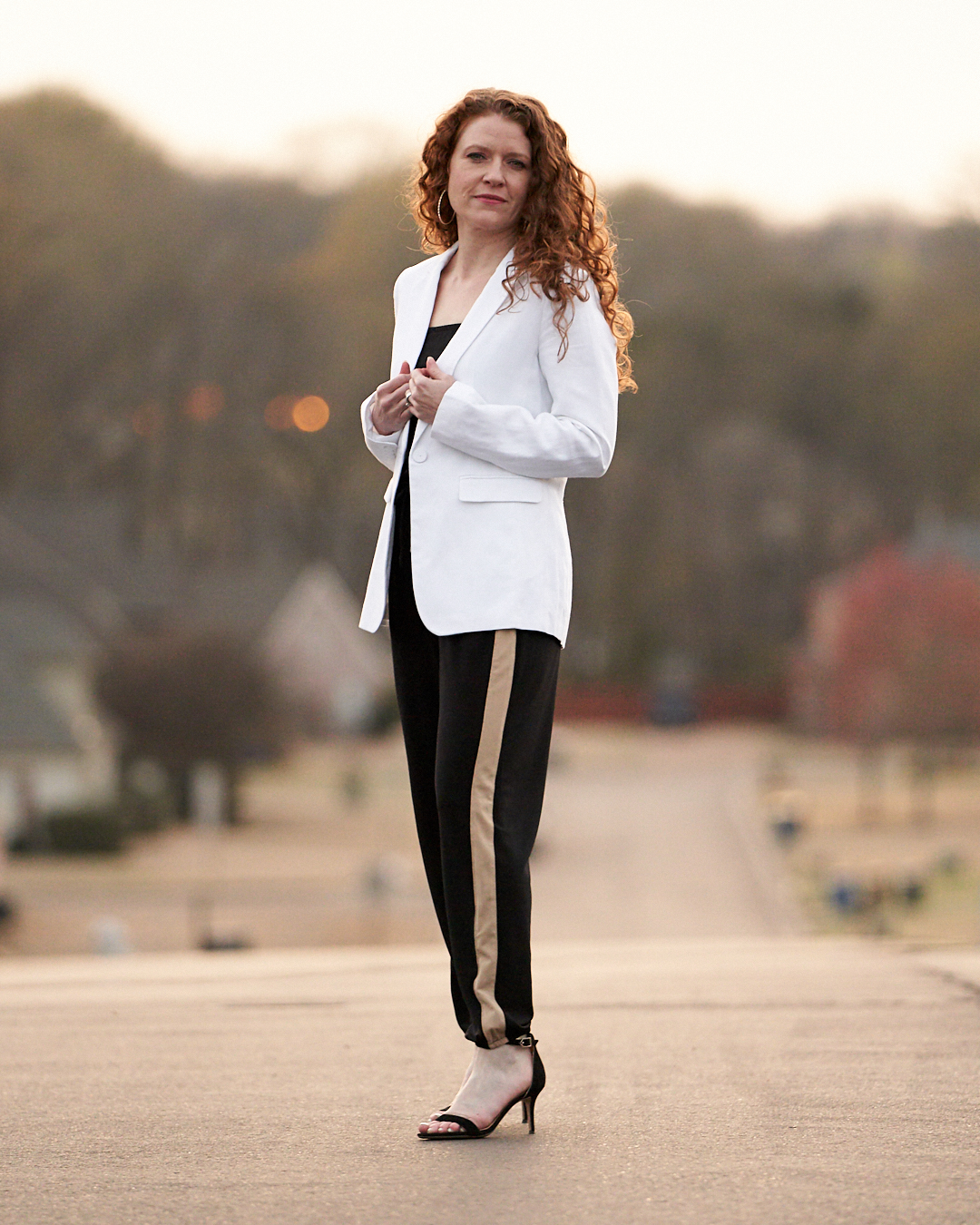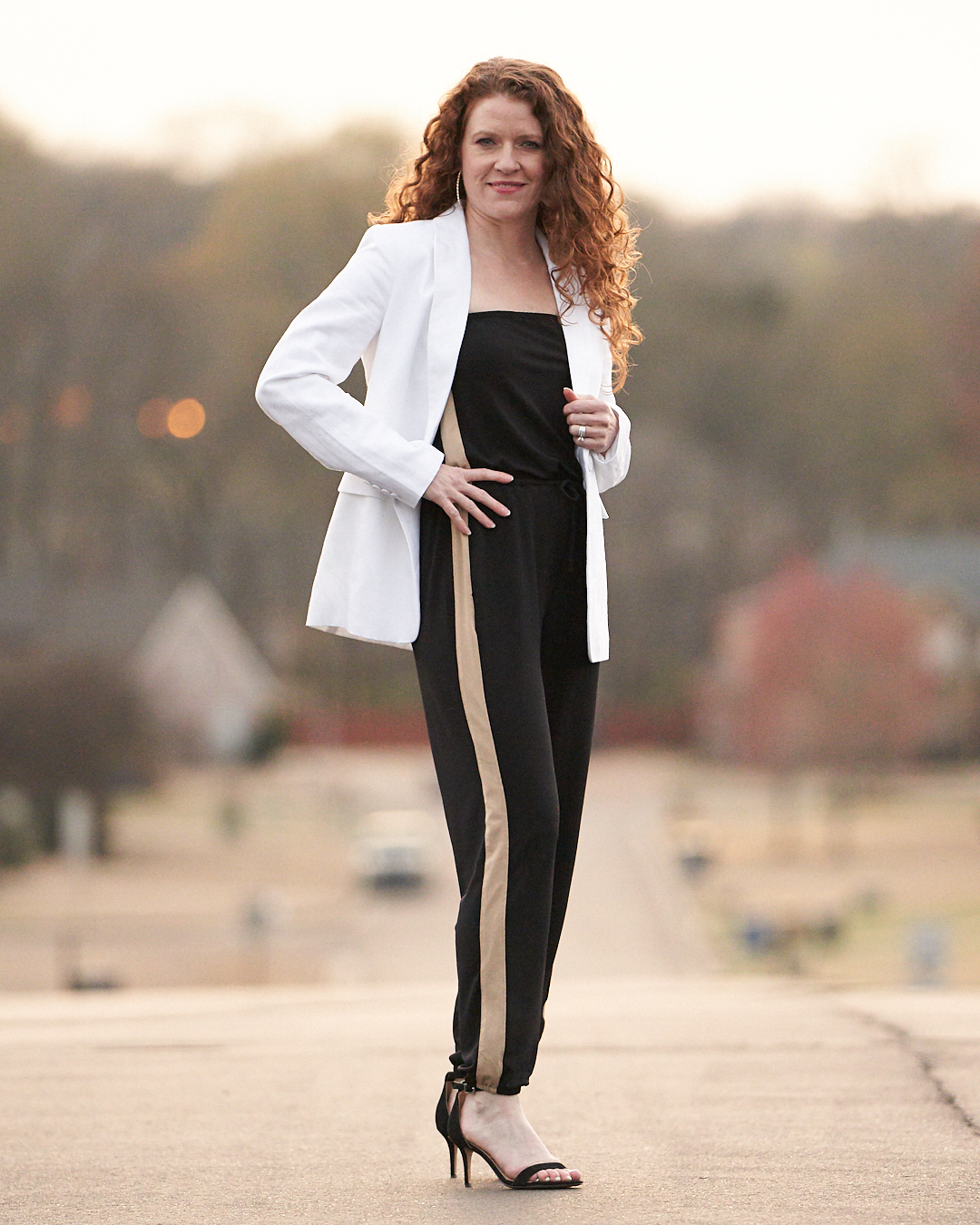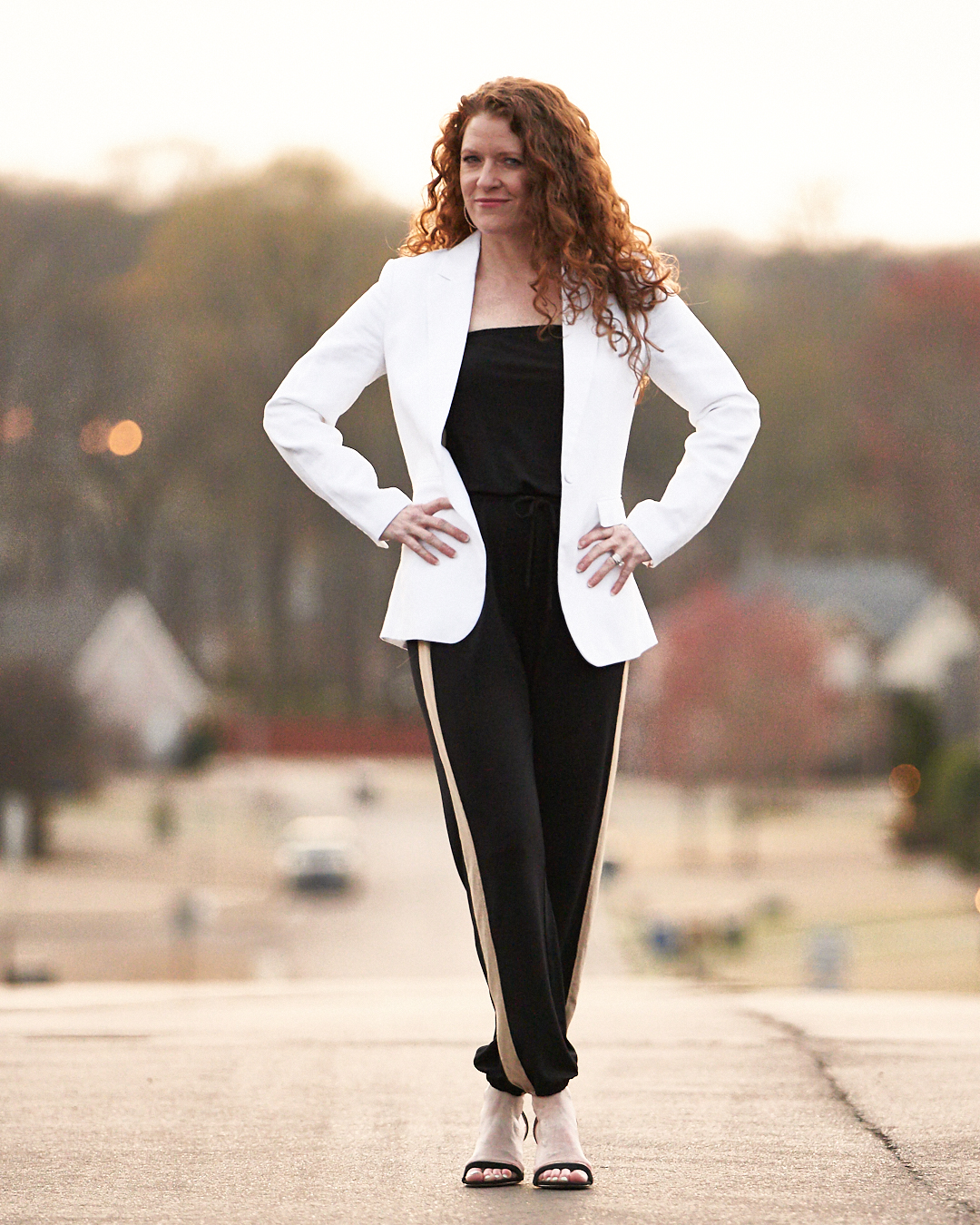 I do have to admit I have purchased jumpsuits in the past that I wore one time and have never worn again. I think the reason why is because they were dressy, for specific events and had very wide legs.  I have learned my lesson on what I like in a jumpsuit and I know I will wear this one a lot!!  It has slim legs, is really comfortable and looks good with flat sandals and sneakers.  The best advice I can give you about this purchase is to find one that fits most of your lifestyle and is comfortable to wear.  Even if you only style it one way you will still wear it multiple times if you love it!
Below I have linked lots of different jumpsuits for you.  They are all different and hopefully you will see on that suits your fancy!
Sporty Styles including the one I am wearing:

Boilersuits:

Dressy:

Other Cute Ones:

Thanks so much for reading!