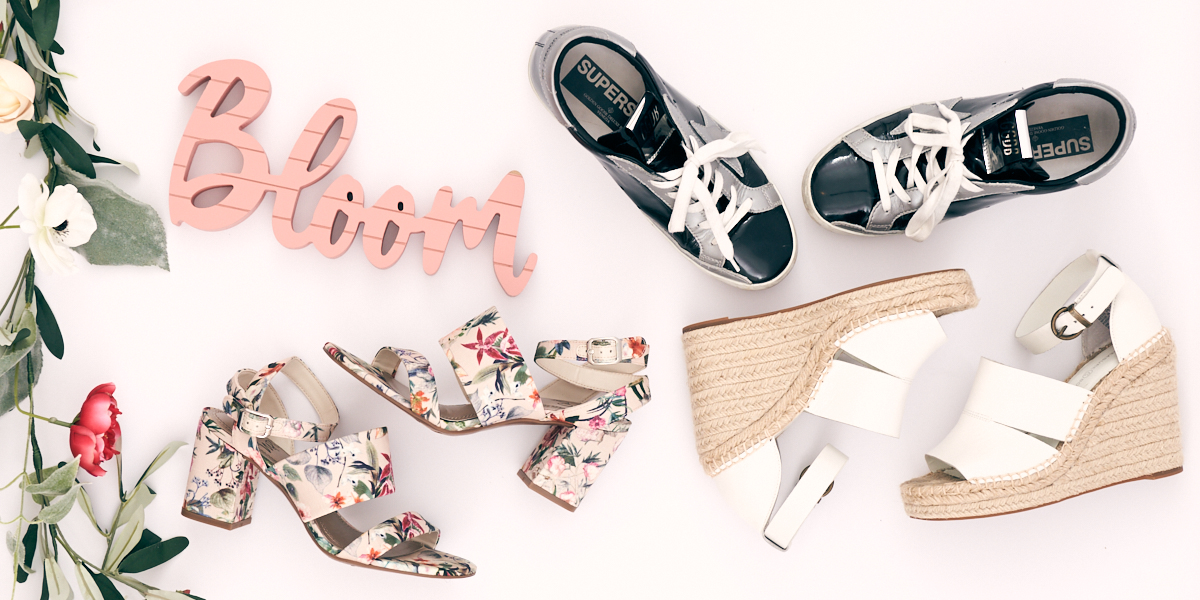 Hey friends! I hope you are excited because we are going to talk about spring shoes today! I know I am excited because it has become one of my most favorite things to purchase! I buy more shoes than anything else except maybe coffee haha!
There are 3 styles that we just can't and shouldn't live without this season.  They are on trend and actually very versatile and cute! I know you have to be dying to wear sandals, I know I am! The reason I chose these styles to talk about is because I think they will cover the majority of your non-work wardrobe.  Most people I know can't wear open toe shoes to work, so we are not going to address work shoes here today.  Just your fun everyday shoes.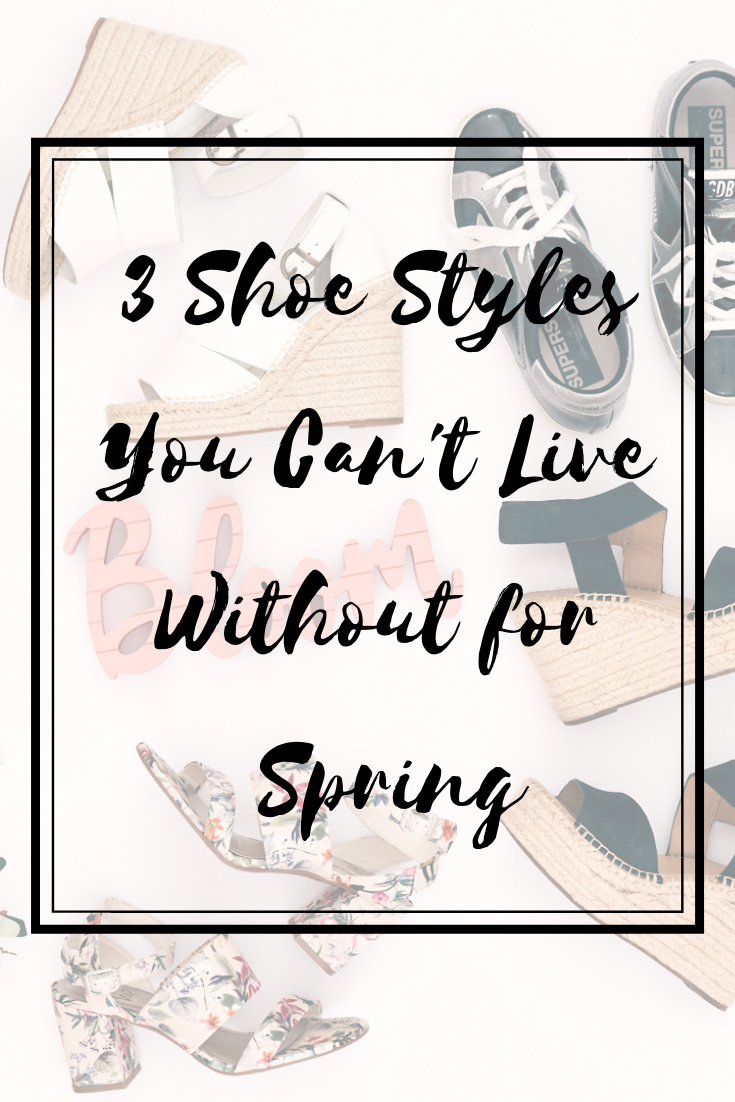 The three styles I think you can't live without for spring are:
Espadrille Wedge Sandals

Strappy Sandals

Casual Sneakers
Espadrille Wedge Sandal
Espadrilles have been in style for the past few spring seasons and they are not going to take a back seat any time soon.  An espadrille is characterized by a rope sole and a fabric upper. You can find them in flats all the way up to high platforms. Espadrille wedges or platforms are a great option if you need something to wear with jeans, shorts, jumpsuits or dresses.  This style could very well be the most versatile shoe in your wardrobe.  They also scream spring and summer like no other shoe.
The greatest part about this style shoe is they can give you height without giving you a high heel. Most of the sole is a platform wedge and won't put you walking on your toes!
Just make sure you get a study pair that is easy for you to walk in!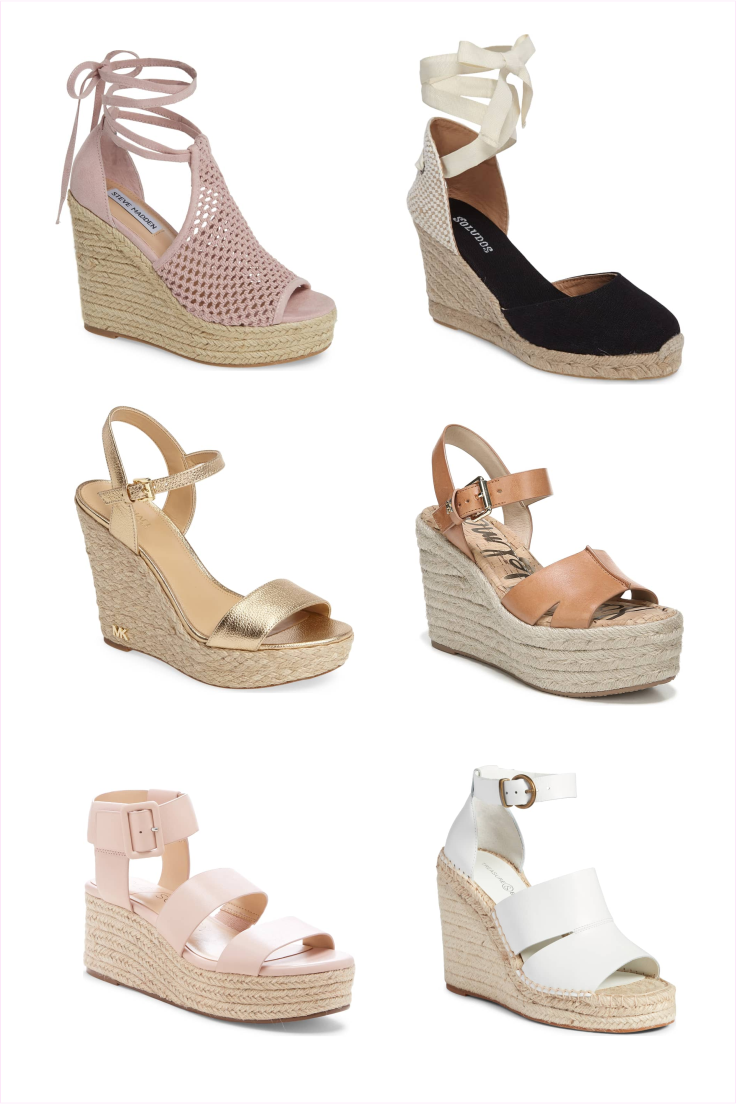 Steve Madden Sure Platform Wedge Sandal //   Soludos Wedge Lace-Up Espadrille Sandal //  Michael Kors Jill Platform Wedge //  Sam Edelman Maura Espadrille Wedge Sandal // Sole Society Anisa Espadrille Wedge Sandal // Treasure & Bond Sannibel Platform Wedge Sandal

Strappy Sandal
Spring 2019 is supposed to be a year that people wear minimal strappy sandals. It really doesn't matter if it's dressy or casual. You should pick which style works best for you.  Mine would be a casual version because my lifestyle is very casual.  I do often need a great sandal to dress up my outfits so I might also choose a second one that is a dressy version.
Another reason why I suggest this is because I hear it all the time from my husband that men love strappy shoes. He is not sure why but something about them is just kinda sexy to a man.
If you can find one that has a heel height of 1 to 2 inches you can probably wear it casual or dressy.  If not two pair wouldn't hurt right. There are some really cute styles out there too!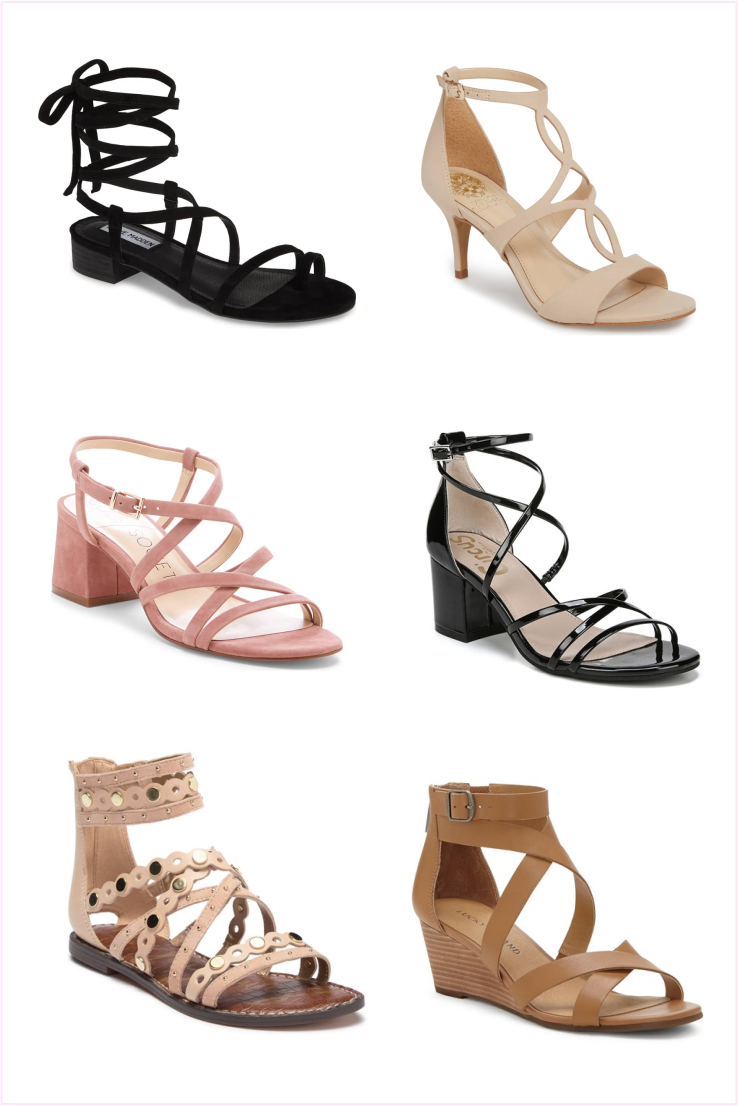 Steve Madden Adrenaline Lace-Up Sandal //  Vince Camuto Payto Sandal //  Sole Society Seranah Strappy Sandal //  Circus by Sam Edelman Shelia Strappy Sandal //  Sam Edelman Geren Leather Sandal //  Lucky Brand Jinela Wedge Sandal

Lifestyle Sneakers
I am hoping that this shoe already exists in your wardrobe.  This is something that I always recommend because it will make getting dressed in the morning so much easier for you.
Especially if you are a stay at home mom or dress super casual for work.  The right pair can take you a long way and will go with lots of casual things in your closet even a dress!
I am talking about fashion or lifestyle sneakers here not your athletic pair of sneakers.  The lifestyle sneakers are either slip-ons or lace up sneakers that are made with different materials like leather, suede and  special fabrics. They do not have an athletic feel to them at all.  See the examples below!
MICHAEL Michael Kors Keaton Genuine Calf Hair Slip-On //  Karl Langerfeld Paris Cassie Slip-On Sneaker //  Vans UA Authentic Knotted Lace Chambray Sneaker //  Caslon Austin Slip-On Sneaker //  Kate Spade Ginger Platform Sneaker //  Cole Haan GrandPro Woven Slip-On Sneaker

There are lots of spring and summer style shoes to choose from.  I feel like these three options will give you lots of versatility with your outfits.  The key is to choose one from each category that best suits YOUR wardrobe.
Let me know in the comments below if you already own any of these styles or what you think about possibly owning them!
Thanks for reading!