Do you look forward to spring and summer because you can just throw on a cute dress and go?  Dresses make everyday dressing much easier.  Or do they?  Not all dresses are created equal and some require a little more styling than others.
With the fashion industry moving towards a more relaxed fit in clothing choices, it's only realistic to think that this seasons best spring dress styles will reflect that as well.
The purpose of this article and video are to help you make the right style choices when wearing any of these must-have dress styles this season. There are some great ways to elevate your look and as you will see they are simple and fun and don't require a whole lot of effort!
Check out the YouTube video below:
Here are my 6 must have dress styles for this season:
Casual Flowy Midi or Maxi Dress
T-Shirt Dress – Short, midi or maxi
Eyelet Dress
Shirtdress
Tiered Babydoll Dress
Floral Maxi
Casual Flowy Midi or Maxi Dress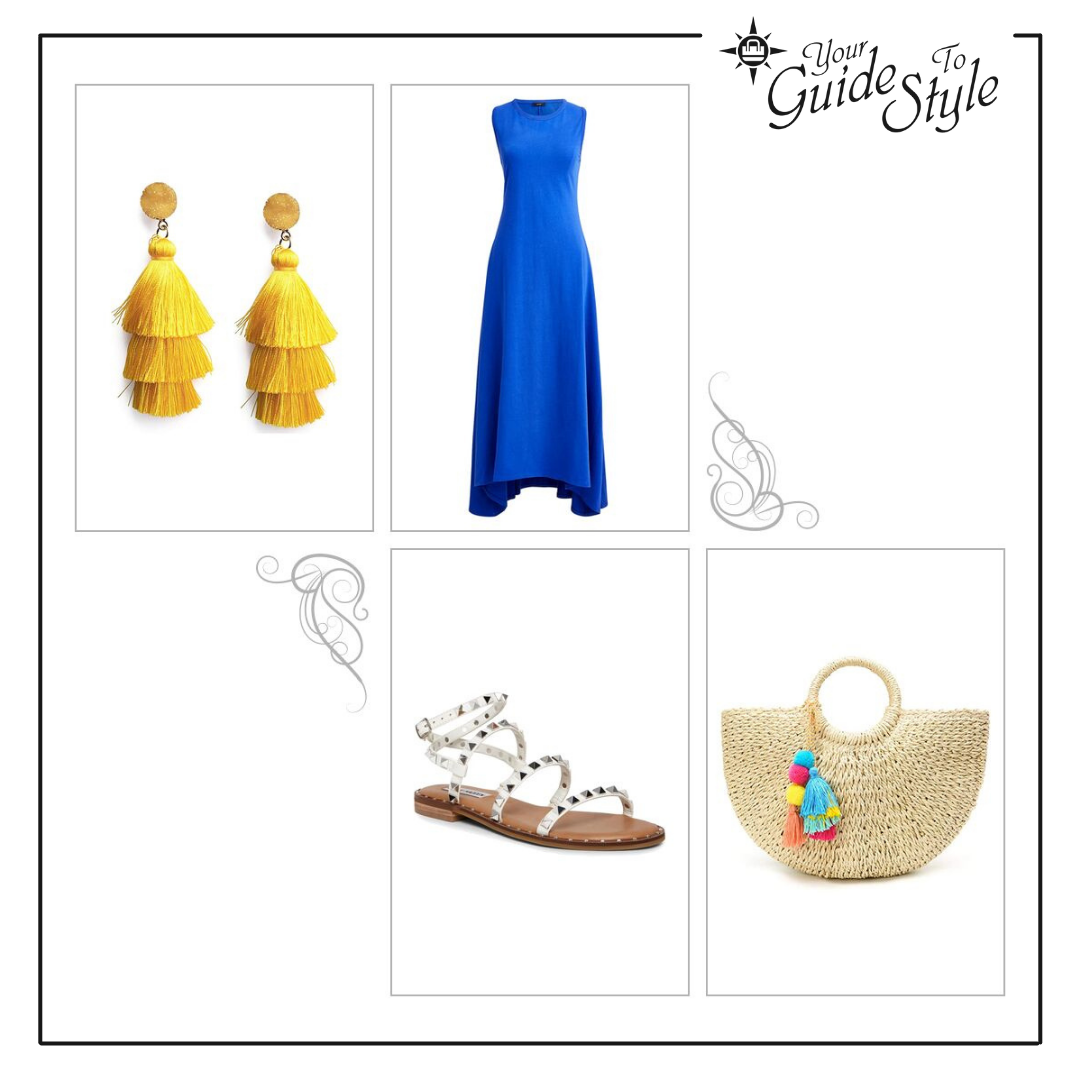 The casual flowy maxi is at the top of my list for must have spring dresses because it is so easy and looks great on almost all body types. What I mean by casual are lightweight materials like cotton that are easy to wear in warm weather and can be thrown on with sandals and sneakers during the day.
Style Tips:
Solid or striped print for easy styling and casual everyday wear.
An A-line fit where the top is more fitted and creates an "A" shape through the length of the skirt.
Pair with flat sandals or sneakers.
Add statement earrings and a cute handbag to elevate the look.
If you need a layer add a denim jacket and drape it over the shoulders or tie it around the waist for a casual comfy look.
T-Shirt Dress – Short, Midi or Maxi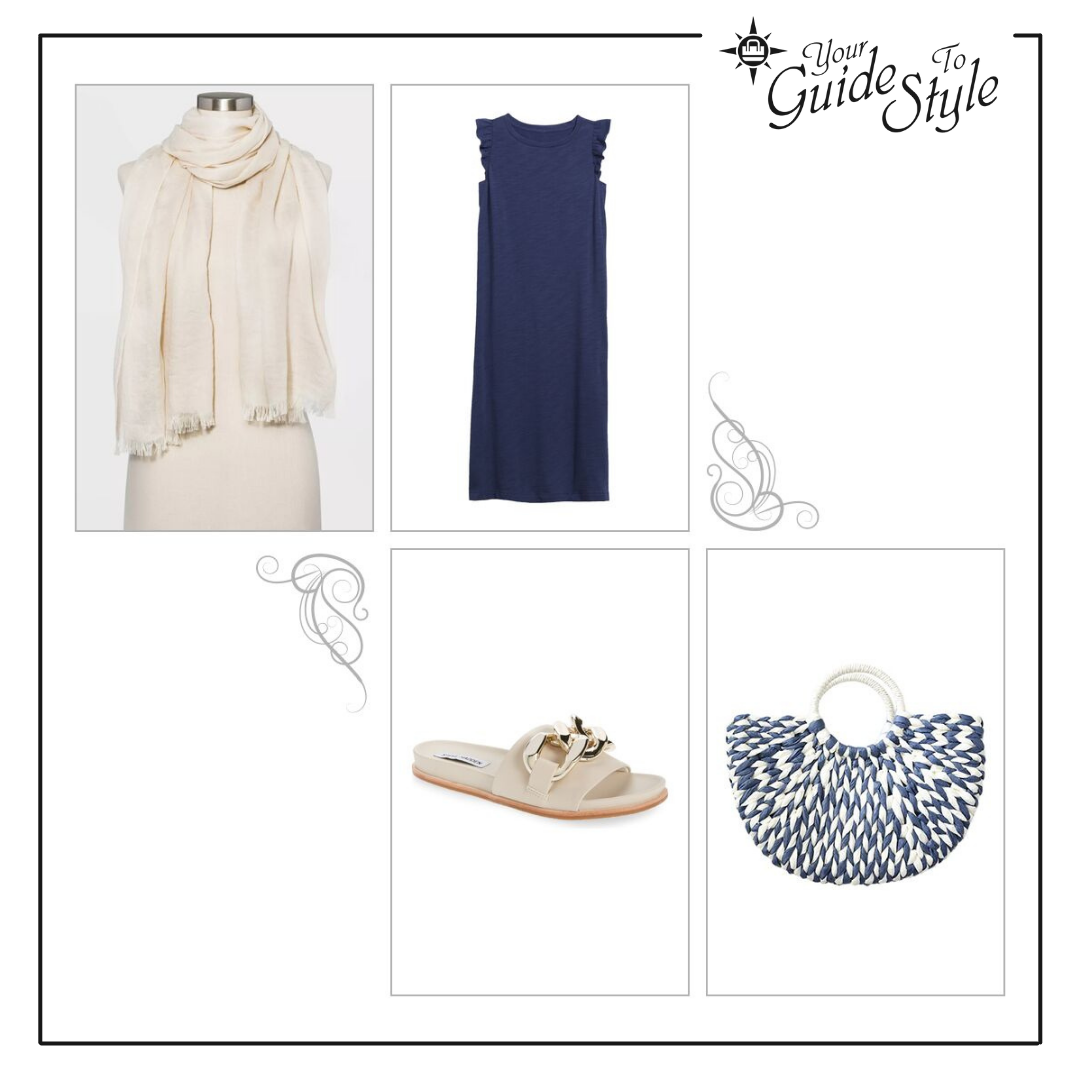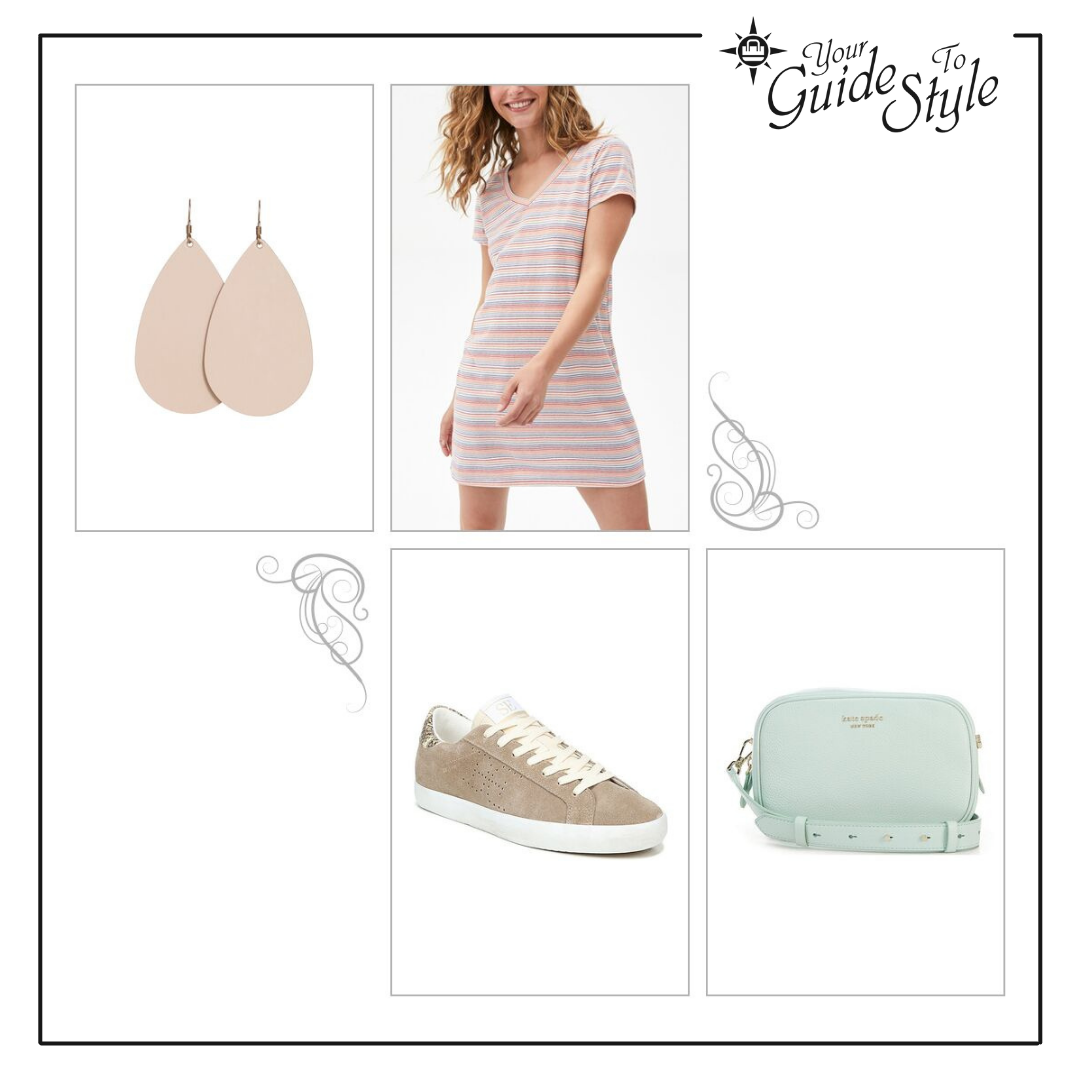 A t-shirt dress is a must-have because it will be a great option for those hot days that you just want to be comfy and cool.  The new t-shirt dress trend is a midi length and is more of a straight fit.
Style Tips:
Add a scarf or long necklace to create a focal point on your body and break up the dress.
Look for styles that have a cute element of design like a ruffle sleeve similar to the one in the Just Chill  In A Midi Dress outfit above.
Add a fun bag that will compliment the dress.  A good crossbody bag worn across the body, like the one in the Get Ready In Five outfit above, will also help break up the dress and help create some shape.
Statement earrings are a great way to add some interest and pizzazz to a one piece outfit.
Eyelet Dress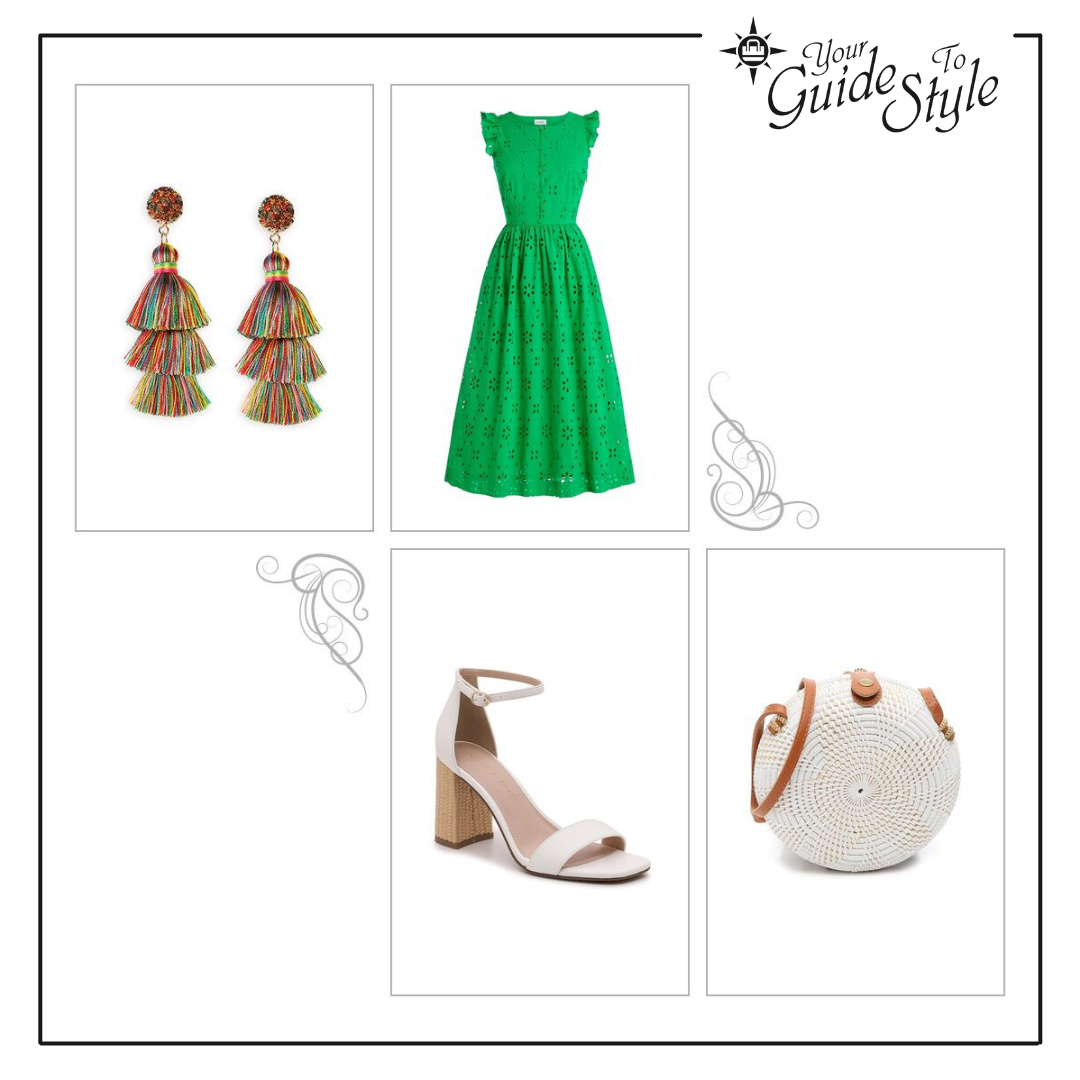 Eyelet is everywhere this season! I have seen it past seasons but not even close to the amount I am seeing it this year.  If you have showers or weddings this spring and summer this makes a perfect option for you!  It's versatile enough to wear to occasions but also on date night or to church on Sunday!
Style Tips:
Choose whatever length suits you the best.  The one in the Summery Eyelet Dress outfit above is a midi length.
A midi length, like the one in the image above, is best paired with a heel to create more length in the legs.
A fit and flare style like the one in the Summery Eyelet Dress outfit image is the most flattering with most body shapes.
Add a fun handbag and pair of earrings or just go minimal; it's totally up to you.  The eyelet creates so much interest that your accessories don't have to stand out to create a stylish look.
Shirt Dress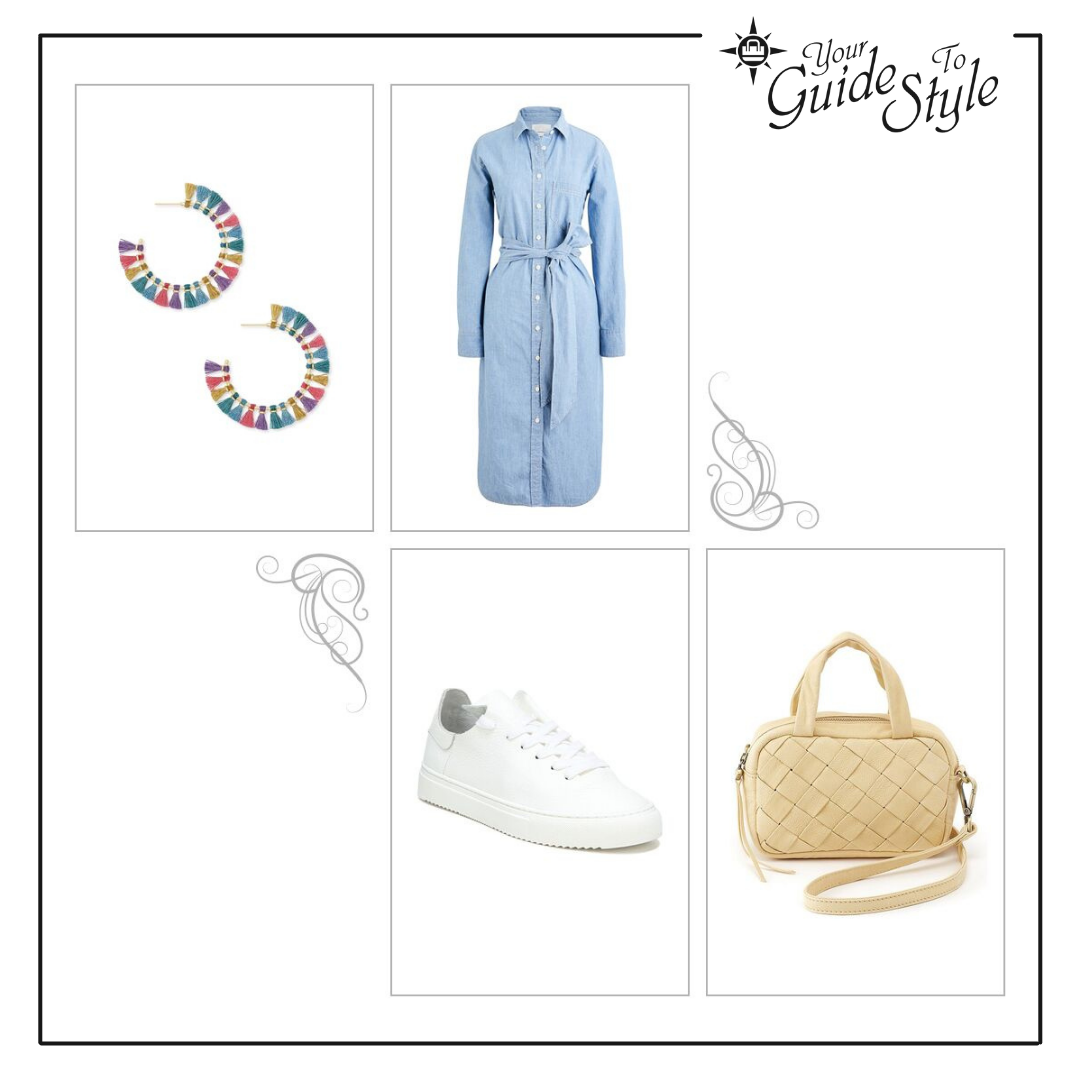 I know a shirtdress is a somewhat conservative option and is nothing new to the fashion scene but this year it is a definite must-have for spring and summer! I have mentioned this one a few times in other posts because it's probably the most popular dress option this season.
If you love this one you should check out the other two post that include it; 26 Essentials For Your Spring Wardrobe and Top 5 Spring & Summer Trends That Are Totally Wearable.
Style Tips:
Look for a style that fits your shape. You can find style options that are more of a straight fit like the one in the Why Not Shirtdress Style outfit image above, which is great for people who have an hourglass, straight or inverted triangle shape.  If you are pear shaped the best option would be one that is more A-line.
A tie waist, belted waist or cinched waist looks best as opposed to a loose & oversized fit with not shape.  If you end up loving the latter just add a belt or something to cinch the waist a bit. You can even tie a jacket or cardigan around your waist.
Wear with sneakers or sandals for a casual look.
Wear with heels for a more dressed up look.
Fun earrings and a crossbody handbag are great accessories to jazz up your shirtdress.
Tiered Babydoll Dress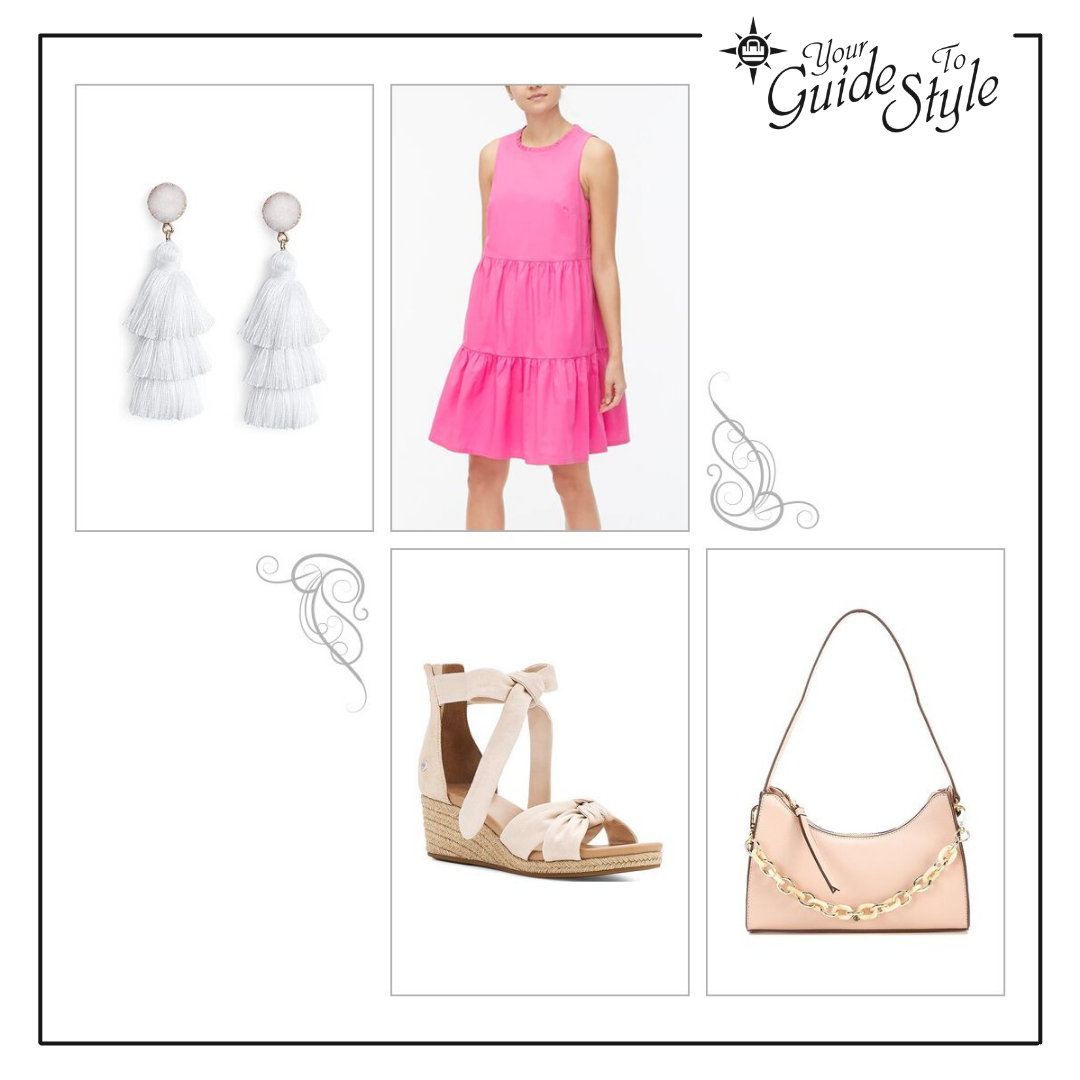 The tiered babydoll dress is such a popular option for spring and summer and this is the one that I think needs style considerations the most!  If just thrown on it could look like a paper sack real quick; know what I mean?  Some people are okay with this in the hot summer months but with just a couple of tweaks this can be a really cute look on anyone.
Style Tips
Make sure it is not too oversized and the first tier lands close to the waist line. If the first tier lands too high you will look short waisted and cut off in the wrong spot.
The tiers will lengthen the look of the body if they are longer sections or there are more of them and they end just above the knees.
Wear a cute sandal that has a fun heel and some embellishments like the wedge espadrille in the Tiered Dress Worth Wearing image above to create balance from head to toe.
A great little handbag with some cute elements and some statement earrings, like tassels, will help create a really cute and put together look.
Floral Maxi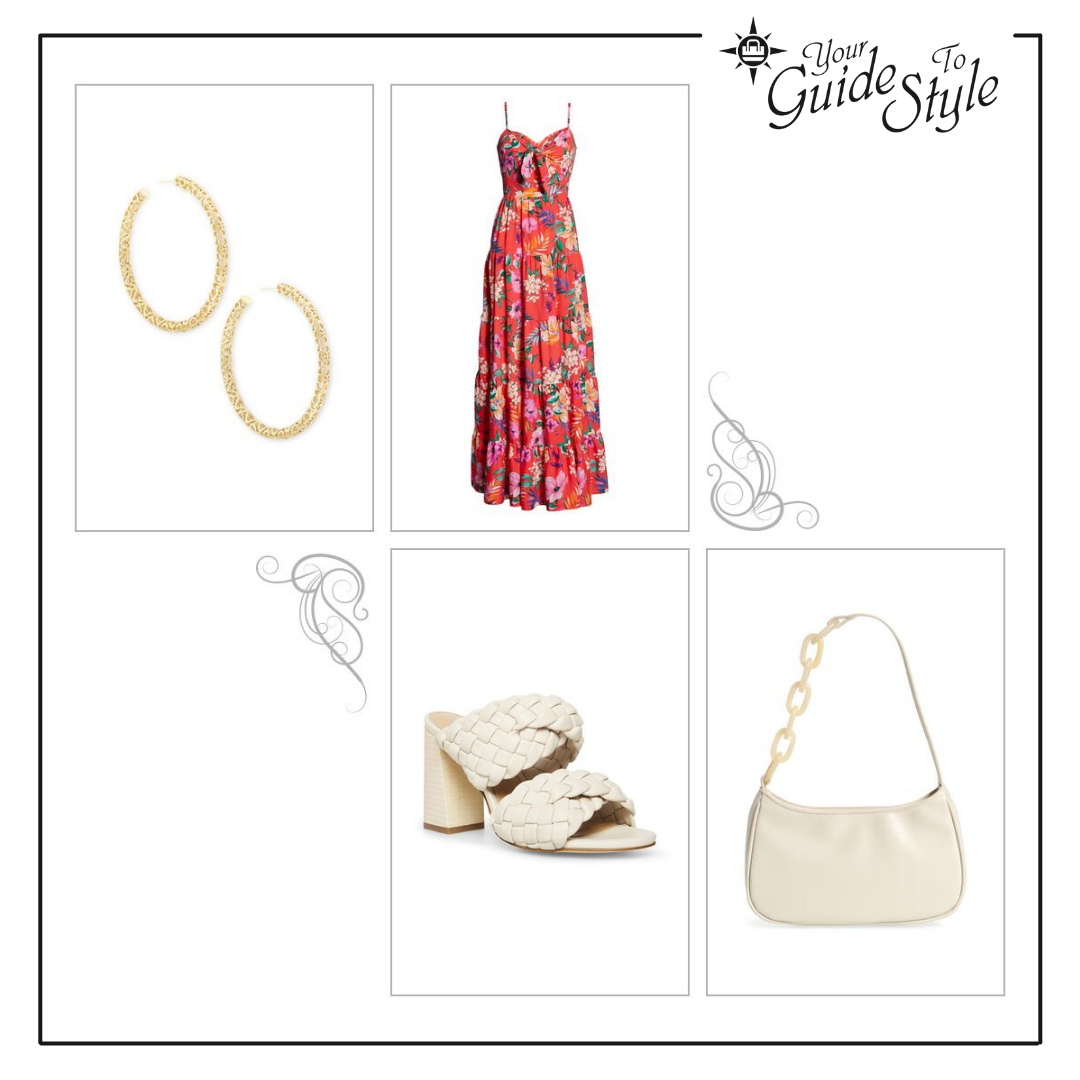 Florals are THE most popular print of the spring season and have been for several seasons now.  My favorite style floral dress is a maxi length, which looks better dressed up than it does for a casual everyday look.
Style Tips
A maxi dress looks best dressed up with heeled sandals. I love the new woven sandals this season and they are a great compliment to a floral maxi dress.  Can I just say "feminine details" for the win! See more here: Top 5 Spring Shoe Trends You Need To Know About.
Add a neutral small shoulder bag and some hoop earrings to complete the dressy look.
If you want a little more semi-dressy look, wear a flat sandal, a denim jacket, and the same accessories!
These are all really great dress options for you to choose from for this spring season.  My personal favorites are the casual flowy maxi dress, the shirtdress and  the floral maxi dress.  I think these are the most versatile and will be great moving into summer and will also transition into the fall season easily!
Which one is your favorite?  Let me know in the comment sections below!
Thanks so much for reading and I hope you will check out more options for styling these dresses and others in my new style app Your Guide To Style.
Stylishly Yours,