There has been so much talk recently about what jeans we are going to be wearing in these new pandemic days. In my honest opinion I think the skinny jeans style is still going to be a popular option for most women. It is definitely still my style choice! These days there is enough stretch and softness to my skinny jeans that they feel pretty darn close to wearing my leggings.
With all that being said I think the straight leg jeans are a good second choice and are being adopted by many very quickly.  I think we have trouble moving away from skinny jeans because first, they are already in our wardrobes and we don't want to replace them yet and second, any other style jeans can bring a little bit of style anxiety that really should not be there. Most of the time if the jeans are not too baggy you can style them ALMOST the same way you would skinny jeans.
These style tips and outfit ideas should help you migrate towards a loose fitting pair of jeans like a straight leg.  They are a great fit for most body shapes and the looser leg looks great at ankle length and can be rolled for a cute summer look with sandals. You will even see some cropped versions available that are a great option as well.
All of the images in this post come from The Denim Guide in my online style app called Your Guide To Style. If you click on the photo it will go to the outfit in the app. To look at any more suggestions for the outfits or other parts of the application you will need to become a member.  You can sign up for a free trial at our website: www.yourguidetostyle.com
I do make a small commission on any purchases made with any of the product links for the images in this post.  Thanks for you all of your support! It helps me to continue on this style journey with you!
I try to include a video in my posts now so click on it to view!
Simple & Flutterful Outfit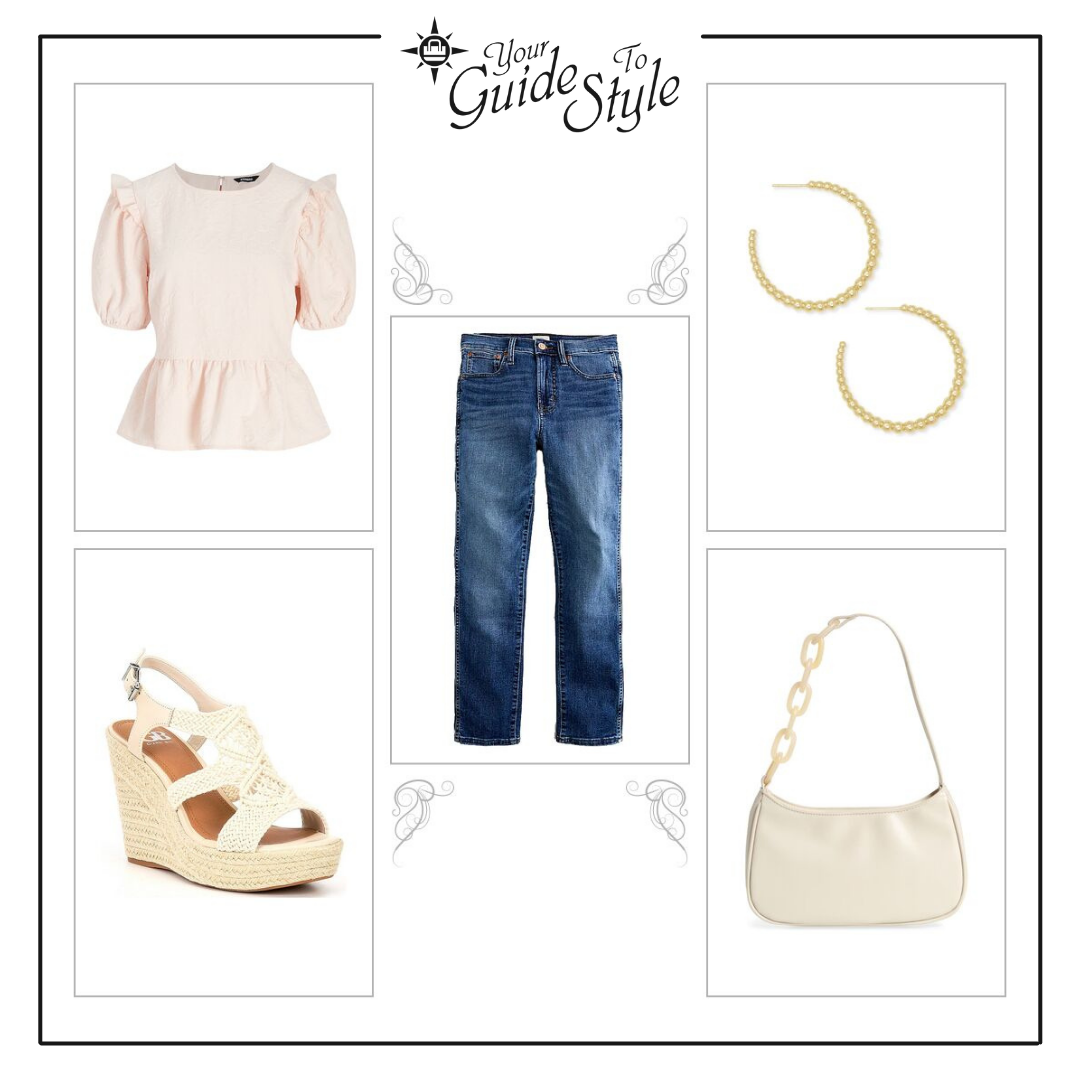 My first outfit idea is a pair of straight leg jeans with a really cute puff sleeve peplum top.  I love a good peplum top. When shopping for this style try to find one that has the peplum hem landing close to the waistline or below it.  Sometimes they can be too cropped and shorten the upper torso.  A peplum style top is going to naturally be a little bit shorter in length than other tops but they should not be cropped.
The peplum helps to create balance from head to toe with the straight leg jeans.  Most straight leg jeans styles have a higher rise on them, so wearing a top that stops at the hipline will look great! Another great point is that you will not have to worry about front tucking or fussing with this type of blouse. You just throw it on an it looks cute as is.
Style Tips:
To add some extra pizzazz to this outfit add a great espadrille wedge like the macramé wedge in the image.  It can be as tall as this one or a lower wedge.
If your shoe is a higher heel like the wedge you can leave the jeans ankle length without rolling them up. With this outfit being a little dressier it looks best without the roll.
Wear a cute shoulder bag  or other small bag to compliment the feminine feel of this outfit.
Add a fun hoop if you want a trendy statement or just a cute stud if you want minimal.
Perfect All Day Comfort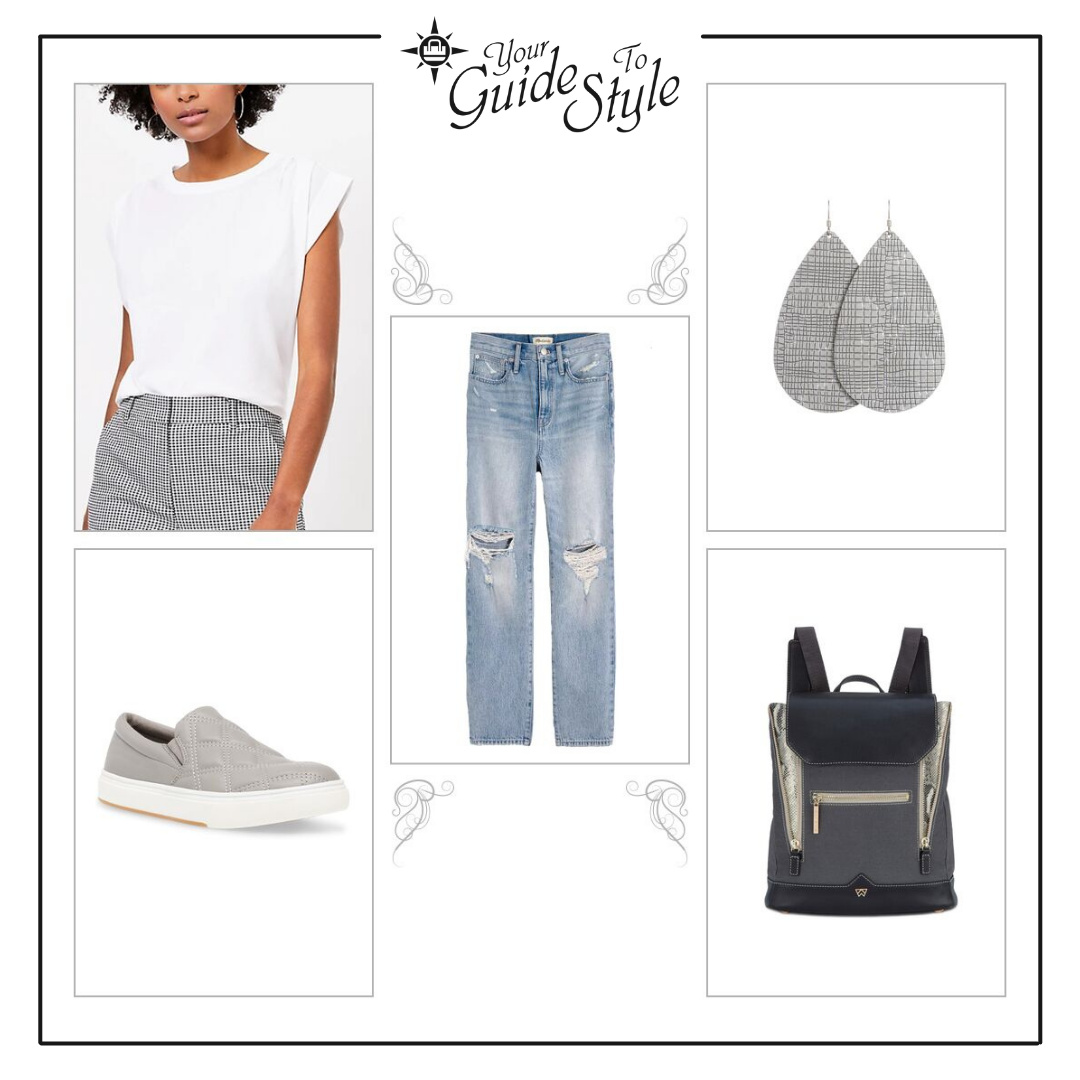 This outfit is totally my jam! It is comfy and sporty and a great everyday casual look.   I especially love these style jeans with a distressed look because it just goes with that casual loose vibe they have. The jeans in this outfit are called Mom jeans and I am sure you have seen this name pop up a lot these days.  The Mom jeans are straight leg jeans with an ultra high waist (11 plus inches) and the back pockets are usually set up a little higher to create a "lift" affect on the rear end.
Style Tips:
A novelty tee, like the muscle tee in the Perfect All Day Comfort outfit, gives the outfit a little more style as opposed to just a basic plain tee.  Look for t-shirts that have cute elements like ruffles, bold shoulders, puff sleeves or embellishments.
Front Tuck the tee if it comes below your hip line to create more shape. This may not work for everyone and if it doesn't work for your body shape find a tee that will work to leave it untucked and is not too long.
Roll up the jeans once or twice to add more casual styling to this sporty outfit.
A great pair of slip on sneakers like the quilted sneakers are a great fashion choice and are on trend right now.  They will keep you looking cute all while providing daily comfort.
A backpack is my favorite style bag for someone who lives in casual clothing. It works great with leisure, workout and casual outfits and there are lots of really amazing options out there.
Cute, Bright & Fun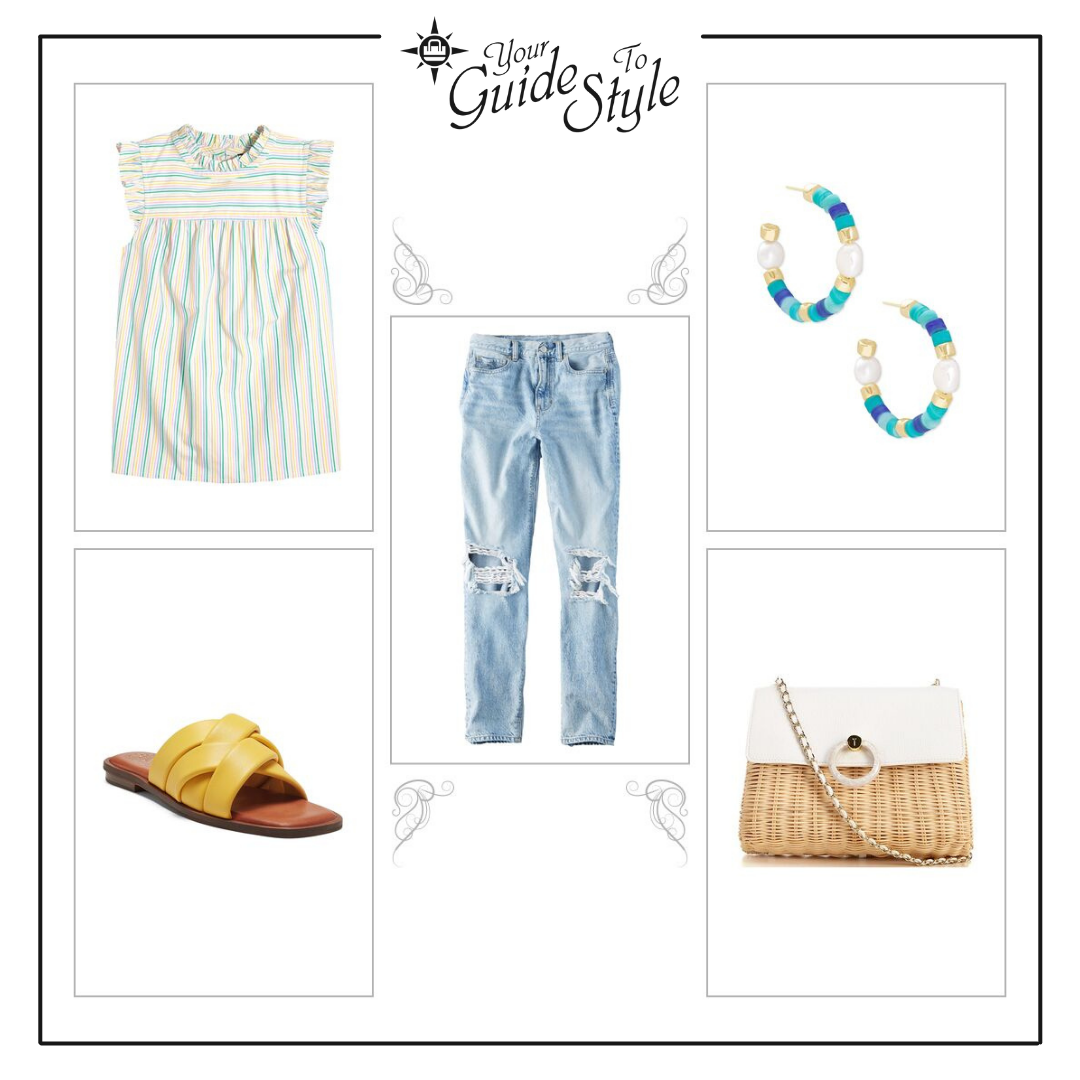 This Cute, Bright & Fun outfit is another great casual everyday option for loose fitting straight jeans. This is great for any of those activities you might have during your day like running errands, meeting friends for lunch, shopping, etc. The cute popover top is easy for daily wear and is a cotton poplin so you will stay cool!
Style Tips:
Add a cute spring print top like the striped ruffle sleeve top in the Cute, Bright & Fun outfit.  This is an easy popover style that is just a little nicer than a t-shirt but not too dressy like a flowy blouse.
Leave the shirt untucked or front tuck it. The straight body style of this type of top allows you to just wear it out and not have to worry about tucking!
Add a flat sandal for run around comfort. The woven slide in the image is the perfect compliment for a fun and on trend look.
Since spring and summer are here it's a great opportunity to add a cute straw handbag to your outfits. The crossbody bag in the outfit is the perfect summery addition!
Just A Cute Popover Top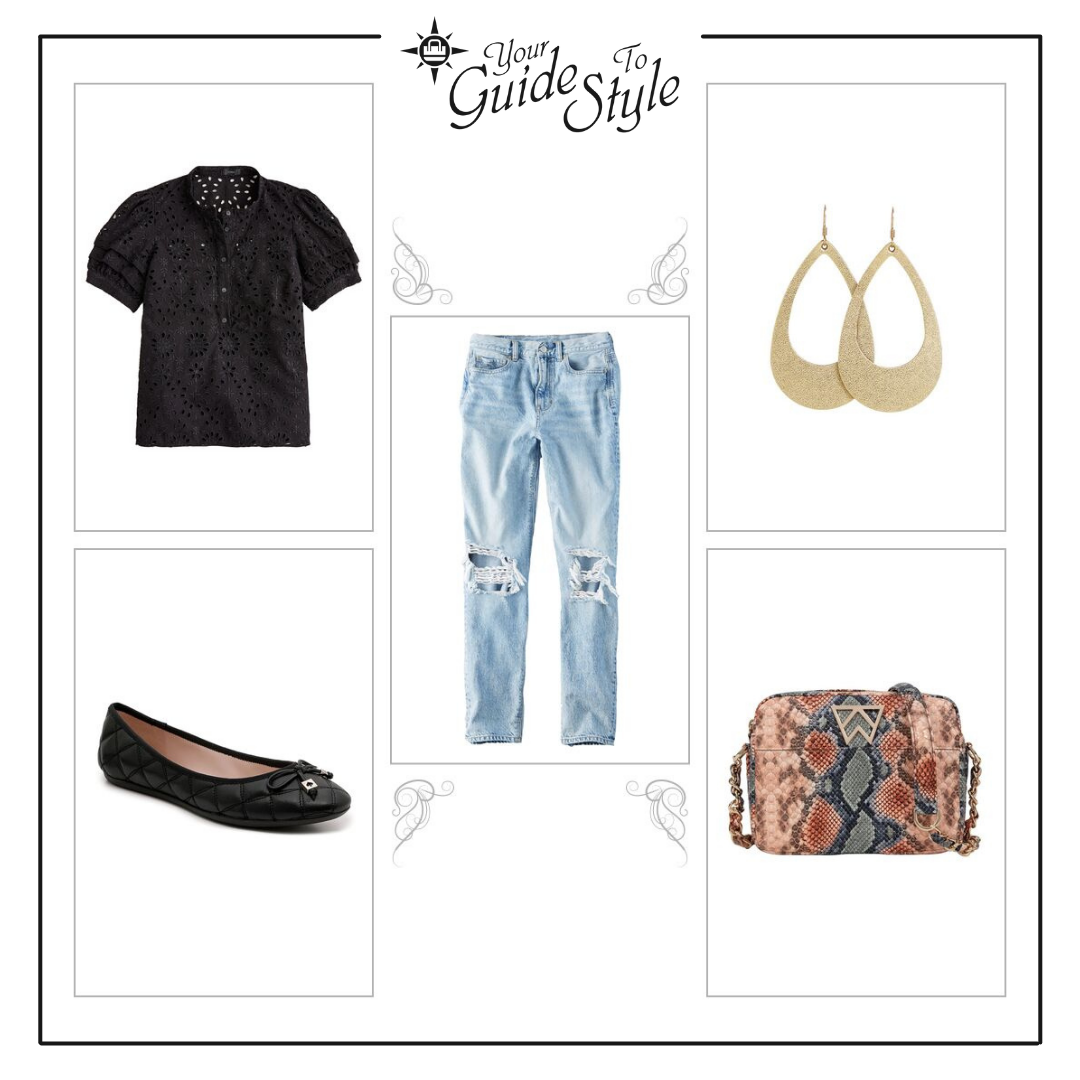 I talked about eyelet in my last post and video on The Best Dress Style For Spring & Summer and I think it's the perfect option for a cute top for spring and summer! Eyelet is one of the most popular fabric styles for warm weather seasons because not only are they cute but most are made out of cotton and the cut-outs help keep us cool!!
Style Tips:
An eyelet popover top is a great option to wear with a loose fitting pair of jeans like the distressed straight jeans in the Just A Cute Popover Top outfit.
If you do not prefer the distressed jeans, a regular non-distressed pair would give you a classic look as opposed to an edgy look.
Add a ballet flat in the spring or a cute sandal in the summer.  It is best to keep your shoe simple and feminine to compliment the delicate eyelet.
Don't be afraid to add a fun print small handbag and some great statement earrings.
Off Shoulder For Day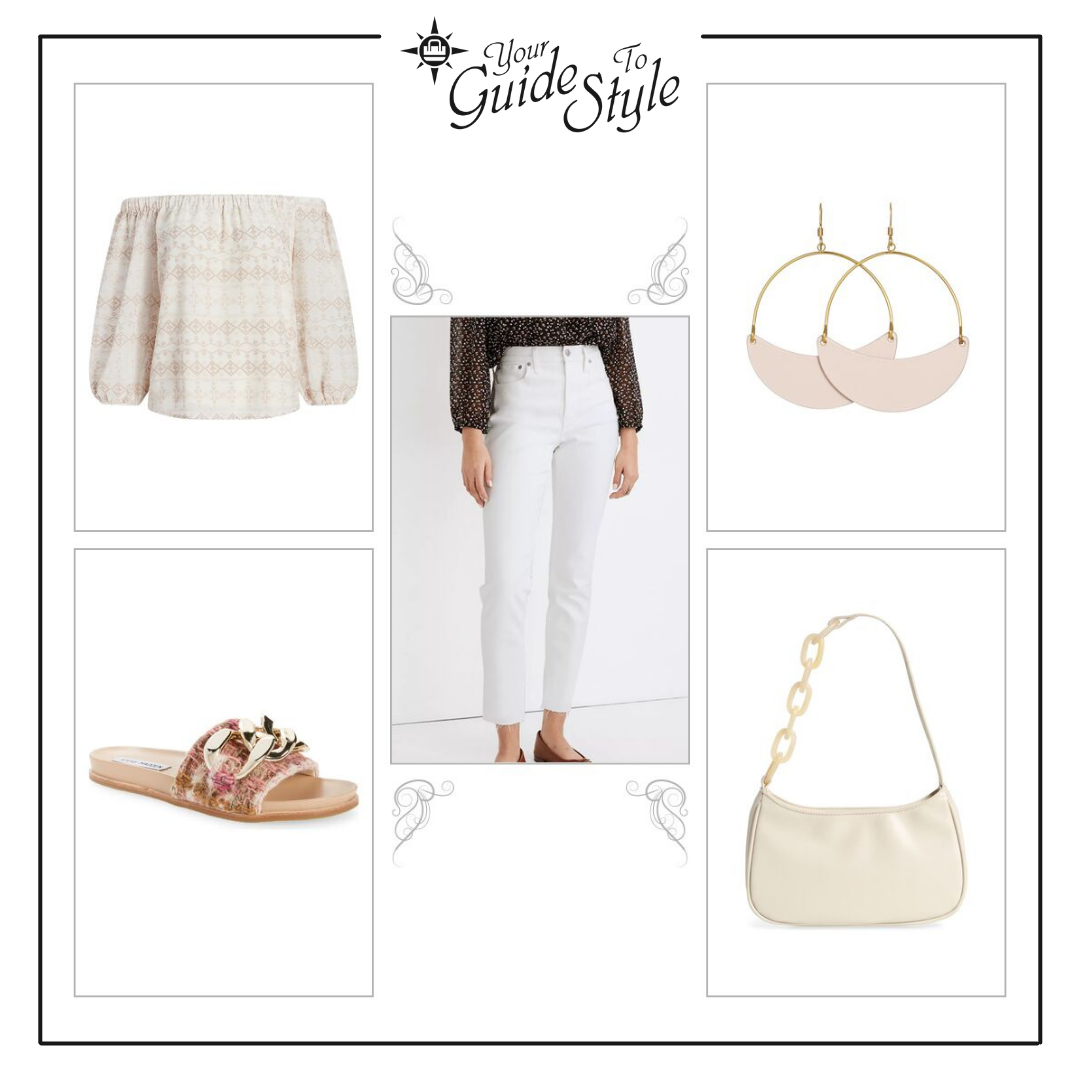 I know an off the shoulder top is not for everyone but you could find a top similar to this that is not off the shoulder.  I do think the off the should top is such a pretty option for spring and summer. It shows a little skin but not too much to be considered R rated, lol.
Style Tips:
Wear a pair of white straight leg jeans instead of a blue wash to lighten up the look for spring and summer.
This type of top is flowy but shorter in length so you can just enjoy wearing this one without tucking it in!
For this particular outfit, with the blouse being a light color, I decided to keep the shoes and accessories light and neutral as well to create a neutral monochromatic look. This look is a popular trend for this season as well.
The earrings are statement earrings but still light weight and light colored so they won't overwhelm the outfit.
The chain embellishments on items this season are so cute so I added a bag and shoes that had this detail. I thought it gave it elevated to look a bit.
I really hope these outfits will give you some inspiration and get you comfortable with the idea of trying to style a pair of loose fitting jeans!  Since these styles are loose in the leg and not baggy everywhere, it is a bit easier to find cute things to go with them.  Honestly, you could swap out the straight jeans and wear skinny jeans with most of these outfits but they just would not have more of a relaxed look.
Don't forget to check out the video for this blog post above and subscribe to my YouTube if you have time!  I also off a free download for you to subscribe to my blog. If you are interested click HERE!
Thanks!
Stylishly Yours,