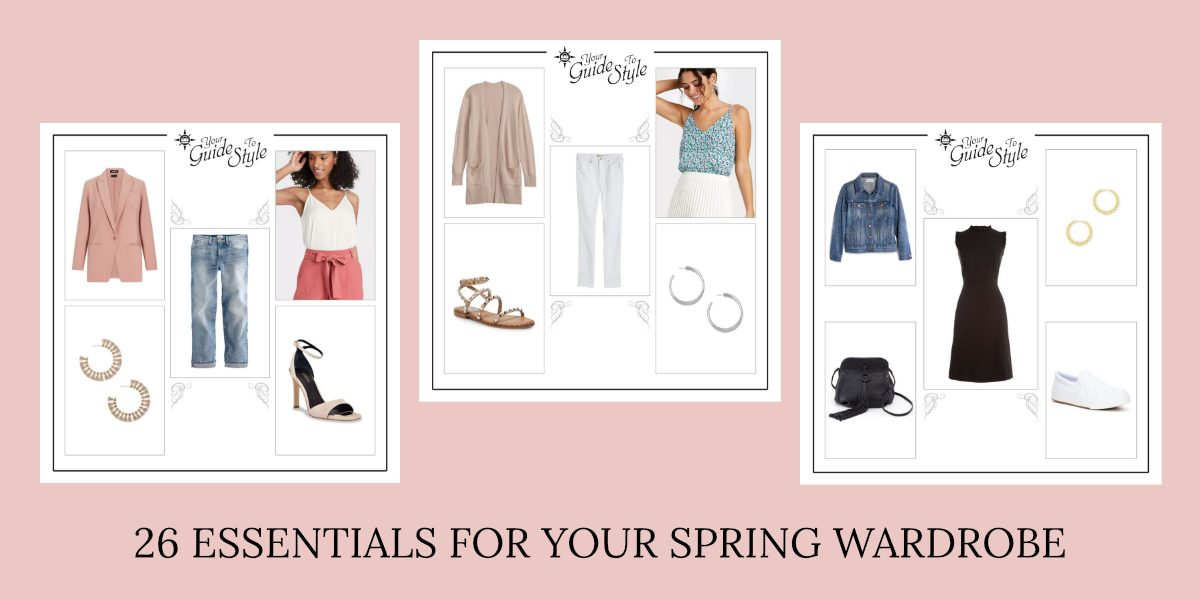 Do you want a daily wardrobe that is simple and versatile?  One that requires very little thought about what will go together because almost everything goes together?! If so, you will want to continue on until the end! 
If you want a free download of my 26 Essentials that is a little more detailed than this post click HERE!
If you say to yourself that you want more pizzazz to your wardrobe than this, I would like you to think of these essentials as a "canvas" to your wardrobe like an artist uses a canvas to create an amazing work of art. You will need a foundation to create that beautiful work of art called your wardrobe.
I am approaching these essentials with the idea that you COULD have a great wardrobe with these options without adding a single other item.  I will suggest to you the basic types of pieces to look for and will give you some options for each item but ultimately it is up to you to choose exactly what it is that you love and would wear.
Here are a few tips when shopping for these items:
Stay with a color scheme that goes together.  Print tops should be able to match any of the solid bottoms in your wardrobe and vice versa.
Find things that you personally love and will want to wear A LOT!
Your choices will need to match your lifestyle. For example, if you work from home and can be casual then pick things that make sense for this type of dressing.
Add a couple of things that could be versatile enough to dress up just in case you need something for a dressier event.
For all my fellow visual learners out there I am also providing a video for you below!
Tops
Versatile T-Shirts
Versatile t-shirts are the foundation for your casual everyday outfits. There are three categories that I think will help you create stylish casual outfits all the way through summer.
Basic T-Shirts in Black, White, Grey or Navy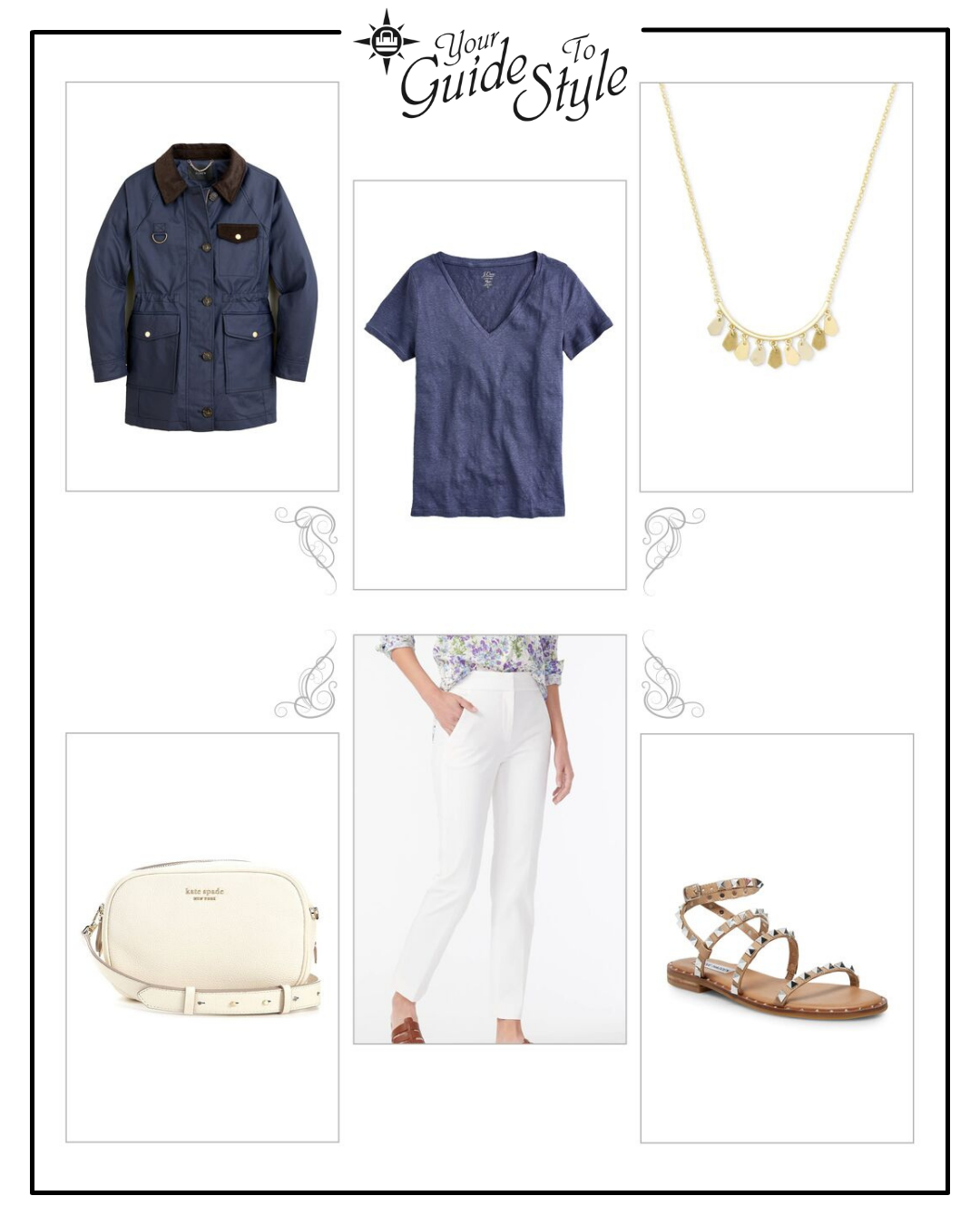 I recommend at least 3 of these maybe 4 if you want to add a color. A crewneck, scoop or V-neck style t-shirt in black, white, navy or grey will give you the most versatility.  The boat neck, jewel neck, cowl neck, etc.. options are limited when it comes to layering. 
I would choose up to three neutral colors like these and add an additional color option if you know you will wear it a lot. I actually added a pink tee to my basic tees because it's my favorite color and I know I will wear it.
Striped T-Shirt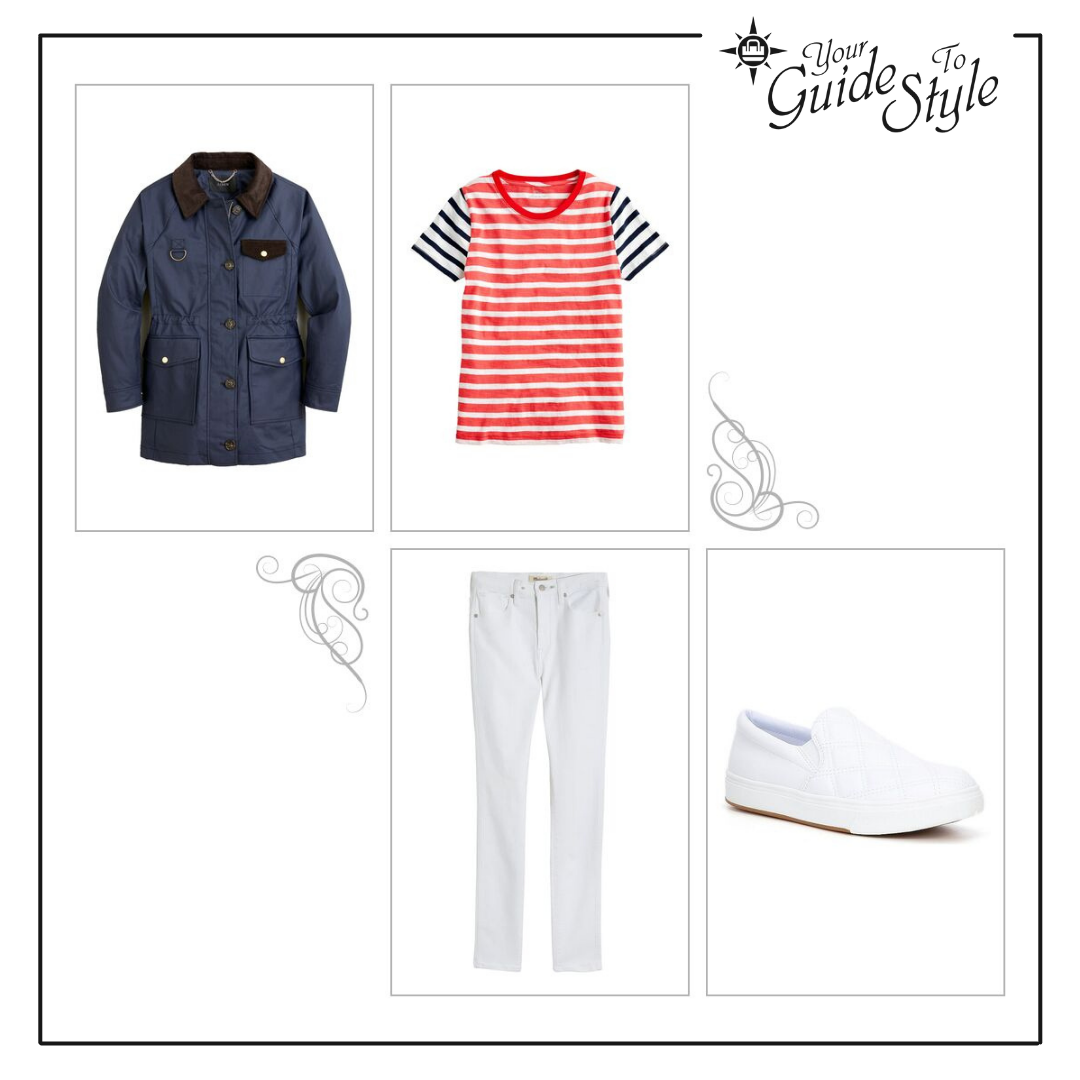 A good striped t-shirt will bring so much more versatility to your casual daily wardrobe. They can be paired with other prints if the color combinations are right and literally any of your solids.  Smaller stripes are a better choice but it also depends on what looks best on you.  
 I would choose a striped t-shirt that is white with another color. My choice is a navy and white because I can wear it with almost anything I have for layering. Black and white or a color like coral in the photo below would be great options as well.
If you do not like stripes choose another all over print tee that you will like and wear often.
Graphic T-Shirt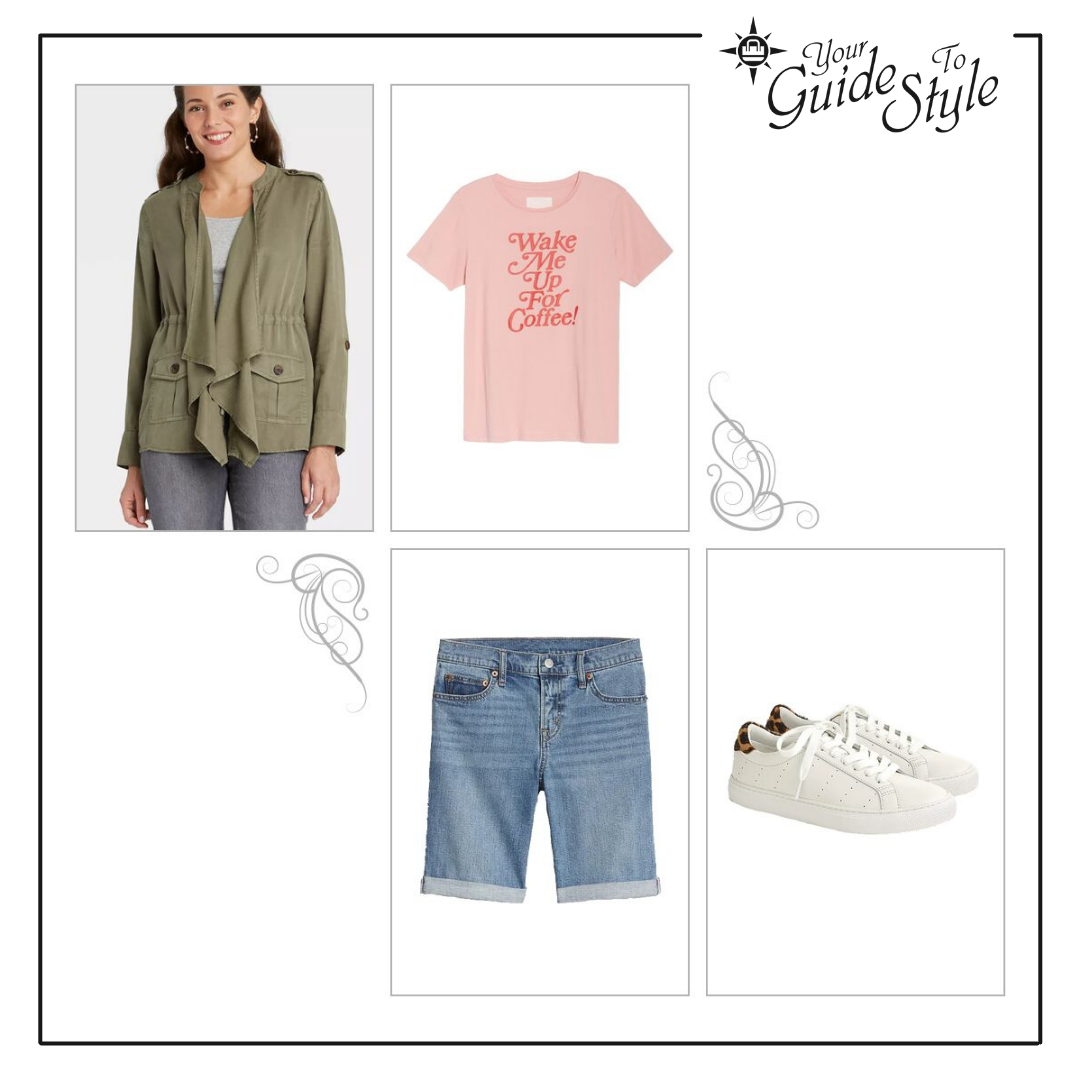 This could be considered a trendy item but I think it can also be a fun basic. They often come in neutral colors so they can be paired with lots of different things for an updated look.  I often choose my graphic tees over my solid ones!
Solid Button Down

Solid button downs are items in your closet that can provide lots of versatility to your outfit options. They are great layering pieces and can be paired with numerous other items such as skirts, pants, jeans and shorts.
Guess what!? You can even tie them at the hem and wear them over dresses! I recommend two options that you can choose from or get both!
White Button Shirt

– This is an easy piece to wear by itself or layer under your cardigan or jacket.  It is also trending for the spring/summer 2021 season to wear it over sized.

Chambray Shirt

– A good chambray shirt can take you many places from an easy casual day outfit with white jeans and flats or to dinner with your husband in white jeans and heels.
Print Blouse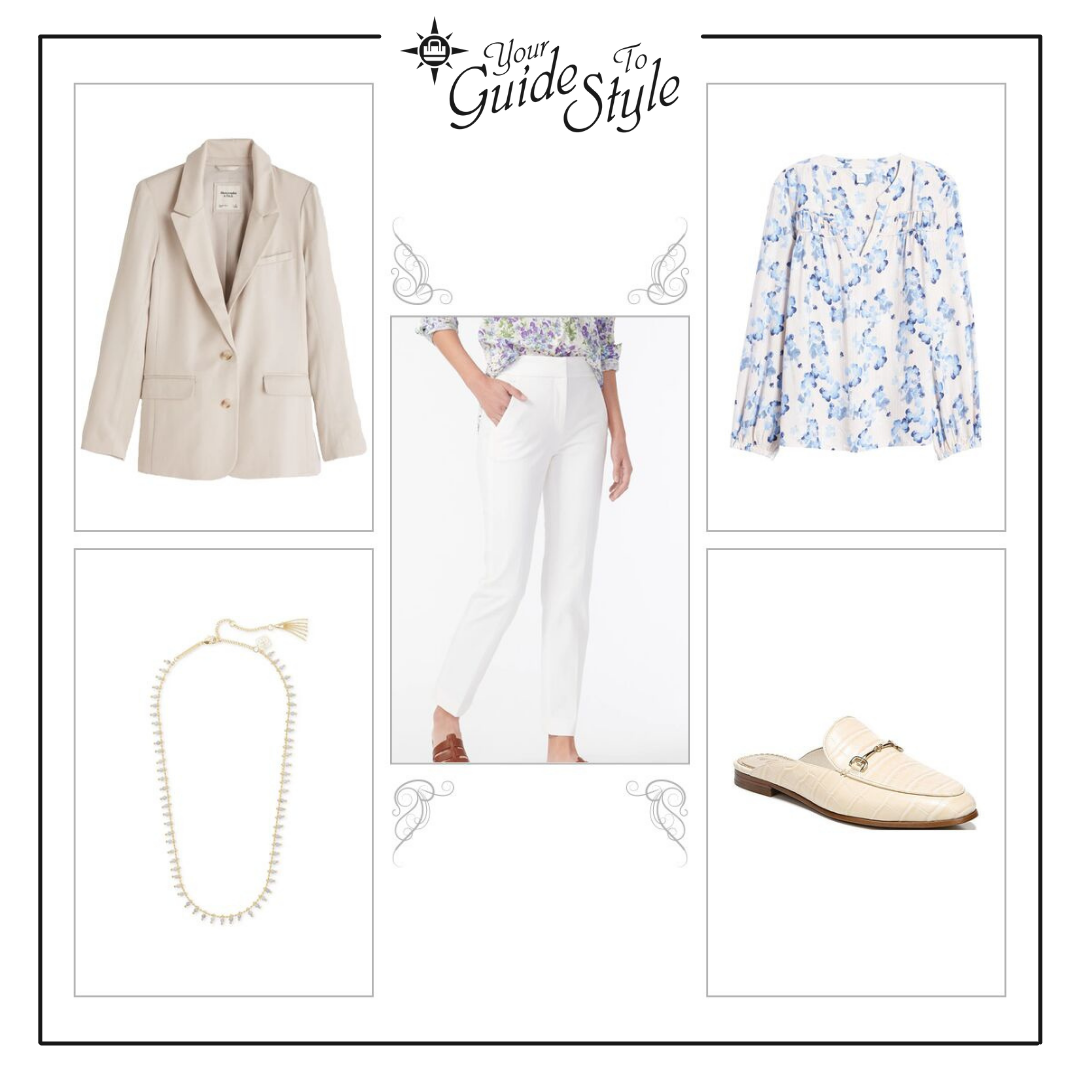 A print blouse is great to have in your essentials because it will help you create more interesting outfits with all the other solid and neutral color items.  I chose floral prints as my recommendation but you can choose whatever print makes your heart sing. I know floral prints are not loved by everyone, so find what works for you.  Just make sure it's something you will wear often!
Solid Blouse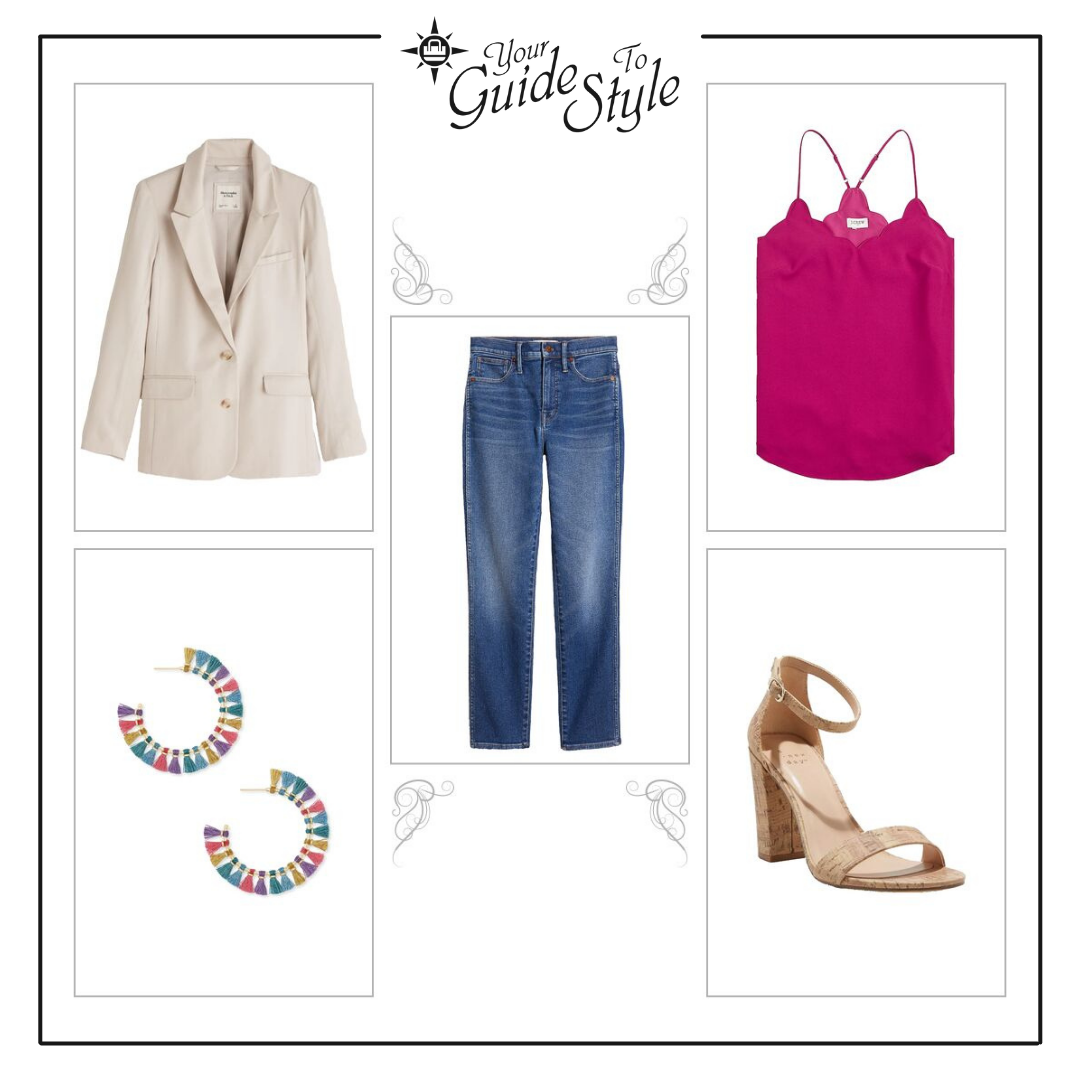 I recommend a solid blouse that is either a camisole or a regular pullover or wrap blouse with sleeves.  You can add this to your spring essentials as a replacement for the print blouse if you decide you would not wear it.
The reasoning behind the print blouse and the solid color blouses are to give you the ability to make your jeans and other bottoms look more dressed up.  T-shirts are only good for really casual looks so these will help you create semi-dressy outfits for dinners and events.
Layering Pieces 
Spring Blazer
The photo above with the solid blouse also represents the type of blazer that would be perfect for you spring wardrobe.
A blazer is my number one choice as an essential for any wardrobe. If you do not own one, I highly recommend trying it!  They are considered the most versatile item because they can be worn completely casual, dressed up and as work wear!  A blazer does the best job of making any styled outfit look intentional and like you mean business; even if it's just layered over jeans and a tee.
Denim Jacket 
I think a denim jacket is a must have item for our wardrobes! Not just for spring and summer but year round. You can literally wear it with almost anything!!
It especially works for the warmer months because it's mostly cotton and light weight.  It also compliments the lighter fabrics and pretty colors in the spring and summer seasons.
I recommend a classic blue denim jacket, but if you are a girl that loves to wear blue jeans like me than you can consider adding another color such as a white to your essentials as well. The reason for this is denim on denim only works if you have two very different color denims or the exact same. 
Lightweight Utility Jacket
A lightweight utility jacket is something that you may not think you would wear but would actually wear the heck out of it! That's what happened to me.  I purchased two of them a couple of years ago and constantly grab them when I am running out the door in the springtime.  I have a pink one and an olive green one and love them both.  
You will be amazed at how well it works with your casual and semi-dressy outfits if you need an extra layer.  There are always a ton of options available in the spring season so catch one while you can! You will wear it for years!
A Neutral Cardigan

A cardigan seems to be the most popular item for women period.  I think it's because they are comfortable and versatile so they make the perfect essential for spring.
Choose a cardigan that would work with almost everything in your closet.  Maybe a navy, tan or gray color.  These colors will pair well with everything else you choose. I also recommend finding one made with cotton, acrylic or a blend like cotton/viscose and try to stay away from wool.
Rain Jacket

I feel like this is absolutely essential for your spring wardrobe. It rains a lot in the spring and there are usually some really good stylish options available.  Some are so cute you would never think they were considered a rain jacket.
Choose whatever color you want!  In fact, you can have fun with the color and even choose a print.
Bottoms
White Jeans
I can not stress enough how perfect white jeans are for your spring/summer essentials.  They are as essential as black jeans are in the fall/winter season.  There is a perfect pair out there for you no matter what style you prefer!  I have an entire video about How To Find The Perfect Pair Of White Jeans that will definitely get you moving in the right direction. 
Light Wash Jeans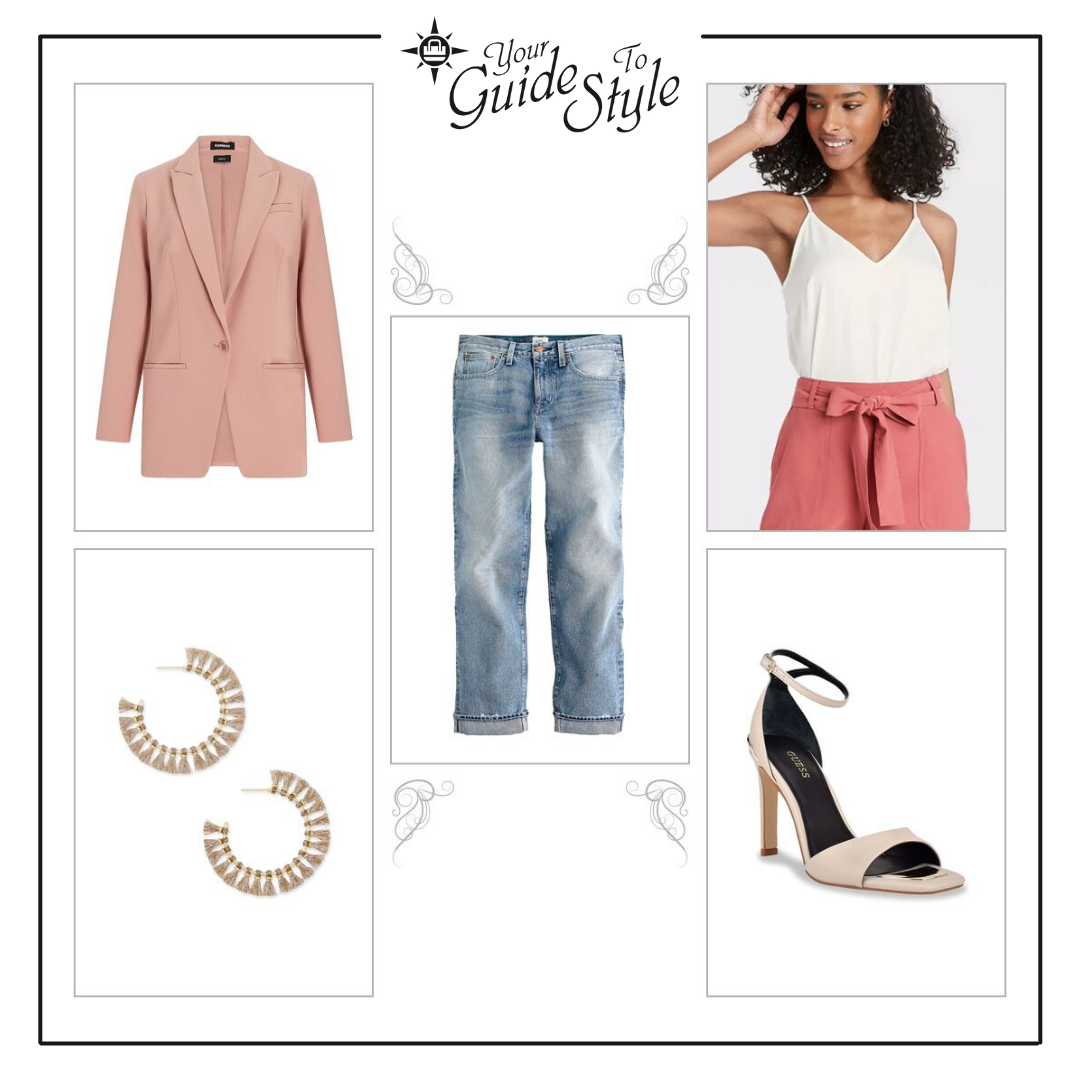 A great pair of light wash jeans will help bring a freshness to your spring wardrobe. You should have a pair of dark jeans from you fall essentials, so adding a light to medium wash jeans will either replace this or be an addition to it for the spring season. It is up to you what style you choose.  
Neutral Pair of Pants
If you have a professional job or go to church on Sunday's it is essential that you have a neutral pant in your wardrobe for the spring season. I recommend any neutral colors like navy, tan, beige, ivory or white.
A good pair of pants will also serve you well if you have any other activities that might arise that would require you to dress in more than just a pair of jeans but you don't have to be "dressed up".
Shorts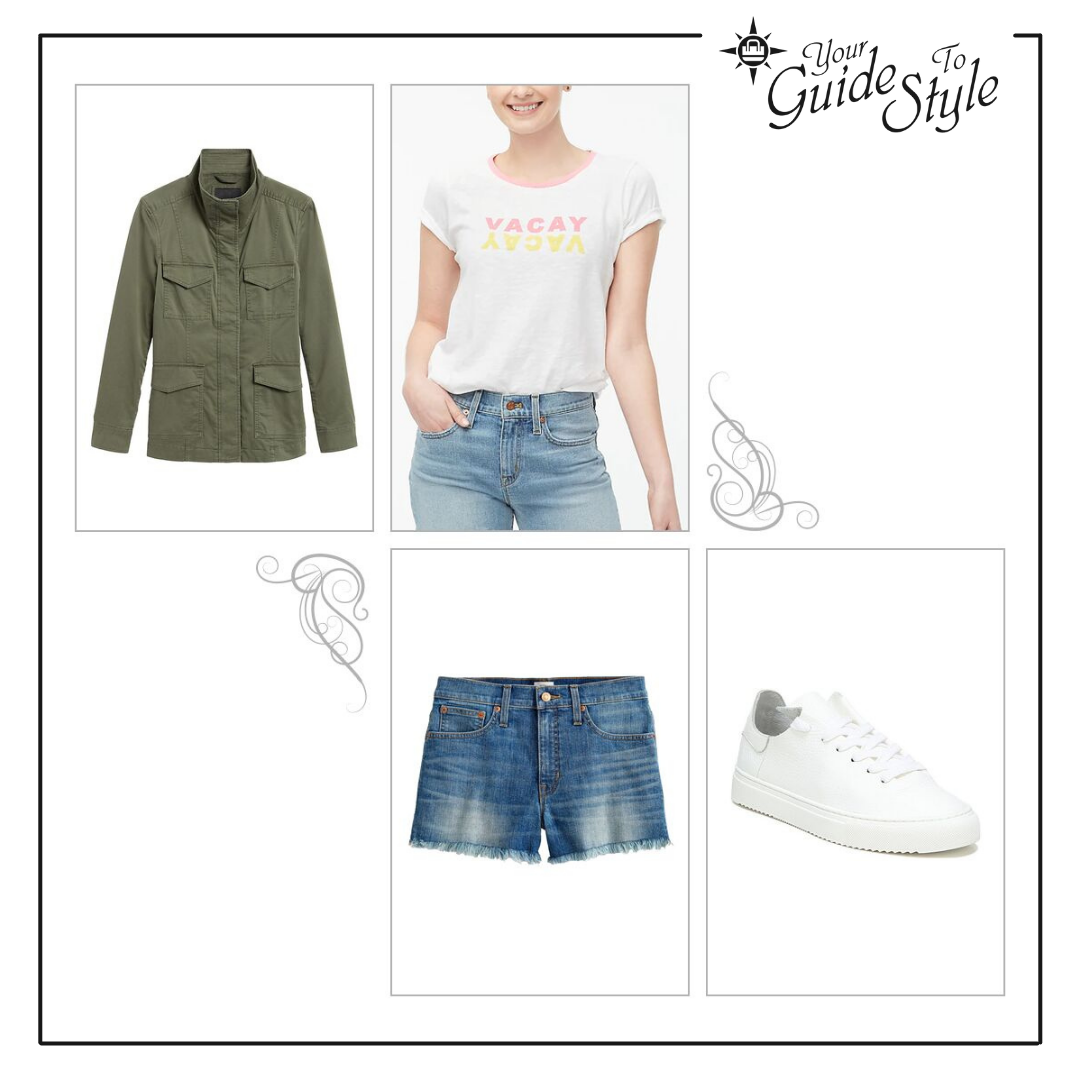 I feel like shorts are a necessity for some people but if you do not wear them that is fine too.  If you live in the south or a tropical climate than these are a must have. There are so many different lengths and styles to choose from, so just pick what works best for your comfort level. I have denim in the photo above but you can choose any material that would work in your wardrobe.
If you will not wear shorts than cotton ankle pants or capri's would be a great substitute.
Skirt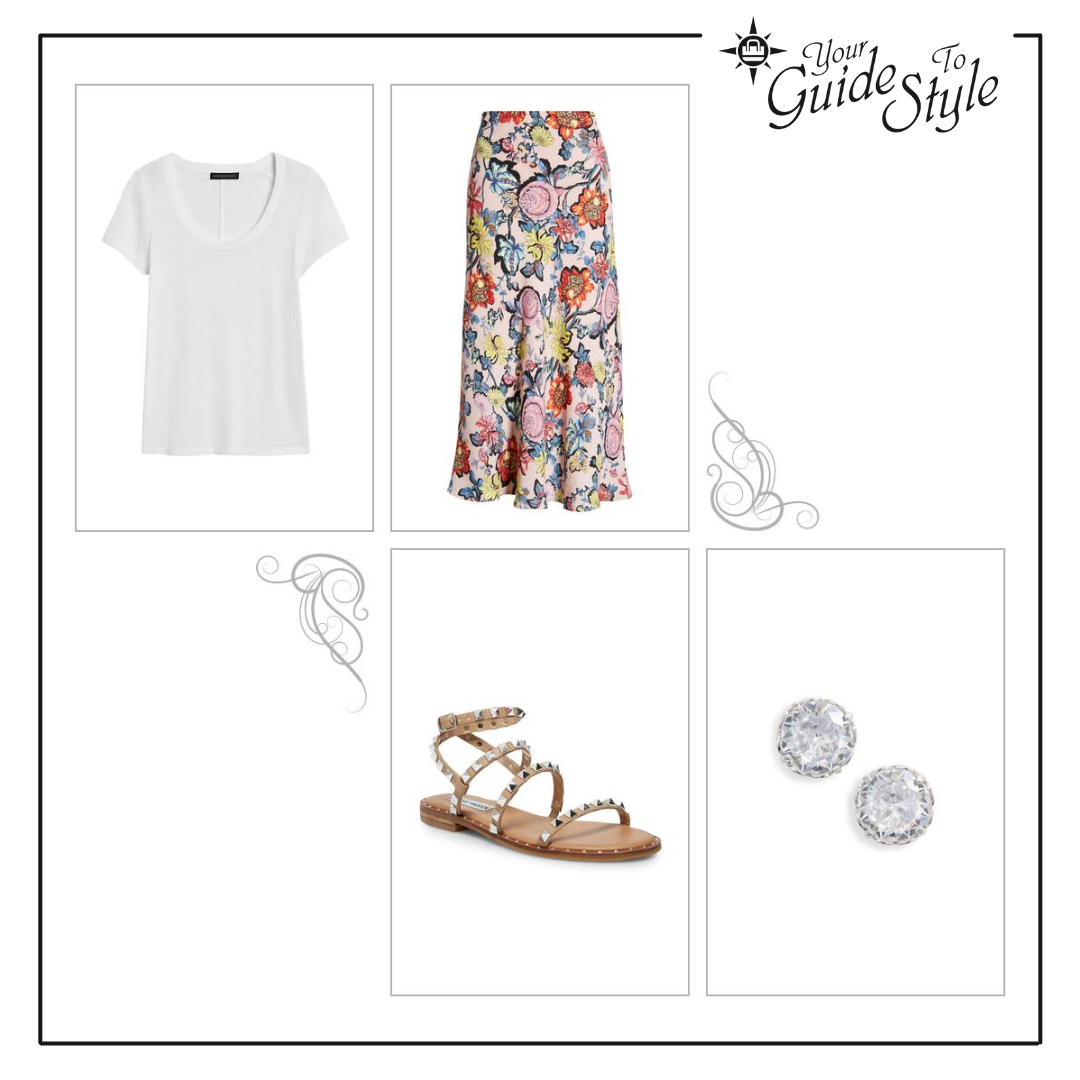 A great fitting skirt can provide you with lots of cute outfit options for casual or dressy activities in your life.  I recommend finding one that fits your body shape the best.  I chose an A -line floral print skirt in the outfit above for my example because I think this will fit a lot of body shapes and it looks great styled with a t-shirt and sandal or a  white button down shirt and heels. Throw on the denim jacket or blazer and you have two more outfit options!
You can choose a solid color skirt over the print and it actually might allow even more outfit options because you could pair the print blouse with it for a dressy option.
Other
All-Occasion Dress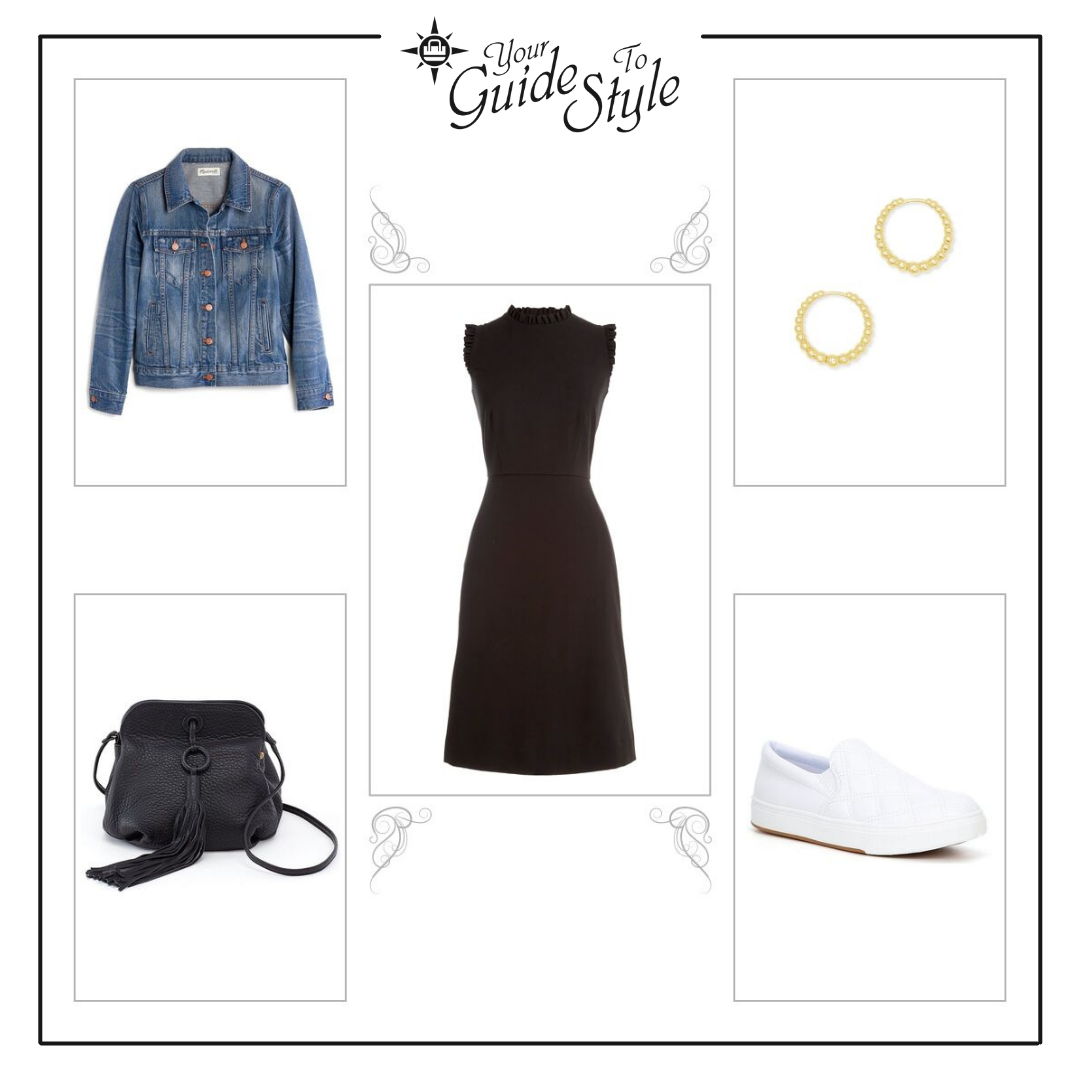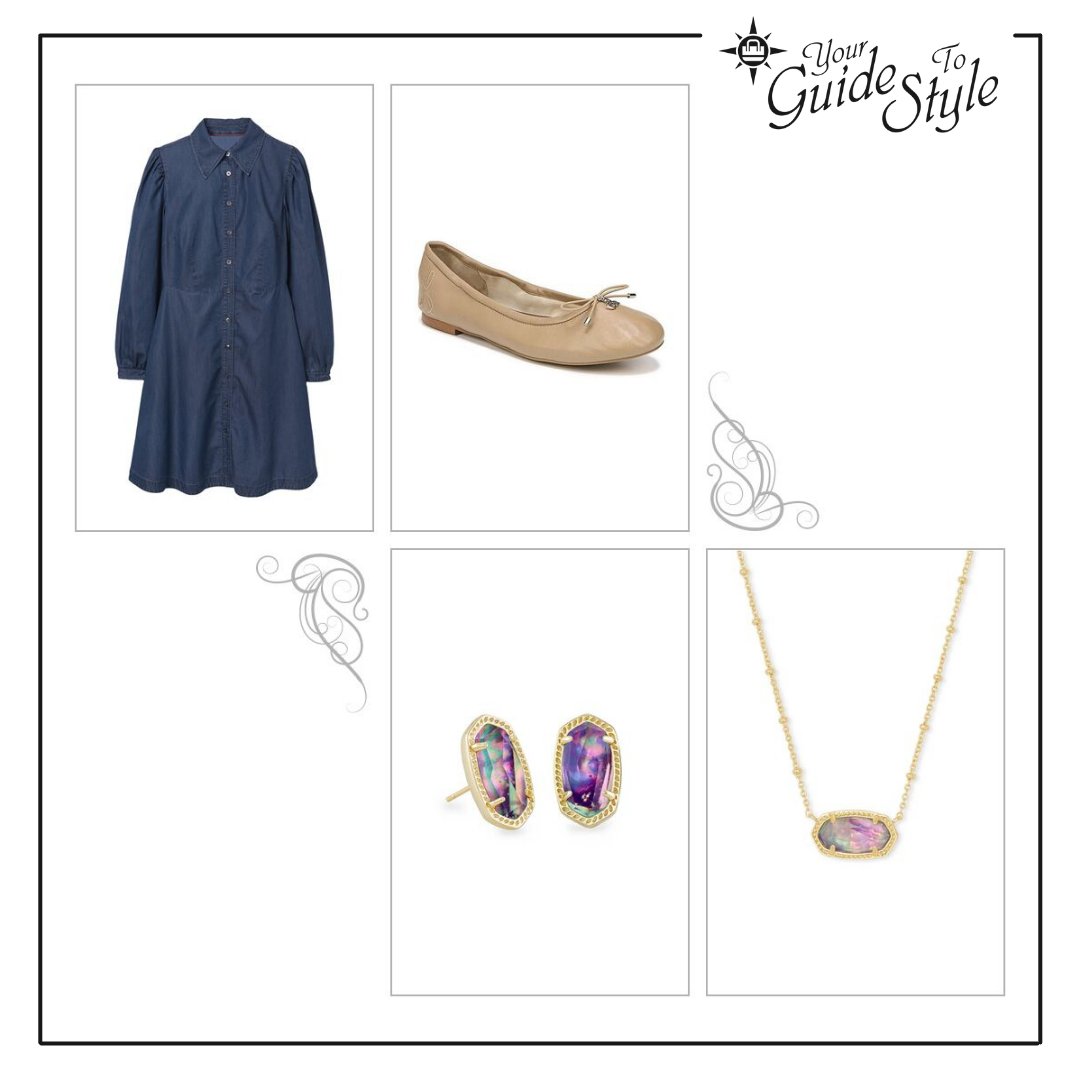 Having a great dress will prevent you from having that "OH NO, I have nothing to wear to an event like that " moment!  The only event it would not cover is a fancy cocktail party and those come seldom for most of us and it would give us a good reason to go shopping!
The dress you choose could be a LBD for year round or something solid that is great for just the spring/summer season.  If you want something other than or in addition to the black dress I suggest you stay with a solid color and a fit that is flattering on your body shape.  
The second suggestion above in A Stylish Basic outfit is a shirtdress because they are so popular right now and can be styled casually or dressy.  I also have a blog post about my Top 5 Spring/Summer 2021 Trends That Are Totally Wearable that includes a shirtdress if you want to check it out.
Shoes
There a several shoe options that I recommend so you can have what you need to create casual, semi-dressy and dressy outfits with all of your essential wardrobe pieces without having to think about needing anything else.  They are listed for you below!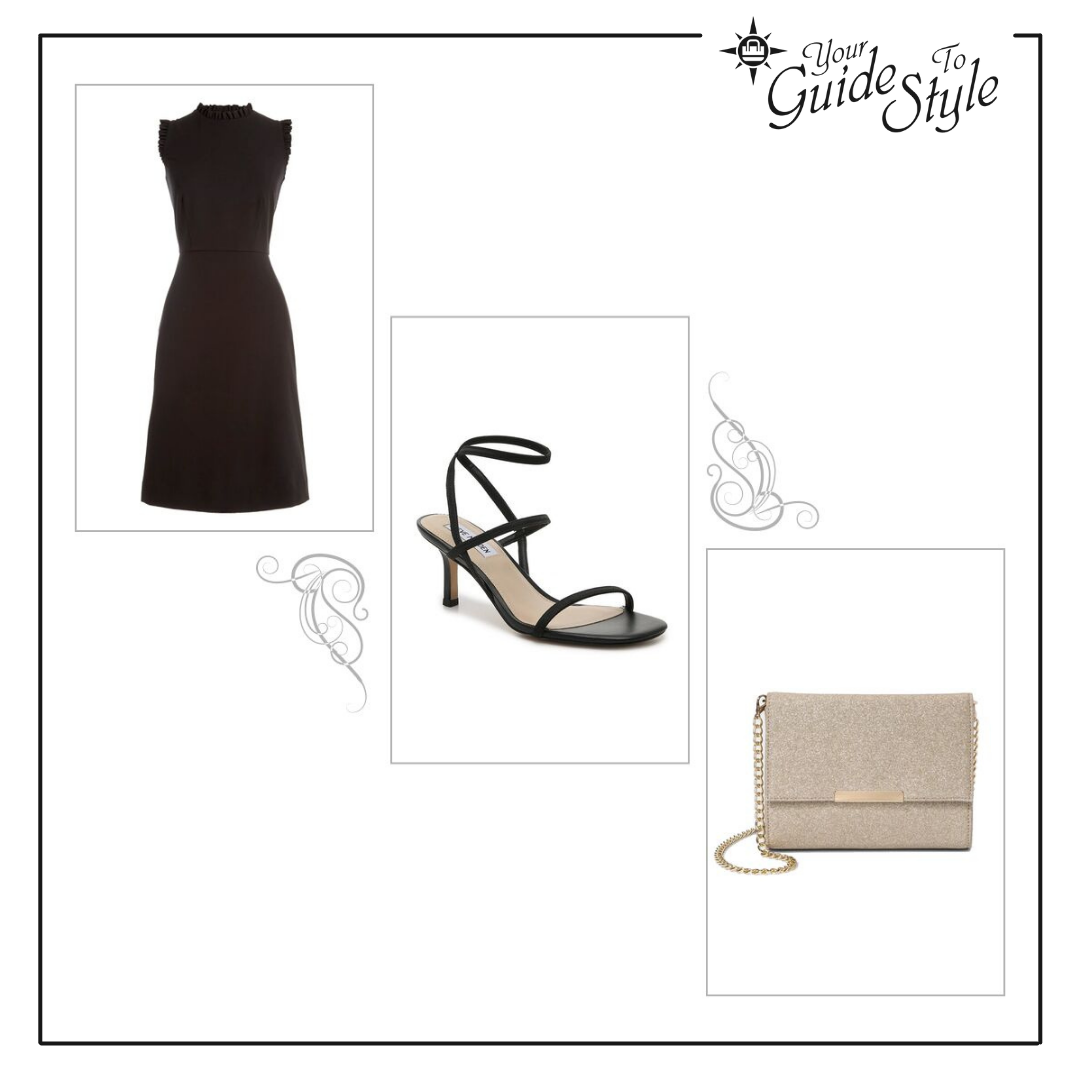 Closed Toe Flat
 It is really up to you what style flat you choose. I would stick with a neutral color like black, tan, gray or even blush. You can add other shoes later but this one will be your basic shoe when nothing else works.  It should be something that is compatible with any of your outfits.  Some examples are loafers, ballet flats and mules.
Low or High Heels 
This will allow you to dress up pieces like your all-occasion dress and pants.  The will even dress up a pair of jeans.  A pump would be a great closed toe option or a heeled strappy sandal  would work perfectly. You actually might want to consider both.
Daily Sandal
What is your favorite style sandal?  Whatever that is, choose it, because you will wear it the most. Pick something that again is versatile, comfortable and a solid color which will easily go with most of your basic pieces.  
White

Neutral or

Sneakers  
I added this as an essential because I think it is something that has become so popular in the last few years that it has become a necessity. If you purchase a lace-up or slip-on sneaker in a neutral color like white, black or tan, it will literally go with any of your casual outfits.
Accessories
Accessories are a great way to amp up any outfit and a great way for you to add your own personality into your outfit.  The three best basic accessories are:
Handbag
I recommend choosing a handbag that you love and will go with everything in your wardrobe.  I really love a good crossbody handbag and think it's the most versatile.  You can also find them in various sizes depending on what you need.
Earrings
This is my personal favorite accessory and it's a fun way to make a statement.  There is no right or wrong choice here.  But if you want something just to throw on every day with whatever you are wearing go for great hoop earrings, huggies or studs.  
Necklace
I recommend adding a simple necklace to your wardrobe that can be casual or dressy. Especially if you like styles with more open necklines, like a V-neck. They can also be layered with other options if you choose to add to your necklace choices.
This has been a really long list and I could have actually added more but I think these are good enough to get you lots of items that will create more outfit combinations than you could probably wear in a season!  These essential pieces will cover the range of casual style to dressy style for whatever comes your way.
Please let me know in the comments if you think there is anything that should also be on this list that you just can't live without!
Stylishly Yours,