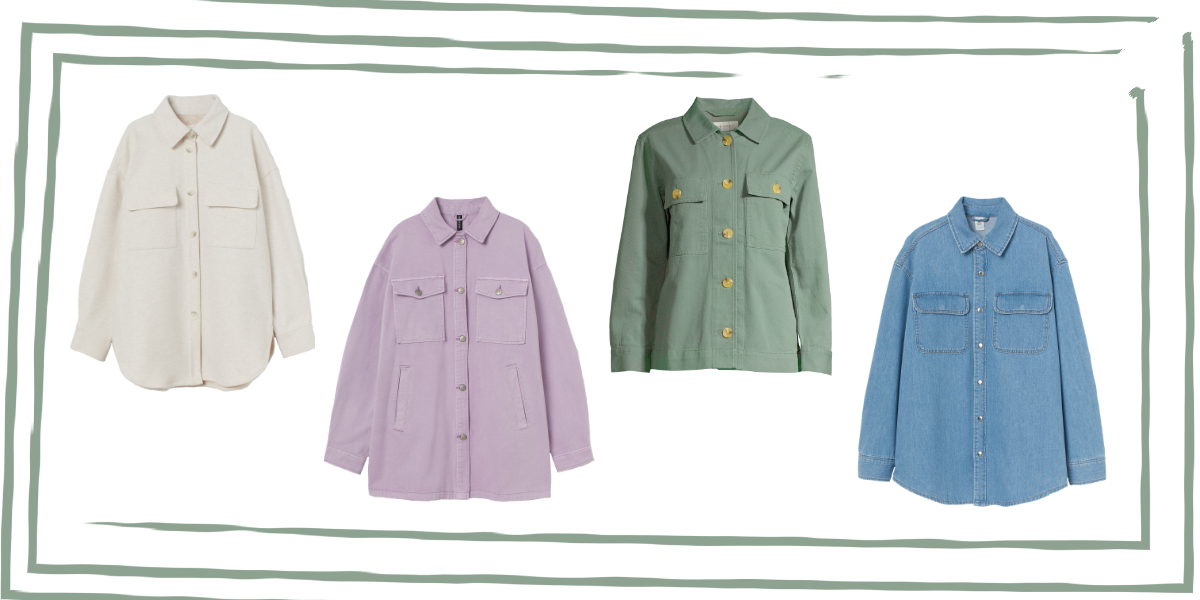 Do you struggle with finding a really good pair of white jeans that fit just right and don't show everything that's underneath? If so, you are not alone!!  It really does take some work to find the right pair and I am here to try to make that process easier.
First, I want to say that I think white jeans are as much of a staple for a spring and summer wardrobe as black jeans are for fall and winter.  A good pair will work with almost any tops in your closet and should last you a few years. I personally don't know what I would do without my white jeans in the springtime because I just feel brighter and springier when I wear them, if that's even a thing!
Just in case you were wondering where my knowledge came from, I became very aware of the issues around finding the right pair of white jeans from my 20 years helping other women find theirs!  
I hope these tips will help you find your perfect pair of white jeans!
If you are into videos and are a visual learner, than check out the video below!
I am going to touch on 3 things:
Noteworthy Tips
How To Shop
How They Should Fit
Noteworthy Tips
Wear nude underwear that matches your skin color.  Not all nudes are alike. I have fair skin with pink undertones so my nude undergarments are more of a light pink.  If the nude is darker than your skin it will show through the white.
It is often an issue that the front pockets will show through the jeans.  What I recommend is to have the actual material of the pocket shortened or removed.  You will lose the pocket but most of us don't use the pockets anyway. They would just take out the excess material and sew up the pocket, so it would still look like it's there.
If they are 100% cotton this does not mean they are going to be better or more opaque.  This is a common misconception and 100% cotton jeans are a completely different animal than ones with spandex.  Just beware!
I got so lucky a couple of years ago and found my perfect pair of skinny white jeans at Old Navy (not the place you would think for white jeans)  and they actually have NUDE color pocket material on the inside so you don't see it at all!  I am still wearing these jeans today!
How To Shop
If you have a particular denim brand you prefer then that would be a good starting point because you already know the brand fits you well.  This may not always turn out to be the best option but your chances of success are higher than starting from scratch.  I know from personal experience that some brands just fit me better than others and I always want to go back to that brand when I want another pair.
Always ask for help if it's available (I know this is becoming less and less of a thing) and/or bring a friend!

If you are shopping online, order two sizes. After reading the reviews you should be able to determine whether or not they run big or small. If the reviews do not give you an indication of how they fit then I recommend you order your normal size and a size up.

Wear your nude underwear when you go to try on the white jeans.
Look for material combinations that you are used to wearing.  Check out the labels in your blue jeans and see what they are.  If you like cotton and spandex then you will probably like that combination in a pair of white jeans.
 Make sure when you try them on that they are opaque enough that you don't see your nude underwear through them.  Do not settle! Keep looking if you can't find the right opacity.
How They Should Fit
The jeans should fit your body.  I recommend you try on your normal size and a size up.   When I worked retail, more often than not women would size up in a white jean because they were more comfortable. As long as they fit your body and are not too big this is okay and brings me to my next point.
Be aware of how much the white jeans are going to stretch.  The less spandex they have the more they will stretch.
When you try them on, move around and get a feel for them and how comfortable they will be for you.  Do some squats, sit down and just move around to get a feel for the movement and stretch of the material.  This is actually beneficial to do when you try on any kind of denim.
Find a rise that is comfortable on you. A rise is not created equal for every shape. For someone with a longer torso, the higher rise will not be as high. A mid-rise is a good in between and fits most people.
The majority of styles are going to be ankle length and this is my recommendation because it will look best with sandals and sneakers and any of the tops or tees you will be wearing.
Stick with what style of denim fits you best.  If it's skinny jeans, then shop for skinnies.  The reason is that if you change from your norm you will have to not only get used to wearing a different style but also get used to it being white. Just don't do that to yourself!
There is no fast and easy way to find the right pair of white jeans but I do think that these tips will help you narrow things down and get you closer to finding the perfect pair.  Honestly, I wish I could go shopping with each of you and help you find them but unfortunately I can't.  But I CAN try to give you what is in my head from my experience and just hope that it helps.
Quick Suggestions
Now, I can't let you go without showing you some options to choose from AND some cute outfits styled with white jeans!!  The outfits of course are from my online style app, Your Guide To Style, that you have to check out if you haven't already! AND you are so missing out if you haven't!
The white jeans I am sharing all have really good reviews online. I will provide a link below each photo if you would like to check them out for yourself!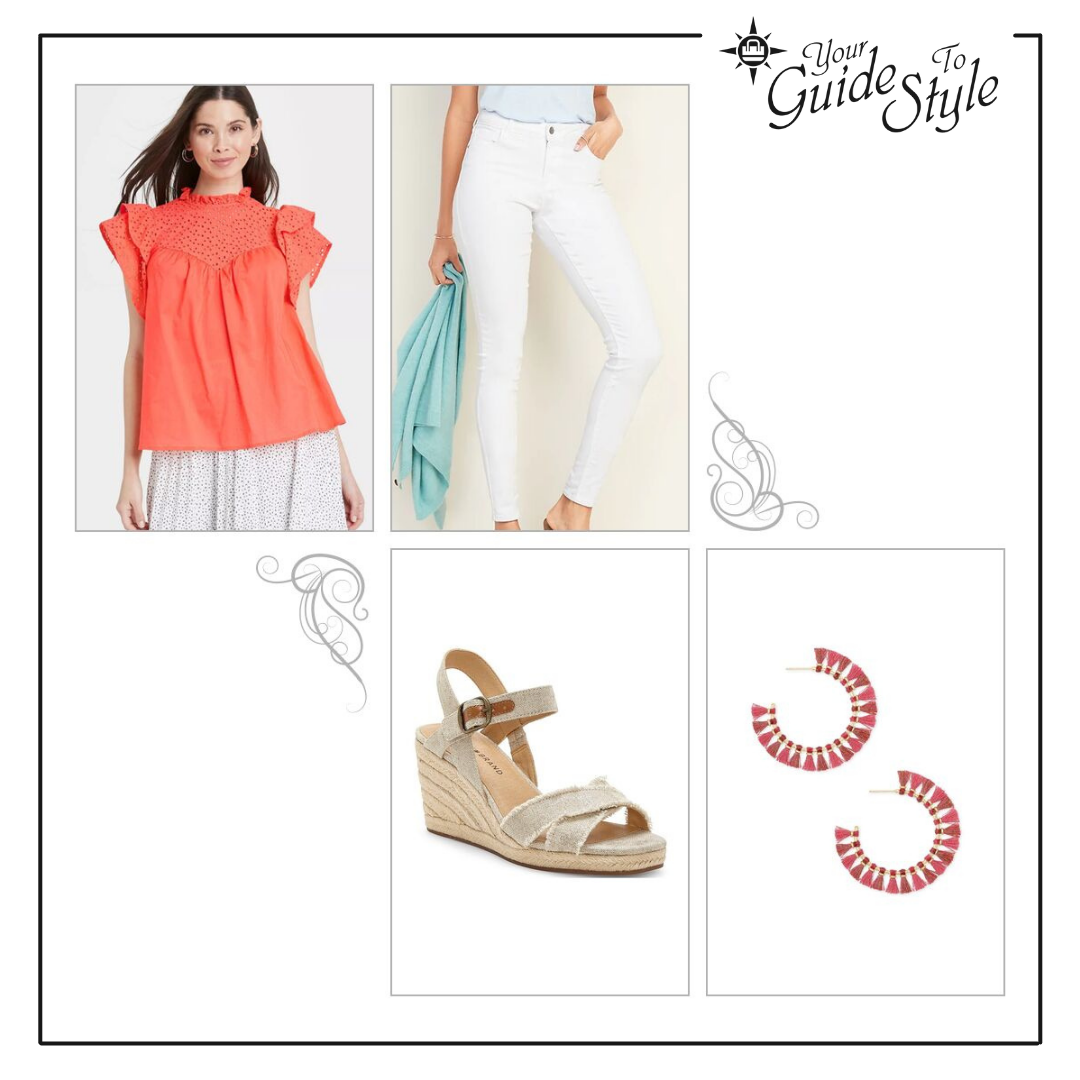 This first outfit above is called Never Too Many Ruffles has a pair of the Old Navy Rockstar Super Skinny Jeans which is the same style as the ones I own, mine are just distressed.  This is a low cost version that fits really well. They are a mid-rise and have some stretch. The only difference is mine have holes in them.  I am not sure if these have the nude pockets like mine because it did not say in the product details.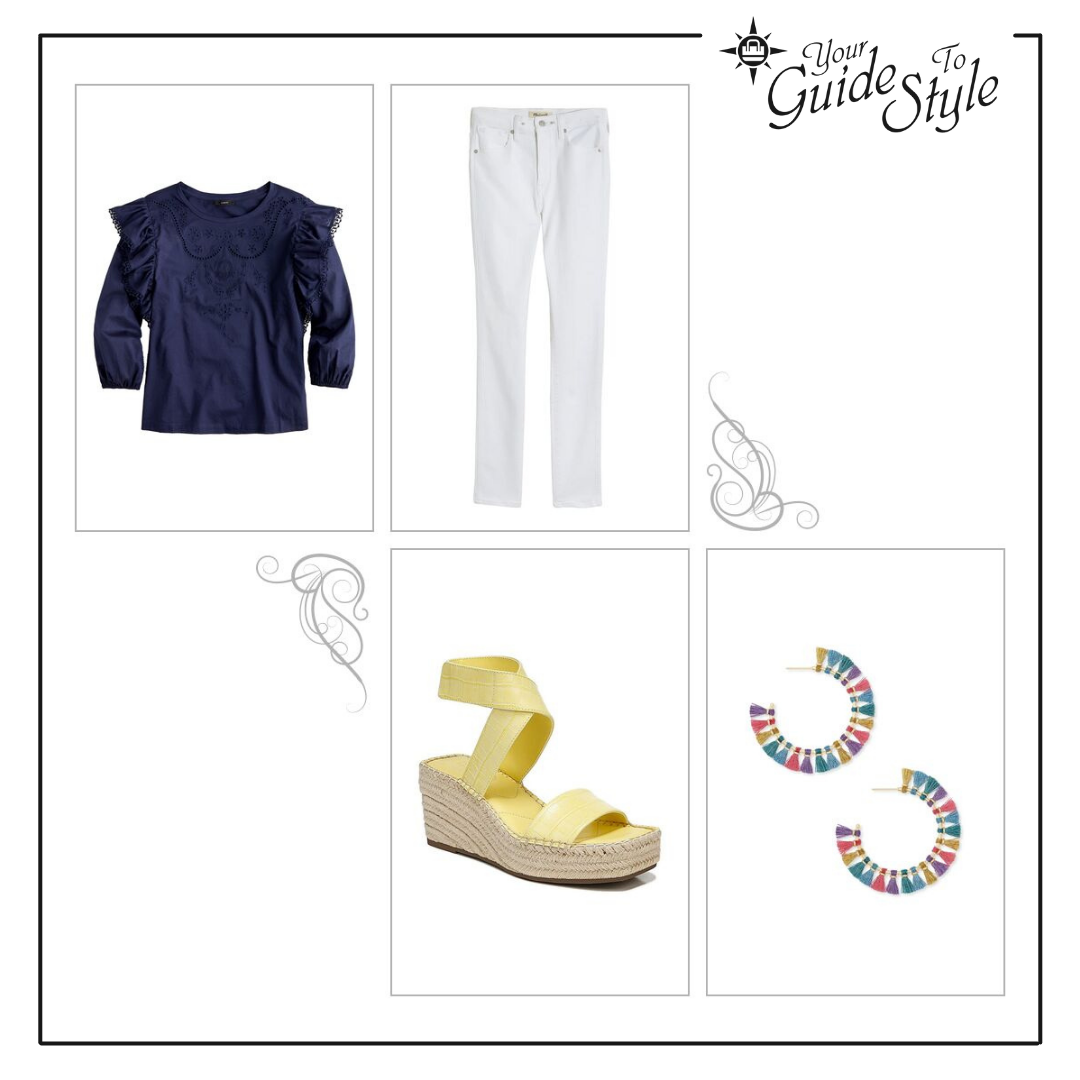 Another great option if you like higher rise skinny jeans is the 10″ white skinny jeans from Madewell.  It has been around for a couple of years and has really good reviews.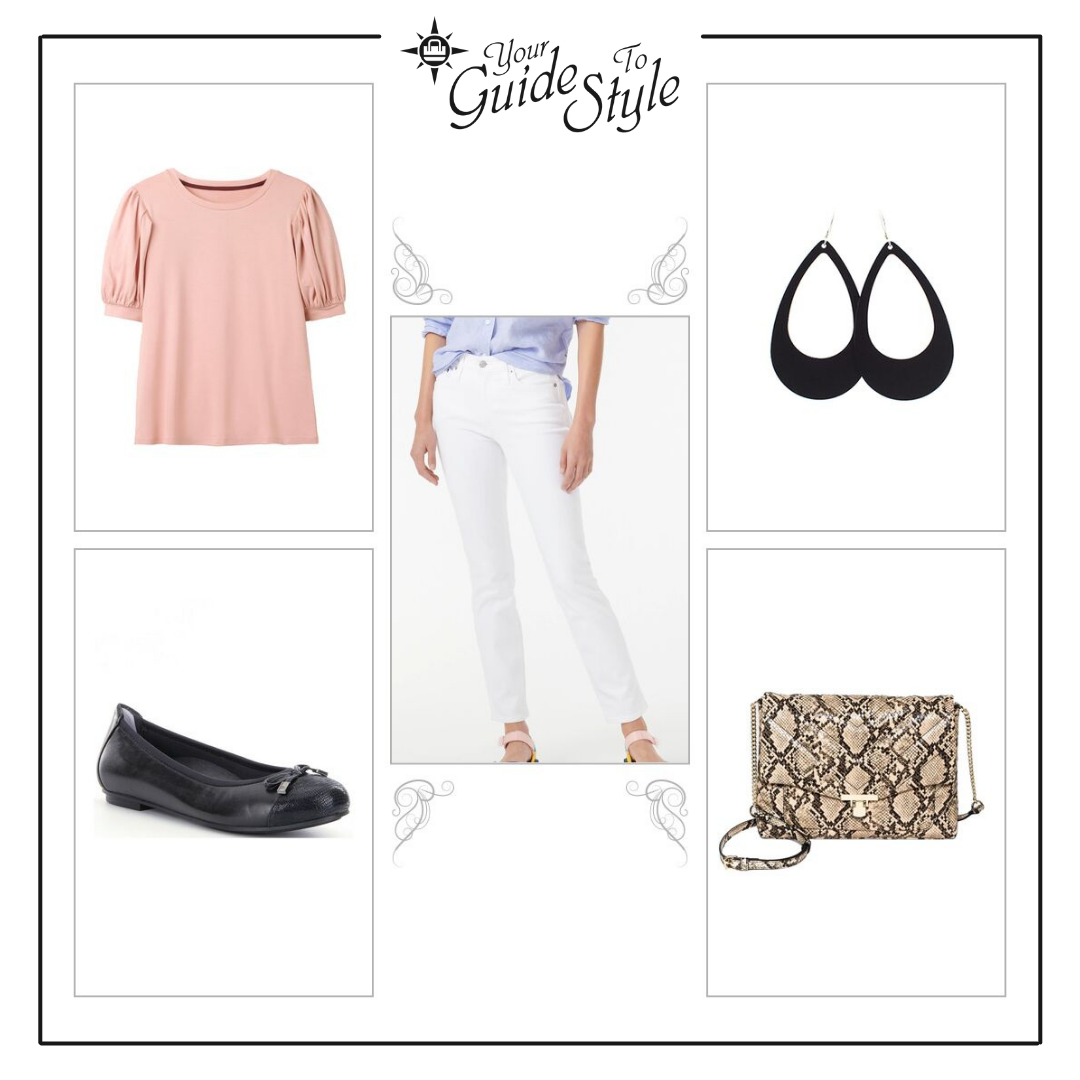 This third outfit called Just A Cute Popover Top is with a straight leg and 9 inch or mid-rise waist. It has 3 reviews that give it 5 stars. I am a huge fan of J.Crew jeans because they have 9 inch rise options which is the perfect rise for me. This would be considered more of a mid-range price point.  They also have some options in a skinny leg that are linked with the products above.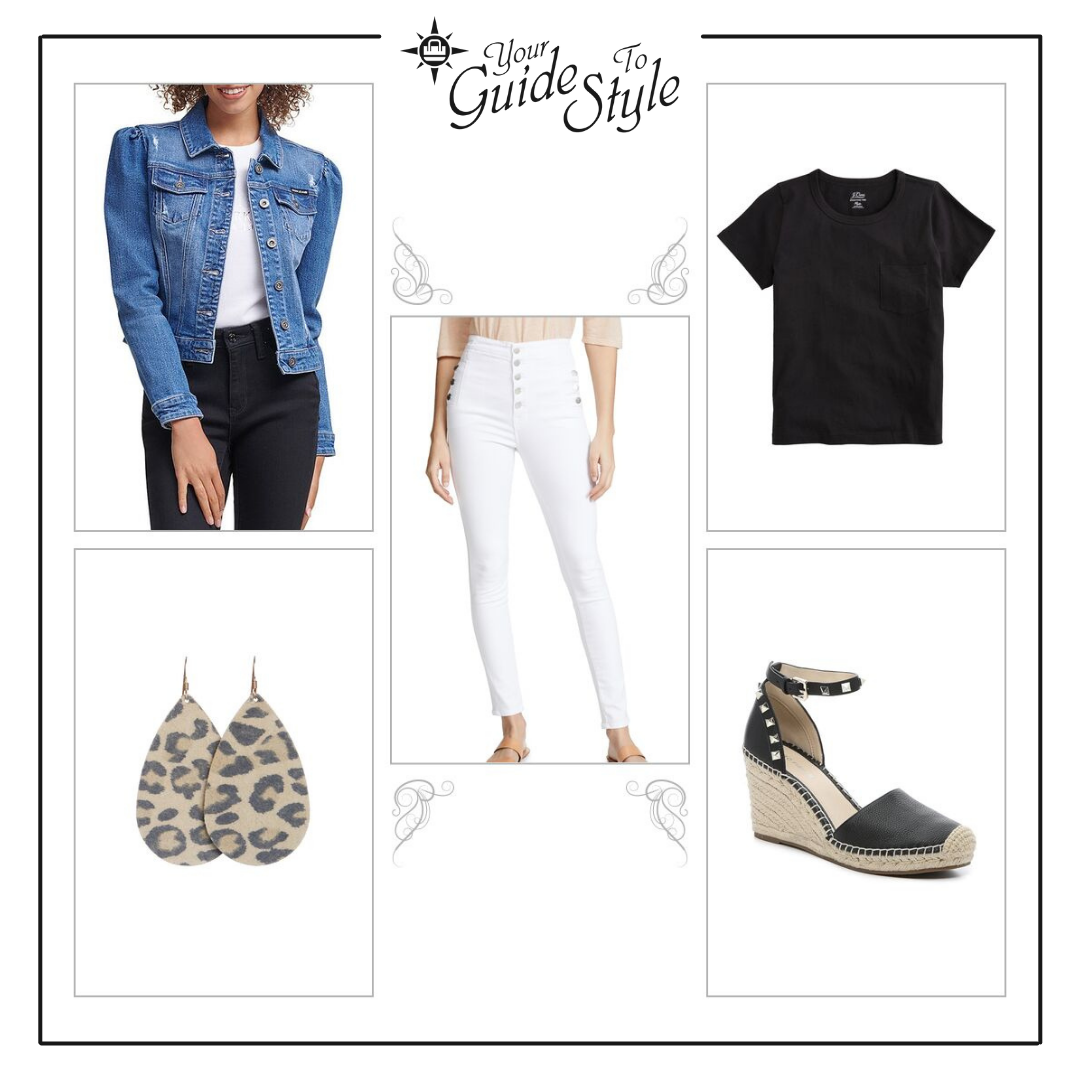 The last outfit is called Perfect Denim On Denim and is with a pair of J Brand skinny jeans that had really good reviews on Shopbop so far.  I love the exposed buttons and the buttons on the pockets! I use to own a pair of J Brand white skinny jeans several years ago and they were my favorite at the time.  They really make great contemporary denim that  fits a lot of women well.
There are some other high-end options that I will provide links below as well. These are brands that I am familiar with and usually fit really well.  I wanted to make sure I included options from a variety of price ranges.  Although I don't think price has to do with whether or not they will look or fit any better.

If you have an questions please leave them in the comments below! And I wish you the best on finding the perfect pair of white jeans!
Stylishly Yours,