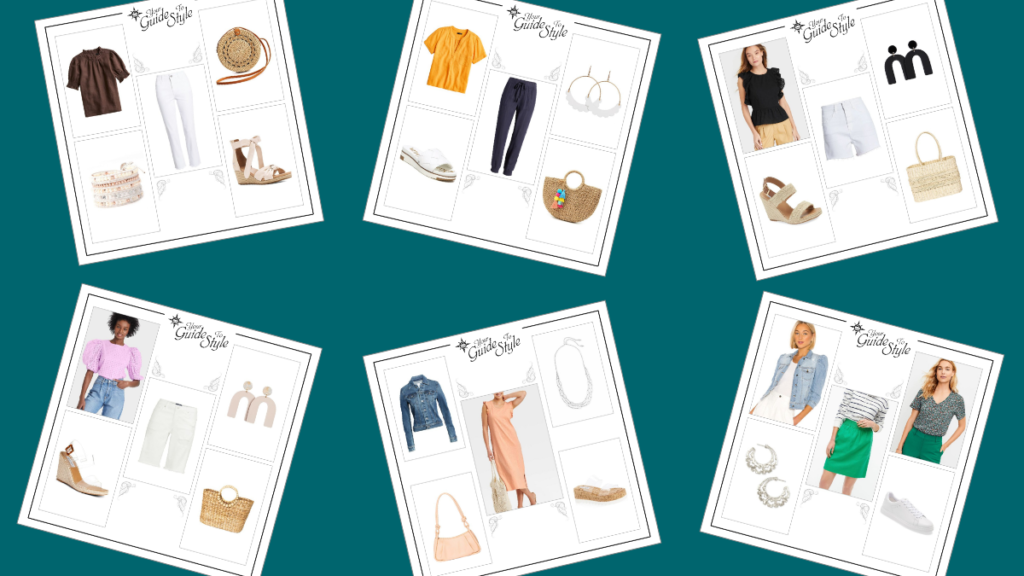 Hey there! Thanks for stopping by and checking out my blog!  I also have a YouTube channel called Your Guide To Style and you will see the video linked below!
There are lots of styles that are available every spring and summer season that I feel like are always around and never go out of style.  There are 7 of these that I want to share with you and some of them you may not have thought about.  Some of these are considered staple items and some are not.  I hope you enjoy it!
Linen

Linen is not exactly a style but a material that you will always find in the spring and especially the summer. It is great for warmer climates to keep you cool and looking really stylish!  There are so many classic and trendy options available this season so you should not have  a problem finding something that works for your personal style.
Straw Bags

I love a good straw bag for spring and summer. They mix well with all of the other fun styles and materials for the season and just bring a freshness to your wardrobe. Choose a tote bag or a good crossbody bag to stay classic and have it for years to come!
Eyelet

Eyelet is one of my favorite materials for summertime. It adds a feminine touch to any outfit! You can dress it down with jeans like the outfit below or wear it in a dress for a casual or dressy look (below)!

Denim Jacket

A denim jacket is the perfect layering piece for spring and summer. You can wear it over so many of your casual things to just create a more finished look. You can also layer it over things like a slip dress to create a casual look with a dressier item.
Denim Shorts

Denim shorts are a must have for me in the spring and summer. Since I love denim, they have become somewhat of a staple in my wardrobe. I feel like denim shorts no matter what length you choose are a great item to have in your wardrobe and are always available. Not only are they great for casual wear but you can dress them up a bit to go out on the town in with a wedge or a heel!
White Sneakers

I don't think I could live without a plain white sneaker in my wardrobe!  They are perfect with just about anything you want to wear a sneaker with and they seem to always match!  Style them with skirts and dresses for a casual and fun spring and summer look!
Espadrilles

Espadrilles are another spring and summer style that never goes out of style!  An espadrille is defined as a shoe that has a rope wrapped sole and a fabric upper. Of course this has changed throughout the years and now you can find them wrapped with other materials and with synthetic and leather uppers.
Espadrilles are a perfect pairing with most of the lighter weight materials that are available during the season.  The wedge seems to be reigning supreme this season but you can find them in platforms and flats as well.
I hope you loved all of these styles that never go out of style! Let me know what you think!
Stylishly Yours,