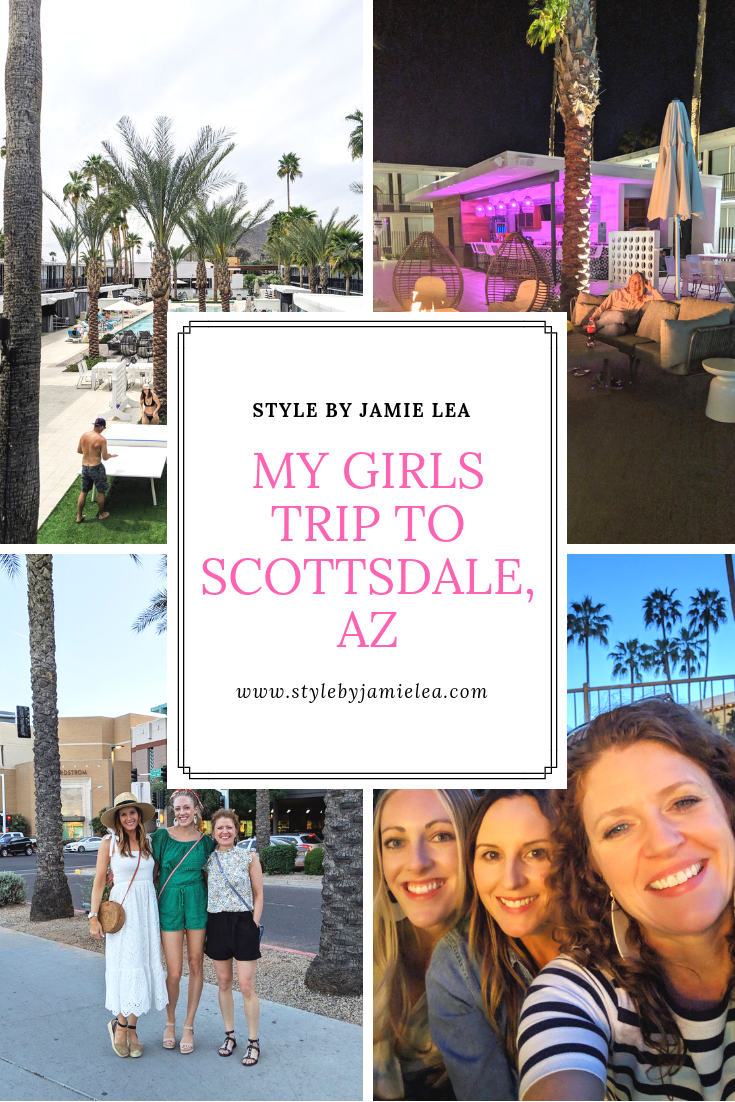 Hey guys! I have totally been meaning to tell you about my trip to Scottsdale, AZ! I have been so busy and kinda procrastinating on this one because I knew it would take some time to write.  We went to some great places in the few days I was there, so I wanted to give you some recommendations if you ever venture off to Arizona! With the good comes the bad so FYI this is going to be a really honest post.  I was not paid to write a single thing in this post!
This trip was a fun girls trip. It has been YEARS since I have taken a girls trip, so needless to say I was extremely excited.  My friend Erika of Beaut Optician is living there right now so I just had to go visit.  Another friend of ours that we met on social media, Jennifer of Red Carpets to Runny Noses, also came. We all became friends on Instagram a couple of years ago and finally decided to meet in person!  I love that social media can bring people together as friends from all over the country! We just had the best time shopping, eating and relaxing!
The first thing I would like to talk about is the hotel.  We stayed at the Hotel Adeline, which was walking distance from Scottsdale Fashion Square. The hotel was very modern and clean.  It had great food and some awesome Instagrammable areas.  We took full advantage of all of these things.  I especially appreciated the clean room and clean sheets! Oh and they had the best Lemon Ricotta Pancakes that I am still dreaming about!
Erika and I thought this was the CUTEST place on social media. We saw that some bloggers reviewed it and thought we would love it as well.  We even reached out to Hotel Adeline for a possible collaboration opportunity and they did not respond. This was totally fine because we were able to relax and enjoy ourselves for our stay.
Jennifer was in the middle of craziness due to picking up a producer job, so Erika and I picked the hotel.   I think we would all agree that we would not choose to stay at Hotel Adeline again if we go back. We definitely do not recommend it if you are traveling with children. Honestly, we thought the "greatness" factor that social media gave it turned out to be a little lackluster.  There were a few moments that we were suprised at what we experienced but we definitly made the most of it.
Sc

hmooze Workspace and Cafe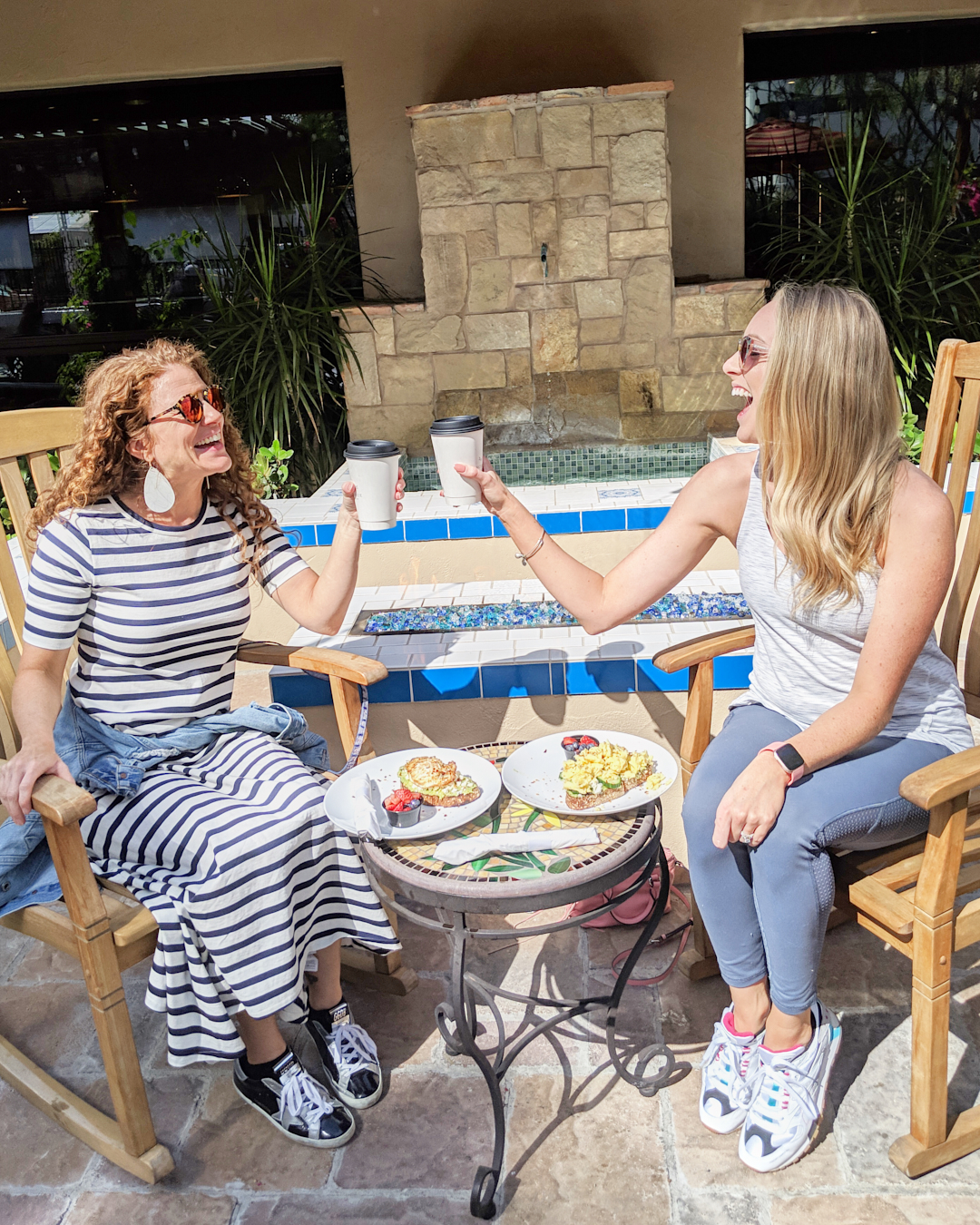 This was our first stop after leaving the airport.  I had been up since 5:00 am and needed some coffee and breakfast!  Schmooze Workspace and Cafe hit the spot! We sat outside on the cute patio and ate avocado toast and drank some wonderful coffee!  This place was really neat because it was a combination of workspace and cafe.  There were people working in offices in the building and lots of people working at tables around the cafe. I thought the idea was so neat because I have actually not seen anything like it here in Memphis. I really need to get out more!
Our first evening in Scottsdale was spent at The Canal Club for dinner which is in The Scott Resort and Spa. I do have to say this place was mighty dreamy!  We ate a really good dinner and then sat out by the pool for a few hours.  Of course, we took some really cute photos while we were there.  I would highly recommend visiting and possible staying there.  Our short visit was lovely and I would definitely go back!
Scottsdale Fashion Square
Fashion Square is probably the largest shopping mall I have ever been to.  I loved the selection of stores but didn't have as much luck finding pieces as I would have liked.  My top two places we went were Nordstrom and Zara. I love shopping in Nordstrom and have never ever been into an actual Zara store.  Zara is where all my purchases came from and I enjoyed every second of it! I probably love both so much because we do not have either here in Memphis and probably never will.
A group of ladies we met at the pool recommended The Mission restaurant to us.  I have to say I was impressed. It offers Modern Latin Cuisine and is so so good! I had the best chicken tacos I have ever had in my life!  The service and the food exceeded our expectations.  Erika and Jennifer would say they had wonderful cocktails as well, since I do not drink alcohol.
Olive and Ivy is a Californian-Mediterannean restaurant that was recommended to us from a lot of the locals.  The restaurant was really beautiful! We had to go early to catch a table because the majority of seating was reservation only and they were all booked up.   If you are someone who really likes fine dining in a more casual atmosphere than this is the perfect place for you.  Erika had the best dish out of all three of us which was a sweet potato stuffed ravioli! It was YUMMY!! Unfortunately I don't have any pictures from Olive and Ivy!
Sugar Bowl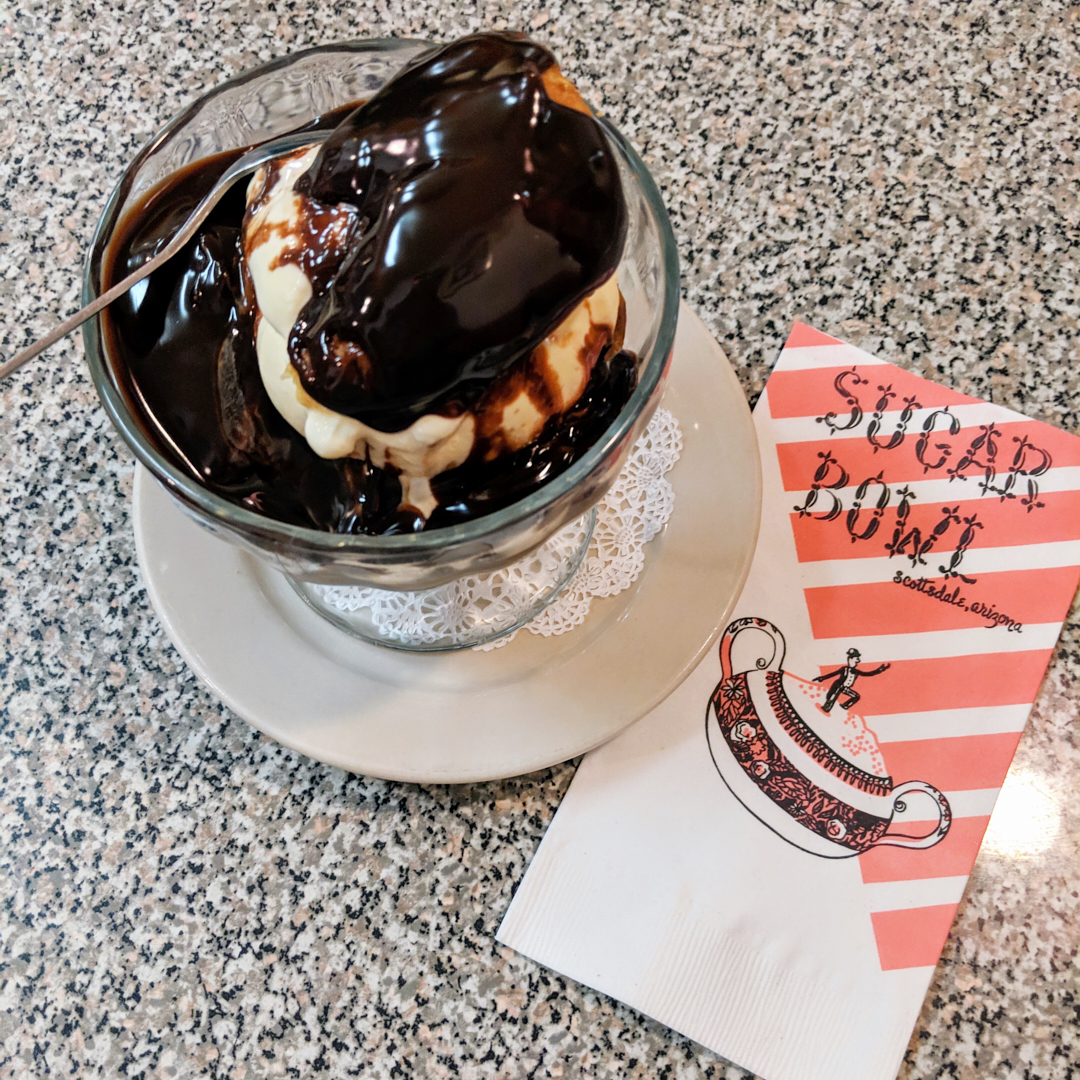 This name Sugar Bowl says it all! Sugar, sugar and more sugar! We ventured out for dessert after dinner on the third night and went to the Sugar Bowl! It has been selling ice cream and treats since 1958!! Our waiter recommended the Top Hat Sundae; a fluffy Sugar Bowl cream puff filled with creamy vanilla ice cream then showered in hot fudge!! Are you salivating yet! It was so good and I ate every last bite!
My favorite part of this place is everything is pink!! I wish I could have gotten some photos of the interior but the place was packed!  I highly recommend this old school diner style ice cream shop!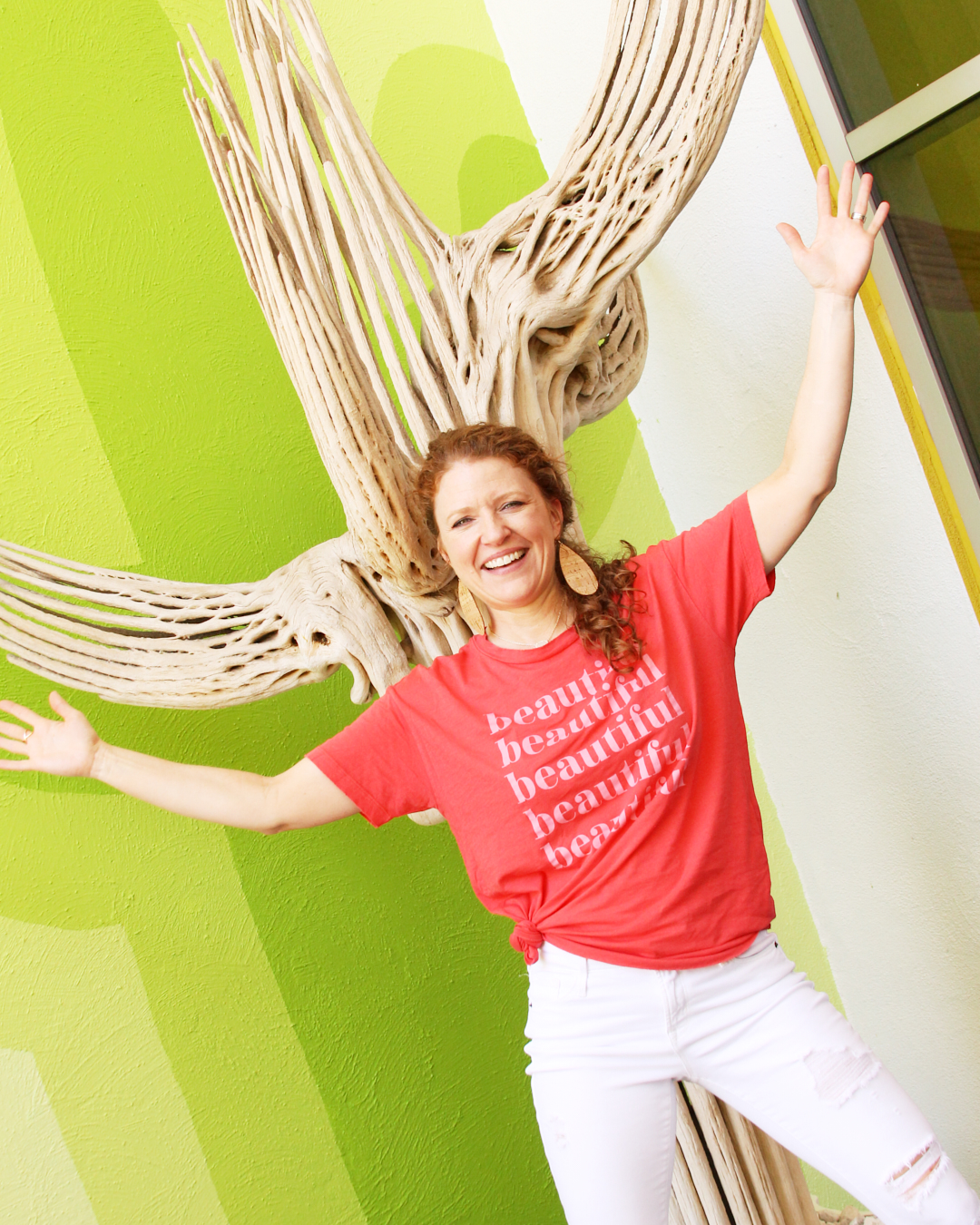 If you are a person that likes color than The Saguaro Hotel is the place for you to stay while you visit Scottsdale.  We decided to take advantage of the many murals and colorful areas of this hotel before Erika took us to the airport on Sunday.  We were greeted by a nice gentleman that said to explore and take photos wherever we wanted, so we did! The photos show you just how pretty and colorful this place is!
The Montauk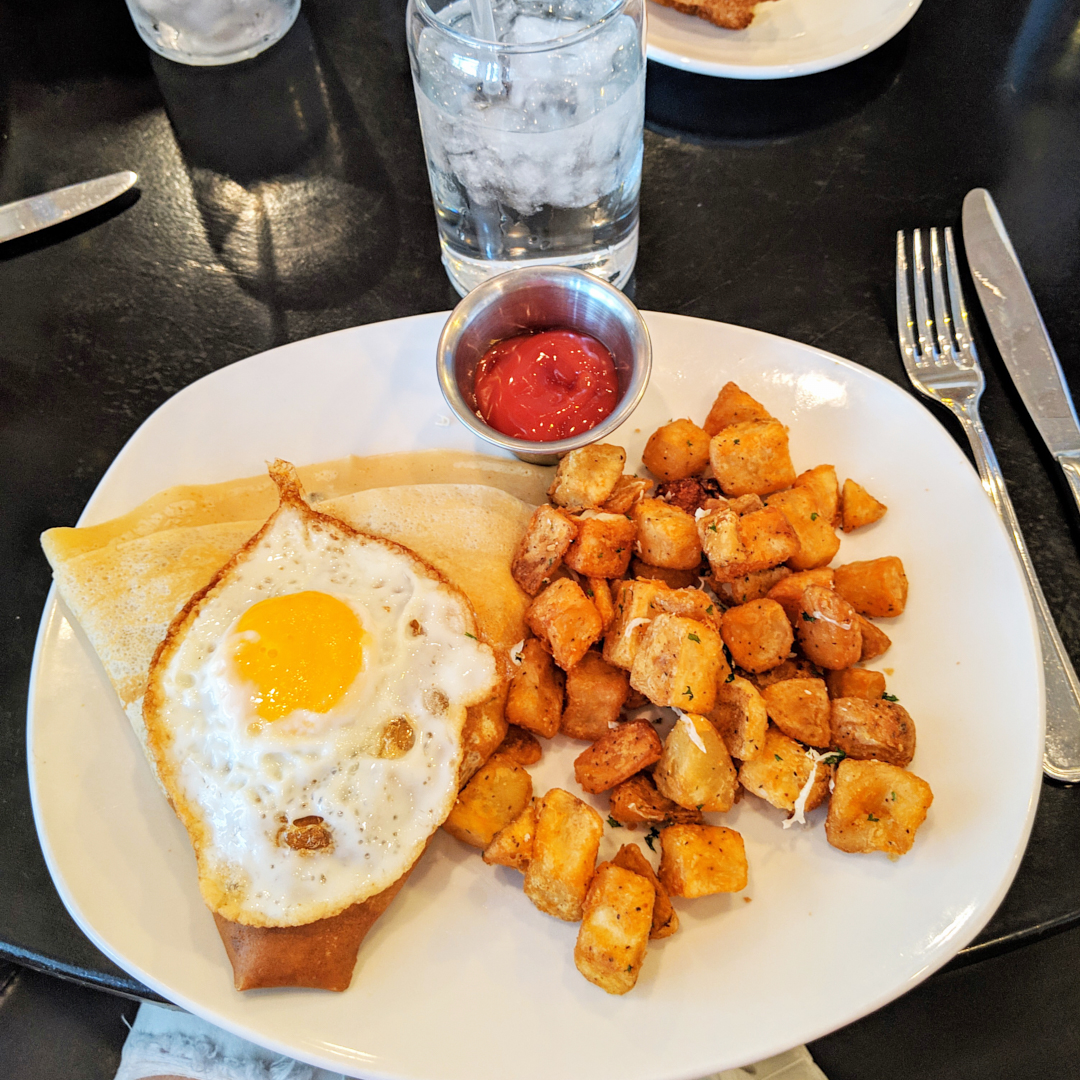 My favorite meal of the day is breakfast. If I could eat breakfast food every meal I would!  The Montauk restaurant had an amazing breakfast that we all three just enjoyed. Other than the loud atmosphere this place was one of my favorites we visited.  It was super cute on the inside and delicious!
Ruze Cake House was our very last stop before the airport!!!  We heard about his place and absolutely had to go for photos and for the cute coffee and tea with cotton candy on top! Yes, you heard me right! Cotton Candy! I ordered the Chai Tea and not only was the drink really good but it was almost too cute to drink! Erika and I got some really cute pictures and we just had to take them in the same dress from Zara! This dress screamed cotton candy drink!
I hope you enjoyed the details of our trip! If you decide to go to Scottsdale, AZ I hope this is helpful.  I can't believe how many places we went in the short 4 days I was there!  If you have been and recommend a place please leave it in the comments below!
Thanks for reading!