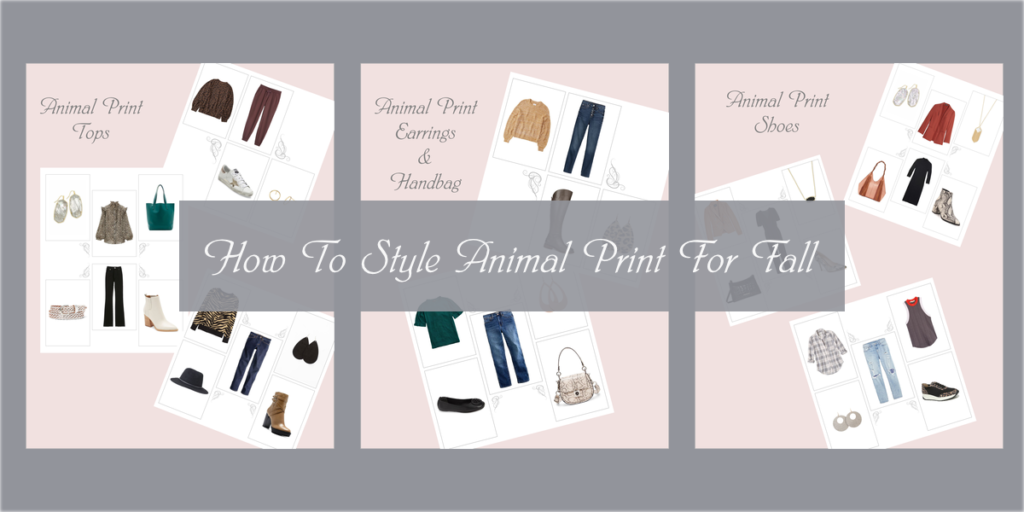 The most popular and most worn trend by far for this fall 2020 season is animal print.  Leopard print is becoming so common that it could be considered a staple instead of a trend.  Other prints like snake, zebra, and tiger are not as common and are definitely a trend that will come and go.
Not all animal print is created equal.  You can choose for yourself whether you want a bold or a subtle look. We are going to look at what to wear for animal print if you are new to the trend or just want more inspiration for how to style animal print.
Animal print can be bold or subtle depending on how you wear it, what part of your body it is on and what colors make up the print.
All of the images in this post are collage images of some of the outfits in Your Guide To Style, my new styling and shopping app. We curate on point fashion outfits that help you see how to style items together and give you the ability to shop those items directly from the retailer. The content is updated weekly and keeps up with all the current trends.
If you want to learn more about YGTS you are welcome to watch our new video of the inside of the application HERE.
Click any image to view the outfit or guide in the app so you can see what other options are available. You have to be a member of Your Guide To Style to view.
If you want more info on trends check out my Simple Fall 2020 Trends Any Woman Can Wear, Easy Trends To Wear In The Fall, and  How To Style Fall's Biggest Jean Trends.

Animal Print Accessories 
If you are just beginning to think about adding animal print to your wardrobe the best way to start is with small subtle items like shoes and accessories.
Think of these items as accent pieces like pillows on a couch; they bring everything in the room together for a cohesive look.
A Scarf – A leopard print scarf is a great item to wear with any of your solid pieces and even with other prints such as stripes or plaids as long as they have the same colors in them.  The print you choose to wear should to be a bit more subtle of a print if you are going to add animal print to it.
Style Tip: The more neutral colors that are in the animal print the easier it will be to pair it with more things.
Click the images to view more options for animal print accessories.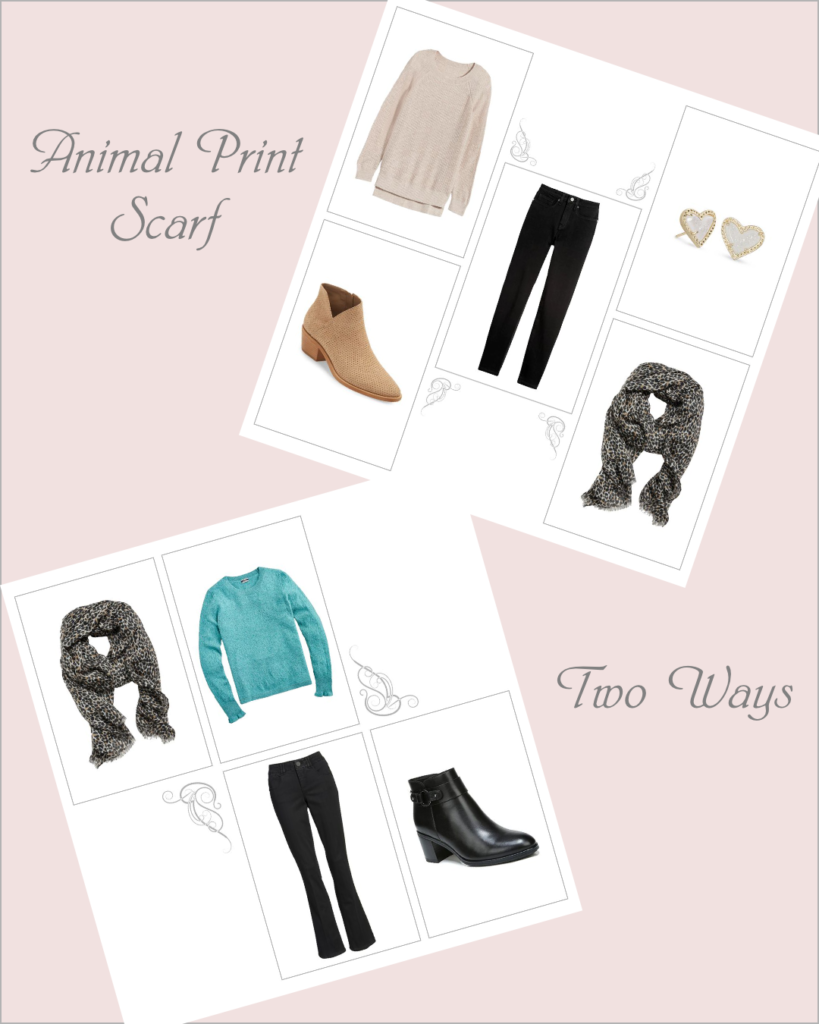 Shoes – The same principles can apply to animal print shoes like booties.  It is an accent piece that can spice up an outfit with solid color pieces.  Snake print on shoes is actually more available than any other print. For fall there are so many styles of booties with snake print that I found when looking for items for outfits in Your Guide To Style.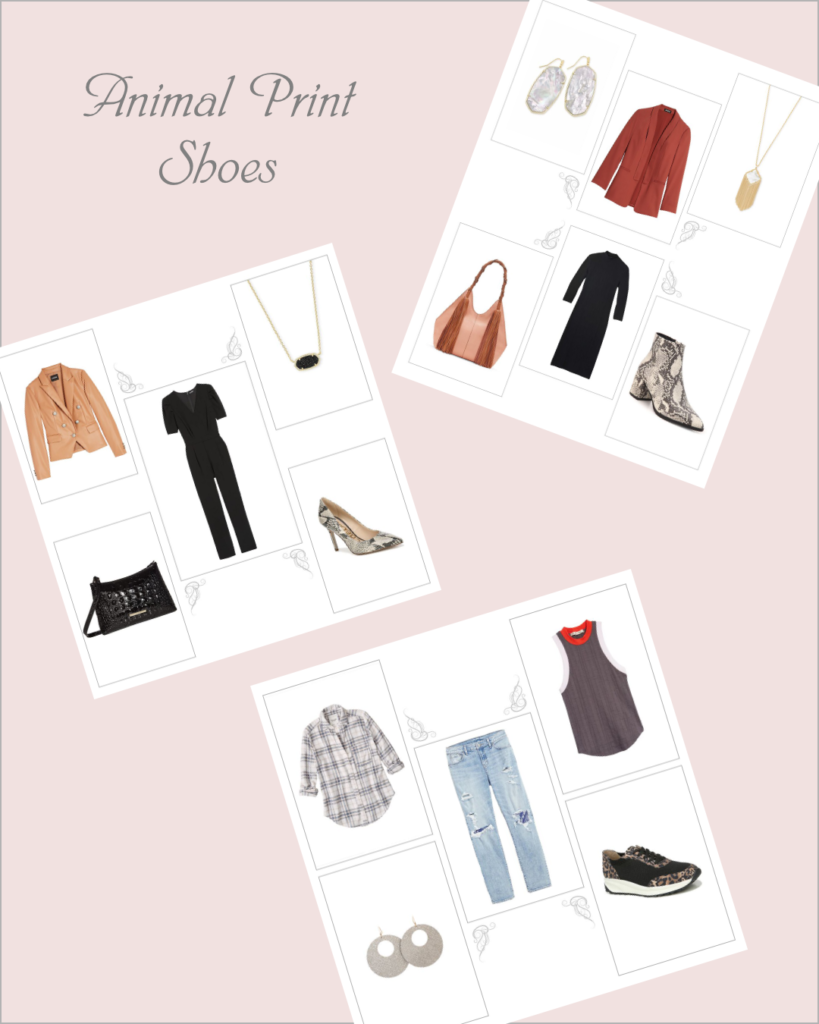 Handbag – If you are a handbag person and like to change your handbag out than this would be a fun option for you.  I would recommend a smaller crossbody or shoulder bag to keep it from overwhelming your outfits. Or choose a solid with snake print accents on the bag.
Earrings – Yes there are animal print earrings out there. If you choose to add animal print earrings to an outfit you might as well go big and choose a larger statement size.  Animal print earrings will give you just enough pop of print to easily mix with other prints or to spice up your solids.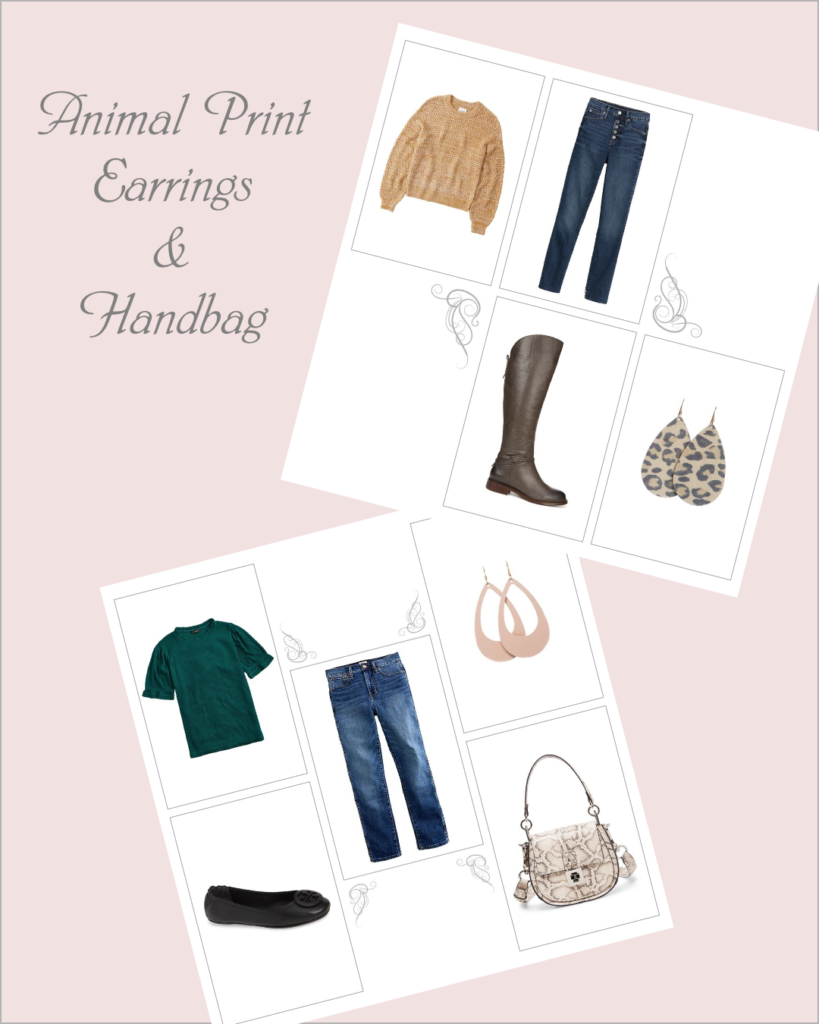 Animal Print Tops
This is the most common item you will find with animal print and is the second easiest category to add animal print to. You can choose a fun top, sweater or sweatshirt depending on what you prefer.
A Top  – A dressy blouse or casual top can always become a layering piece under a blazer or jacket which makes it more versatile.
A Sweater or Sweatshirt –  These items are going to be an outer piece and will be the prominent item in the outfit.
Style Tip: Layering the animal print makes it more subtle in style and wearing it by itself is more bold in style.
Click the image to view more options for animal print tops.

Animal Print Jacket or Cardigan
If you are wanting to really amp up your outfit you could choose a jacket or cardigan. I would recommend choosing a color combo that compliments your existing wardrobe.
Style Tip: The right animal print jacket or cardigan can mix and match with a lot of your solid pieces and give you a cute and trendy look.
Click the image to view more options for animal print jacket and cardigans.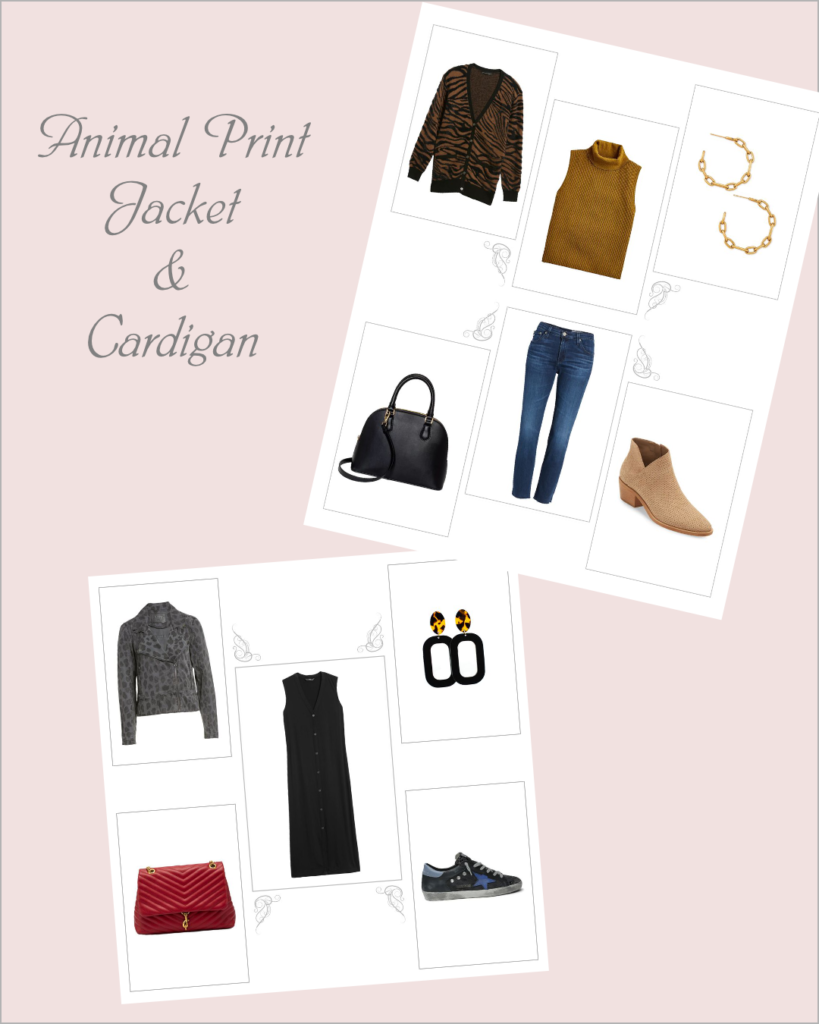 Animal Print Bottoms
Bottoms with animal print can get a little tricky if you are not wanting to draw attention to yourself.  The more subtle approach would be to choose leggings and wear a long tunic over them to cover a larger portion of the print.
When wearing animal print on the bottom think about what you are trying to accomplish. If you want to stand out in the crowd you could wear a long pant like a trouser in animal print.  If you want to be more subtle and just have a pop of animal print go with a legging.
Skirts are another subtle option since they only cover a portion of the body unless it's a maxi skirt.
Style Tip: Subtle options are skirts or leggings and bold options would be full length trousers.
Click the image to view more options for animal print leggings and skirts.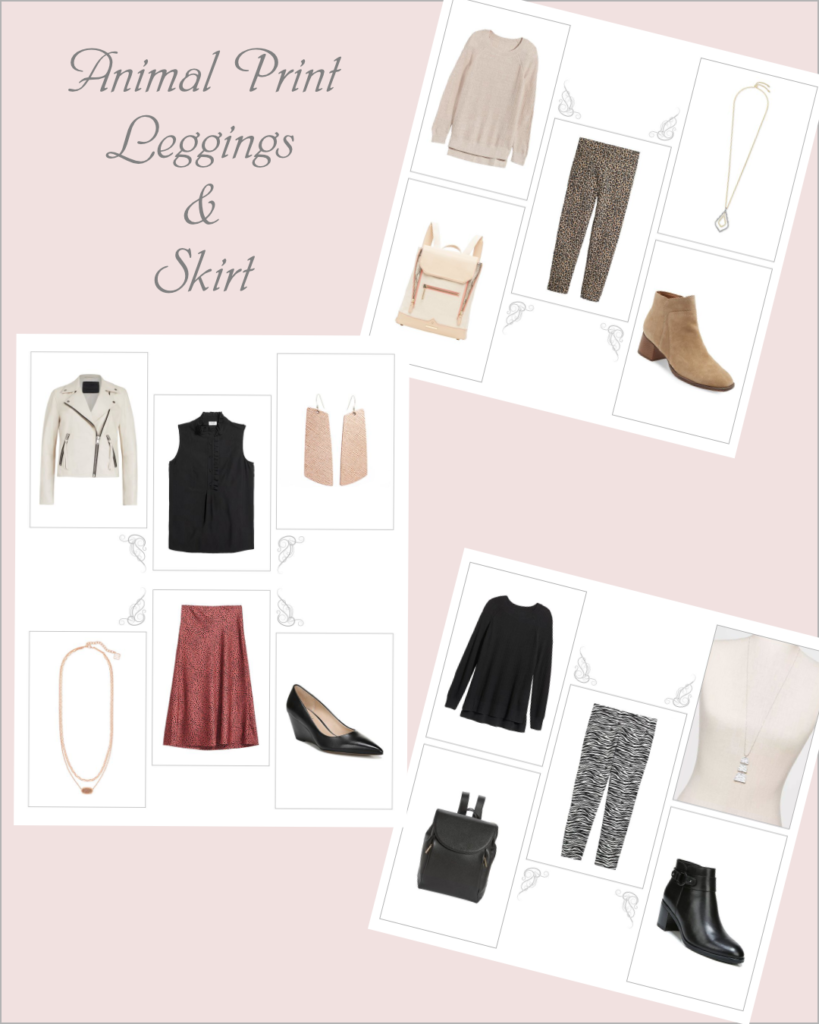 Animal Print Dresses
A dress with all over animal print will not be as easy to find.  This would be considered very bold because a dress covers most of the body.  The most common print you will find in full body coverage items like these are leopard print.
A way to tone down a print that is from head to toe would be to add a solid jacket or cardigan over it.
A jumpsuit would be a fun option as well but they are not easy to find. I have only seen a couple of animal print jumpsuits when shopping online and they sold out quickly.
Style Tip: Pair solid accessories and handbag with these item types to make them stylish and not overwhelming.
Click the image to view more options for animal print dresses.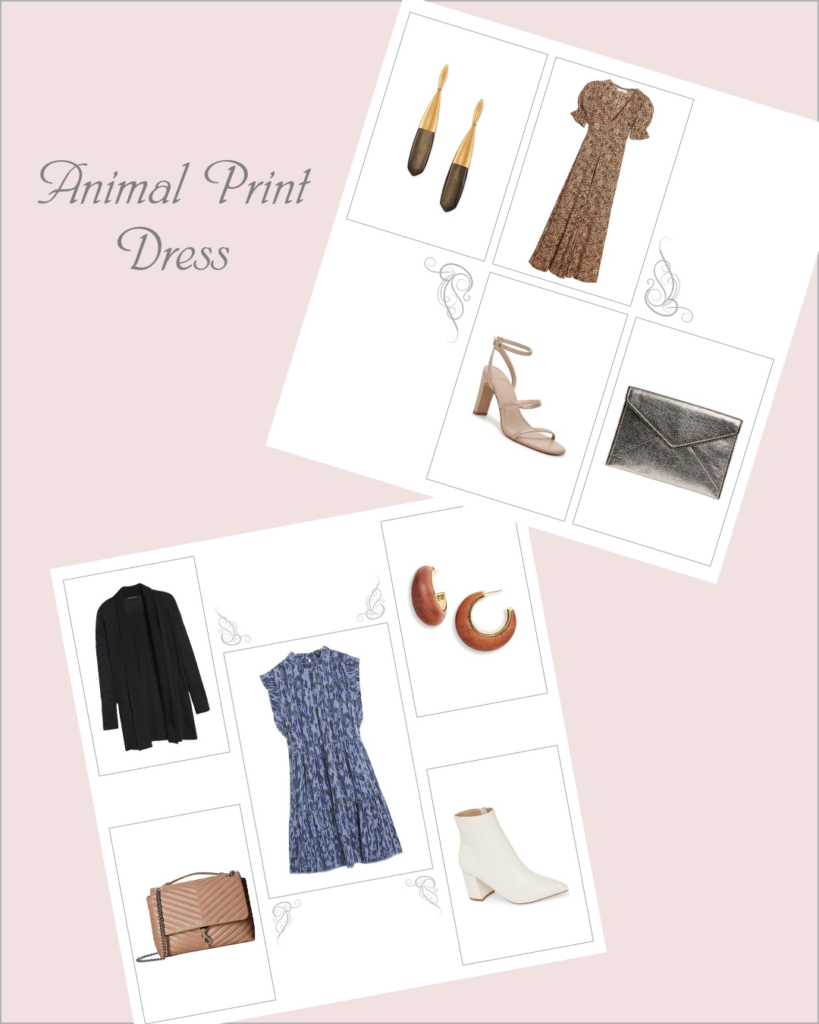 Animal print is a fun way to give your wardrobe a little pizzazz.  If you take my tips and apply them to what animal print item you choose you should be able to style animal print for fall with no problem.
I hope you will take the time to check out Your Guide To Style and sign up for our Free Trial!  It is a super fun and informative app that can help you with all of your styling and shopping needs!  You will never have to go anywhere else to figure out what to shop for, how to put things together, or what is trending each season. We provide all of that for you!  Click HERE to find out more!
Thanks for stopping by in my little corner of the internet!
Stylishly Yours,