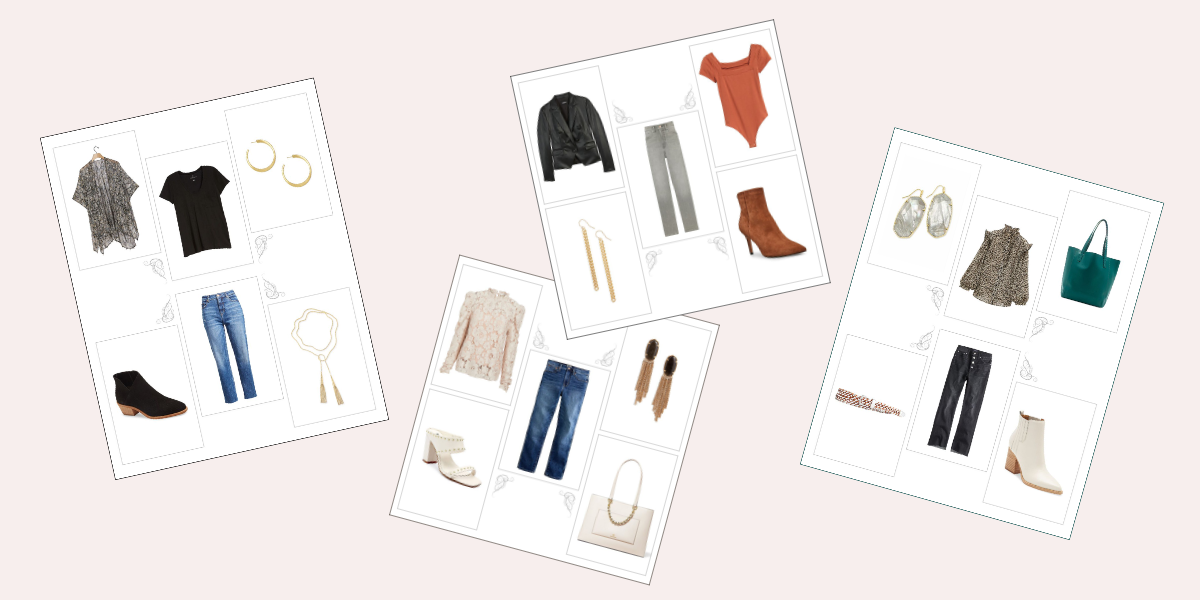 There are several jean styles that are trending this season but I want to concentrate on 3 styles that are on trend and not the easiest to wear.
Styles like skinny and bootcut jeans have been around for awhile as trends, so we have learned how to wear them. The three biggest fall jean trends that I want to help you style are straight jeans, mom jeans, and kick flare jeans.
The images included in this post are from Your Guide To Style. You can lick the images below to view more options for that outfit but you will need to have an account to view.
If you want to learn more about YGTS you are welcome to watch our new video of the inside of the application HERE.
How to Style Straight Jeans
I really love that straight jeans are coming back. They are available in ankle and cropped lengths. The ankle length sits at the ankle bone and the cropped leg lands about 2 inches above the ankle bone. If you find the perfect pair of cropped straight jeans and they are not the right length you can either roll them up or get them altered. I recommend getting them altered.  You may want to roll them when you wear sneakers or flats but not other times.
Style Tips
Casual Look:  For an everyday casual look you can pair a fashion tee, fun top or sweater with them. I would recommend for a casual look to tuck the front hem of the shirt in and let the rest hang out or leave it out all together. The only time I would recommend a full tuck is if you prefer it that way or if you are going to layer a jacket or something over your top. You don't have to tuck your top in if you wear a layer over it but it is an option.
This "Favorite Kimono Outfit" is the perfect example of a good casual outfit. This outfit and other versions of it can be found in the guide The Denim Guide: Straight Jeans in Your Guide To Style. I paired it with booties here but you can always throw on a lace-up fashion sneaker instead.
The "Mad For Comfy Plaid" outfit below this outfit will show you an example of a fashion athletic sneaker styled with a tank and plaid shirt for a comfy everyday casual look.
Dressier Look: If you want to make a straight leg jean appropriate for a night out than pair it with a pretty blouse and some heels or dressy booties.
The "A Pretty Ruffle Girl" outfit below shows you how a pretty blouse, heels and a dressy pair of earrings make this worthy of an evening out! You can see other versions of this outfit as well by clicking the image below.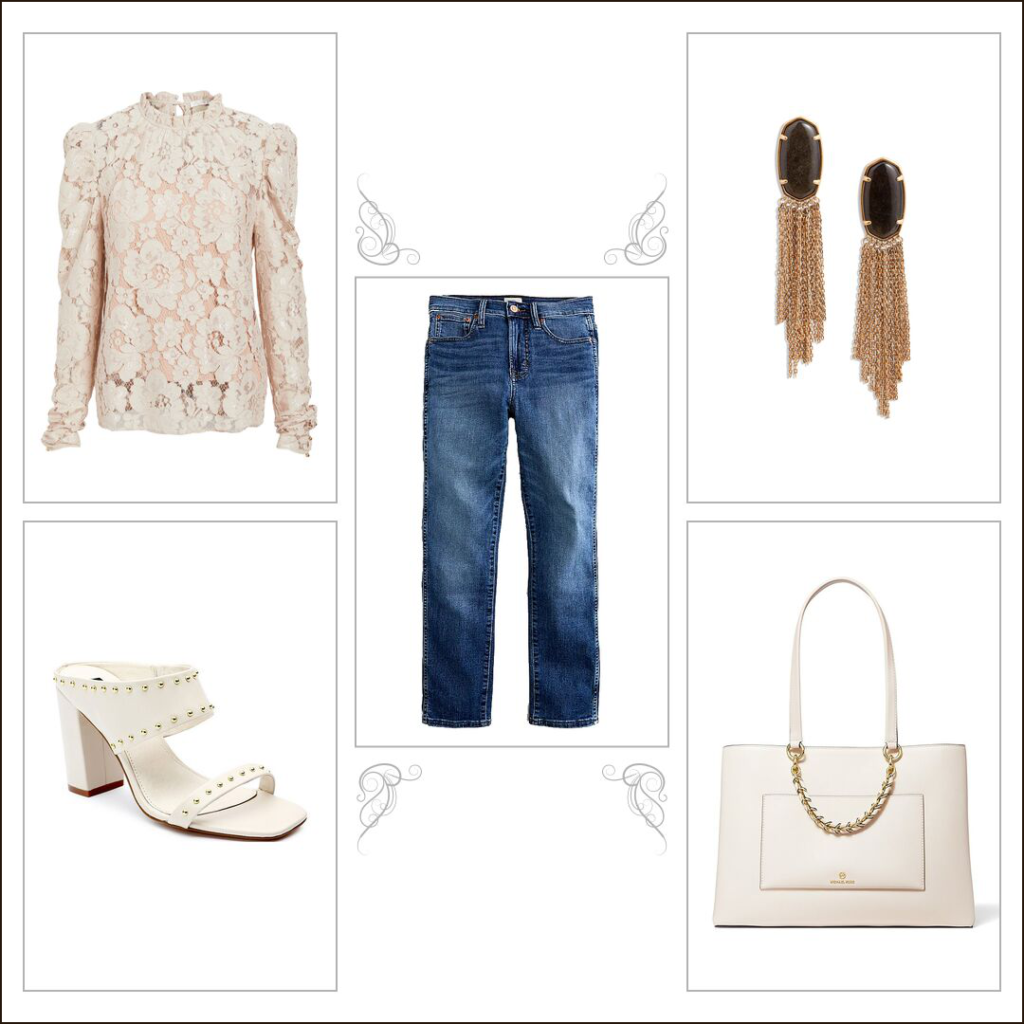 How to Style Mom Jeans
I thought I would talk about this trend right behind the straight leg jeans because that is basically what the mom jeans style is as well. There are two additional features of a mom style jean. It has a super high rise, usually 11+ inches, and the back pockets sit higher on the bum. Just think of the 80's and 90's style straight and there you have it.
I think wearing mom jeans is very youthful but that does not mean that other age women like me (I'm in my 40's) can't make them work for us. I will show you two outfits below that style the mom jeans to fit a wide range of ages from 20 to maybe 50 or even 60.
Style Tips
Casual Look:  For a casual look feel free to roll the jeans one to two times if it looks better with the lower heeled or flat shoes.
Below is the "Simply Casual Mom Jeans" outfit and is an easy way to wear mom jeans for casual everyday wear. I chose a solid sweater that is "short" length, which means it stops at the hip, with the jeans, printed sneakers to jazz it up and a fun chain necklace and crossbody handbag. This is a more youthful style but can be worn by many ages.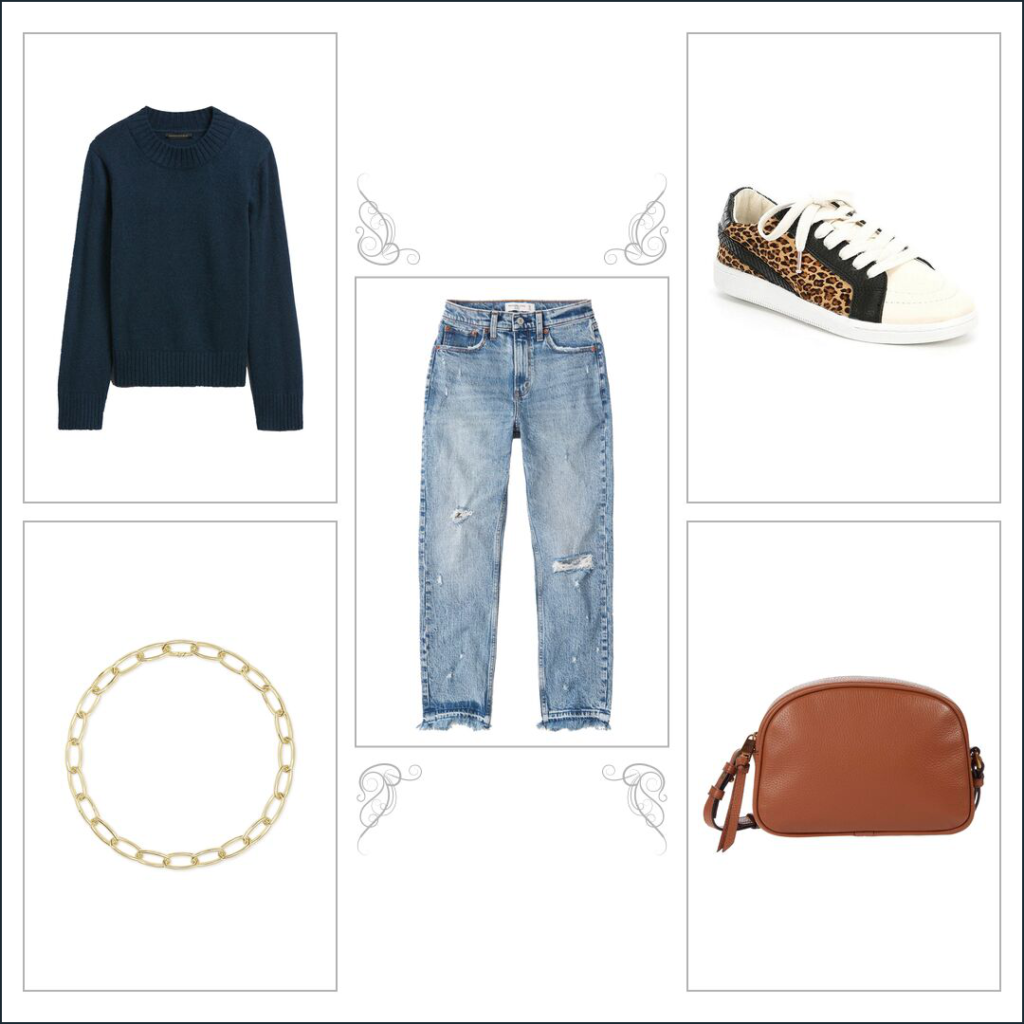 Dressier Look: You can make these jeans look really chic by pairing a bodysuit, a faux leather blazer and some suede stiletto booties with them like the "A Fun Faux Leather Trend" outfit below.  If you don't like a bodysuit feel free to tuck in a fun blouse. In this outfit I would leave the blazer open or closed.
How to Style Kick Flare Jeans
A kick flare style is basically a cropped jean with a little bit of "kick" out at the hem.  It really looks more like a bootcut but it kicks out a little more than a bootcut but less than a full length flare.
Style Tips
Casual Look:   A kick flare looks best with a graphic tee, a fun blazer, and some 2+ inch booties. You could wear them with a pair of sneakers but I don't think it's as universal as with a heel.
The "The Unexpected Fall Blazer" outfit will keep you on trend and looking cute for whatever your day brings. Replace the blazer with a more casual jacket like a utility jacket and add some low-top lace-up fashion sneakers if you want a more comfy version.
There are several other versions of this outfit in the Your Guide To Style app that you should check out by clicking the image below!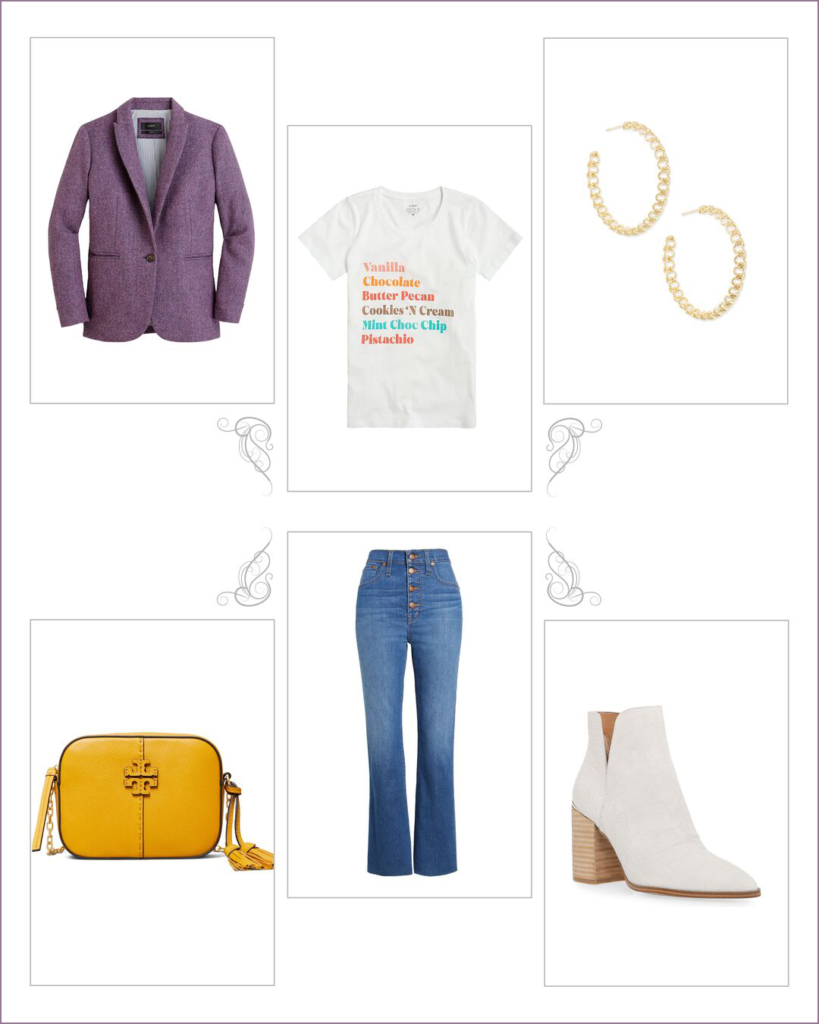 Dressier Look: The "Wear That Kick Flare" outfit below is about as dressed up as you will get with a kick flare style jean.  A fun blouse like this leopard print one is a great pairing. Tuck the blouse in and add a belt to complete the look.
You will notice that I added an ivory colored pair of heeled booties to this outfit as well as the outfit above. The ivory booties are a great option to dress up jeans and if you prefer black that would work as well.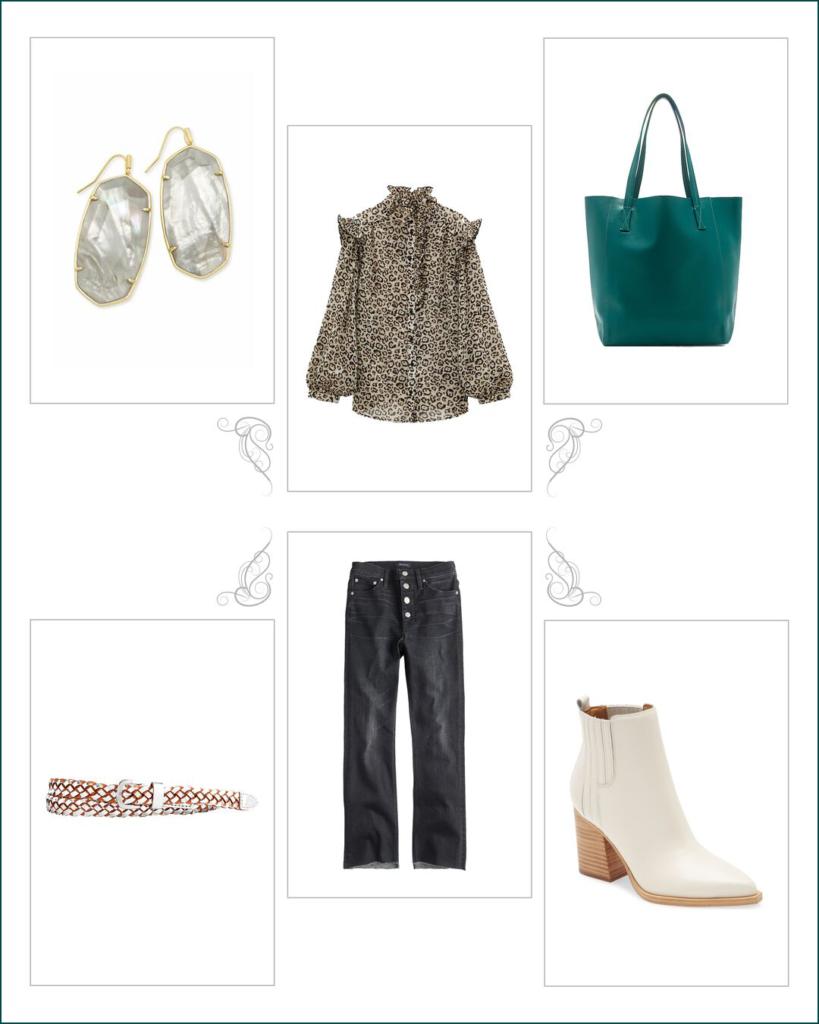 I hope you learned a thing or two about styling some of fall's biggest jean trends. These styles are going to be around for awhile so I think if you wanted to give one a try you could still wear it for a few more years. The mom jean is the one that I feel is super trendy, so if you opt for a high rise straight that would suffice.
You can check out more styled outfits for these trends and many others through the Your Guide To Style app. We created a guide called The Denim Guide that is dedicated to all things denim, so you can see how to style all sorts of denim jean styles, denim jackets, jumpsuits and many other items. You can explore numerous outfits for inspiration for all of your fall style needs in the app. Click HERE to sign up for your Free Trial!
Thanks for reading!
Stylishly Yours,