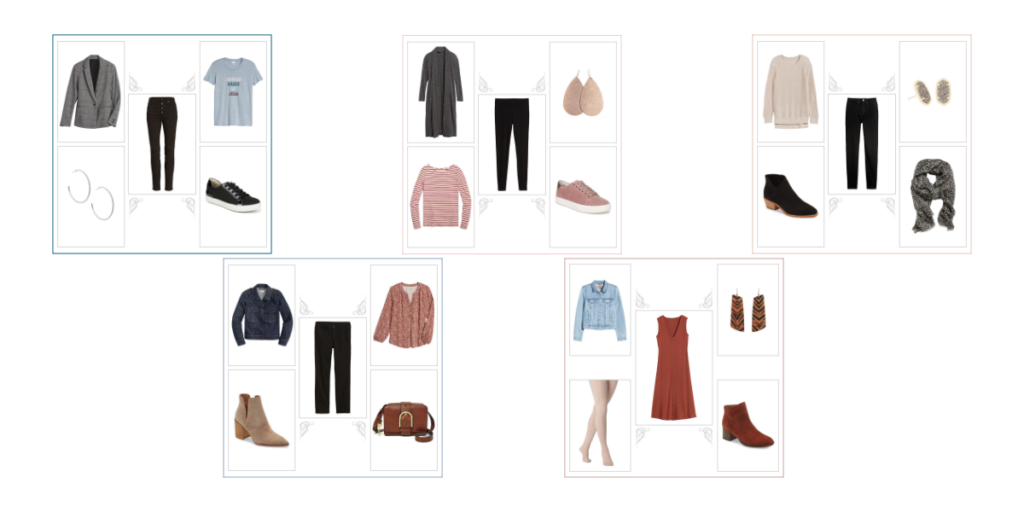 It is really hard for me personally to think about essentials since I love trending fashion so much. You may feel the same but let's be real, these items are becoming even more important for us these days. They help us bring versatility into our lives and make a foundation to add some of our favorite trends without going overboard on how much we purchase.
If you click any of the images below they will take you to the Your Guide To Style app to view the other options we have available for the outfit. Our guides provide styled outfits that have numerous versions you can create to make it your own personal style. You will have to be a part of Your Guide To Style to view the other options.
If you want to learn more about YGTS you are welcome to watch our new video of the inside of the application HERE.
12 Essentials
Easy Tee's
We all need tees for layering under outfit finishers in the fall and winter. These tee's can be solid, striped, or graphic tees. Any of these options are versatile enough to wear with other items in your closet. Choose colors that are neutral like gray, ivory, white, or black.  They can also be worn all season because of their layering ability. My personal favorite is a graphic tee.
I might even throw in an animal print tee if you would wear it. Leopard print is a great choice, especially since it is quickly becoming the new neutral.
Structured Blazer
his, as you might already know, is my favorite wardrobe piece. This one item can take any outfit from totally drab to totally fab. A good blazer brings so much versatility because it can be worn with just about anything. Choose one that is a neutral small print like plaid or just a solid. If you find one that is really attractive to you than you will wear it a lot more.
Sneakers
Everyone needs a good white or black lace up fashion sneaker in their essentials. White is a little more versatile but black is a little more fun.
The "A Necessary Graphic Tee" outfit below, along with all the other outfits in this post, can be found in the Essential Style: Cool Weather Basics guide in the Your Guide To Style app. I paired a small plaid print blazer with a graphic tee, skinny black jeans and a basic black lace-up sneaker. This has a little bit of a 90's vibe to me so I added the hoop earring to finish the outfit.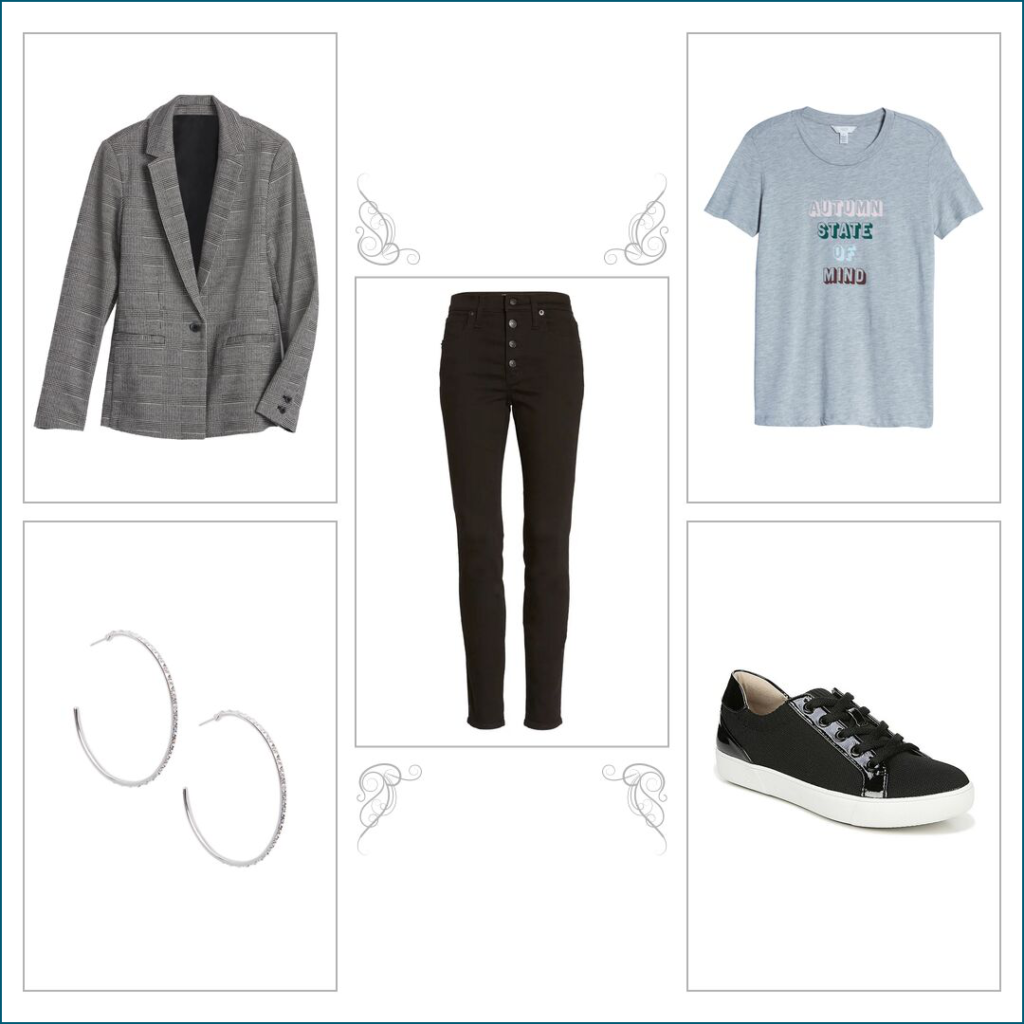 A Pair of Black Leggings
This is an awesome staple to have in your wardrobe.  And I am not referring to your workout leggings. This would be a pair of comfortable leggings that are some type of cotton or rayon material with some spandex. Wear these with a longer sweater, jacket, or blazer paired with some booties or sneakers for a comfortable basic fall outfit.
The "Cool Duster Cardigan" outfit below is a great legging outfit example. I have chosen a long duster cardigan because the length is perfect for any height. This outfit is simple yet stylish and is created entirely with essentials. I added some cute earrings to give it a little more pizzazz.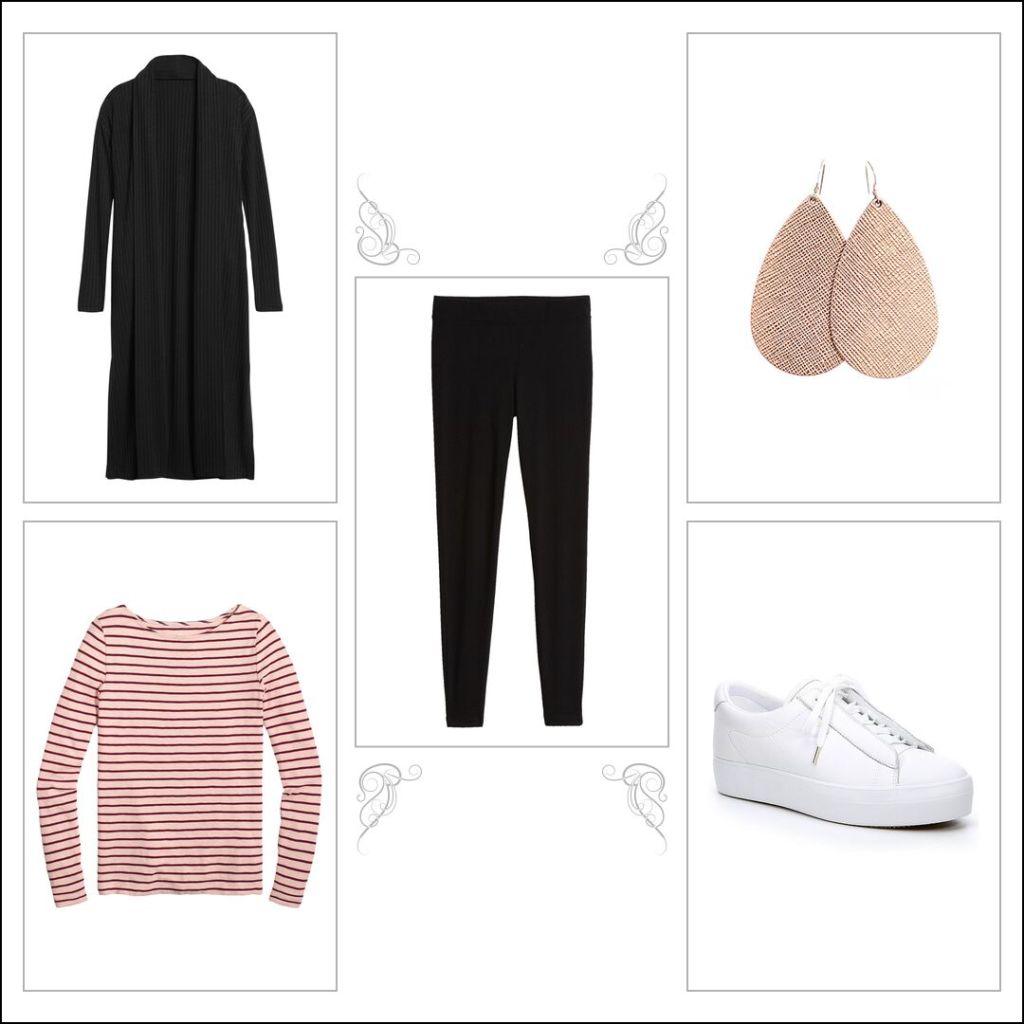 Simple Sweater
I would recommend looking for a solid color sweater that is a tunic length if you like skinny jeans and leggings. You can go mid-length (just to the hip) if you prefer looser fit bottoms like bootcut jeans.
STYLE TIP: A good solid sweater is perfect for adding great accessories like scarves or statement jewelry. You can make it look like a totally different outfit just by changing those pieces
Black Jeans
I think black jeans are the perfect essential. I know this is a seasonal item but it will serve you well throughout the season.  You can dress them up or wear them casual. I would choose a style that looks best on you. Bootcut, skinny, and straight legs styles are all good options.
If you prefer not to wear black jeans than a good pair of just solid dark blue jeans will give you the same versatility. You can find lots of outfits with dark blue jeans of all styles in the Your Guide To Style app if you need some outfit inspiration!
A Pair Of Boots
What would we do without boots in the fall and winter? I honestly wish they could be worn year round! A good pair of ankle booties is what I think is the most versatile but I know not everyone likes them. A tall knee high boot is great for certain climates and is another good option. The tall knee high boots are actually back on the trending wagon this season.  Choose a neutral color like taupe, camel or black.
The outfit below is called "Conservative Modern, & Fun" in the Your Guide To Style app. I paired a basic tunic sweater with black skinny jeans and some booties. I added a scarf and earrings to bring it all together and give it more interest.
STYLE TIP: Accessories and jewelry are things every women usually has and are what can bring your basic outfits up a notch. If you do not have these types of items I would add them to your list. You will find great suggestions for these items as well in our app!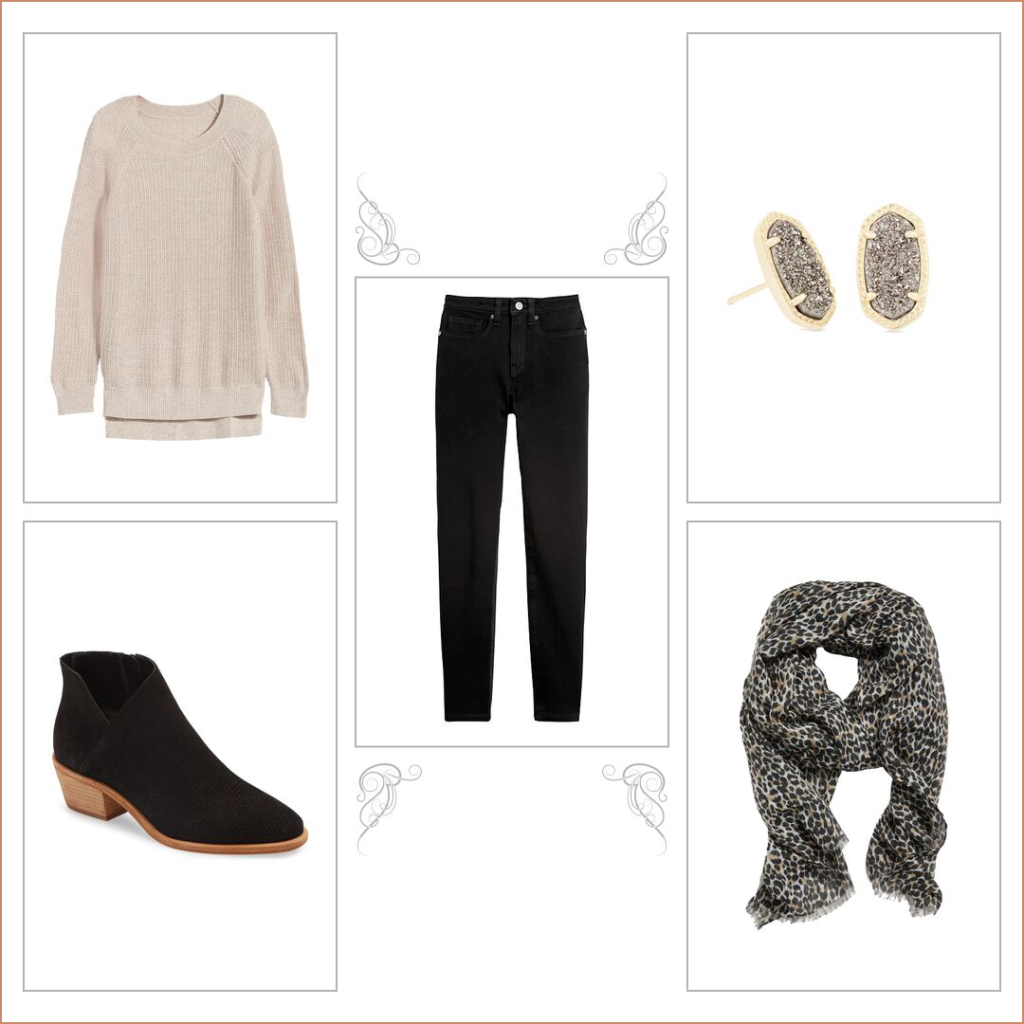 Easy Top
One easy pullover top or button shirt is a must-have in your wardrobe. It will help pair things together and give you something to wear when a t-shirt is not enough and a sweater is just too hot. Wear it alone or with your layering pieces. I recommend a print top like a floral or animal print or a neutral solid like white, chambray blue, or black that will pair with just about everything else.
Denim Jacket
I think a blue denim trucker jacket is an essential for all seasons. If you can only purchase one jacket I would say this should be it. If you are dressed in blue jeans most of the time then you may want to choose something that is not a blue denim unless you like the matching denim on denim look.
I think easy everyday style tops are a challenge to find. This is actually what I struggle with the most. So when I find a good one I want to tell everyone about it! This one below is perfect for everyday wear and can be layered with any of your jackets. Your Guide To Style will show you the other options that this style top comes in. In the "The Basics That Are Trending" outfit below you can see the denim jacket and easy top paired with straight leg jeans and booties. I added a cute crossbody bag as the accessory.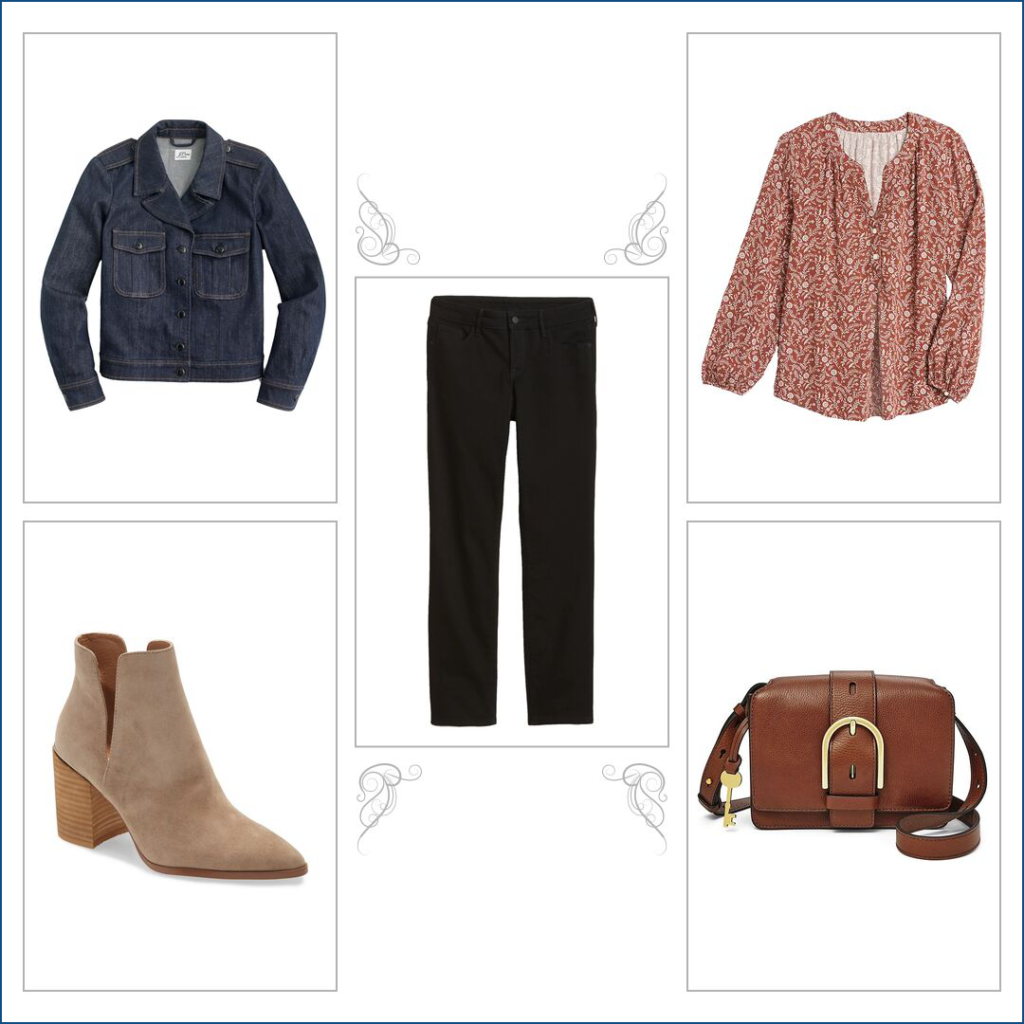 A Cardigan
I am not the biggest fan of cardigans but they do have their place in our wardrobe. A solid cardigan is the perfect layering piece that brings comfort and is easy to wear. I recommend one that hits below the bum to make it more versatile for your legging outfits. A duster cardigan will stop somewhere between mid-thigh and your ankle. If you're shorter like me you may prefer the thigh length and if you're taller you may prefer the ankle length. I actually have an ankle duster and love it.
Everyday Pants
I was not sure if I was going to add this to the list but I thought I should. In my mind everyday pants will be defined by what your lifestyle is like.  Are you super casual? If so, a pair of jogger pants would be a great option. If you are a professional worker than a pair of neutral print (like a plaid) or solid pants would work. So this is totally up to you.
The outfit "The Best of The Basics" below is styled with some neutral loafers. These are a great essential to have and can be a fun option for a basic flat for year round. Even though it is not a must have on this list, it is a versatile shoe for your wardrobe. A knit top like this one below could also be considered an easy top like the one mentioned above. It is lightweight and solid. I also feel like this one is great paired with any bottoms you have like jeans and skirts. You can view other options in the Your Guide To Style app by clicking the image below.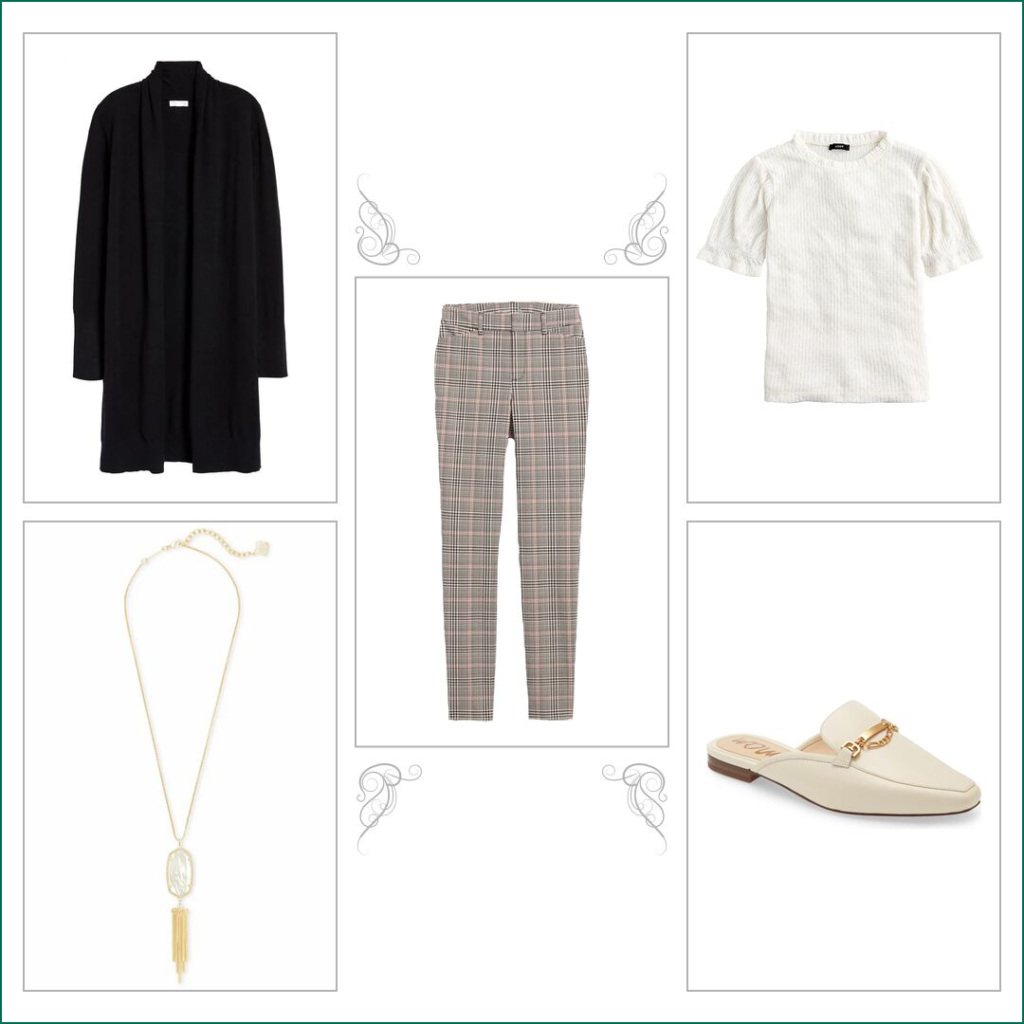 Simple Dress

 
Every girl needs a good dress in her closet. The LBD, or Little Black Dress, definitely is a great option but I would say just find a solid color dress in a light weight material like a knit that can go from day to evening. If it's a different color than fine. As long as it will go with what you already have you're golden!
The "Not So Basic Fall Style" outfit below is such a fun way to wear a solid knit dress for fall. This dress comes in many other colors that can be viewed in the Your Guide To Style app. I did pair it with some trendier earrings but you can choose whatever earrings you have to go with it. I just wanted to show you how you can incorporate trendy pieces in with your essentials.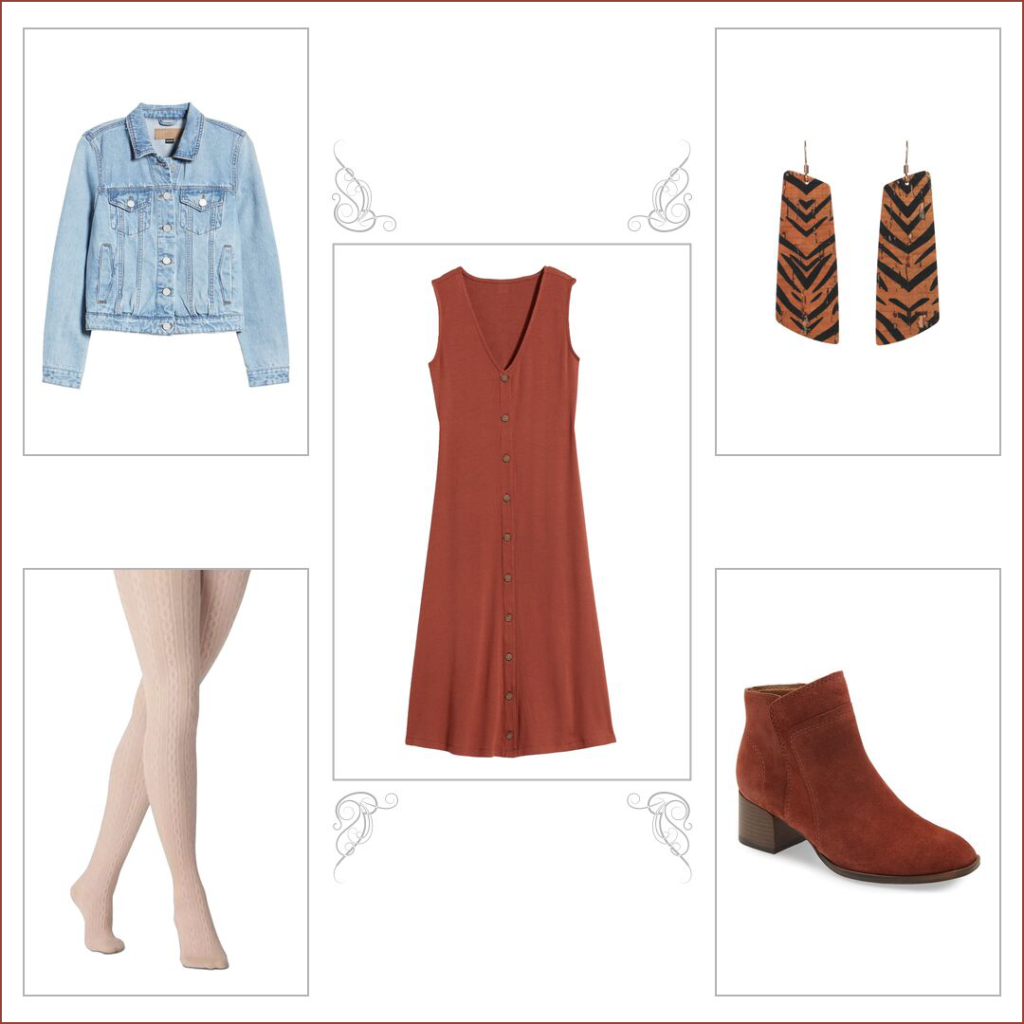 We created an essentials guide in Your Guide To Style just for the basic items you would need in your wardrobe. The outfits in this guide should give you numerous options to add to the foundation of your wardrobe. If you are not already a subscriber you can sign up for a free 7-day trial. If you do give it a try and don't want to stay on for the subscription you can cancel it at anytime within the 7 days from the Profile Page within the app.
I hope you will take this as inspiration to find your own essential pieces that will work for you and your lifestyle. Everyone is different and choosing what you personally like within each item will guarantee that you will wear them!
Thanks for reading and I hope this has inspired you to build a good foundation for your wardrobe that will last for years to come.
Stylishly Yours,