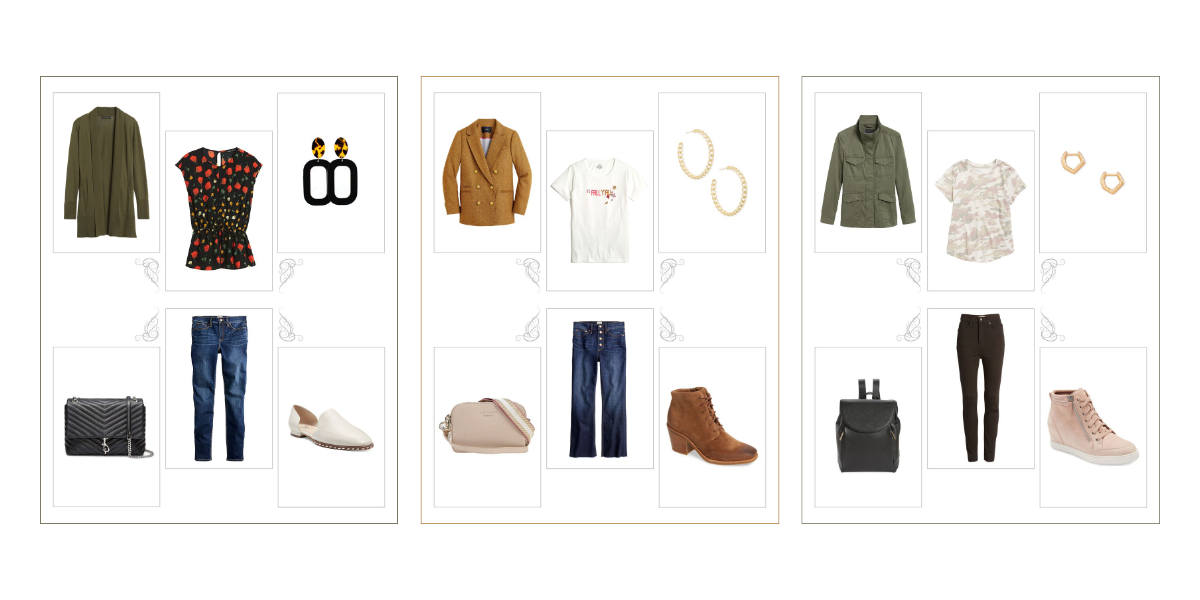 Hi Ladies!  These days life seems to be pushing us to an even more casual lifestyle, so I thought I would send you an article to help you learn how to style cute casual outfits for Fall!
One of the reasons I love fall so much is that you can layer.  If you add items like cardigans, jackets or blazers to your wardrobe they bring more versatility while having less items.  I want to show these layering items and how I styled each of them for a casual look.
These examples can be found in our app called Your Guide To Style. Access to Your Guide To Style is required to view these links and is available via a free trial that can be easily cancelled.
If you want to learn more about YGTS you are welcome to watch our new video of the inside of the application HERE.
Cardigan Style
I know that cardigans are super popular in the fall, so I wanted to include this in my fall casual outfits. Below are two outfits I wanted to show you that are styled with the same cardigan. The outfits can be worn in warmer temperatures without the cardigan or in cooler temperatures with it.
These outfit can also be found in the Casual Style: Cardigan Style guides in our Your Guide To Style app. The outfit below is called "Casual Cardigan Style" and is an olive colored cardigan with a simple floral sleeveless top, dark skinny jeans, loafers and fun accessories. Floral is a great print to have in your casual wardrobe because it can be worn with so many things and will be in style for a long time. You can wear this to meet your girlfriends for lunch or dinner, to run errands that might require a cute outfit, or just because you want to look and feel cute!
The outfits in our guides will give you multiple options for each item in the outfit, so if you would like another color in the cardigan or a different floral blouse it is available for you see in the app! Click the image below to view more options.
This "Such A Cute Combo" outfit is also from our Casual Style: Cardigan Style guide. This time the same olive cardigan is paired with a fun animal print dress.  This is the perfect outfit for those transitional days going into fall. The best way to make a dress feel more fall is to pair something like this cardigan and some booties with it. This is perfect for everyday wear for whatever it is you have to do. Click the image to see the other options for this outfit!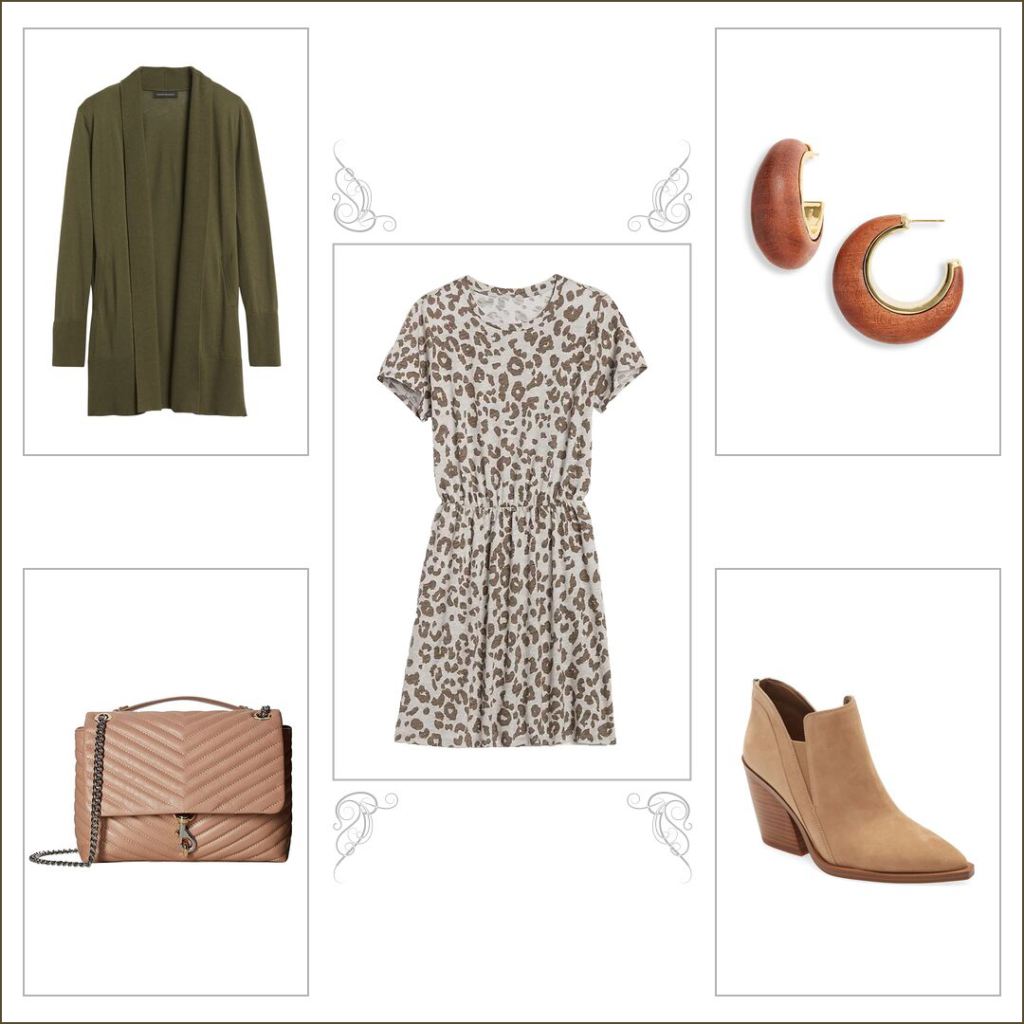 Blazer Style
I do have to say that blazers are my favorite layering piece for my casual outfits. It just makes me feel more put together. If you like blazers like I do, than you will love these options below.
There is a Casual Style: Blazer Style guide in Your Guide To Style to show you how to style outfits with all different kinds of blazers. This "An Unexpected Fall Blazer" is so perfect for this fall. The herringbone blazer is very versatile and is great paired with a graphic tee, jeans, and booties. It is a little heavier weight so it will carry well into the winter. For me, our weather just doesn't get cold enough sometimes for a coat, so this is a great option. This blazer also comes in multiple colors that you can view by clicking the image below!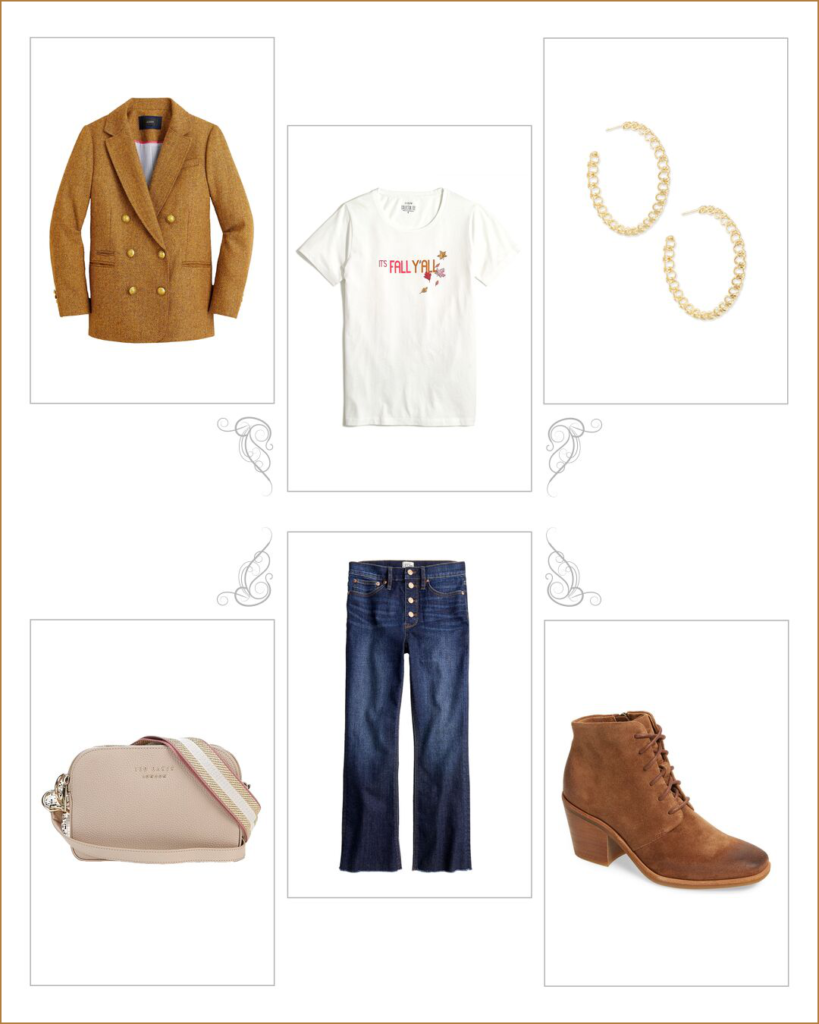 This "The Ultimate Mom Jeans" outfit below is a little more fashion forward with the snake print booties and mom jeans. If you are not familiar with mom jeans they are super high waisted straight leg jeans with the back pockets positioned a little higher. They are not for everyone but are a big trend this season. If you love super high waisted you will probably love this style and they are great paired with just a simple tee and stylish blazer. I would tuck in the tee and add the belt. To keep with the somewhat 90's vibe I added the hoop earrings. To view more options for this outfit click the image below.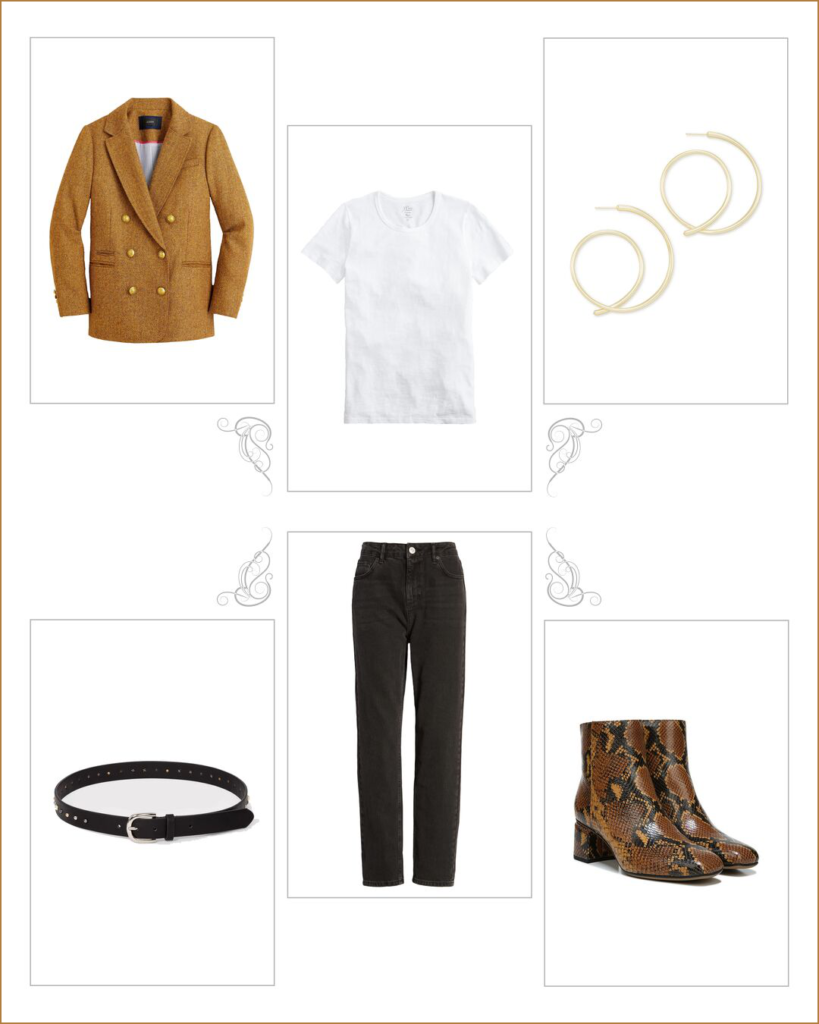 Jacket Style
Light jackets are a great way to layer in the fall.  One of the most versatile jackets you can buy is a utility jacket. If it's the right weight you can wear it in the spring and fall season. I would pick a color that is neutral like an olive green or a color that matches a lot of the things in your wardrobe. The outfits that I styled below are with an olive green utility jacket. I have also purposely chosen outfits that have sneakers styled with them to bring you some leisurely casual outfits.
The outfit below is in our Casual Style: Light Jackets guide and is called "Too Cute To Not Wear" because it is just that! This jacket pairs perfectly with a camouflage tee, black jeans and fun accessories. It is a little bit of a sporty look so I chose a backpack and some wedge sneakers. This will give you a very on trend look for fall. Click the image to view more options for this outfit!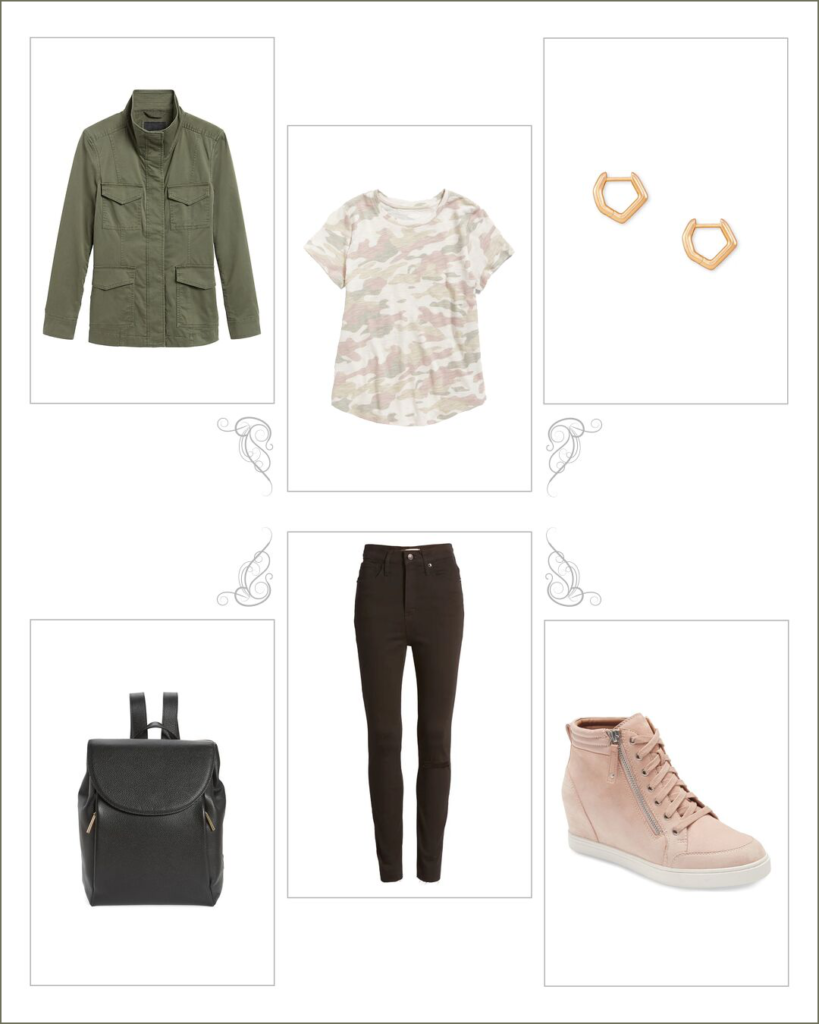 I have a feeling this "Leggings For Daily Wear" outfit is going to be a favorite. Leggings are a go-to for lots of women.  I also love leggings and think they are a great option if styled correctly.  I chose a longer tunic style tee for more coverage and some slip on sneakers for a super casual and relaxed look. This option is great for staying at home or running to the grocery, doctors office, carpool and much more.  It is simple, easy and stylish. You will find this one in our Comfy Leisure: Legging Style guide. Click the image below to view more options.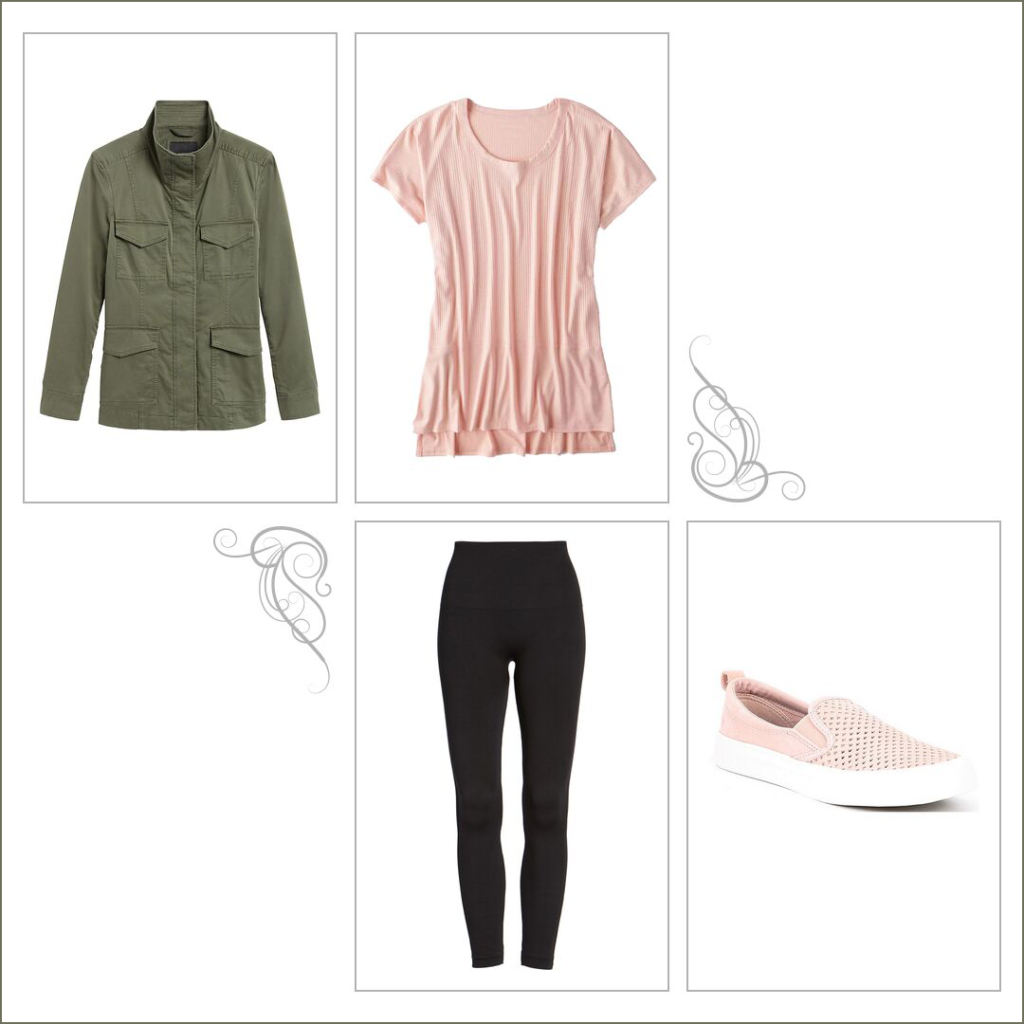 About Our Guides
You may have noticed I have two names that are defining our guides in Your Guide To Style. If you have never used our app it is set up with guide groups like Casual Style that have multiple guides within them. These are the Cardigan Style, Blazer Style and Light Jackets guides. We did this to make it easier for you to find items you are looking for and these items are styled in outfits to help you not only find something you like but show you how to wear it. There are many more guide groups and guides in Your Guide To Style to help with other styling needs. There are multiple versions within each outfit in the guides as well.  We did this to give a variety of choices for different style preferences.
If you need help in finding cute items for your wardrobe and want to see how they are styled with what is current than you can sign up for a Free, no hassle, and easily cancelled 7-Day Trial through this post. Click any of the images above and they will take you straight to the app to sign up!
Thanks so much for reading. I love sharing things with you, so come back when you can!
Stylishly Yours,