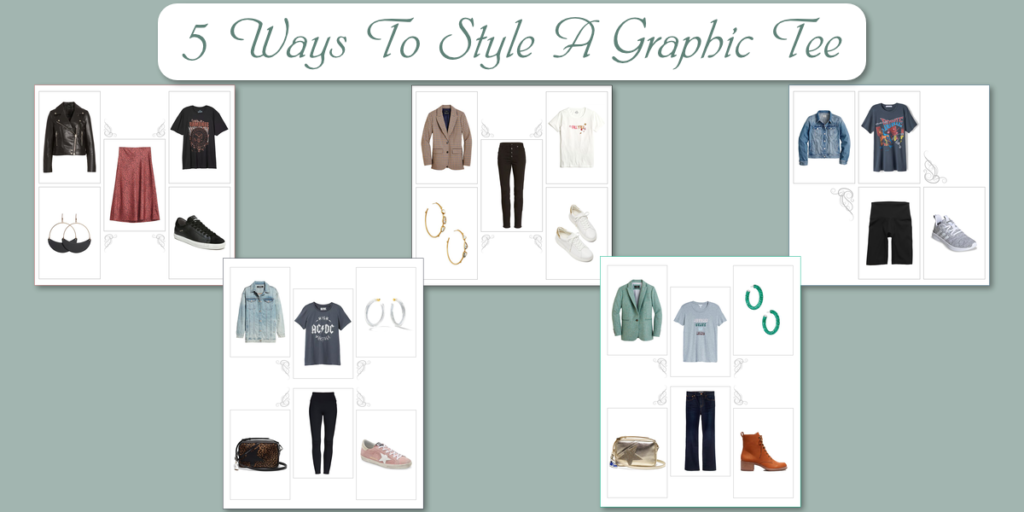 Graphic tees have become the "IT" t-shirt in the fashion world these days. You will find them with catchy phrases, large band graphics, all over graphic prints and small graphics.  Whatever you decide to choose this t-shirt can be a fun item to add to your wardrobe. The best part is that it can be worn year round!
Graphic tees are very versatile and can be worn with more than you probably think.
All of the outfits in this post come from the Your Guide To Style app.  You can click the images to view more options but you will need to be a Your Guide To Style member to view.
If you want to learn more about YGTS you are welcome to watch our new video of the inside of the application HERE.
Basic Tips
Stay with a neutral color for the actual t-shirt. Black, white, and grey are the perfect neutral colors.

The color of the graphic on the tee is usually not what determines what you can pair it with unless it has very distinct colors. 

If you want to wear it with skinny bottoms like leggings than find one that is longer and oversized.  

You can pair a graphic tee with other prints.  You would coordinate the colors like you would any other outfit.

The key to making a great fall look is to layer the graphic tee with a jacket.
5 Ways To Style A Graphic Tee
With Jeans & A Blazer
A graphic tee is easy worn with kick flare jeans, a fun patterned blazer and solid pair of booties.  "The Unexpected Fall Blazer" outfit below is from the Your Guide To Style app and is a great example of this.
I did coordinate the colors in the graphic tee with the blazer and accessories for a more cohesive look.  You don't have to do this but I liked how these looked together, so I chose to do it that way.
Style Tip: I also chose some cute kick flare jeans in case you are tired of skinny jeans and want to try something new. The key to styling the kick flare is to make sure you have a little bit of a heel on your shoes to elongate the leg a bit.
If you want to know more about kick flares you can read this post: How To Style Fall's Biggest Jeans Trends.
If you prefer skinny or straight jeans that would work as well.
With Black Skinny Jeans & A Plaid Blazer
Wear a graphic tee with black skinny jeans, a plaid blazer and solid sneakers. This combination creates the perfect fall outfit for this season. Not only are graphic tees a big thing but so are plaid blazers. This "A Necessary Graphic Tee" outfit from our app gives me all the perfect fall vibes!
Style Tip: The blazer should be worn open in the front and the graphic tee can be front tucked or left untucked, whatever you prefer. Also, if you wanted to make this a little "dressier" you could add black booties instead of the sneaker.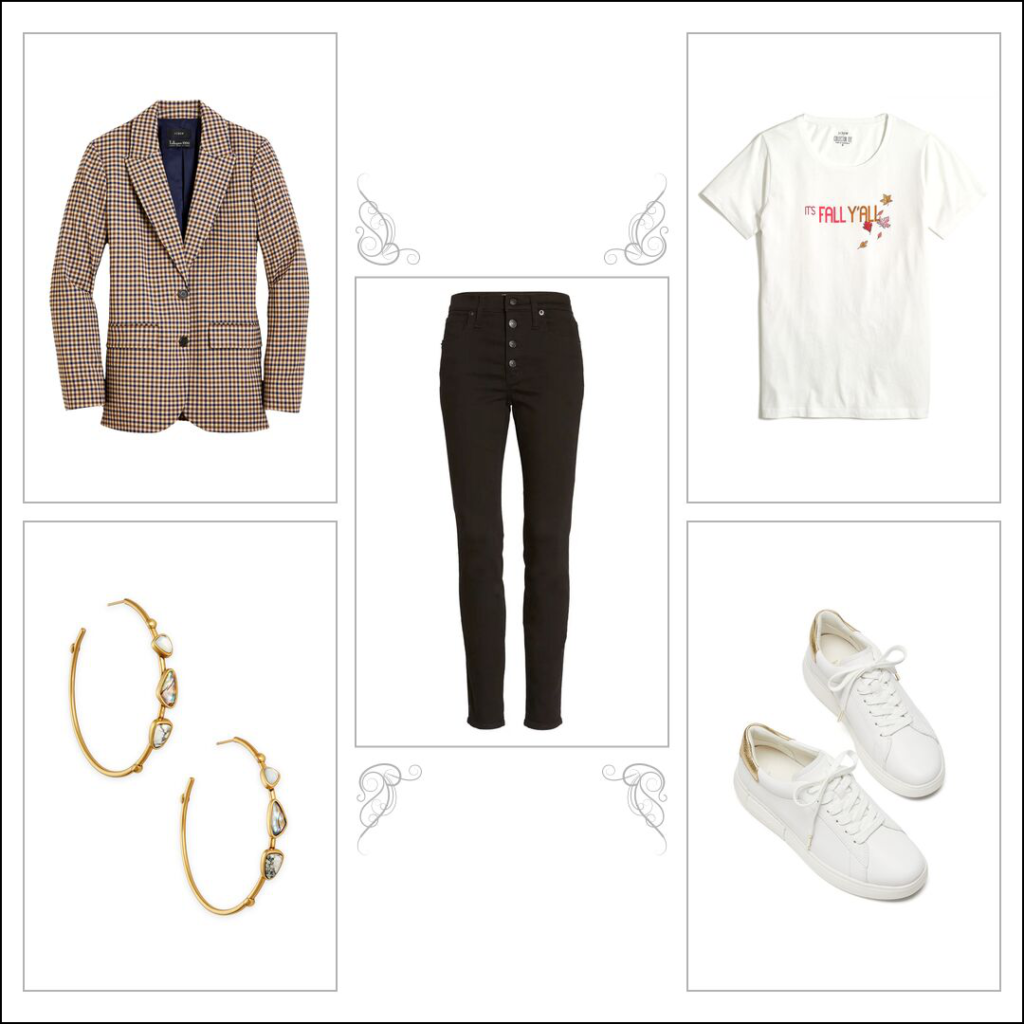 With An A-Line or Accordion Pleated Midi Skirt
Step out of your comfort zone and pair the graphic tee with an A-line or accordion pleated midi length skirt. I know this combination is not for everyone but if you look good in an accordion or A-line midi length skirt this outfit is for you!
I have provided two examples below. Both of these are actually a version from ONE outfit in the Your Guide To Style app called "Graphic Tees & Print Skirts".  I chose these two versions because they are my personal favorites.  To explain, the app allows you to select from a variety of options for one item to customize your own version of the outfit. These are my customized versions.
Style Tip: To style this look I would recommend tucking the tee fully into the skirt.  If the tee is not so oversized and looks good front tucked that would be an option as well. Add some sneakers and casual earrings to keep with the casual vibe of the outfit.
Click the photo to find out more!
With A Pair Of Leggings
If the graphic tee is relaxed or oversized and long enough, pair it with leggings and sneakers. Not only did I pair a relaxed and longer length graphic tee with this but I chose a boyfriend style denim jacket to complete the look.  This is a great way to spice up your solid leggings for a perfect all day casual look.
This "Rock Into Fall Band Tees" is specifically styled with a band tee.  I love that this 90's trend is back and in a major way.
Style Tip: Pair some fun hoops and a great crossbody bag to stay with that 90's vibe!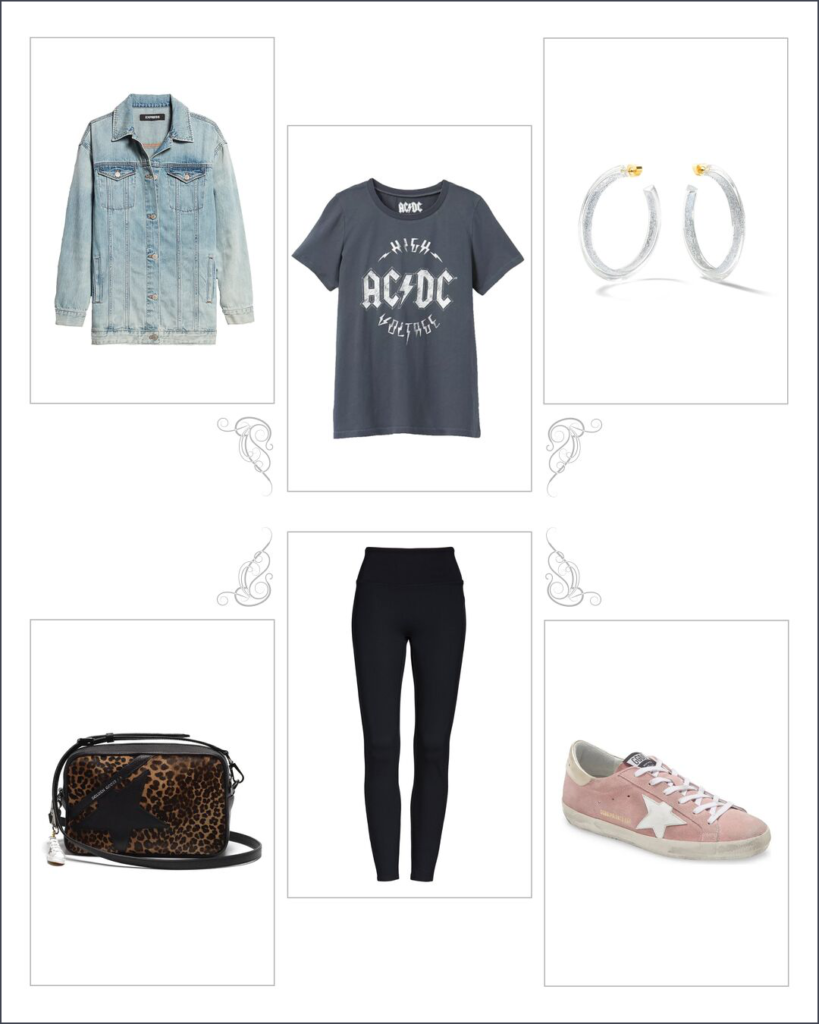 With Biker Shorts
For a leisurely look, pair a relaxed or oversized and longer graphic tee with some fun biker shorts. Besides an oversized sweatshirt, the best way to wear biker shorts is just like this "Stay Trendy At Your Leisure" outfit.  It is sporty and so easy to wear around the house or running errands.
Style Tip: The key styling tip for this one is to keep the graphic tee longer for more coverage and the jacket shorter to not overwhelm the outfit. You can even drape the jacket over the shoulders or tie it around the waist if the weather permits.
These 5 ways are the simplest ways to style a graphic tee and you probably already have many of the items styled with them in your closet. This makes it super easy to add a graphic tee into your existing wardrobe. We have an entire guide called Graphic Tees in Your Guide To Style dedicated to styling graphic tees and it will show you how to style them for cooler and warmer weather.
This trend is here to stay for a while so don't hesitate to jump on the bandwagon.
Thanks for reading and I hope you will check out Your Guide To Style!
Stylishly Yours,