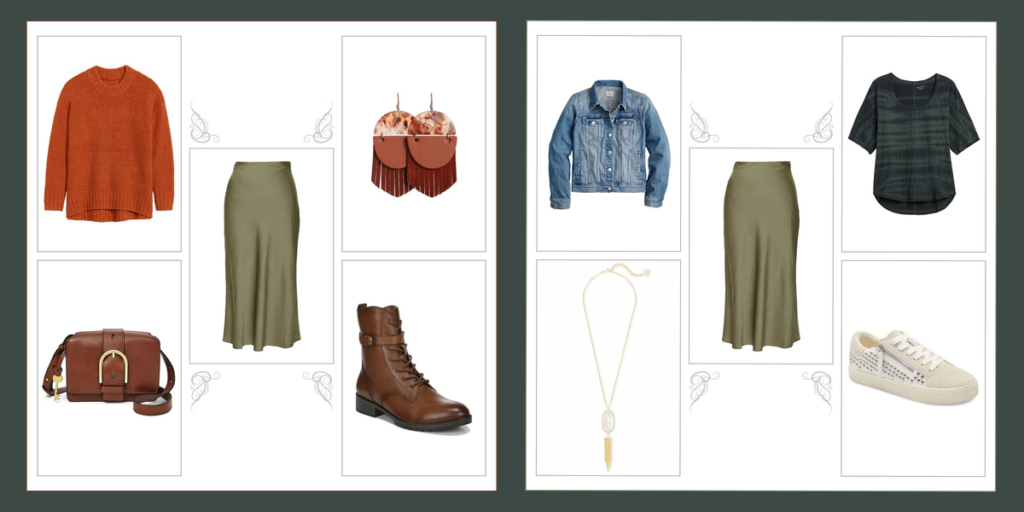 Midi skirts are sticking around and becoming another staple in our wardrobes. If you're not familiar what midi means, it is the length of a skirt or dress that hits mid-calf on the legs. If you think you can't wear a midi length for some reason or another I hope these simple ways to style a midi skirt for fall will encourage you to think again about it!
My goal for this post is to get you out of your comfort zone and to show you how you can style it different ways. I think lots of people feel if they are short that this length wont work for them. I am 5'4″ and it is my favorite length to wear in a skirt or a dress.
When worn properly, a midi length skirt can be flattering on just about anyone.  They are also really fun to wear.
All of the content in this article comes from the Your Guide To Style online app.  We provide these posts to help our users get more information on how to style the outfits in our app.  You can click on any of the images in this article to view more options for the outfit but you have to be a member of Your Guide To Style to view.  If you have never heard of our online styling and shopping app click the link below for more information.
If you want to learn more about YGTS you are welcome to watch our new video of the inside of the application HERE.
What To Look For 
Usually people know what kind of skirt shape looks good on their body.  If you don't, I would just try a few on and see which one fits and flatters your figure the best.
An A-line shape looks good on most body types because it is more loose fitting and falls away from the hips. The great thing about a midi skirt is most of them have an A-line shape to them.
What style is best? My recommendations for a midi skirt is to look for a slip skirt or an accordion pleated skirt.  These will give you the most versatility because you can dress them up for evening, dress them up for work or wear them casual for every day.
What color is best? If you are trying a midi skirt for the first time I would look for a dark solid color like black, olive or navy. These colors will pair very well with lots of tops and jackets.
Want a little more? If you want to dress a little more trendy you could choose one in a fun print. The darker and smaller the print the easier it will be to style with other things.
The Midi Slip Skirt
Casual Option
The "Slip Skirts & T-Shirts Outfit" is a very casual outfit styled with a midi length slip skirt.  The easy and casual vibe of this outfit makes it a great option for having coffee with friends, running errands, or just because you want to look cute.
Style Tip

: I paired the t-shirt and skirt with a denim jacket, long necklace and lace-up sneakers to keep with the casual vibe. The denim jacket can be worn as a jacket or if the weather permits you can drape it over the shoulders or tie it around  the waist.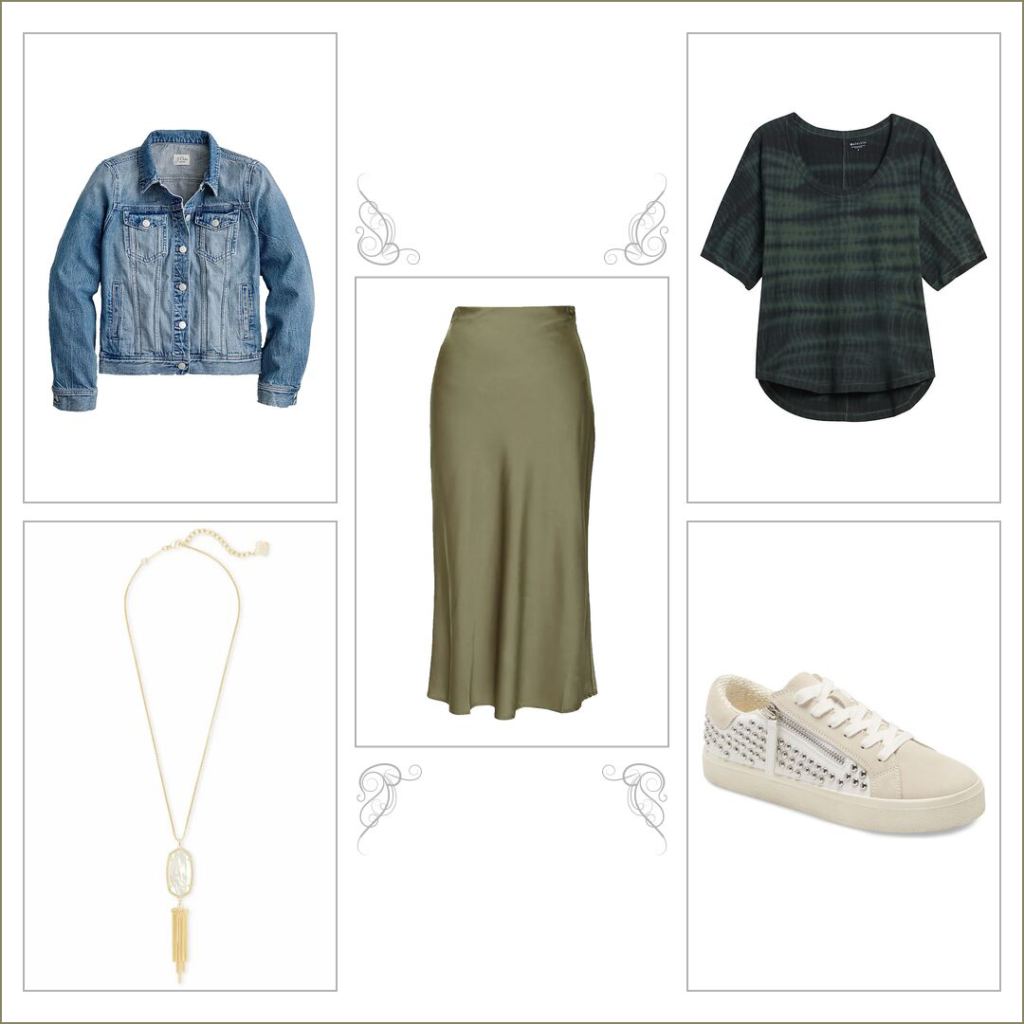 Casual & Edgy Option
I think this is my new personal favorite option to style a midi skirt casually for fall.  I know this kind of style is not for everyone but this year the combat boots are a BIG trend.  To give a midi skirt and sweater combination an edgier feel for this fall, choose a fun pair of combat boots and a longer chunky sweater!
The "The Midi Skirt Edgy Style" outfit is styled with the same skirt as the t-shirt outfit above.  If you want to see more combinations for this outfit click the photo!
Style Tip

: Statement earrings and a small crossbody bag should compliment your solid sweater and skirt to bring it all together for a stylish edgy look.


Dressy Option
Sometimes you just want something different to wear for an evening event other than a dress.  A midi skirt is the perfect option. It actually will look it's best styled with a pretty blouse and some heels.
As you see, I have used the same skirt from the other two outfits in this "Bows & Midi Skirts" outfit as well. I purposely did this to show you how versatile a skirt like this can be in your wardrobe.
Style Tip

: When dressing up a skirt like this, wear a semi-flowy blouse outside the skirt with a pair of pretty heels.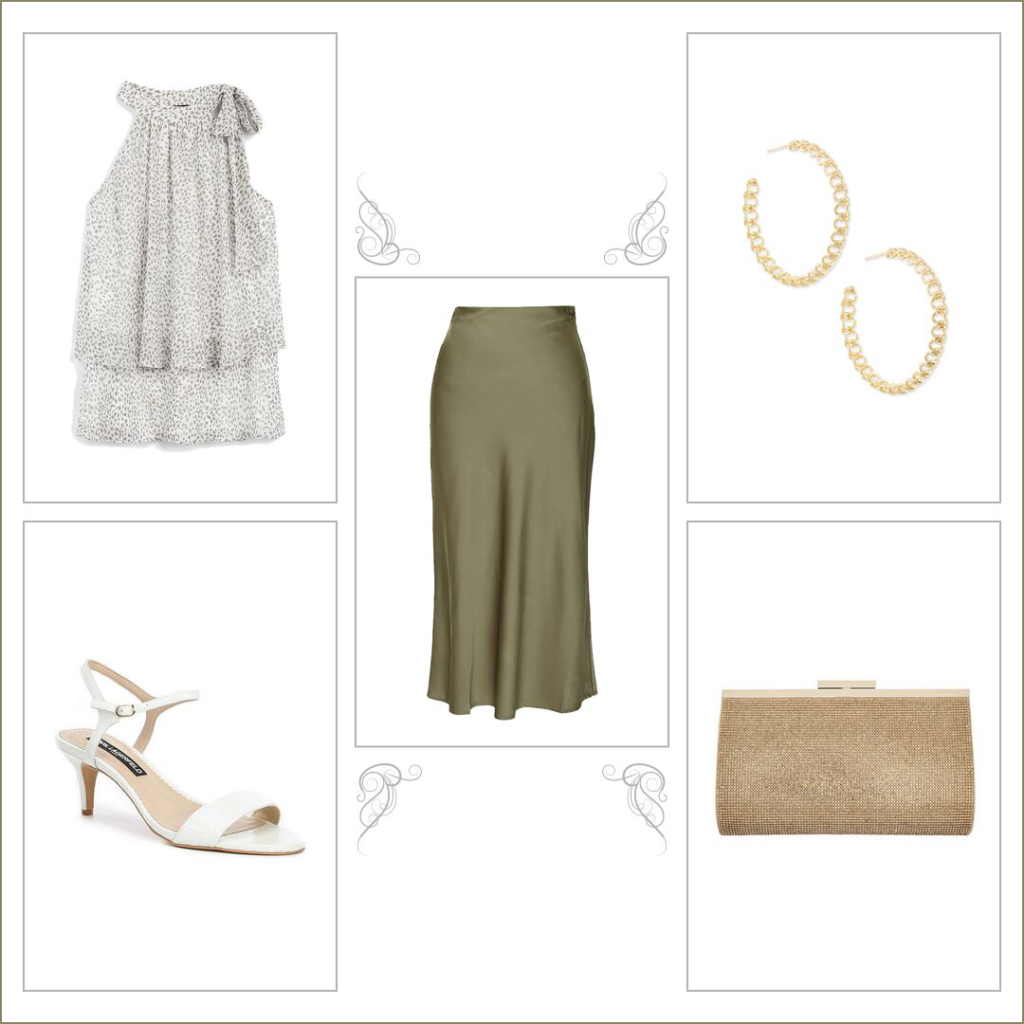 The Accordion Pleated Skirt
An accordion pleated midi skirt is another option you could consider. They are super fun to wear and can also be dressed up or down.  Try to find ones that are not too overwhelming and flow nicely away from the body. Sometimes if they are too full they can feel heavy and overwhelm the shape of the body.
Casual Option
The "Pleats & Boots For Fall" outfit below is an easy option with an accordion pleated midi skirt. Style it with a solid plain t-shirt, a denim jacket and some solid tall boots. The denim jacket could be swapped out for something heavier like a faux leather jacket if it is colder outside.
Style Tip

: To give this a little more pizzazz you could add a statement necklace like a chain necklace and some cute huggie style earrings.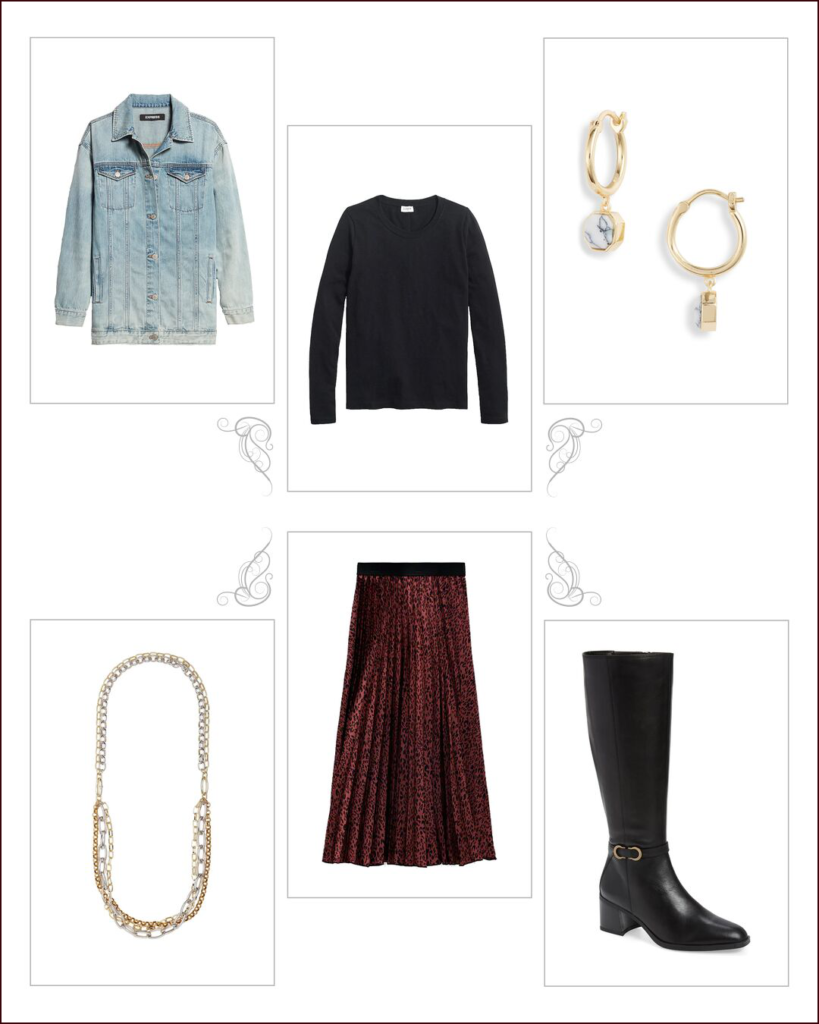 Dressy Option
If you want to dress to impress for a fun event or evening out this "Pretty In A Midi" outfit below will surely turn some heads. The tie neck blouse adds a feminine touch to the pleated skirt and moto jacket combination. This outfit can also be worn without the moto jacket.
The booties are sleek and dressy because of the pointed toes and high heels. This is a better option for dressier outfits like this as opposed to ones with rounded toes and lower heels.
Style Tip

: Tuck the blouse into the skirt for this look.  It will create an hourglass shape and flatter your figure.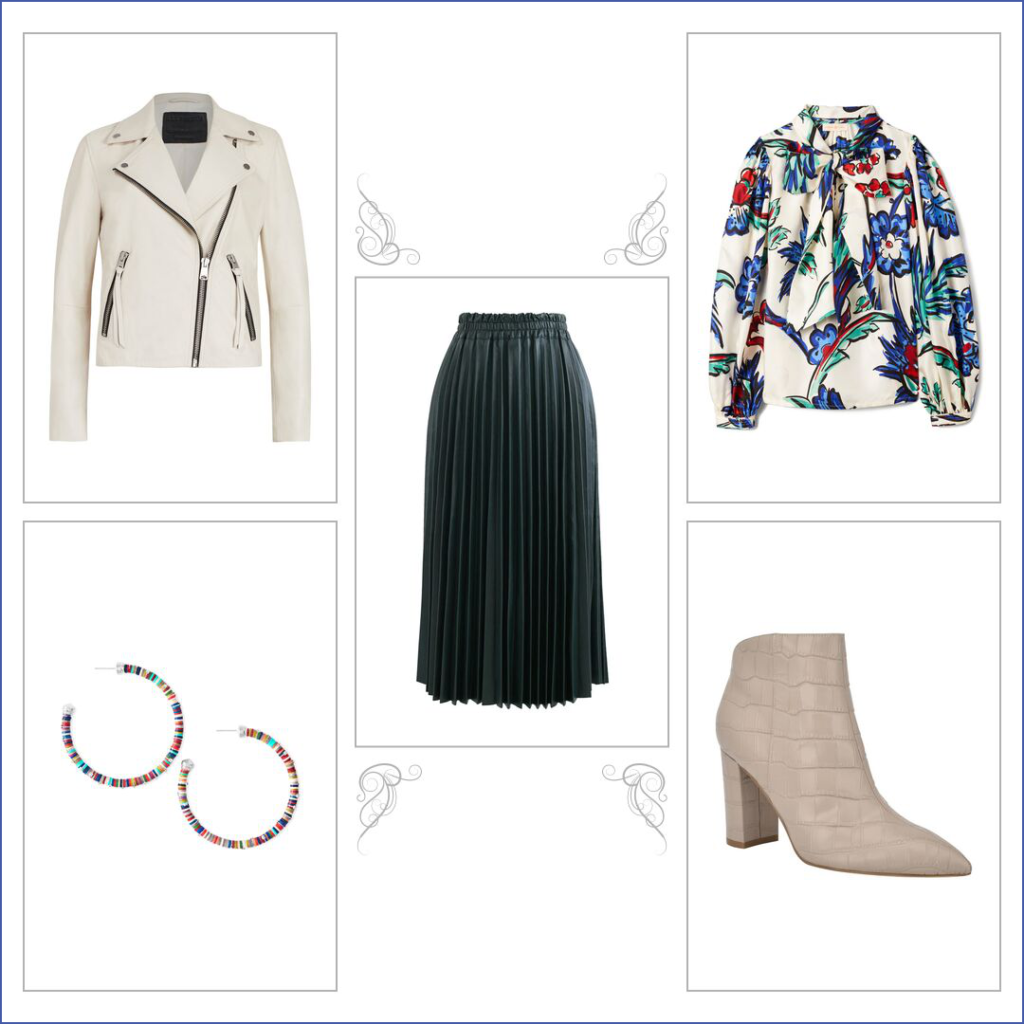 There are so many other options to style a midi skirt and they are available to you through the Your Guide To Style online app. You can sign up today for your free trial by clicking any of the images above.  I hope these simple ways to style a midi skirt help you create some great looks for this fall season.
Thanks for reading and I hope you come back soon!
Stylishly Yours,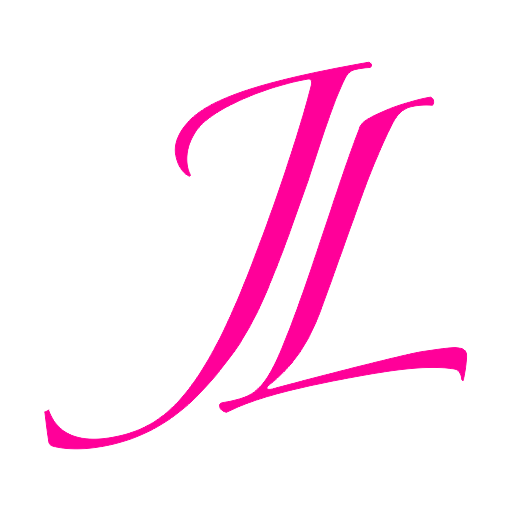 *I do make a small commission from of any purchases made from the clothing links in the post.