Happy Monday everyone!  We have finally hit February which means we are that much closer to Spring time!  I have  been doing a series on some things that you can wear now and will be great for your Spring wardrobe.  This post is to add in another element for Spring and that is the PANTONE color of the Spring Season 2018 I love that it is Ultraviolet.  We will see so many beautiful shades of this color and one of them is lavender.  It has taken me a few (or maybe several) years to actually start liking this color again.  I worked at a store back in the day that had lavender everything! And I am not kidding.  The store was about 1000 square feet and it had lavender walls, furniture and fixtures!!!!  I called it the "Purple Straight Jacket".  That's what it felt like after an 8 hour shift in a small purple space! Can you tell I am still getting over it! I don't think I have ever publicly talked about it either.  Anyway, the store closed several years ago and it's probably a good thing.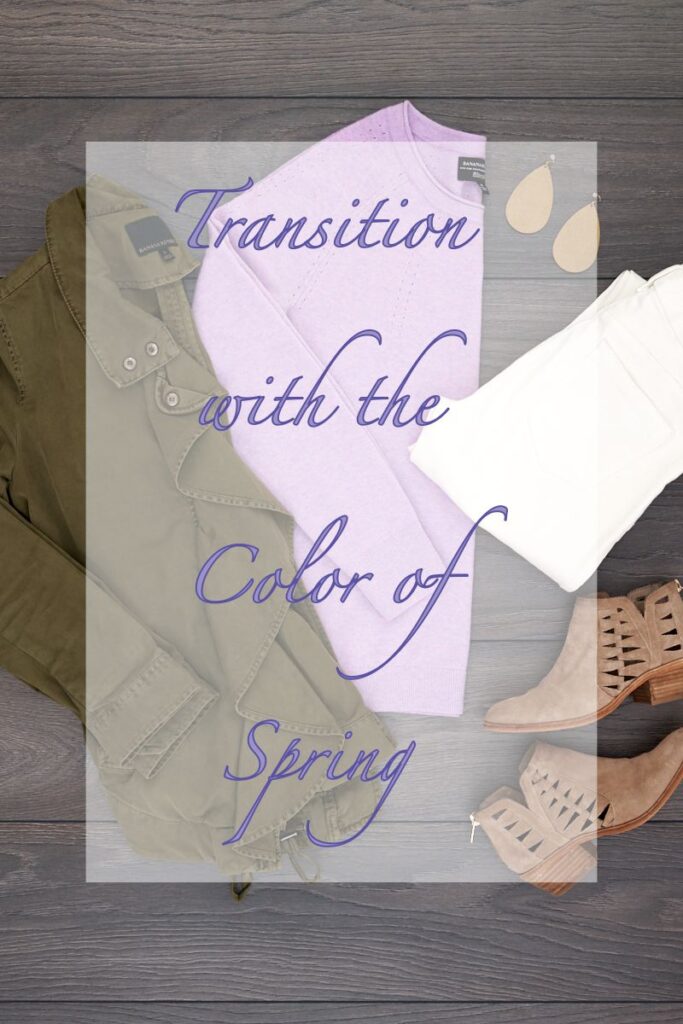 If you can find a transitional piece like a light sweater or top with the color of the season in it you will be a step head of the styling game.  It will give you some versatility as you move your wardrobe into Spring.  You can mix it with your winter stuff and then transition it to your Spring stuff. This Wild Lavender sweater from Banana Republic can do just that.  It does have a little bit of wool and cashmere in it so you will not want to wear it when it gets into significantly warmer temps.
I have styled it with two different outfits for you and they are very different looks.  This sweater can become a serious preppy piece or a casual chic piece.  Any simple crew neck sweater can be multipurpose like this.  It is so basic you can spice it up however you like.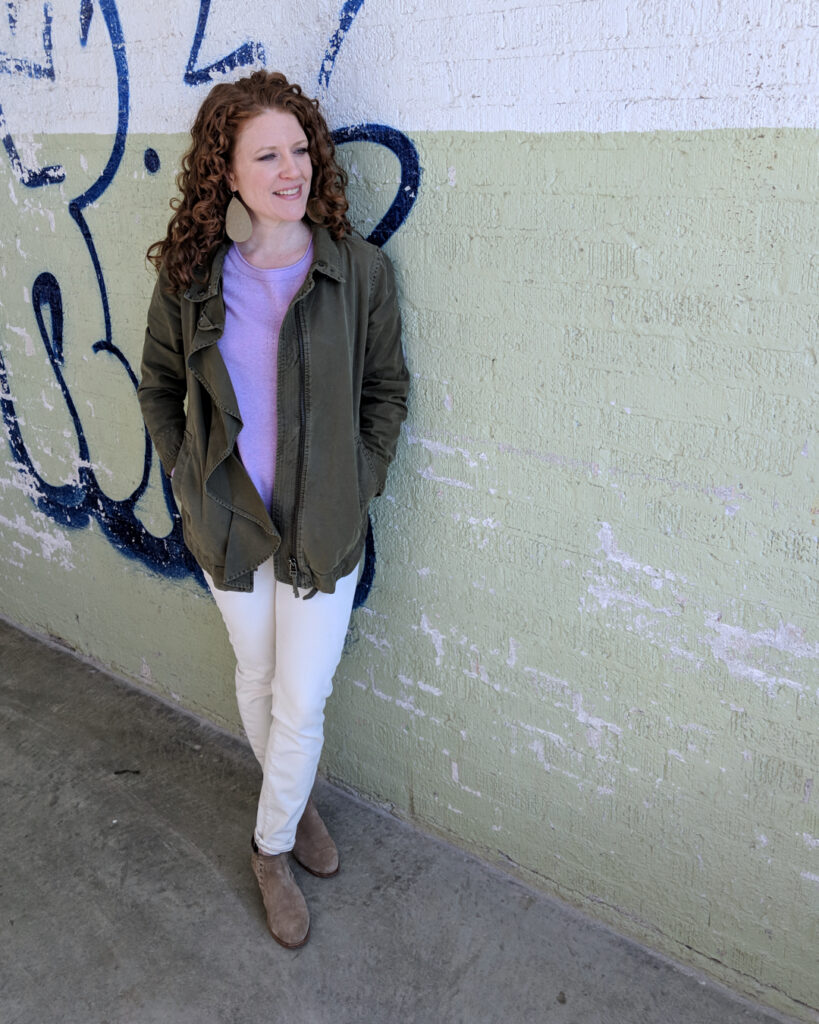 In this first outfit I decided to layer it under my ruffled army green utility jacket I got from Banana Republic last year.  I love army green and lavender together!  I paired these two items with some ecru colored jeans from J Crew.  You could also do white or dark jeans.  I am currently on the hunt for a really good pair of white jeans.  This is a must have for Spring and Summer like your black is for Fall and Winter. But the ecru will do for now and I actually love them for this time of year.  I added some tan colored booties and statement earrings to finish the outfit.  This is my personal favorite way to wear this sweater.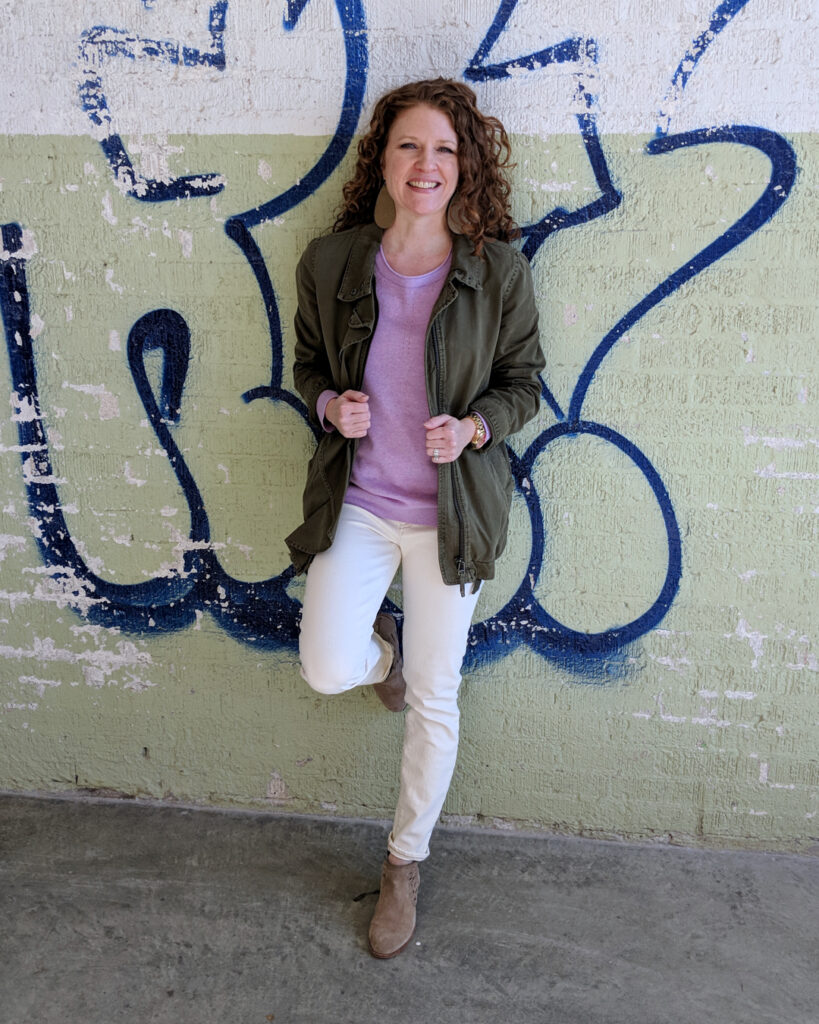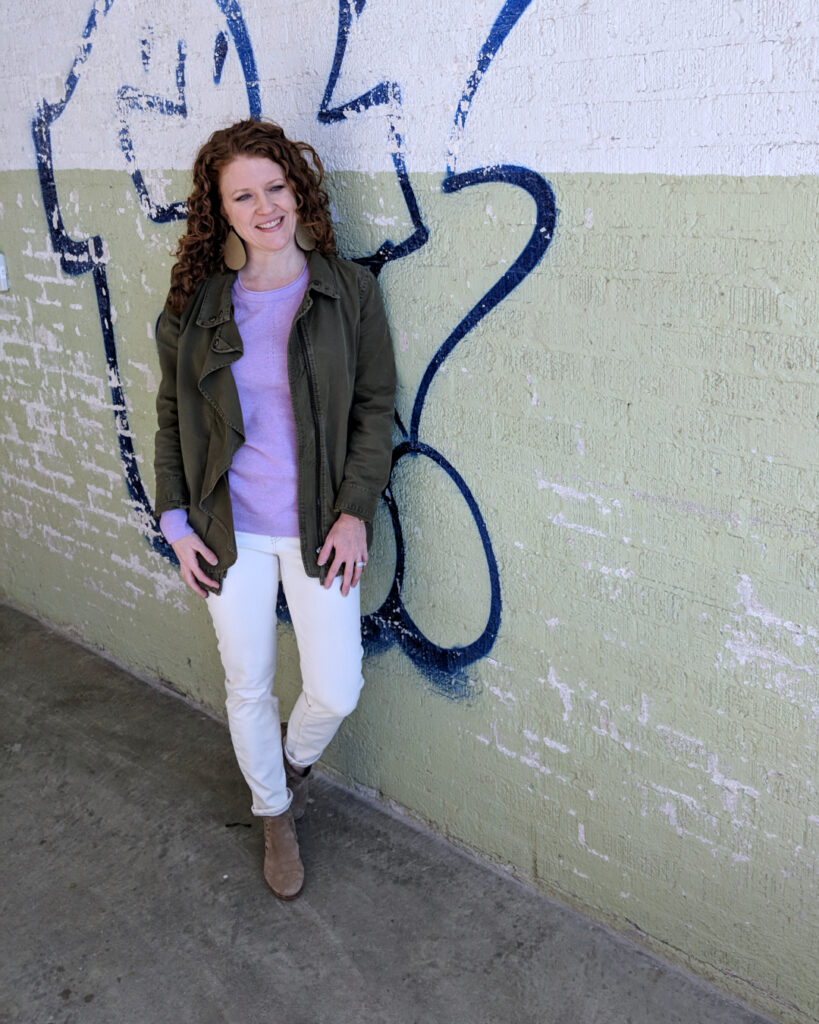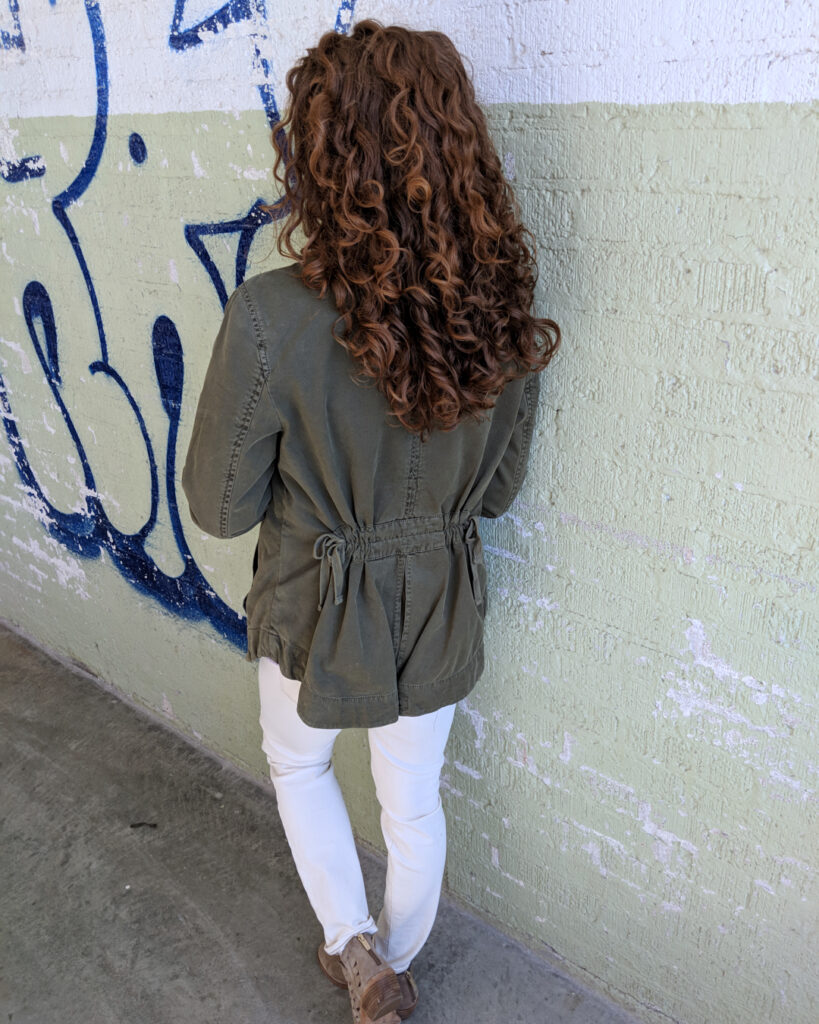 I just have to point out the back of this jacket.  I love how it cinches in at the waist so it doesn't just look like a sack on me!  The one from this year is borderline even cuter than this one and I may have to add it to my closet! It is a beautiful peplum style with ruffles on the sleeve! Sometimes Banana Republic comes up with some genius designs.  I always keep my eye on them for things like this.
The second outfit is so cute and easy if you need a more professional preppy look for work, meetings or church.  I wore the sweater over a printed button down top from J Crew.  The top actually had the same color in it but it doesn't have to. A great chambray button down or blouse with a bow will also work with this sweater.  I will link some the other suggestions for you below.
I put my really dark flare jeans and high heeled tan suede booties with it. Instead of the jeans you could put a nice straight leg pant. It's funny, I just realized everything  but the under shirt is from Banana Republic.  If you need good classic, yet stylish, staples for work attire Banana would be a great go-to place for you.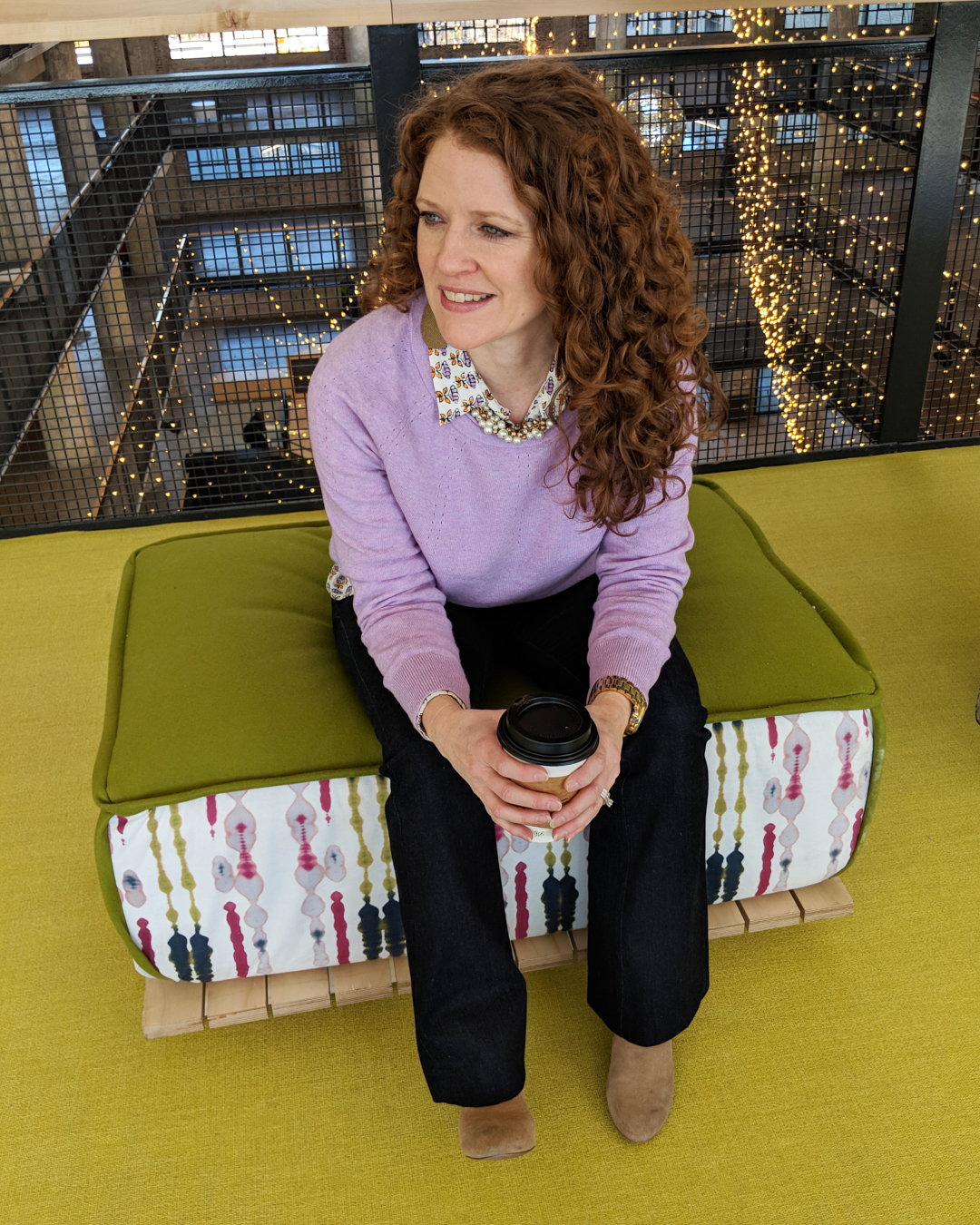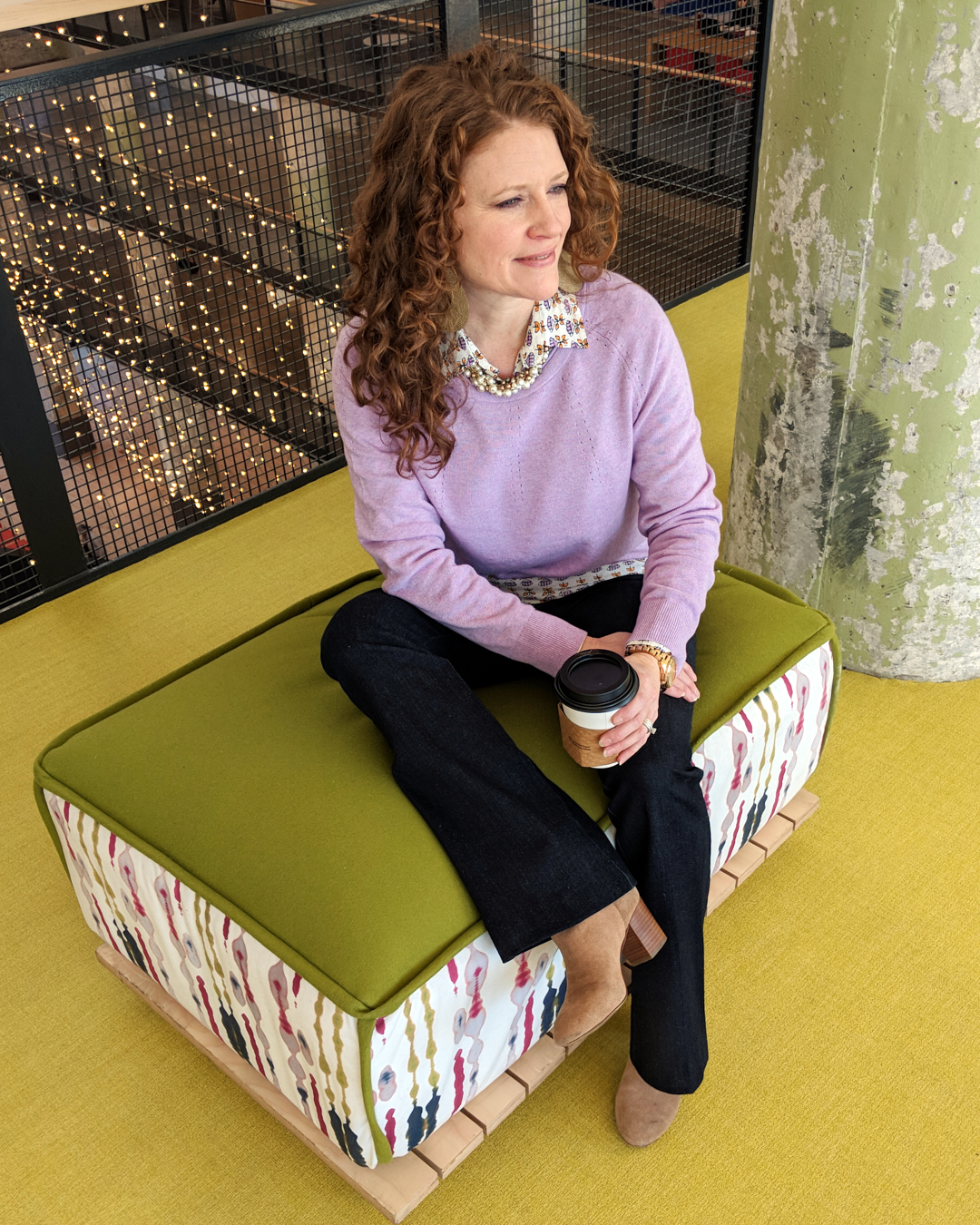 If you are going to wear a flare jean I feel like they look best with a shoe that has a bit of a heel to it.  If you are not someone that loves a heel than you can always do a wedge. Just make sure it is something that gives you a little more height if you need it.  Flares tend to have a longer than normal leg to get that exaggerated flare and you don't want to have to hem the entire flare off.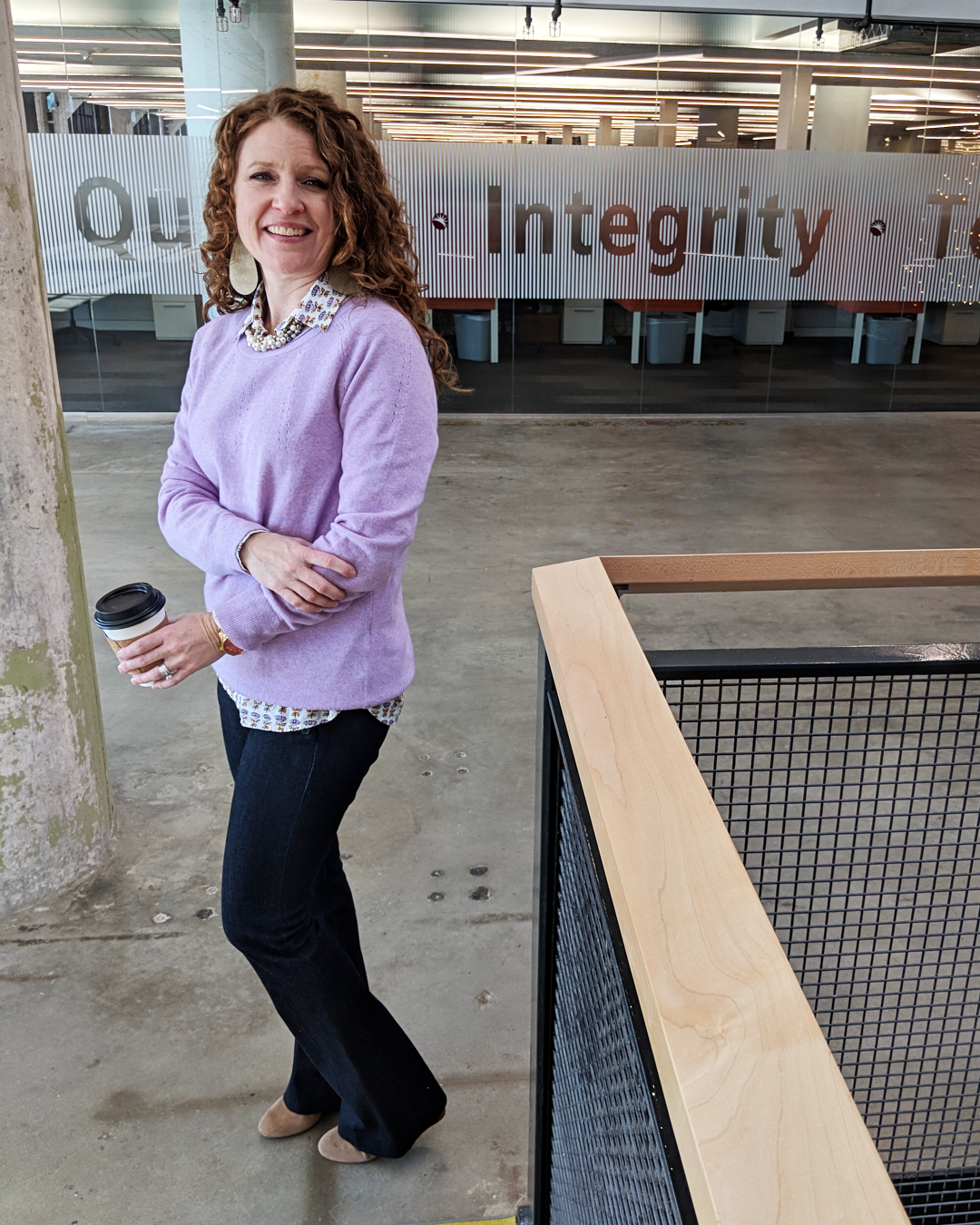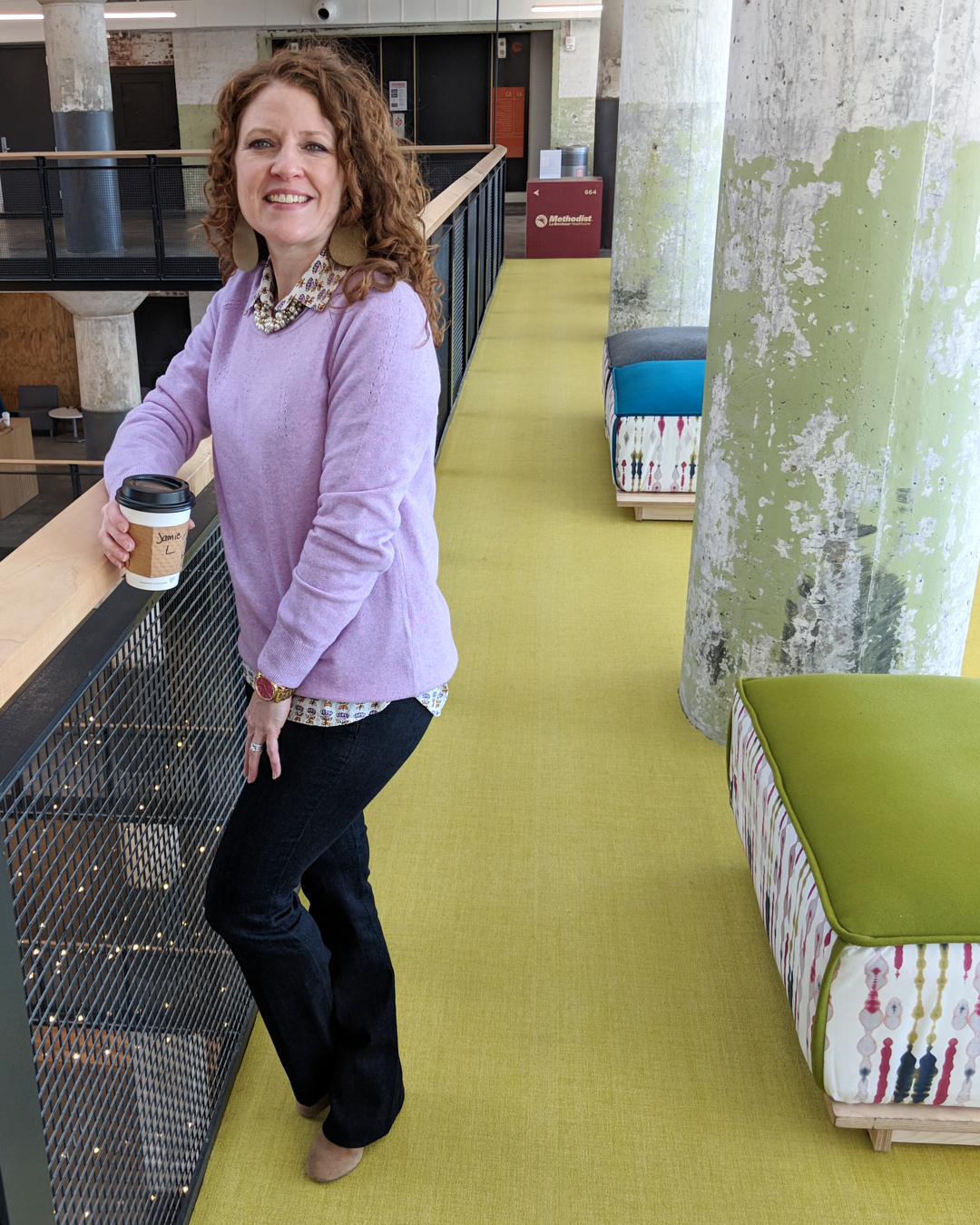 I chose to let the shirt hang out of the bottom of the sweater but you can tuck it in if your prefer.  Either way looks good. I just like to see the print at the top of the sweater and bottom.  I feel like it gives balance.  Part of fashion and styling is finding what works for you and makes you feel good.
I wore the same earring with both outfits. I love my Nickel and Suede Gala Gold in size large but you can do what you like on this as well.  Studs, chandeliers, tassels, hoops or none at all would be fine.  I like statement earrings and Nickel and Suede's are so light weight and come in fun colors so you will see me wearing these a lot.
I hope you enjoyed seeing something from the pantone color of the season!  It makes me long for Spring to arrive but until it does we can put a little "spring" in our outfits now!  Let me know if you have any questions or suggestions by commenting below! Have a good week!
*I receive commissions for clicks/purchases from links provided in this post.
L.O.L. – Jamie