Hello lovelies! I am so excited to be doing my third Flat Lay to Life-Styled post for you!  I have gotten such good feedback about this one that I think it is going to stay permanently. YAY!  I have so much fun writing it and think it serves a great purpose in bringing you more details on my styling advice.
This one is going to be about Spring Transition which I have been concentrating on for the past couple of weeks. When I help clients they all have the same issue with trying to figure out what to wear this time of year.  It is still winter time but it's cold one day and hot the next.  All the stores are getting Spring things in so we are tempted to purchase them and just want a change in our wardrobes. I get it! I experience it too and have great solutions to combat this excruciating dilemma!
I would love some feedback on what you do for this transitional time.  Leave me a message in the comments below so we can chat!
Outfit 1
When this time of year rolls around I really like to add a few pieces to my wardrobe that feel like Spring but are warm enough for cooler weather.  I also want them to be able to be layered and to mix well with my existing winter stuff.  This first outfit is my best example of that.  I have taken a great eyelet blouse that I purchased new from H&M and put my denim jacket over it. I then paired them with my black jeans and blush booties that I had for fall.   It is a beautiful marriage of Fall and Spring.  I use this technique a lot when changing seasons.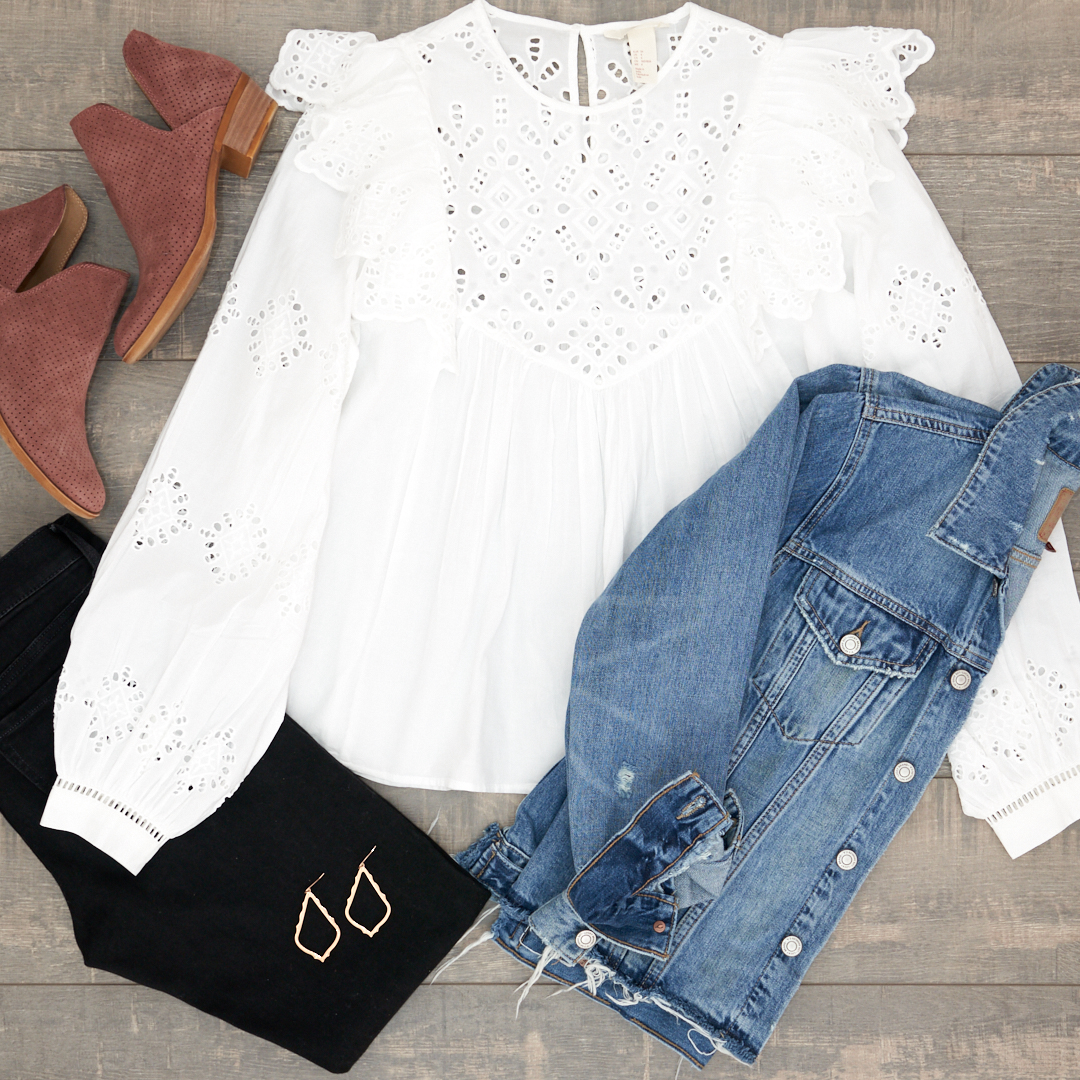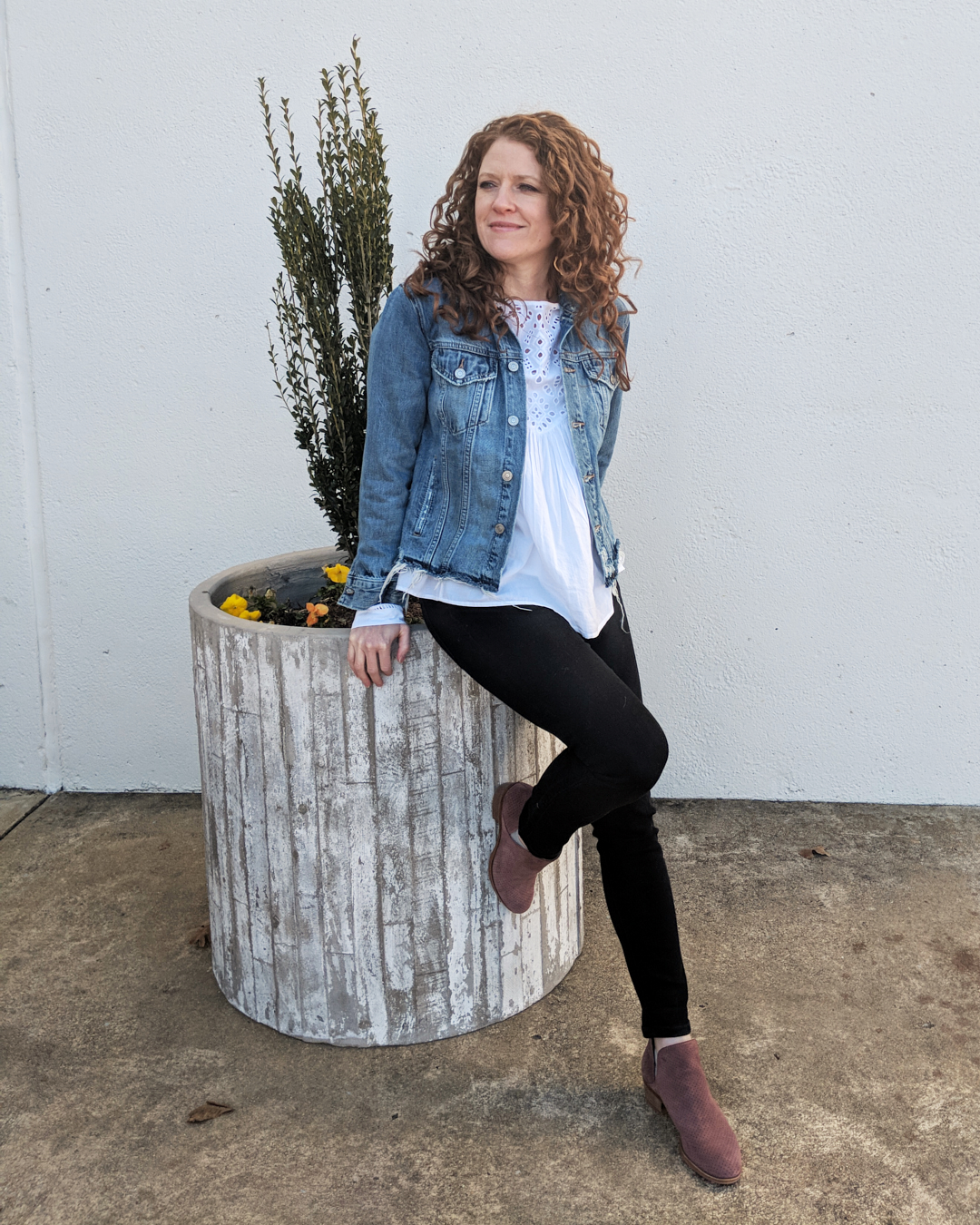 Outfit 2
This is my second favorite example of what you can do for Spring transition. The H&M kimono was also a new addition to my wardrobe and for only $15! You can't beat that!  Honestly I think this kimono may have been a winter piece but the flowers make me think of Spring.  A kimono style also makes me reminisce of Spring time.  Maybe it's the sleeves and openness of it, I'm not real sure. Anyway, I layered this with my velvet tee (which is also showing up for Spring), dark trouser jeans and black booties.  If you would rather put on a skinny jean and a flat that would work too!  I will also be layering this kimono over a navy and white striped t-shirt and my white jeans for an even better Spring look as we get closer.  Can't wait to do that!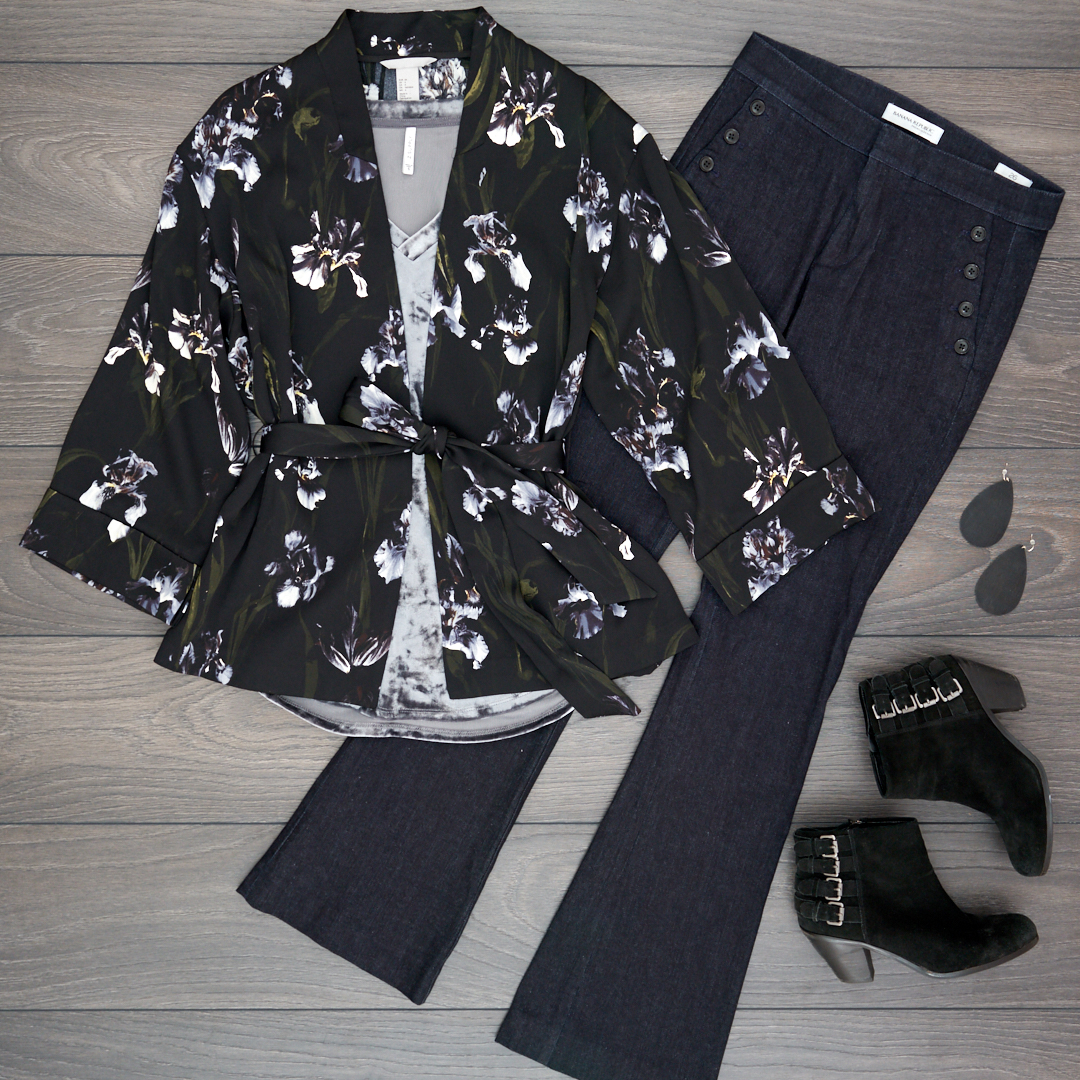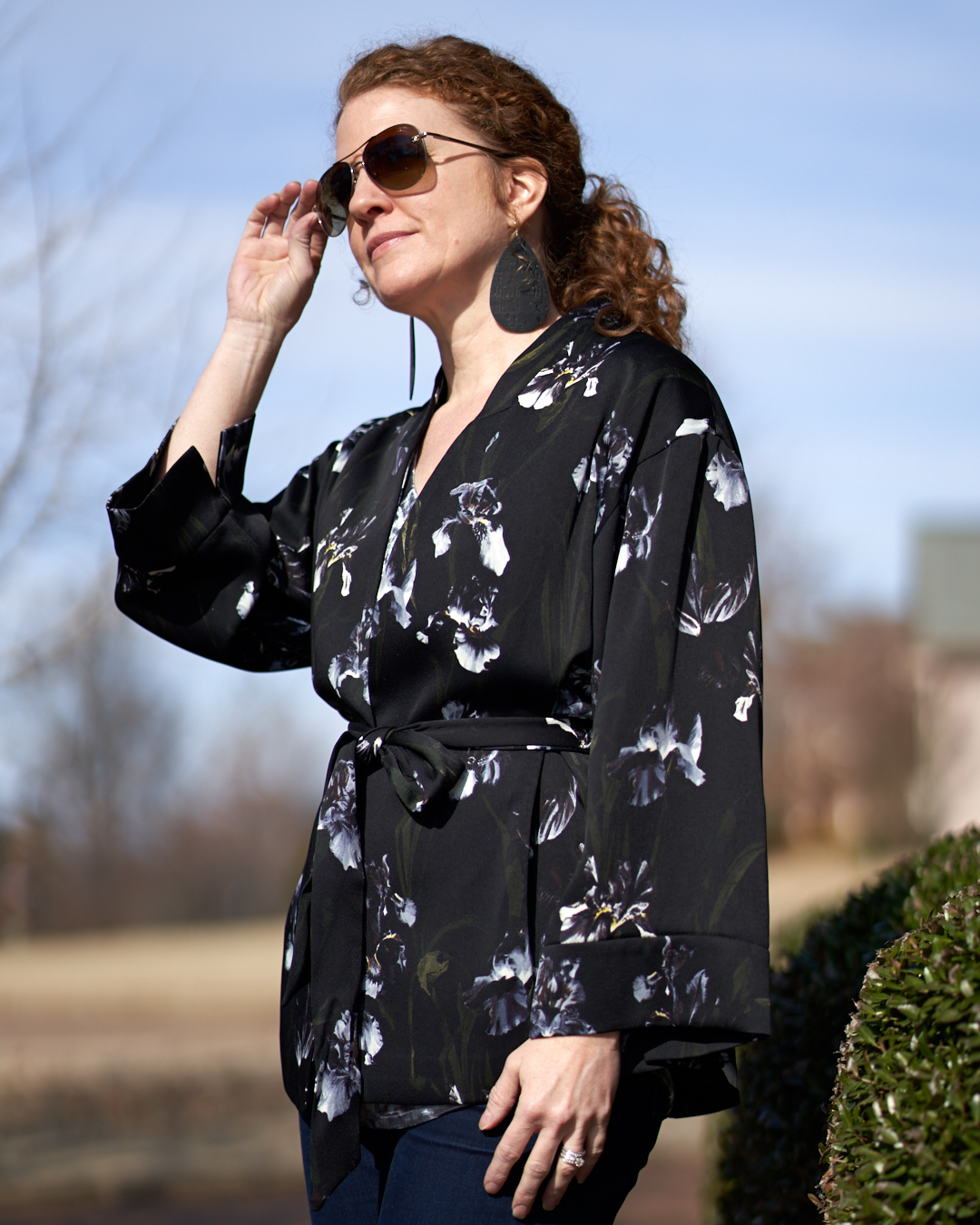 Outfit 3
I have been talking about having a good utility jacket in your wardrobe for the past couple of weeks! I feel like this has been such a need in my own personal wardrobe that I think everyone else needs one!  It is so versatile and is a fun, light-weight jacket that looks stylish. I wanted to bring in the color of Spring to my wardrobe so I paired the utility jacket with this thin wool blend lavender sweater from Banana Republic.  To keep with the Spring vibe I wore my ecru jeans from J Crew and tan booties.  You can put a regular pair of jeans with this and it will look just as good.  I love olive green paired with pastels and think it gives you a stylish and unexpected look.
The jacket in the photo is my utility jacket from last Spring from Banana Republic. I loved it because it had the feminine ruffles and cinched waist.  My favorite one from this year is also from Banana Republic and if you have read one of my recent posts it is mentioned in there.  It is the cutest peplum jacket with ruffle sleeves!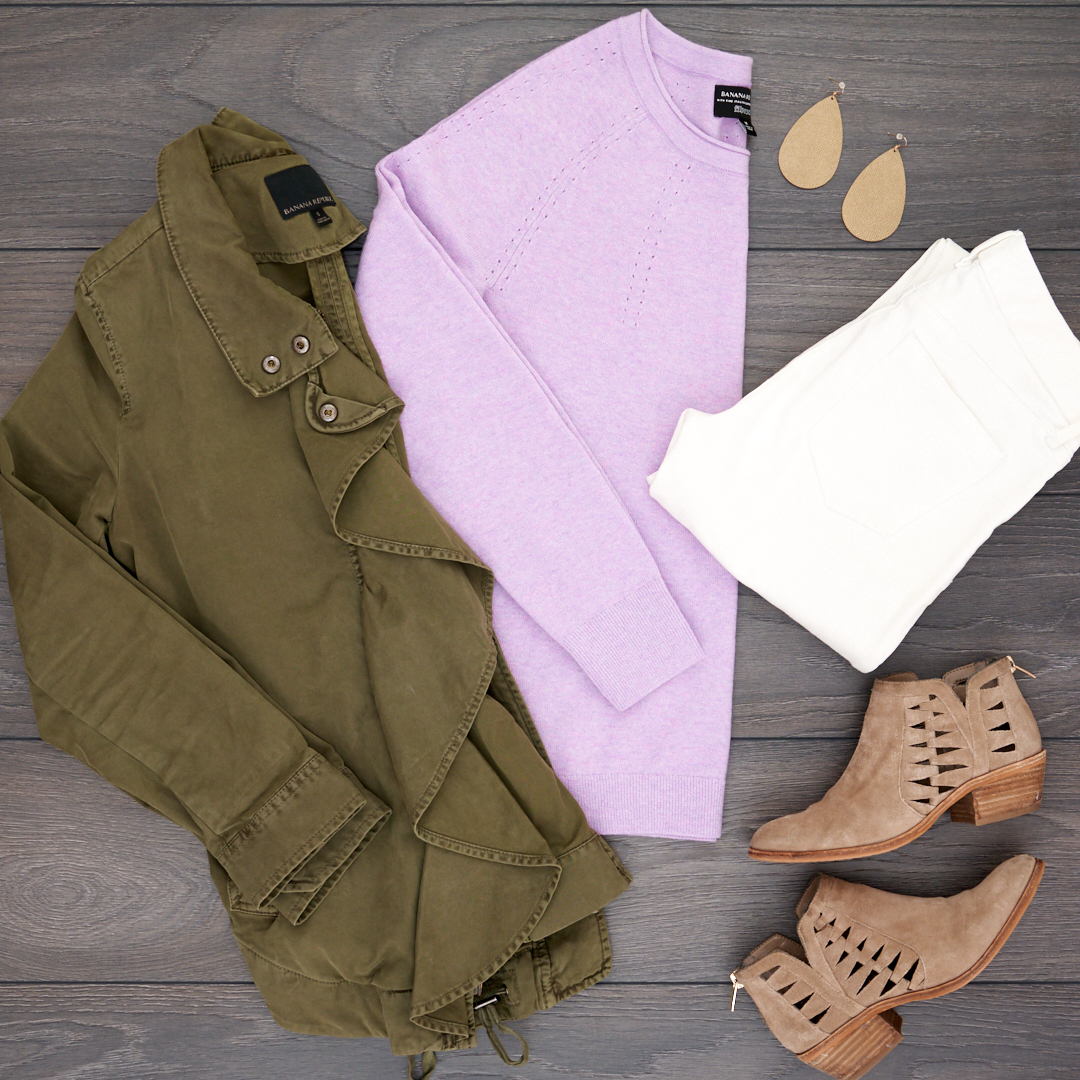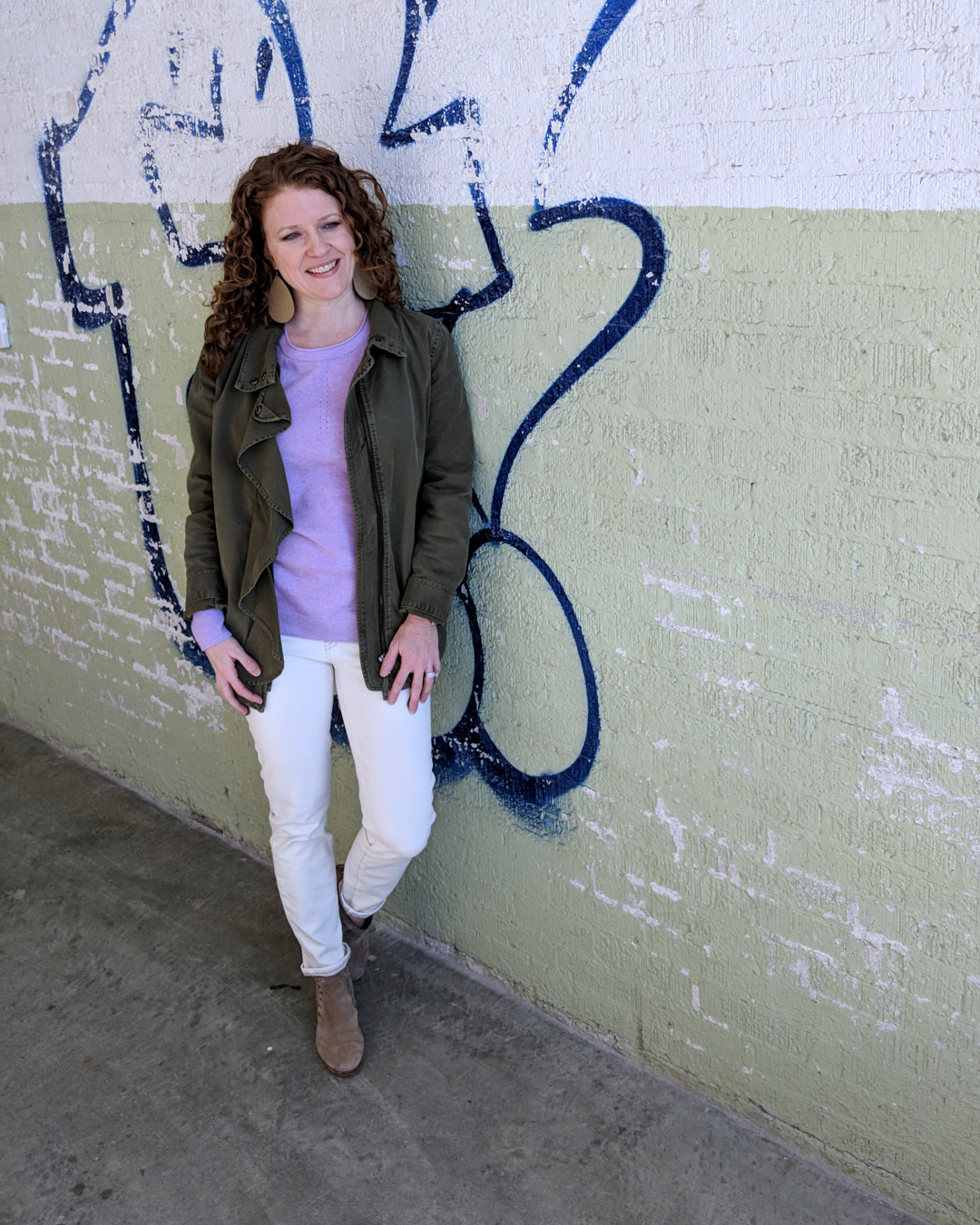 Outfit 4
Can you tell I really love this blouse!  I have made so many outfits with it already! My favorite outfit to date is coming soon with this same blouse and I can't wait for you to see it!  This outfit below is special to me as well because it has a pink denim jacket with it.  Blush pink is literally everywhere this Spring, so this will work well the rest of the season. I actually purchased this in the fall but love it  even more for Spring. Don't you love it when that happens! I added the ripped jeans to give this girly outfit a little edge.
This outfit is so simple but so cute and fashion forward.  I added a cute little leopard bandana to put around my ponytail just to get that 50's vibe.  It made me think of Olivia Newton John in the movie Grease (one of my favs).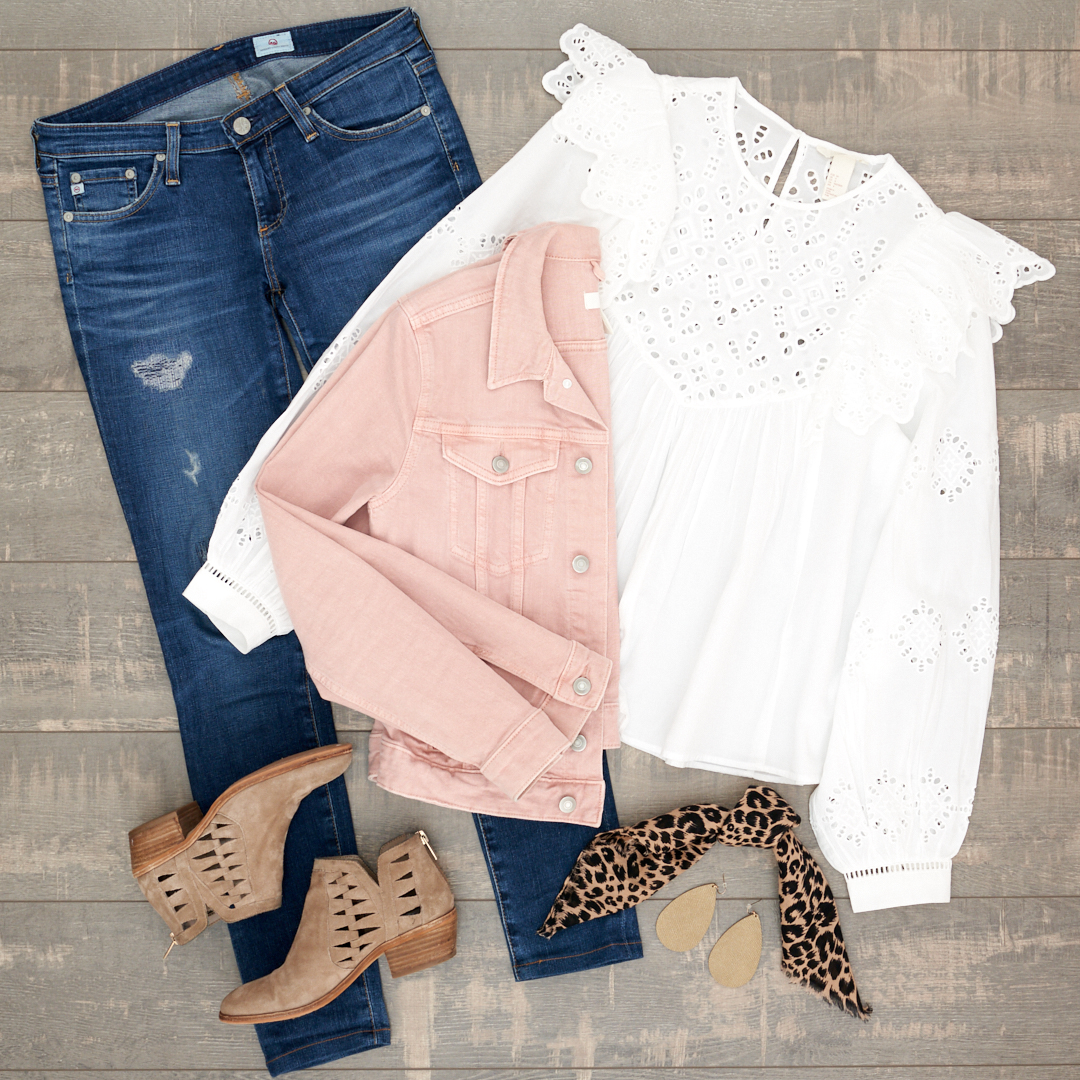 Outfit 5
Lastly, outfit number five is from earlier in the fall but I'm bringing it back for Spring.  Some of the pieces you purchased for fall may be appropriate for Spring transition time if the weight of the material and color are appropriate.  The sweater in this photo is from Loft and I would layer a long sleeve cream t-shirt under it for cold weather because it was so thin.  The cute tie cuff sleeves made it hard to put a jacket over but I would still do that at times. I love that this is now a great option for this lovely time in between seasons. I will wear this in the Spring as well with some black shorts and sandals!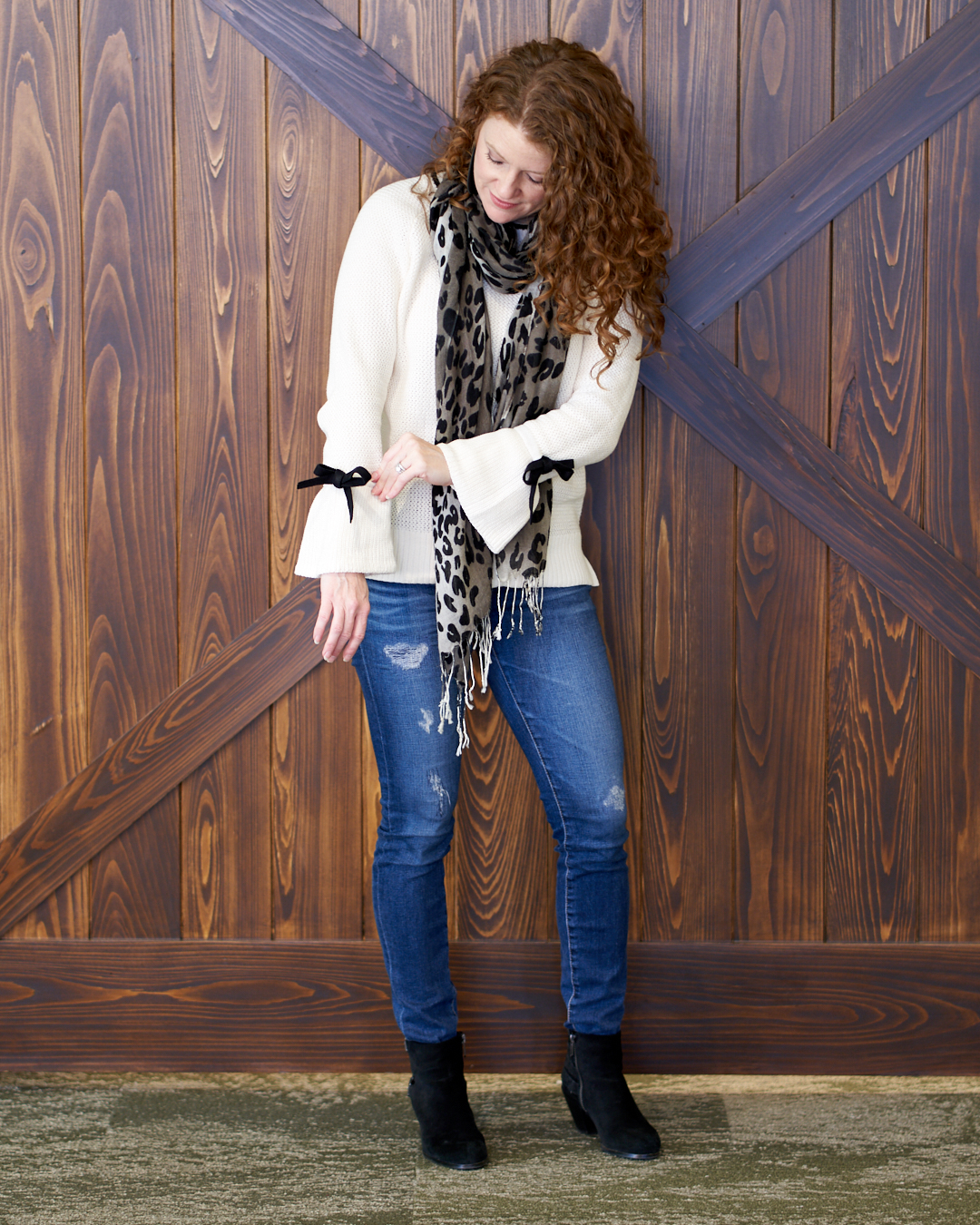 So the moral of the story is that it IS possible to transition into Spring by layering in some Spring pieces with your fall, re-purposing some of those lighter weight pieces from earlier in the fall season, and concentrating on Spring colors with new purchases.  Also, don't be afraid to wear your booties now and into Spring time.  This is a very popular thing to do and makes sense when it's still a little cool outside.
Thanks for reading and I'll be back next Monday!
L.O.L – Jamie