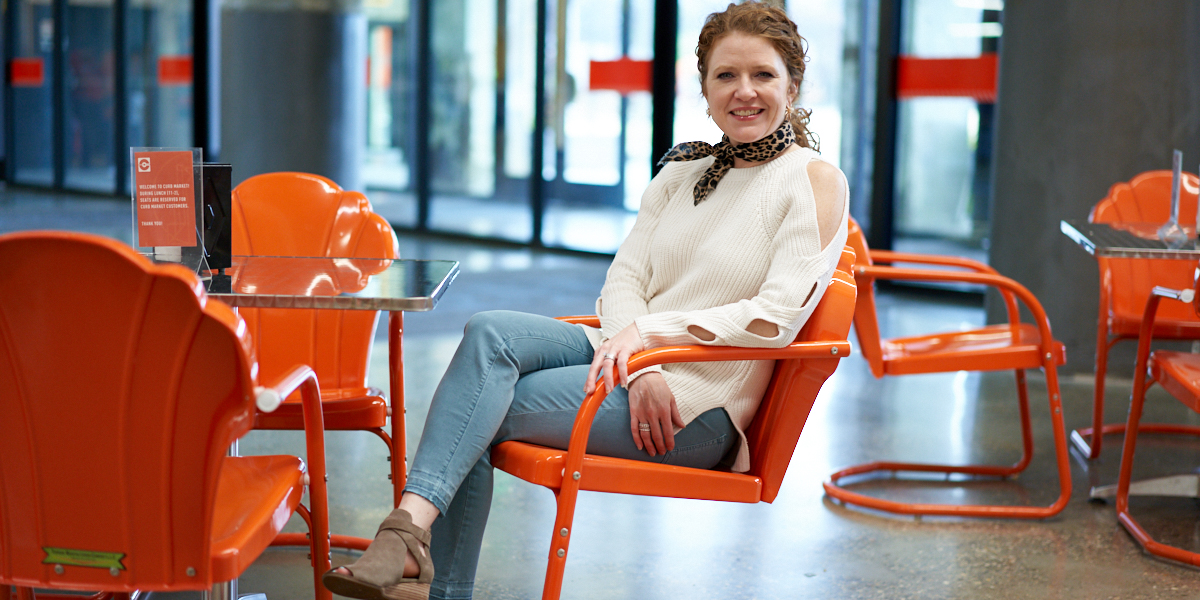 Hey y'all! Do you have anything in your wardrobe that you just love and gravitate towards every day? You can probably guess what mine is by all my photos!  Well, if you can't I guess I will just have to tell you….denim!  I absolutely feel my best when I am in a good pair of jeans. I like denim so much I even try to keep up with all the news and trends in the denim industry.  I don't know if you have ever heard of New York Denim Days but it is a festival of all-things Indigo! One of these days I hope to go and indulge myself in the numerous exhibitors from the fashion, denim and art worlds. I also subscribe to a site called Rivet that gives me all the cool news on denim. If you are also a denim fanatic you should definitely check these out.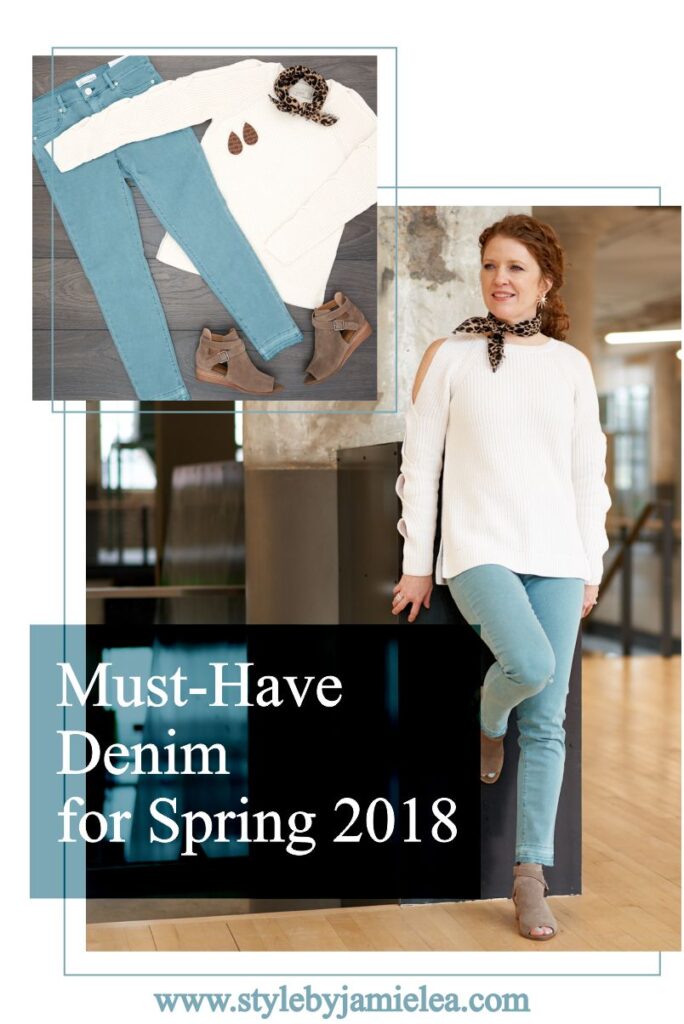 Today I want to talk about colored denim for Spring!  I love to freshen up my denim in the Spring/Summer with some great colors that I can wear with various things. If you choose to add these to your wardrobe I recommend picking colors that go with your current pieces.  If most of your clothes are pastel in color choose a pastel.  If they are bright colors choose a bright colored pair.  Are you catching my drift?  Stay in your existing color palette and this will allow you to mix and match with what you already have.
I am going to show you what I chose for myself and how I style them. I also have links to some suggestions for you at the beginning and the end of the post. So, here ya go!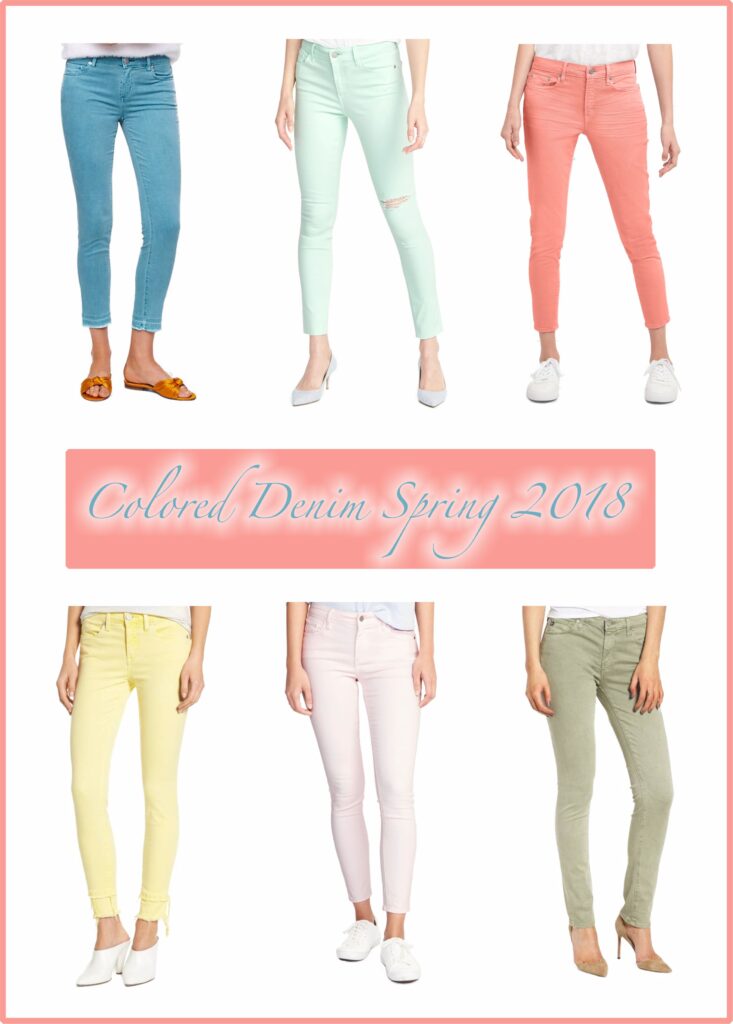 Loft Modern Unpicked Skinny Crop Jeans in Mineral Blue  //  Mid-Rise Rockstar Distressed Super Skinny Ankle Jeans in Mint Green  //  Mid Rise True Skinny Ankle Jeans in Coral  //  BLANKNYC The Reade Classic Crop Raw Edge Double Hem Jeans in Yellow  //  Mid-Rise Pop-Color Rockstar Ankle Jeans for Women in Pink  //  AG 'The Prima' Cigarette Leg Skinny Jeans in Green
Outfit One
I just recently purchased these blue beauties from Loft.  I feel like they are such a great color and will go with many things in my wardrobe.  I have styled them with my cutout twist sweater, also currently at the Loft.  This is a little dressier than your everyday outfit but I just loved the two paired together.  I chose to wear my Franco Sarto open-toe booties to make it a little more casual.  The leopard bandana is from J Crew and is under $15 and is the perfect touch for this outfit.  Since I put the bandana around my neck I chose to stay with statement studded earrings instead of my normal dangle Nickel and Suede ones.  These are an old style from Kendra Scott, which is another designer fav of mine!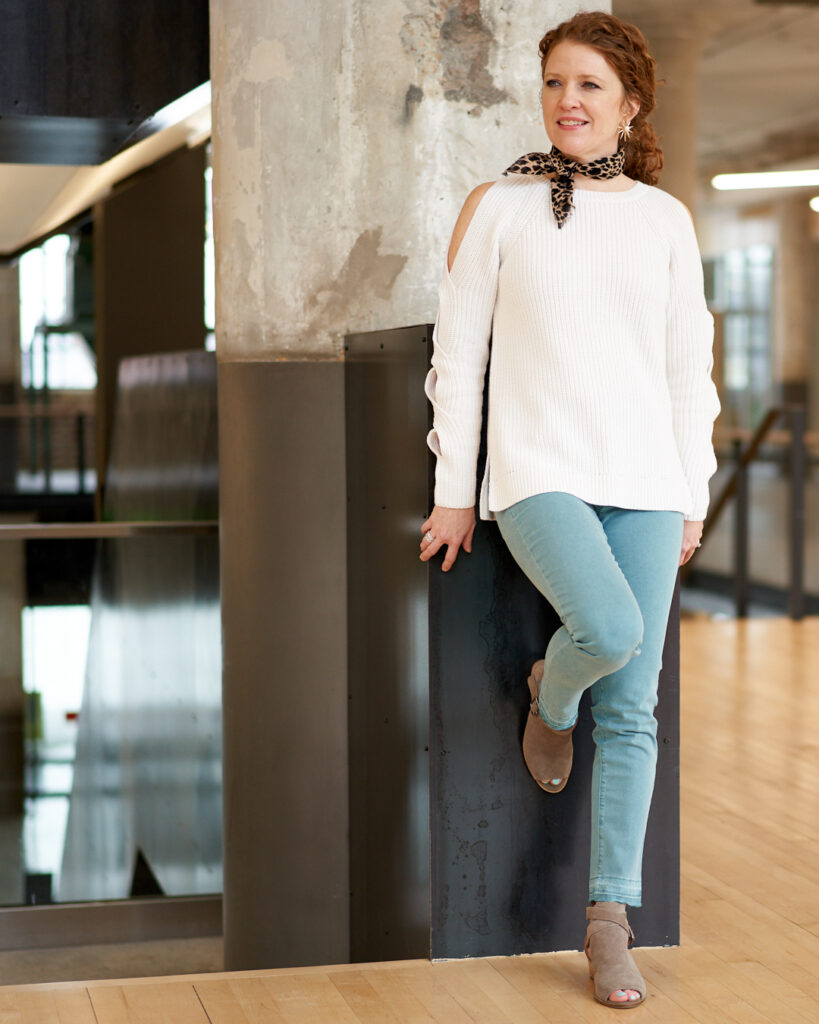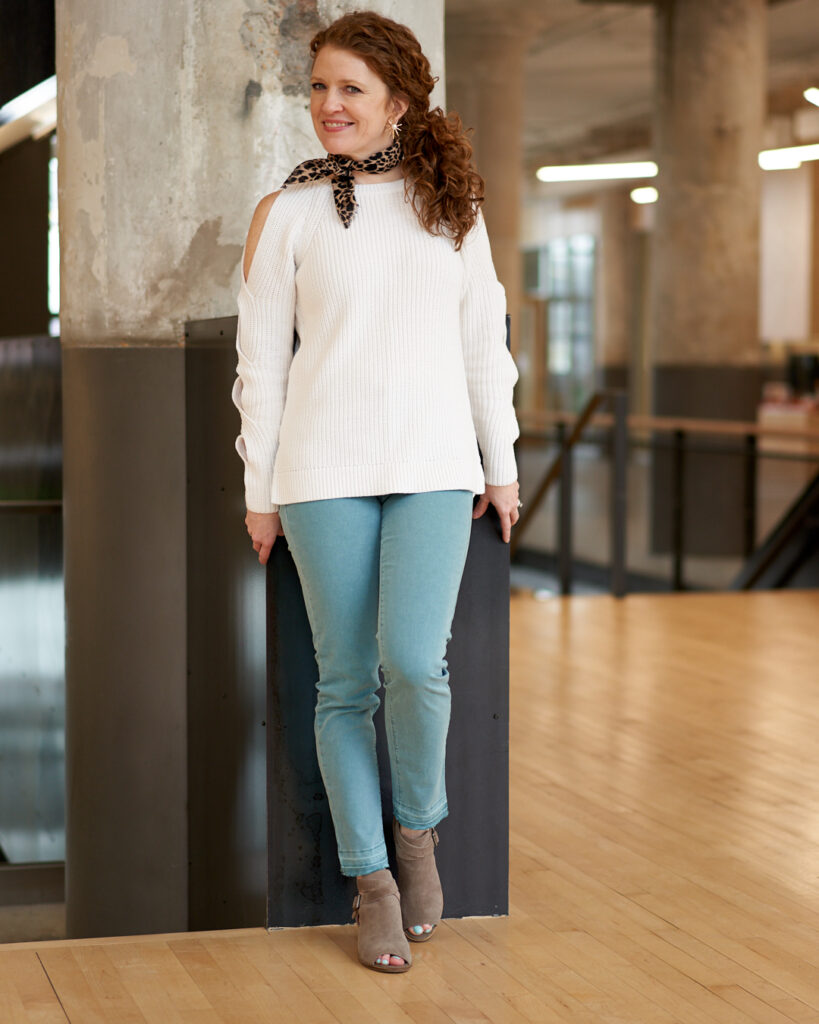 I actually really love the fit of these jeans as well.  Loft jeans do not normally fit me great and these were perfect. They are the perfect length above my ankle for my 5'4″ height and they have a very comfortable mid-rise! They are cotton with a little bit of stretch so they move with your body and stretch out just a little.  I would highly recommend these to anyone.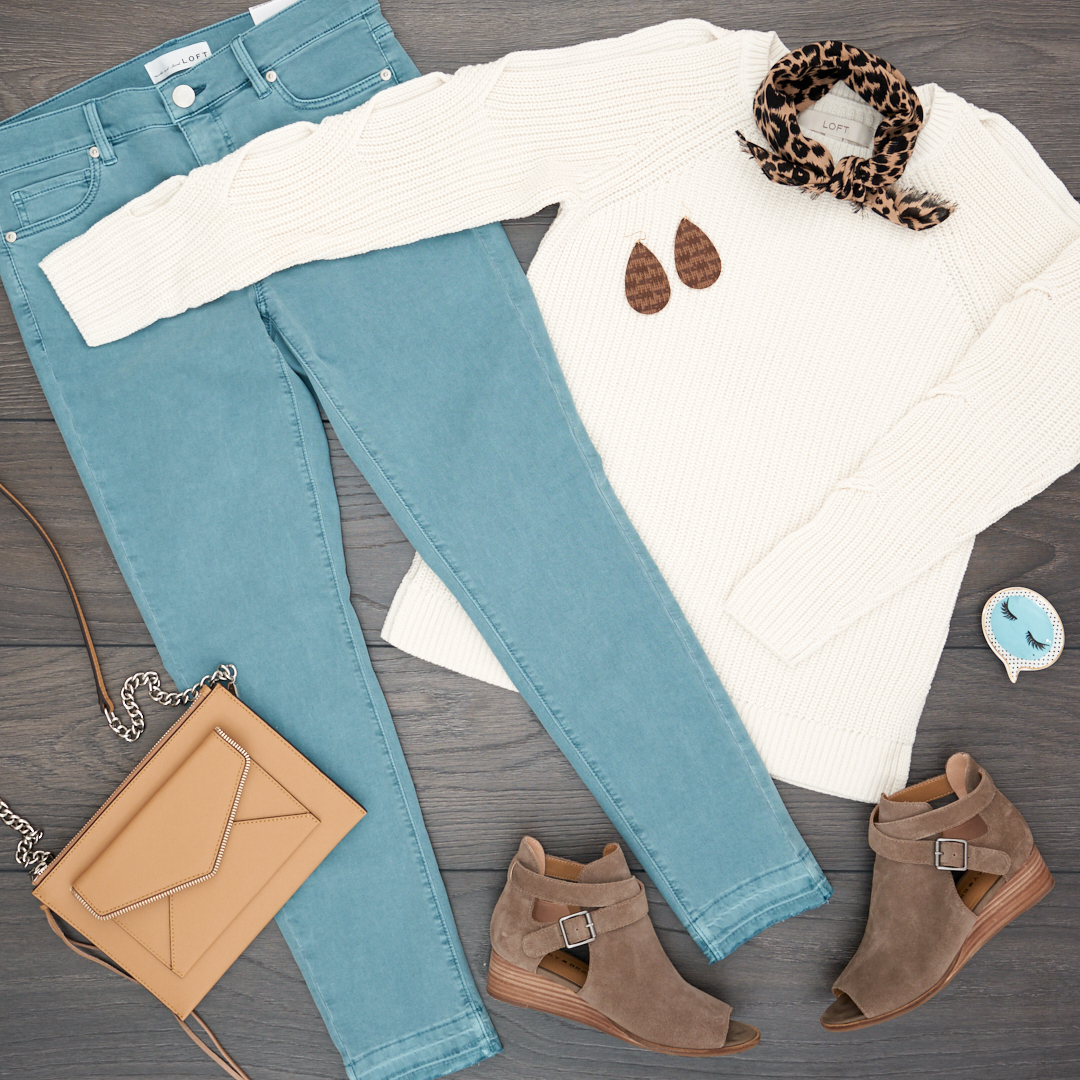 Outfit Two
My other choice of colored denim is of course pink.  I actually purchased my pink ones from Banana Republic last Spring and will wear them again.  Pink is literally EVERYWHERE for Spring so why should I buy another pair.  If you have something that works there is not need.  This was a perfect color for me because almost everything I own goes with pink!  This outfit is great for everyday just hanging around and running errands. If you are interested in a pink pair I love the pink ones from Old Navy this year because they are almost the exact pale pink as mine. I have linked some others for you below as well.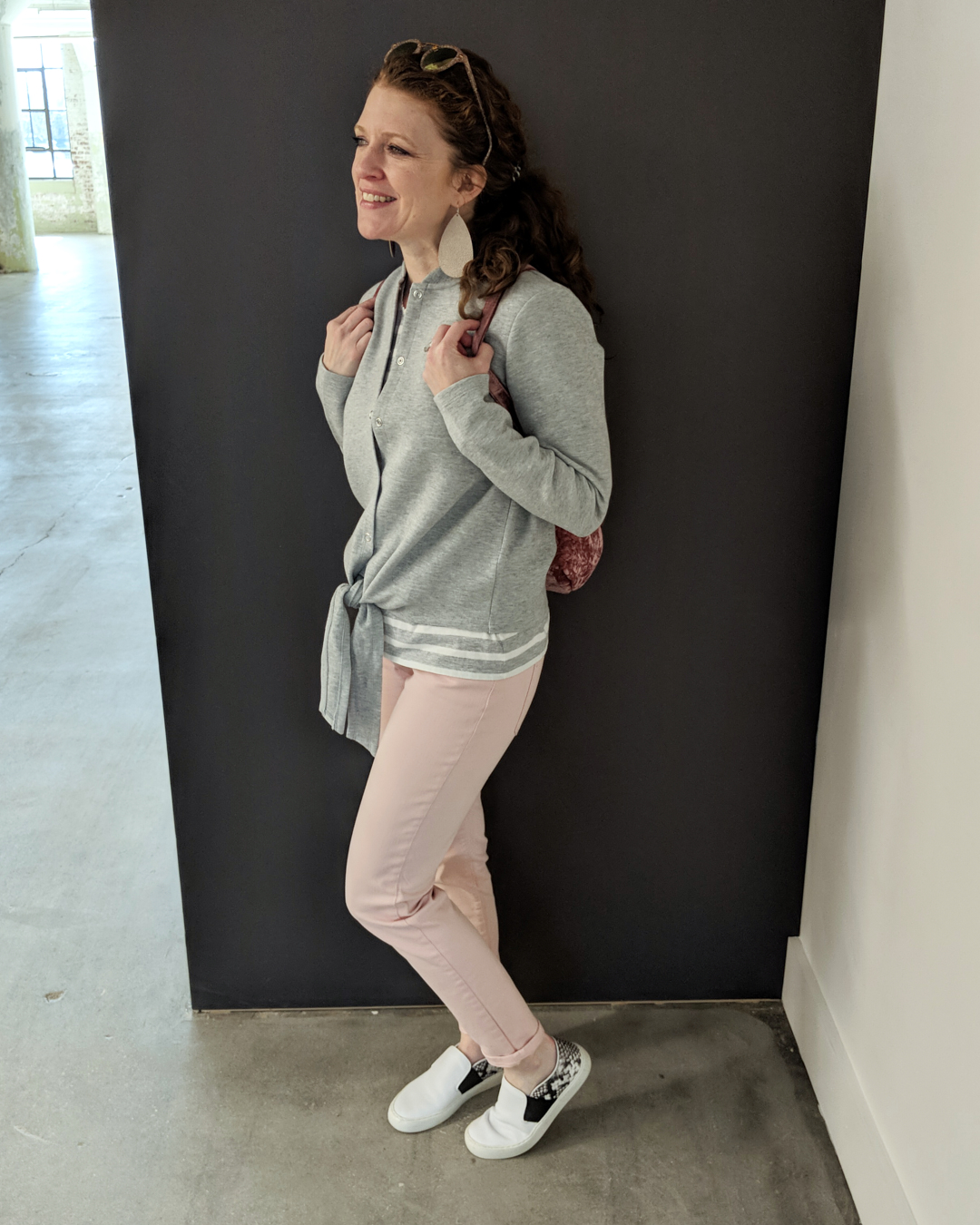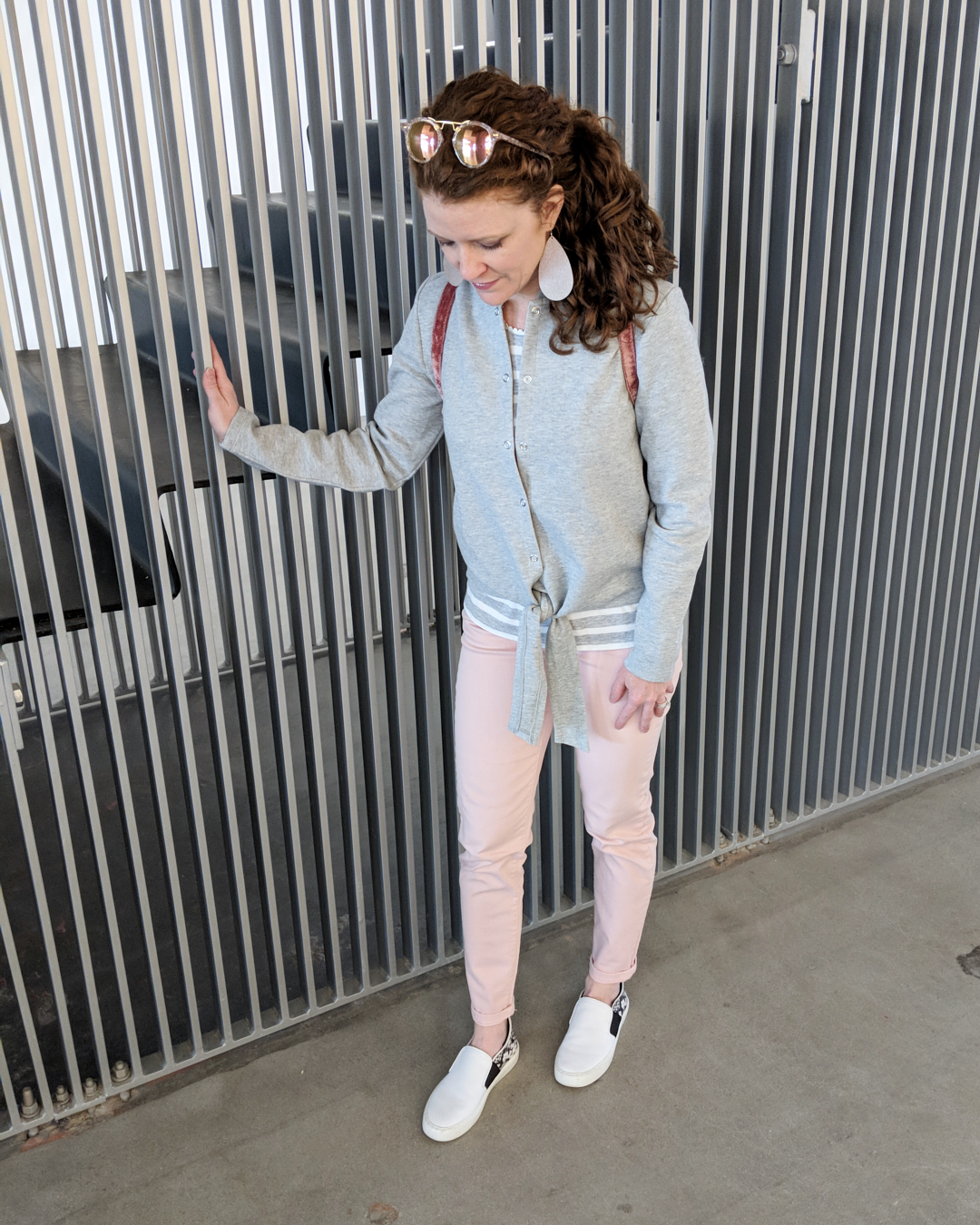 I have styled these pink jeans very casually here but you can also dress them up a notch for dinner or brunch with your girlfriends. I love them with a plain navy or white blouse and even a fun floral blouse. Throw on some wedge sandals and you are ready to go!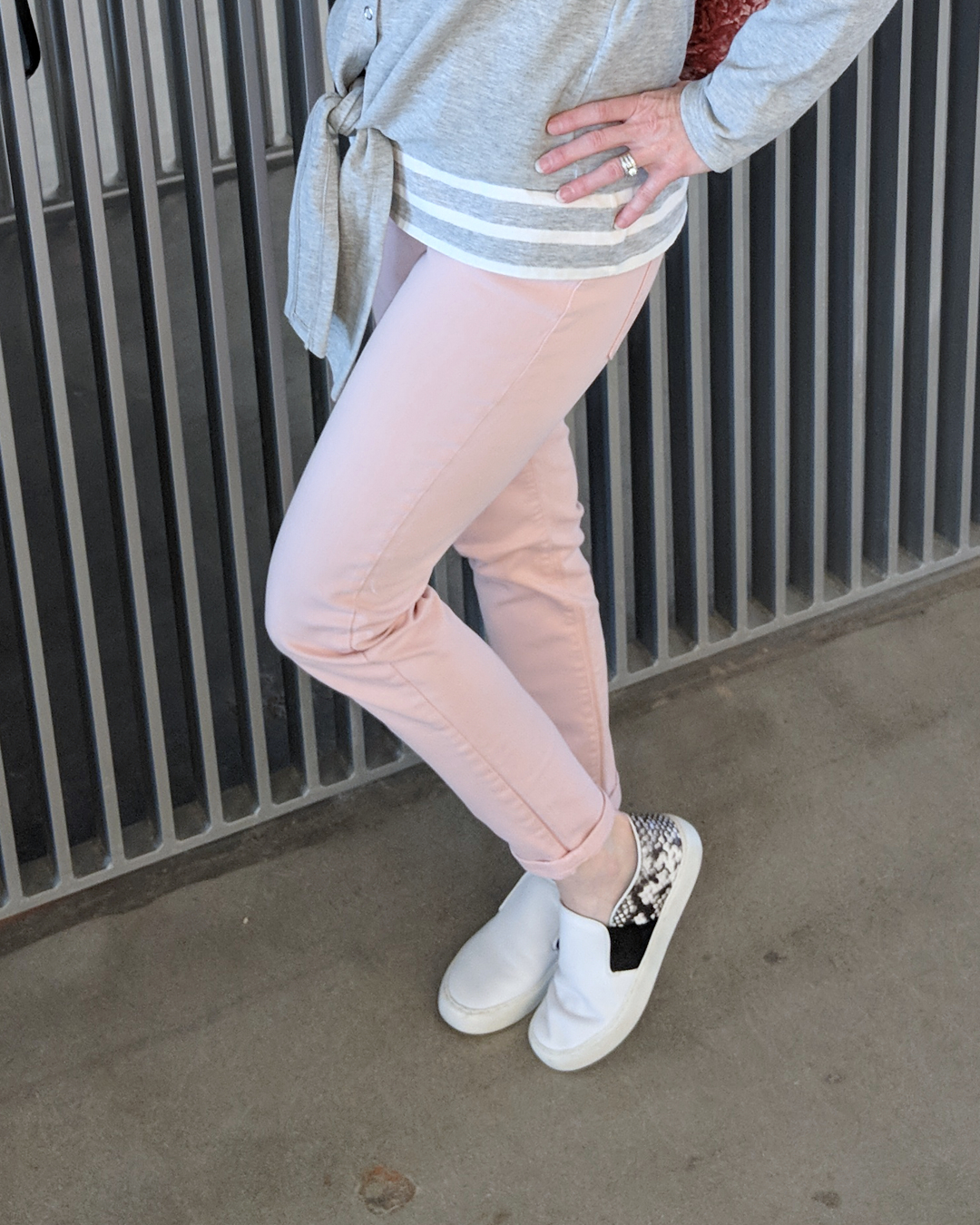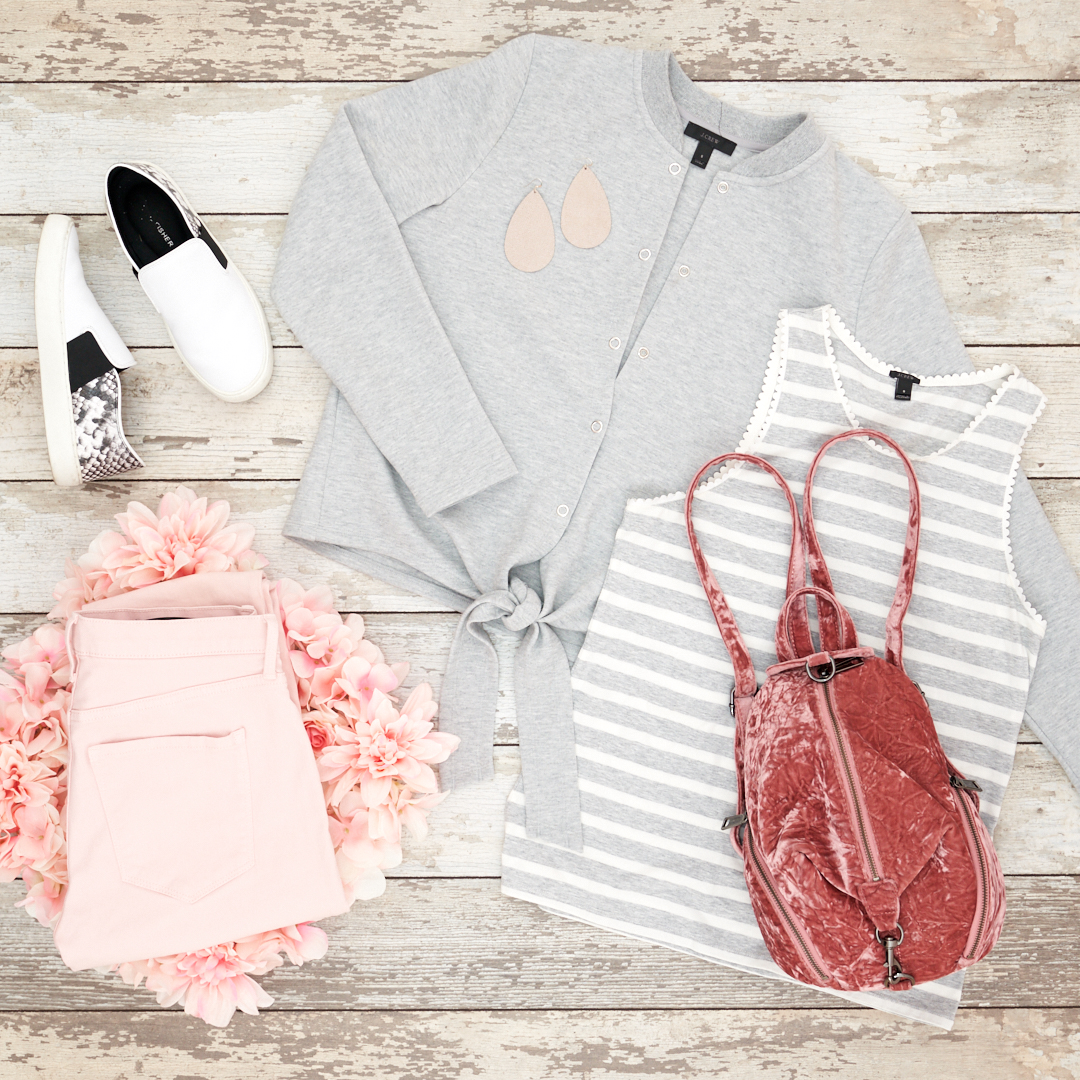 I described the fit of the blue mineral jeans from the Loft above.  I have not tried the Gap ones or the Blank NYC, so I can't really say much about them other than I like the color.  I haven't tried the AG Prima but I can tell you AG's are by far the best jeans ever made and the Prima is a perfect fitting straight leg jean. They are definitely worth the price tag.
I recently purchased a pair of white jeans at Old Navy that were the mid-rise Rockstar style and I am in love with them.  My luck at finding things at Old Navy has not always been great so I was happy to find these.  The Rockstar fit is very comfortable and is definitely mid-rise.  I would recommend going up a size in these Old Navy suggestions because they do run a little small.  I have tried the mint green ones on and I definitely went a size up in them.
Please let me know if you have any questions about anything in this post. I would also love to know what your favorite color of denim is for Spring.  Until next time! Have a good week!
L.O.L – Jamie