Hey ladies! One of my favorite trendy items for the Spring 2018 season is a beautiful white eyelet blouse.  I think they are so pretty and so extremely versatile. You can find them in many price ranges and styles.  I chose one from H&M that I absolutely love and it was under $35!  This is an item I would not recommend spending a whole lot on because it is white and trendy.  I would choose this as an addition to your essential wardrobe, which I wrote about in my last post.  This is one of those additional pieces that is a great purchase for this season.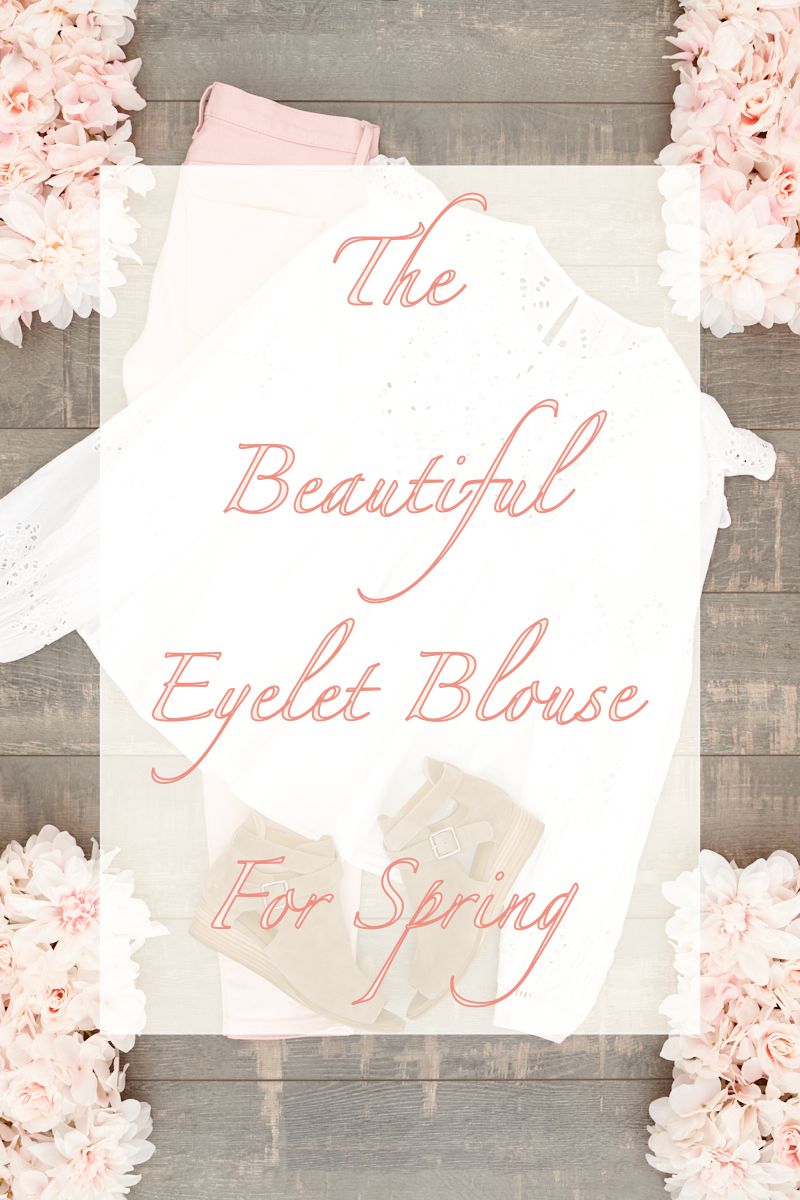 I have styled this blouse a few different ways.  Some people would only put this on and wear it by itself with pants, jeans or a skirt.  I put it under both of my jean jackets and it looked really cute. Even though there was a jacket over it you could still see the detail of the blouse.  But I am going to love this in the summer by itself paired with a denim skirt or shorts and sandals!
Outfit #1
The first outfit is perfect for this time of year when it's a little cooler and we are still in that transition phase with our wardrobes.  I wore it under my awesome Lucky Brand Tomboy Trucker Denim Jacket and paired it with my black jeans and blush Lucky Brand booties. I love this casual look for running errands, eating lunch with girlfriends or even just a coffee date; which is where I wore it. I will be replacing my black jeans with my white distressed jeans as another option.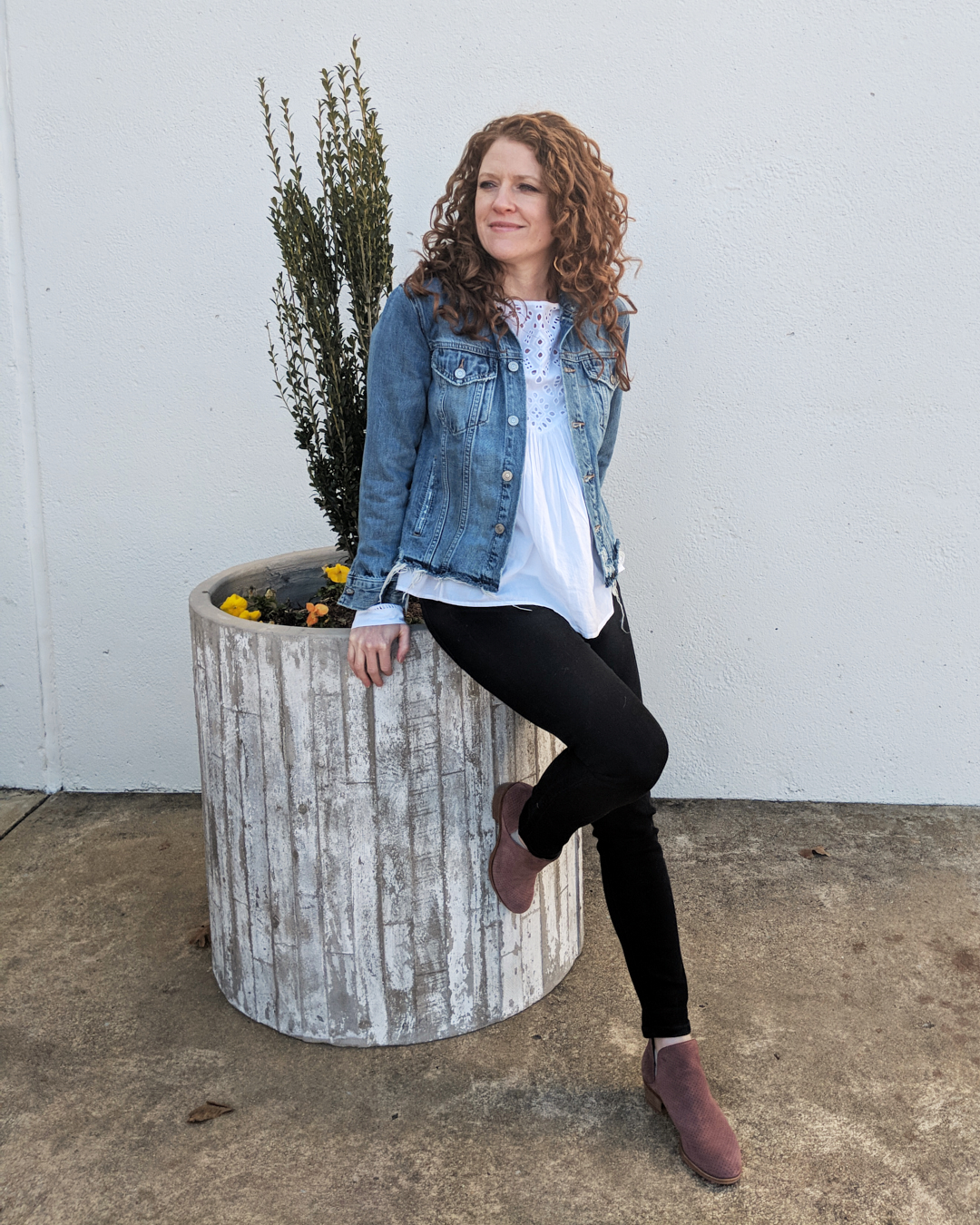 If you choose to wear blue jeans with this than I would make sure the denim matches as close as possible.  Otherwise I don't really recommend wearing blue jeans with a blue denim jacket. The next outfit is an example of how I would  style it with my blue jeans.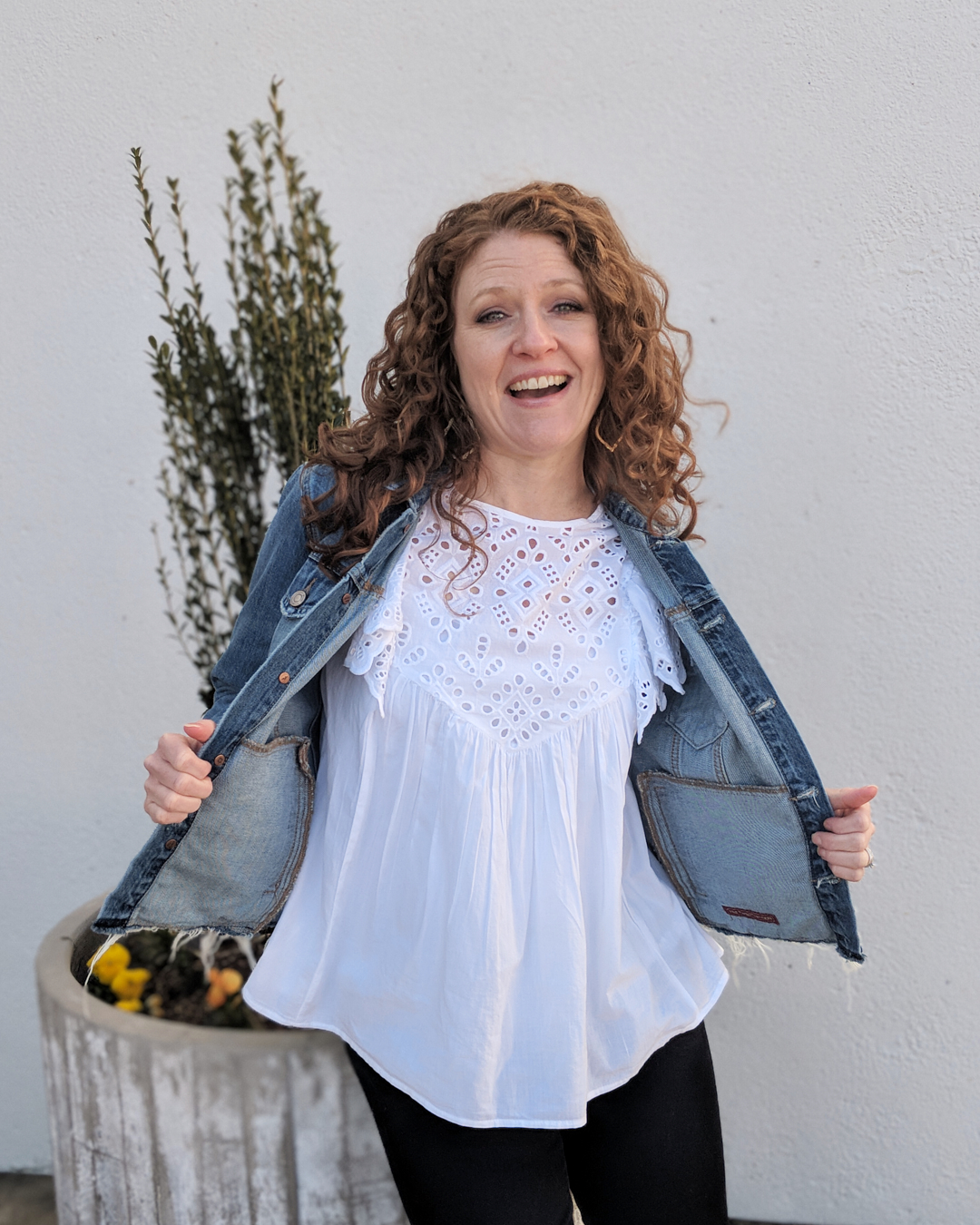 You can also change up the shoes and earrings on this outfit for a more casual and unexpected look.  I always try to create great outfits I can pair my favorite tennis shoes with and this was one of them!  So I put my rose gold tennis shoes and my rose gold Nickel and Suede earrings with the same black jeans.  If my hair is in a ponytail that day than I would throw my cute J Crew leopard bandana around it.
Outfit #2
This next outfit is with my pink denim jacket from H&M. This is my example of good denim on denim.  Another color other than blue! Genius! And so incredibly cute! If you love pink than this colored denim jacket is for you.  It is also available at H&M if you want it!  I would wear this now and when it is full-on Spring.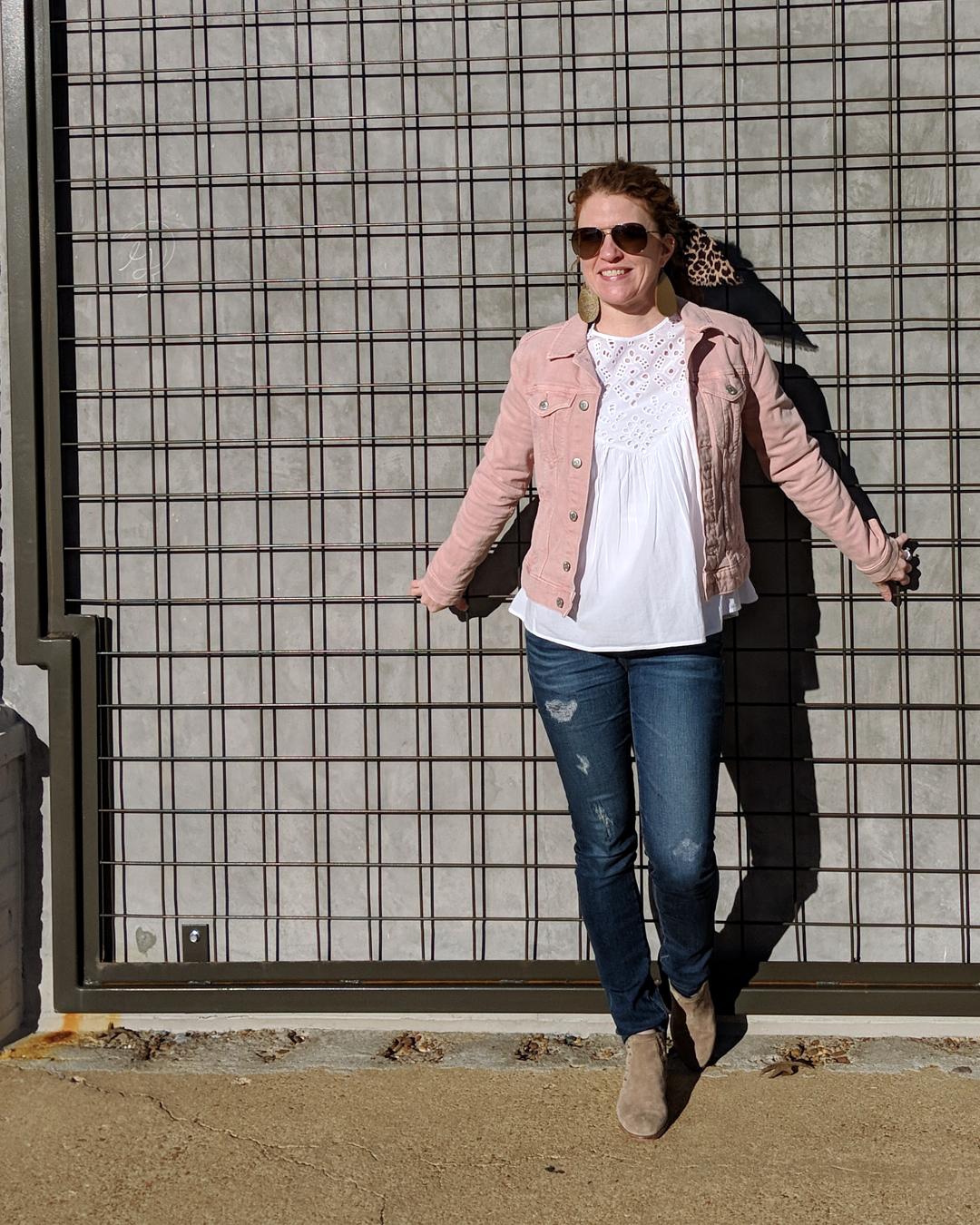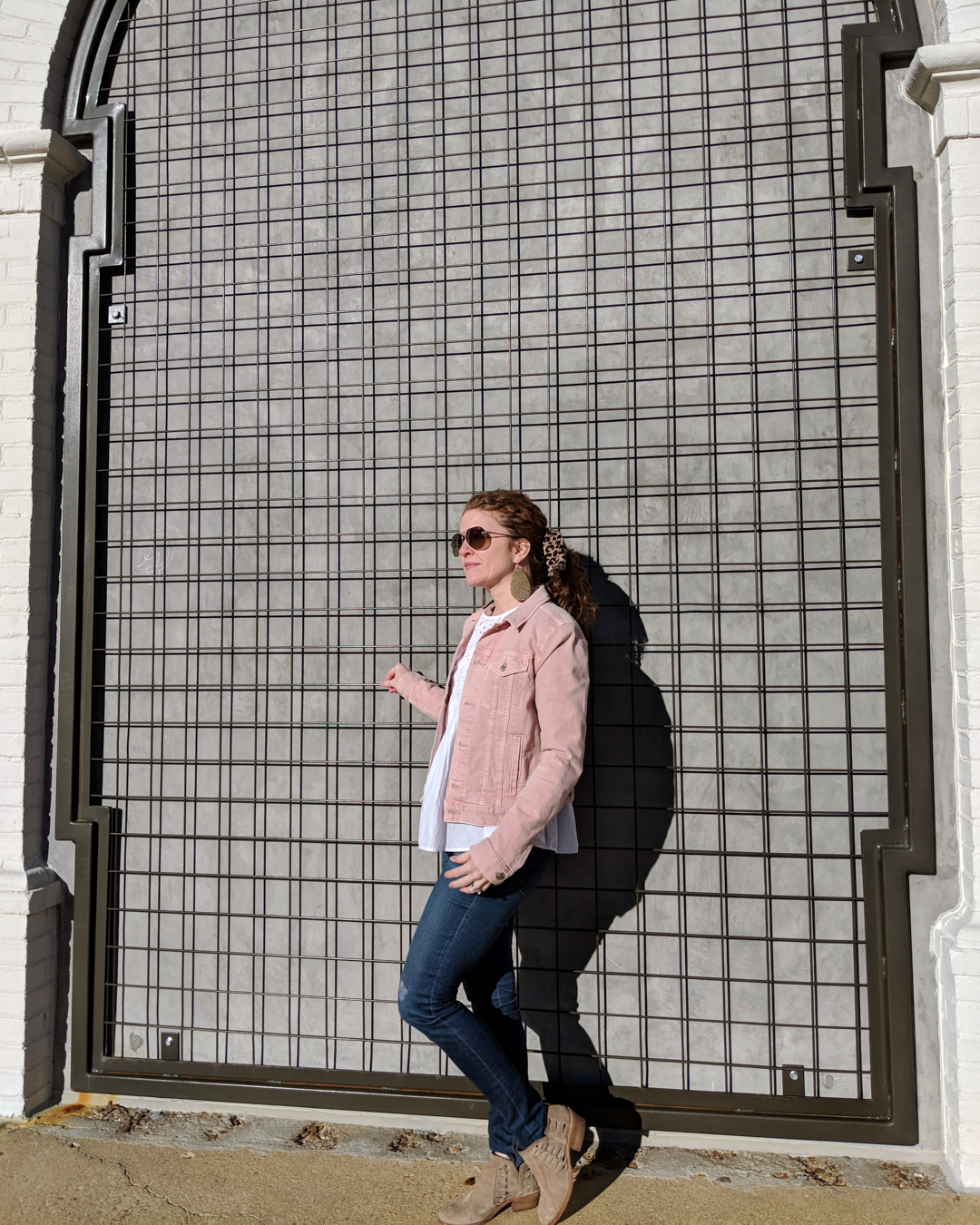 This top is also really awesome just worn by itself with jeans.  It has such cute detail on the shoulders that you don't see with a jacket on.  I just like to recommend things that you CAN make multiple outfits with. If you prefer the simplicity of this outfit only than great!
Below is a picture of me with my buddy Erika from Beaut Optician blog and we are wearing two different versions of a white eyelet blouse.  We planned on meeting for these photos but neither of us knew we were bringing an eyelet blouse!!  Great minds think alike!
Lastly, I will wear my rose gold tennis shoes with this outfit as well! If you don't have a cute tennis shoe like this I would recommend trying to add one to your wardrobe. They will make your casual outfit so much cuter than just wearing a normal running shoe; which I have seen people do.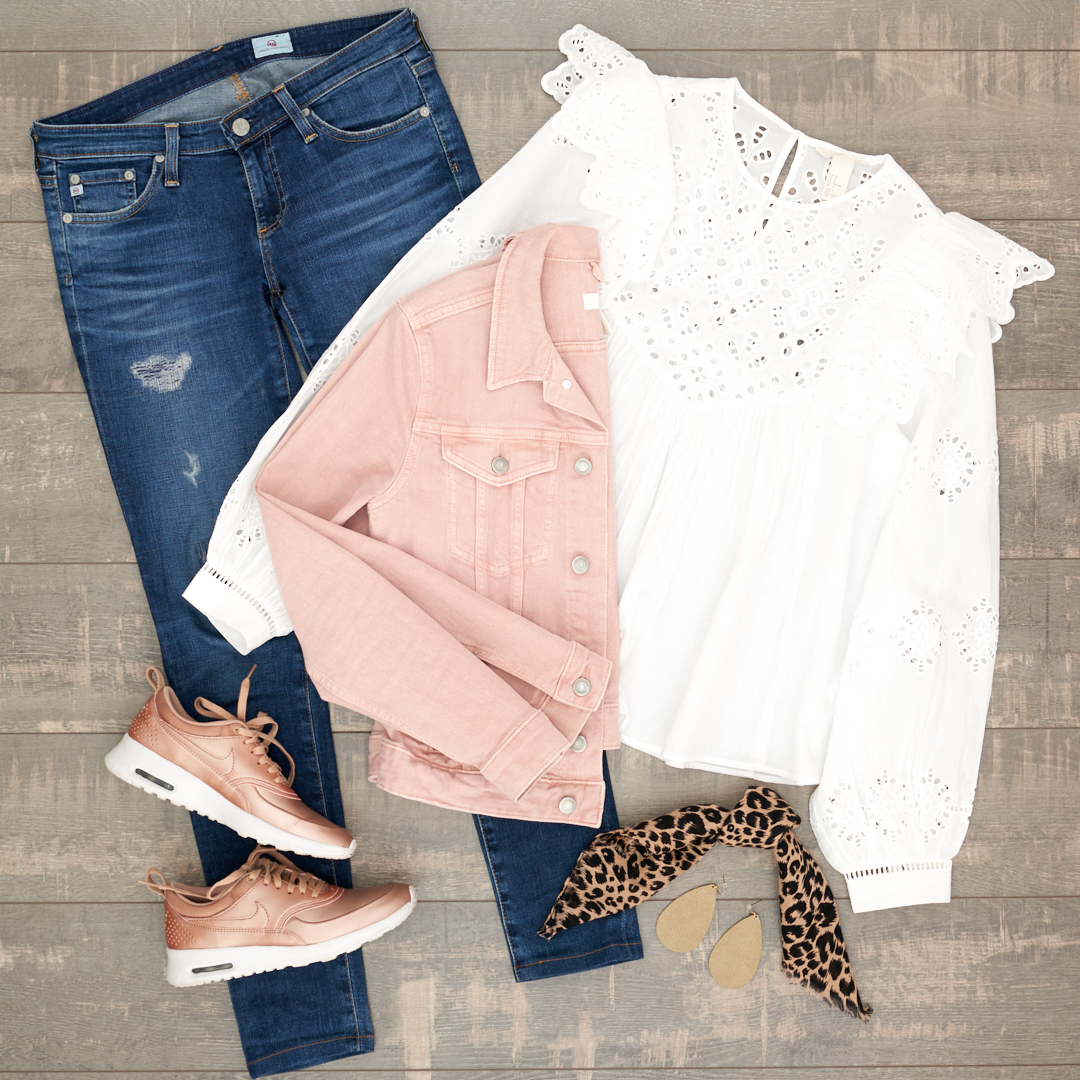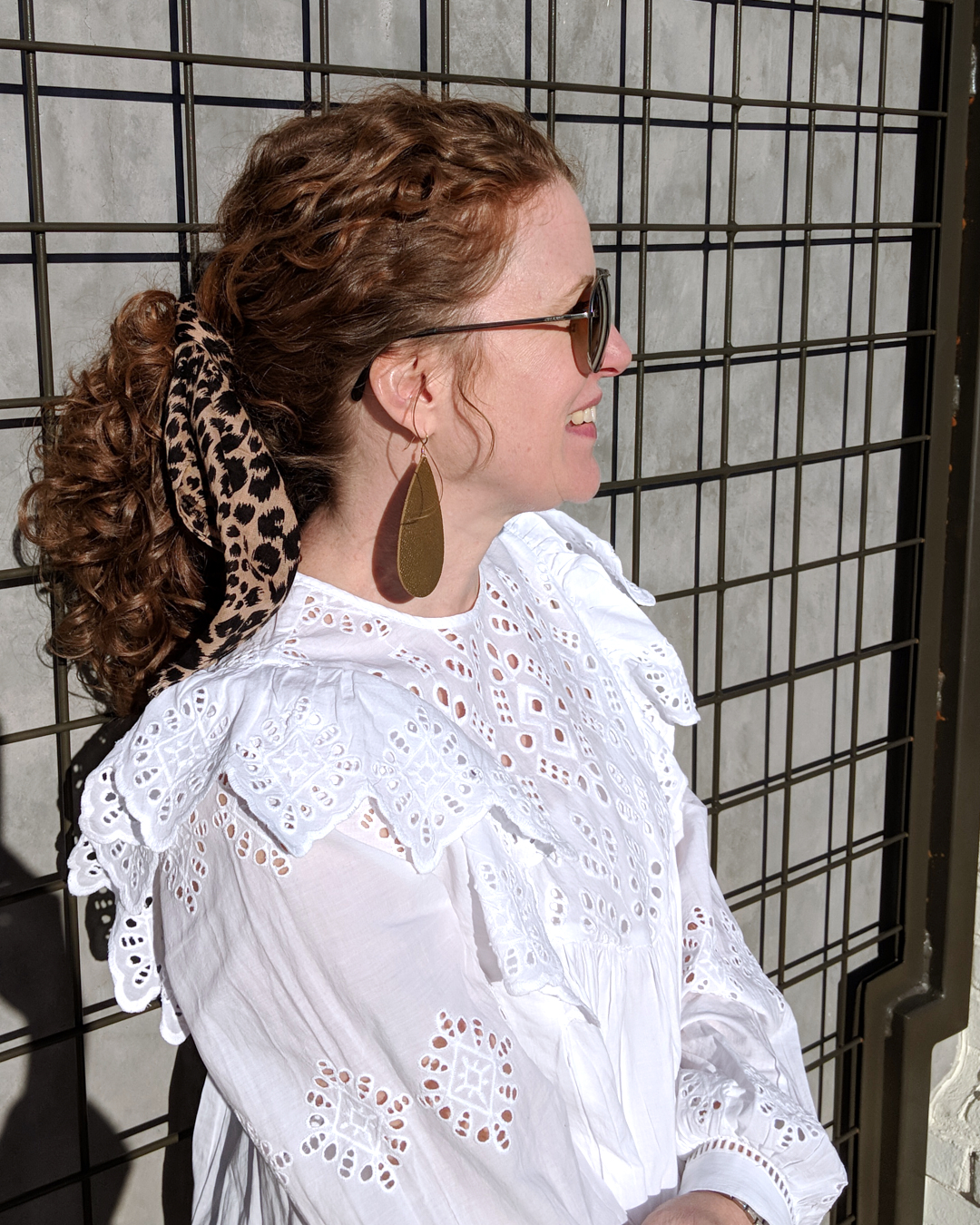 I hope I have enlightened your desire for a beautiful white eyelet blouse for Spring!  This is on of my favorite Spring 2018 Trends. As soon as I saw this in H&M's add for Spring I knew I needed it!  It is getting close to being sold out so if you love it click the link and get one on it's way to your wardrobe! If you have never ordered from H&M make sure you look at their sizing guide.  I purchased a 4 in this blouse and I am usually a 2 else where.  I definitely recommend sizing up at least one size, if not two, in their stuff with number sizes.
I will link some other cute options below for you as well! Thanks for reading!
Lots of Love – Jamie
*I do receive commissions from clicks/purchases from links in this blog post.