Hey ladies! The hot question that I am going to address in this blog post is: What will I need to make a great Spring wardrobe?  I am going to give you the essentials that you need to get you started. You will continue to add things to make it your own personal style but this should always come first.  I like to start with the essentials of your wardrobe because they are what you will need for layering and mixing and matching throughout the season.
These essentials are just basics that are the "canvas" for your wardrobe. Think of it like a painting.  You start with a canvas and build on it to make your picture from there.  You can not build the picture without the canvas.  Similarly you can not build a functional wardrobe without the basic "canvas" pieces.
For your essentials I am going to give you suggestions to create a good shopping list. When choosing your items remember to choose things that are more basic and will give you the most options.  There should be a version of what I recommend at most places you choose to shop.  I will also provide some links for you on things that I have found that would work for your "canvas".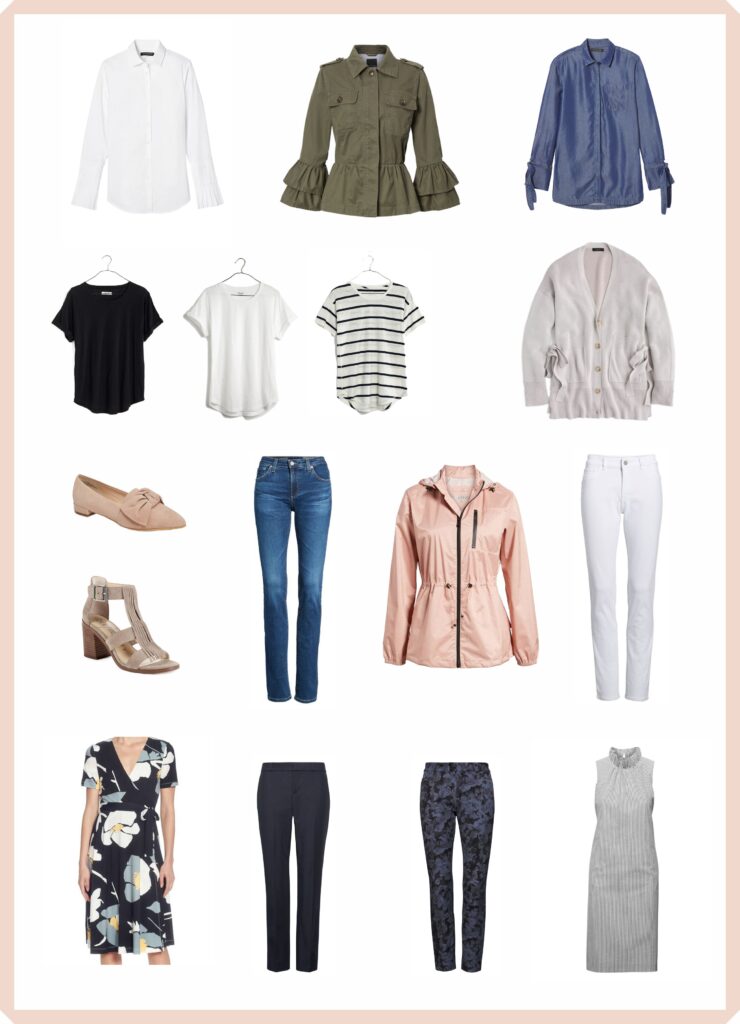 The List to Create Your Wardrobe Canvas
Basic t-shirts in black, white and stripes
A crew neck or v-neck style in a t-shirt will give you the most versatility.  The boat neck, jewel neck, cowl neck, ect. options are limited when it comes to layering.  These types of neck lines can be in the "art work" or additions you make to complete your wardrobe.
For the striped t-shirt I would choose one that is white with another color. My choice is a navy and white because I can wear it with almost anything I have for layering.
An easy blouse
For Spring I would recommend an easy to wear top like a chambray shirt or a stylish white blouse.  A good chambray shirt can take you many places from an easy casual day outfit with white jeans and flats or to dinner with your husband in white jeans and heels. I have linked one from Banana Republic that is so stylish and cute.
A versatile cardigan
Choose a cardigan that would work over most everything.  Maybe a navy, tan or gray color.  These colors will pair well with everything else you choose. I also recommend finding one made with cotton, acrylic or a blend like cotton/viscose like the one below.  I would try to stay away from wool.
A light weight jacket in a solid color
I love a good jacket especially when it can be casual or dressy.  My favorite type of jacket for spring is the utility jacket.  This years winner is a Banana Republic ruffle sleeve peplum utility jacket.  They made this jacket so irresistible with the ruffles and the peplum.  The material makes it casual but the style makes it a little dressy so I feel it can go both ways.
A white AND medium to light wash pair of jeans
If you prefer dark wash jeans than stick with those.  Also, if you don't like white jeans then find a pair that is a color that would mix well with almost anything.  I recommend straight or skinny styles because they look the best with all types of shoes. If for some reason you do not prefer either of those styles choose a slim bootcut.  This will still look just as good.
Navy pants
I almost put black pants here but I figured everyone already had a pair from their Fall/Winter wardrobes.  I just don't think it is essential for your Spring wardrobe.  A navy pant is a better option in your basics for Spring.  It is more versatile with the bright colors for Spring and really has become the new black. If you shy away from navy you can stick with your black or maybe try another neutral color like camel or white.
An Easy Dress
Having a great dress can take you a lot of places.  You can wear it by itself or with a jacket or cardigan over it.  For a Spring basic look for something that can go either casual or dressy.
Closed toe shoes
This spring the mule or loafer is very popular.  If you do not prefer to go with the trends than a good flat is classic and acceptable. I would stick with a neutral color like black, tan, gray or even blush. You will add other shoes later but this one will be your basic shoe when nothing else works.  It should be something that is compatible with any of your outfits.
A great sandal
Pick something that again is versatile and a solid color. What is your favorite style sandal?  Whatever that is choose it because you will wear it the most. Just make sure you choose something that will easily go with most of your basic pieces.
A rain jacket
I feel like this is absolutely essential for your Spring wardrobe. It rains a lot in the Spring and there are usually some really good stylish options available.  Some are so cute now you would never think they were considered a rain jacket.  This one can be any color you want.  In fact, you can have fun with the color and even choose a print.
The Canvas for Your Wardrobe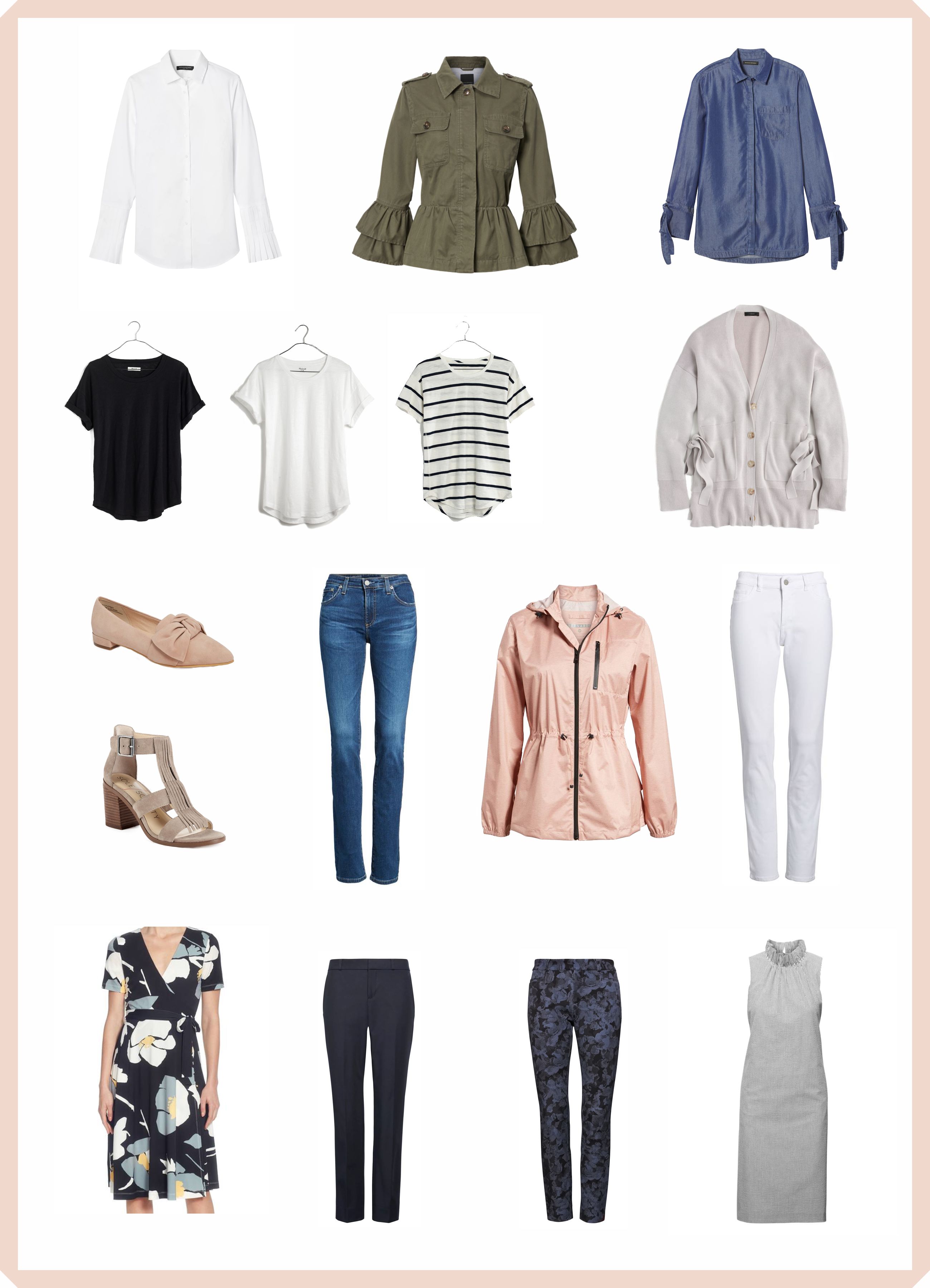 Banana Republic Riley-Fit Pleated Sleeve Shirt  //  Banana Republic Peplum Utility Jacket  //  Banana Republic Chambray Tie-Cuff Boyfriend Tunic  //  Madewell Whisper Cotton Crewneck T-Shirts  //  Madewell Whisper Cotton Crewneck Tee in Creston Stripe  //  J Crew Slouchy Cardigan with Side Ties   //  BP. Kari Bow Loafer  //  Sole Society Delilah   //  AG Harper Slim Straight Leg Jeans   //  Bernardo Microbreathable Hooded Water Resistant Jacket  //  DL1961 Florence Skinny Jeans in White  //  Catherine Catherine Malandrino Taral Floral Faux Wrap Dress  //  Banana Republic Ryan Slim Straight-Fit Bi-Stretch Pant  //  Banana Republic Sloan Skinny Fit Floral Pant  //  Banana Republic Ruffle-Neck Dress
I hope this is helpful for you getting started on building a perfect Spring wardrobe.  I will be making suggestions throughout the Spring season to help paint your wardrobe canvas!  Please subscribe to my blog if you would like to stay updated on what I suggest.  Please also comment below with any questions or suggestions that I may have not mentioned!  I would love to know what has worked for you!
L.O.L. – Jamie
*I do receive commissions from clicks/purchases from links in this post.