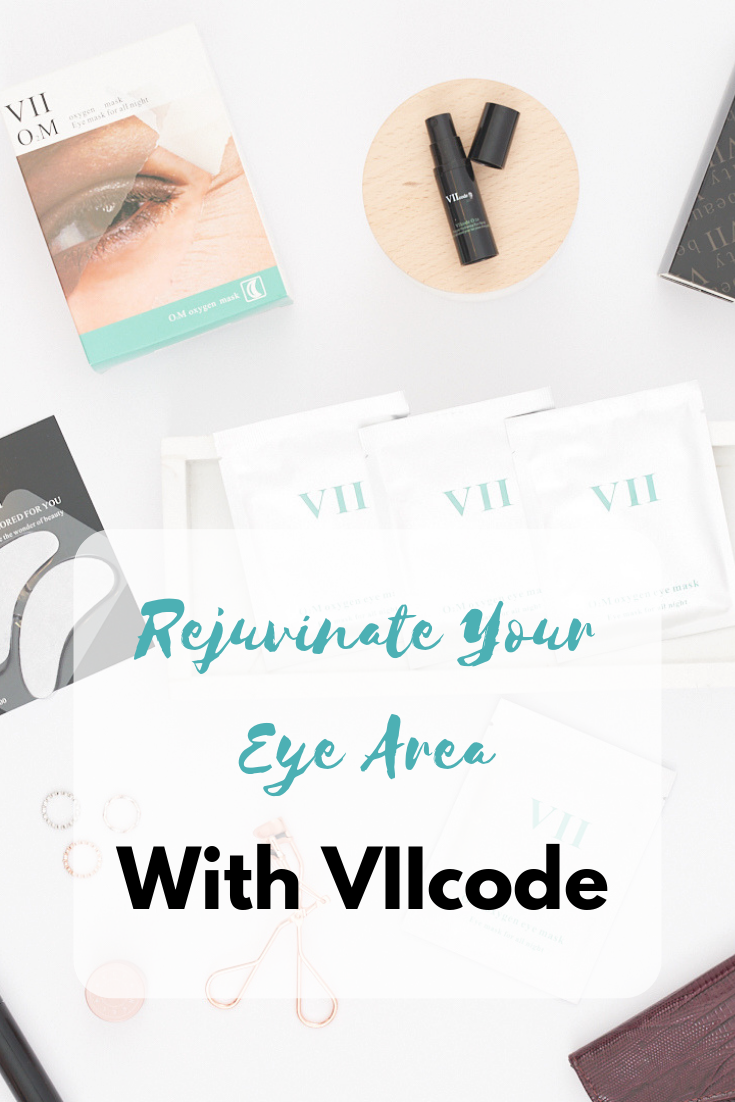 Hello ladies!  Are you interested in taking your eye care to the next level!!??  With the products I am going to tell you about today you will be able to do that! One of them was so impressive to me that I noticed results after just one use!
I wrote an article back in October about eye cream from this same company and I had the opportunity to test out a couple more products from them.  The thing I LOVE about this company, VIIcode, is the uniqueness of their products. They really step outside the box to create products that are innovative and really do work!
If you have never heard of VIIcode and are interested in reading about the VIIcode Oxygen Eye Cream click the link here to read the article.
About VIIcode
I love the history of the company, so I want to start by telling you about it. It's a brand that came from a unique set of circumstances that involved royalty and I think that makes it pretty special.
A man by the name of Byrn Victor invented a miracle cream for his genetic skin disorder back in the late 18th century.  They called this cream the "Ageless Mystery" because it made his skin look like new again. Many aristocrats and well to-do people pursued his invention but it was only given to Queen Josephine, the wife of Napoleon, to use until her death.  Her death was in 1814 so I am not sure what happened with this "Ageless Mystery" from this point up until World War II. It was at this time in 1945 that one of the offspring of Bryn Victor created the first luxury custom skin care line in New York.  Only people that were considered to have a high social status were sold the cream.  Due to demand from your average beauty pursuers the company created everyday beauty products that are now known as VII Beauty for basic skin care and VIIcode for luxury skin care.
The two products I am going to tell you about today are the VIIcode O2M Oxygen Mask and the VIIcode O2.0 Oxygen Hydrating Eye Spray.
VIIcode O2M Oxygen Eye Mask
The VII O2M Eye Masks are a fun and unique product to use!  Let me just tell you what they do and how you use them.
Ingredients and Use:
They are peel and stick under eye pad that you can wear for up to 8 hours.
The masks can be worn while you sleep or anytime during the day if you are just hanging out at home.
The eye pads instantly refresh the under eye area making it look brighter and smoother, minimize the look of fine lines and wrinkles, moisturize and smooth under eye area, minimize the signs of aging, and for me they reduced puffiness under the eye.
The key ingredients are Sodium Hyaluronate to boost moisture, Sodium PCA to retain moisture, Vitamin E to neutralize free radicals that damage the skin, Allantoin to soften and protect, and Aloe barbadensis, Algin that help hydrate the skin.
The box comes in a quantity of six.
It is recommended to use 3 boxes for the full course treatment to get the best results.
My Review: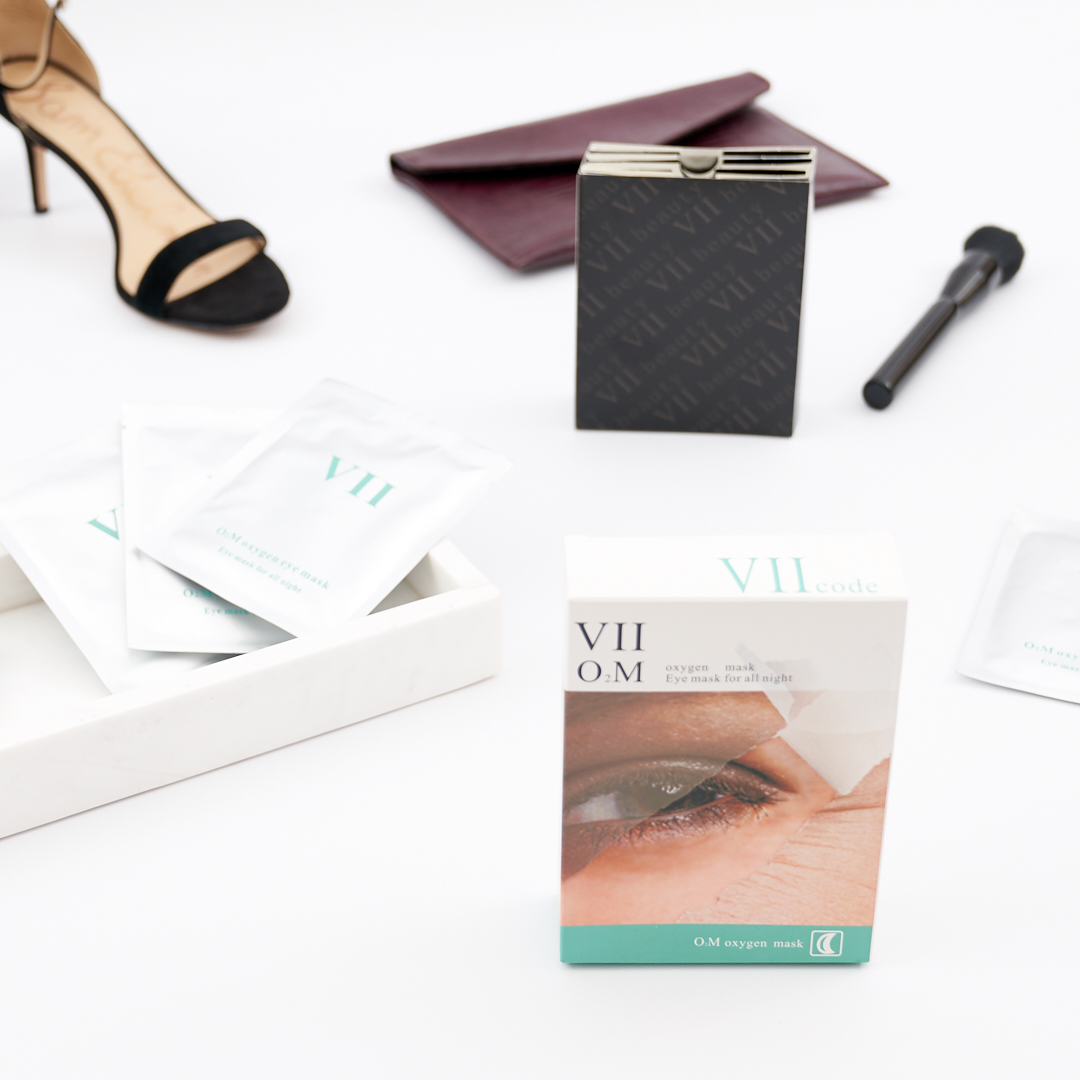 I absolutely loved these after my first use. They are comfortable to wear and have an amazing cooling sensation! I wore a set to bed and thought when I woke up that I looked totally refreshed! I was not at all puffy under my eyes like I usually am when I first wake up. Some mornings I am so puffy I have to ice my eyes and face to bring down the swelling.
The only challenge I had with them is keeping them on while I slept. I am sort of a rough sleeper and I toss and turn a lot.  I found one attached to my clothing when I woke up and one was still on.  I think it stayed on most of the evening though. I would recommed if you are going to wear them to bed that you wear a sleep mask over them to keep them in place.  I also want to add that you don't have to wear them for 8 hours it says UP TO 8 hours. So wear them an amount of time that works for you.
I would highly recommend using these if you have an important photoshoot, wedding or any activity the next day! I think long term these would have an amazing effect on the lines and wrinkles as well.
Here is a before and after. I took the first picture before I went to bed and the second picture when I took the eye masks off the next morning. I definitely see a difference in the fine lines and puffiness!
VIIcode Oxygen O2M Oxygen Hydrating Eye Spray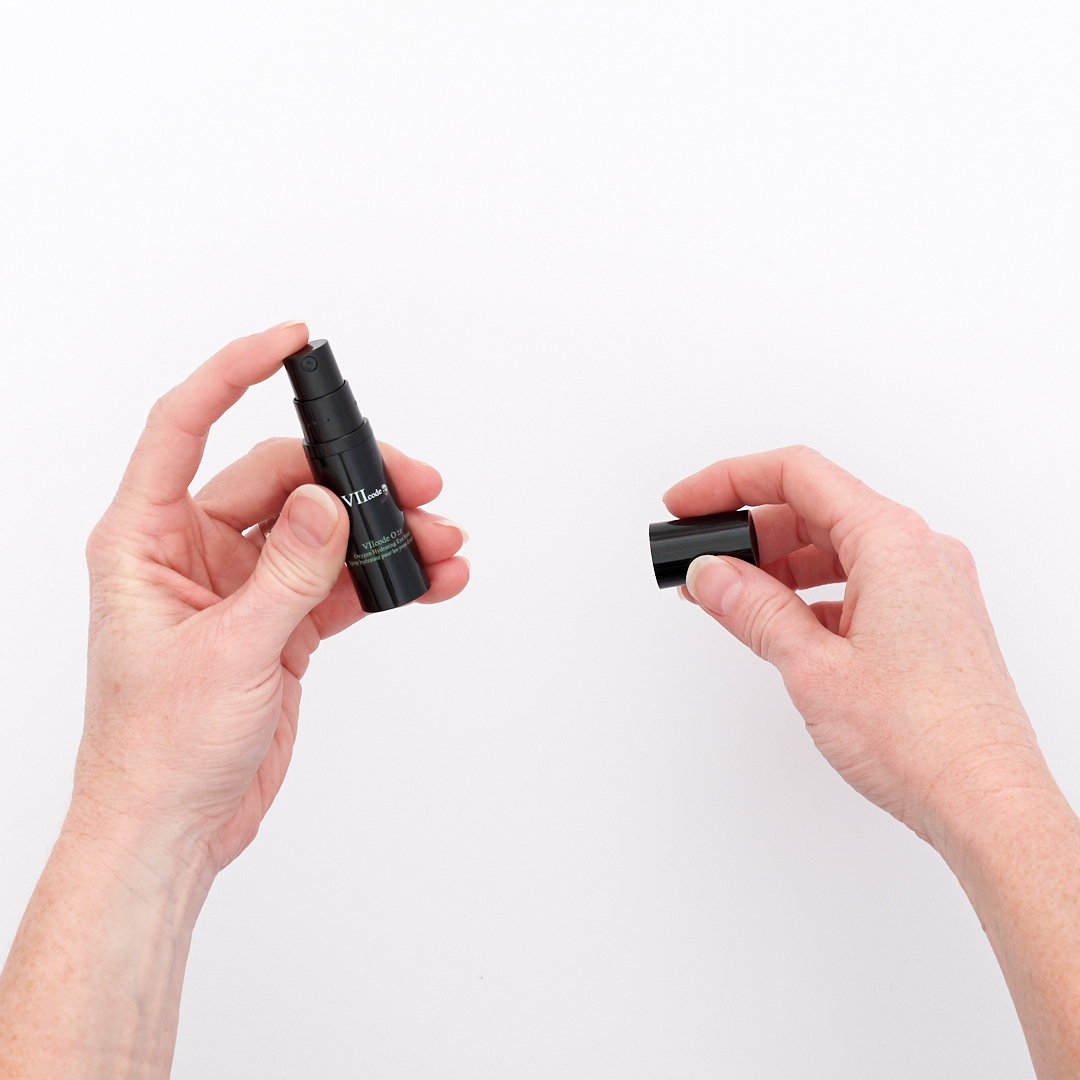 The Oxygen Hydrating Eye Spray is a new product from VIIcode.  I have never heard of an eye spray until this one.  I was very excited to give it a try!
Ingredients and Use:
Water, Nitrogen, Active marine ingredient from the Mediterranean Sea, Red algae extract, Glycerinum, Propylene glycol, Oligosaccharides , Hyaluronic acid, Phenoxyethanol, Ethylehexylglycerin.
It helps relieve the depression and exhaustion from life stresses and rejuvenates the eye area.
Reduces the appearance of wrinkles, tightens and maintains moisture in the eye area.
Rich in EOPE, a natural biological ingredient that is a combination of vitamins, minerals and amino acids.
My Review: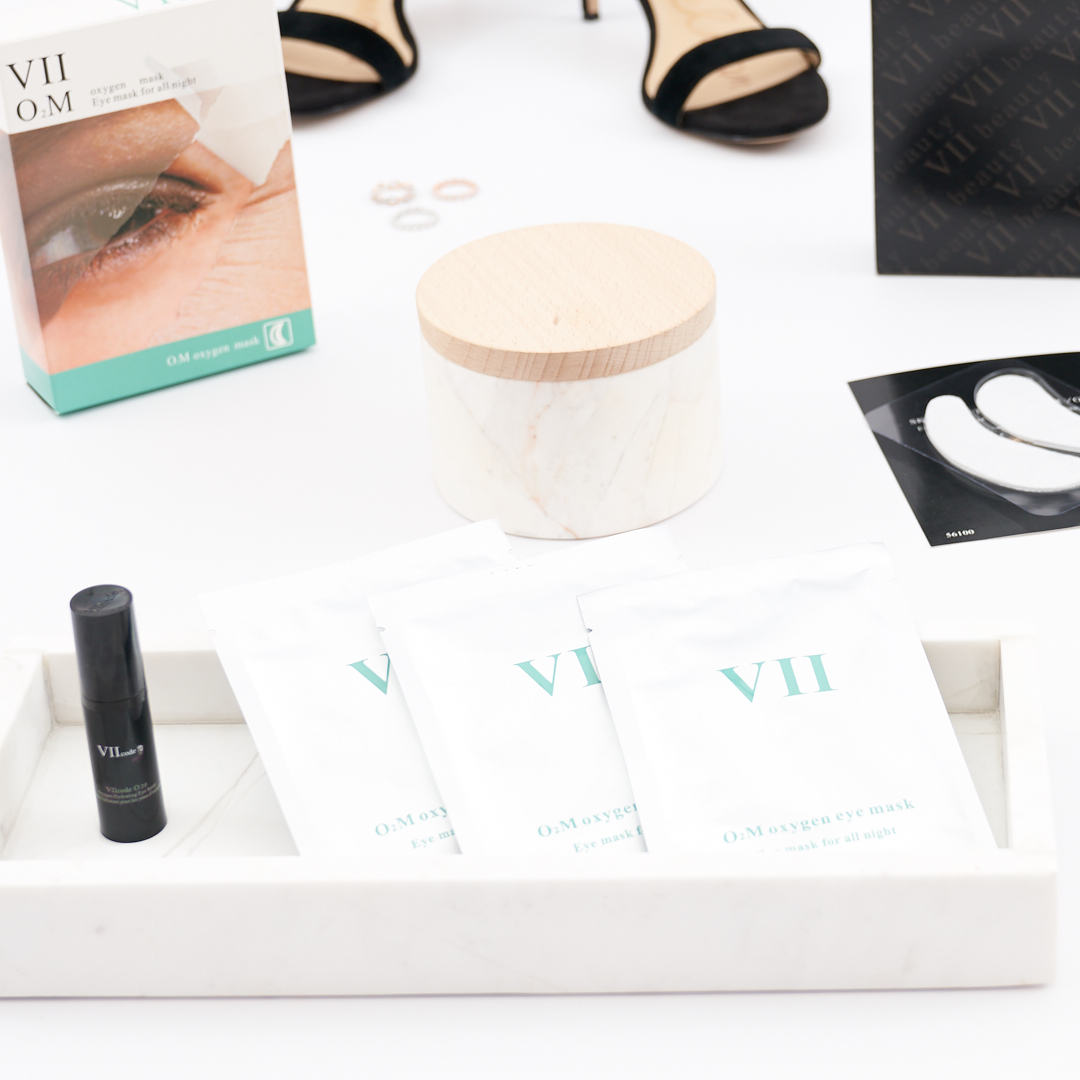 This cute little spray bottle was fun to use. I love the idea of the spray for a little "pick me up" during the day.  You can not reuse a cream because they just don't work well that way or absorb properly.  The spray is perfect to help brighten and tighten that area later in the day or right before you are to go out and you have no time to reapply makeup.
To apply close your eyes and hold the little bottle 6 inches away and lightly spray the eye area.  The right amount of spray comes out and covers all around the eye.  I sprayed it twice on each eye and it was perfect.  It actually dries really quickly but I would just dab it a little bit with my finger.  The spray did not affect any of my makeup and made my eye area feel refreshed.
The bottle is about the size of a lipstick tube so it will make it easy to carry in your purse.
Both of these products are great to add to your weekly and daily routine and for those special times when your eyes need a little extra love.  I hope you enjoyed reading about them and would love for you to check them out.  I was gifted these items but all the opinions are my own and very honest! Let me know if you have any questions or comments below.
Thanks!