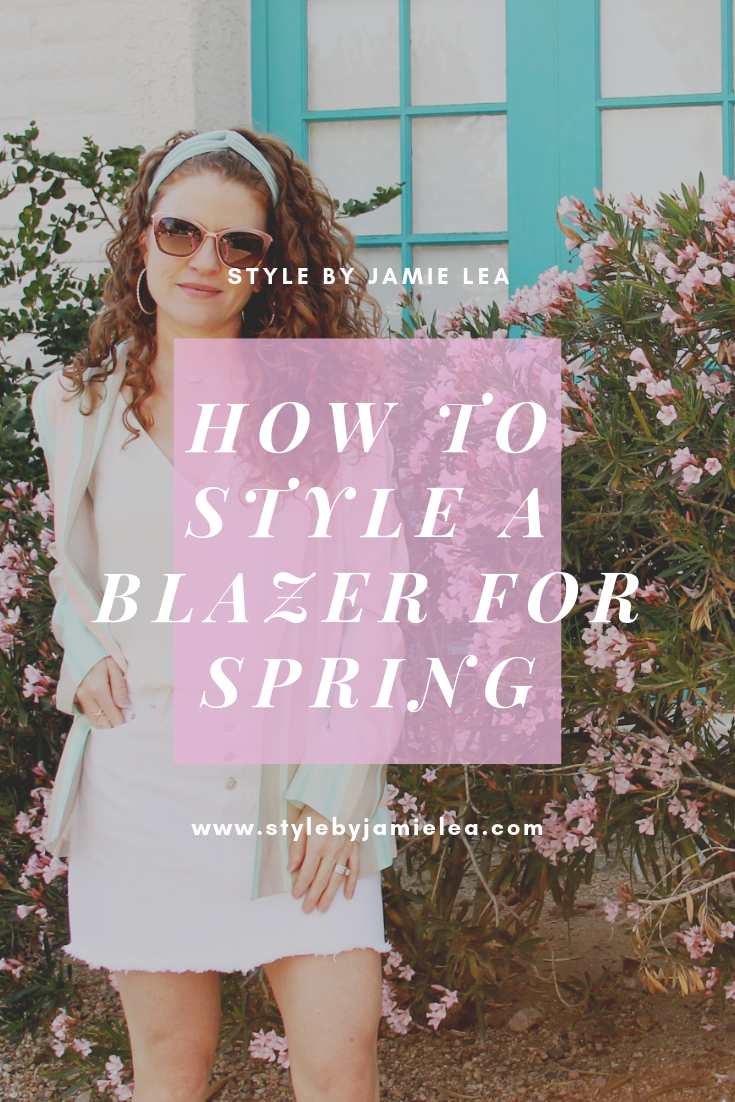 Hey ladies! There is one clothing piece that I just don't think I could live without and it's a blazer.  I own more blazers than any other item and I can never get rid of them.  If you ever want to see all the blazers and jackets I own I would be glad to show you!!! It's a serious problem but a problem I am not willing to fix.  I love a good blazer because I feel like it can also be the most versatile piece in your wardrobe. Today I am going to show you how I styled my new wonderful pastel striped blazer from Vici Collection.
Spring time is short lived here in Memphis and it gets steaming hot super quick.  Even though that happens I still find myself needing something to cover my arms when I am inside. Going from hot to cold makes coming in to air conditioning sometimes unbearable.  A blazer instead of a cardigan is my go to.
First I want to tell you why I love blazers so much!
They are super versatile and can be dressed up or down.
I mostly wear them casually and they make a casual outfit look a little more put together.
A blazer is that piece that completes your outfit and makes you look like you put a lot of thought into what you put together.
They have structure and are flattering unlike a cardigan that can just hang and look sloppy.
They are always in style so you can keep them for years!
You can find them in all kinds of colors and patterns these days and they can make an outfit more fun!
The Pastel Stiped Blazer
Have you ever seen something online and immediately knew you wanted it and just clicked the purchase button without any hesitation?  That is what happened with this Pay It Forward Pocketed Blazer.  I saw the stripes and the pastel colors and thought it was the perfect fun piece for spring.  It even has the fun 80's shoulder pads to take it over the top!  I styled it with a couple of outfits on a flat lay and wore it while I was in Arizona on my fun girls trip. Don't worry, my post is coming about this trip next week!
The Flat Lay Outfits
These flat lay outfits are both styled with jeans.  This is how I would wear the blazer during that transitional time when fall is turning into spring. This transitional time is super difficult to figure out what to wear. The best advice I can give you is to pair things that look springy together but are warm enough for the chill that is still in the air. If it is not warm enough for sandals you could pair a tan or white pair of booties with both of these outfits.
One of my favorite ways to wear a blazer is with a graphic tee layered underneath and paired with shorts or jeans.  If not a graphic tee one that has a cute print or just a solid color. This will give it a super casual but well thought out look.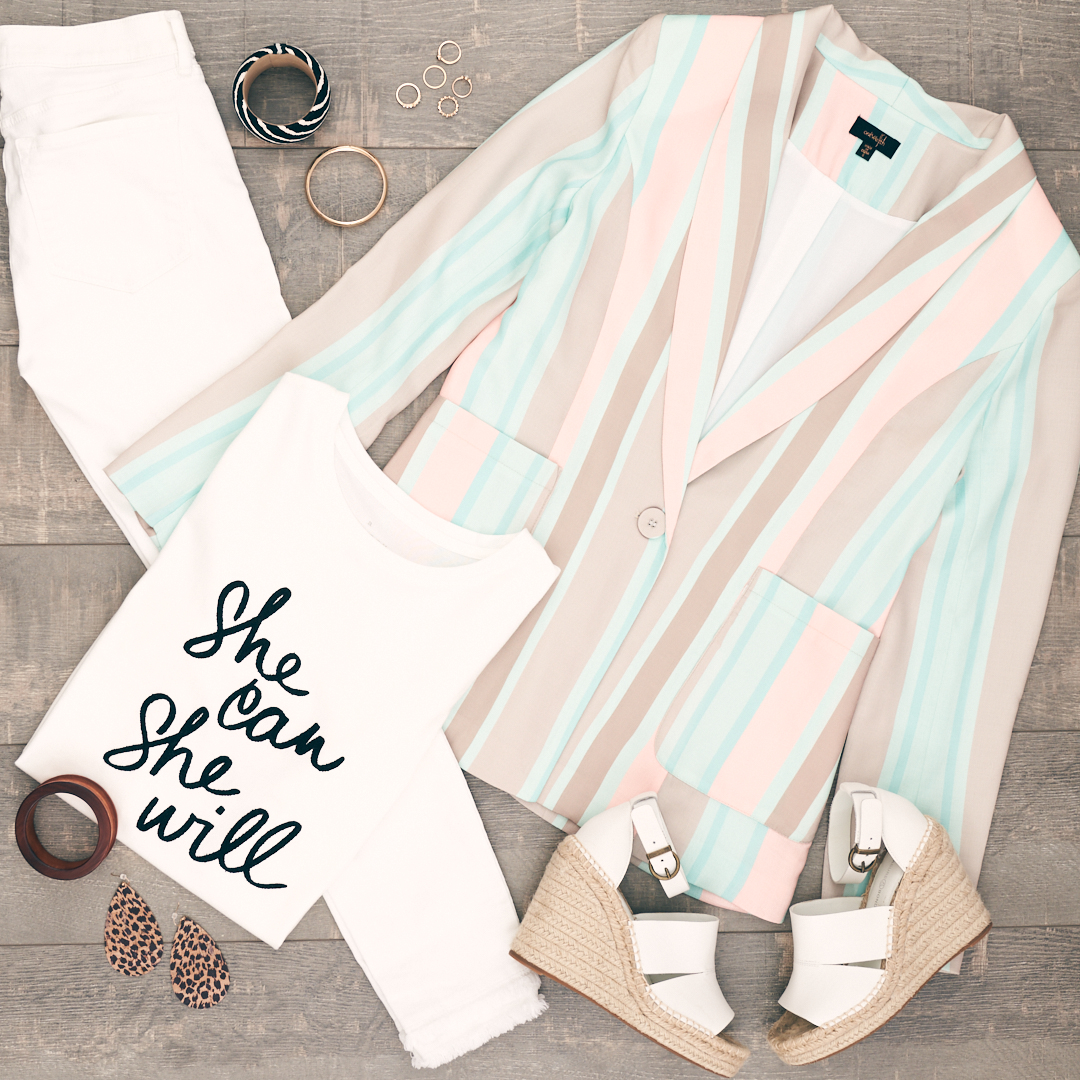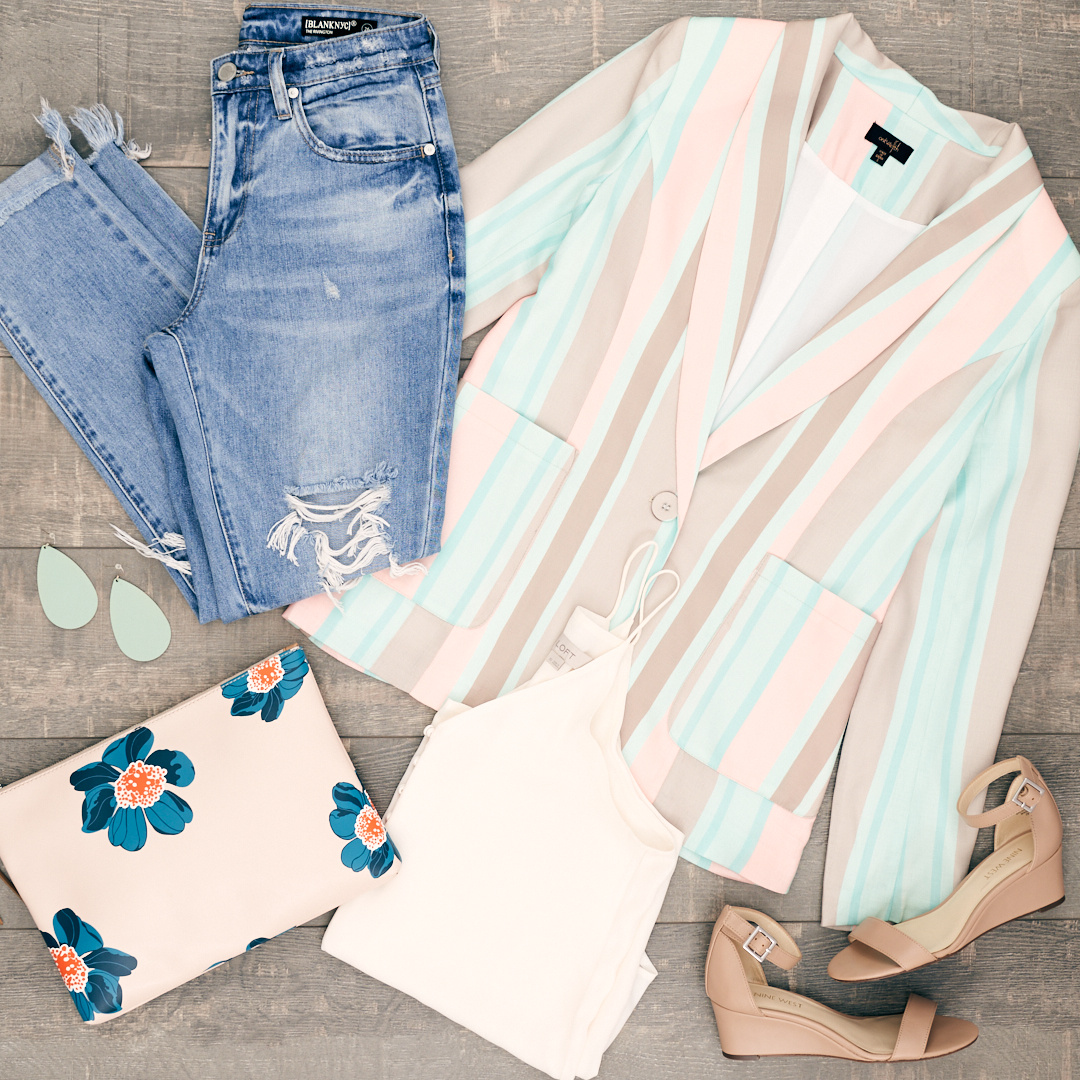 The Blazer for Arizona
I have to admit that this outfit was not fully planned out.  I had brought a cream camisole with me to put underneath not thinking I was going to pair the blazer with white denim.  Originally I was going to pair it with ripped white jeans and then I found this white denim skirt while shopping at Zara in Scottsdale.  My friend Erika of Beaut Optician said I should totally wear the cream tank and that it would look great. Oh, and I should mention my weirdness with buttons down the front of the shirt and skirt. What a dilemma!!! Sometimes we need other people to push us outside of our comfort zone. I would have never paired cream with white or buttons with buttons but honestly I ended up loving it.  The difference in color was so slight it just worked.  Thank you Erika!
There you have it! I styled this blazer with a cream colored camisole from Loft, a white denim skirt from Zara, jewelry from Kendra Scott, espadrille wedges from Nordstrom, headband from Target and Fysh sunglasses from Eyecare Plus Scottsdale. The building colors and the landscape could not have been more perfect either!  I think these are the most perfect unplanned photos with my best unplanned outfit ever!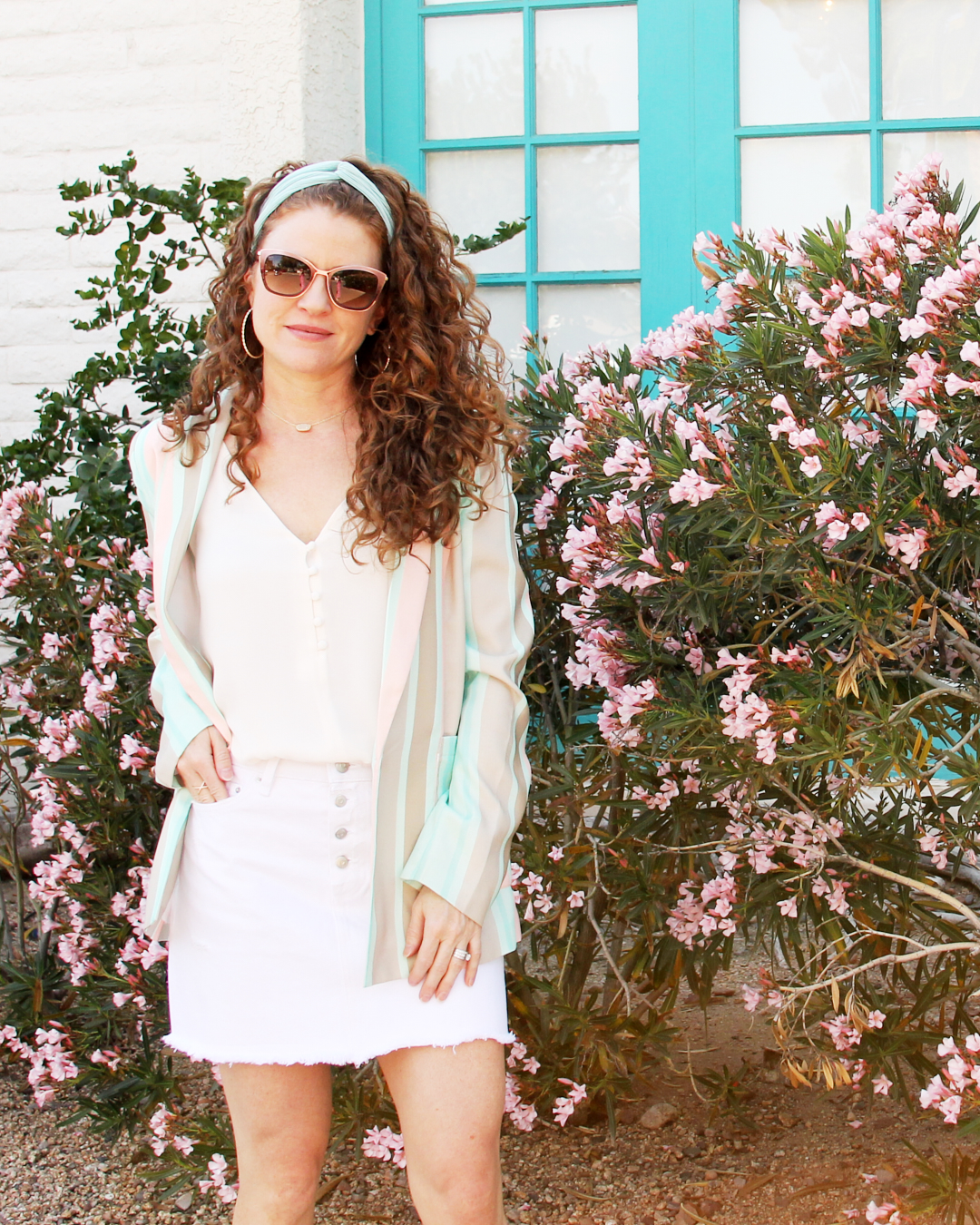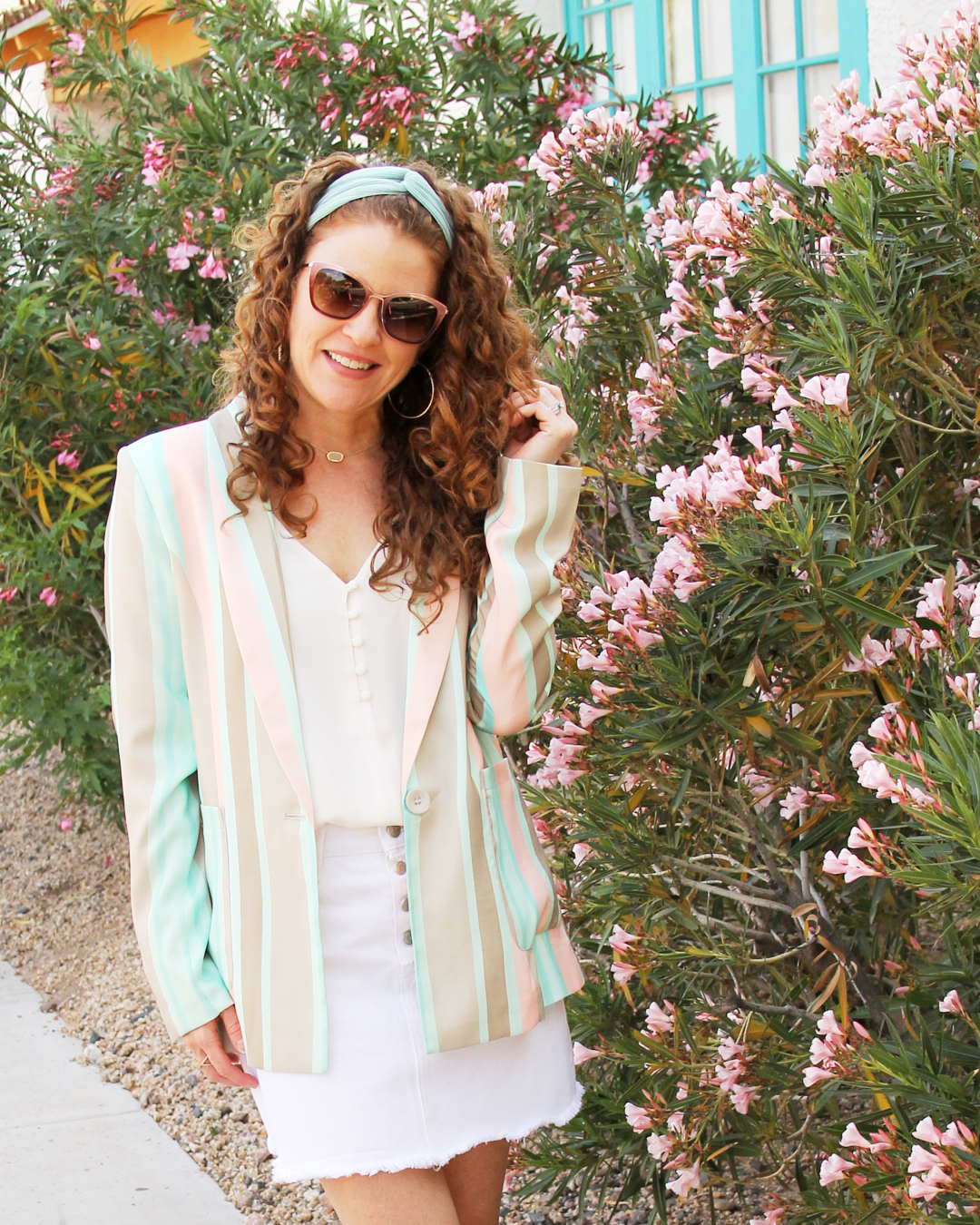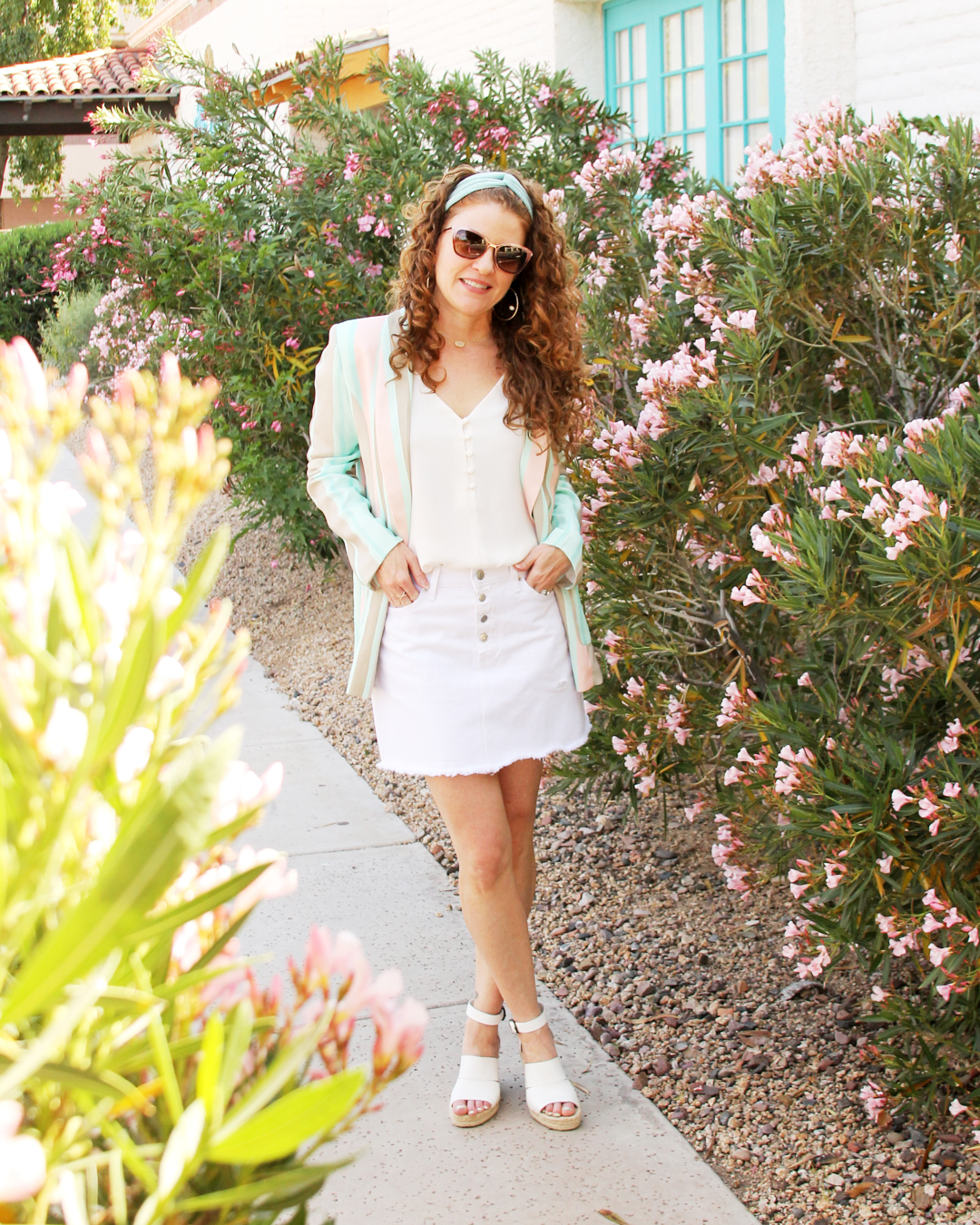 I have linked the Pay It Forward Blazer throughout the post for you.  Vici Collection is not a part of my LIKEtoKNOW.it affiliate program so it will not be in the widgets provided.  I looked just before I posted this article and it's not available. You can sign up for a notification email for when they get one back in stock if you are interested in purchasing it.  I am wearing a small and it fits perfectly except in the sleeve length.  I will be getting that hemmed very soon!
Thanks so much for reading and I hope you have a wonderful week!