Hello everyone! You know I don't like to do posts on just one item but this sweatshirt had to be an exception!  The versatility of a top like this is endless and I wanted to show the different ways that I styled it.  Maybe it will give you some inspiration to make some interesting outfits with a blouse,  sweater or sweatshirt you might have in your closet.  I think we have a tendency to think we can only wear something with specific things.  I want to get you out of that thought process.  I have taken a sweatshirt and given it so many different looks.  I hope you will stick around to check it out.
Rebecca Minkoff Gracie Sweatshirt
This Rebecca Minkoff Gracie sweatshirt was a purchase from the Nordstrom Anniversary Sale. It was regular $98 and on sale for $64.90.  I tried one almost exactly like this earlier in the spring that was pink and I sent it back because it was too big.  When I tried this one on in the store I knew I had to have it.  It is so light weight, soft, flattering and not too obnoxious with the ruffles.  It is perfect for me.  I have taken this one top and paired it with 4 different bottoms and 5 different pairs of shoes. They all give me a different look and will carry me to whatever I need them to in the fall.  I have even managed to find an outfit or two that works for right now.
Summer Sporty Girl
I do love a good sporty look when it is done right.  This sweatshirt can make sporty look really good! The ruffles add a bit of feminine flare to it but we are seeing lots of sporty things with embellishments here lately.  I have paired it with shorts and some booties. If I had some cute white sneakers I would have chosen that.  This gives the outfit more of a sporty country feel but I live in the south right!  That country cowboy look is back for fall anyway so we can hop on that train a little early!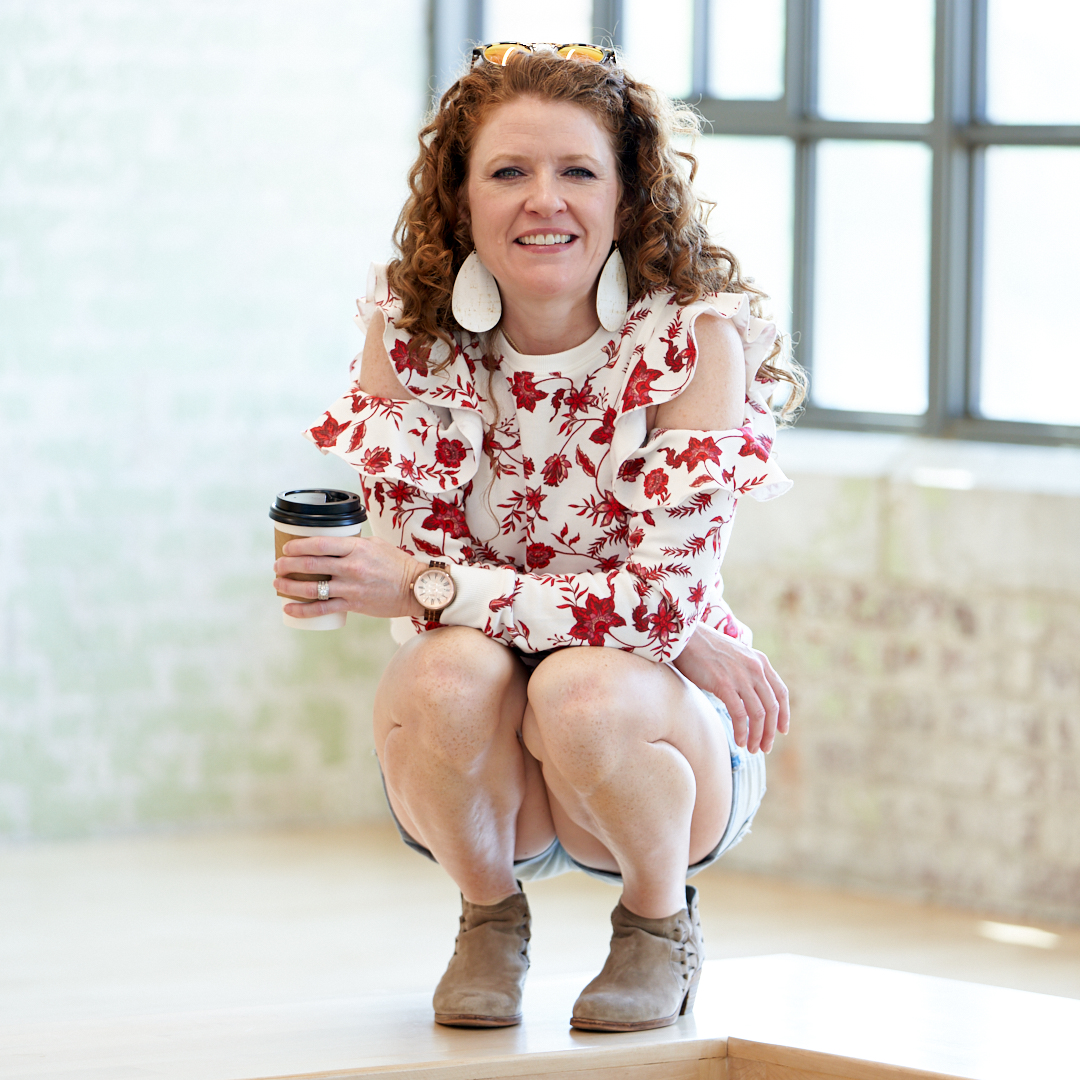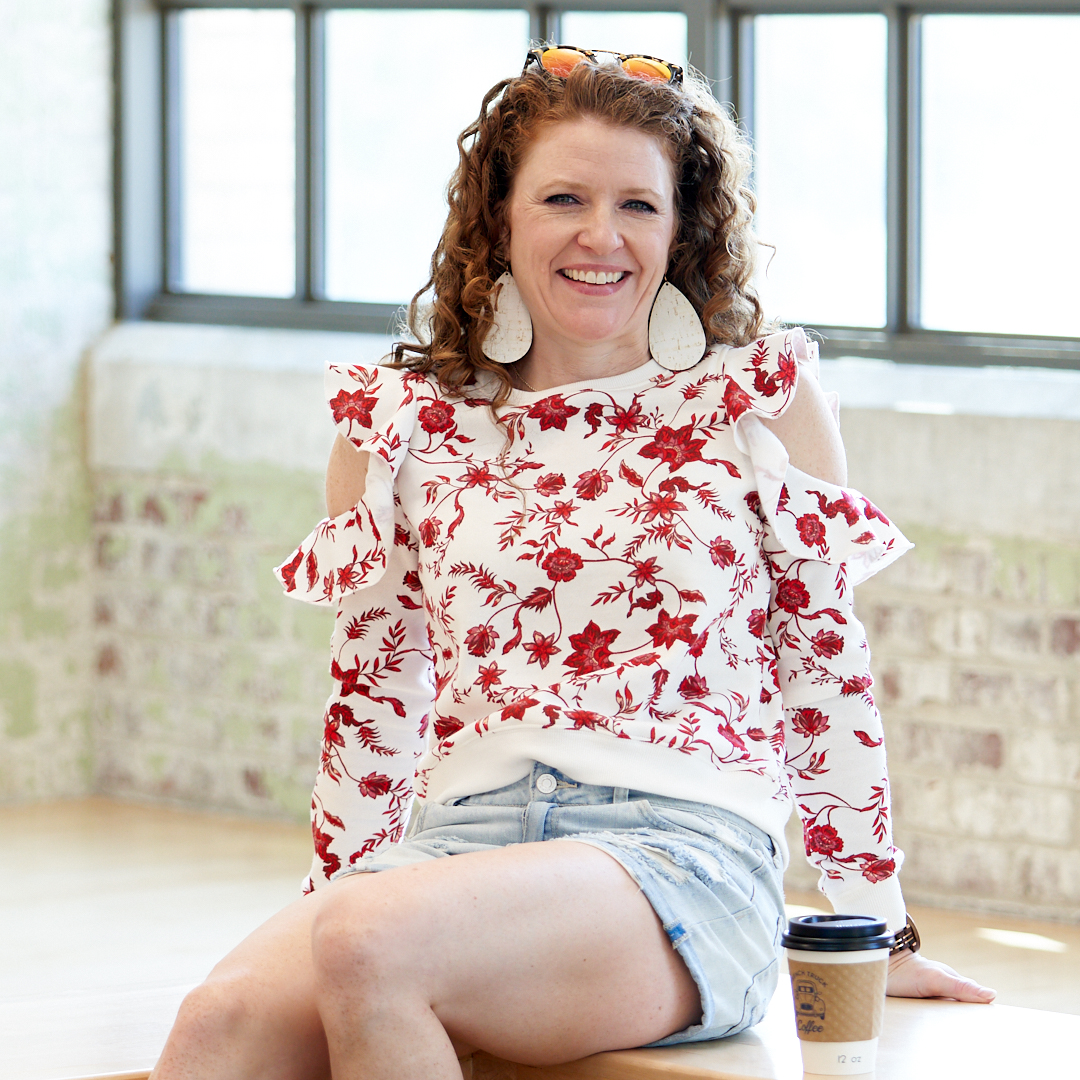 Two Outfits with a Change of Shoes
I know you might be thinking, "she is wearing that midi skirt again!" and yes I am.  It has been my number one piece from this spring/summer season. It literally goes with everything! I am also going to wear it in the fall!  The best $30 purchase ever for me.  The more you can wear something the better.
I have taken this sweatshirt and paired it with my denim midi skirt and two different shoes. The first shoe is a sandal and is styled for right now or transitioning into fall.  The nude sandal has the great wedge heel so it will maintain the casual feel of the outfit. I would wear this out to lunch or dinner with friends.  I would also wear this to my casual service at church.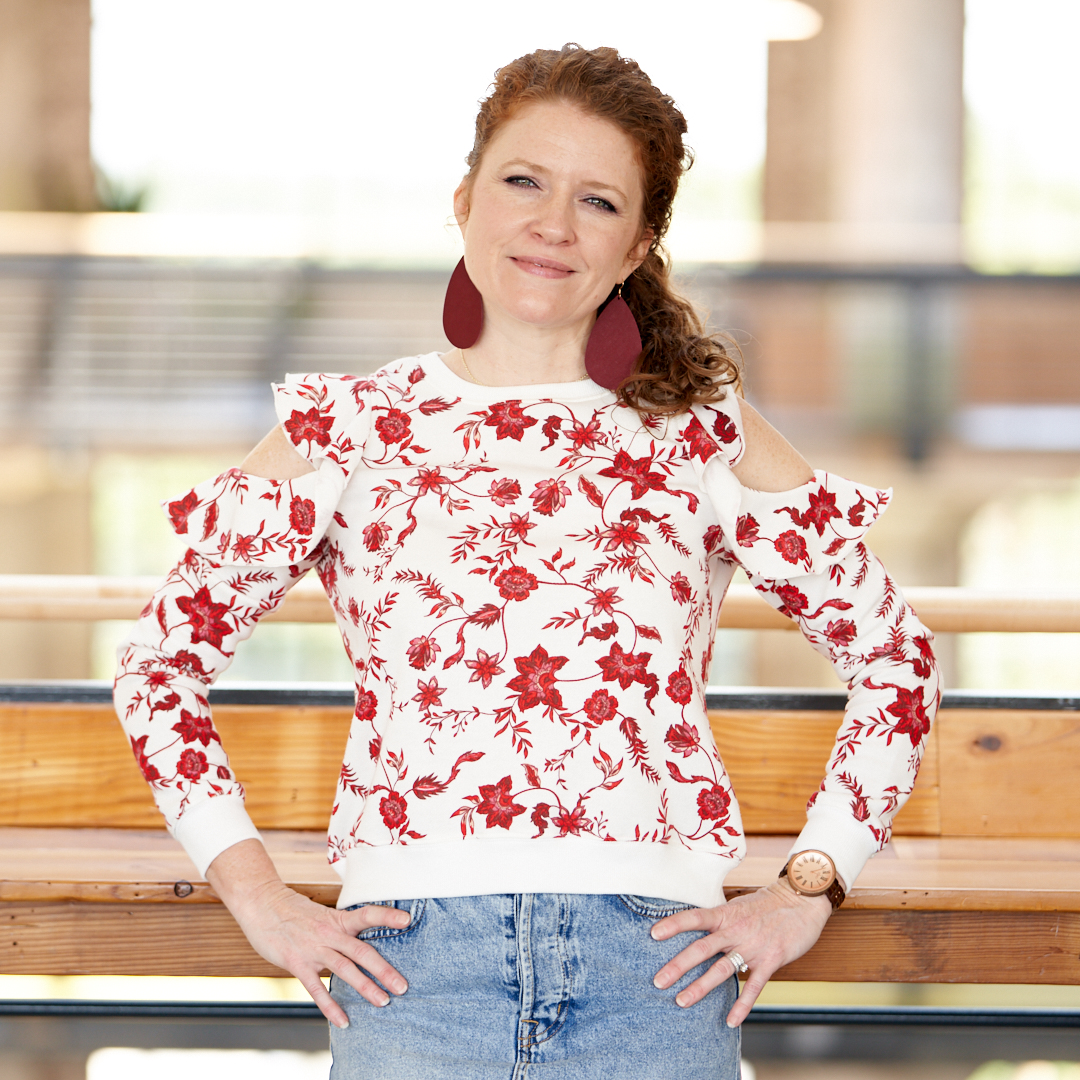 The second shoe is the best sock bootie I have ever worn! I ordered these Steve Madden booties at the Nordstrom Anniversary Sale and was so surprised at how much I loved them.  They are terrific with all my jeans and my denim midi skirt. I will even be wearing them with dresses. The styling of the "sock" makes them fitted to the leg and therefore gives you a streamlined yet sophisticated look.  I think this is a better look with skirts and dresses because it is less bulky.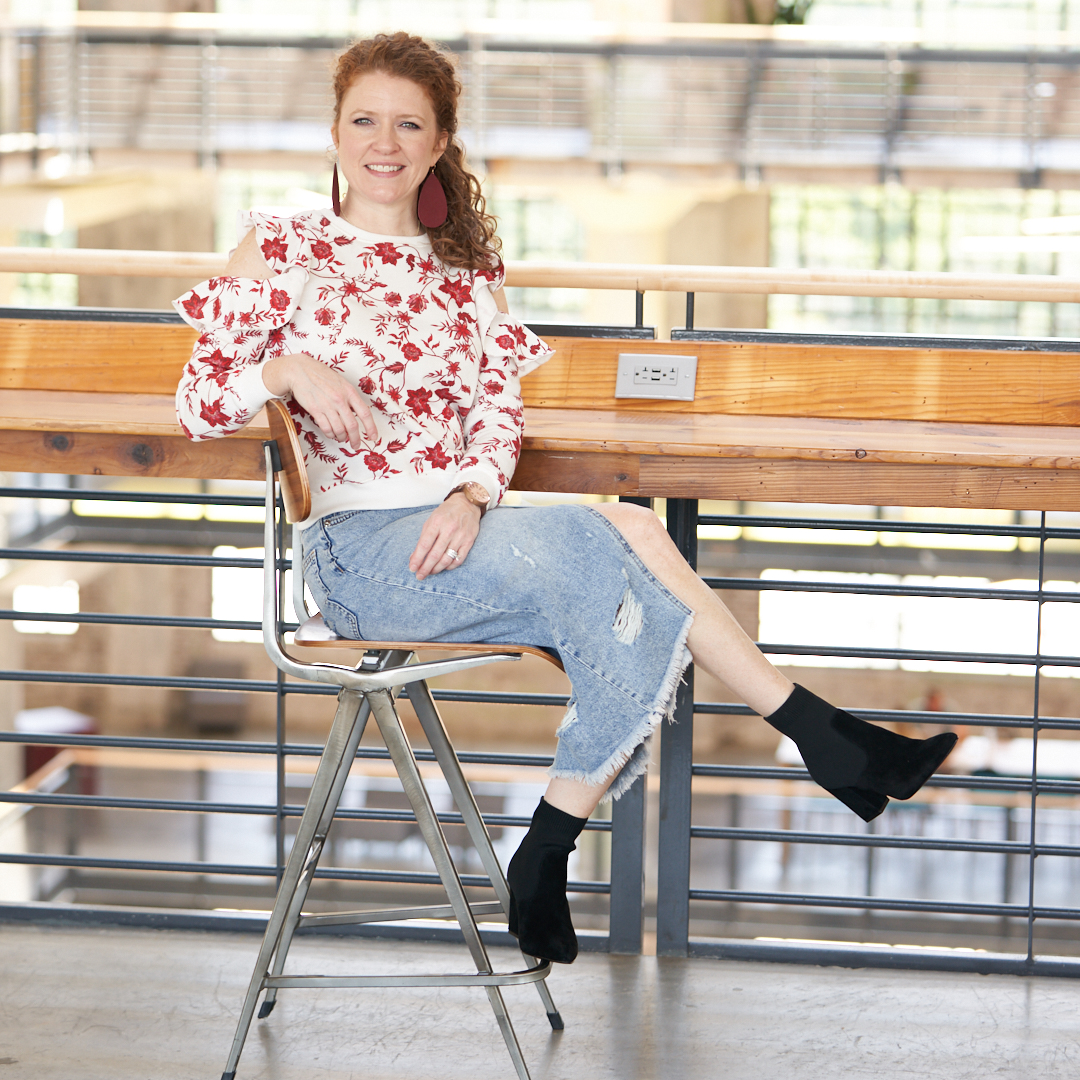 The Cool Girl Version
If I had to paint a picture of my personality and how I like to look this would be it!  A sweatshirt, moto jacket with a hoodie, some cropped ripped jeans, sock booties and statement Nickel & Suede earrings! All my favorite things wrapped up in one outfit. I could wear this all day everyday and be so happy.   I call this the cool girl version because that is how I feel when I wear it. I really feel like I could do anything.
This may be a little over the top for you but you could make your own version. I really wanted you to think that even though the sweatshirt has a ruffle on the shoulder you could still wear a jacket over it!  The ruffle is not bulky so it works!  If you don't own a pair of dark gray or black jeans you could just put regular denim and some black booties with it.  This outfit is super casual but means business.  Wear it to shop, run errands, out with friends or just sitting around the house!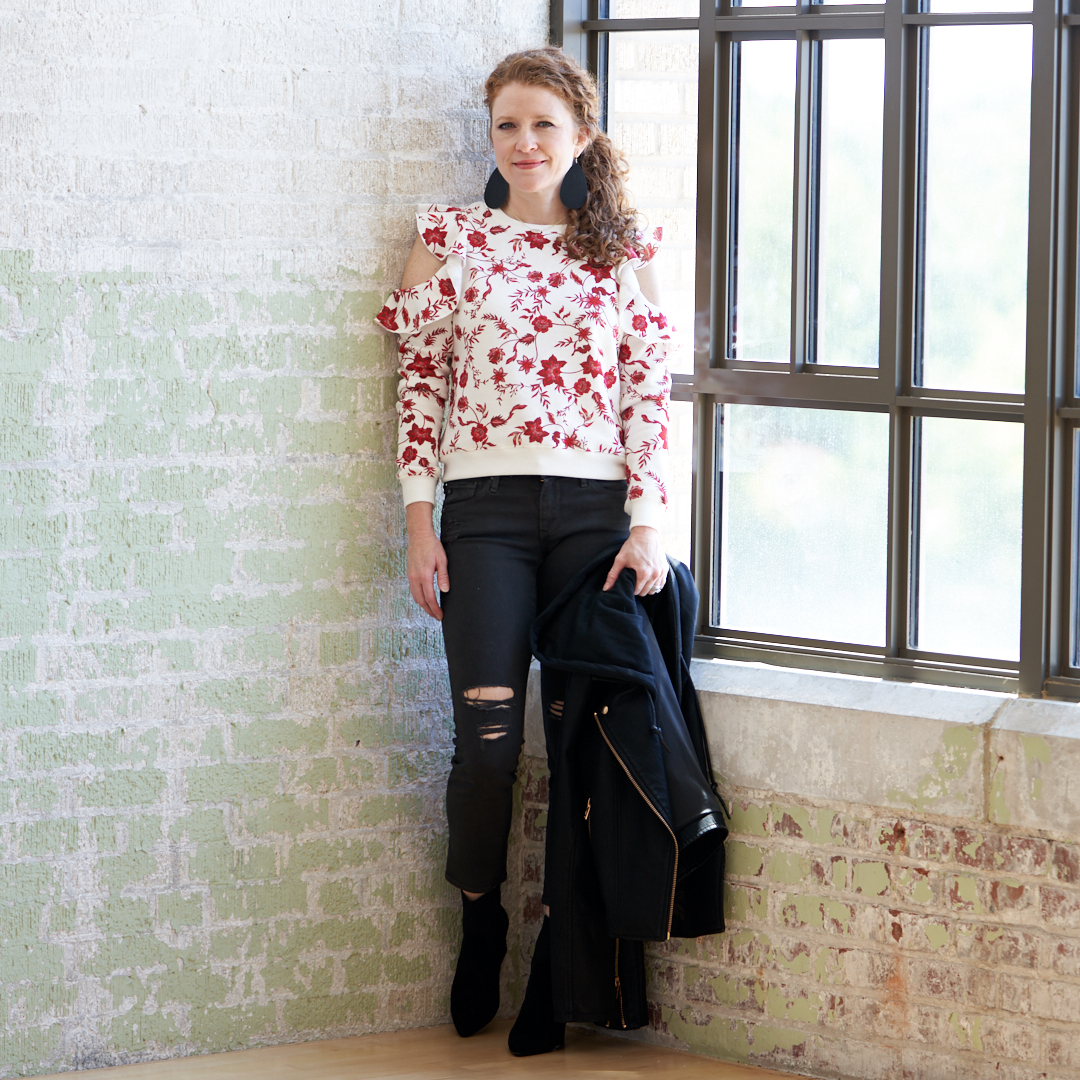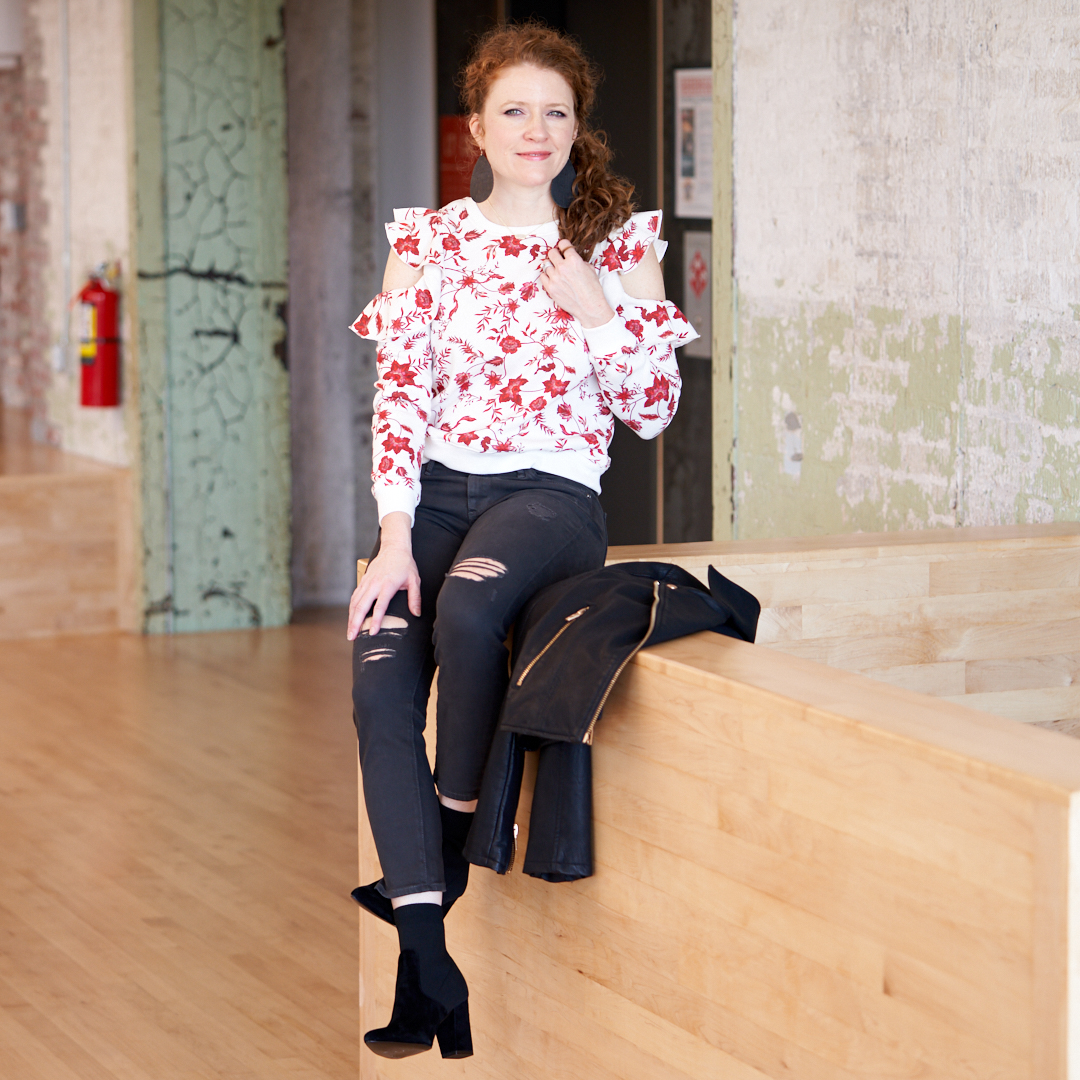 Dressed Up and Distressed
I saw someone wear some high heels with ripped loose fitting jeans once and fell in love with it. I thought it was such a oxymoron but it worked. So I decided to try it and I am so happy I did. When I walked out in this outfit my husband said " Oh heels with jeans…" with a big smile on his face. He actually really liked it.  See I don't always dress the way I suggest to you because it does not fit my lifestyle.  He has never seen me wear something like this but I certainly need to start. Especially if I can get a reaction out of him!
I think a sophisticated heel like this pairs so well with really any jeans.  You can put on a pretty blouse and dress them up or put on a casual top like me and it still works.  Add a great clutch and whatever jewelry you choose for an evening out on the town.  Make your husband look twice when he sees you! Remember men love strappy shoes so not any shoe will do. Try to find one like this and you will get a win!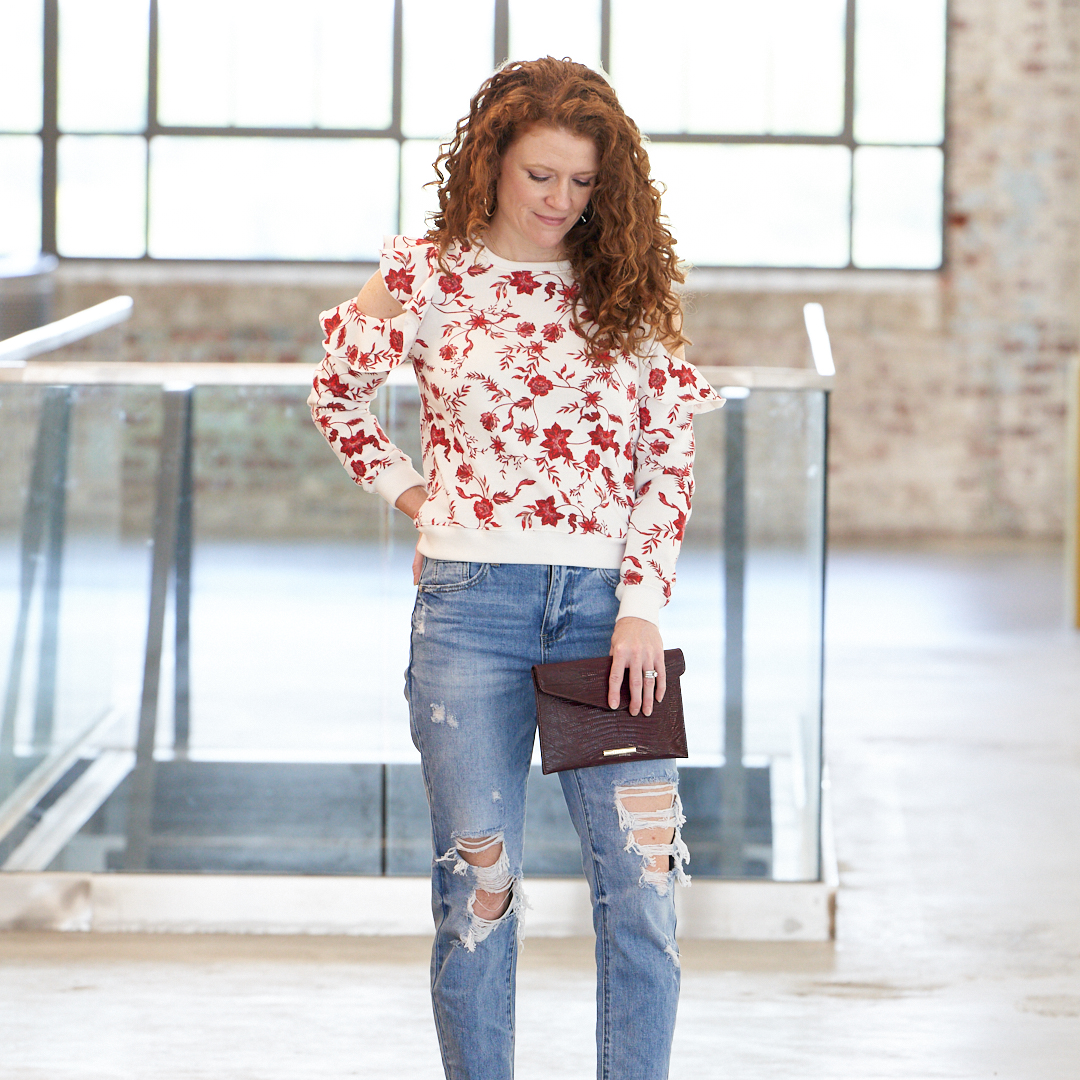 It is so easy to make several outfits out of one top like this one.  The outfits don't have to be complicated.  I make one or two changes to major items and then added my accessories .  Don't over think it, just do it!  I would love if you have any questions or comments that you would leave them below! Thanks and talk to you next week!