Hey there! I had such a great response from my post about One Top Five Ways that I thought I would bring you another one like it.  I like to show you what your possibilities are with each item I recommend you purchasing. This dress is no exception and can be worn so many ways with so many different toppers and accessories!  Don't be afraid to play around and come up with your own pieces to pair with it.  The dress that I am showing you today is pretty basic and can be found easily. You may not find this exact style or color but these styling examples can be applied to lots of different solid color dresses. I have linked some below for you!

There is one thing I also want to point out with this particular dress and that is the color. You will see this color EVERYWHERE this fall and it will be the perfect color to easily mix in with your already existing wardrobe! I love it when the new color of the season makes sense, don't you!?  By the way, I am the one declaring it the color of the season. They didn't pick it as the main color but it is what I am seeing everywhere.  It is in the line up of classic color palette for fall from Pantone.  They call it Meerkat, I call it Rust! The dress I am going to style for you today is a rust color and is just so fabulous. I got it at Nordsrom Rack for $8 and it is going to be one of my favorites to wear this season because of it's versatility!
The Casual Chic Chick
Of course I am going to start with the outfit that has "Jamie" written all over it!  I love this casual chic version and would wear it everyday if I could.  I would even put tights or leggings on with this when it gets cold.  These are the type of dresses that just scream for a denim jacket to be paired with them.  I have trouble with liking the denim on denim look so I am always looking for things to put my favorite denim jackets over.
I completed this outfit with some high-top sneakers, leopard print earrings (to add a little more interest) and my new favorite backpack! Even though this is a casual outfit it is well thought out and put together, so you will get noticed wherever you go!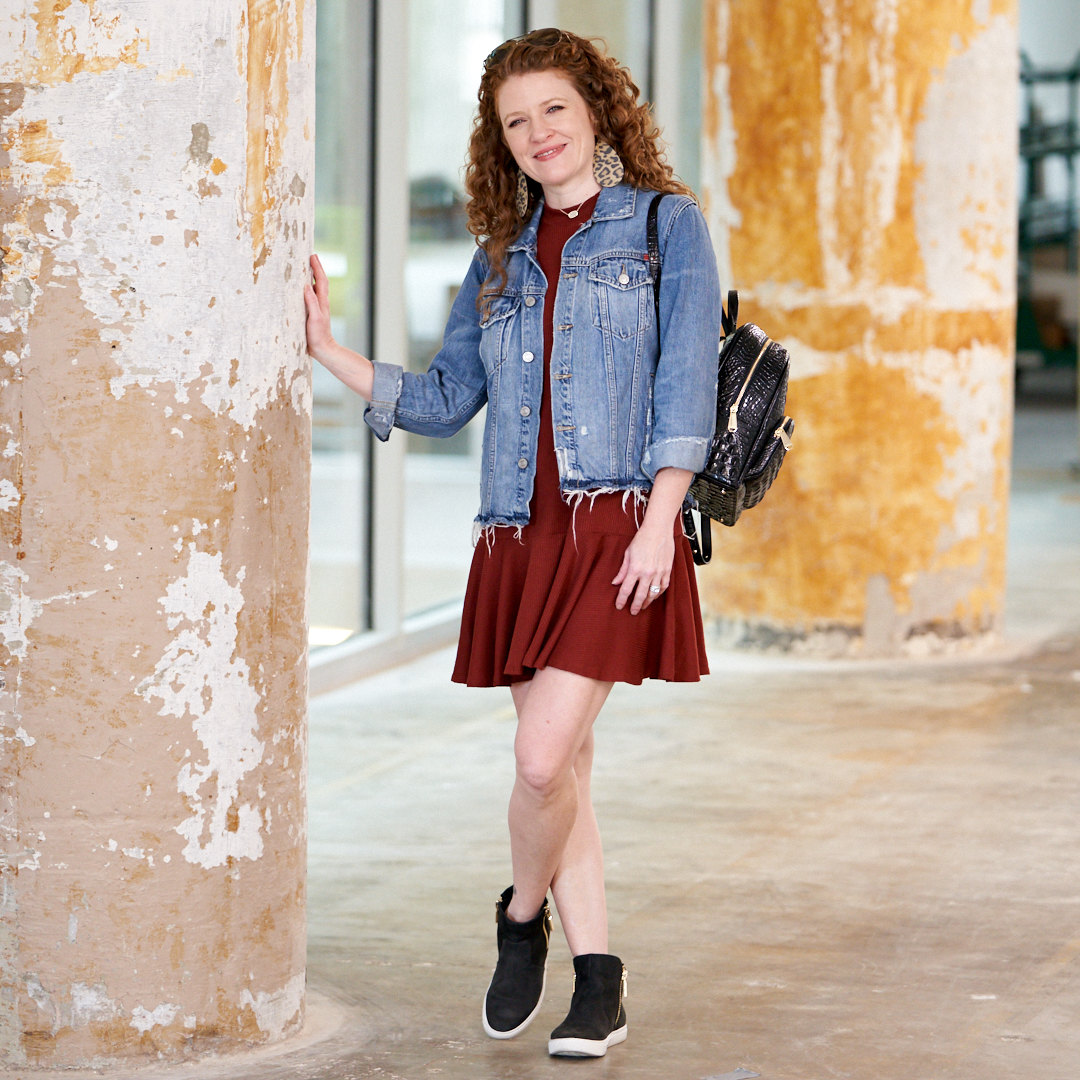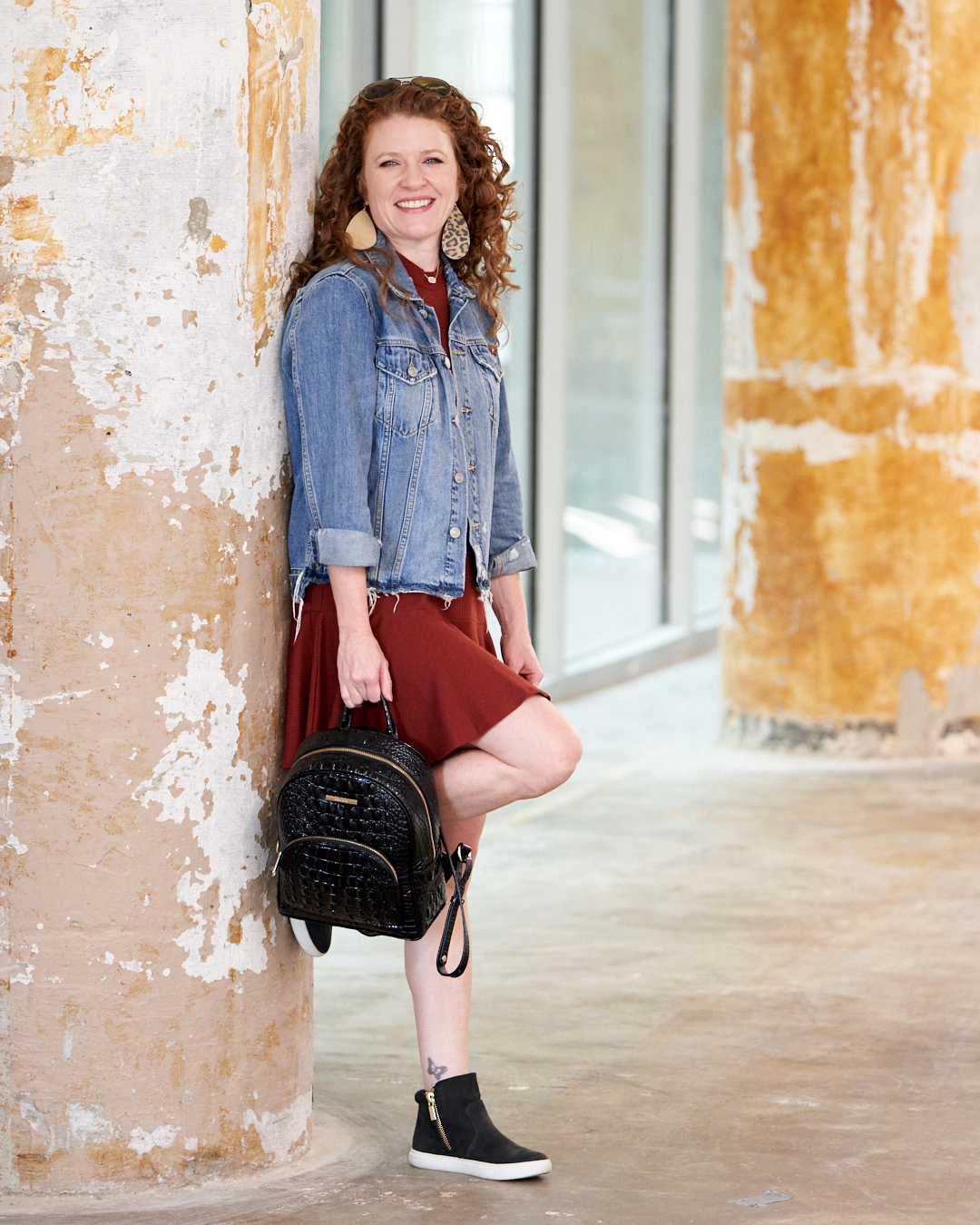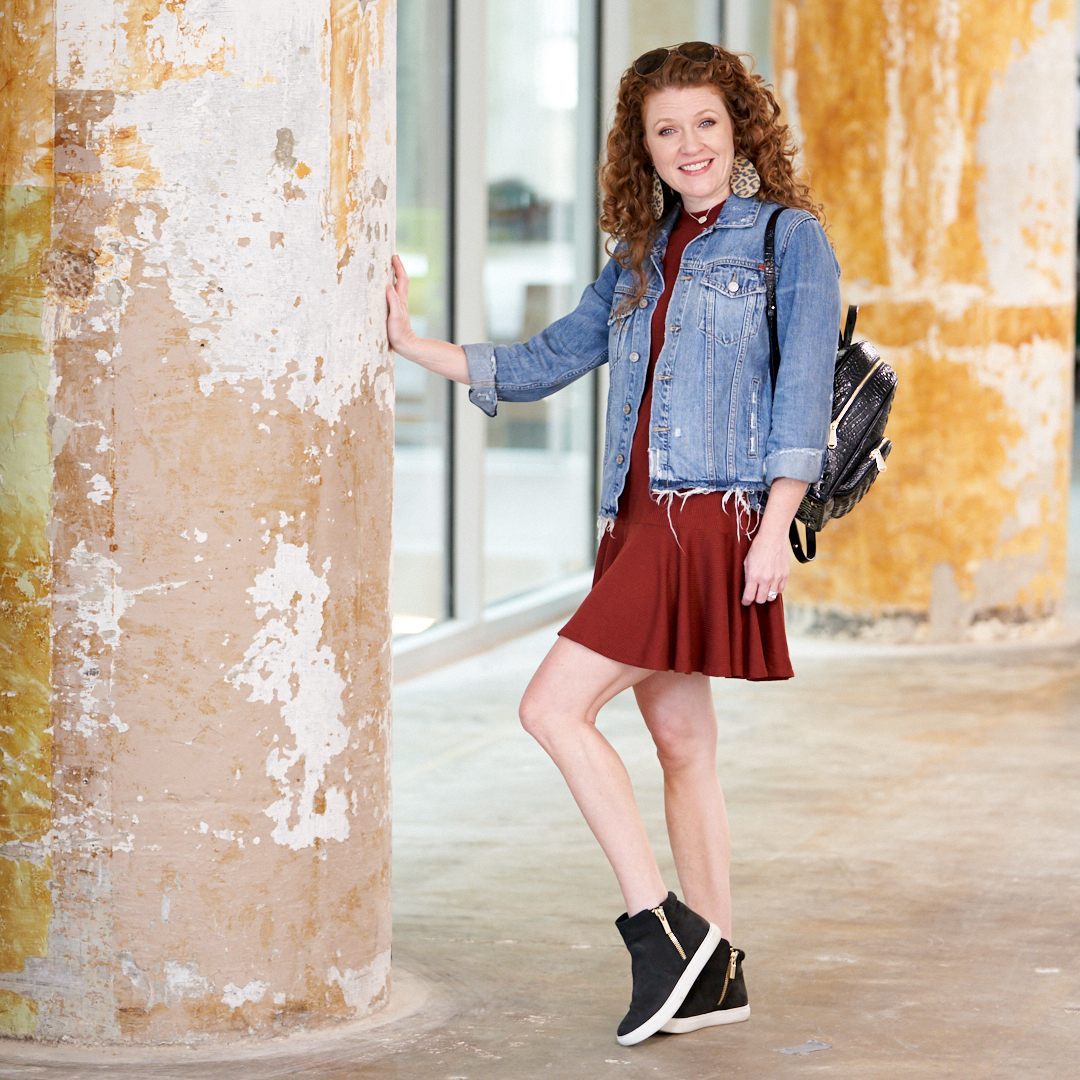 The Super Chic Chick
I just so happened to have this awesome Trina Turk leather vest hanging in my closet and thought it was the perfect match for this fun dress.  This vest is one of those pieces you just never get rid of because 1. it cost a lot of money and 2. it is just that fabulous! I have had this for at least 6 years or more and it's still in mint condition!
A leather jacket or vest can add an element of harshness to an outfit if it is not styled right. I was not going for a biker chick look here so I added a feminine leopard print bandana around my neck, gold leather earrings, slim sock booties, and the school girl backpack.  I would also put tights on if I was a little chilly.
I am trying to stick with my manta of classy feminine with a little bit of edge.  I feel like I have done that here!  I think this would be just as great if you had a different material vest or a short leather jacket to wear over it.   Always take these as examples and not exacts and put your own spin on it!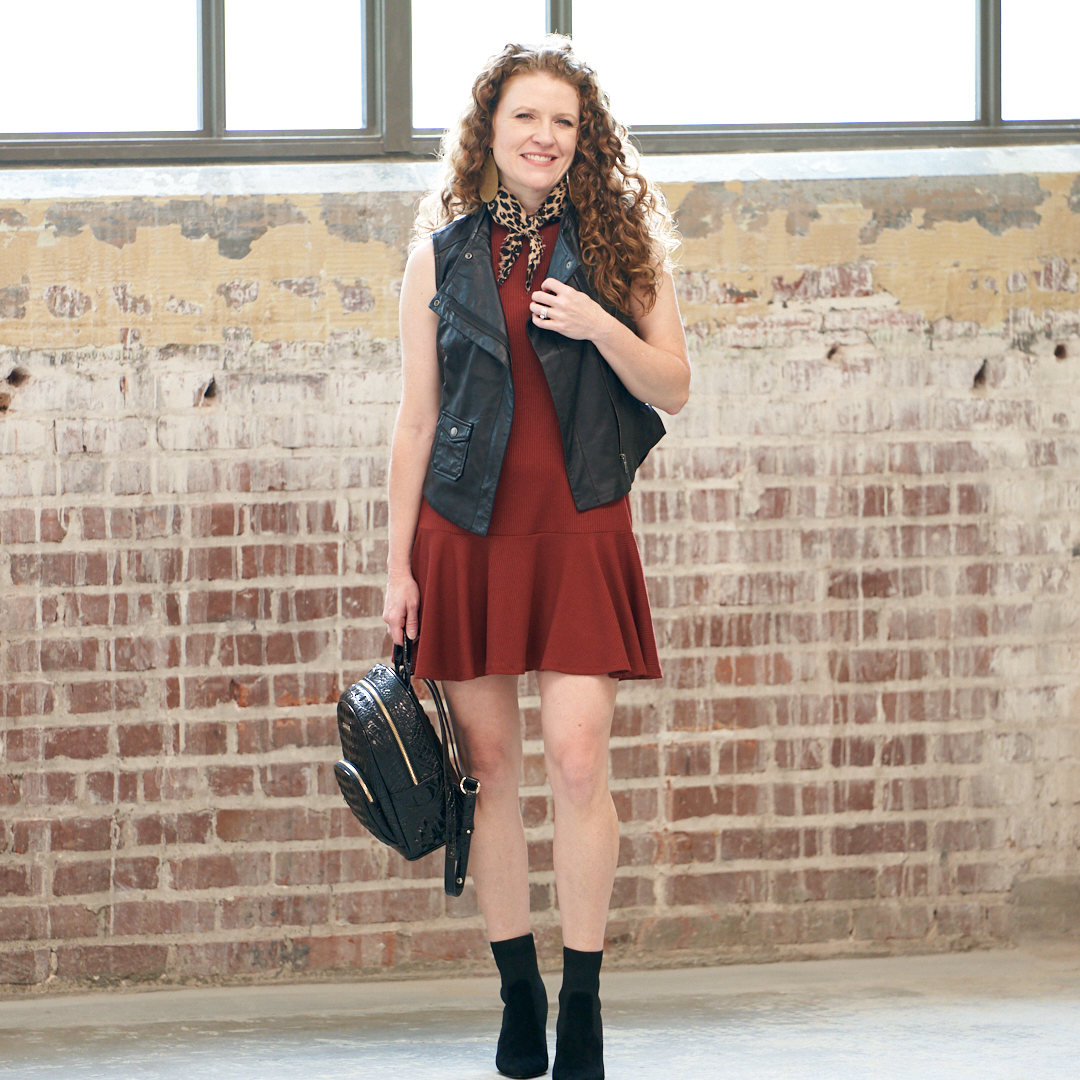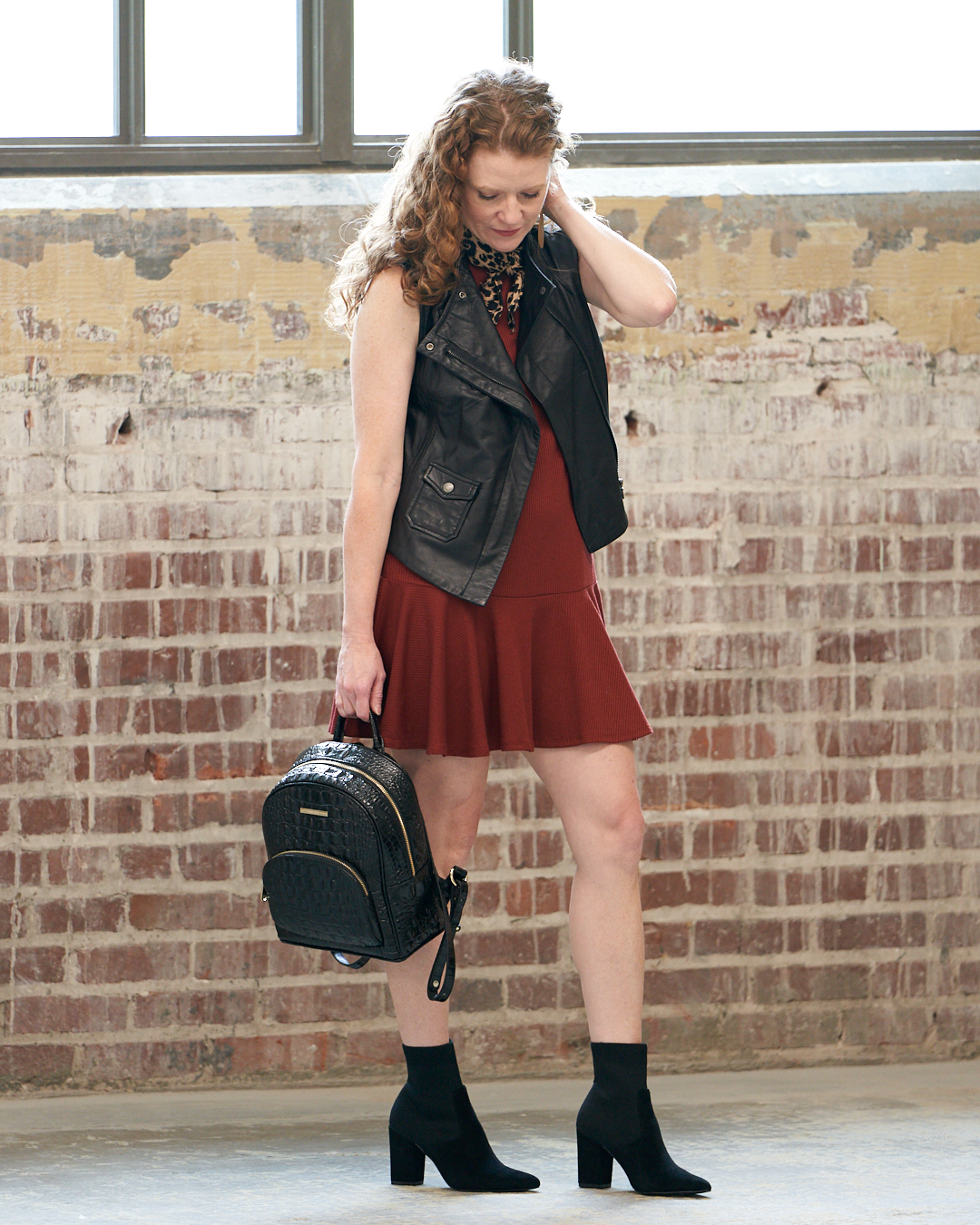 The Serious Chick
Well, I am sure you are not surprised that I styled this with a blazer.  I do have to admit this is the most casual blazer I have!  It is from Old Navy and is a knit! It really feels like a t-shirt on and is super soft and stretchy!  It is an ivory color with black stripes and a perfect match for this dress as well. Another piece I pulled out from my closet that I already had from last year! You can actually still get this exact blazer at Old Navy this season! I love it when that happens!!!
To keep with the casual look and not make the blazer too professional looking I added some fun Sam Edelman suede buckle booties, big hoop earrings, and my backpack again! The best part about this outfit is it really could be made work appropriate just by adding some tights with it!  I would definitely wear this on a client consultation appointment or a meeting but I would also be able to take this into the evening.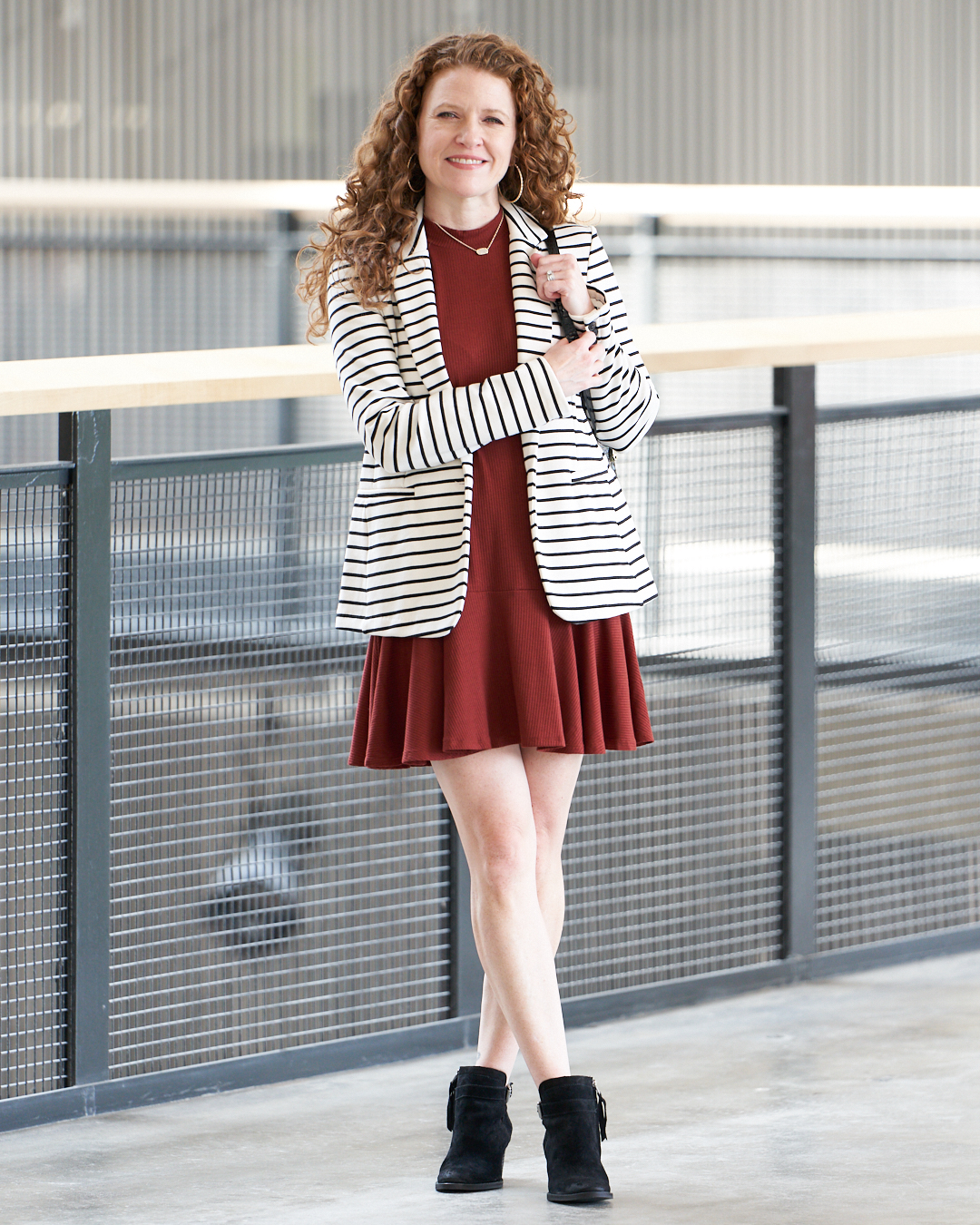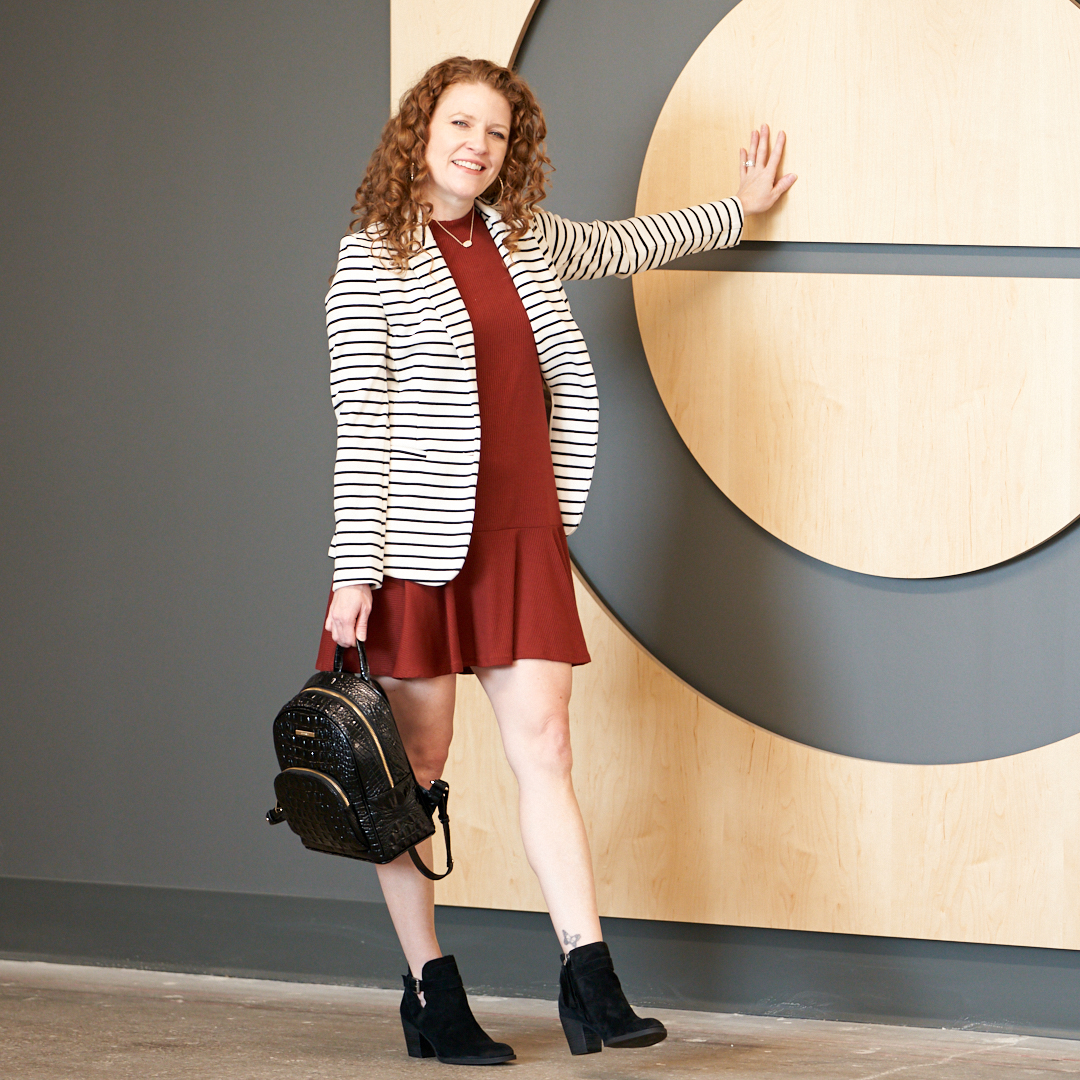 Out of all of these which one do you like the best?  I would love to hear your opinion by leaving me a comment below!  My favorite of course is number one because it fits so well into my casual lifestyle.  I hope you will take something from all of these outfits and make some of your own from things right in your closet like I did.  I purchased one new item, this dress, and it gave me so many options with my existing wardrobe! You can do exactly the same!  Thanks for reading and I hope you will come back next time I post!