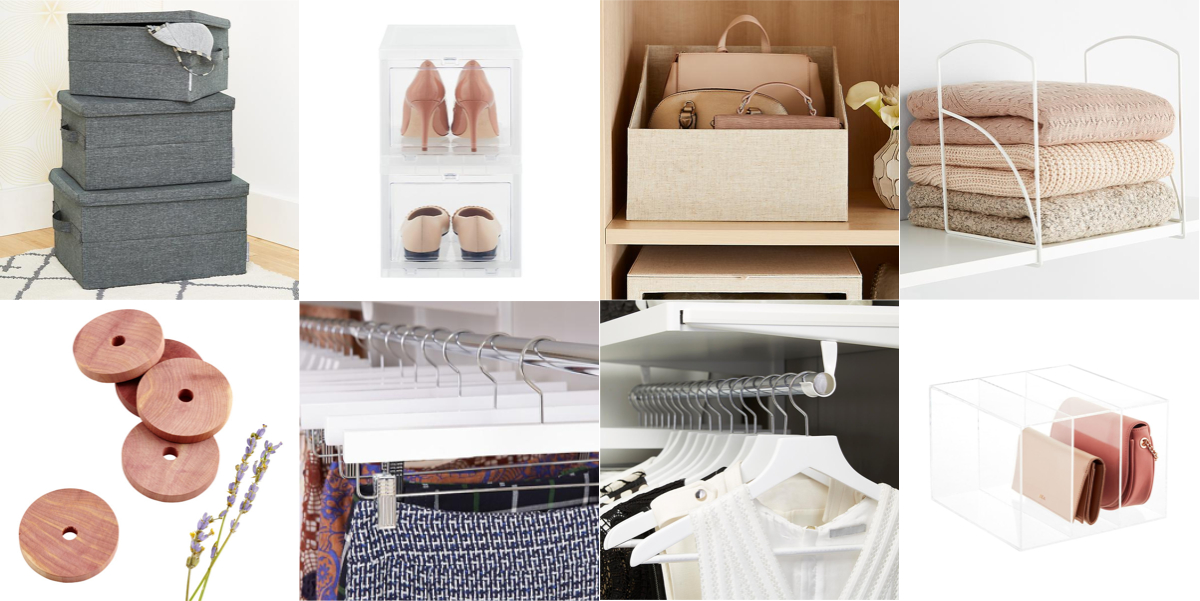 Hey ladies! It is that time of year again! Before any major season starts I will send you a reminder to clean out your closet!  This is absolutely the most important thing you will do for yourself to start a new season. You will be cleaning out the items from the season that is coming up in order to know what you will need.  For now it will be your Fall wardrobe. I have multiple posts on my blog about this as well. You should check them out under Closet Inspiration on the main menu.  This post will give you some further instructions on how to clean out your closet and some fun closet organizing suggestions! I hope you will get some inspiration out of these and get yourself motivated for the task!
How to Eliminate Items
Three Easy Tips to Clean Out Your Closet is a step by step guide to going through all the pieces in your seasonal wardrobe.  I wanted to include the step by step instructions here, but there is much more to it, so I would still give it a read! Especially if you are serious about cleaning out your closet.
To get started you will need to  evaluate each piece for the season you are going into.  This is very important to do before any seasonal shopping so you will not make any unneeded purchases. If your Fall clothing is packed away then this is the perfect time to pull it out.  You will need to look at each piece and ask yourself these 6 questions that will help you determine if you need to keep, donate or throw away the item. I also recommend trying things on during this evaluation process to see if things still fit the same. (I know, this is work!)
Here are some questions to ask about each piece that you evaluate to determine whether to keep or to not keep.
How long have I had this item?  If the item is from last year the odds are it is still okay to keep.  If it is older than that you will need to consider if it is in good enough condition.
How long has it been since I have worn the item?  If it has been 2 or more years since you have worn the item than you need to think seriously about re-purposing or donating it.  Another option is to sell it to a resale shop but remember it has to be "lightly worn" and currently in style.
Is the item still in style?  You will end up buying some trendy things that will go out of style in a couple of years.
Is the item the right size? We have a tendency to hang on to things thinking we will be able to get back into them.  If they are only a year or two old you could sell them in a resale shop and use that money to buy things that fit! (This is a subject for a whole other blog post!)
How many other things do I have that are like this item?  We all have a tendency to like and buy the same stuff. For example, if you like black cami's you may have 5 of them.  And yes we all do this!  We are creatures of habit. Keep your favorites and make someone else happy by donating or selling the rest. If you just can't than that's okay too.
Does it have any sentimental value?  I have clients that will not get rid of something that is from their honeymoon or wedding etc.  This is okay.  We all have things like this. Just store these pieces in a special safe place and not with your current wardrobe choices.  You don't want to keep evaluating pieces like this each season.
I did not mention in that post to prepare yourself with either some boxes or trash bags to sort out your eliminated pieces.  You will want to label them. The categories could be whatever you want but I would recommend the following:
Go Away – This will be all the things that are terribly worn and just need to be thrown away. You have had them for years and they have holes or are just destroyed.  No need in even donating these to anyone.
 Be a Blessing – This is the pile of things you will donate to a local charity.  These things you no longer wear and are still in good enough condition to wear.  Even if they are showing some signs of age that is okay.  As long as they are not stained or have holes.  Most places will not keep these types of items anyway. I also recommend washing these items before you donate them if they have sat in your closet for awhile.
To be Determined – There are certain things that you will want to sell because they are still current season and they either don't fit or you just don't want.  You can either give the pieces to someone you know like a friend or family member or try to make some money off of them through a local consignment store. You could also sell them on Poshmark if you desire. That is what I do with all of my unworn stuff!
Costumes – Not everyone will want this as an option. But as I mentioned in my Spring closet clean out post, some people do.  I have two clients that have actually re purposed some things in their closet as Halloween costumes. Tulle skirts, print tops, savvy jackets, flare bell bottom jeans, dresses that have gotten too short (we all have them) and whatever else you think might work for a costume.
Closet Organization
Once you have gone through everything for the season you are ready to organize it all.  I highly recommend only keeping current season items in your closet.  So right now you will be switching it from Spring to Fall.  If you keep everything in your closet than just make sure your fall becomes front and center and easily in reach.  I also want to mention I know this is a transition time so you will need to keep those items you are still wearing front and center until it becomes completely cold.  At the time the season is completely here you should move them out.
I have recently found some great things that I would like to add to my own closet that I wanted to share with you.  My top concerns when I help someone with organizing their closet are the hangers they use and what storage options they have. It is amazing the amount of things you find in someones closet that just don't belong their because they didn't have another place to put them.  Can you relate? Eliminate the clutter and you will be much happier getting dressed in the morning.
Hangers
There are numerous hanger choices out there and I recommend you stay away from plastic and wire hangers.  These are not good for fabrics and just really look unattractive.  I always recommend wood hangers unless you have a small closet than go with velvet.  I personally use the white wood hangers from Ikea and I love them. I found similar ones from The Container Store that I linked below.  The velvet hangers are the thinnest and lots of people like that they have a natural "grip" to them. This is actually what I dislike about them.  I personally do not like the velvet but most other people do.

Sweater and Other Storage
Now for storage! If you do not use a dresser for your clothing it is very important to find the right storage container for your items. My main concern is always sweaters. You should NEVER EVER hang a sweater or any kind of heavy knit including cardigans.  It will just stretch and have hanger marks and you do not want that! You should fold them down and put them in a storage bin or on a shelf with shelf dividers.  If you don't like these options you can fold the sweater/knit over the long bar if your hanger has it. You might think I am silly for mentioning this but it happens with almost every closet I encounter. Your sweaters will have a longer life if you just fold them down.
The rest of your items like shorts, t-shirt and undergarments can be stored in drawer units or bins. I have made some suggestions below. I also recommend these storage bins for things that are not being worn for any length of time to protect them from the elements. Along with the bins are plastic garment bags to protect your hanging items that are not being worn for longer periods of time.  Cedar rings and shelf liners are also important to keep moths from eating your clothing.

Shoe Storage
Lastly, what is your shoe storage situation?  From my experience, this is typically the most unorganized part of someone's closet!  Even my own! I have hanging shoe storage and my shoes still end up on the floor!!!  I just don't have enough storage and boots never fit in these! I found these cool storage boxes that open in the front and are a game changer! They are a little pricey but worth it. No more dusting those shoes each season either!! I really hope to add these to my own closet very soon.  For those boots that are high or over-the-knee I recommend hanging them with a clip hanger.  I just add a piece of foam inside the clip to not damage the material and hang them in the closet! It gets them off the floor and out of the way!  Genius right!?

Well ladies, if you live in Memphis and need some help don't hesitate to give me a buzz! Now is the time to start so you can make your list of the items you are adding or replacing.  The best time to shop is September and October so don't delay.  If you have any questions please leave them in the comments below! You could be on your way to a happy organized closet for fall!