Hey there!  I just want to say that after all the hype of the Nordstrom Anniversary Sale I have become a little weary on my content creation!  This sale was so hyped up I didn't even think about what I was going to do afterwards!  I know this sounds silly but I just have to be real.  It got me, and probably you, so excited about fall and we make all these cool purchases that we can't even wear!!!  I am such an instant gratification person that I literally have to put the things I purchase like this into my closet and forget about them! AND on top of that hope I still like them when fall does finally get here!!! Do you not feel the same?
Fall is definitely coming and since it is something we are looking forward to I am going to start my fall posts right now!!! I will try to help you get prepared for your fall/winter wardrobe and start on that list of things you need a head of time! The first thing on the agenda is a great jacket.  This is one of the best purchases you can make for your fall/winter wardrobe.  It will be the most versatile piece you have and can be dressed up or down.  My choice of jacket is not just any jacket either. Not only is it versatile but it is on trend and looks fabulous on any body type and mixed in with any style! Let me introduce you to the moto jacket.  I am going to show you a couple of different moto jackets that I have styled with my everyday wardrobe. One of them I purchased from the Nordstrom Anniversary Sale and will love it forever!

The moto jacket is just short for motorcycle jacket. It's characterized by its folded lapels, cropped fit and zipper pockets. The motorcycle jacket has been the trend for multiple years now and has just taken it's place as the "IT" style jacket!  It's kinda like ripped jeans, you can't seem to find anything else to choose from!  The moto jackets this season are made out for all kinds of different fabrics; not just leather. I actually own one in a knit, one in faux leather and one in real suede.  I might even have one that I have forgotten about!
The moto jacket is great as an outfit finisher; which is how I normally wear it. I also think it is great for a light weight jacket that could be worn as an everyday overcoat.  Whether you choose to make it part of your outfit or to just keep you warm, this jacket is sure to stick around on the must have trend list!! I hope you will decide to add this one to your wardrobe this season!
Don't Mess with Me Moto 
It is fair to say this is my favorite way to wear this moto jacket by BlankNYC that I purchased from Nordstrom!  If you love this jacket don't wait and get it now because it is back in stock and selling out fast! I paired it with a summer tank and put some dark gray jeans and my awesome stone blue Sam Edelman booties with it! If I had a black tank on it would not have made the same impact. The cream tank made the gold hardware on the zippers stand out and created a more feminine soft look with the edgy jacket.
One of my other favorite features of this jacket is the removable hood!! It is fastened on the collar with buttons for easy removal.  Honestly, I am not sure I will ever take the hood off!  I think it adds a special touch to this jacket and gives it a casual sporty feel that I love!  It was so perfect for me.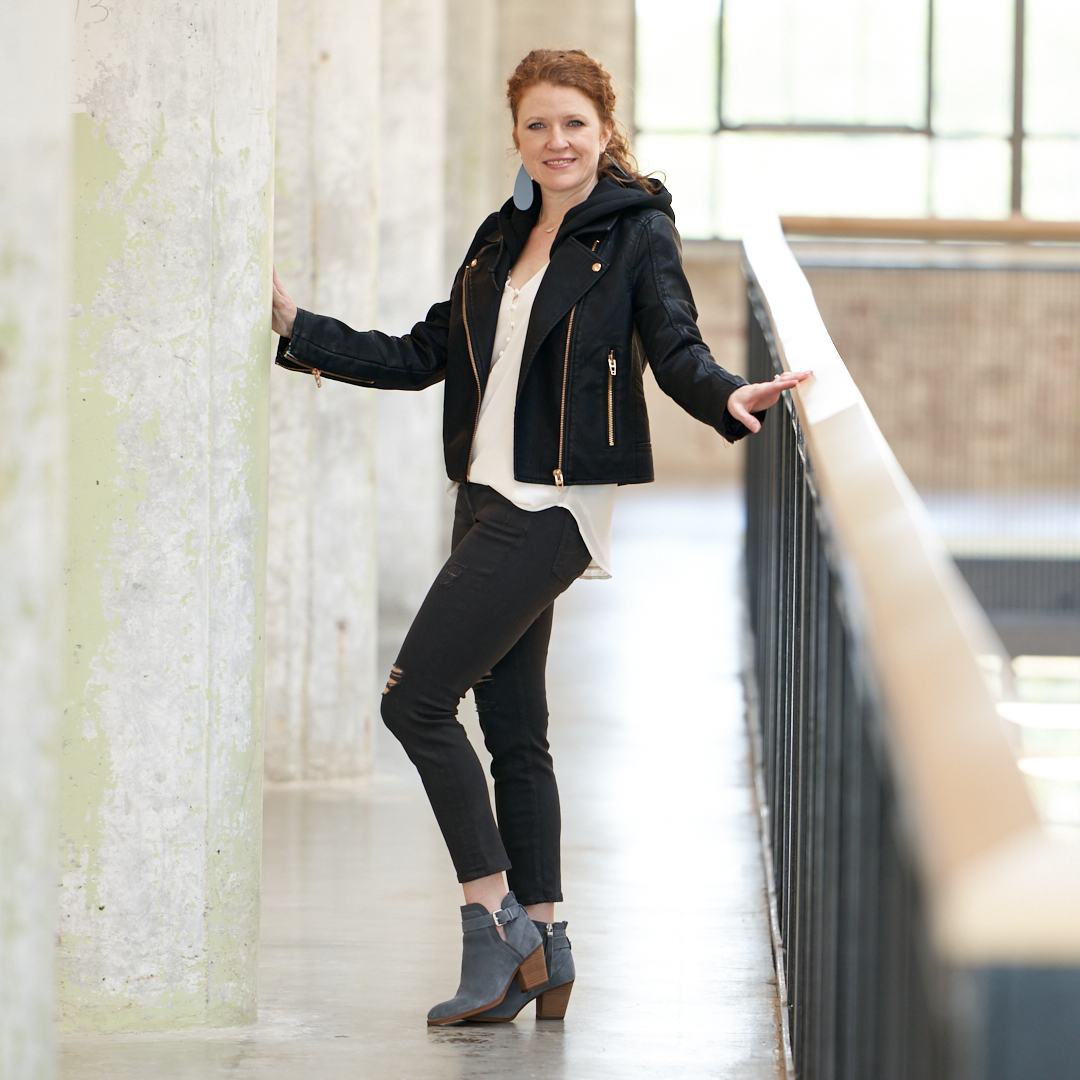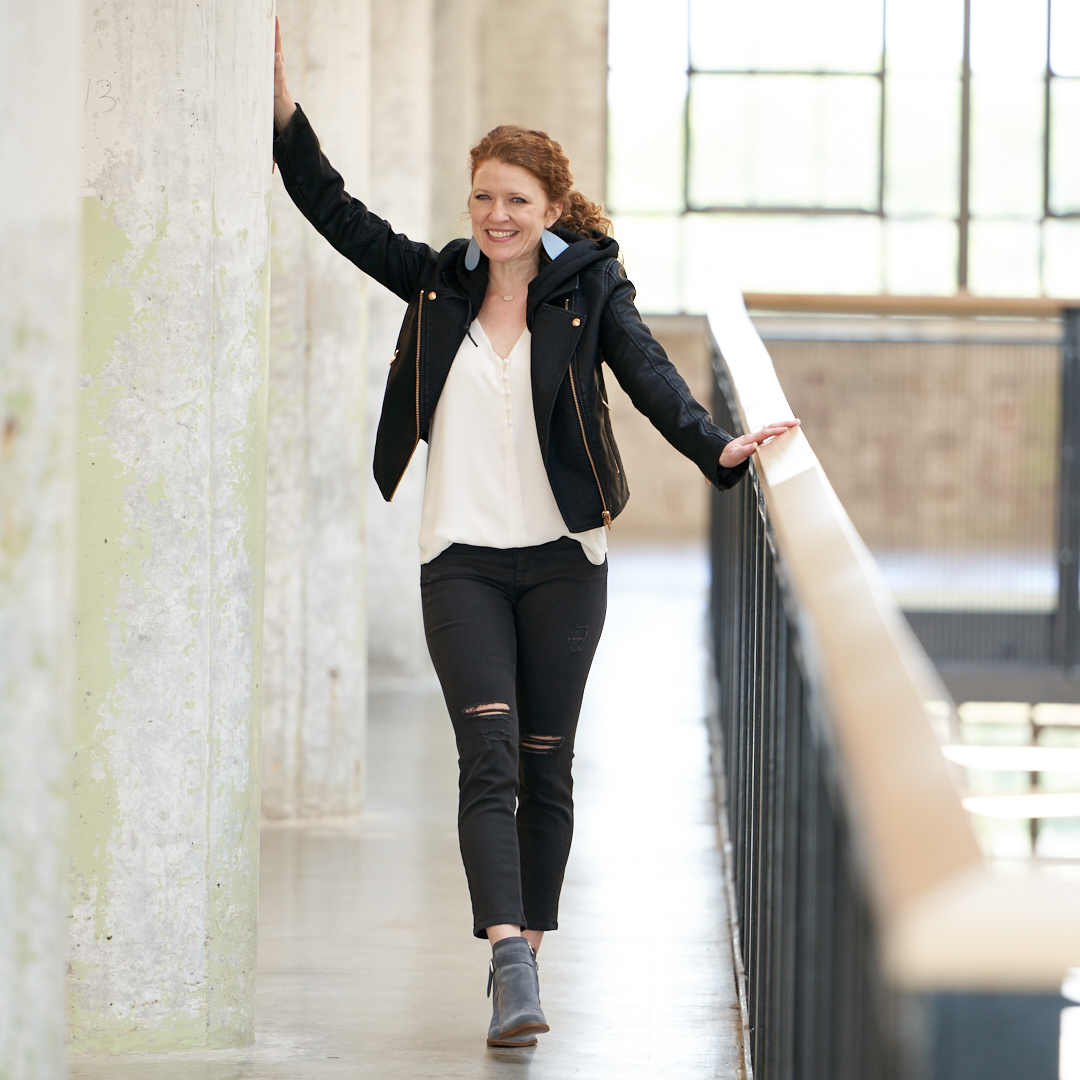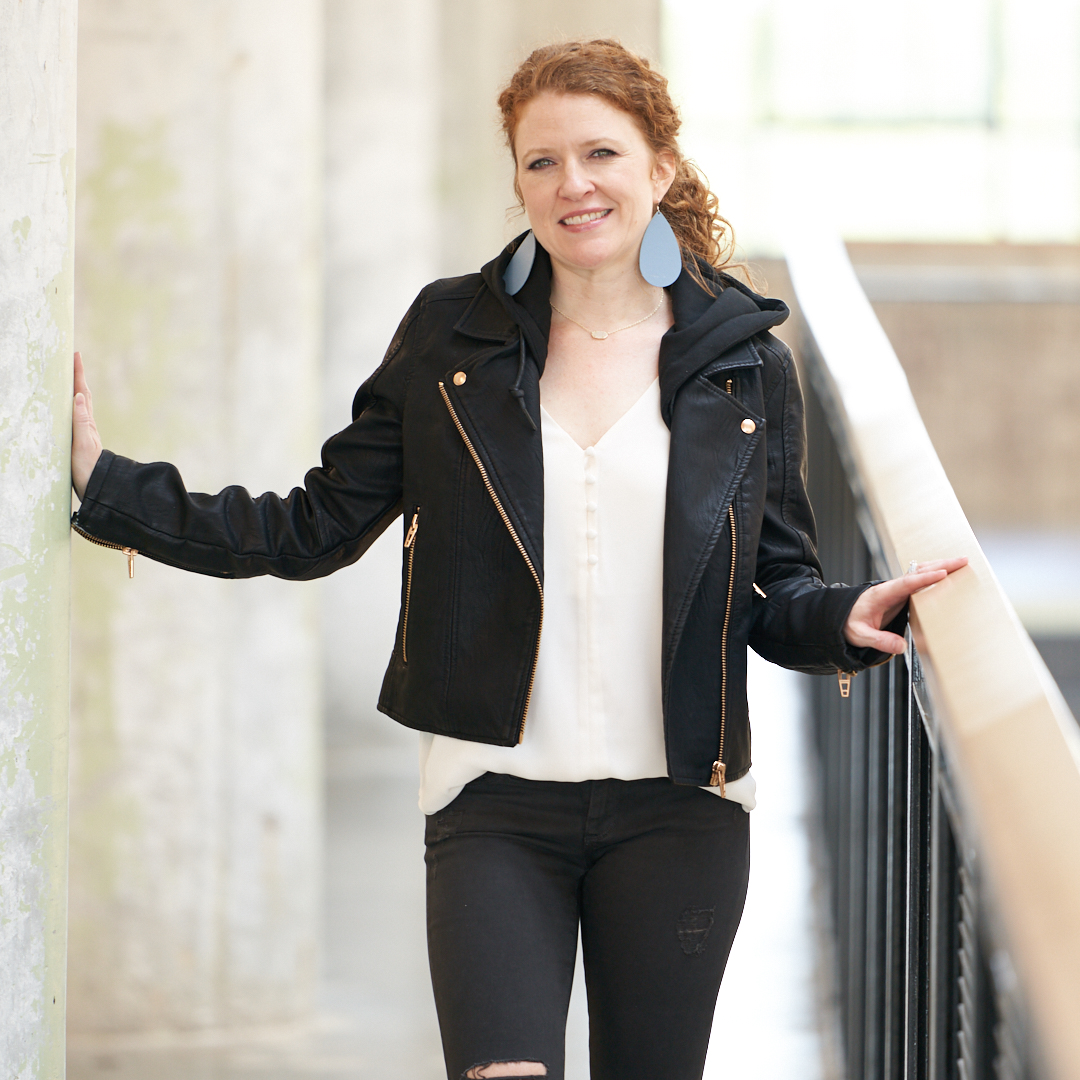 Kick Booty Motorcycle Chic
Let's talk about the way I styled this baby next!  This one made me feel like I could kick some MAJOR booty! I actually felt like a bad to the bone biker chic and all that I was missing was the bike! I know this is not something everyone would wear but I think everyone could pull it off and look fabulous.
This fall the denim skirt is back with a vengeance.  Sometimes trends in the previous season will be in full force the following season like this denim skirt trend.  You will see all lengths for the skirts and even this midi. I have actually seen a lot of this midi length everywhere already and not just in denim. I think it is the perfect pairing with a moto jacket, simple t-shirt and some sock booties!  I will link some of my favorite denim ones below.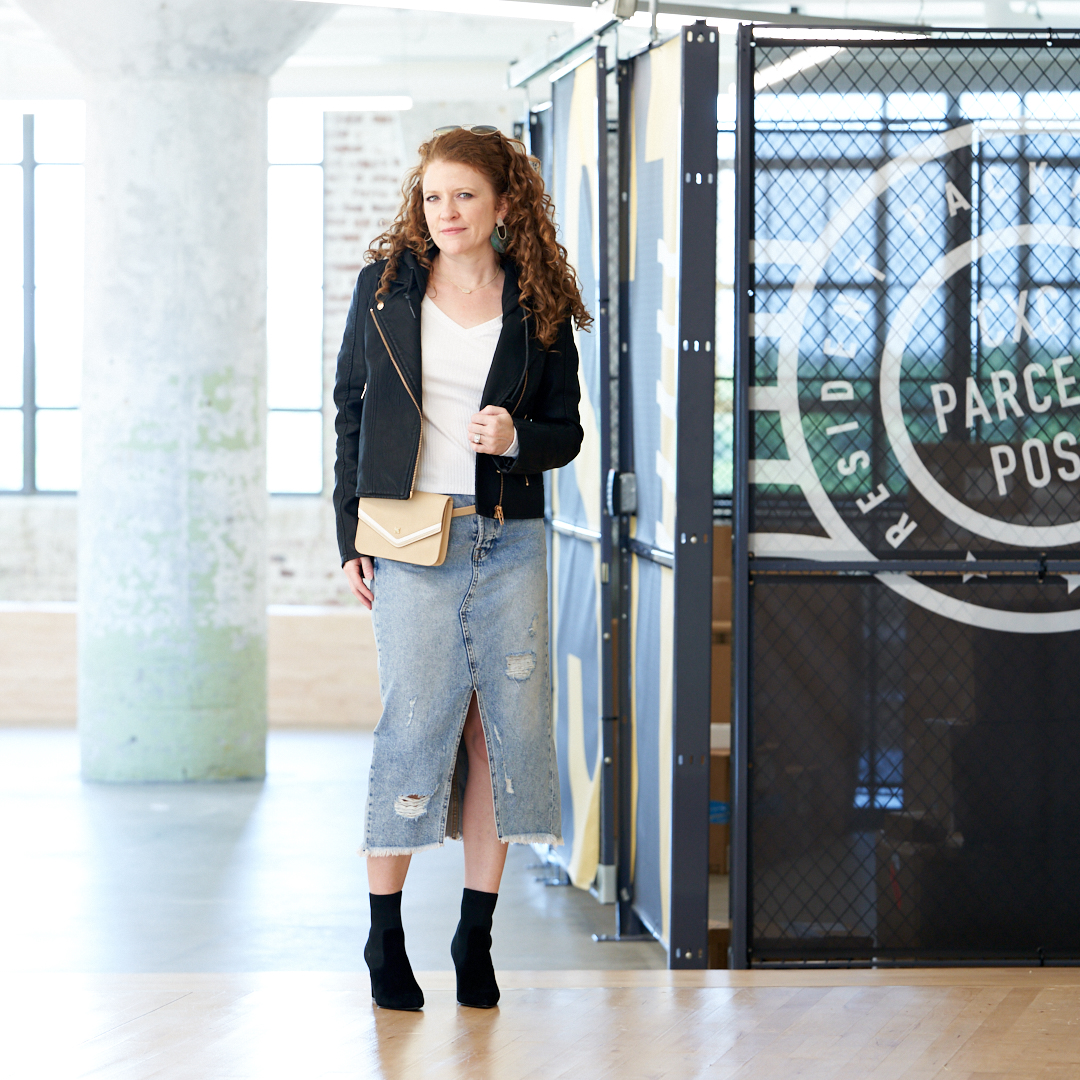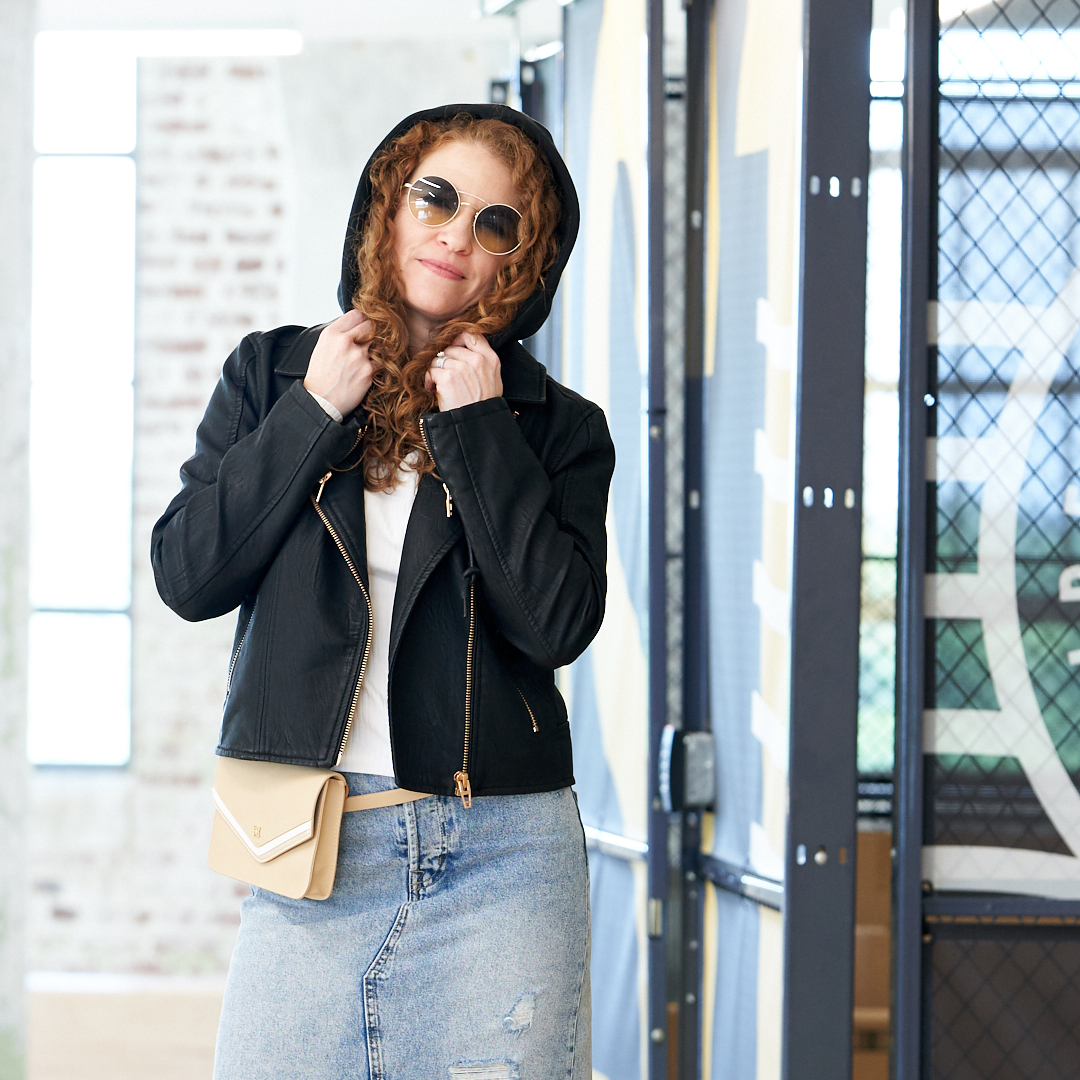 Pink Lady is A Beaut
I had to throw in this other jacket for you to take a look at as well.  It is a little bit more simple and so pretty with it's peachy pink color!  I purchased this on sale at the end of the fall season last year from Nordstrom.  I actually found one left at Nordstrom Rack in a small for $79.97!! This jacket has been available every single fall season for the past couple of years just in different colors. This year is its available in a beautiful red and brownish green color which is so fitting for the colors of this fall season. They did tweek the style a bit by changing the back to look a little more cinched in.
The amazing thing about this jacket is that it is real suede and the price is phenomenal! It retails for  $188 and is such great quality!  I don't see many real suede or leather jackets under $200 so I feel like this one was a must have.  If you prefer a faux suede or leather option I will also link some below.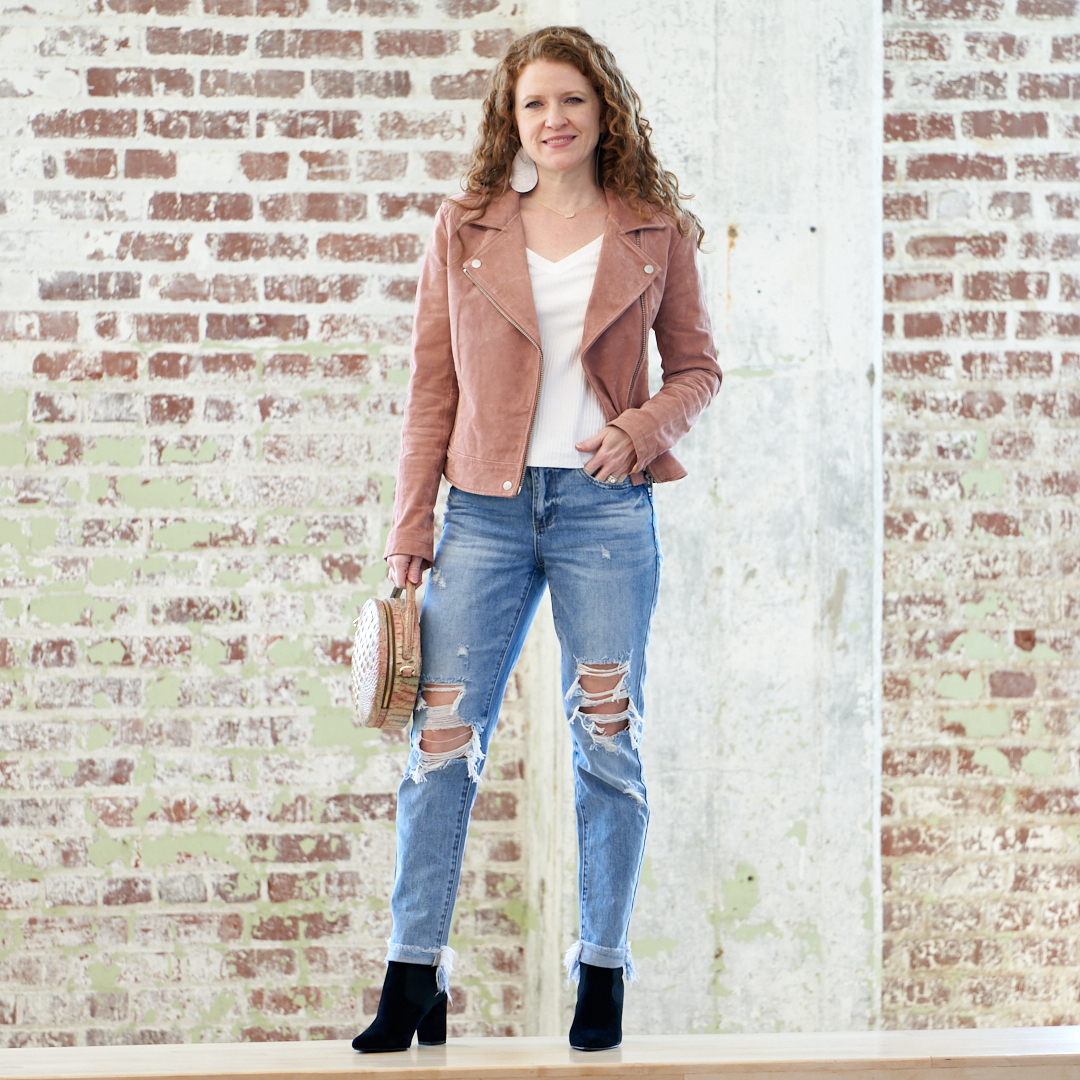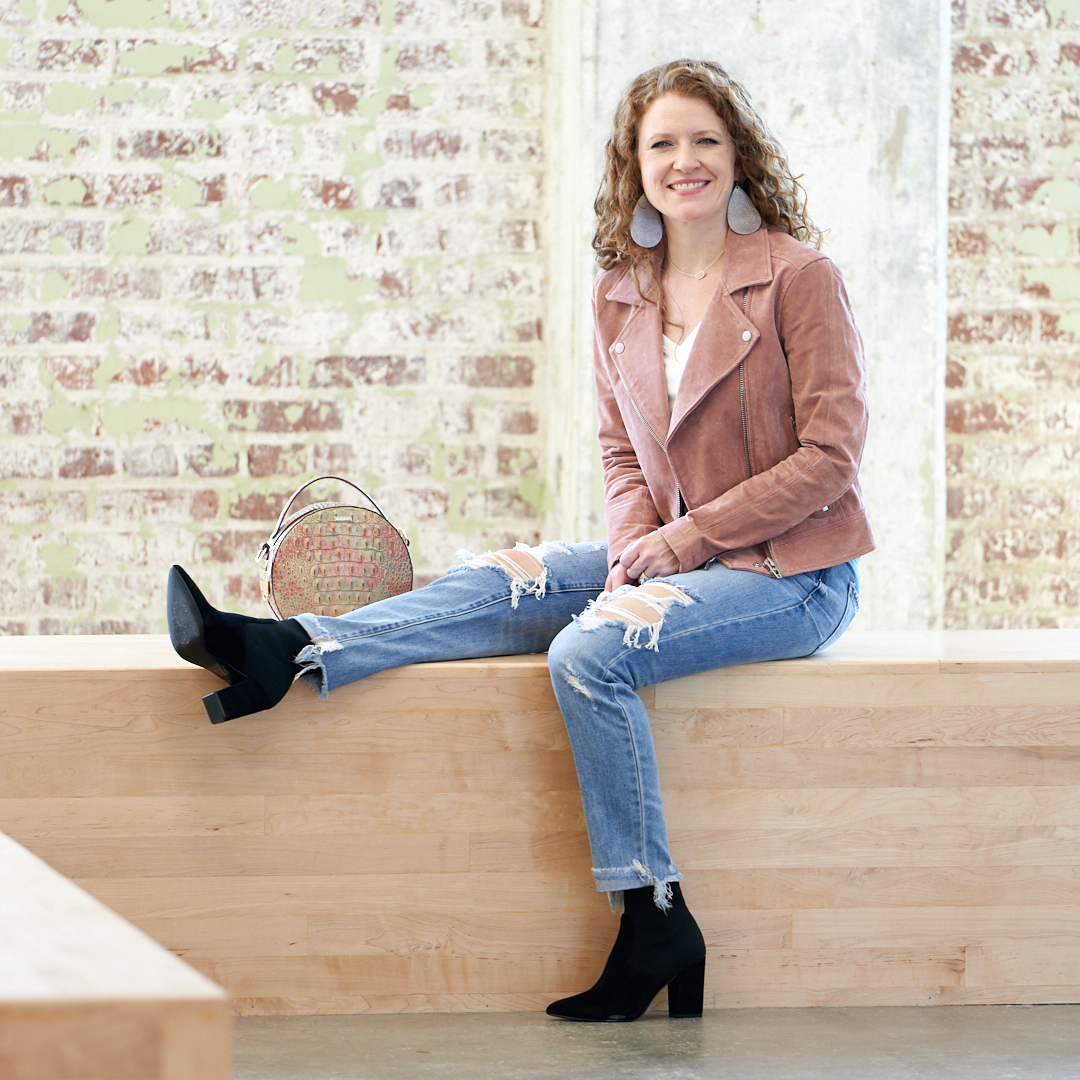 I really wanted to show you guys these jackets because I feel like if I wait they will be sold out.  This is something that is very popular and should not be contemplated for too long.  They are also made by BLANKNYC and can be found in stores like TJ Maxx and Nordsrom Rack if you want to try to score an even better deal!
TJ Maxx

Nordstrom Rack

Pair this style, not only with jeans, but over a dress or skirt outfit for a fun surprise!  Just because it's a moto jacket doesn't mean you have to look like a biker chic in it EVER!  It's great if  you want to achieve that look, but if not you have lots of options! Just have fun and pair it with some feminine pieces and you will love it!
Talk to you next time!