Hey y'all! Can you believe it is August already?!! Not only that, but it is also time to start thinking about your fall wardrobe!! This makes me very excited because fall is my favorite season. Since it is just around the corner, I decided to wrap up my summer picks with my favorite post that brings my flat lay photos to life!  Honestly, I am excited to be done with summer clothing and moving on to new and exciting fall things!
These were some of my most liked outfits for summer and were perfect options for all activities from casual to dressy.  Since this is a special post and ending my summer recommendations, I decided that there were six outfits, instead of five, that were worthy of being here. Since I know some of you are still in summer clothing mode, maybe this will give you some inspiration for a few more summer things.
Romper Maxi Love
One of my favorite items this summer was a fun romper. They are so easy to wear and just so dang cute.  The only problem is when you have to go to the restroom.  Having to take the whole thing off is not real easy to do.  Needless to say I was super picky where I decided to wear my rompers. The same for jumpsuits.
I found this one at TJ Maxx and thought it was just so fun.  I wanted one that was a romper with a maxi type skirt over the shorts. This one was so perfect.  I paired it with tall wedges because the skirt was really long.  I kept it simple with my Nickel and Suede white leather earrings in size large. This is the first year I have ever purchased white shoes and accessories and I have to say I wished I would have in past summers. I found so many uses for them. If you wanted some white sandals and did not get any these are still available and are just so perfect!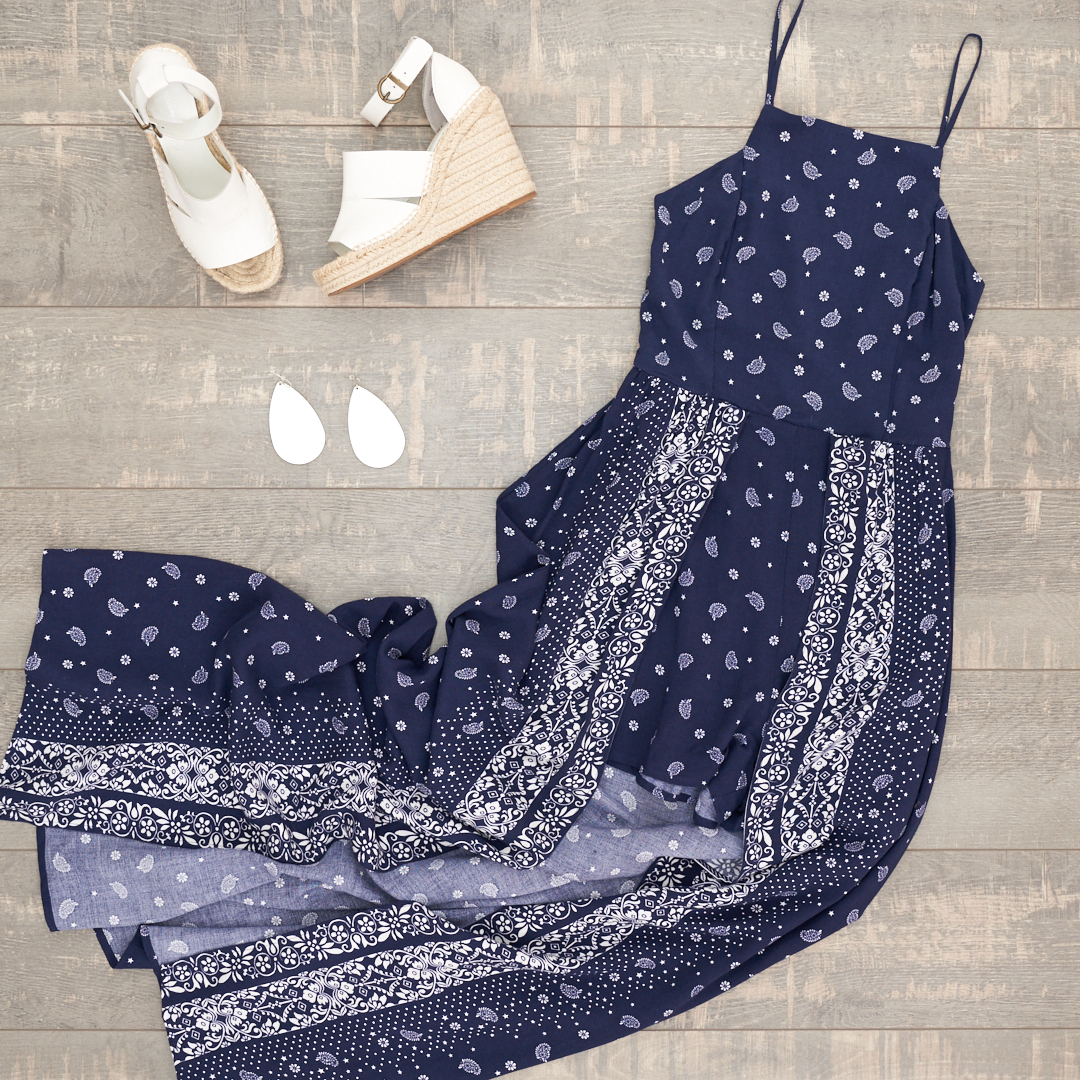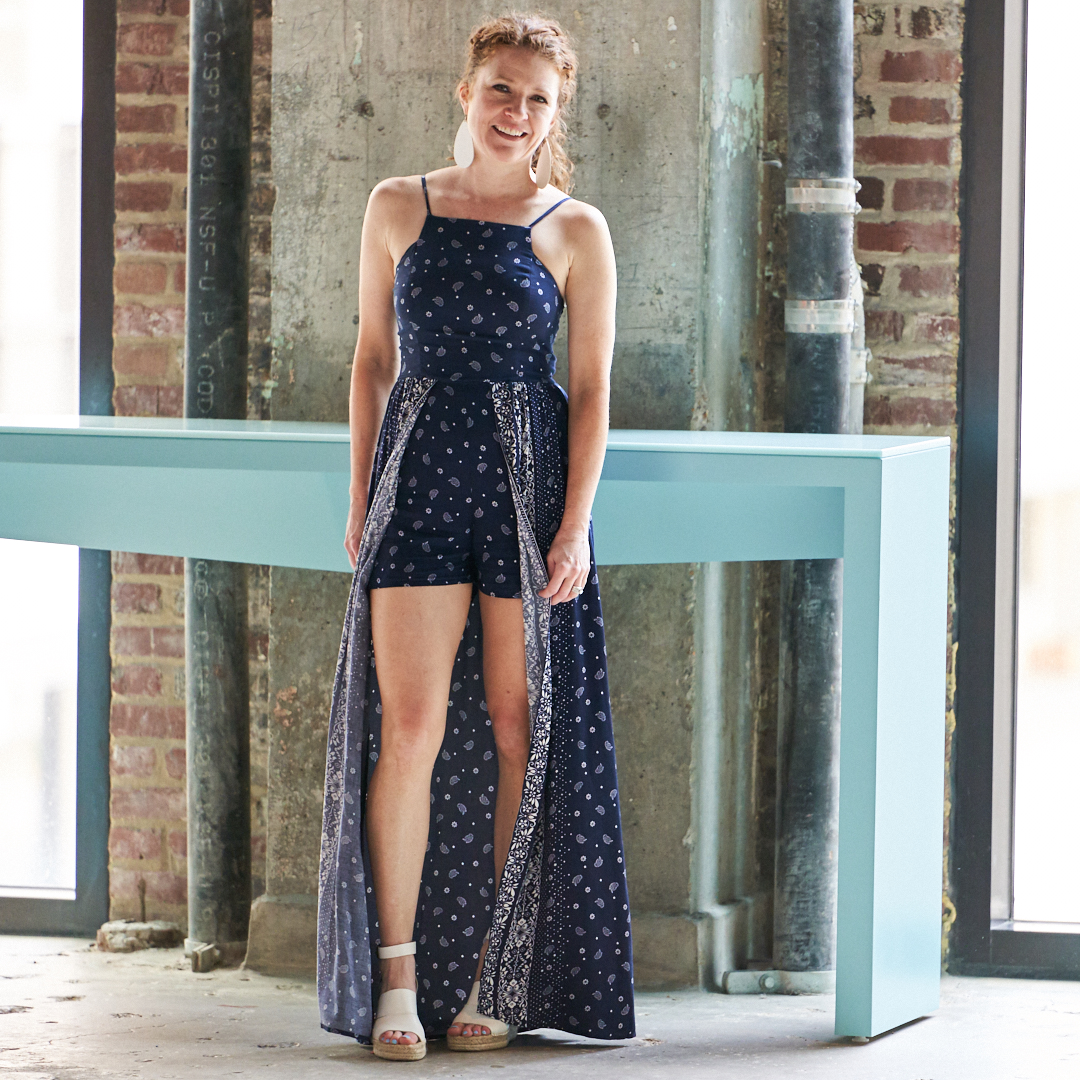 Pretty in Pink
My favorite casual pieces for summer are denim shorts or skirts, bralettes and t-shirts. Since I am not a dress girl this is my go-to each day.  I feel like they will take me more places than a dress. Also, if you have multiple of each of these items you have lots of outfits you can mix and match for the summer that are cute and easy peasey. You can also pair different types of shoes with them depending on where you are going.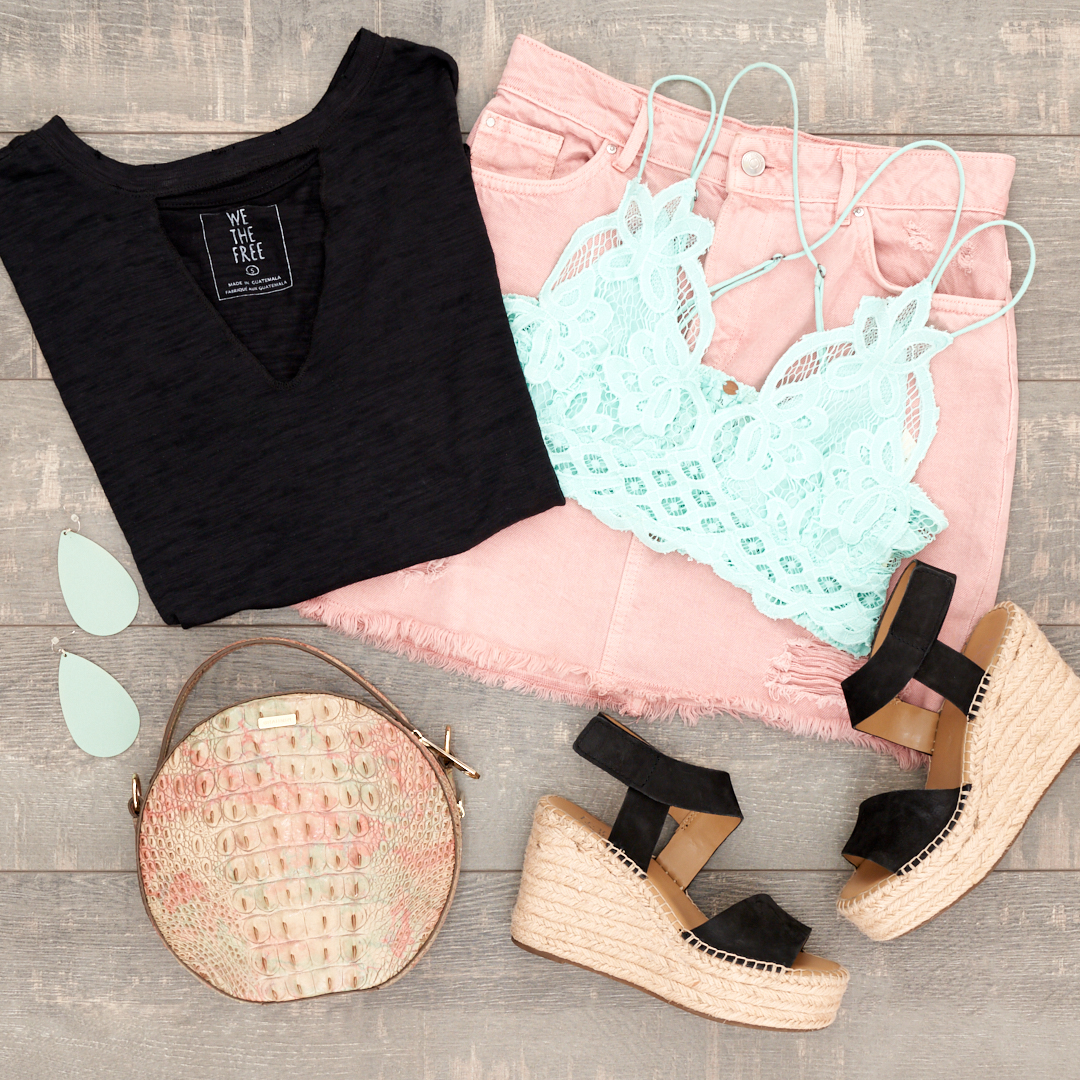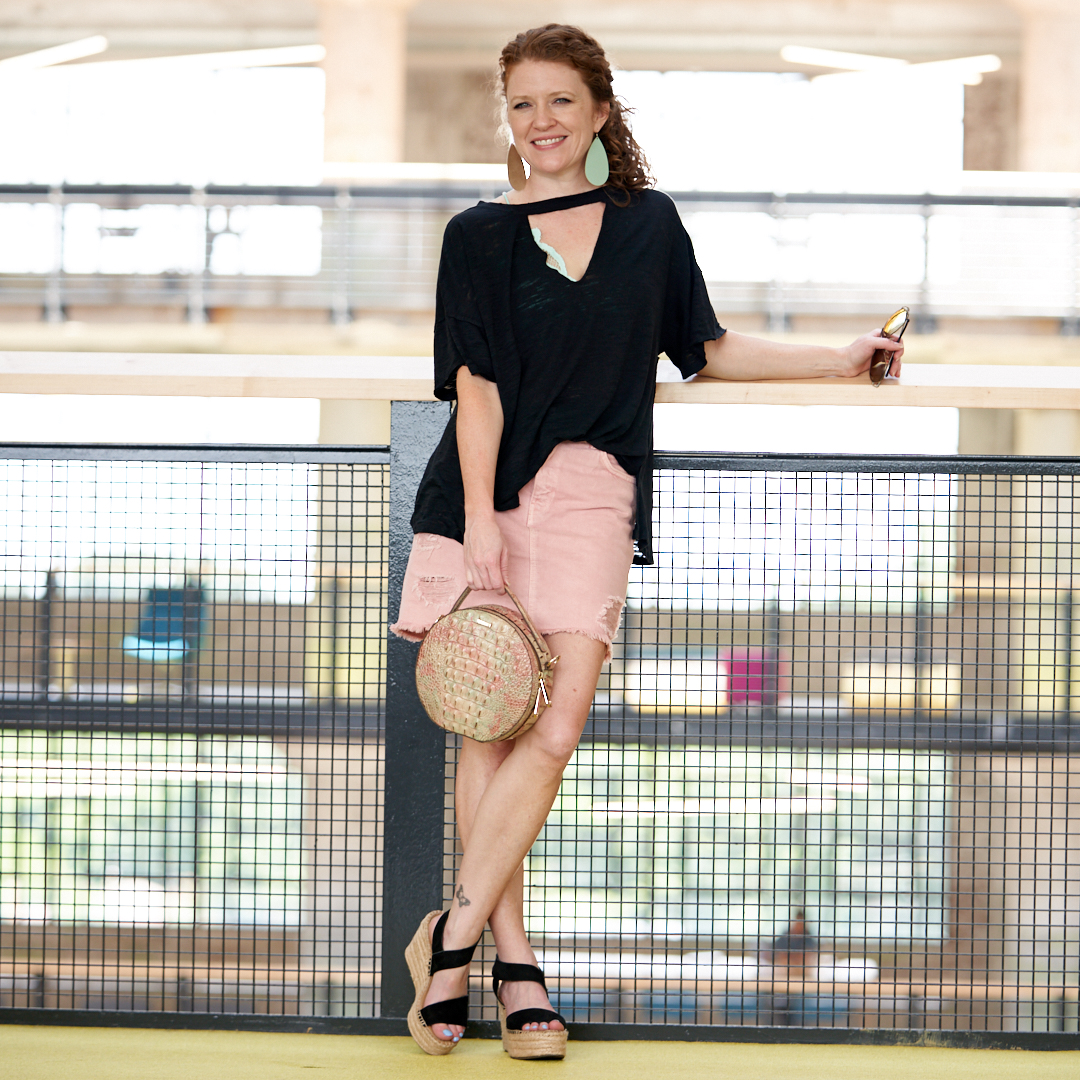 Accessory Mania
Sometimes it is the accessories that make the outfit.  I took a really boring grey t-shirt and white shorts and kicked them up a notch with my accessories. You may not think of a bralette as an accessory but it can be just that.  The bralette with the earrings made this outfit.  I received more compliments on this outfit because of the pop of green.  Imagine this with a regular bra and no earrings.  It would just be so boring! This outfit is at the top of my favorites for the season!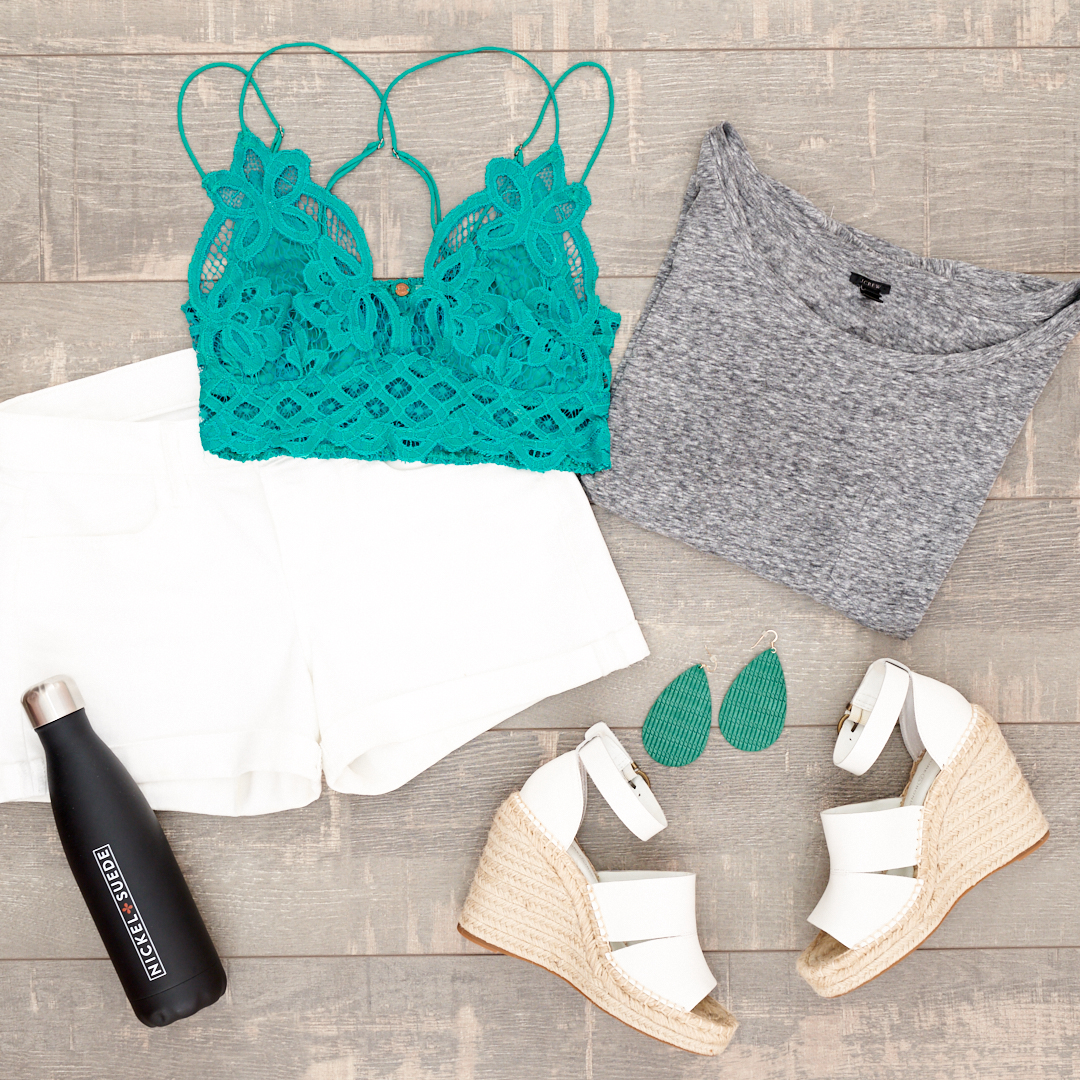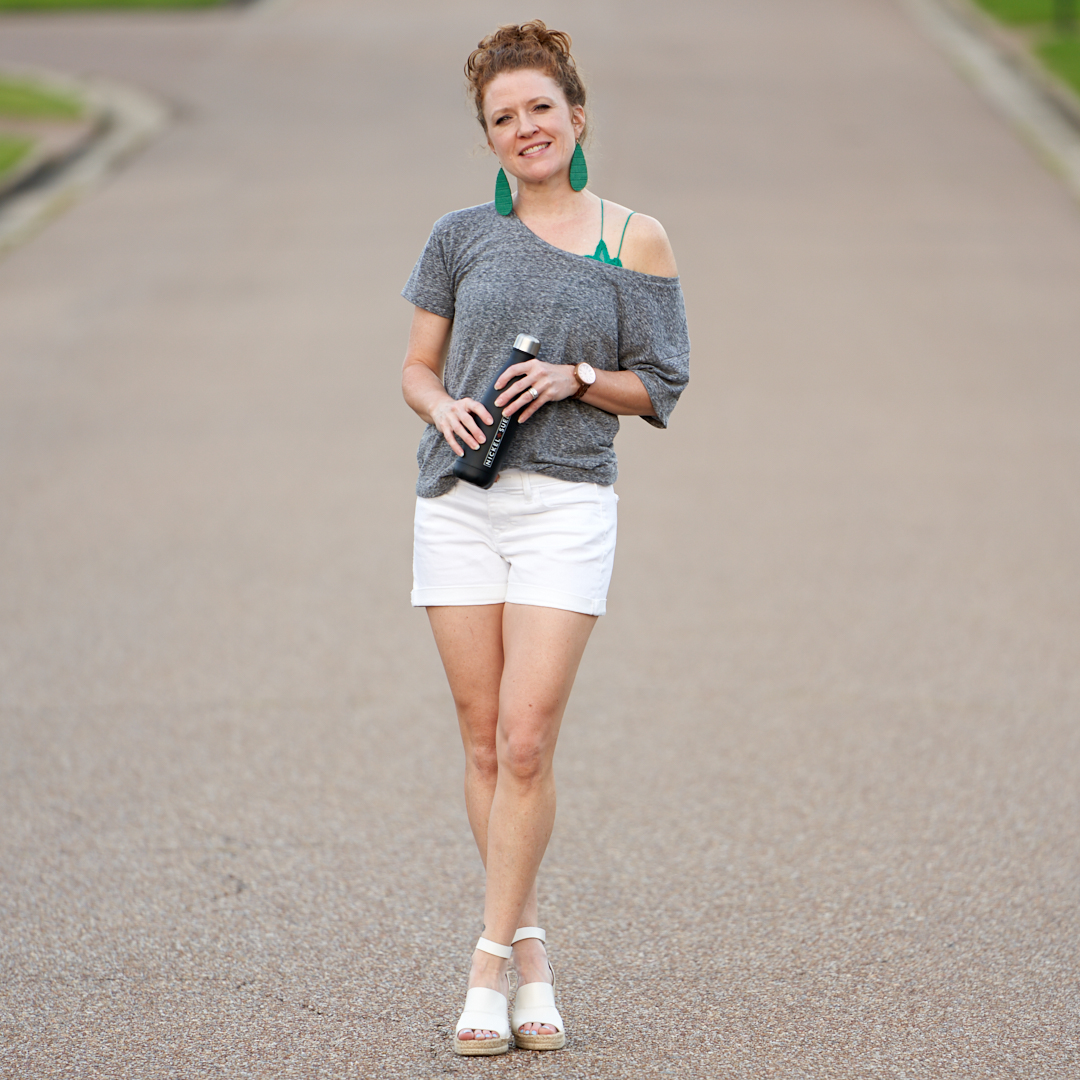 Cute & Trendy
This was the cutest little dress from H&M and cost me $17.99!  I could not believe it! It is made out of cotton and a little bit of spandex!  I think I also liked it so much because my husband loved it! The only negative is that it is on the trendier side, so I am glad it did not cost me a lot of money.  The off the shoulder and ruffle trends were in full force this season so it was perfect.
I paired it with my floral heels and Kendra Scott jewelry to give it a more sophisticated look.  I was completely comfortable and confident in this dress.  If you know me well you know I don't like dresses very much but when you can combine flattering with comfortable I am down with a dress!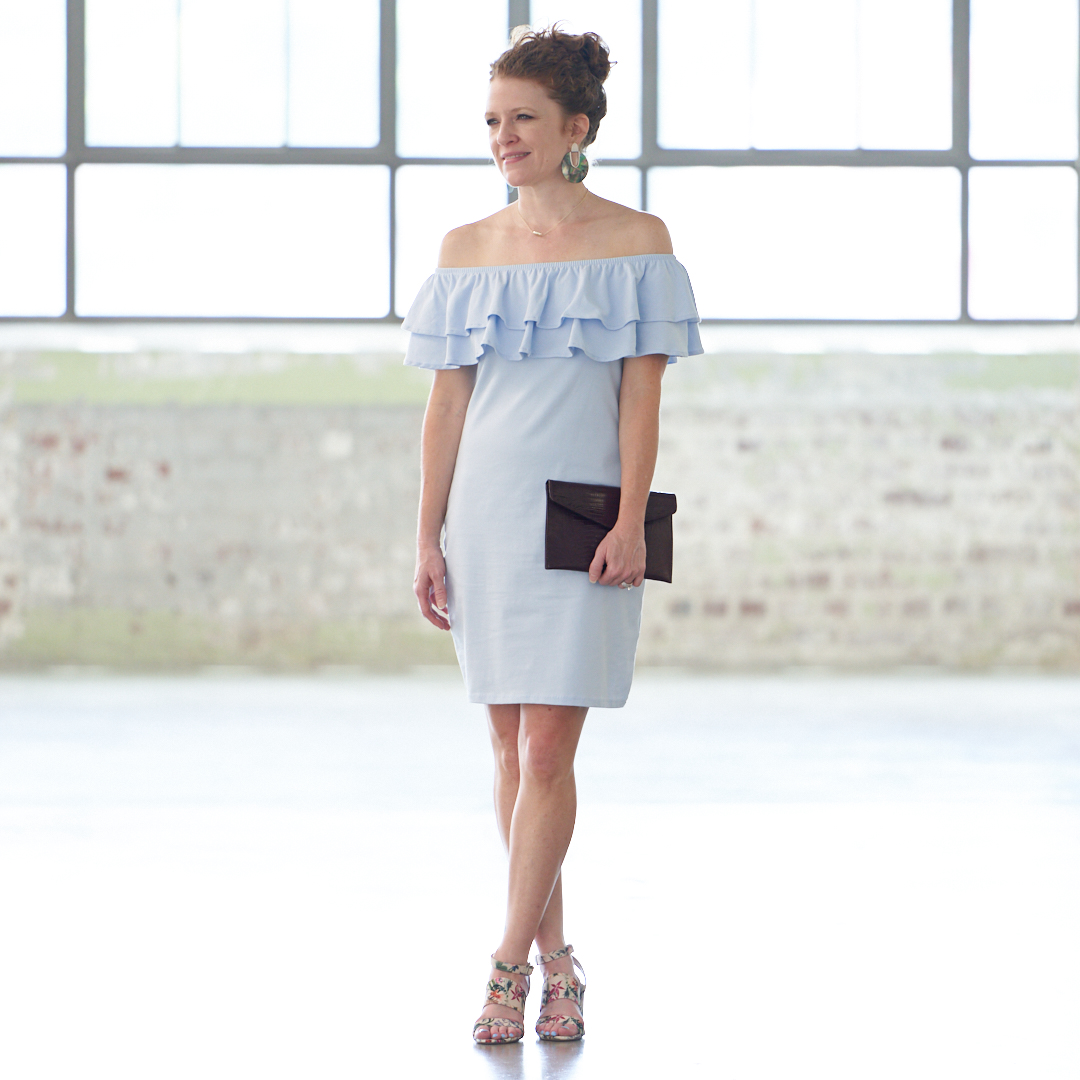 Serious Business
This next dress means business! It brings boss babe to another level and that's why I love it! I felt like I could kick some serious daily butt in this dress!  I like to make edgy a little more feminine so I chose these black and white understated shoes and black Kate Spade laptop bag.  These additions made this dress appropriate for a meeting with clients!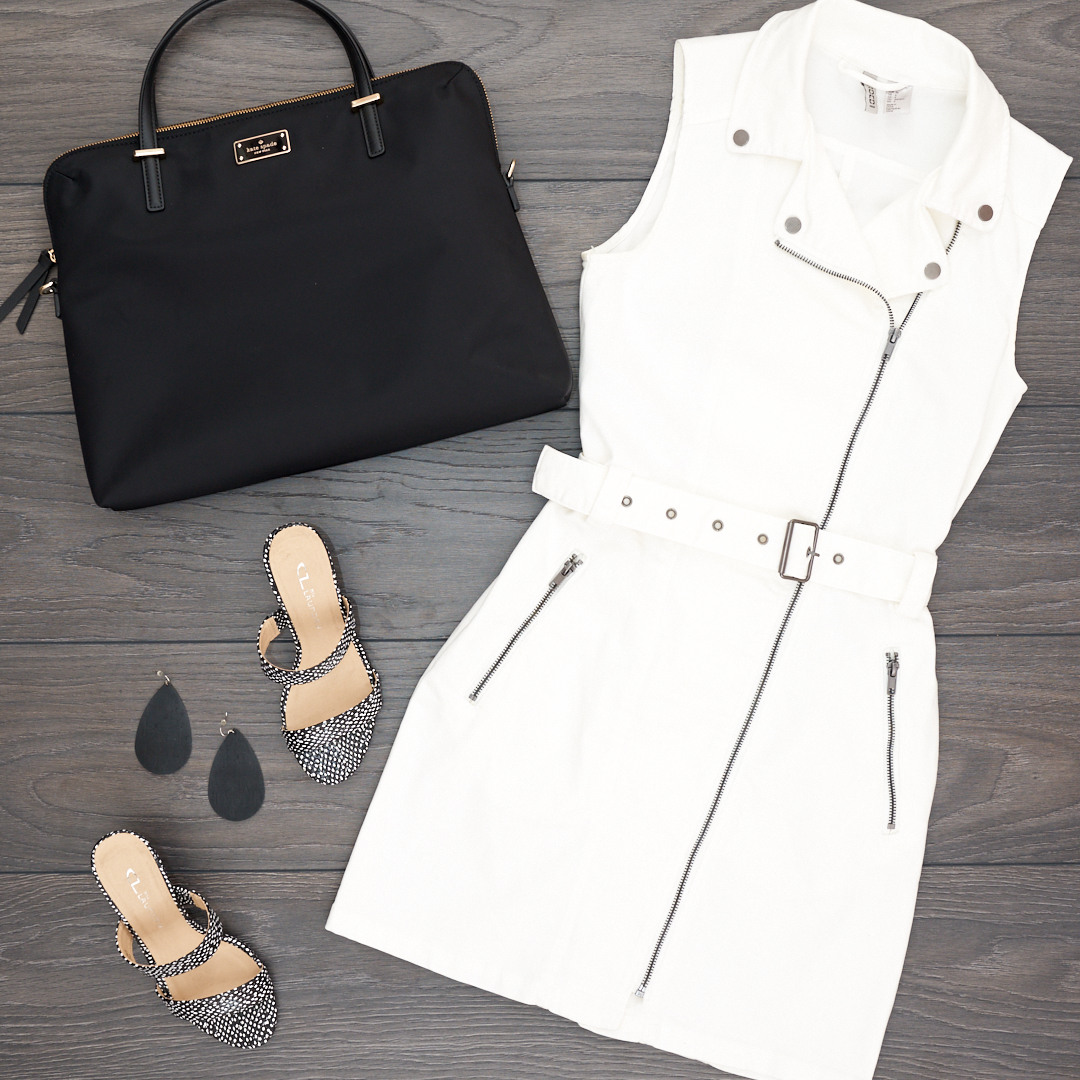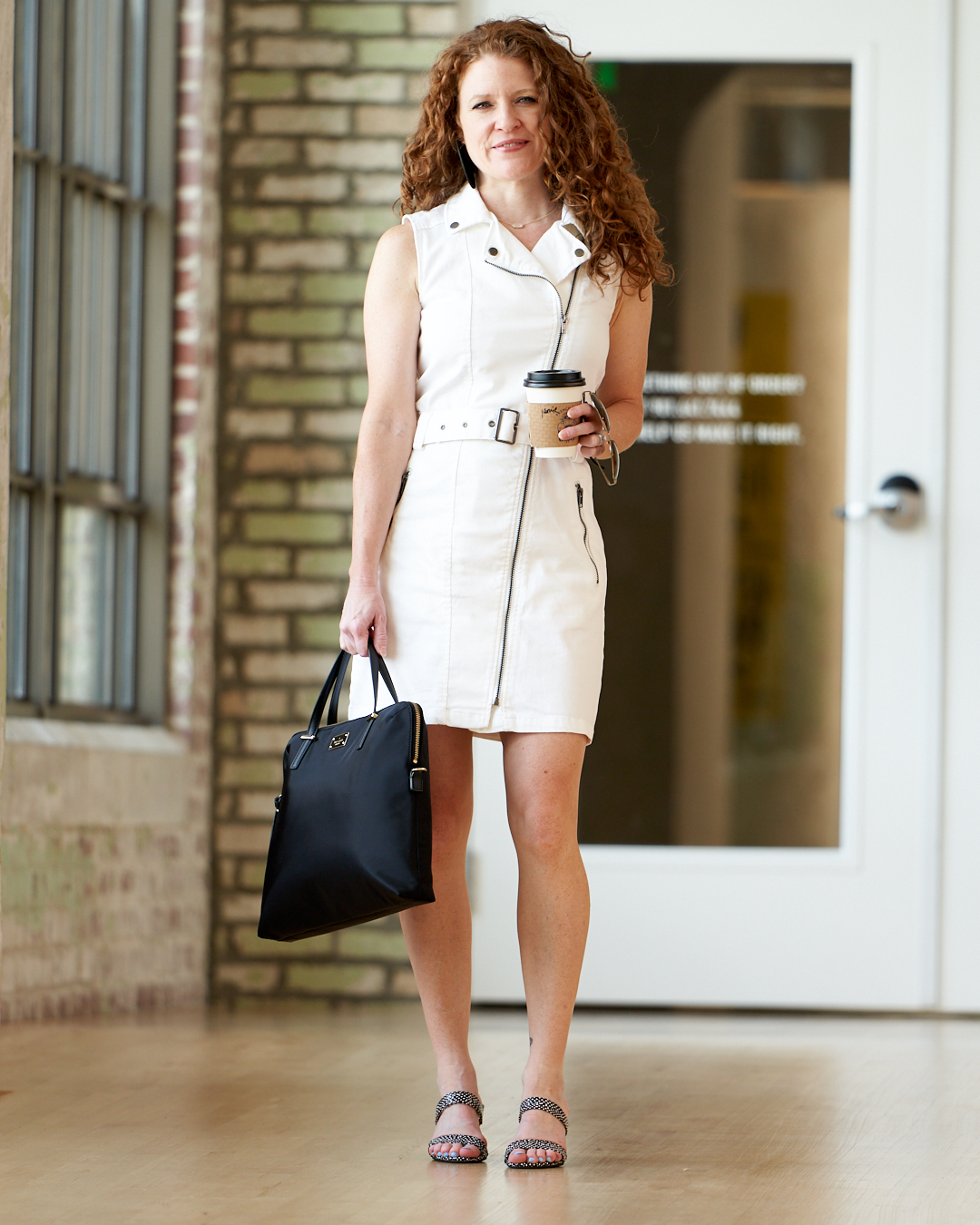 Just Cool
There a some things that you just decide to buy because you think they are just so cool.  This exaggerated high-low t-shirt was just that for me.  I have never seen anything like this!  It may not be the most versatile piece but I can say this may be the only piece I own like that so I'm good with it.
This high-low top was perfect with my skinny white jeans, taupe wedges, statement earrings and my favorite Brahmin Lane Crossbody bag.  I will also wear regular jeans with this going into the fall season with booties.  It will be so fabulous and I will make it worth it's non-versatility!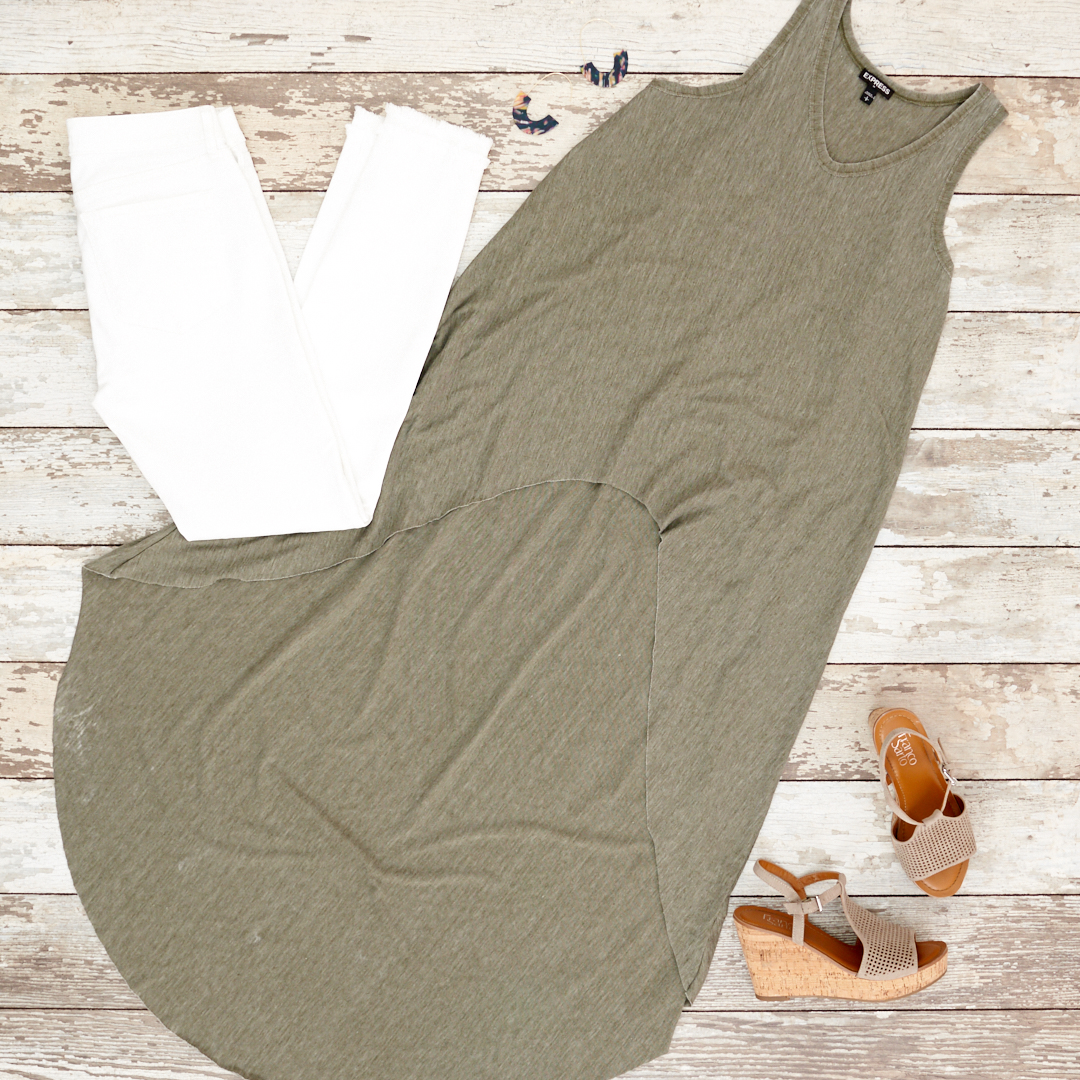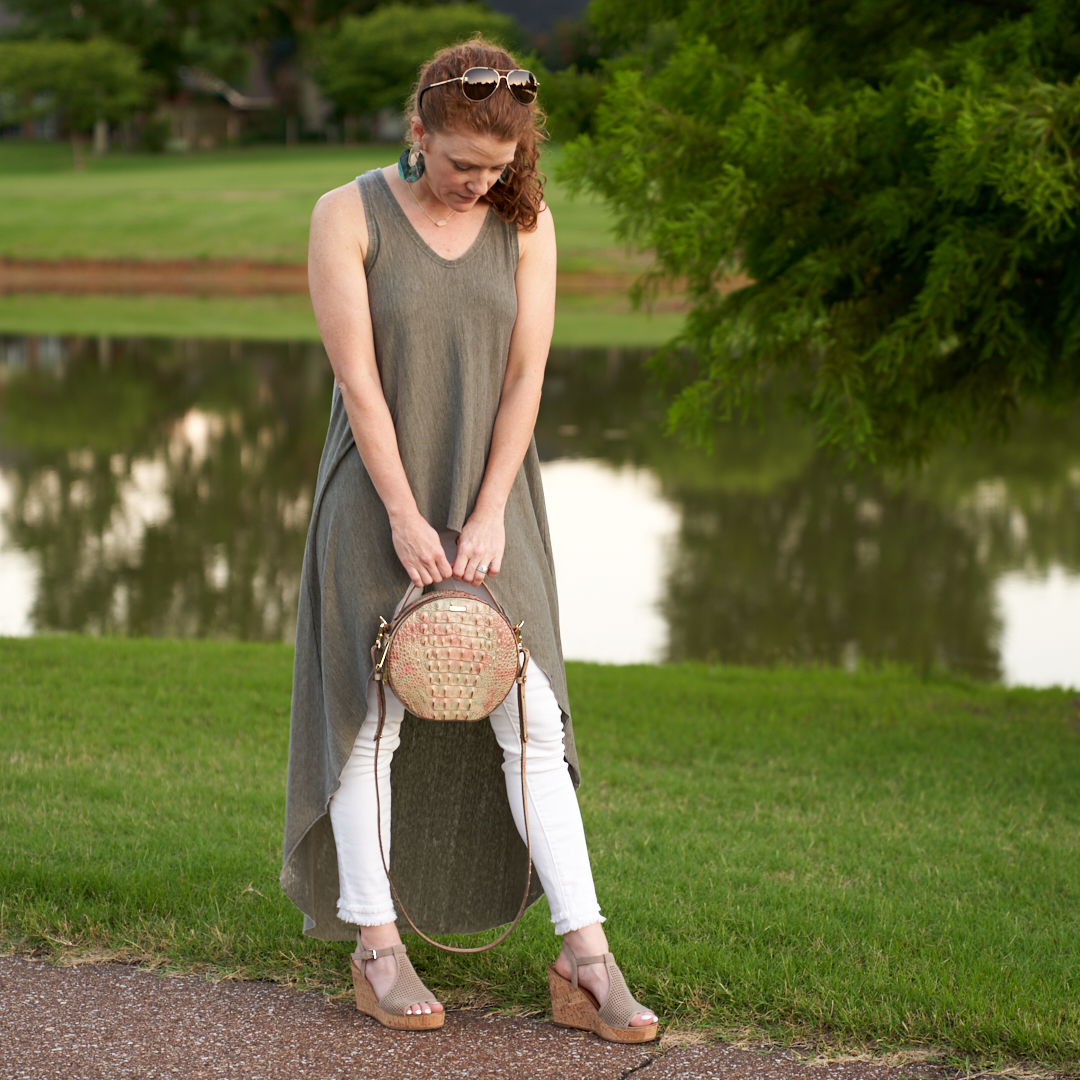 I feel like this summer was my first summer that I actually liked my clothing.  This is not my best season and I really struggle with finding things that I personally like.  I stepped out of my comfort zone and purchased some dresses and skirts that I would not normally have purchased.  This blogging thing makes you think outside the box and try different things.  I hope I can help you do the same.  Sometimes we just have to push ourselves out of our comfort zone.
I hope you have a great rest of the summer and enjoy what you purchased!  I know it is hot outside but it really is time to get your brain focusing on fall since all the good stuff will be hitting stores late August and September!  My next posts will be about what cool things you need to look for this coming fall season and I really think it's going to be the best fall yet!