What in the world is a shacket?? This is the question I get every time I say the word, which is why I knew it would be a great idea for a blog post.  SO, today we are going to look at how to wear a shacket for spring and I hope you jump on board because this is such a fun one and easy to wear!
If you are short on time and more of a visual learner click the fun video below!
The term shirt and jacket were combined to create the word shacket! I can describe it in two ways. One, it's a jacket that looks like a shirt.  Two, it's a shirt that is made to be a jacket. Either way, you wear it as an outer piece like a jacket.
The shacket first came on the scene in the fall and exploded for this spring.  It is something that is trending because it goes with the casual vibe all of us are so desiring.
There a lots of different types of shackets available and only a few are going to work for the springtime.  I will mention all of them below and show you how to style some of the ones I think are great for spring.
The flannel and felt shacket are a little heavier weight and are great for fall/winter seasons.
The plaid shacket took it's debut this fall season and is usually flannel or wool for warmth.
The denim shacket is a lighter weight version and is great for fall and spring.
The utility shacket is also lighter weight. You will also see this referred to as the military shirt jacket or surplus shirt jacket.  Most of these will be made of cotton and are perfect for this spring season.
Style Tip:

The casual and oversized styling of a shacket makes it look best with jeans or some type of slim legged pant. The outfits in this post are all styled with jeans but feel free to swap out the jeans for a pair of slim joggers, leggings or even a longer pair of shorts instead.




All of the outfits in this post are from the Your Guide To Style online application.  If you click on the image or the outfit title it will take you to the outfit in the app and you can also sign up to become a member if you are not one already! It's totally worth signing up, I promise!
Say Yes To The Shacket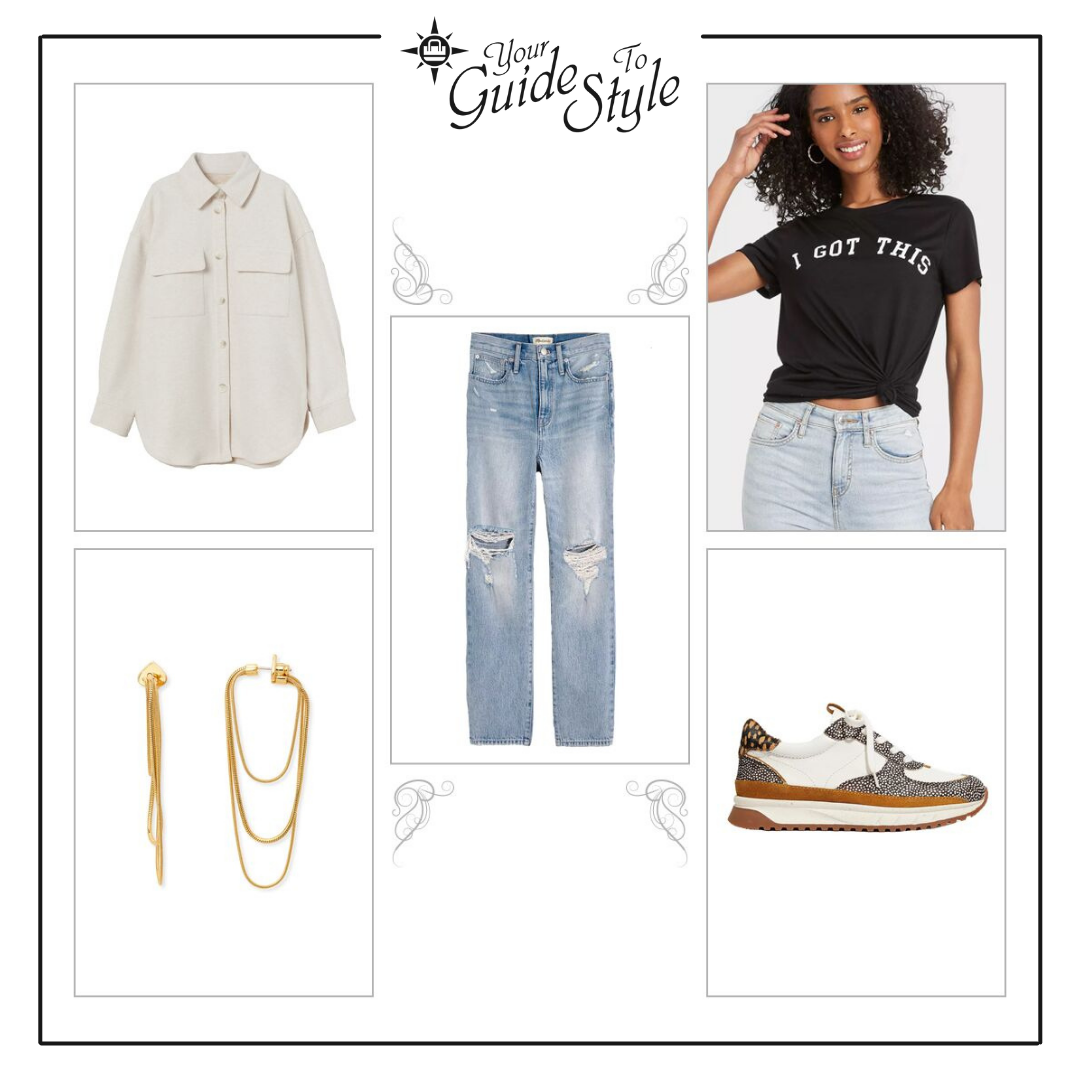 The Say Yes To the Shacket outfit above is the perfect example of a shacket that would be considered more of a felt material and a step up in warmth from the denim and utility shirt jacket. This is actually out for spring but you would want to wear it during your cooler spring days.
Style Tips:
If you go with a warmer version of the shacket choose one in a more neutral or spring color. If the one you have is darker in color than pair lighter color pieces with it.  For example, wear light or white jeans instead of dark jeans.
A good straight leg jean is the perfect relaxed pair of jeans to wear with this outfit to keep with the casual laid back vibe. See my blog post on How To Style Straight Leg Jeans!
Add a cute graphic tee underneath to add a fun personal touch to the outfit. A graphic tee can say a lot about what a person likes by the phrases or graphic they choose!
Make your outfit even more interesting by adding a fun pair of earrings.
Spring Into The Shacket Trend – Denim Shacket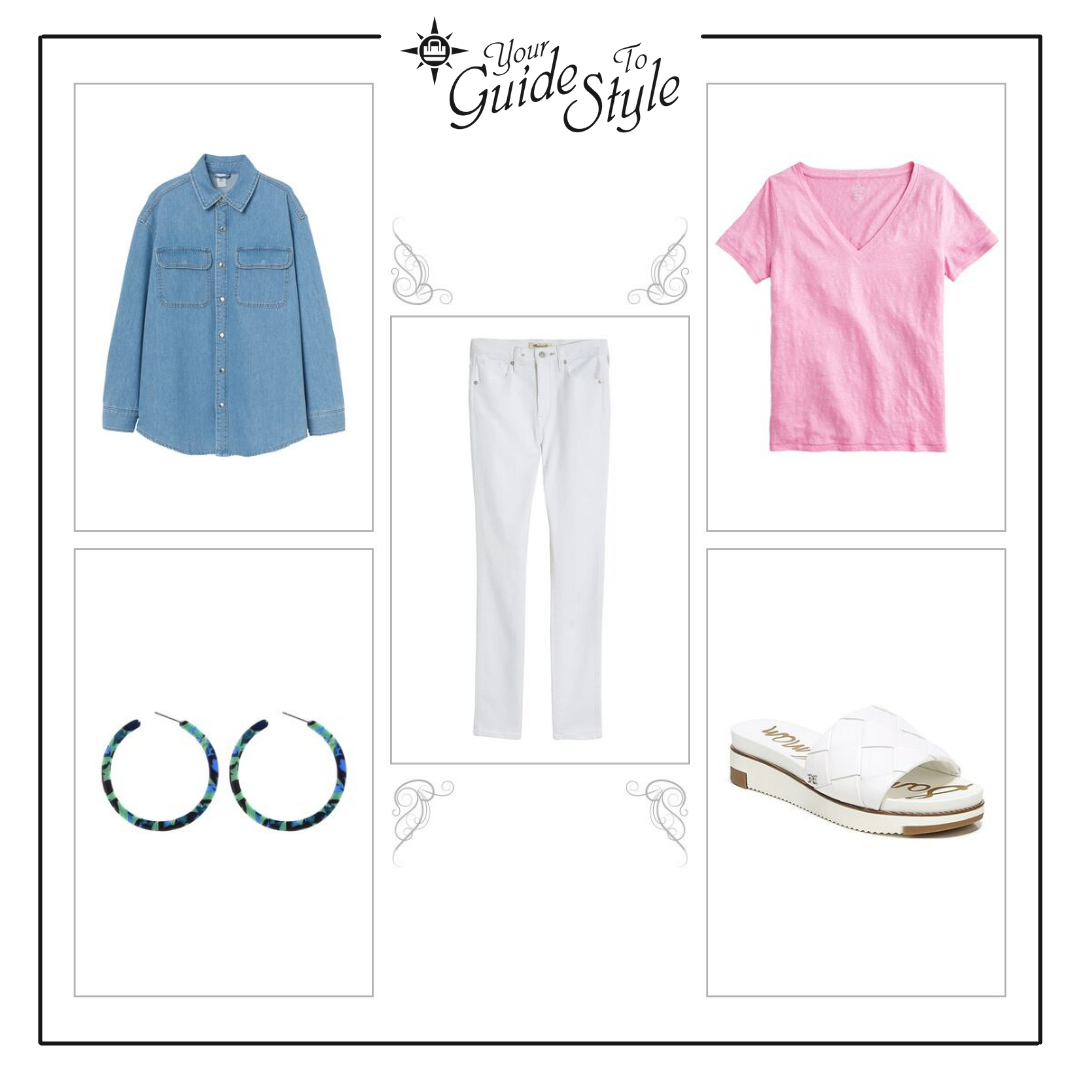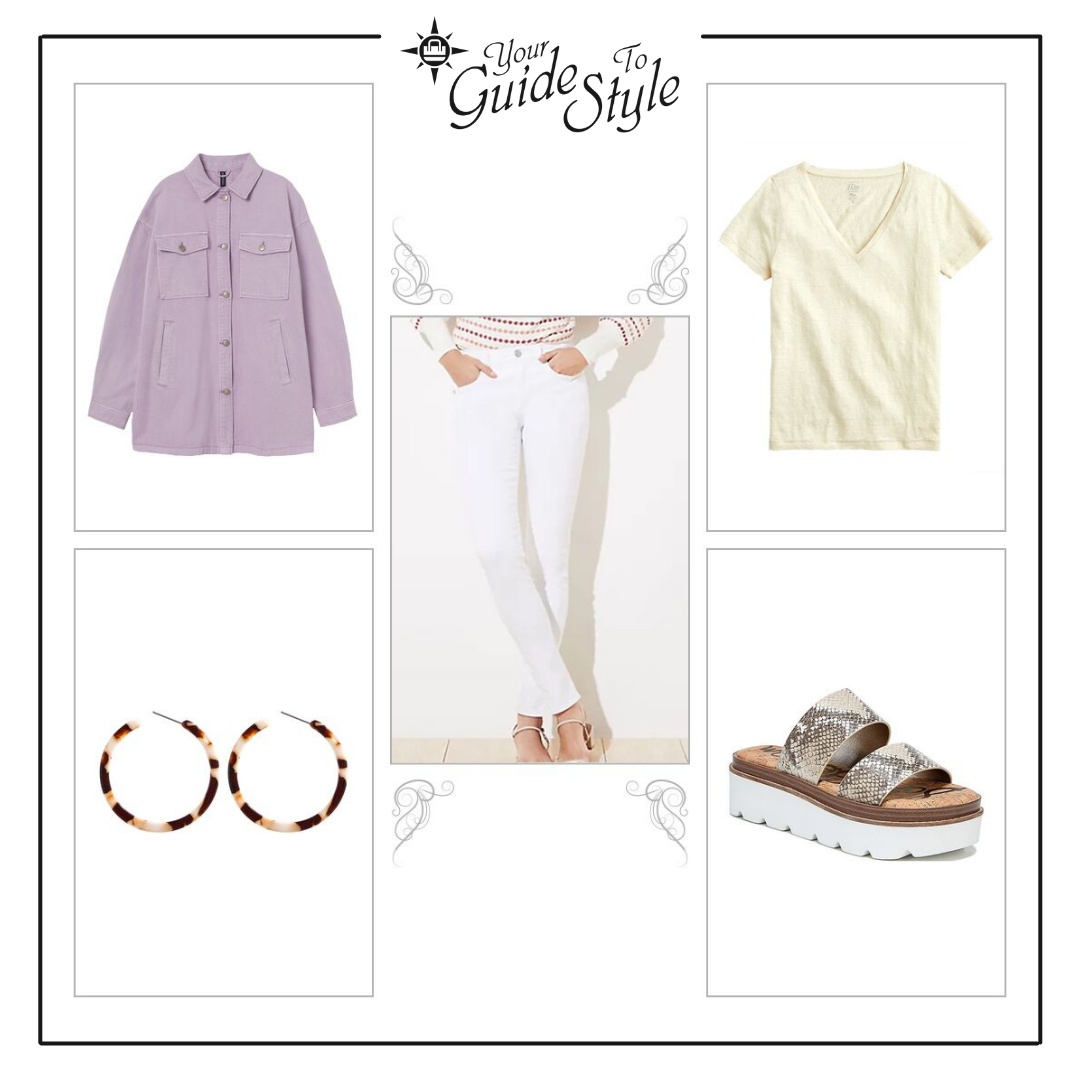 The Spring Into The Shacket Trend outfit in the app had so many cute versions to one outfit template that I had to share a few with you.  The way the outfits are set up in the app allows you to make several versions with different pieces that follow the same style tips for the outfit. To see exactly what I mean check out the video I posted at the beginning of this post.
The two outfits above could not be a more perfect example of how to wear a shacket for spring!
Style Tips:
Wear a pair of white jeans to help add some spring worthy freshness to the outfit.
A chunkier shoe will help balance the oversized bulk of the top half when wearing a skinny leg or straight leg bottom.
If you want to be even more fashion forward try to find a shacket in a fun color!  It will certainly brighten your day!
Spring Into The Shacket Trend – Utility Shacket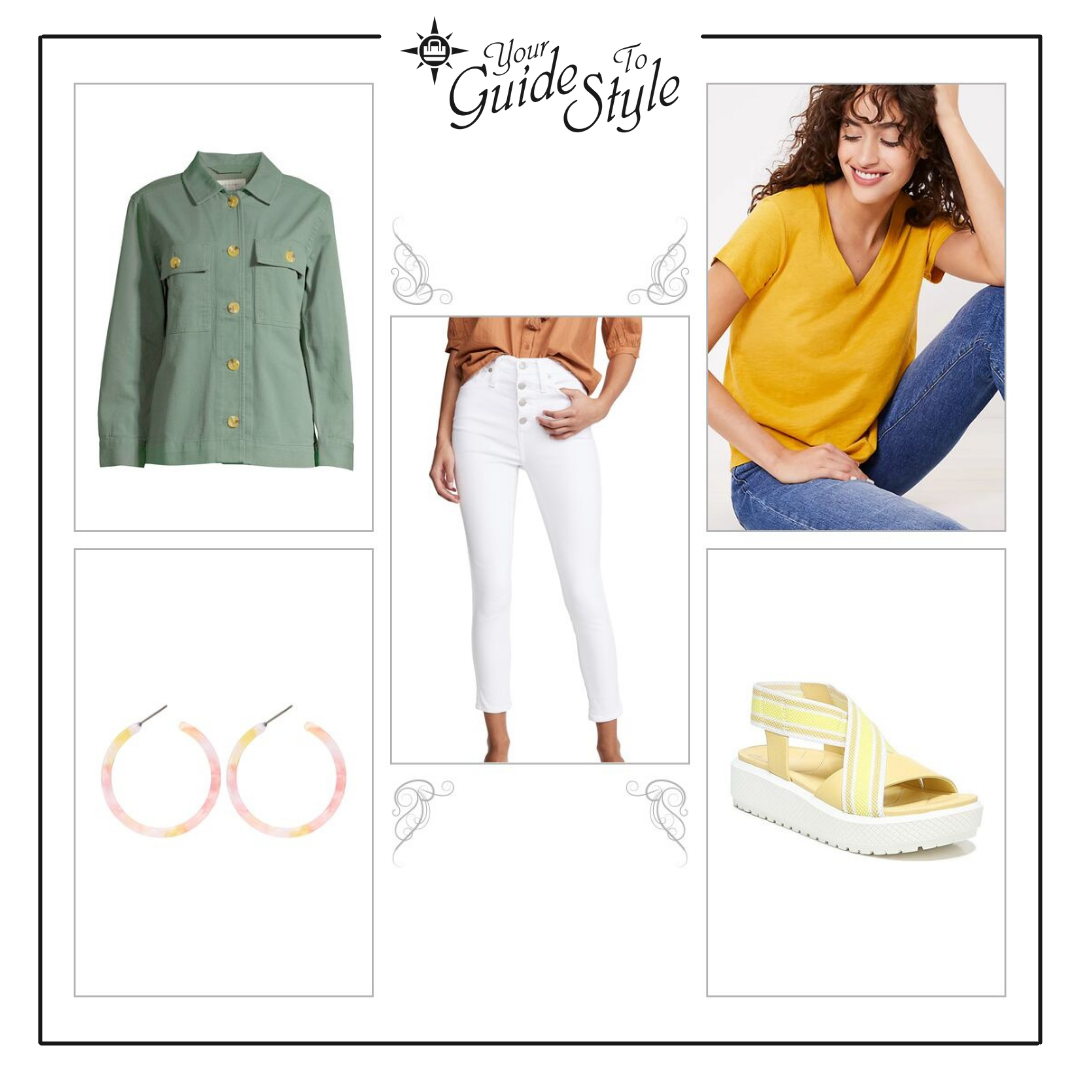 The utility shacket is a little less "shirt" and more "jacket" but is still considered a shacket because of the weight and styling.  A true utility jacket has more pockets and other elements that make it a true jacket.
You may notice the hem is different as well. It goes straight across instead of having a shirttail hem like the others above. With this more classic styling it could be considered a little more versatile.
I know I have talked mostly about trends lately because times are a-changing and we need to know how to dress this spring!!  Honestly, none of the "trends" I have talked about are super trendy or complicated, so I hope you enjoyed them.
If you have any ideas for a blog post I would love for you to let me know in the comments below!
Stylishly Yours,