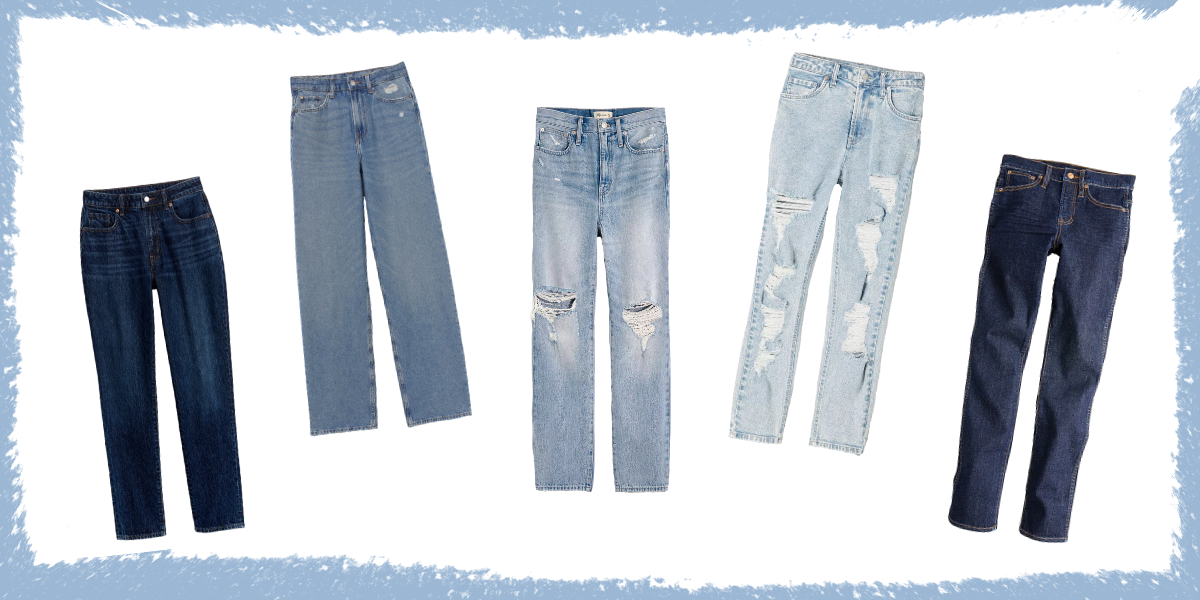 Hi there! I would probably guess that you are hunkered down in your house hiding from the snow as I am sending this to you! If not, you must live outside of the USA, lol. The way I see it is this winter weather is a great excuse to give yourself some much needed R&R and get caught up on all the fun stuff coming this spring…if it ever gets here!
I want to begin by asking if you are a skinny jean loving girl like me? I'm betting you probably own at least one or two pair. Am I right? The thing is, since we love our skinny jeans so much it is going to take a miracle to get us to stop wearing them and to learn how to style something else into our wardrobes!
Designers are REALLY pushing the baggy jeans for spring and I am just not seeing the majority of women wearing them. So, if you are not on board with the baggy jeans, which 90% of the people that answered a poll I did on Instagram said NO WAY, than you could start moving in that direction by adding a straight leg jean style to your mix.
Straight leg jeans are a little harder to style than your basic skinny jeans so I wanted to give you some options that are easy and can be done with items you probably already own.  Plus, these are a great way to ease into something a little more loose and comfortable since we have gotten so use to our lounge clothing.
If you are a visual learner like me than check out the video below!  It's everything that is included in this post on How To Style Straight Leg Jeans!!
I am including three images of outfits from my style app in this post. You can click the images to view the other options for the outfit pairings but you must be a member to view. If you click the image you can sign up right there for a free trial.  You will need a credit card to sign up because I have to make sure you are legit ya know but we have a no hassle cancellation so cancel anytime. Like any other subscription you will not be charged until after your free trial! 
Everyday Casual Edgy Style
Most of the straight jeans you will find these days are going to have a high rise and ankle or cropped length. By high rise I mean 10+ inches.  If it says "mom jean" in the name it's going to be 11 inches or more!  The high rise will actually help elongate the legs since the hem is either ankle or cropped in length.
Now to the outfit below. The idea of the " Everyday Casual Edgy Style" outfit is to show you how to pair the oh-so popular chunky cardigan with high rise straight legs or mom style jeans. This outfit is a great transitional spring outfit  and is great for everyday stuff like running errands or just working or hanging out at home.
The key to this cardigan is that it is short or cropped (this is does not always mean "cropped" by the retailers). So the hem of the cardigan will sit right above or at your hips.  I love the idea of wearing this cardigan buttoned up instead of opened because it will make it look a little more polished and fitted. But if you prefer open in the front that would be fine too; just make sure the t-shirt is knotted in the front, fully tucked in or front tucked.  You could even add a belt if you want a full tuck and open cardigan.  You will see this option in some of the other outfits in the app.
Style Tip #1:

Wear shorter or cropped items with your high rise straight leg jeans to create a put together look that is more flattering. This is a great option as well if you don't want to tuck anything into the waist.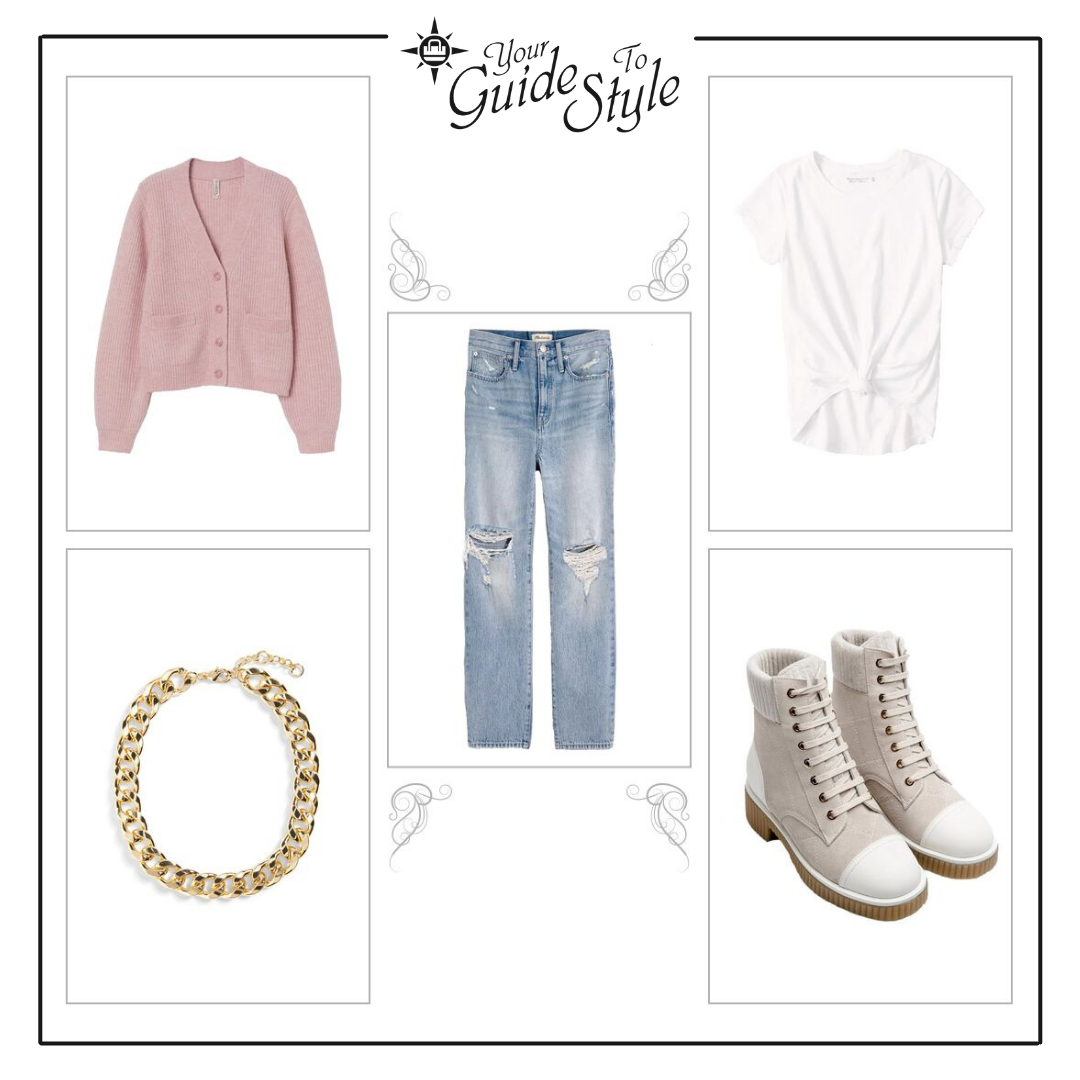 It is also worth mentioning that most straight leg jeans have an ankle or cropped leg length.  The hem should land a little above the shoe to create the most flattering look.  In this outfit for instance, you will want to roll or cuff the jeans to hit above the top of the booties.  This is a much better option than leaving them to drape over the booties. If this is not for you than find a pair of booties or shoes with a lower shaft.
Style Tip #2:

The most stylish look is for the hem of your straight leg jeans to land a little above the shaft of the shoe. It doesn't have to be technical as long as you can see there is some space between them.
Simply Casual Mom Jeans
This "Simply Casual Mom Jeans" outfit is styled with straight leg mom jeans like I mentioned above. So they will have a super high rise. Technically they will also have higher set pockets on the back if they are true 90's mom jeans. These are not flattering on everyone, so choose what rise and style of straight legs work for you and make you comfortable and happy. That is all that matters when it comes to style. If you ain't confident and comfortable chances are you ain't stylish either, lol.
This outfit also shows another great example of a shorter length top with the higher rise jeans. This one is more casual with sneakers which is so my jam! I pretty much swapped the top and shoes in the above outfit to create a totally different look. This can also be worn to transition into springtime!
I did add a fun crossbody handbag style to this outfit to go with the sporty vibe!  Don't just throw it on your shoulder, wear it like an accessory to the outfit by putting it across your body. This way it looks like it was thought out and part of the outfit.
For styling this outfit use both Style Tips from above and wear a shorter top and if past the waist of the jeans you can front tuck it and make sure the jeans hit a little above the shoes!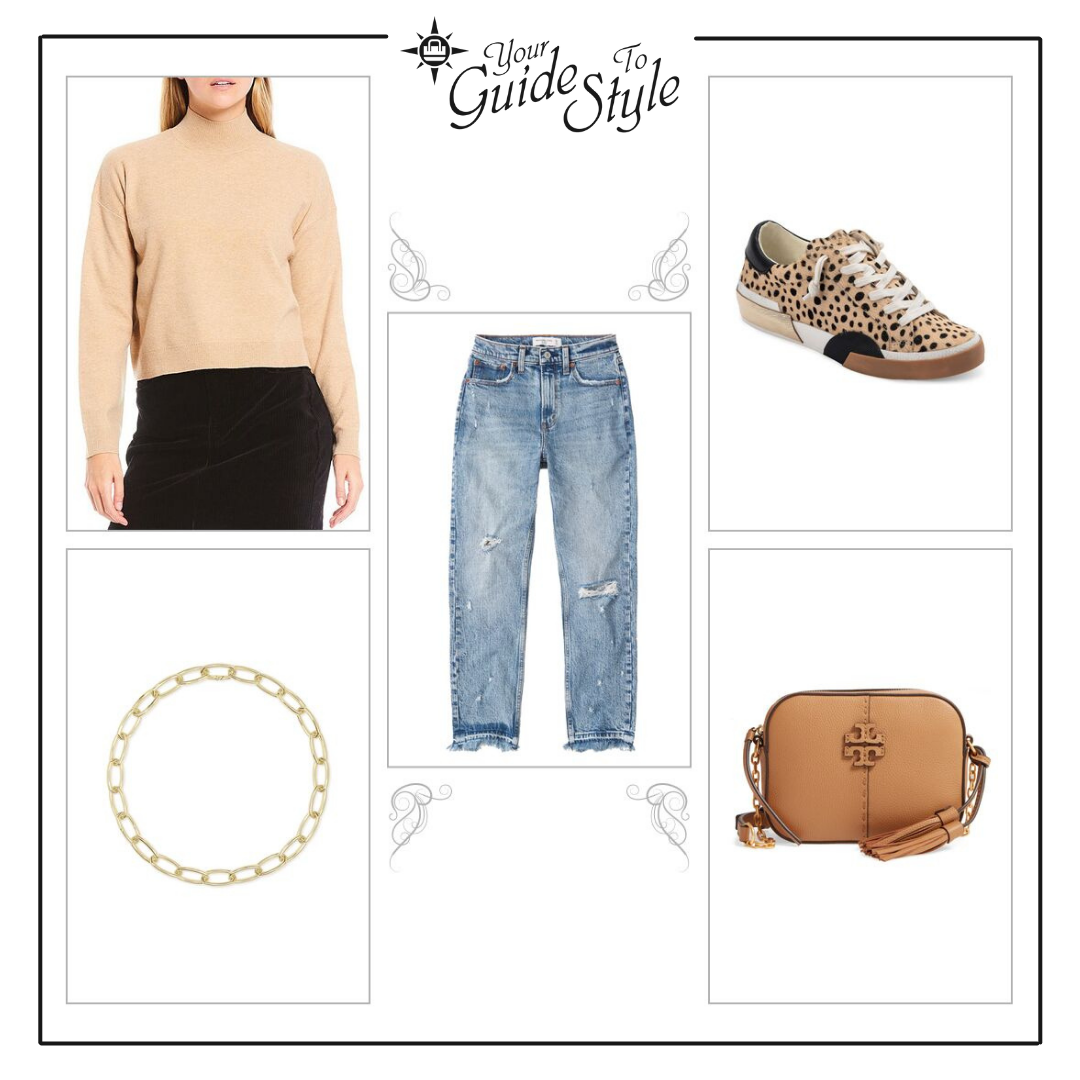 The Pretty Lace Blouse
Okay, I had to add a dressier outfit in this post so you can see the versatility of owning a pair of straight leg jeans. If you are not into the distressed version than choose a regular dark or medium wash pair that can be worn in all three outfits shown in this post.
"The Pretty Lace Blouse" outfit is perfect for any season and is really on trend. The romantic look of lace is still in and I'm pretty sure it's going to stay that way for awhile.
With this outfit I think you have two options for styling the blouse. First, you can wear it tucked in with a belt to show off your waistline OR if that is not your jam leave the top untucked and add the belt to the outside of the blouse to cinch the waist!
Great! So, let's talk about the shoes with this one! I chose a neutral ivory pair of booties that specifically have a painted toe, high heel and lower shaft so you wont have to roll the jeans. The pointed toe helps to elongate your legs and make you look taller! If the shaft of the booties is too high and hits the hem, than swap them out for a pump.
Style Tip #3:

If you want to look taller and slimmer in your straight leg jeans choose a shoe with a pointed toe and higher heels. Especially if you choose to leave the blouse untucked.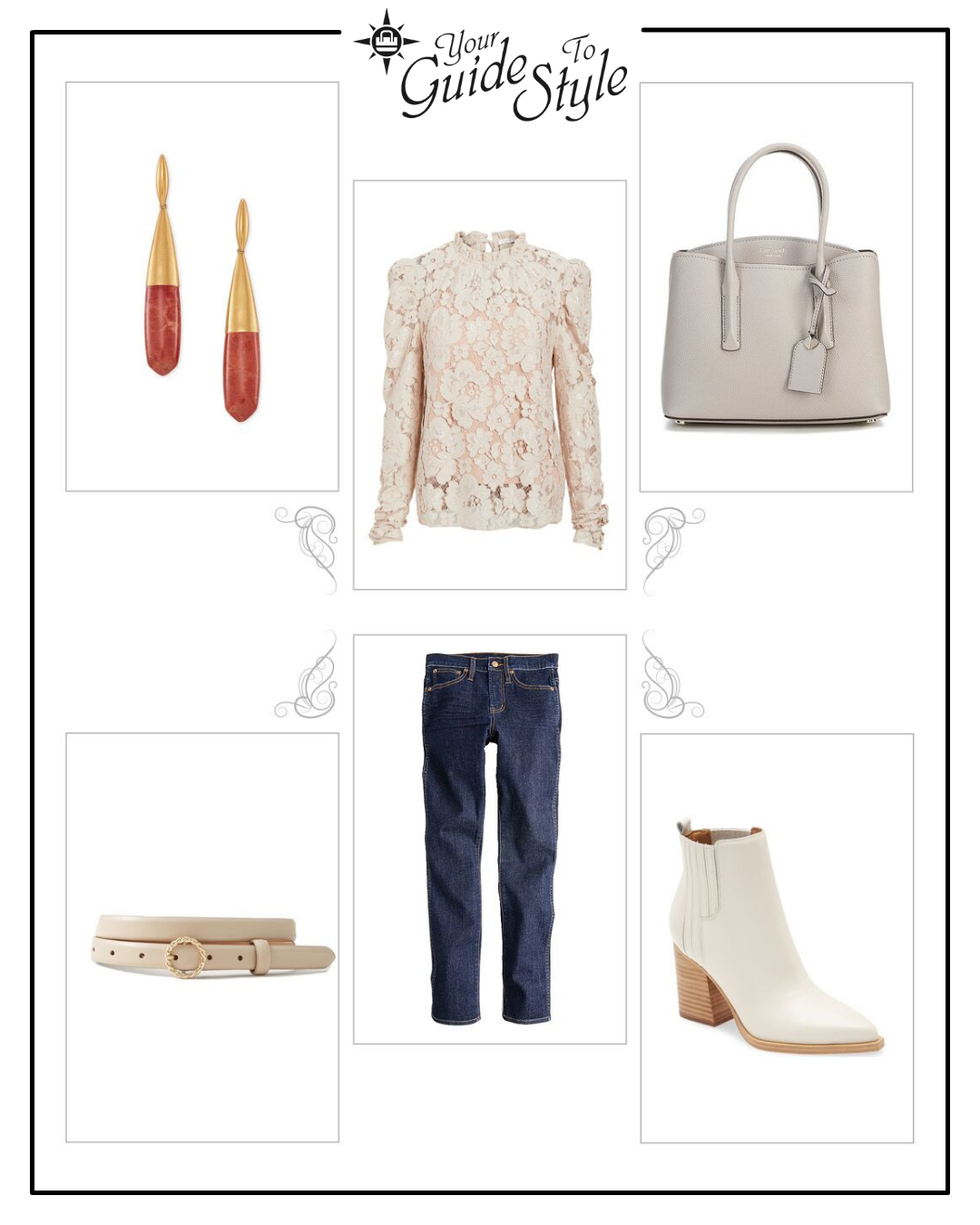 Well, now that all of that is said I have thought of another tip for you. Tailoring your clothing to fit exactly like you need them is priceless. Clothing is made for the masses so don't be afraid to find a great tailor and keep them handy for things like this!
Style Tip #4:

Consider getting the jeans hemmed if you have to roll them with every pair of shoes you put on!

I am challenging myself to find the perfect pair of straight leg jeans for this spring before I dive into any baggier fitting jeans and I challenge you to do the same.  There is an entire guide for you in my online app with specifically 17 outfits right now all styled with straight leg jeans.  They are for all seasons and fashion styles so I hope you will sign up for a free trial to take a look before you go out and purchase a pair! OH and did I mention you can also purchase items directly from the retailer in the app!  It's a WIN WIN!

Until next week!

Stylishly Yours,