Did you know that MOST, if not all, women find the transitional season from winter to spring the hardest time to figure out what in the world to wear!?  I know this because I have worked with women for over 20 years and I heard it from almost every women I helped!  So if this is you as well I'm going to help make your transitional dressing life much easier starting today with these three fabulous and easy tips to transition your wardrobe from into spring!
Oh, and guess what?! I have a spectacular guide in my new app with outfits galore to help you accomplish whatever your stylish heart desires!  Check out the video below to get a sneak peak of some of the outfits I created and you can copy the outfits with things right from your closet!
As you look through this post you will see images from our online application.  If you click the photo or highlighted text it will take you to the outfit in the app but you will need to be a member to view.  If you are not a member and click the image or text it will allow you to sign up for our 7-day free trial and you will need a credit card to do so.  If you decide to sign up and check it out, which I highly recommend you do, we allow you to cancel at anytime. I promise it's easy and hassle free!
Let's dive in shall we!
There are a few key factors to dressing from winter to spring:
Wear items for cooler weather in spring colors.
Start wearing your white jeans, if you haven't already.
Wear your winter items with your spring items.
Cooler Weather Items In Spring Colors
The weather does not like to make up it's mind on whether it wants to be hot or cold, even within the same day, so we have to be smart about what we wear out of the house!
In order to look "springy" during this weird time try to choose colors that look like spring.  I know you are probably wondering how in the world to accomplish that without looking tacky!  Weeell that's what I am here to tell you!
I love that retailers offer great choices for spring colored sweaters and long sleeve tops during this time. You can always invest in a couple of things to get you through.  If you choose wisely you will be able to hold onto these items for the next year or wear them longer through the spring season.
Style Tip:

Look for items made WITHOUT acrylic or wool since these materials are much more suited for cold weather.

Not into purchasing anything new?  Me either during some seasons, so I look for things in my closet that have long sleeves but look more springy.

The Make A Classic Fun outfit below is the perfect mix of spring colors in cooler weather items.  The layering screams "I'm for cooler weather" but the colors are screaming "Springtime all the way baby!  Yellow and pairing black and white together are so on trend for spring, so you will have a head start in that direction from your fall/winter wardrobe.

I opted for a light weight cotton sweatshirt for this guy because no one wants to get too hot, right?  Plus you have three options with that cute sweatshirt. You can layer it on top OR you can drape it over your shoulders OR you can tie it around your waist! So no getting hot over here ladies!

Did you know that neutrals are a BIG trend for this spring. Not only that, but wearing all neutrals for a monochromatic look.  The Rise & Shine In Leisure outfit below is a great example of how you can take neutrals and make an outfit that is trending for spring but is curated with all fall pieces.
Do you have any neutral pieces in your closet that you can do something like this with?

Start Wearing Your White Jeans
White jeans before Labor Day?  I say YES! Wear them year round if you want! If you disagree with the year round thing than definitely pull them out now.  The transitional season is the perfect time to put white jeans on with your winter sweaters and booties for a fresher look.
The best part is that white jeans will be worn throughout spring and into summer.
Style Tip:

When you are ready and the weather is warmer, swap out the sweater and booties for sleeveless tops and sandals!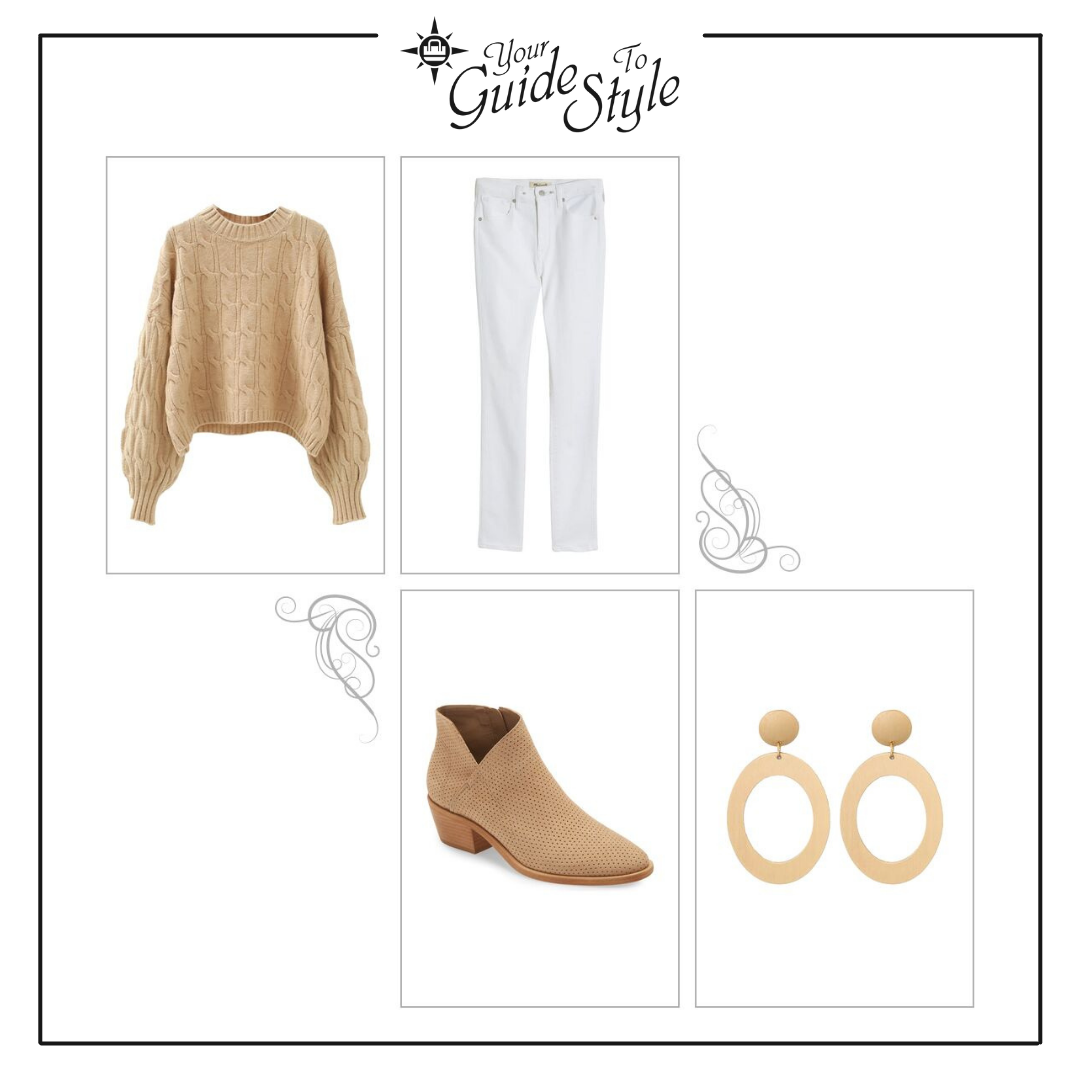 Wear Your Fall/Winter With Spring Items
One of my favorite things to do is to wear my winter items with spring ones.  I know this sounds similar to my number one tip but it really is different so let me explain.  That was taking cooler weather items in spring colors where this is taking your actual spring items and mixing them with your fall/winter items.
There are many ways to wear your fall/winter items with spring items to get a transitional look. Layering will help you go with the flow during the day if it's cool in the morning but gets warm during the day.
I hope I have not lost you. If so, keep going because I give you lots of examples below!
You can take your favorite cozy sweater or cardigan and pair it with a fun springy floral skirt and some booties or sneakers.
Swap out your ankle jeans for cropped ones.  Style them with a spring colored jacket, graphic tee and some booties.

Wear a flowy dress with a blazer over it and add a pair of neutral colored booties.

Wear a light weight sweater in a spring color, a neutral utility jacket, jeans and light colored booties. A denim jacket would work for layering as well.
A spring colored top under a cardigan with cropped jeans and light colored booties.
Here are a couple of outfit examples below from the Your Guide To Style app!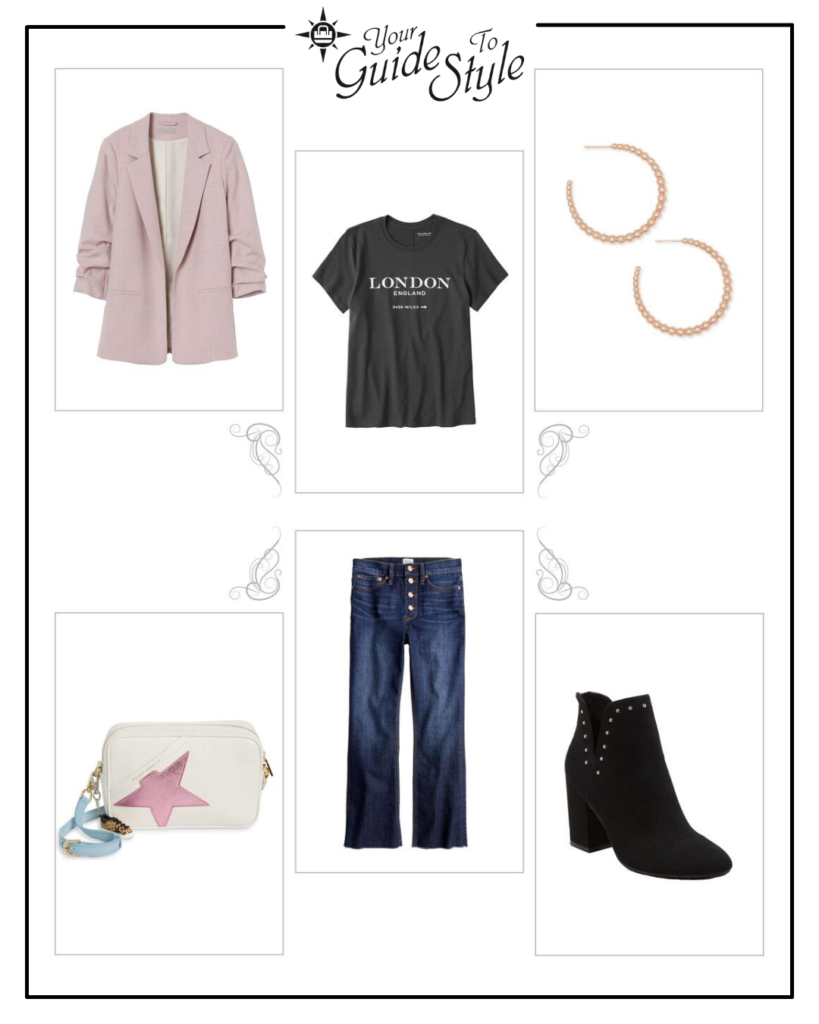 After reading all that are you now saying to yourself "WOW, that all sounds really easy!"  I certainly hope so and if you go and look into your closet I think you will find that using the three tips to transition your wardrobe into spring is really that easy.  Sometimes we over think things and my job is to help you to be able to simplify your style choices! So, happy transitional season to you!
Until next week!
Stylishly Yours,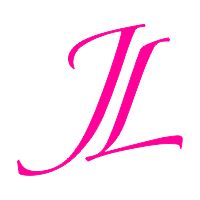 *** This post contains affiliate links that allow me to make a small commission from any purchase made from those links.