Are you the kind of girl that loves the latest trends for the season!  In this post I am talking about 4 ways to style an oversized white button down which is trending for this coming spring season.  Whether you borrow your husbands button down or decide to buy your own, you wont regret taking on this trend. It creates a classic look with a little bit of edginess.
I challenge you to give one of these 4 looks at try for the transitional season and for spring.
I have linked a video for you if you are a more visual learner like I am!  Check it out below.
All of the images in this post are from the Your Guide To Style online application.  If you click the outfit name or image it will take you to the app but you must be a member to view it.  You can sign up to become a member through the link as well. You can also check out our video about the app HERE.

This Classic & Oversized In Style outfit has a few trending pieces for spring 2021 but is classic enough to justify pairing these things together.
Tips:
A pair of slim or loose fitting straight leg jeans is the perfect pairing for a casual & comfy daily look with your oversized white button down.
If you want to take a look at how to style straight leg jeans check out my blog post or video from last week!
The outfit includes a  pair of chunky platform loafers, which is a fun shoe trend for the spring season.  I know these are a little out there but they can be really cute if you style them correctly. If you style them with an outfit that is fitted from top to bottom they might look like clown shoes. BUT if you wear them with a loose outfit like this one they will blend in nicely and just look "normal".  Make sense? It's all about balance!
The belt is a great accessory that can help anchor the outfit and also distract from the shoes.  If you wear the shirt fully tucked or front tucked it's great to put through the loops.
If you decide you want to wear the oversized shirt untucked you could place the belt around your waist and over the shirt.
The necklace is minimal and gives just a little interest to the open neckline of the shirt without overwhelming the outfit.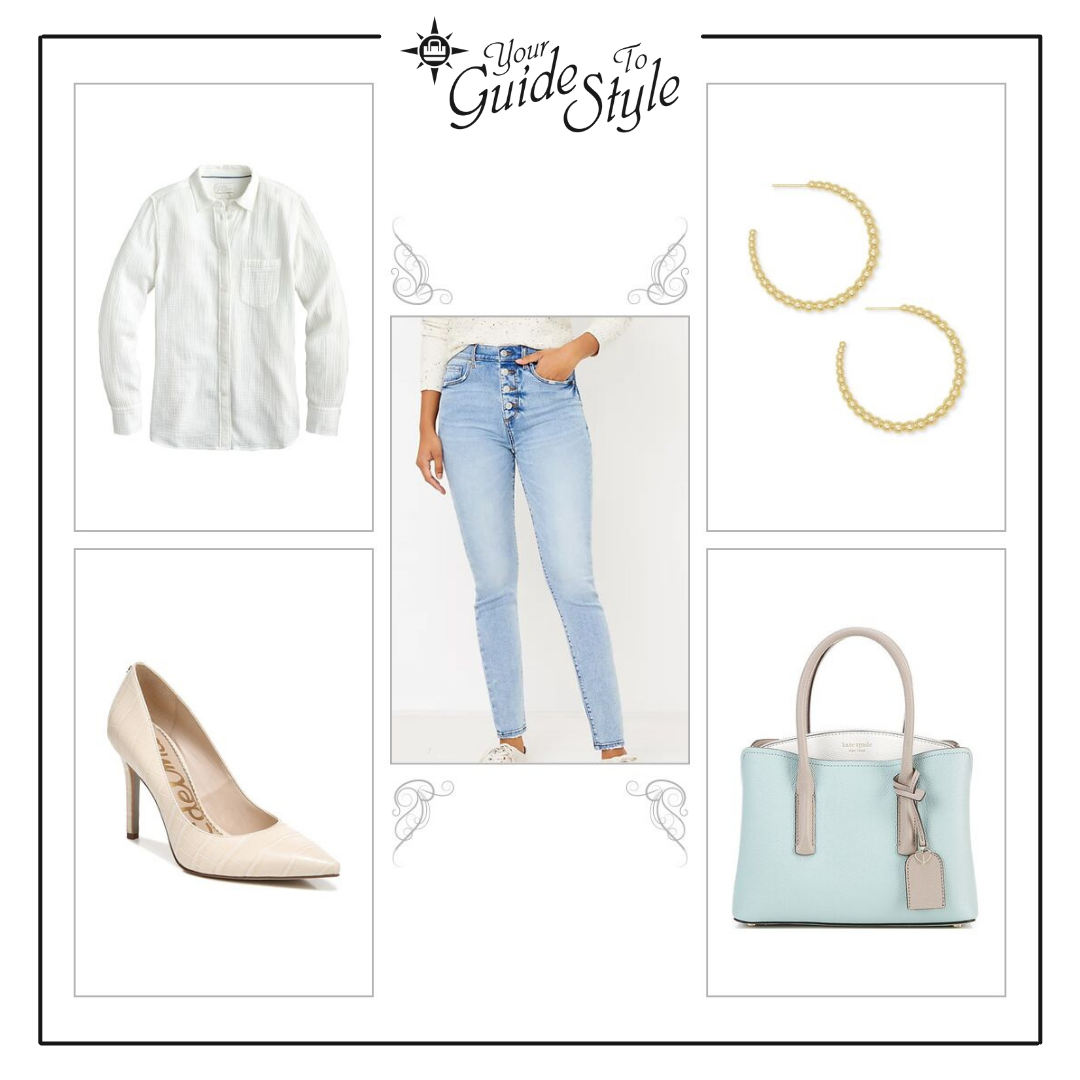 This Classic & Oversized In Heels outfit has a very classic feel because of the pumps and skinny jeans combination.  It's also a great way to make an outfit fit for a date night or dinner.
Tips: 
 Wear the oversized white button down front tucked or untucked. You can also half tuck one side of the shirt in the front for an even trendier look.
Add a girly satchel handbag to your outfit. I love the idea of a satchel bag with this, if you have the option, because it's a little bit chunky and you hold it in your hand so it will help create balance for the outfit.
The high heel pointed toe pumps will help elongate the legs.  If you are not into heels than wear what heel height works for you.
The hoop earrings are a classic 90's vibe and make a great addition to this classic yet girly outfit.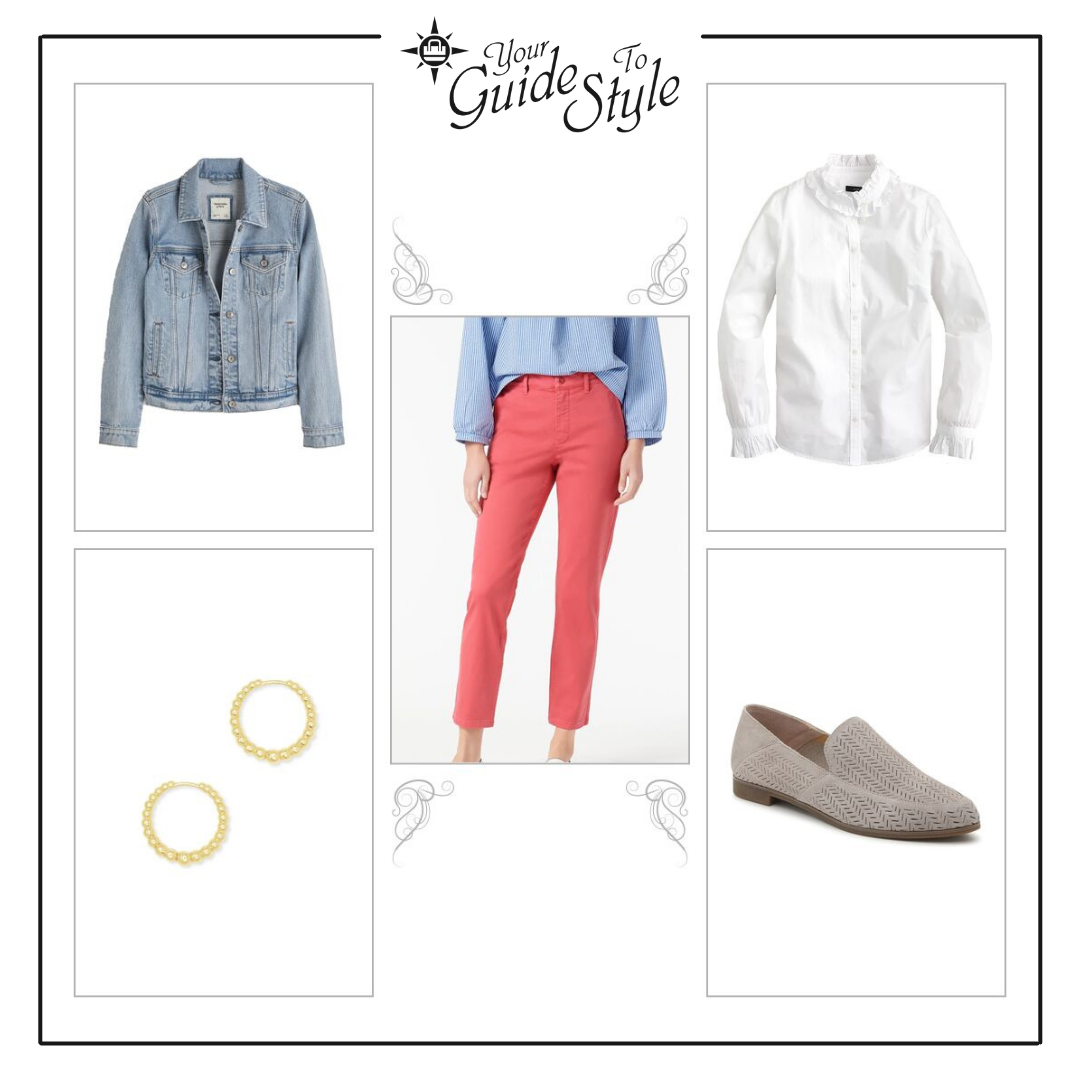 Do you own a pair of cotton chinos?  This would be a great addition to an essential spring/summer wardrobe especially if you don't like wearing shorts.
Tips:
These chinos are a slim straight leg so they look a little more classic and clean cut than a boyfriend style chino.  They make this outfit easy to wear and appropriate for most body shapes.
The denim jacket is a great piece to add to the oversized button down and chinos for an even more classic look.  You can wear it on the body, draped over the shoulders or around the waist. It's perfect for those days that the temperature seems to fluctuate a lot from morning to afternoon and evening.
Add a flat loafer to stay with that classic and preppy feel of the outfit.
The earrings are a huggie style which means they are small and hug the ear lobe.  These are easy to throw on and wear every day  without having to think too much about it and will look cute!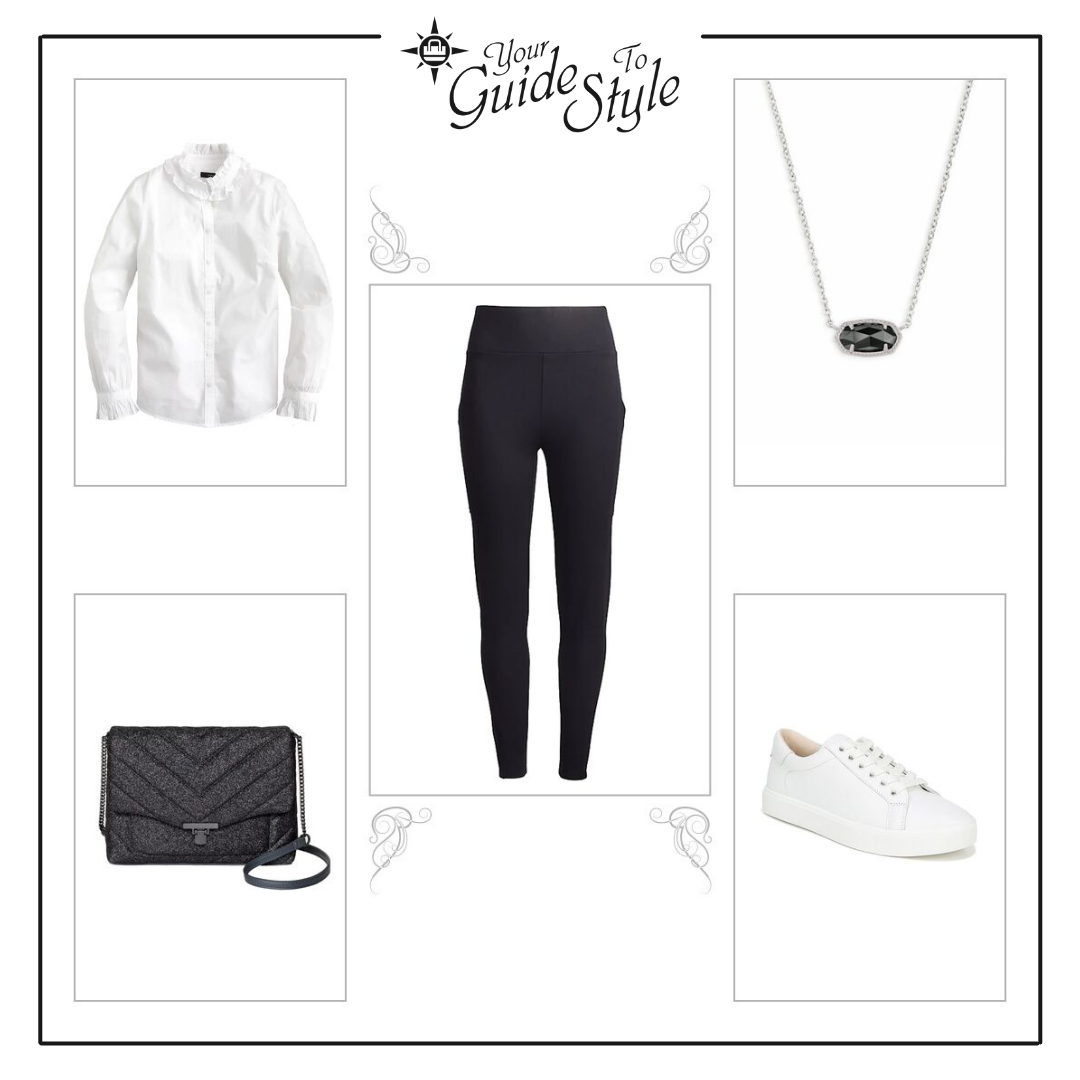 A good pair of black leggings are a staple for most of us these days. Since this is the case, I wanted to show you a way to style your everyday leggings for a very trending look for spring.
The Simply Black & White outfit represents another fun trend for the spring, which is to pair black and white solid pieces together.  If you wear a white top than wear a black bottom and vise versa.  This is also called color blocking.  It creates a really classic look that could easily be on repeat this spring!
Tips:
The oversized white button down can be worn untucked. Just make sure it is oversized and long enough to provide coverage.
Pair a clean white sneaker with this for a crisp clean black and white look.  If you don't have a white sneaker than wear a black one or a black flat.
Add a black handbag in any style to enhance the black and white color block look.
A simple and short pendant necklace in silver would be a great compliment.  But if you prefer another metal than that is fine too.
That wraps up my 4 ways to style an oversized white button down.  I know there are many other ways to style this button down but I thought these were the best combinations that will keep you looking stylish and on trend for the spring season ahead.
I hope you will check out the fun video linked at the top of this post so you can see lots of other options available to create these outfit combinations.
Thanks for reading!
Stylishly Yours,