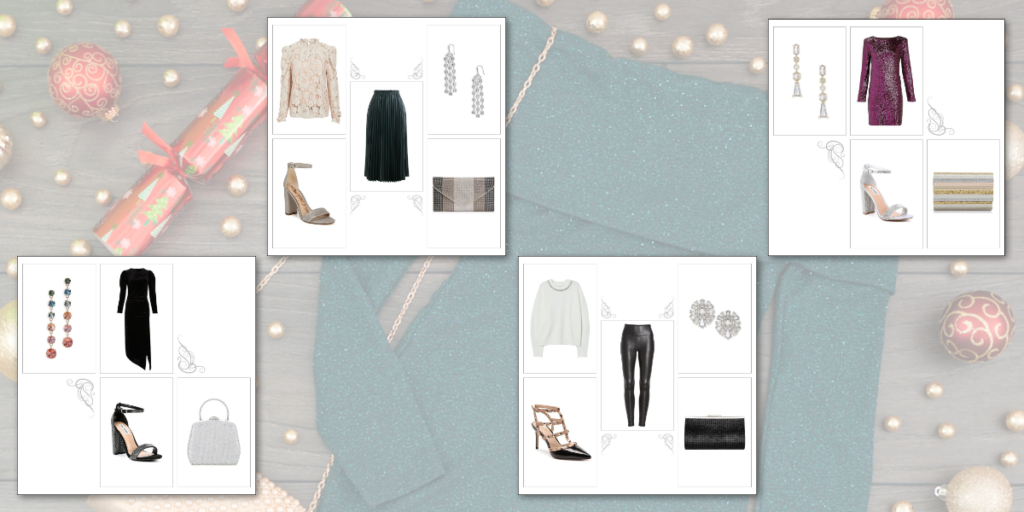 Happy Holidays! Do you have a dressy holiday event to go to this year? If so, this is the post for you! There are several outfit ideas in this post from my Dressy Holiday outfit guide in my online styling app called Your Guide To Style.
If you need holiday outfit ideas for any occasion we have a guide available for Casual and Festive style as well.  I have two blog posts on these fashion styles that I will link below if you want to check them out.
I believe style does not have to be complicated, so a lot of these outfits are really simple but very glam. They also won't cost you a lot of money and the items will last in your closet for years to come.  Some of my favorite items for the holidays, which I mentioned in my previous post, are velvet and sequin or anything that is a fun texture, color or print. These outfits would fit into the "festive holiday" category as well but a better suited for the "dressy holiday" category because of how dressy they are.
Check out my YouTube video that explains how to style three of the outfits in this post!
Velvet Dress or Blazer Outfit
Velvet Dress
A velvet dress like the one in the "A Night Out In Velvet" outfit below is the perfect option for this time of year if you have a cocktail party to go to.  I love options with long sleeves so you don't have to worry about wearing a jacket that will just cover the beauty of the dress.  Adding fun sparkly accessories and shoes to a velvet dress just adds even more holiday charm to the outfit.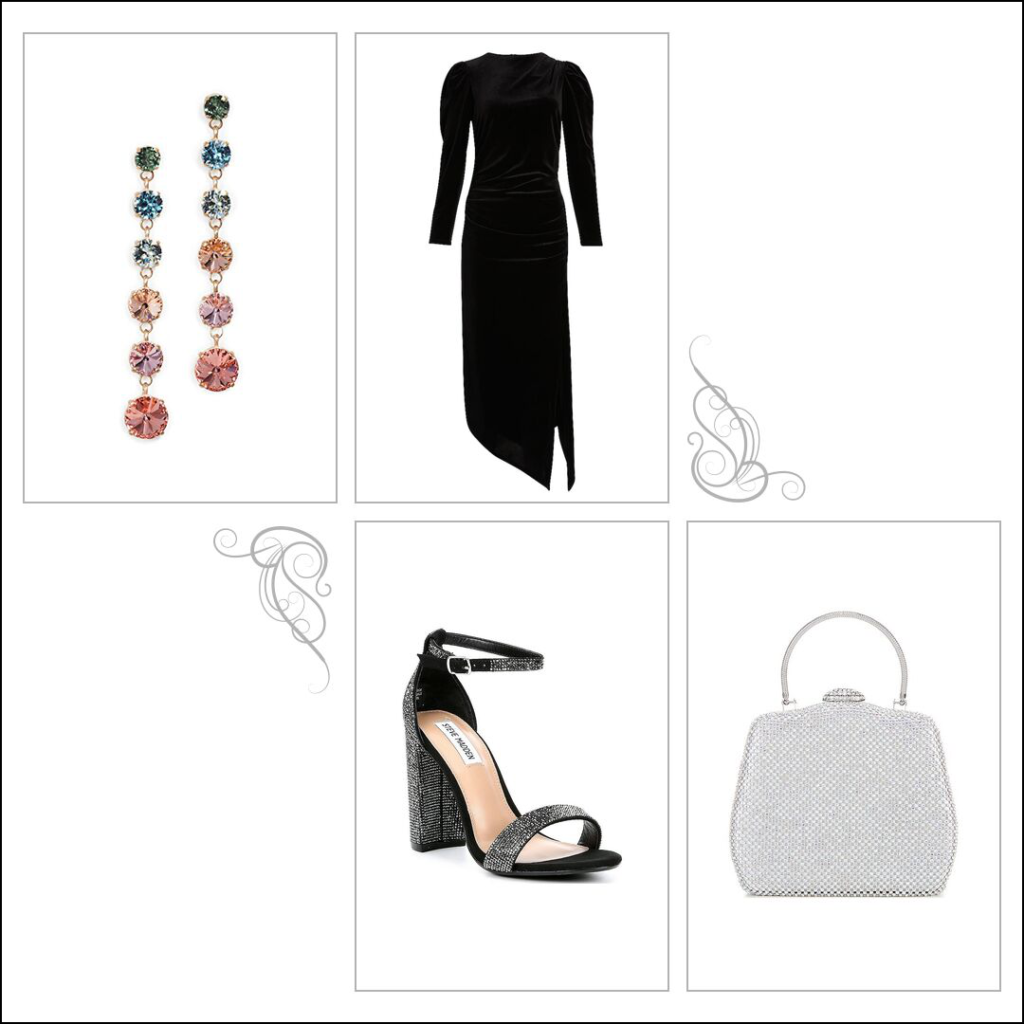 Velvet Blazer
A velvet blazer is perfect over a solid dress like this slip dress in the "Velvet & Satin For The Win" outfit below.  Although a velvet blazer can be worn with jeans, it is also a perfect addition to add some interest to a solid sleeveless dress.  Again, add some sparkly accessories for some holiday charm!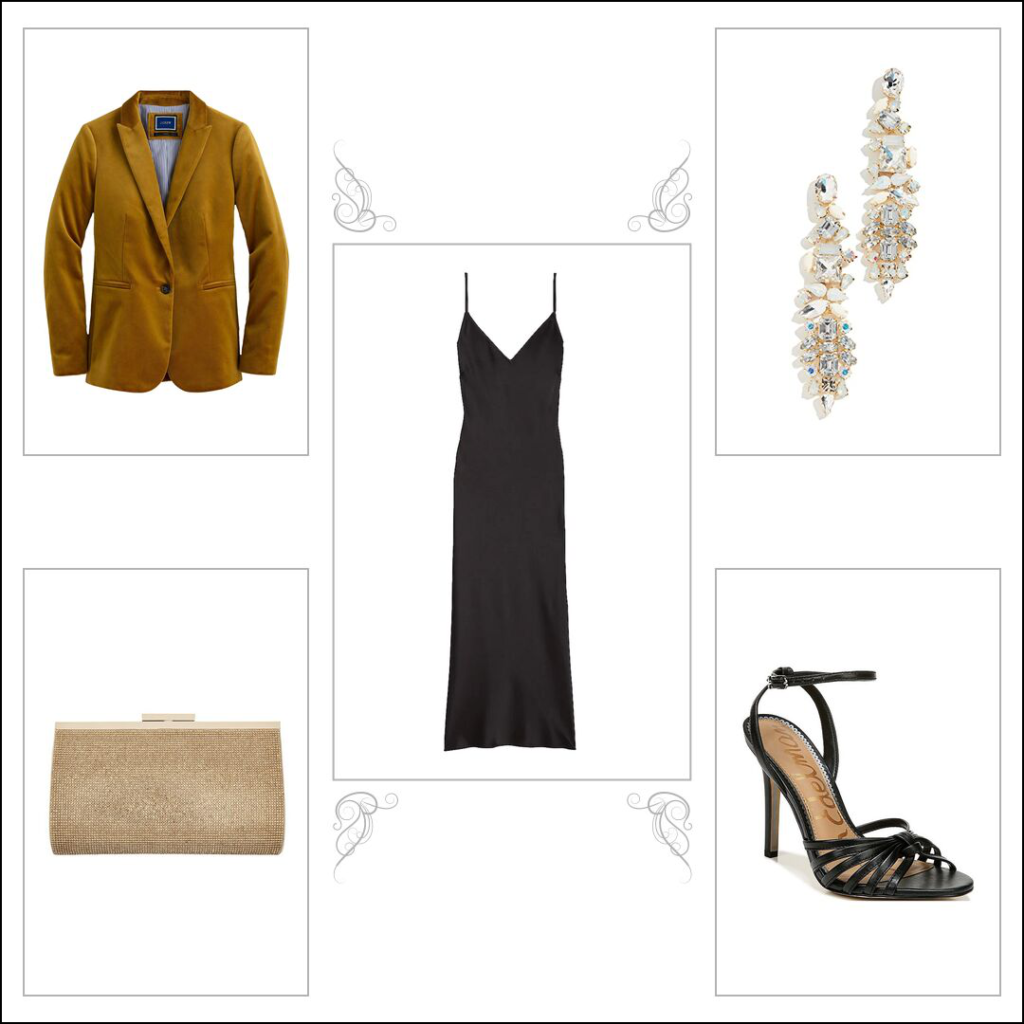 Sequin Top Or Dress Outfit
Sequin Top
There is nothing more fun than wearing sparkly sequin for the holidays!  I even have a couple of sequin face masks for this season! A fun top or dress will take you through any holiday party including New Years!  So double whammy on versatility!  Another great thing is that sequin NEVER goes out of style!  If you decide to purchase something in sequin it will live for many holidays to come as long as you take care of it.
The " Never Too Much Shine" outfit below has a fun sequin blouse styled with faux leather leggings, a tuxedo blazer, sparkly heels and rhinestone hoop earrings. Can you tell I like "shine" for the holidays. This is the time of year to have lots of fun playing with textures and patterns!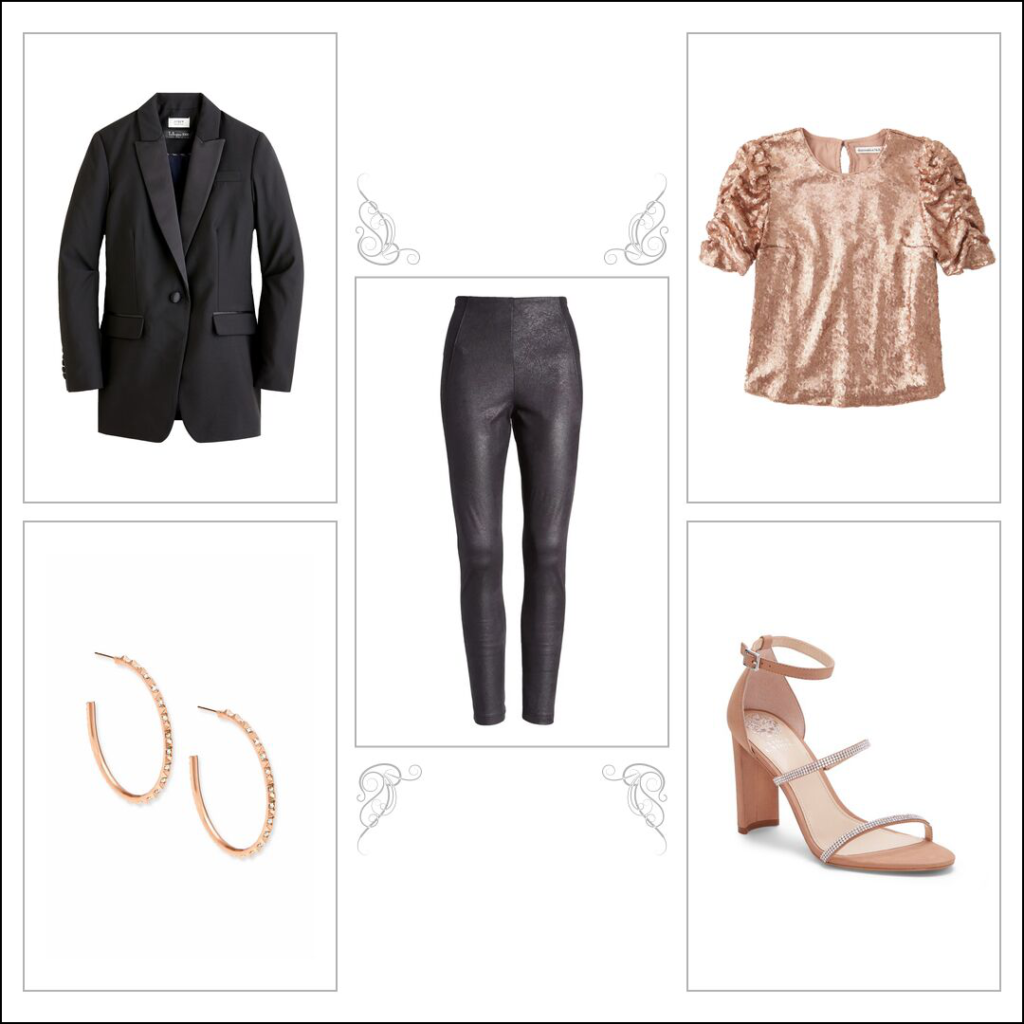 Sequin Dress
If you are a dress girl than you will love this next option. The "All Sparkly & Dressed Up" outfit below is fun for a holiday cocktail event or New Years party.  There are so many fun options and colors available in our app and you can click the photo to view. If you are not a member you can sign up to view!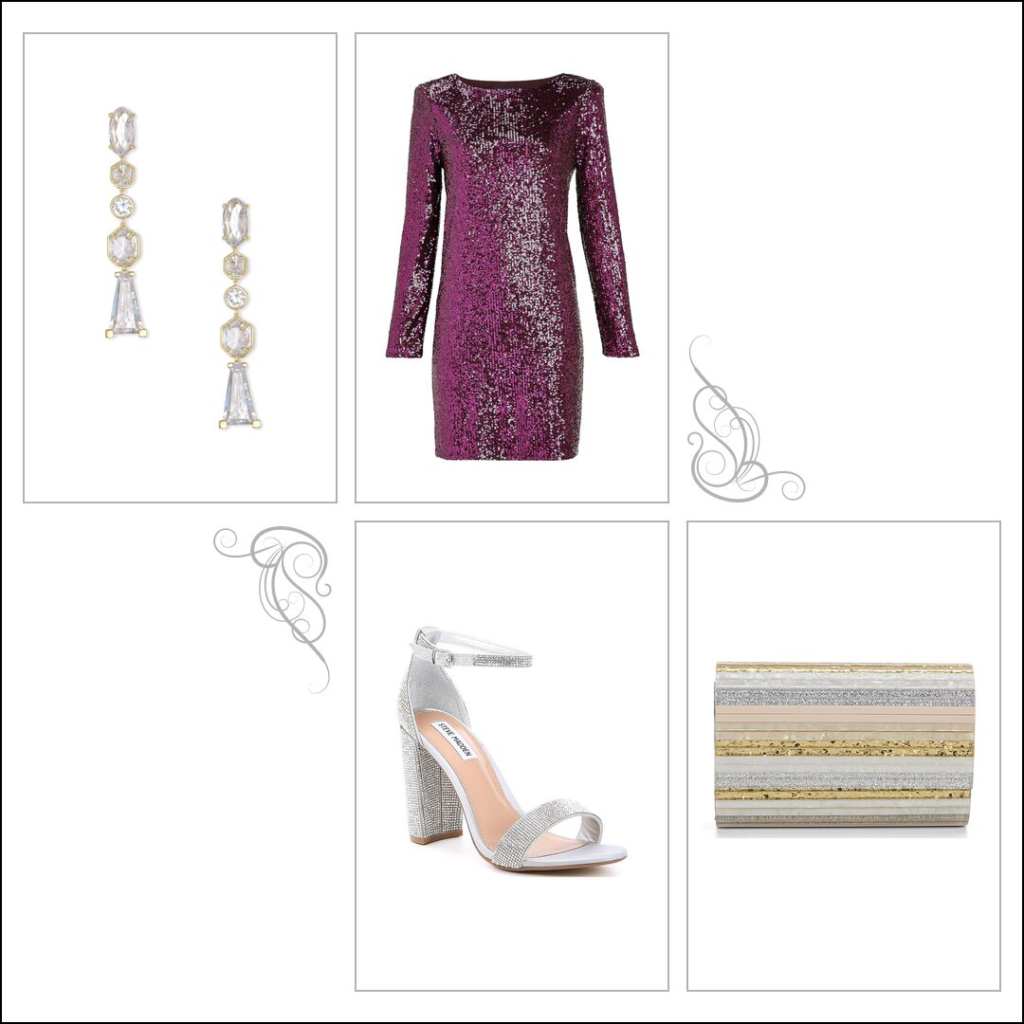 Texture & Faux Leather
Lace Top & Faux Leather Skirt
This next outfit, "Dress Up In Lace & Pleats" is a little outside of the box but is very on-trend for this season. Both faux leather and lace are making a comeback and are so pretty paired together.  The feminine lace tones down the edginess of the faux leather for a fashion forward look.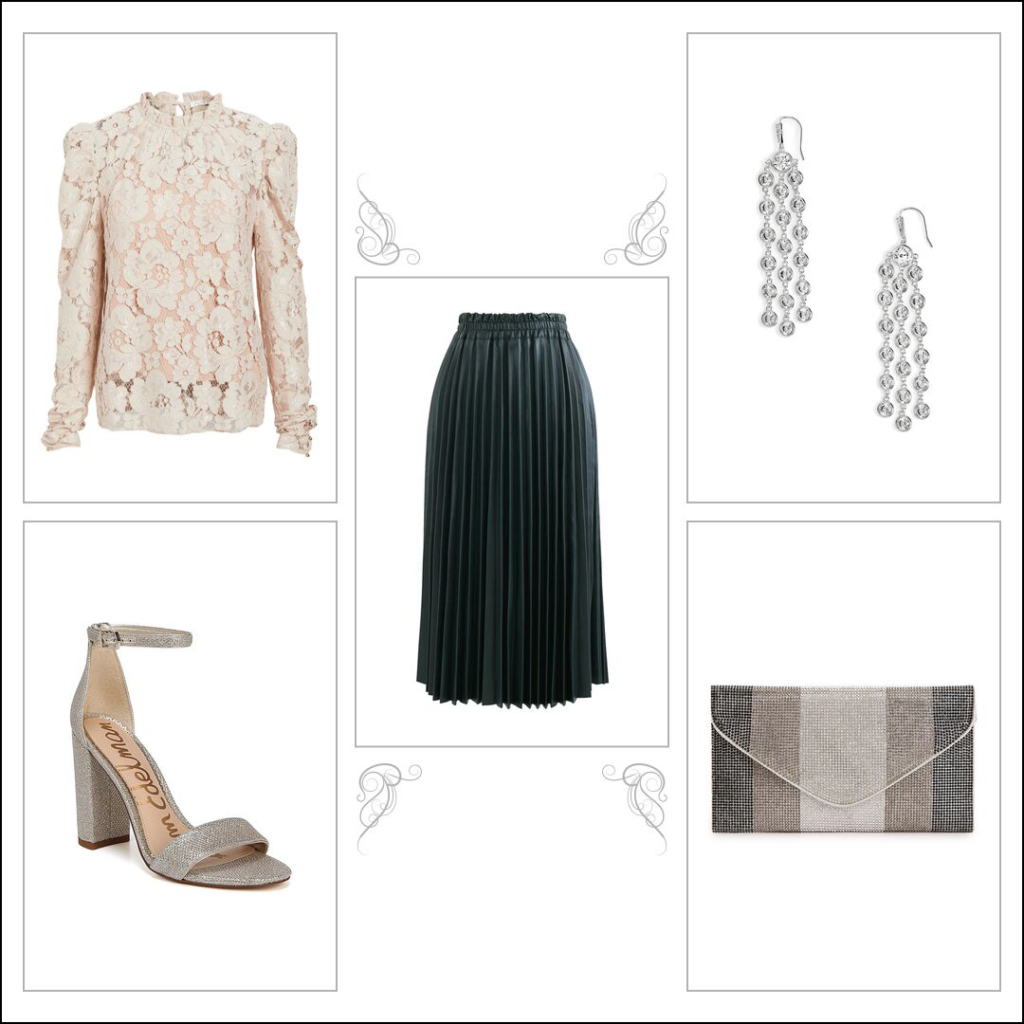 Embellished Sweater & Faux Leather Leggings
This last outfit is dressy but is laid back and comfy for the holidays.  The "A Fun Way To Sparkle" outfit is a pair of faux leather leggings paired with an embellished oversized sweater, high heel pumps, sparkly earrings and a fun clutch.  This is my kind of style and would also work for a more laid back New Years event.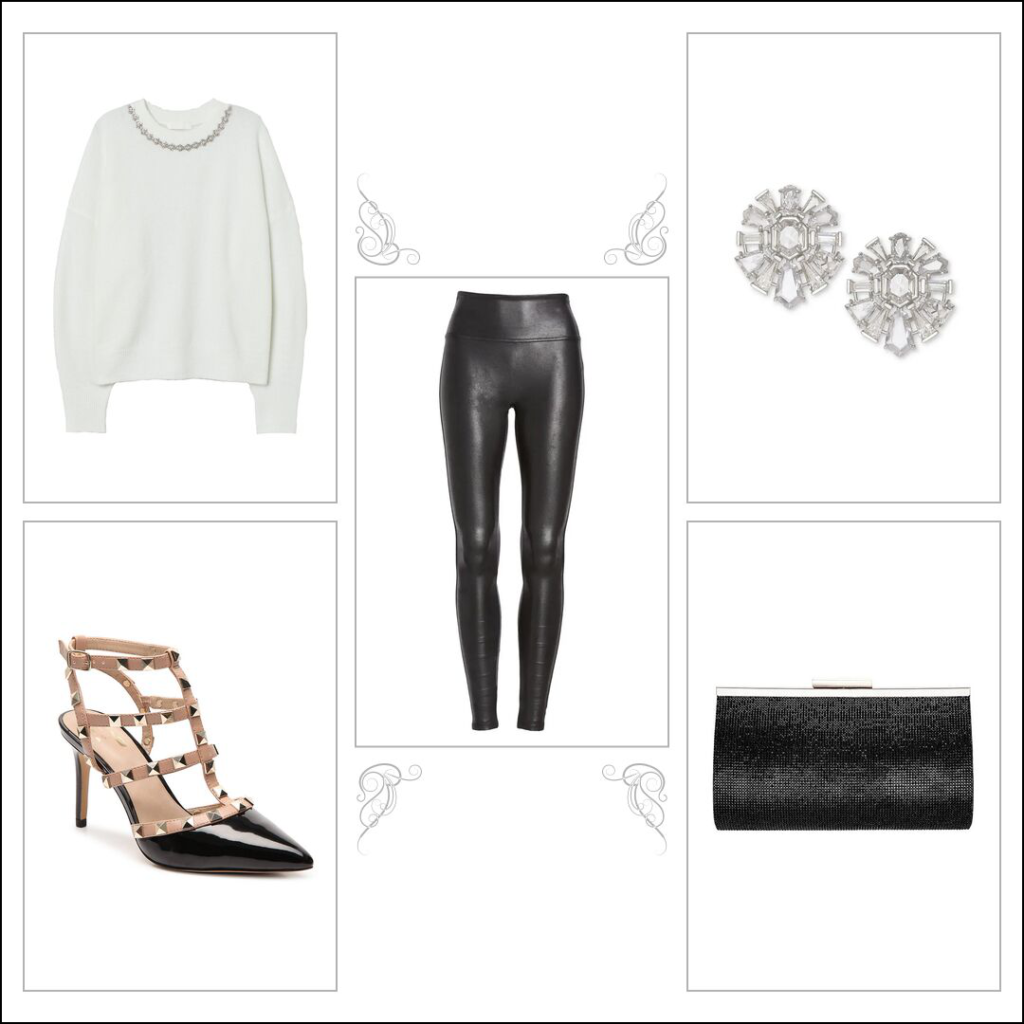 I would love for you to tell me your favorite outfit in the comments below and if you are even going to any holiday events!  Thanks so much for reading and I hope you have a rest of the year!
Stylishly Yours,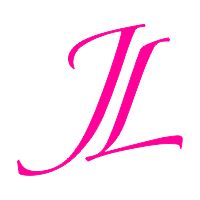 *I make a small commission from any purchases made with links in this post except the Your Guide To Style Links