This is the perfect time of year to talk about how to style leisure outfits. It is the holiday season and we are in a pandemic, so we are home a lot more than usual.  I don't know about you but when I am at home I want to be super casual and comfy but still look cute.  When I look cute I feel better. I also want to be able to leave the house in these outfits and not look like I am wearing my PJ's.
I want to show you some outfits from a style guide we have in Your Guide to Style called At Home: Super Casual. You will find cute leisure style that will take you from home to on the go.
Style Tip:

The most popular items for your leisure wardrobe in the fall and winter are going to be leggings, joggers, biker shorts and cute sweatshirts.
Here is a fun video that shows you how to style three different leisure outfits from my online app!
As you look through this post you will see images from our online application.  If you click the photo or highlighted text it will take you to the outfit in the app but you will need to be a member to view.  If you are not a member and click the image or text it will allow you to sign up for our 7-day free trial and you will need a credit card to do so.  If you decide to sign up and check it out, which I highly recommend you do, we allow you to cancel at anytime. I promise it's easy and hassle free!
Outfits With Leggings
Are you a big fan of leggings? I think most women are and sometimes I feel that maybe we like them too much, lol. I know I do. There is a place for them in our wardrobes and they make a perfect pairing with any oversized longer sweaters and sweatshirts.
A nice pair of black leggings are very versatile and can match just about any color or print top.  You may want to find a pair that is made for casual wear instead of for working out.  There is a big difference in how they feel on the body and how they fit. Workout leggings typically are made of nylon or polyester and fit very snug.  If you like them snug than go for it but snug does not always equal comfort.  I will even size up in my leggings if I know I am going to wear them around the house a lot.
The "Cute Camo & Leggings" outfit below is styled with a camo oversized sweatshirt and some plain black leggings.  I love to add casual light weight earrings to my leisure outfits to make them feel like I put some effort into them and it's my favorite accessory that easily adds pizzazz to an outfit.  Add a cute camera crossbody bag and cute fashion athletic sneakers to make it functional for on the go.

The "Stay Comfy In Cute Prints" is also styled with an oversized longer sweatshirt but it is solid in color and paired with a pair of print leggings.  These leggings are camo print but the Your Guide To Style app gives you so many more other cute print option. I also added a solid slip on sneaker for easy on and off if you need to go somewhere and light weight leather statement earrings to add some style.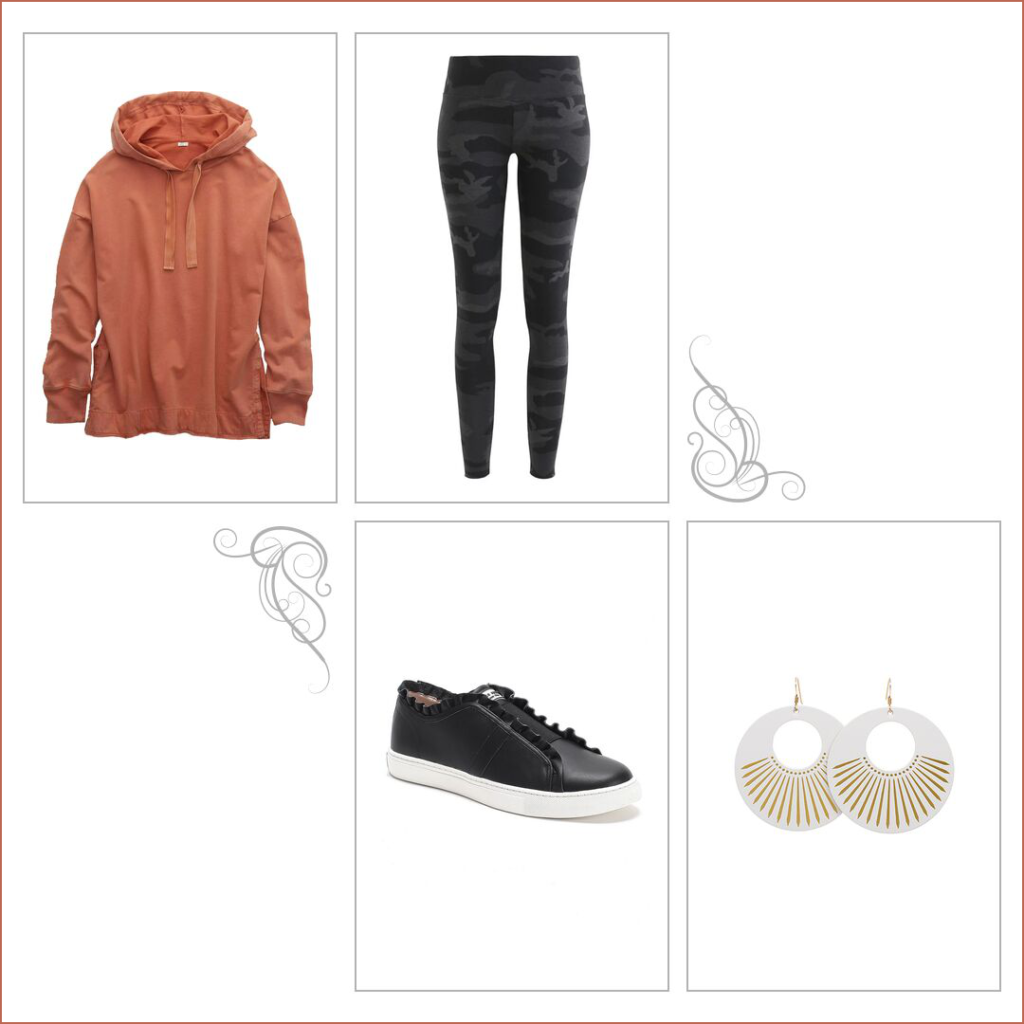 Outfits With Joggers
Joggers have become very popular in the past few years.  With our wardrobes becoming more and more casual they make a great option for an easy, comfy and stylish look.  I personally have several pairs and have started to wear them when I need to go out and about.
If you are a matching set kind of gal than you will love this next " Fall Into Leisure Style" outfit.  I chose one that is a camo print but you could look for a solid or other print. Some of the popular options right now are camo, leopard, stars, floral and tie dye.  Camo and leopard print have been around for the longest and I don't think their popularity is going away any time soon.  This kind of  matching set will give you lots of wear for a few more years.
I paired this "Fall Into Leisure Style" outfit with some high-top sneakers to give it more of a retro 80's feel and added teardrop leather earrings that are metallic to jazz it up a bit.

 This "Comfort At It's Best" outfit shows one of my favorite ways to wear a plain pair of joggers; with a cute leopard print sweatshirt and colored sneakers.  This is great for comfort around the house or out and about.
Style Tip

: If you are not a fan of statement earrings, another great option to wear with your leisure are a cute pair of small studs.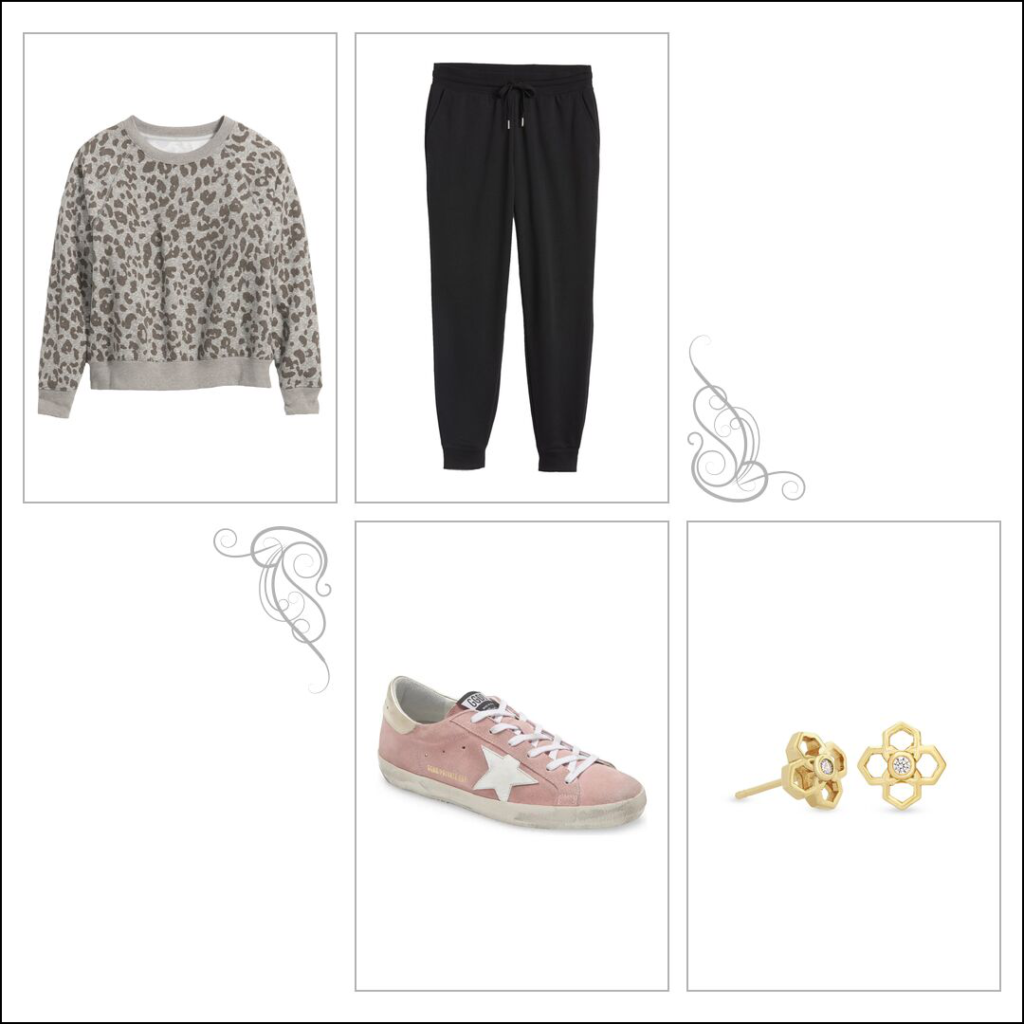 Outfits With Biker Shorts
I saved the biker shorts for last because I know they might have to grow on you a bit. Believe me, I still don't own a pair and now after making these outfits I realized I need a pair! I found some options that are a cotton blend for a softer, more comfy feel.  I think these are a better option for everyday wear than the athletic style options.
The "Biker Shorts Heaven" outfit below is the perfect way to wear biker shorts in my mind.  The oversized tunic sweatshirt gives you enough coverage and it keeps that sporty vibe with the ball cap and sneakers.  To give it a little more of a "girly" feel I added the light weight round leather earrings.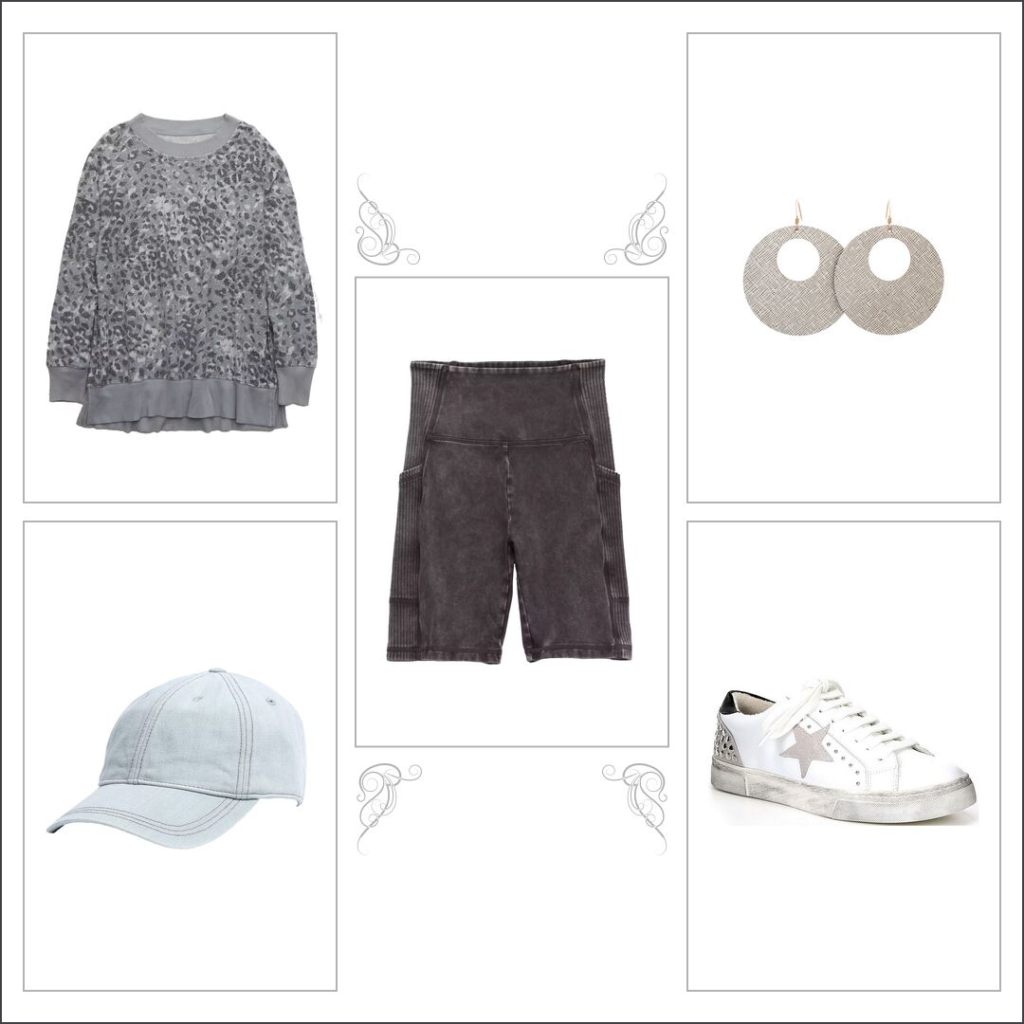 If you really want to step outside the box than try a pair of animal print biker shorts like the "Bum Around In Biker Shorts" outfit below.  I chose to style this outfit with a pair of biker shorts in a cute color way with a matching sweatshirt and just added some plain fashion athletic sneakers.  No other accessories are needed.  Lounge around the house and throw your hair in a bun or ponytail and you will certainly feel trendy and cute all day!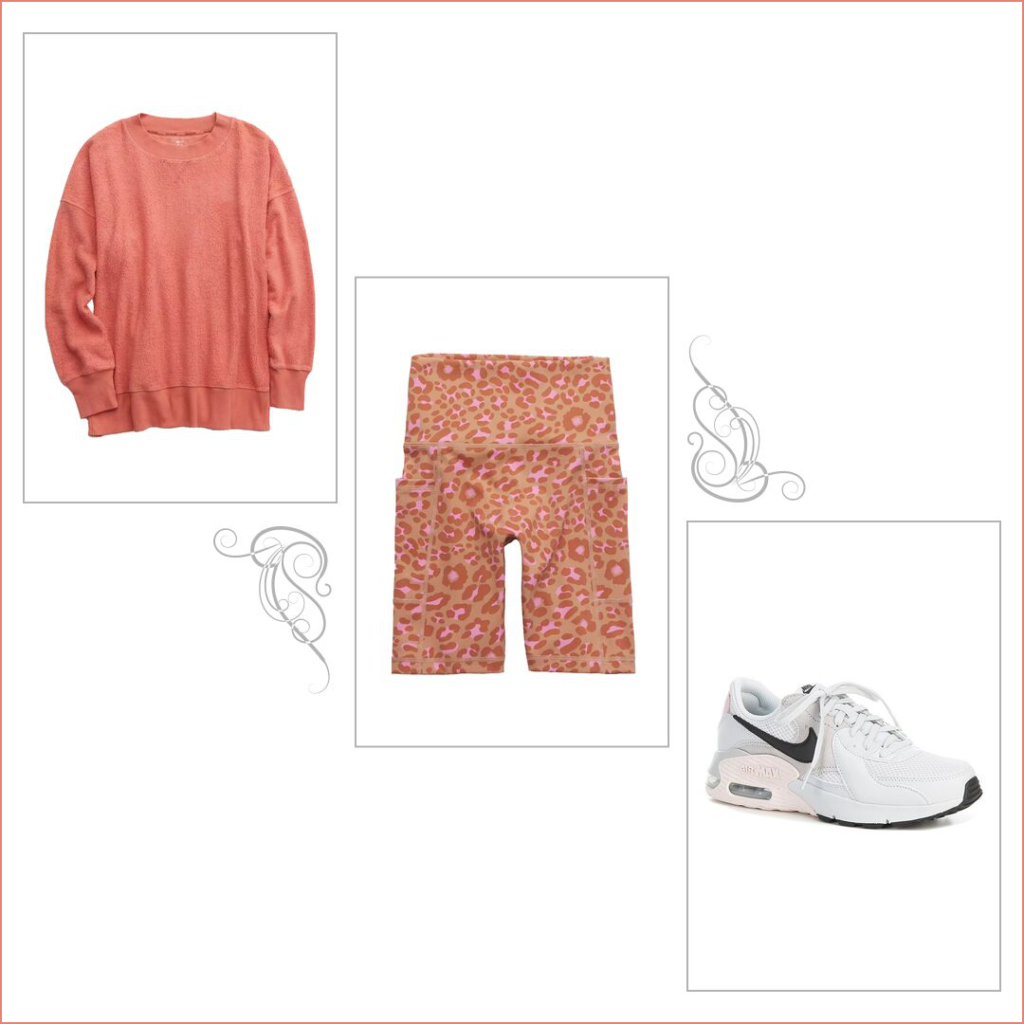 I encourage you to take a look at some cute things to add to your At Home wardrobe so you can continue to feel and look your best every day.  Just a few cute pieces can take you a long way.
Thanks for reading and I hope you will check out the Your Guide To Style app for more outfit inspiration for your daily style!
Stylishly Yours,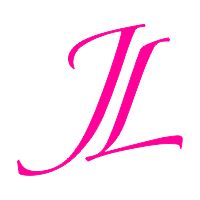 *I make a small commission from any purchases made through links in this post except for the Your Guide To Style links.