Well, I don't know about you but January is the hardest month out of the year for me to get motivated. Coming off of the holidays and taking some time off just makes it so hard to return to real life.  But talking to you about fashion lifts my spirits and today I want to talk about 7 Cute Layering Essentials for Winter.  I love cold weather JUST because I can bundle up!! I think some of the cutest clothes come out for fall and winter.
I have added an entire Winter Layers guide to the Your Guide To Style app. If you don't know about my online styling app you can take a look at more information by clicking the graphic below.  It is a very cool and fun way to get daily style advice through curated outfits that are set up in a way for you to find your own personal style and even shop the items to create the outfit for yourself.  You can sign up for a membership so you will not miss out on looking stylish and on trend year round!
7 Cute Layering Pieces For Winter are:
A Faux Fur Coat
A Puffer Coat
A Winter Weather Scarf
Knee High or Over The Knee Boots
A Turtleneck
A Long Or Chunky Cardigan
A Shacket (Shirt Jacket)
As you look through this post you will see images from our online application.  If you click the photo or highlighted text it will take you to the outfit in the app but you will need to be a member to view.  If you are not a member and click the image or text it will allow you to sign up for our 7-day free trial and you will need a credit card to do so.  If you decide to sign up and check it out, which I highly recommend you do, we allow you to cancel at anytime. I promise it's easy and hassle free!
A Faux Fur Coat
I don't know about you but anything as soft as faux fur makes me want to wear it all day long!  A faux fur coat or jacket is something that comes back around every year so you can invest in one and it will last year after year.  They come in all lengths, shapes, styles and patterns, so pick one that you personally like and will enjoy for years to come.
The "Winter In The City" outfit below has an animal print faux fur jacket styled with a solid color sweater, skinny dark jeans and some fun studded booties.  The plain top calls for a statement necklace and the fedora is very stylish and keeps the head warm. If you prefer to leave these out you still have a very cute outfit.
Style Tip:

Find a color or print faux fur coat that you can wear with all of your outfits in your wardrobe.  A coat like this can also considered an outfit finisher, so you want it to compliment and coordinate with your outfit.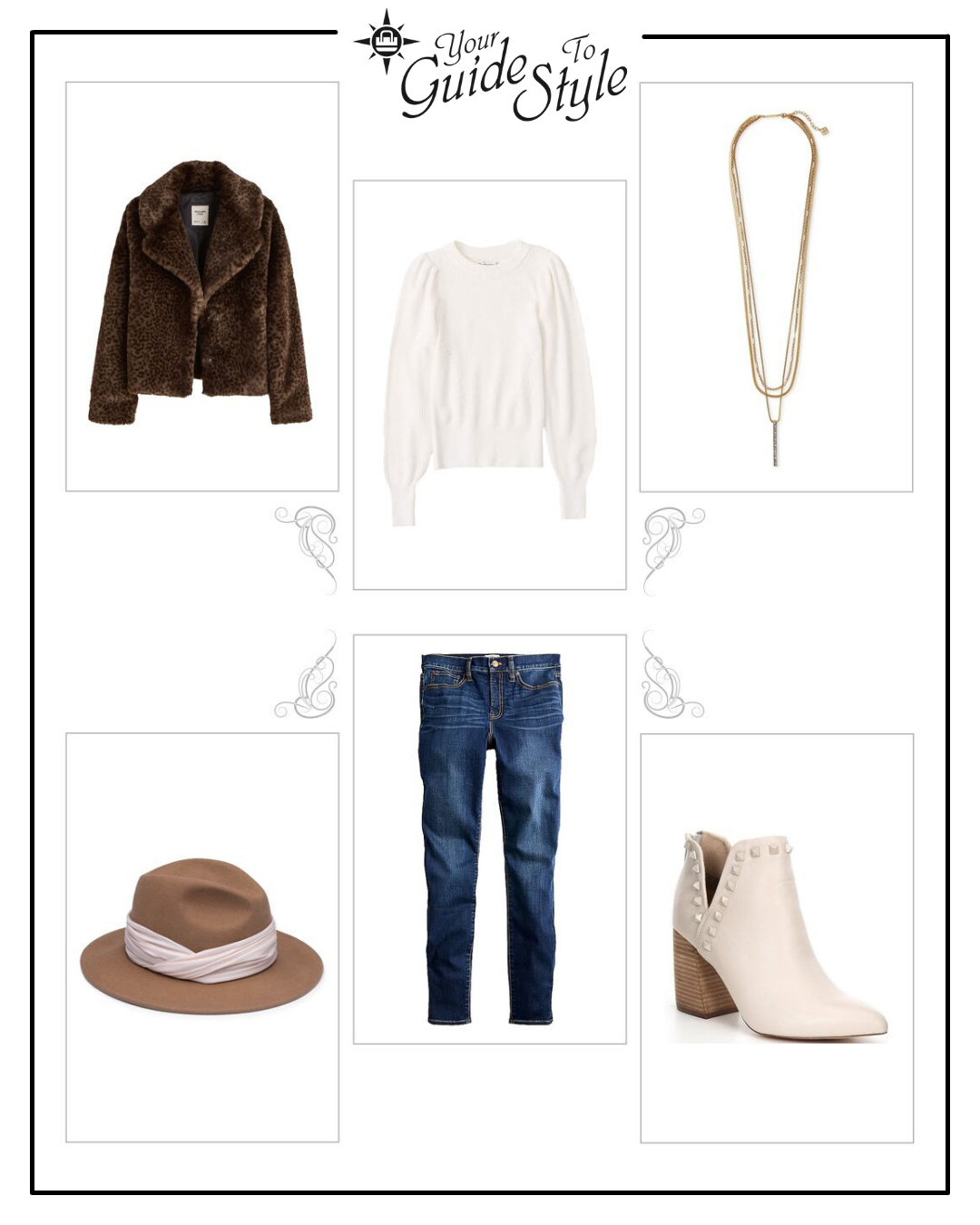 A Puffer Coat
If you need warmth for the winter because you live in a colder climate, a puffer coat is a great option and is super on trend right now.  You can find them in all different lengths, textures and colors.  I chose a short length for this "Comfy & Cozy  Winter Layers" outfit and paired it with a loose fitting turtleneck, skinny black jeans and some fun snake print booties.  Add a pair of stud earrings so you will not get the collar of the coat and earrings tangled!
Style Tip:

If you find a puffer coat that is less "puffy" you can wear it more often and it can also become a great outfit finisher.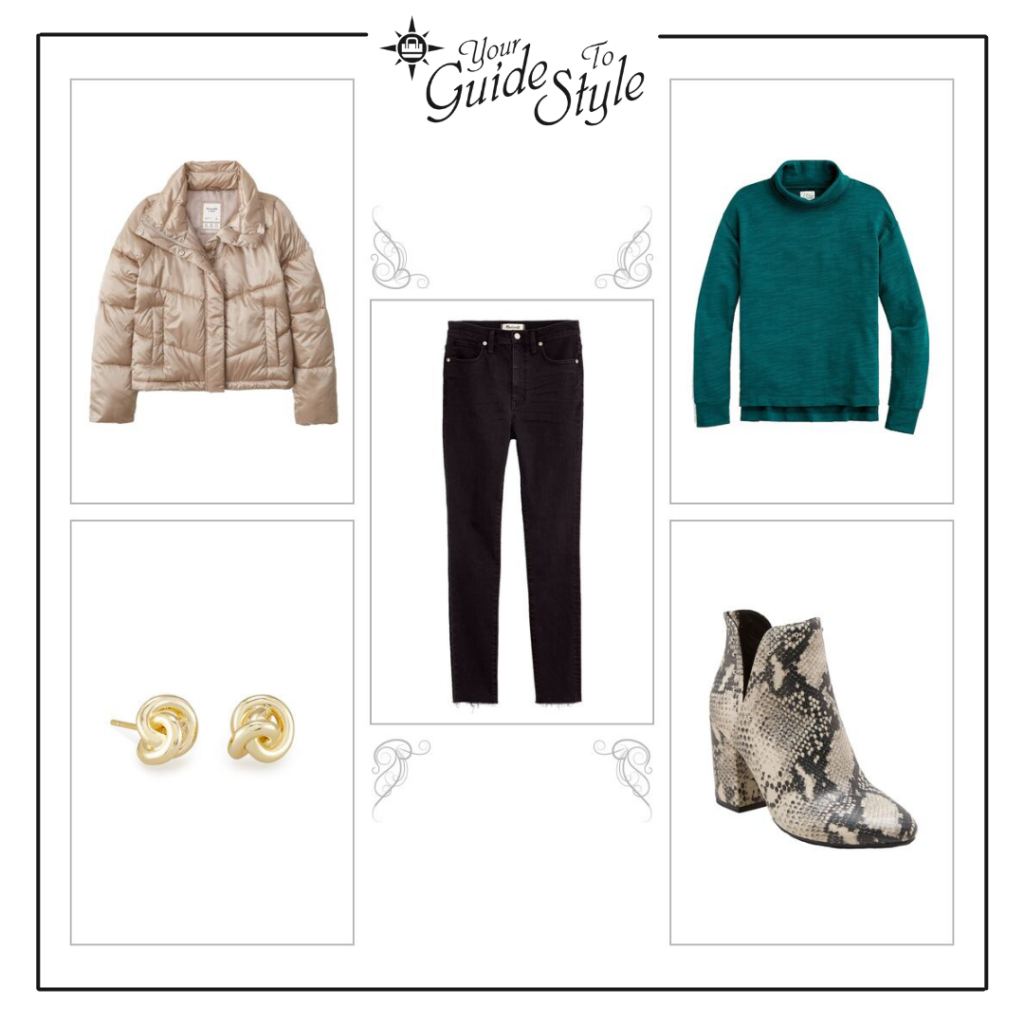 A Winter Weather Scarf
A winter weather scarf is the perfect accessory for your outfits in the winter time.  Cold weather just means its thicker and made of heavier materials to keep you warm.  It provides more function than it does fashion, although it can be very fashionable. It's amazing how warm you can get when you cover your neck and head, right?
The  "A Cute Bundled Up Look" outfit below shows you how cute a scarf can be when added to an outfit. Especially if you add one with texture or color or both!  The coat I chose is quilted, lighter weight and solid in color which  makes it easier to wear all day running errands without taking off your coat. I also chose some bootcut jeans to help balance the bulkier top half of the body that is created with all the layers. Of course you can still wear a skinny if you prefer, but I wanted to give you another option. I did not add any earrings or necklaces because they would only get in the way!
Style Tip:

Try to balance your outfit from top to bottom when you have heavier layers on top!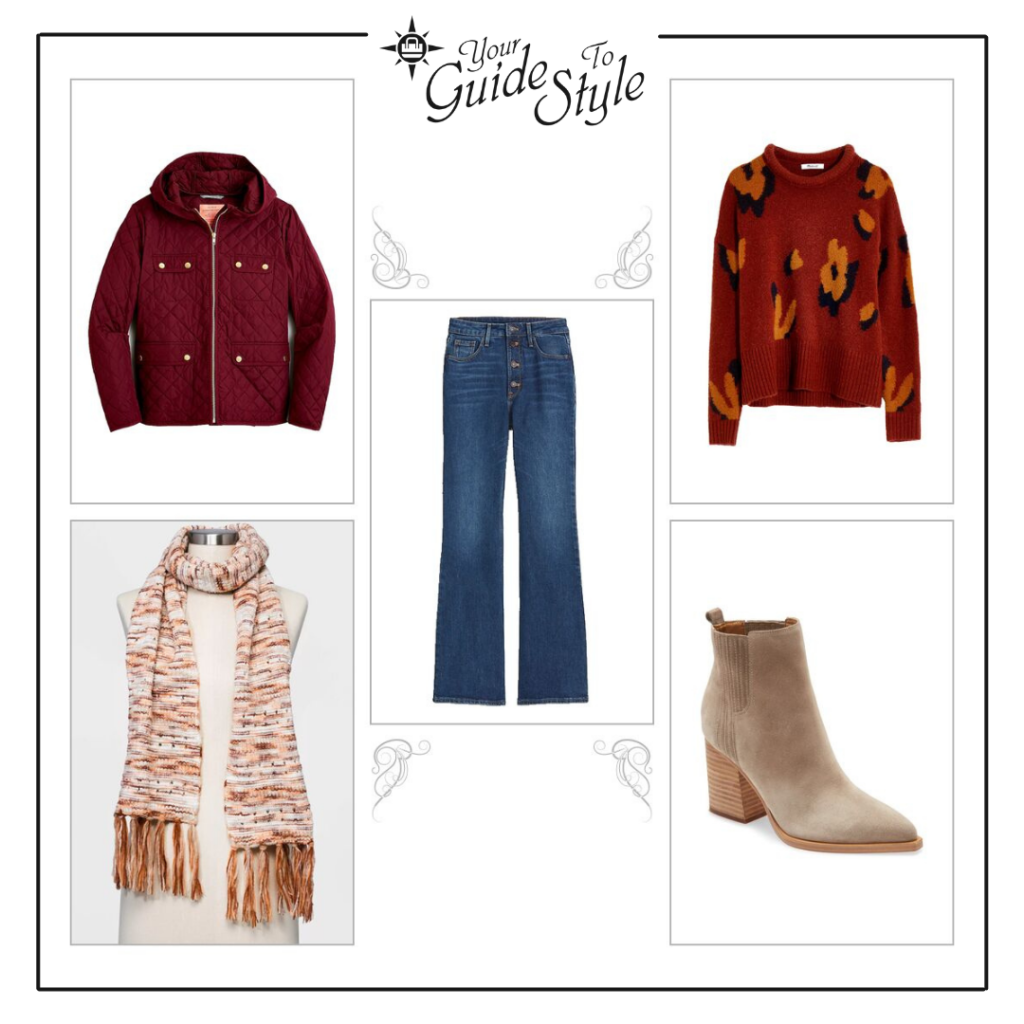 Knee High Or Over the Knee Boots
Even though these items are not as versatile as I would like them to be, I still recommend having one or the other in your closet for the fall/winter seasons.

Tall Boots
Tall boots are great if you like wearing dresses, leggings, and skirts in the fall or winter because they not only provide a fun look but provide warmth as well. You can add tights for an even better streamlined style and more warmth.
The " Tone That Print Down" outfit below has a pair of tall boots paired with some plaid leggings and a tunic sweater.  Print leggings can be a little overwhelming, so creating a look that only shows a pop of the plaid makes it easier for most of us to wear.  Add a great handbag and solid scarf to finish the simple yet stylish look.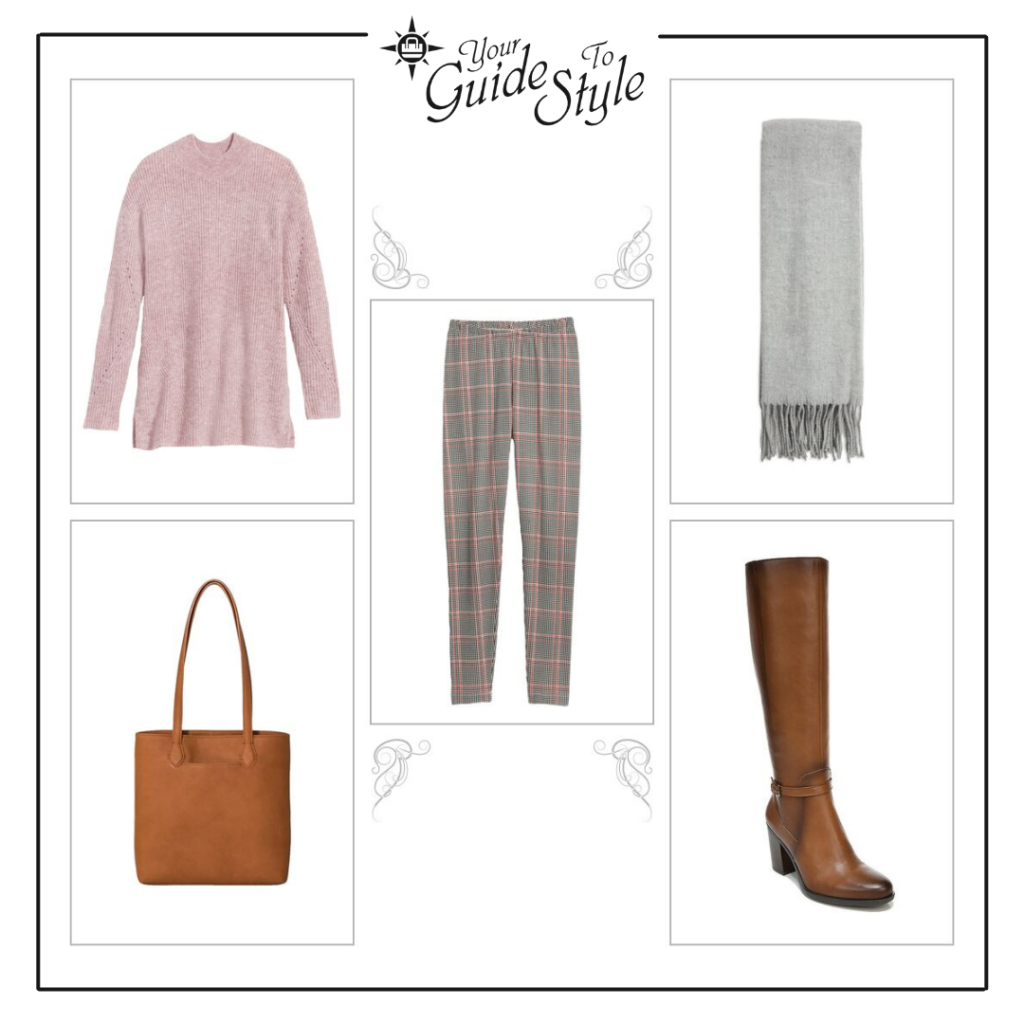 Over The Knee Boots
Over the knee boots have become very popular over the past few years. I think these are very special and can only be styled certain ways.  They do create a very nice look with skirts, skinny jeans and short dresses and can make them more functional in the cold winter weather, especially if you need to dress up.  The majority of the over the knee boots you will find will have a higher heel which makes them a great dressy option.
The "Can't Stop, Won't Stop" outfit below will make you feel just that way! Even though it is styled with a short skirt it will not feel so short because of the over the knee boots.  The chunky sweater and overcoat will also help you feel more covered up.  This is more of a youthful look because of the short skirt but can be worn by any age as long as you would be comfortable. This would be a great date night outfit in the winter.
Style Tip:

Choose a pair of tall boots for a more casual lifestyle and if you like to dress up more pick a great pair of over the knee boots for your winter outfits.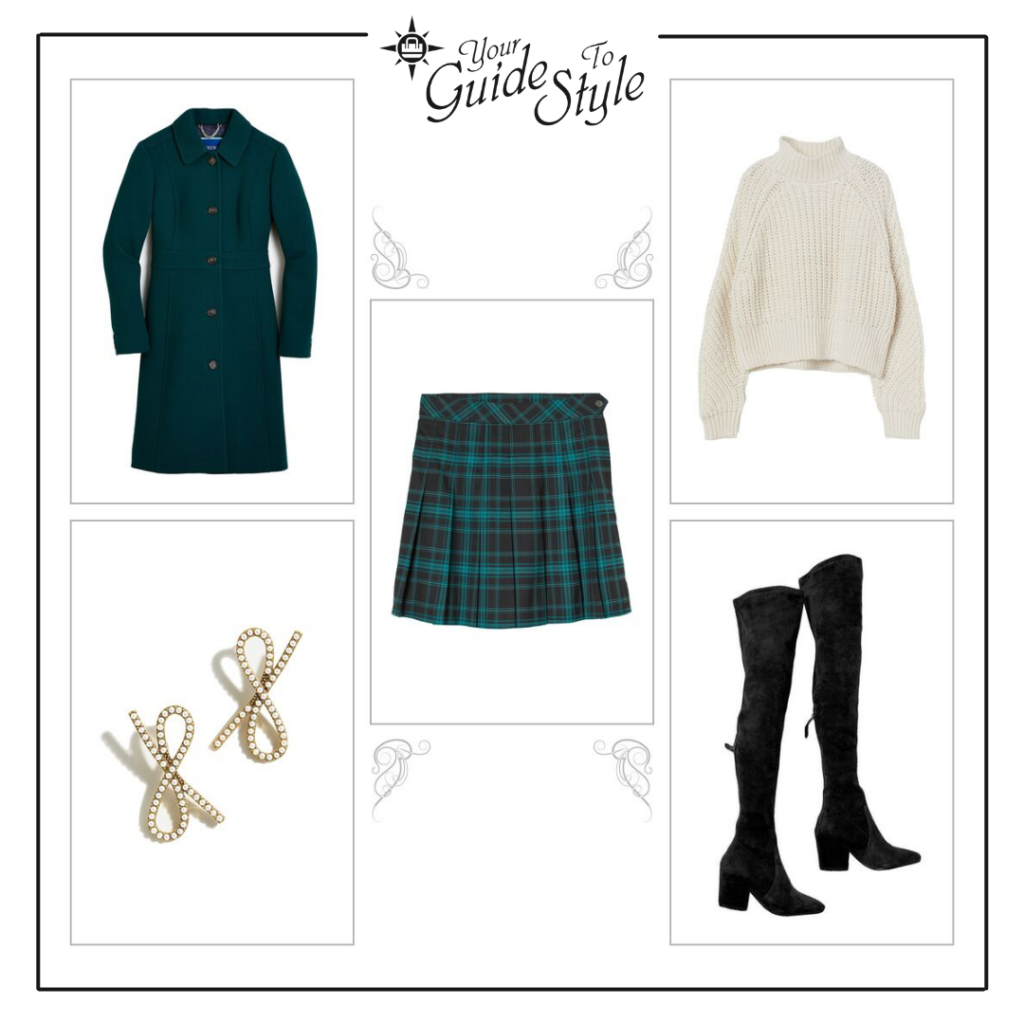 A Turtleneck
I know not everyone loves turtlenecks but I had to include them because they are a great essential to use for laying your outfits in the winter.  You can find them in all kinds of solids, prints and textures.  They are also an inexpensive essential that you will wear over and over again.  You can wear them under jackets, coats, sweaters, cardigans, dresses and tops.
The "A Fun Polished Look" outfit below is a leopard print turtleneck styled with some coated jeans and a solid faux fur coat.  I chose a pair of tall boots for the winter but you could also wear a pair of booties. Because of the taller necks of the top and coat I chose small huggie style earrings for the outfit.
Style Tip:

A turtleneck can be a warm layer that you can dress up, wear casually or with your leisure outfits.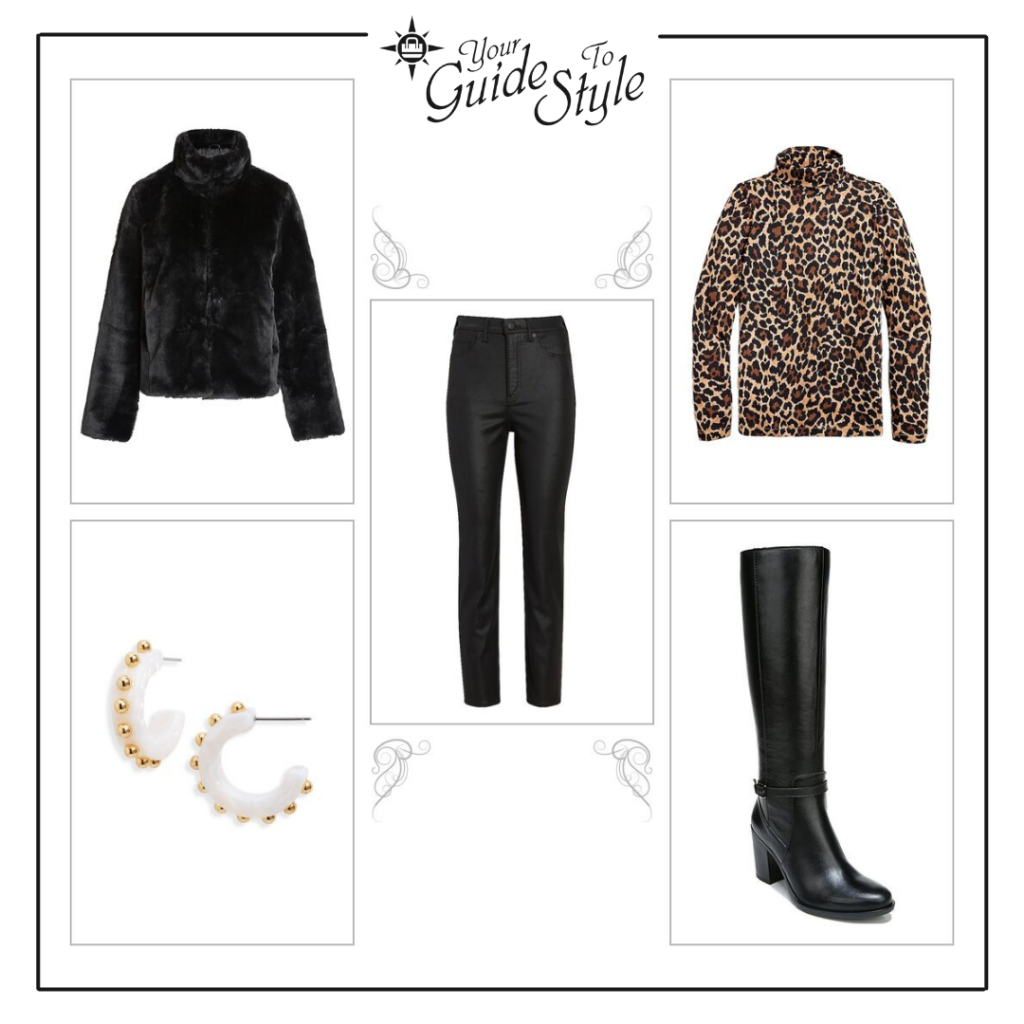 A Long Cardigan
I have to be honest and say that a cardigan is my least favorite clothing item because I feel like we wear them to cover up our bodies instead of styling them to compliment our bodies.  But I know we all need those comfort items in our wardrobes, which is why I want to give you ideas to style them to look cute on instead of just using them to cover up.
A long cardigan that lands just above the knee or mid calf are the perfect laying essential for fall.  They can be worn with skinny or straight jeans, leggings, and even slim joggers.  This is the perfect essential that can be dressed up, worn casually or even leisurely.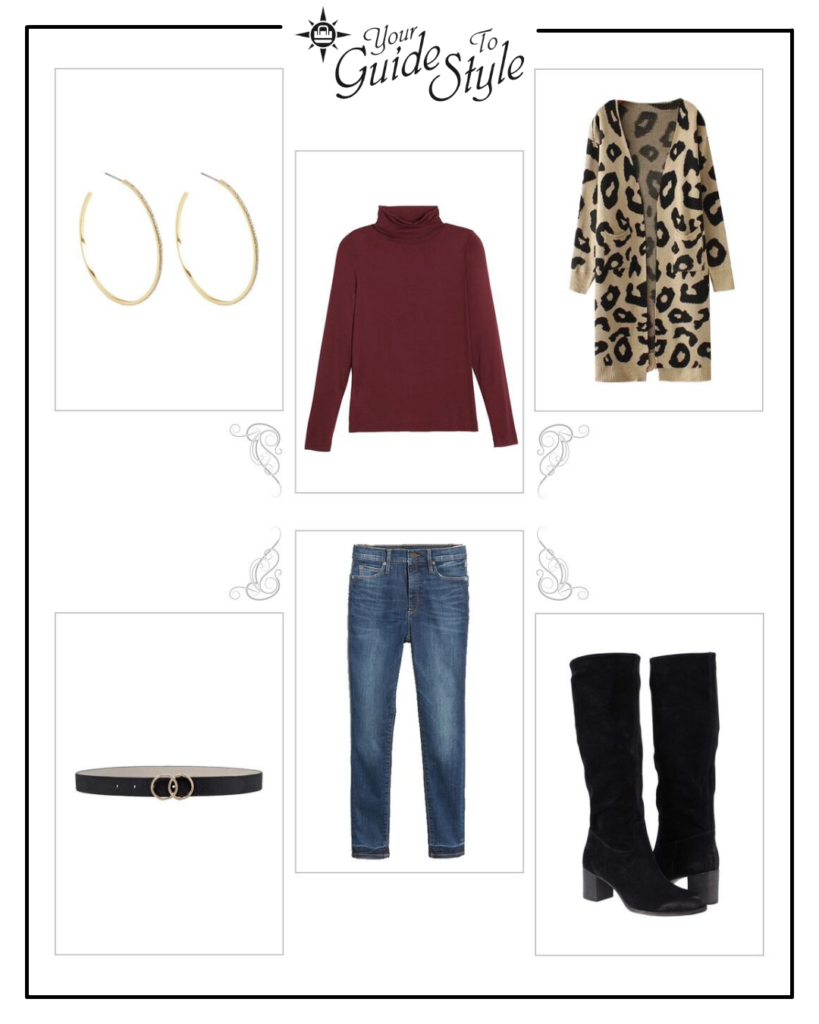 A Shacket
I really wanted to include the "shacket" as a great laying essential for winter because it is a new trend that is more versatile than you think it will be.  A shacket is just a fashion industry name for a shirt jacket.  It looks like a flannel but is thicker, longer and is to be worn as a jacket.  The versatility of the shacket is that it is light enough to be worn as a transitional piece into spring. It can be layered over tees, sweatshirts, sweaters and is best paired with skinny bottoms.
"The Trendy Shacket" outfit below is a plaid shacket styled with a knit sweater hoodie, some everyday leggings and platform sneakers.  If you want to opt for a regular soled sneaker instead of the platform that would still work.
Style Tip:

To make the shacket more versatile wear it open as a jacket or buttoned up as a top and pair it with leggings or jeans.

If you love these 7 Cute Layering Essentials for Winter and the outfits that represent them, you will love my new online styling app called Your Guide To Style.  It is the perfect option for you to learn how to style your own personalized outfits, find inspiration for new styles each season, and to shop your favorite pieces all year long. We offer a small fee for memberships because we are an add free and affiliate free app! You will get your first 7 days for free and if you are not satisfied you can cancel at ANY TIME after signing up!  Click HERE for more information.
Thanks for reading.  I do make a small commission from any purchases made from any of the links provided for the products but not from Your Guide To Style links.
Stylishly  Yours,