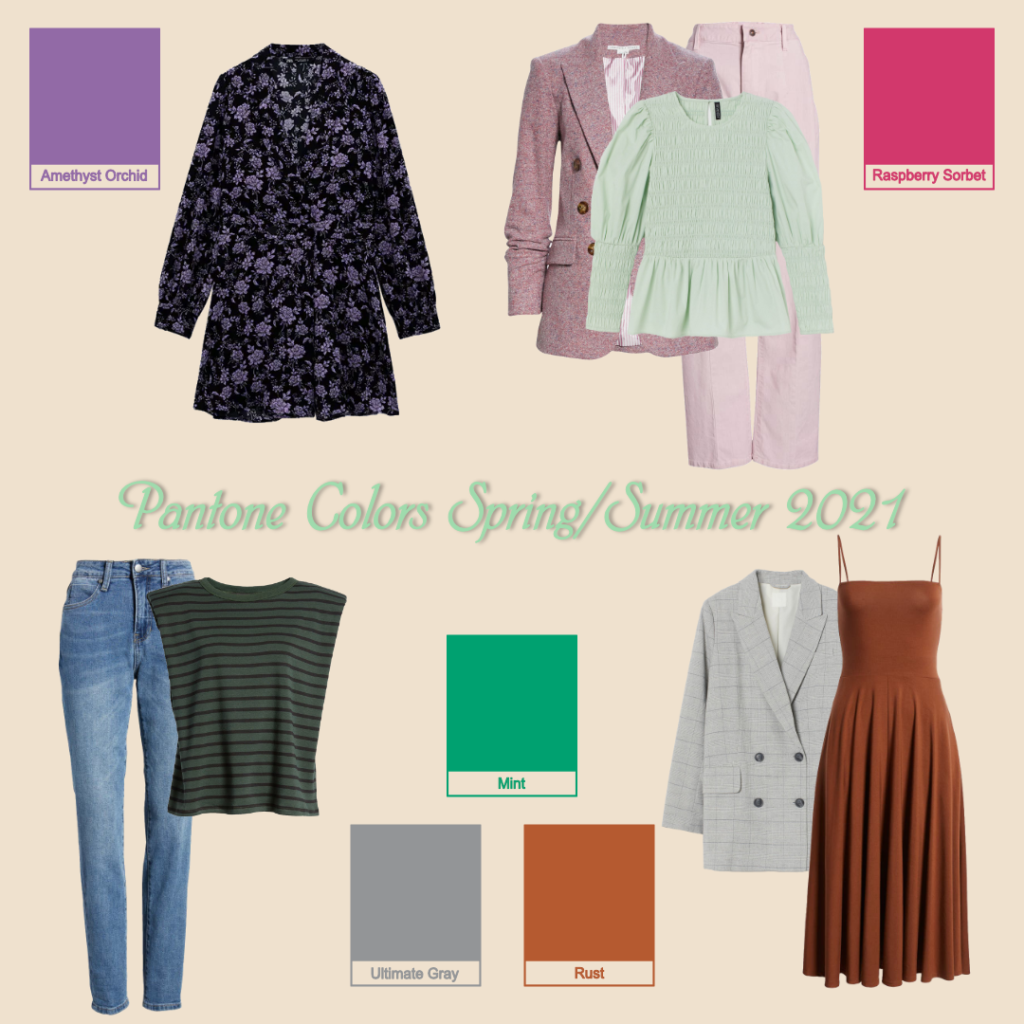 The new year has begun and I know we are all hoping for things to start looking up!  One of the coolest things about fashion is that it follows our economic climate.  This year the designs and color trends all represent positivity and renewal because 2020 was such a challenge for everyone. The uplifting Pantone color trends for spring/summer 2021 will certainly lift your spirit, so I hope you will keep reading!
How Colors Are Chosen
The Pantone Colors of the Season are chosen each year by the Pantone Color Institute. Each season they normally choose 12 colors and 4 classic neutrals based on the top colors that New York fashion week designers present in their runway show designs. This spring/summer 2021 there are 10 colors and 5 classic neutrals. This tells me that there is going to be a big push for neutrals this season!
The colors represented in the fashion shows trickle down into mainstream everyday fashion and make up the selections available in retail stores.  They may not be the exact colors but will exist in the same color family.  Colors are what attract us to our fashion choices and entice us to choose certain items over another, which makes them one of the most important characteristics of an item.  I know from personal experience that I won't even consider an item and try it on if I am not attracted to the color. What about you?
Spring/Summer 2021 Colors
Below you will see the 10 colors and their meanings. They are very relatable and prove to be up to the challenge of making our 2021 season in fashion more comforting, uplifting, and enjoyable.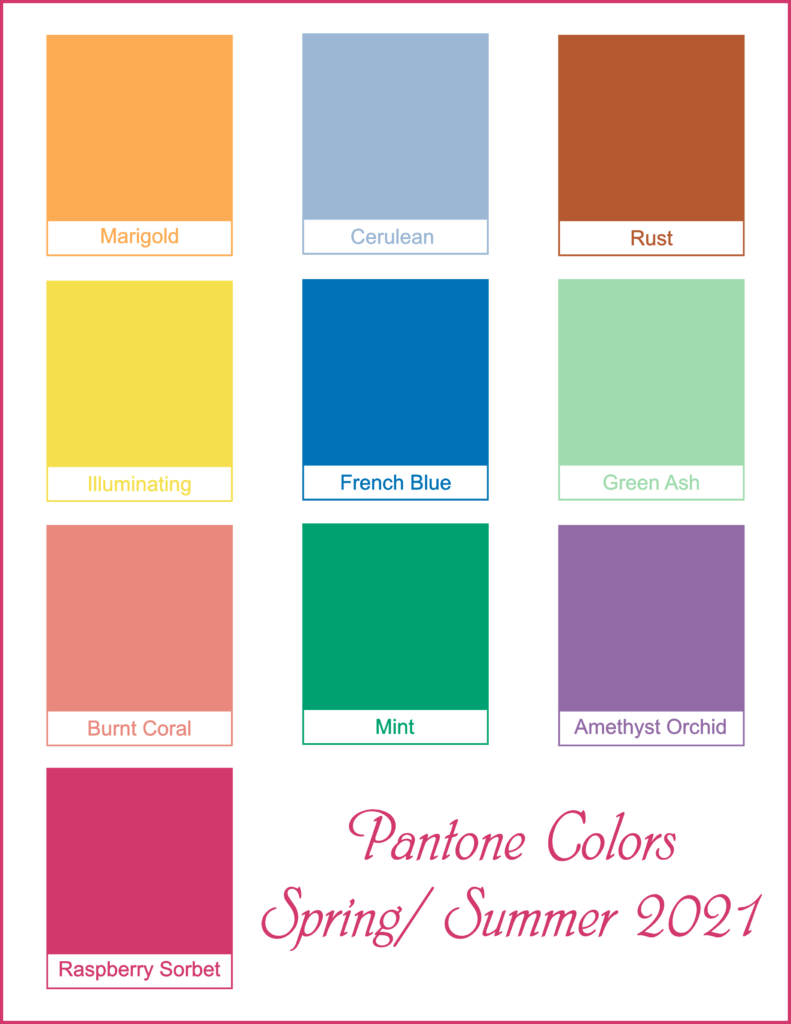 Marigold: A golden orange that bring comfort and has a warming presence.
Cerulean: The color of the sky on a crystal clear day.
Rust: An earth inspired brown not usually a in a spring palette.
Illuminating: The pantone color of the year and is an optimistic, friendly and joyful yellow that brings the promise of a sunny day.
French Blue: A blue hue that stirs up visions of Paris in the springtime.
Green Ash: A cool and soothing green.
Burnt Coral:  A coral color that expressed friendliness.
Mint: A color that refreshes and restores.
Amethyst Orchid: A unique floral shade.
Raspberry Sorbet: A color for exciting the senses.

Inkwell:  A blackened blue that is deep and intense.
Ultimate Gray: The second Pantone Color of the Year and is a quietly assuring and reliable gray.
Buttercream: An off-white that is effortless and delicious.
Desert Mist: Represents images of powdery sands.
Willow: A green that reveals and conceals.
Spring Color Trends
If you are craving some inspiration that will get you excited for spring, take a look at the photos below. I found some pretty spectacular examples of what we will see more of as we get closer to spring. The sorbet pastels are a fresh look for spring and certainly induce an air of renewal and joy.  Especially the shades of Mint, Amethyst Orchid and Raspberry Sorbet!
I have started to add spring content to my new online styling app called Your Guide To Style.  This would be a great time to sign up for a membership and get a head start on your spring wardrobe. You will find hundreds of curated outfits, style tips, downloadable collages, a favorites collection customizable by you, and shopping links for everything in the app! Click HERE to sign up today!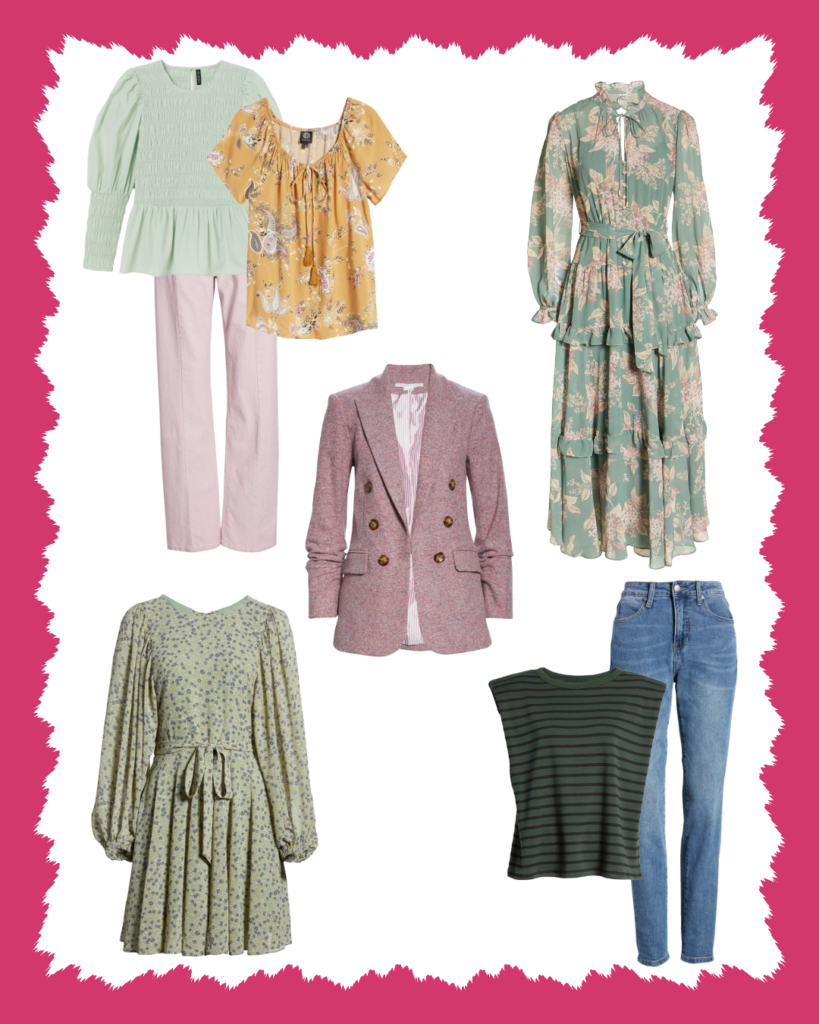 One of my favorite colors is Rust which is in the line up for this season. This color looks great on all skin tones and is a wonderful pairing with other neutrals and the sorbet shades this season.  Rust is not a new color trend to the fashion world, so you might already have some pieces in your wardrobe that can transition you right into spring.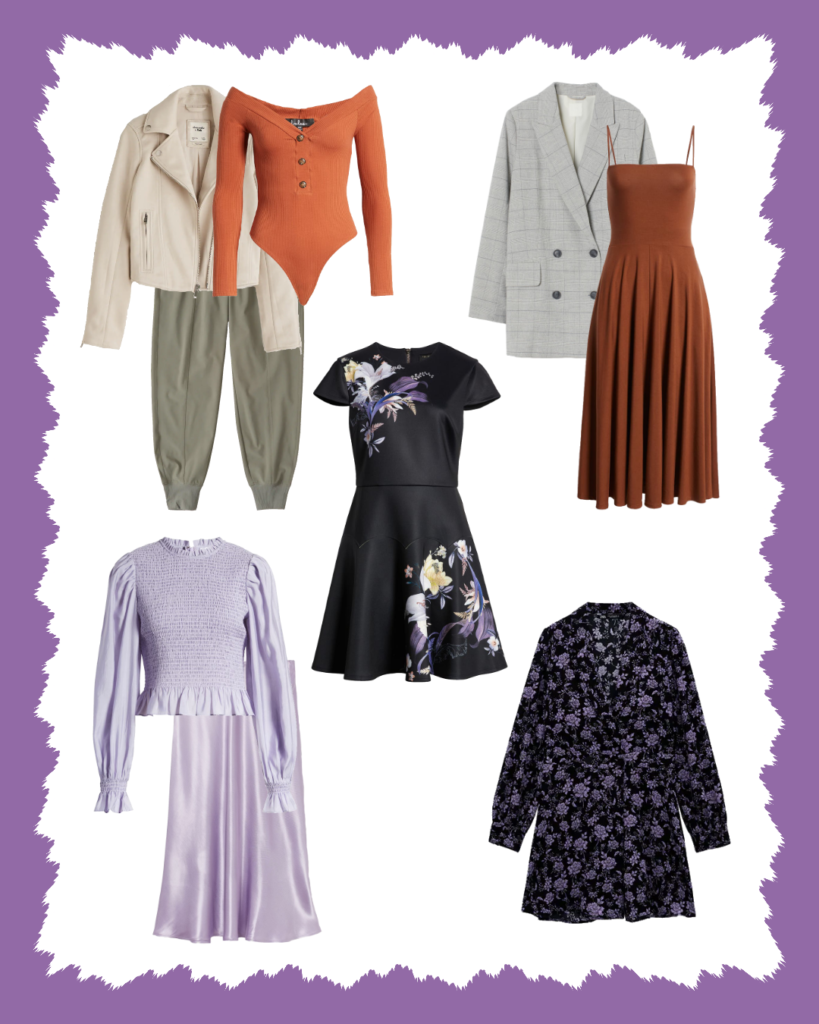 What is your favorite color in the uplifting pantone color trends for spring/summer 2021?  I love them all and really look forward to what will be out for spring.  If you like this post you can check out my other Pantone Color posts from previous seasons HERE. I usually start off the season with this post because it will help paint a picture of what is to come for the season. My next article will be on style trends for spring/summer 2021 so be on the lookout for that!
Stylishly Yours,