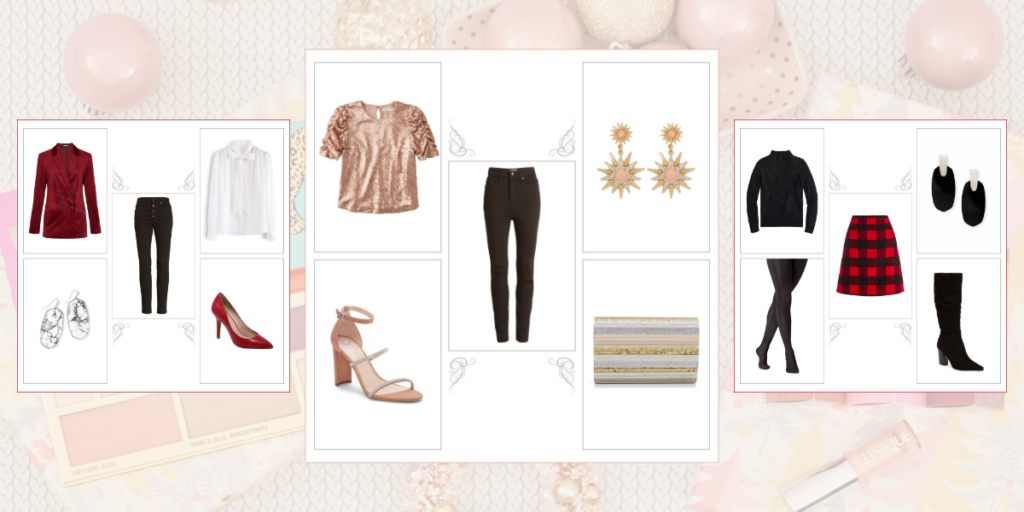 Hey there! What are you going to wear for your holiday gatherings this year? How about a fun festive holiday outfit?! You might be wondering what in the world does festive mean when it comes to outfits.  Of course, it may mean something different to you than someone else.
The dictionary defines festive as something cheerful or celebratory.
That is what I had in mind when I created the Festive Holiday guide in Your Guide To Style. All of the outfits in this post are from that holiday guide and are only a small sample of what is available for you in the guide.
All of the outfits below and in the guide have a happy "festive" detail to them whether it's the style of the outfit, the material of the items, embellishments like sequin or a cute "festive" color or print.  These are outfits that have items in them that you may not wear everyday but you will definitely wear when you want to be a little more "festive".
Check out my video below showing three outfits from our app that are holiday "festive"!
Festive Materials
Sequins and velvet always make me think of the holiday season.
If you have an event to go to this year, I think these outfits are simple but fun and will work perfectly for smaller "distanced" gatherings. The "Be The Life Of The Party" outfit below is a sequin blouse paired with black jeans and heels.  What an easy way to add some pizzazz to your favorite pair of black jeans! Don't have any black jeans? Than wear a dark pair in their place.
Style Tip:

Pair other fun sparkly accessories just because you can!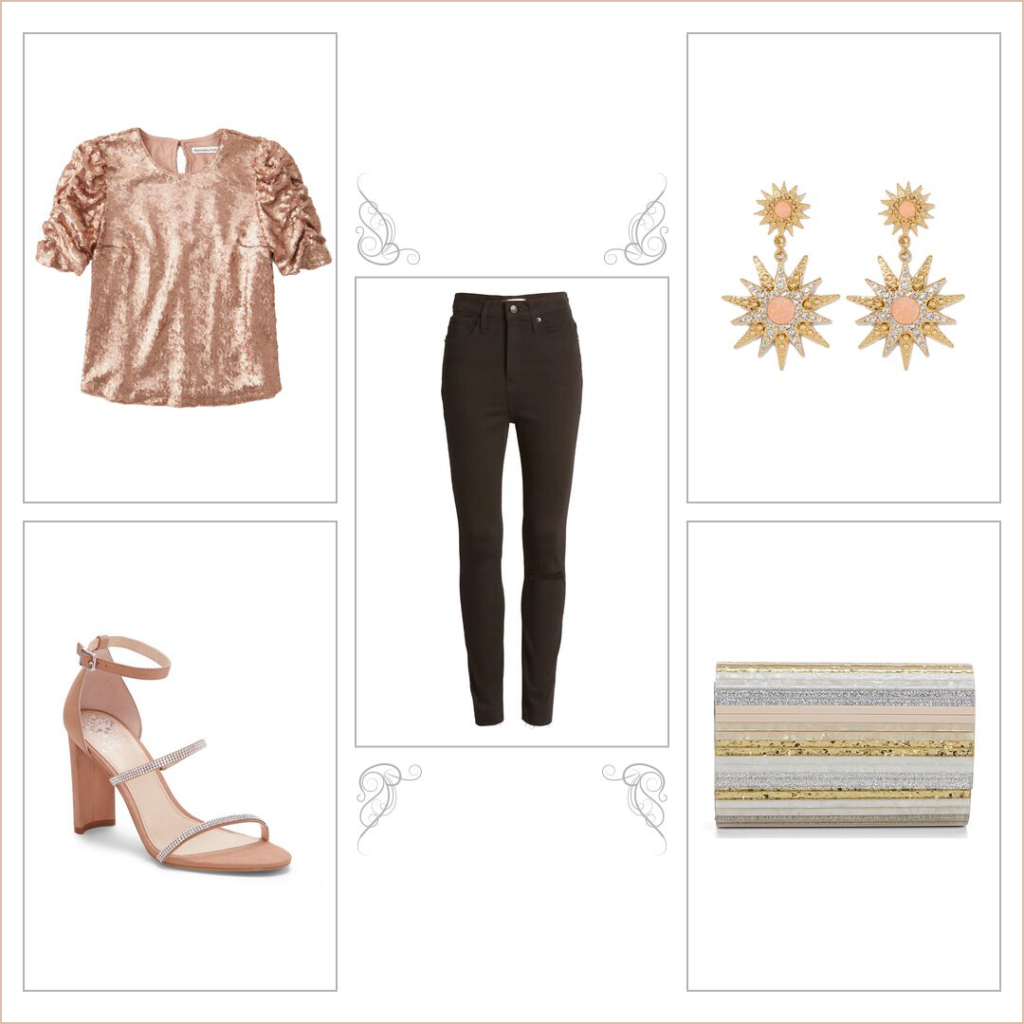 A velvet blazer is such a fun way to add a festive look to your outfit.  It looks so good paired with jeans, pants, skirts, and dresses.  Wear it casual or dress it up!
Below are two combinations of one outfit from Your Guide To Style called "Jazz It Up With Velvet".  Confused? Well, my app gives you one outfit that has several options for all of the items in the outfit to create different versions of it. You can see the other options by clicking the images.  Of course you will have to be a member to see them so feel free to sign up!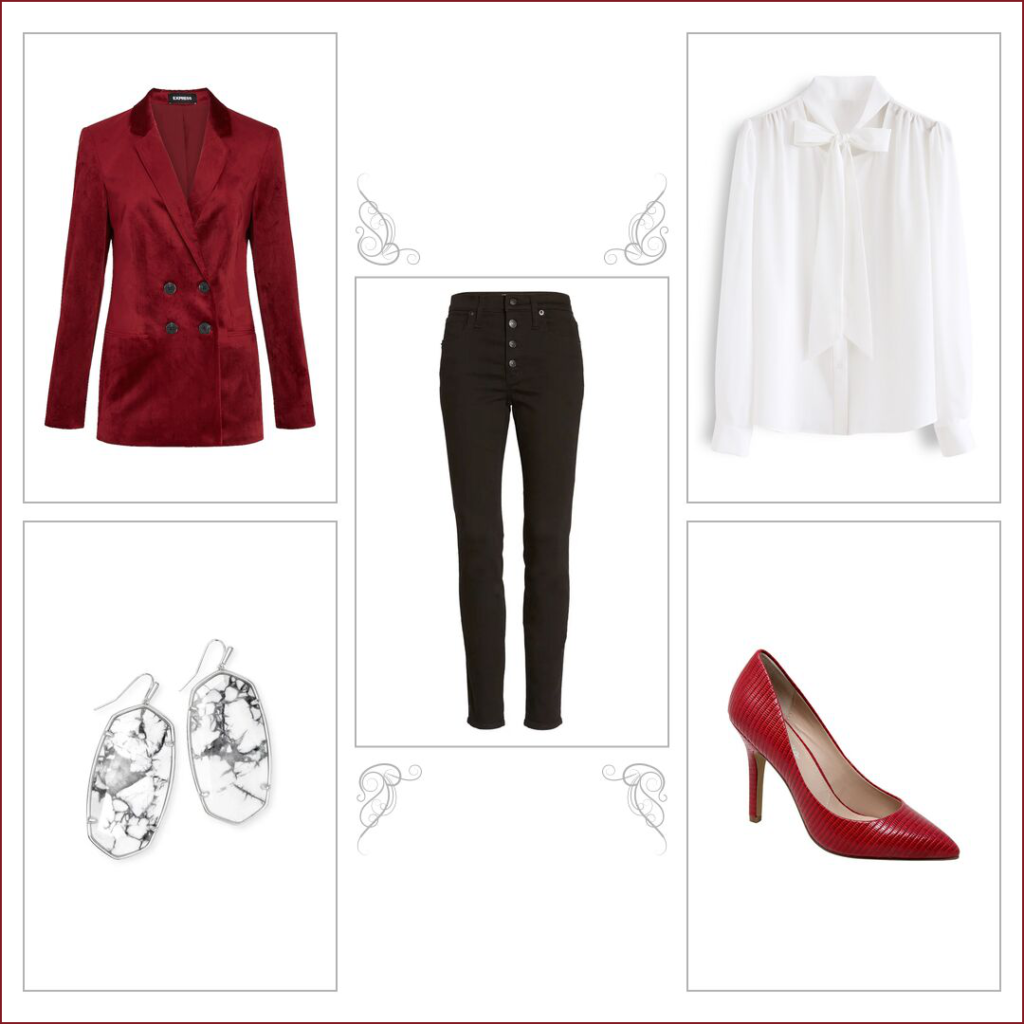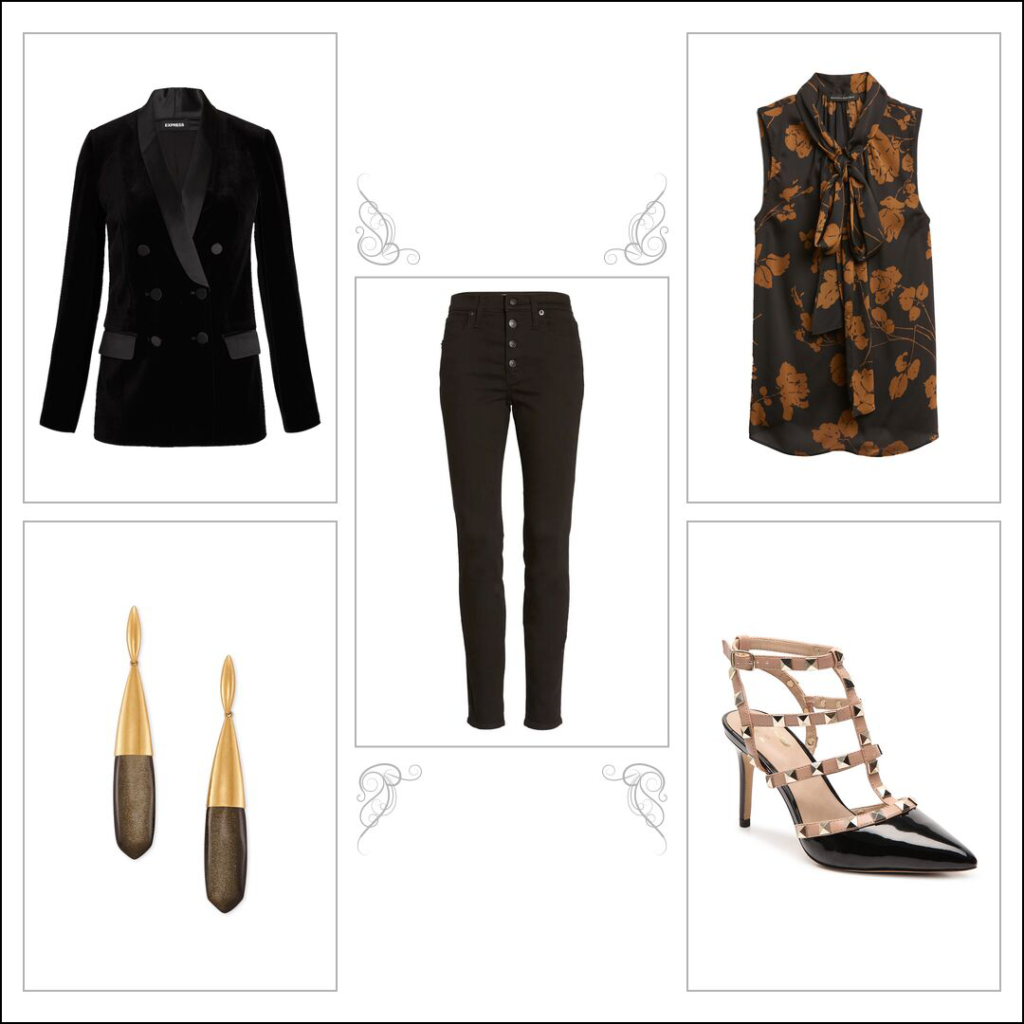 A pair of velvet leggings are such a fun addition to your fall wardrobe.
The velvet leggings can be worn for leisure, casual or dressy fashion styles.  So versatile and so cute!  I paired them in "The Comfiest Of Leggings" outfit below with an oversized sweater, a pair of embellished booties, a snake print bag to compliment the solid colors, and a pair of statement earrings to add some pizzazz. I would feel festive wearing this wouldn't you?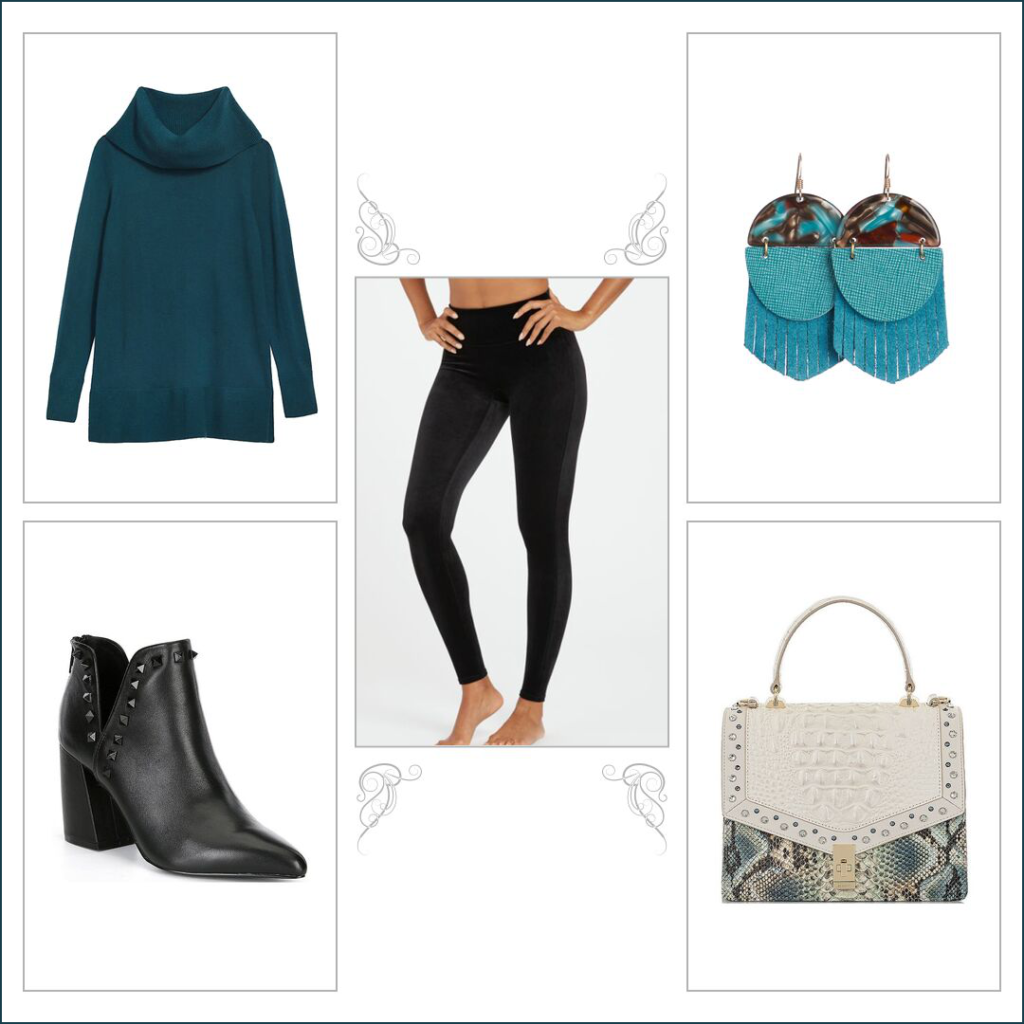 Festive Colors & Prints
Another option for a festive holiday look is to wear a fun print like plaid, animal or floral and a fun color.
Just because it's for a holiday look doesn't mean it has to be green or red. The "Completely Simple and Classy Style" outfit below has a deep gold skirt paired with a pretty off-the-shoulder sweater and some snake print pumps.  This is festive for any kind of holiday party and gives you a great option for a dressy event.  The colors and print make is a "cheerful" and "celebratory" outfit.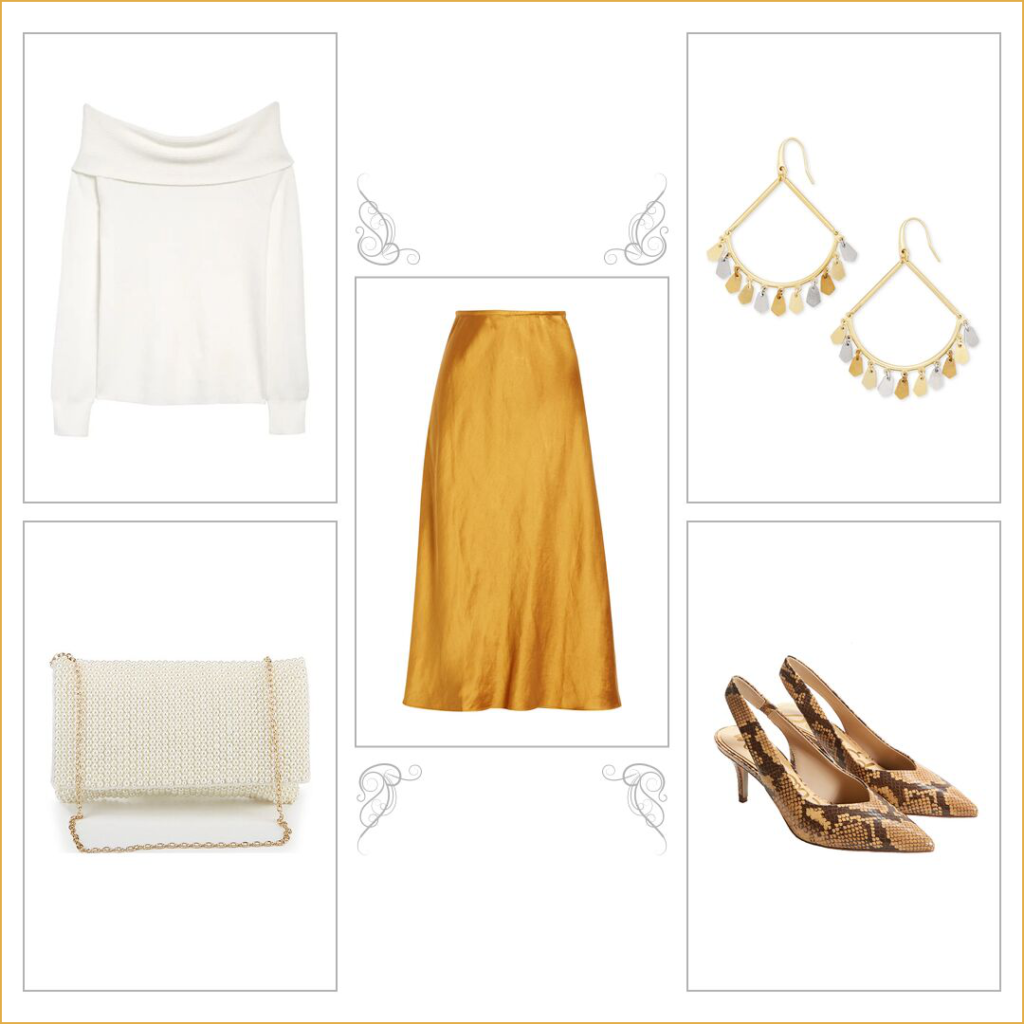 A plaid skirt just screams holiday season to me and is such a fun item to wear casual or dressy.
It is styled casually below in the "You Had Me At Plaid"  outfit. This is perfect for a casual Christmas party or small get-together with family and friends.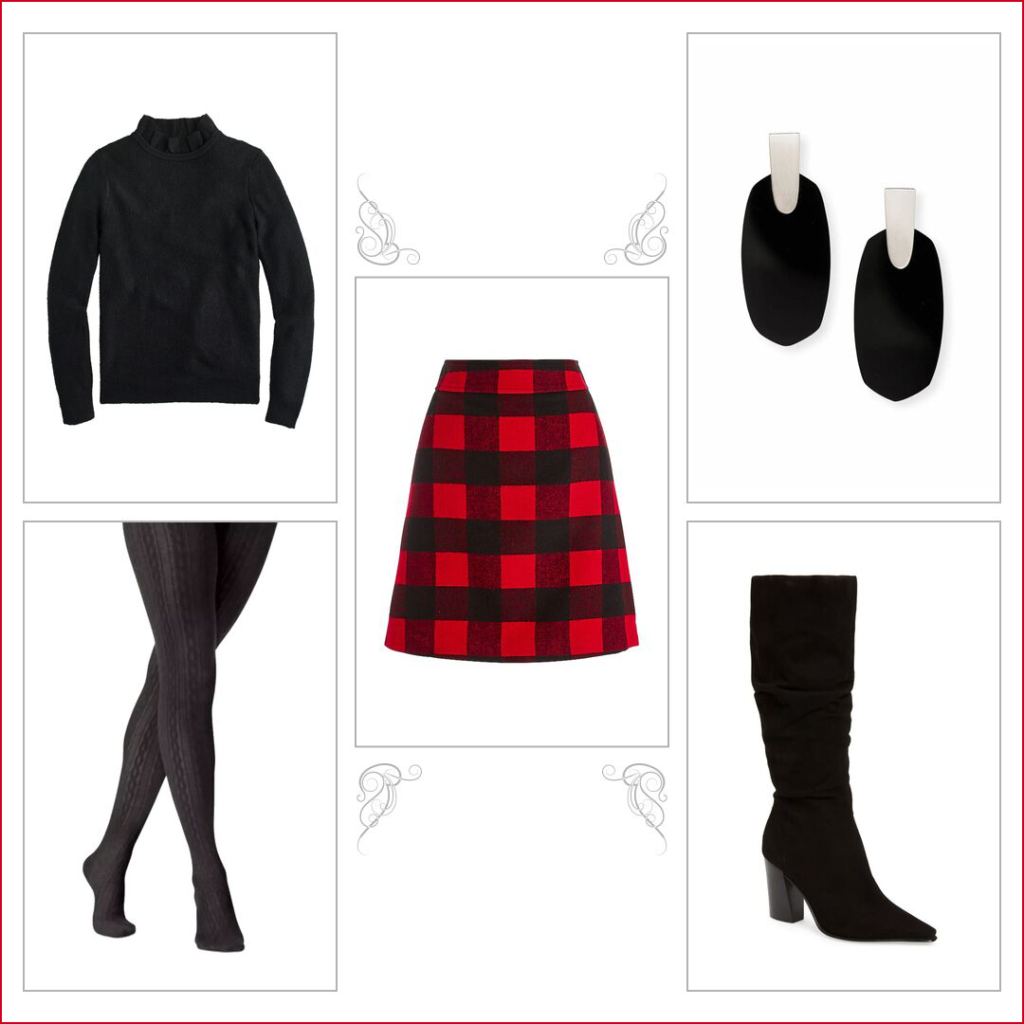 A dark floral print dress is perfect for the fall season and makes a great layering piece with a fun tuxedo blazer for the holidays.
The tights and tall boots help keep the "Tuxedo's and Floral's" outfit below a little more on the casual side and functional for lots of different events like work parties, a casual Christmas party or even a casual New Years party.

If you need a simple holiday outfit that is pretty but festive, go with a solid color blouse like the one below in the "Easy But Impressive " outfit.
I paired this red top with a pair of bootcut jeans that flatter any figure and added a fun dressed up pair of booties, hoop earrings, a lariat necklace to accentuate the neckline of the top and a small bucket bag.
Wear this to a work party, holiday dinner celebration or a night out with your significant other for the holidays.

I hope you were inspired to create the perfect festive holiday outfit for your events.  If you want more inspiration please check out Your Guide to Style and sign up for a free trail. There are many more outfit ideas for you to choose from that are all different fashion styles.  Also, check out the video in the beginning of the post to see a few of the outfits and how they were styed for the app.
Stylishly Yours,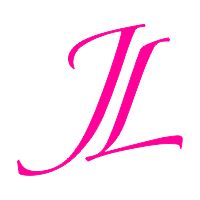 *I do make a small commission from any purchases made with the links in this post except the Your Guide To Style links.