Spring was predicted to come early this year.  Personally, I am looking forward to it and I hope you are too.  These 23 Spring/Summer Essentials will help you create a good foundational wardrobe for the spring season.  You may already own what I suggest or you will be able to see what pieces you might be missing.
Essential items in your wardrobe are "essential" for you to build a long lasting wardrobe and are the foundation for you to add your own personal style items to.  Essentials will last the longest in your wardrobe and rarely go out of style. Some will even be worn year round.  
These essentials are also for any age. They are basic enough that anyone over 40, 50 and 60 can wear them!
You can have access to current selections and outfits for your Spring Essentials through our new online style subscription!  Check it out by clicking the link below!
Versatile T-Shirts
Basic T-Shirts in Black, White & Grey

– A crewneck, scoop or v-neck style t-shirt in black, white and grey will give you the most versatility.  The boat neck, jewel neck, cowl neck, etc. options are limited when it comes to layering.  

Striped T-Shirt

– I would choose a striped t-shirt that is white with another color. My choice is a black and white because I can wear it with almost anything I have for layering.
A Fun Graphic Tee – This is considered a trendy item but I think it can also be a fun basic. They often come in neutral colors so they can be paired with lots of different things for an updated look.  I often choose my graphic tees over my solid ones!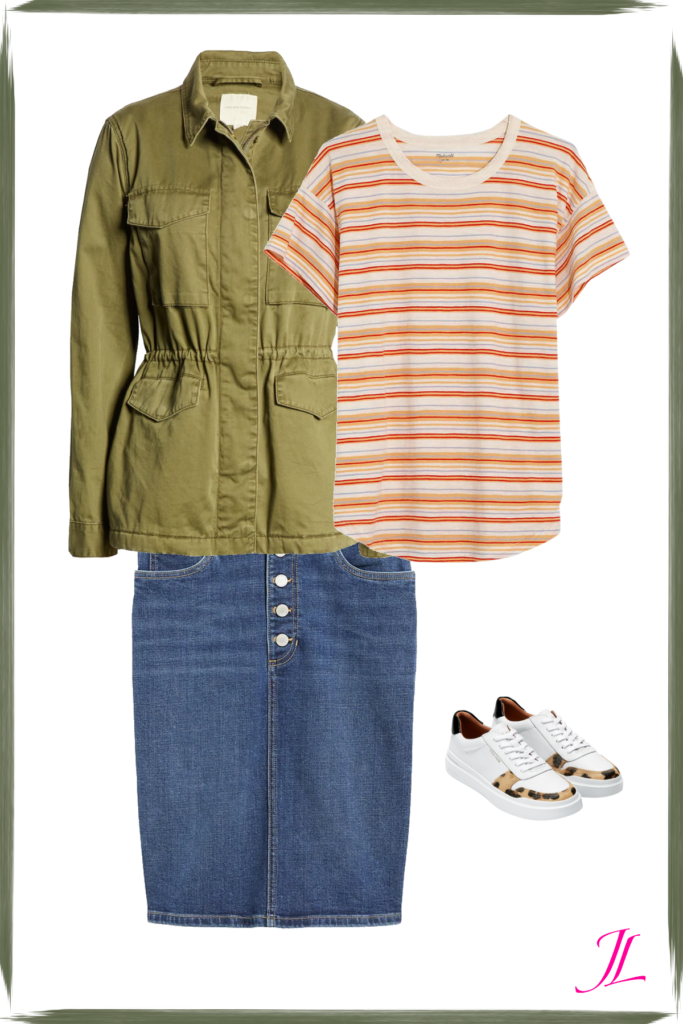 Lightweight Jacket
In the spring it's a great idea to have a lightweight jacket like a utility jacket to wear on cooler days. Most of these will be offered in neutral colors that you can keep in your closet year after year. See my suggestions below.

Skirt
If you wear a skirt you should always choose the most flattering style for your body. Try to find a solid color or neutral print so you can pair all your other things with it. 
A great option could be a denim skirt if it fits into your lifestyle. Just choose something that you would wear more often.

Print Blouse
 A print blouse is great to have in your essentials because it will help bring a little more versatility to all those solid neutral color items.
There are lots of options for a print blouse out there for the spring season.  Florals have been trending for a few years now and would be a great option. 
I would recommend choosing a print that you like to wear.  Florals, animal prints, tie dye, stars and polka dots are all in for Spring 2020.

Spring Blazer
A blazer is my favorite item in a wardrobe. If you do not own one I highly recommend trying it!  They are the most versatile item because they can be worn completely casual with any bottom, they can be worn with dresses, they can be worn casual or dressy and even business casual.

White Jeans
I know you might be saying there is no way you are going to wear a pair of white jeans but I have to try to push you in this direction. They are the best option for the spring and summer seasons to look put together but warm weather ready.
There are so many different options out there you should be able to find a pair to fit your body type. This is as essential as black jeans in the fall and winter season.

Denim Jacket 
I know everyone would not agree but I think a denim jacket is a must in our wardrobes today. I keep a couple in my wardrobe and I wear them year round.
It is also the perfect item to wear in the weird transitional seasons when you never know how the weather is going to be.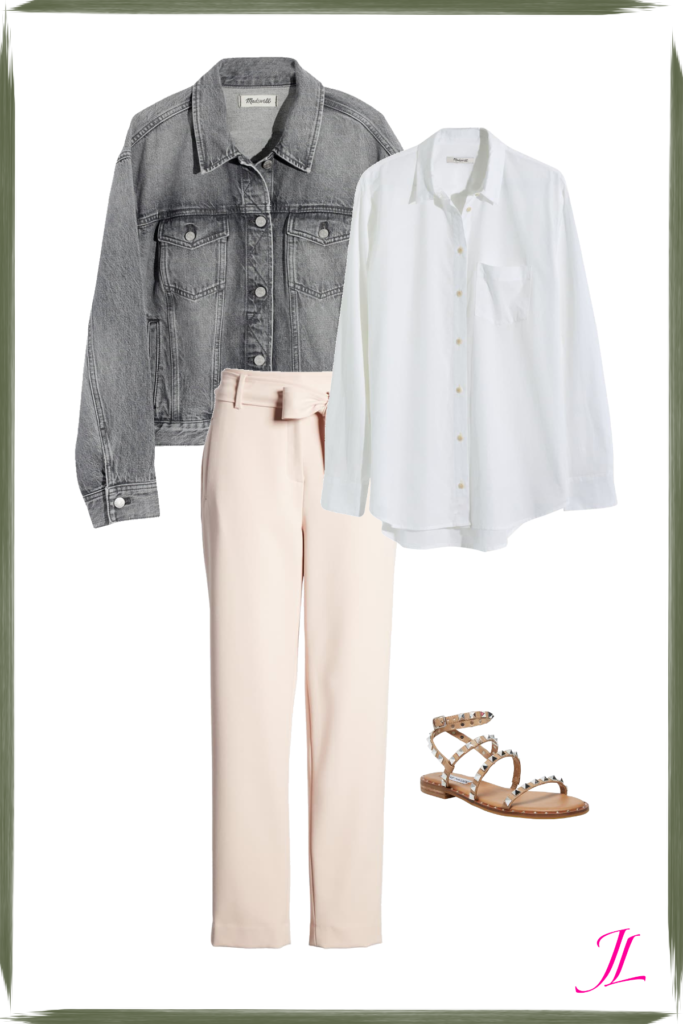 Neutral Pair of Pants
If you have a professional job or go to church on Sunday's it is essential that you have a neutral pair of pants in your wardrobe for the spring season. I would recommend a navy but you could also do a camel, grey, cream or tan color. 

Solid Button Downs
Solid button downs are items in your closet that can provide lots of versatility to your outfit options. They are great layering pieces and can be paired with numerous other items.
Chambray Shirt

– A good chambray shirt can take you many places from an easy casual day outfit with white jeans and flats or to dinner with your husband in white jeans and heels.

White Button Shirt

– This is an easy piece to wear by itself or layer under your cardigan or jacket.  
 Both options would look great over a dress and tied in the front.

Shorts
I feel like shorts are a necessity for some people but if you do not wear them that is fine too.  If you live in the south or a tropical climate than these are must have. 
There are so many different lengths and styles to choose from, so just pick what works best for your comfort level. You are in luck this year if you want longer because the Bermuda short is making a comeback!
A great substitute if you do not like to show your legs is to find a cute Capri jean.

All-Occasion Dress
Having an all-occasion dress makes getting dressed for an event so much easier. You will not have to stress when you have something surprisingly come up. This will also help when you need something to take you from day to night.
For a spring basic, look for something that can go either casual or dressy. What you wear with it will determine whether it is casual or dressy.
This dress should be able to take you to a shower, non-formal wedding, church, work and play.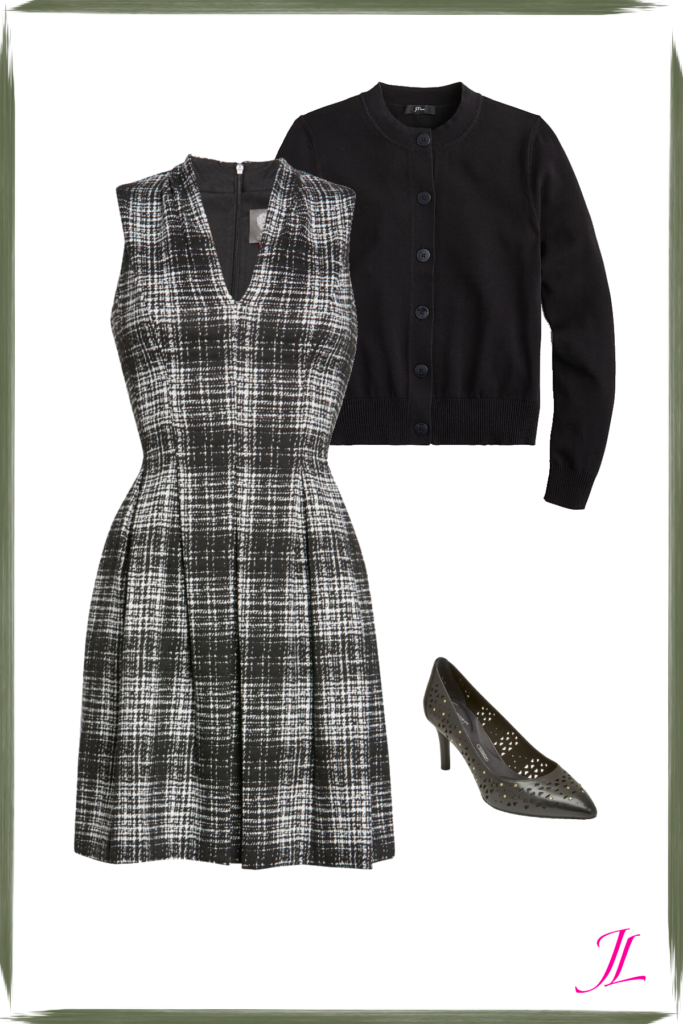 Jumpsuit
I added this to the essentials list this year because this has been a trending item for a few years now. It is becoming a staple piece that most women will wear. 
A neutral colored jumpsuit will be a great addition and can make getting dressed so easy!  Like a dress, all you will need to figure out is what shoes and accessories to pair with it.
The only dilemma will be not wanting to wear anything else in your closet!

A Neutral Cardigan
Choose a neutral cardigan that would work over most everything.  Maybe a navy, tan or cream, or gray color.  These colors will pair well with everything else you choose.
I also recommend finding one made with cotton, acrylic or a blend like cotton/viscose.  I would try to stay away from wool unless there is 5% or less.

Rain Jacket
I feel like this is absolutely essential for your spring wardrobe. It rains a lot in the spring and there are usually some really good stylish options available.  Some are so cute now you would never think they were considered a rain jacket. 
The rain jacket can be any color you want.  In fact, you can have fun with the color and even choose a print. Have fun with it!

Shoes:
Closed Toe Flat –   It is really up to you what style flat you choose. I would stick with a neutral color like black, tan, gray or even blush. You will add other shoes later but this one will be your basic shoe when nothing else works.  It should be something that is compatible with any of your outfits.

 Low or High Heel – This will allow you to dress up pieces like your all-occasion dress and pants.  It can even dress up a pair of jeans.  A pump would be a great option and is back in style this year. 

Daily Sandal  – Pick something that again is versatile and a solid color. What is your favorite style sandal?  Whatever that is, choose it because you will wear it the most. Just make sure you choose something that will easily go with most of your basic pieces.

Low Slip-On Sneaker –  I added this as an essential because I think it is something that has become so popular in the last few years that it has become a necessity.  If you purchase this in a neutral color like black or tan, it will literally go with any of your casual outfits.

I hope these 23 spring/summer essentials will help you start building the perfect capsule wardrobe. 
You could essentially have an entire wardrobe for spring and summer with all of these pieces. I would say not to stop here but that is totally up to you! Adding in some of your favorite trends or prints would help you create a wardrobe that is a reflection of your personal style.  I hope you will give it a try!
Stylishly Yours,